I love any weekend that I don't have to get out of my yoga pants and I can literally just putz around the kitchen. This past week I went to the store on Friday and strawberries were on sale.
The perfect time to make a strawberry pie!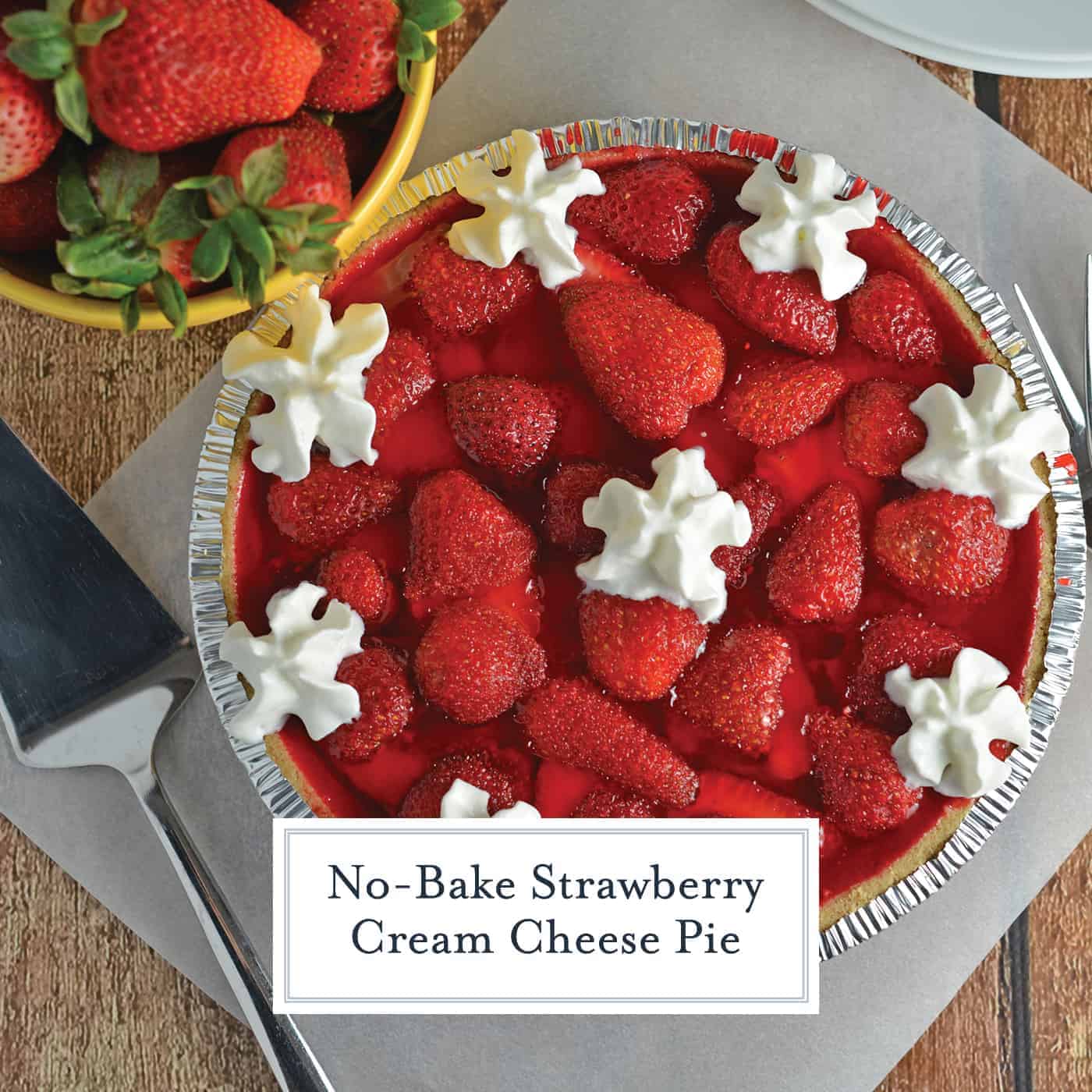 No-Bake Strawberry Cream Cheese Pie is a no-bake pie made with graham cracker crust, a layer of sweet cream cheese, loads of fresh strawberries and a homemade strawberry jelly.
I bought pounds, as in 10 pounds, of strawberries and decided to re-photograph some old posts and make some new ones. After all, strawberries are SO in this season.
Literally cups upon cups of strawberries. I could have gone swimming in them!
I see strawberry pies all over the place on Pinterest. They look lovely, but the contents sound a little too sweet for my taste. Made of mostly of thick strawberry sauce or syrup, I wanted something a little lighter to break up my strawberry pie.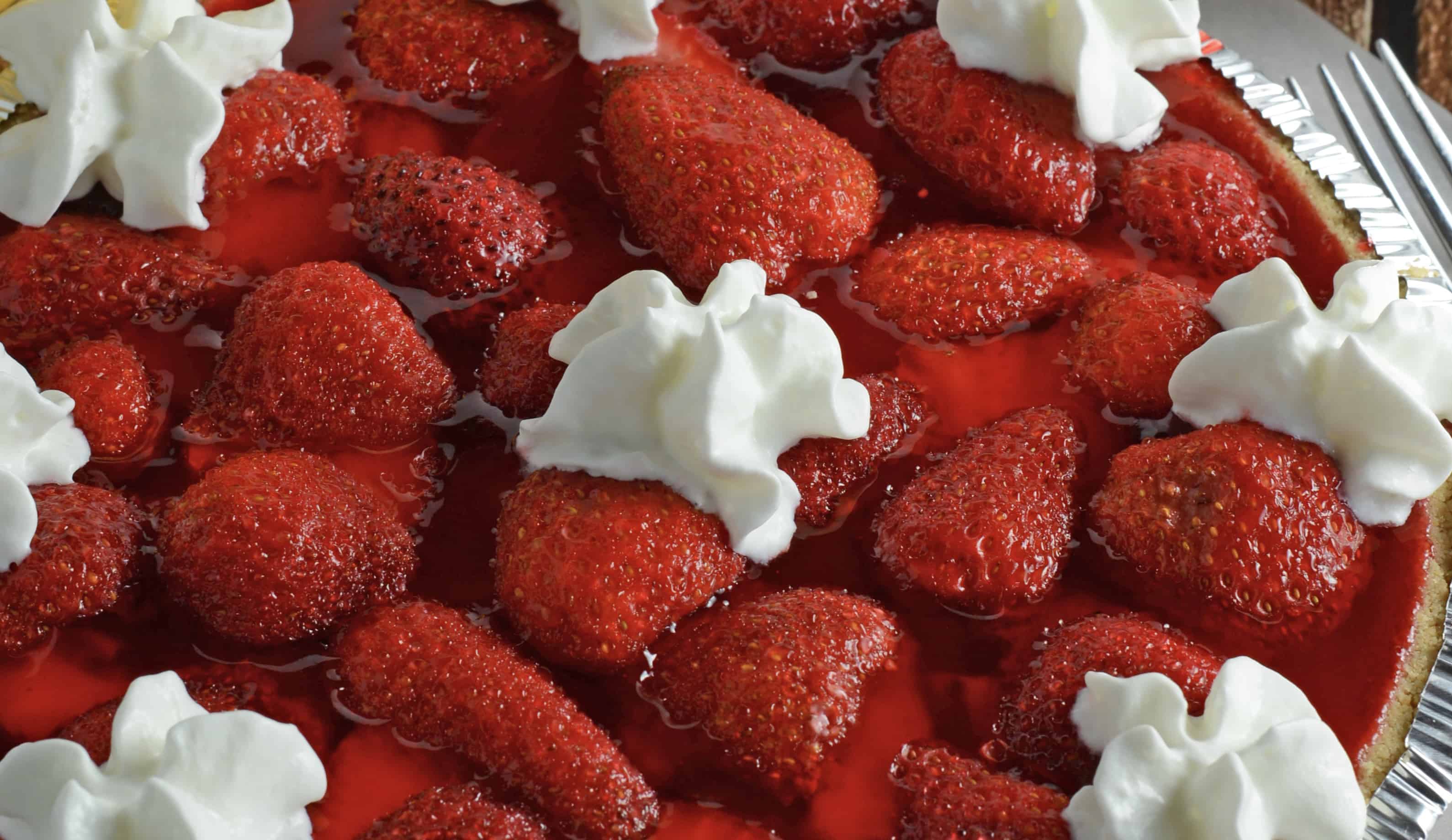 I started by using a traditional pie crust (pre-made because I hate making pie crusts!). I spent some time molding it into my favorite deep dish pie plate, attempting a cute fluted edge.
I even broke out my trusty pie weights
placed it into the oven with my first attempt at Strawberry Cream Cheese Pie and when it came it… the visual was disaterious. But I was pretty sure it would taste just fine, so I continued to truck on.
Strawberry Fact: Strawberries are actually a member of the rose family and the only fruit to wear their seeds on the outside.
Next, the cream cheese mixture for my rich "savory piece". I added egg for a traditional cheesecake texture and that was a mistake, it took over the whole pie crust leaving no room for actual strawberries.
OK… try again. Back to the drawing board. We don't call it Savory Experiments for nothing.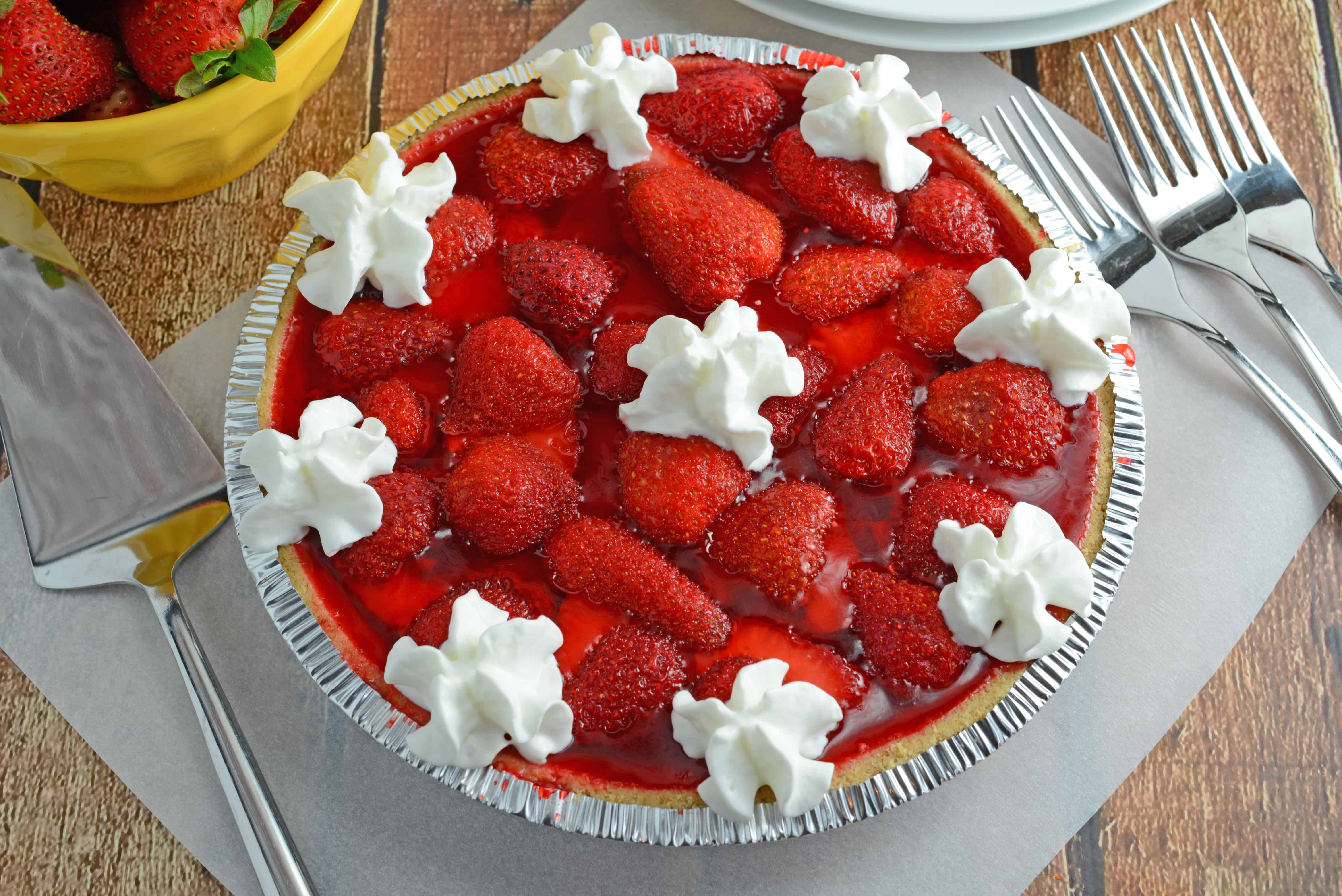 I sent hubby to the store for more crusts, but couldn't find the dough, so he brought me 2 graham cracker crusts and more cream cheese. I opted for a no-bake cheesecake instead, avoiding the over baking, and then a gelatin center to glaze my fresh strawberries.
Strawberry Fact: Strawberries are the first fruit to ripen in the spring.
This strawberry pie with graham cracker crust was at the opposite end of the spectrum from my original intentions, but turned out fabulous! Not too sweet, but with a decadent, rich and creamy cream cheese layer and fresh strawberries suspend in a strawberry gelatin mixture, how can you go wrong?
It just screams SUMMER DESSERT! Soooo much strawberry flavor!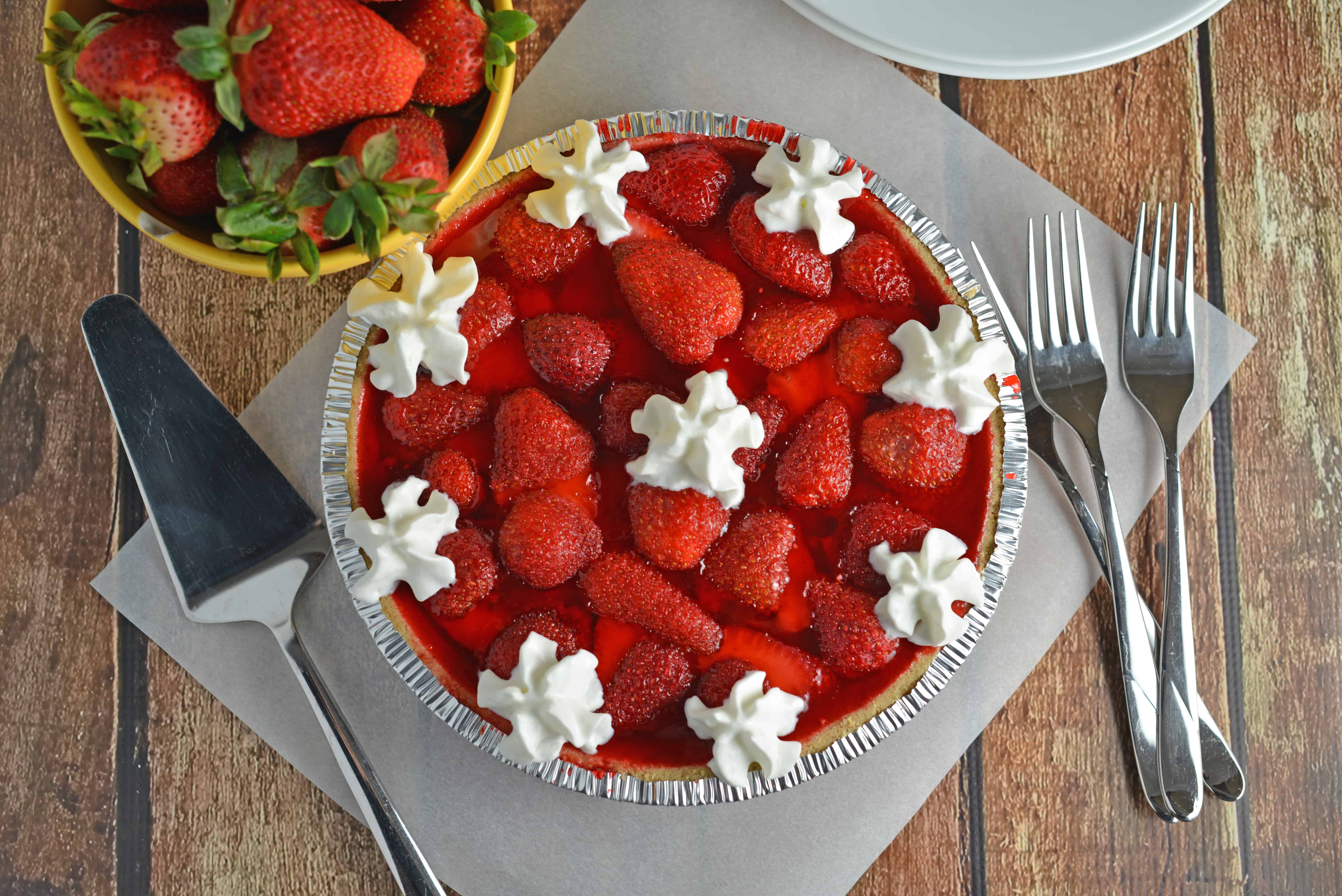 Cream cheese is the perfect addition to any no bake pie or no bake dessert recipe, really. Straight out of the box, it is rich and with just a small amount of sugar and vanilla extract, makes the perfect base that isn't overly sweet.
PRO TIP: Alway let your cream cheese come to room temperature and beat it for 2-3 minutes before adding other ingredients. This prevents clumping that is nearly impossible to get out later.
This soon turned into a "no-bake" project and won over my co-workers with its multifaceted flavor profile and texture. No-Bake Strawberry Cream Cheese Pie is a winner!
Serve your strawberry cream pie with whipped cream or even vanilla bean ice cream for the ultimate summer dessert recipe.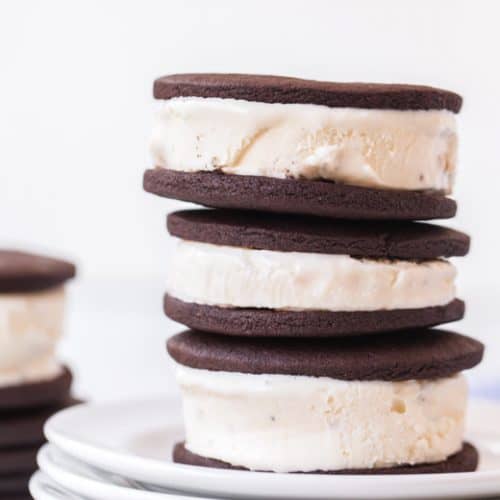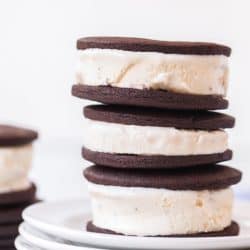 Ice Cream Sandwiches
Ice Cream Sandwiches are a frozen delight everyone in the family will love. Make them for your next cookout or have them on standby in the freezer for when you want a delicious dessert.
See The Recipe!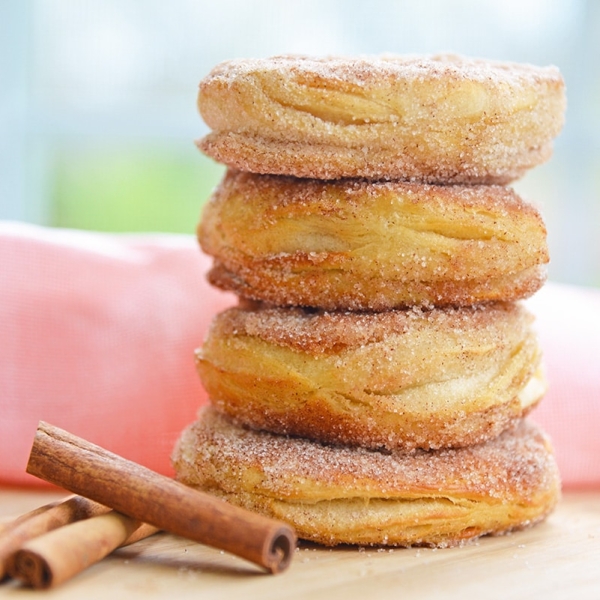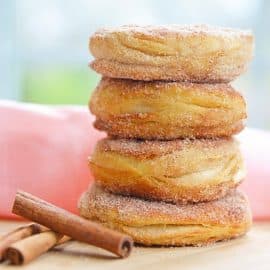 Air Fryer Donut Recipe
Buttery and delicious Air Fryer Donuts in just 10 minutes and using only 4 ingredients. Coated in cinnamon sugar, these are going to be your new favorite!
See The Recipe!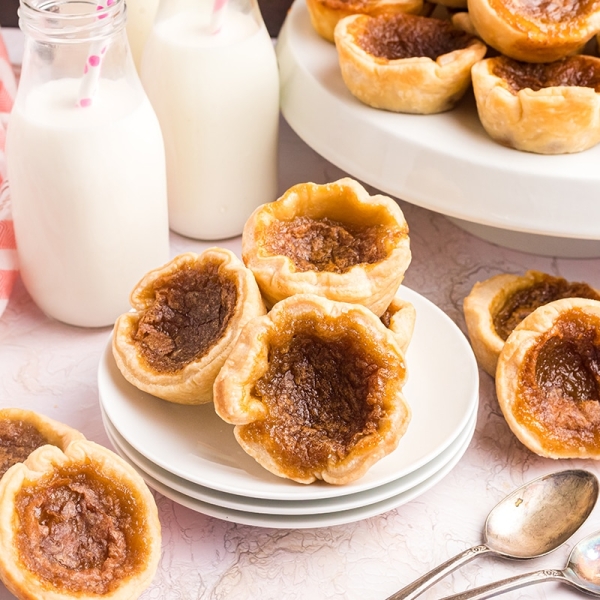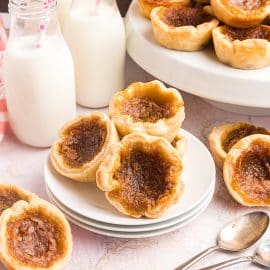 Canadian Butter Tarts
A Canadian treat that everyone should try, these EASY Canadian Butter Tarts consist of a flaky crust filled with a buttery, caramel-like, gooey center!
See The Recipe!
Tools for making this no bake dessert:
Mixing Bowls– make sure to check out my article on Using the Right Mixing Bowl, you'd be surprised how many people aren't!
Strawberry Huller– I never thought I needed one until I got one. Now I can't love without it.
Stand Mixer– I lived for a long time without one. My life was changed when I finally bit the bullet and bought one. Just do it and thank yourself later.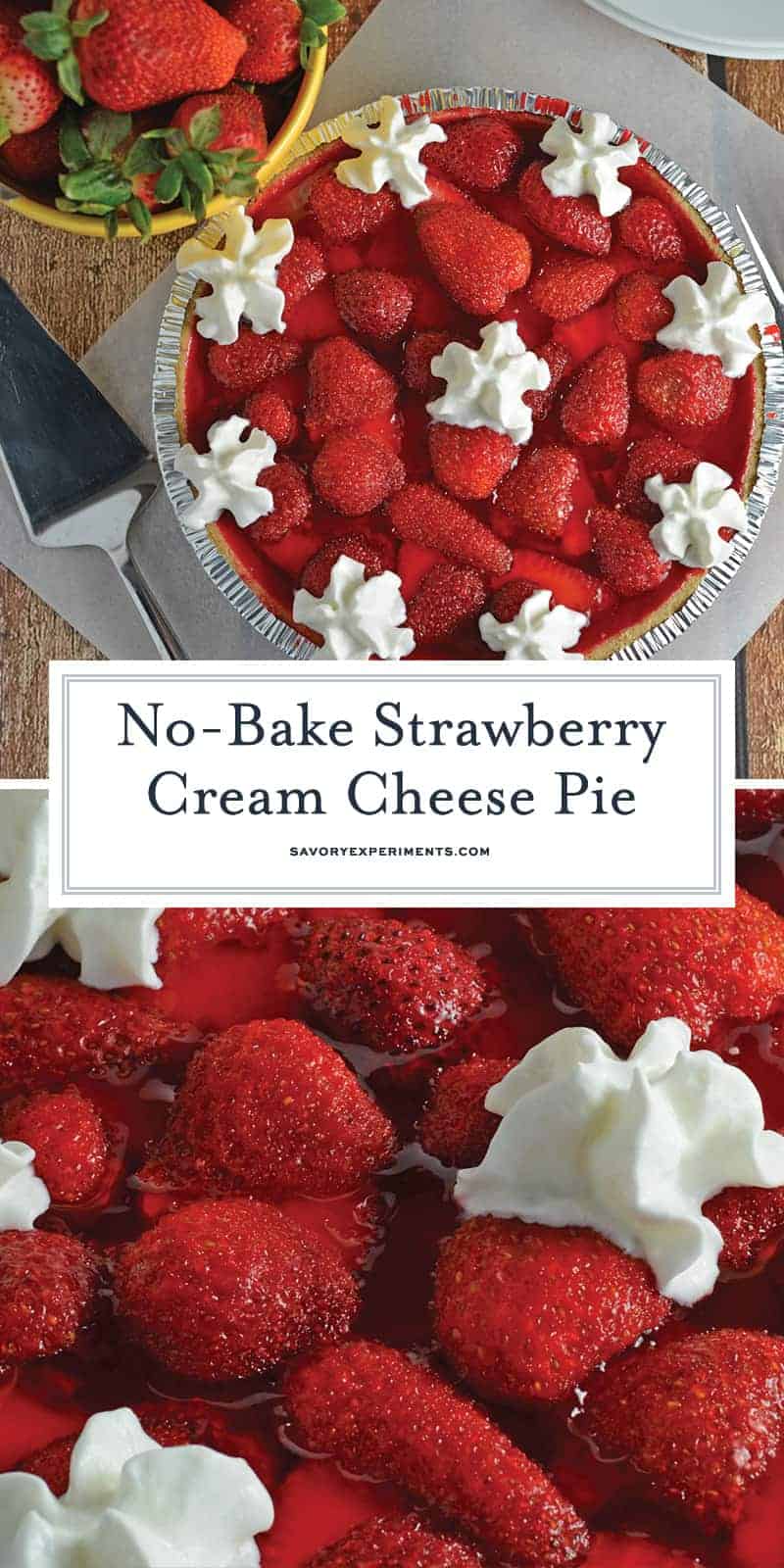 Questions you might have about how to make a strawberry pie:
How do I store my no bake strawberry cream cheese pie? This pie is best kept covered and chilled in the refrigerator.
Can I make this strawberry dessert ahead of time? You can surely make Strawberry Cream Cheese Pie in advance! I would suggest about 24 hours in advance.
How long does this no bake strawberry cream cheese pie stay good? If kept chilled, up to 5 days. But I doubt it will last that long… it is that good!
What can I substitute for strawberries? You can literally use any fruit you like, but smaller and softer fruit is preferable. Raspberries, mandarin oranges, blueberries or even blackberries. Try to find a corresponding or complementing flavor of JELLO.
Can I use a sugar substitute instead of sugar? You sure can. Check the label of the substitute you are using for amounts.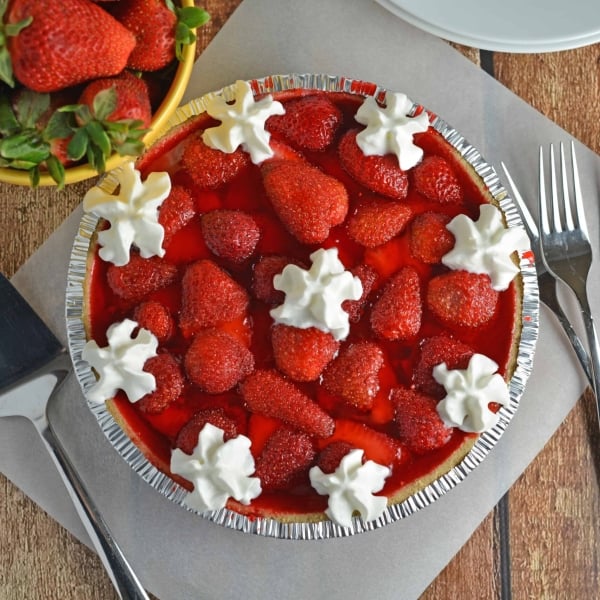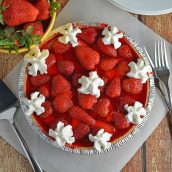 No-Bake Strawberry Cream Cheese Pie
A no-bake pie made with graham cracker crust, a layer of sweet cream cheese, loads of fresh strawberries and a homemade strawberry jelly. All ready in less than 20 minutes!
Instructions
In the bowl of a stand mixer fitted with the whisk attachment or in a medium mixing bowl with an electric hand mixer, beat cream cheese until light and fluffy. Add vanilla and powdered sugar.

Evenly spread into the bottom of the graham cracker crust.

Top cream cheese layer with freshly sliced strawberries.

In a small bowl, mix together cornstarch and gelatin.

In a medium mixing bowl, combine hot water with sugar, stir until dissolved. Whisk in cornstarch and gelatin mixture until fully combined.

While still hot, pour over fresh strawberries until pie crust is full.

Place into the refrigerator until set, approximately 30 minutes. Keep refrigerated until ready to serve.

If you've tried this recipe, come back and let us know how it was!
Nutrition
Calories:
742
kcal
,
Carbohydrates:
102
g
,
Protein:
7
g
,
Fat:
34
g
,
Saturated Fat:
7
g
,
Cholesterol:
7
mg
,
Sodium:
626
mg
,
Potassium:
172
mg
,
Fiber:
2
g
,
Sugar:
41
g
,
Vitamin A:
95
IU
,
Vitamin C:
7.1
mg
,
Calcium:
46
mg
,
Iron:
3.4
mg