Am I the only one who is perpetually on the hunt for chicken breast recipes for dinner? I feel like I can never have enough on hand that aren't too boring or we don't tire of easily.
Creamy Garlic Chicken is an easy chicken recipe for dinner using a homemade cream garlic sauce, parmesan cheese, bacon, peas and sun dried tomatoes.
Creamy Garlic Chicken is an adaptation from a cream of mushroom chicken recipe. I really dislike those condensed creamy soup (no offense cream of something users.) The canned soups have way too much salt and lack flavor.
I know we are all thinking they look like the same thing which I won't mention in the article about delicious food. It is so easy to make your own cream based sauce.
Let me also dispel that this recipe is not for Chicken in Garlic Sauce like you would get at the Chinese food restaurant. This is more of an Italian heritage type of creamy garlic chicken.
Sun dried tomatoes, Parmesan cheese and bacon instead of pancetta give it a much more American flare.
I don't know why people use those when making a homemade cream sauce for chicken, or any other dish, is so gosh darn easy and limits the salt. All it takes is a simple roux and fresh cream.
For this chicken dinner idea, the cream sauce is also mashed with a whole head of roasted garlic. I know what you are thinking… I'm going to be peeling the paint tonight!
But that isn't really true. Whole roasted garlic doesn't have the same pungency that a crushed raw piece would. Don't get me wrong, you'll still get a good amount of garlic, but not keep the vampires away levels.
You can easily roast your own garlic up to a week ahead of time for cheap, but you can also buy roasted garlic in the produce section of your grocery store.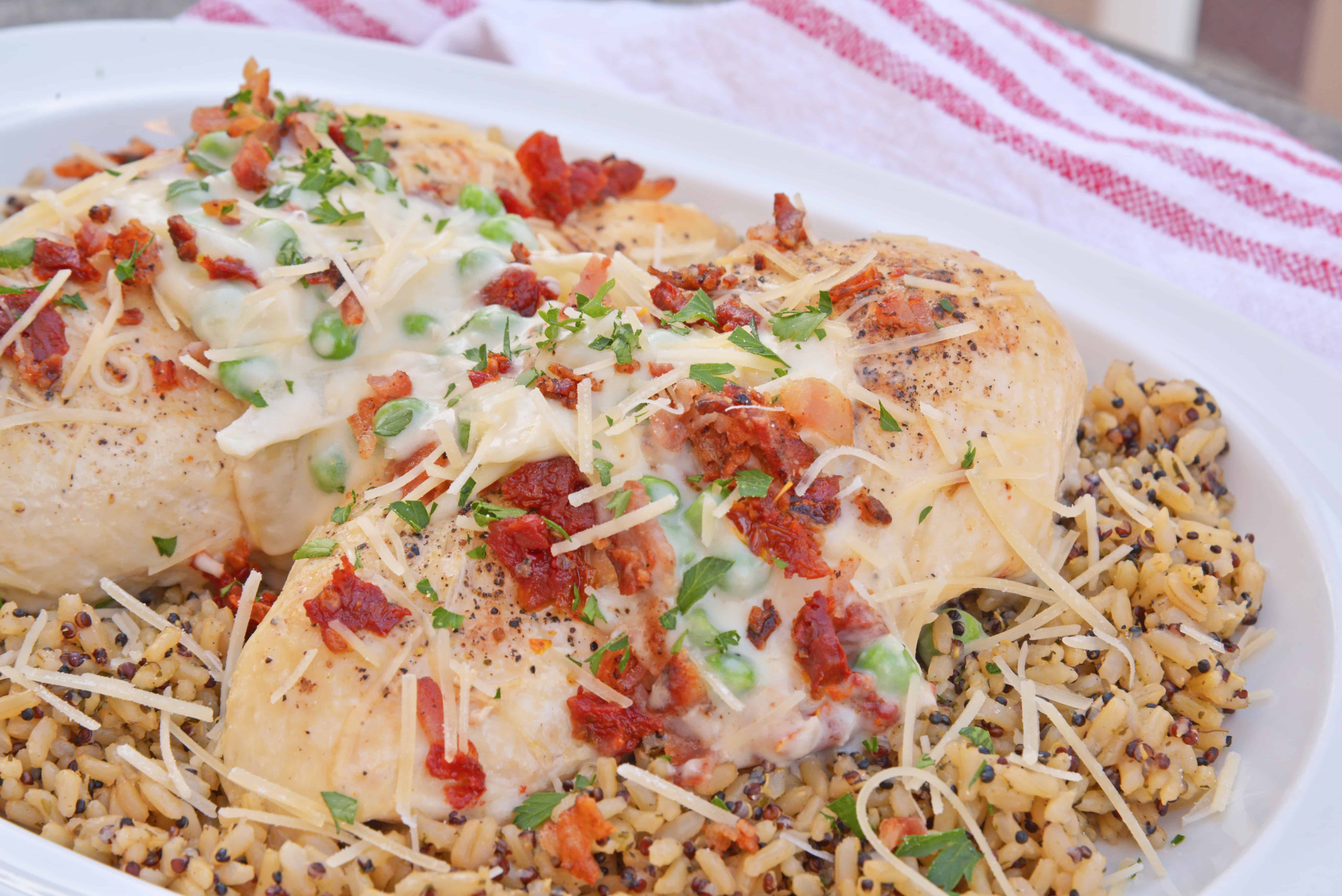 One step I recommend not skimming over is tenderizing the chicken. Not only will it tenderize the fibers of the chicken, but is simplifies the cooking process.
I'm sure we've all been victim to the chicken breast that wasn't fully cooked on the thick side, but dry and mealy on the thin end. Pounding it out to equal thickness ensures you will get even cooking with tender and juicy cooked chicken breasts.

If you liked this easy chicken dinner recipe, you'll also love these:
Chicken Enchilada Casserole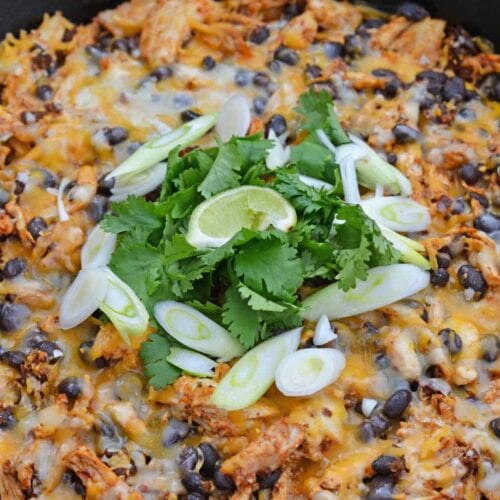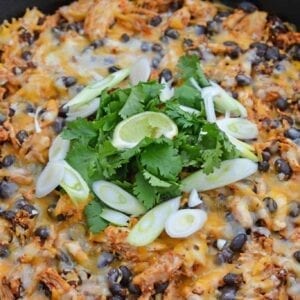 This Chicken Enchilada Casserole Recipe is a delicious casserole recipe loaded with a cornbread crust, chicken, beans, and cheese, all made in a cast iron skillet!
Italian Chicken Panini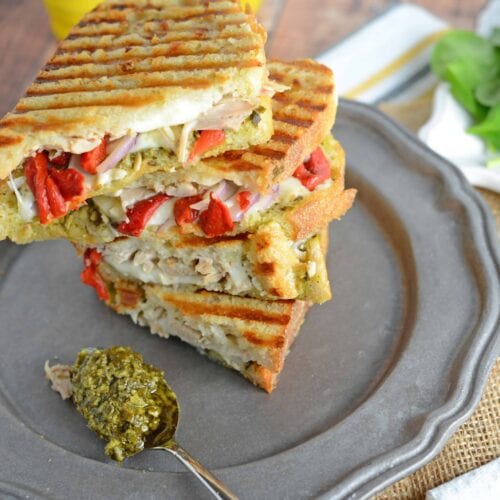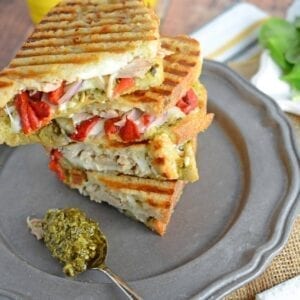 Italian Chicken Panini Recipe – Crusty bread filled with gooey mozzarella cheese, roasted red pepper, shredded chicken and lots and lots of garlicky pesto.
Tools for making Creamy Garlic Chicken:
Meat Mallet – Use this bad boy for tenderizing meats, but also crushing whole spices, nuts and candies.
Heavy Bottom Frying Pan– this will be one of your most used kitchen tools. Having something that is heavy bottom will distribute heat better and prevent burning whether you are using an electric or gas range.
Meat Thermometer– Every home kitchen should have a meat thermometer. Never take a guess as to if something is done again!
Questions you might have about how to make this chicken breast recipe:
Can I use different chicken pieces? Sure! I like using chicken breasts for this recipe, but you can just easily use chicken thighs (bone-in or fillets) or even drumsticks.
Obviously skip the tenderizing part, just brown the other chicken pieces and follow the sauce recipe for garlic sauce.
Can I freeze Creamy Garlic Chicken? You sure can! Freeze it as just chicken and garlic sauce without rice or pasta. If properly packaged it will be good for 3-4 months.
Is Creamy Garlic Chicken gluten free? If you substitute the flour for cornstarch or arrowroot, this is a gluten free chicken recipe.
Creamy Garlic Chicken is an easy chicken recipe for dinner using a homemade cream sauce, parmesan cheese, bacon, peas and sun dried tomatoes.
CONNECT WITH SAVORY EXPERIMENTS!

Be sure to follow me on social media, so you never miss a post!

Facebook | Twitter | Youtube
Pinterest | Instagram
Get our FREE 8 Day E-Course on How to Be a Better Home Cook. Sign up HERE!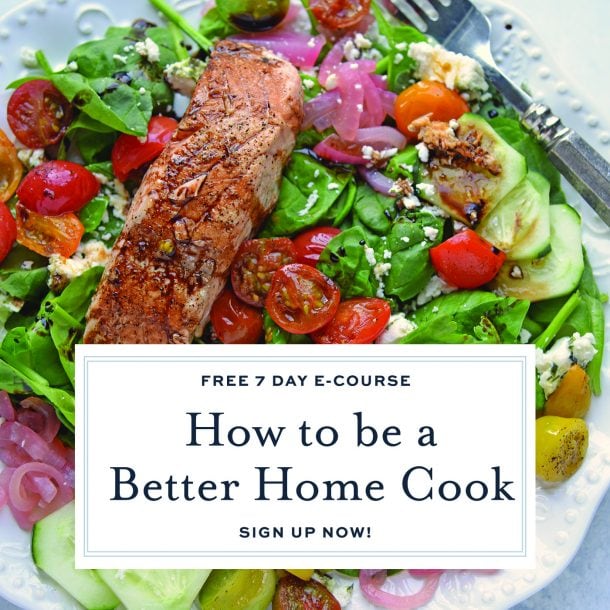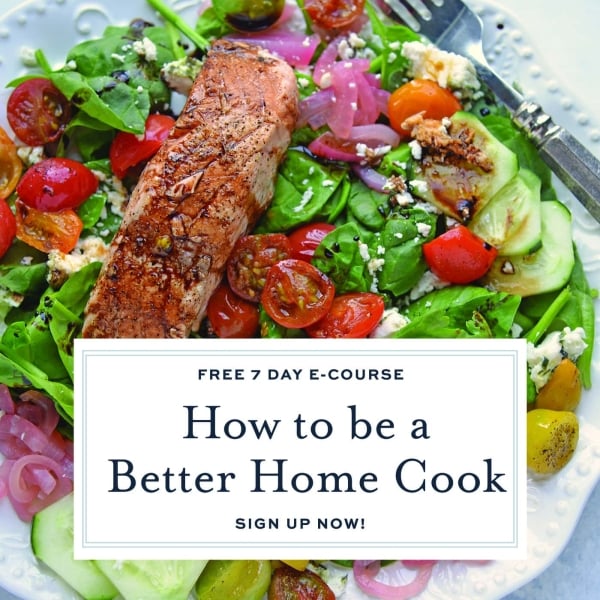 Before you get started, make sure you know how to properly season your cast iron and how to clean your cast iron!
Creamy Garlic Chicken
Creamy Garlic Chicken is an easy chicken recipe for dinner using a homemade cream sauce, parmesan cheese, bacon, peas and sun dried tomatoes. A chicken dinner idea ready in just 30 minutes.

Instructions
Season both sides of chicken breasts with fine sea salt and pepper. Heat light extra virgin olive oil in large skillet over medium heat.

Cook chicken for 4-6 minutes on each side, or until lightly browned and fully cooked to an internal temperature of 165 degrees. This can range greatly depending on the size of your chicken breast. Remove chicken, set aside.

In the same large skillet, melt butter, scraping up the browned bits from the chicken. Add flour and roasted garlic, mashing to make a paste.

Add cream, stirring well to blend into a smooth (with the exception of the pieces of garlic) sauce. When incorporated and flour paste (roux) has blended, add frozen peas, sun dried tomatoes, bacon and parmesan cheese.

Stir to coat and then cook for an additional 3 minutes. Return chicken to the sauce mixture, coating evenly and allowing to reheat for 2-3 minutes. Correct seasoning with additional fine sea salt or freshly ground pepper.

Serve over your choice of pasta or rice. Top with additional Parmesan cheese, if desired.

If you've tried this recipe, come back and let us know how it was!
Nutrition
Calories:
1017
kcal
|
Carbohydrates:
91
g
|
Protein:
37
g
|
Fat:
55
g
|
Saturated Fat:
31
g
|
Cholesterol:
245
mg
|
Sodium:
269
mg
|
Potassium:
1157
mg
|
Fiber:
3
g
|
Sugar:
6
g
|
Vitamin A:
2150
IU
|
Vitamin C:
16.9
mg
|
Calcium:
171
mg
|
Iron:
2.9
mg