Amazingly easy stuffed dates wrapped in bacon are the ideal party appetizer recipe and also make an excellent hot option for charcuterie and cheese boards.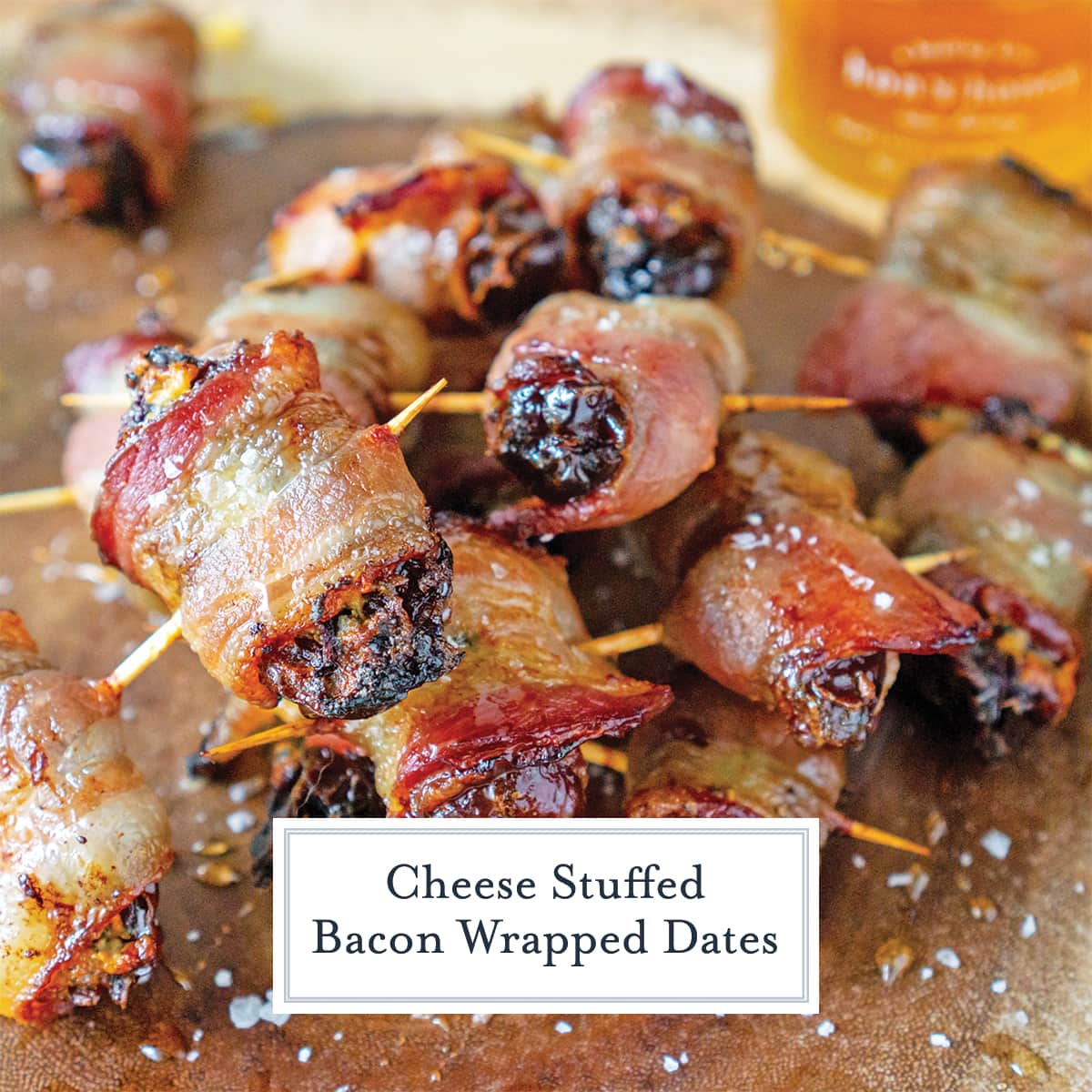 Bacon Wrapped Dates Recipe
And can you beleive I only discovered the magic of bacon wrapped dates a few years ago? They are MAGIC! Sweet dates wrapped in salty bacon- we all know I am a sucker for the sweet and salty combo. And anything cheese stuffed, enough said.
I heard about them at a local restaurant that smoked them (which adds a whole other element of yum), but you had to get there early because supplies were limited. I went one day around 3 and they were already out. So I headed to the store to grab the stuff I needed to make my own.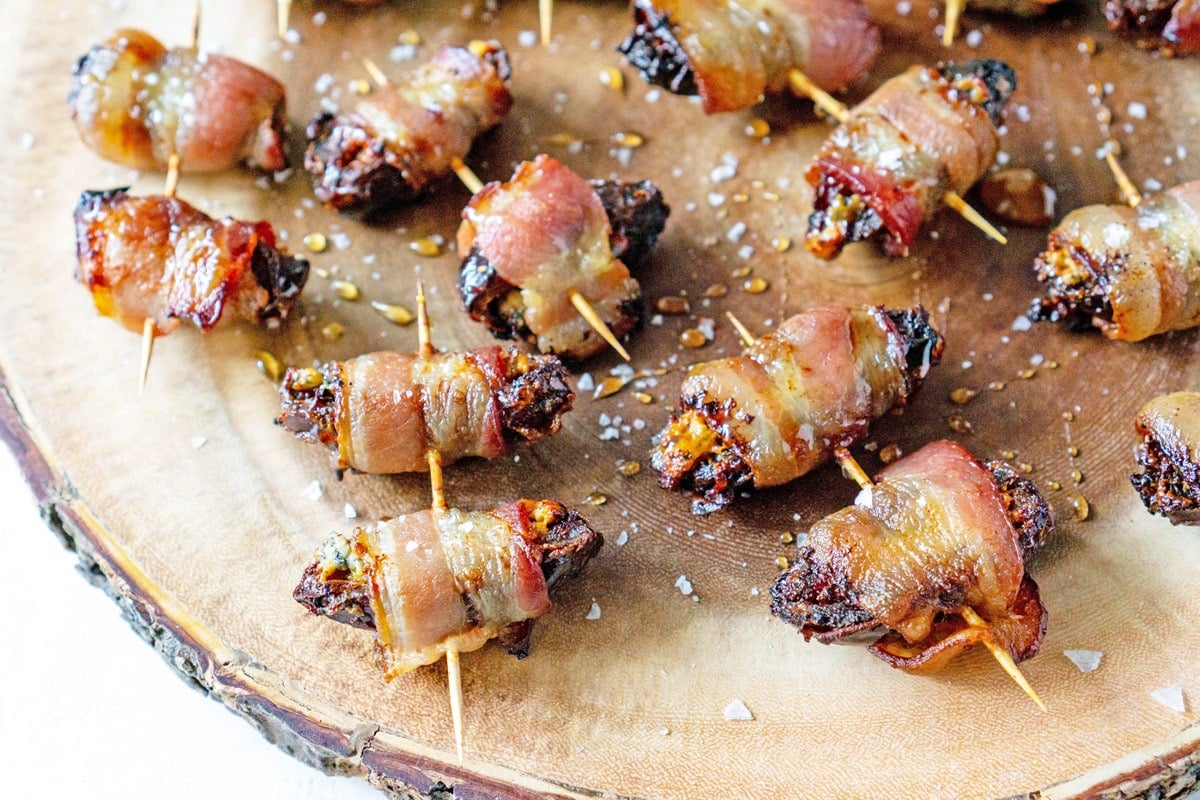 What I learned was that stuffed dates are surprisingly sophsiticated for being such an easy appetizer! But I'm here to share that knowledge so your own turn out perfect the first time around.
Picking the Bacon
Bacon makes everything better. It is a fact. There are days that I don't have eggs or milk, but I always have bacon.
And for most items, I will say that a nice center, thick cut bacon is your best bet- but not for bacon wrapped dates. If the bacon is too thick, the whole bacon to date ratio is thrown off. And furthermore, you risk not having crispy bacon because it is wrapped too thick. The goal here is the bacon is crisp and the dates are caramelized and chewy.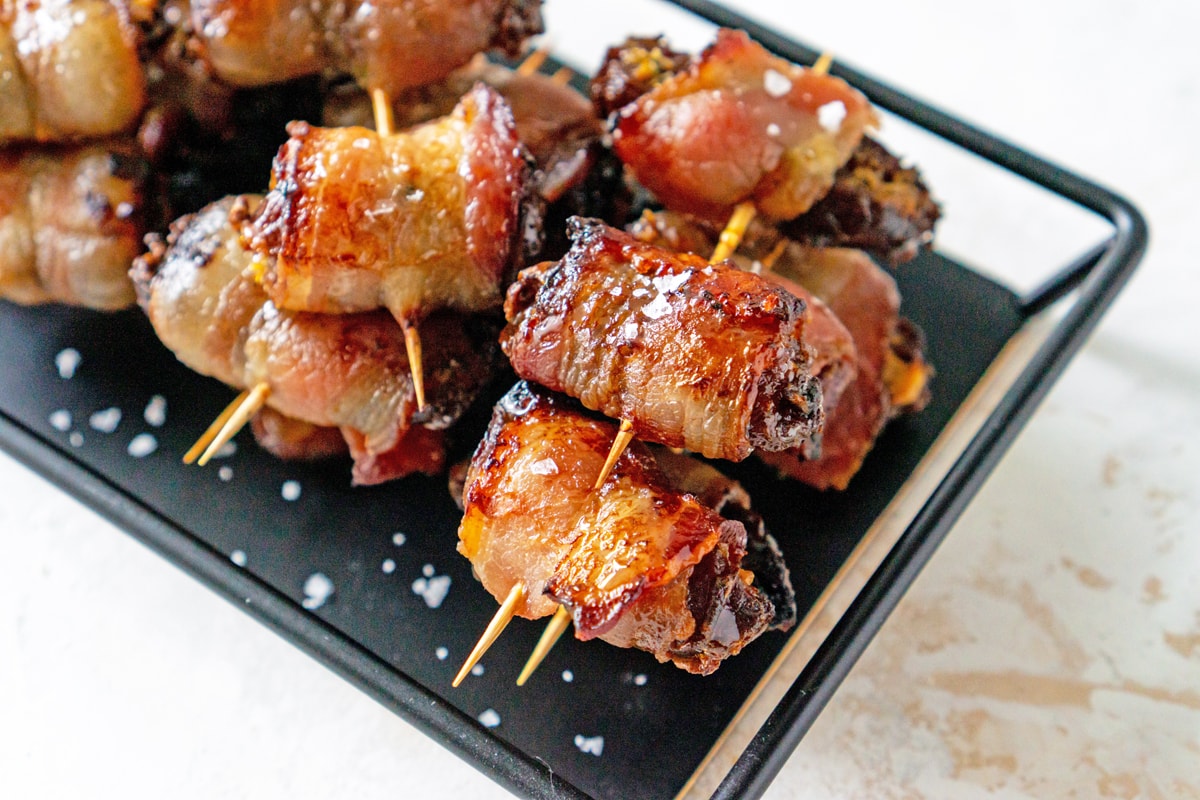 As long as the bacon isn't too thick, you are good to go- from there pick a smoked, peppered or any other flavor you desire.
What are dates?
A date is a fruit from a tree native to North Africa and the Middle East. They can be eaten fresh or dried. They are also incorporated into many Middle Eastern dishes, as well as being used commonly in Italy and Greece. They are sweet and be eaten fresh or dried.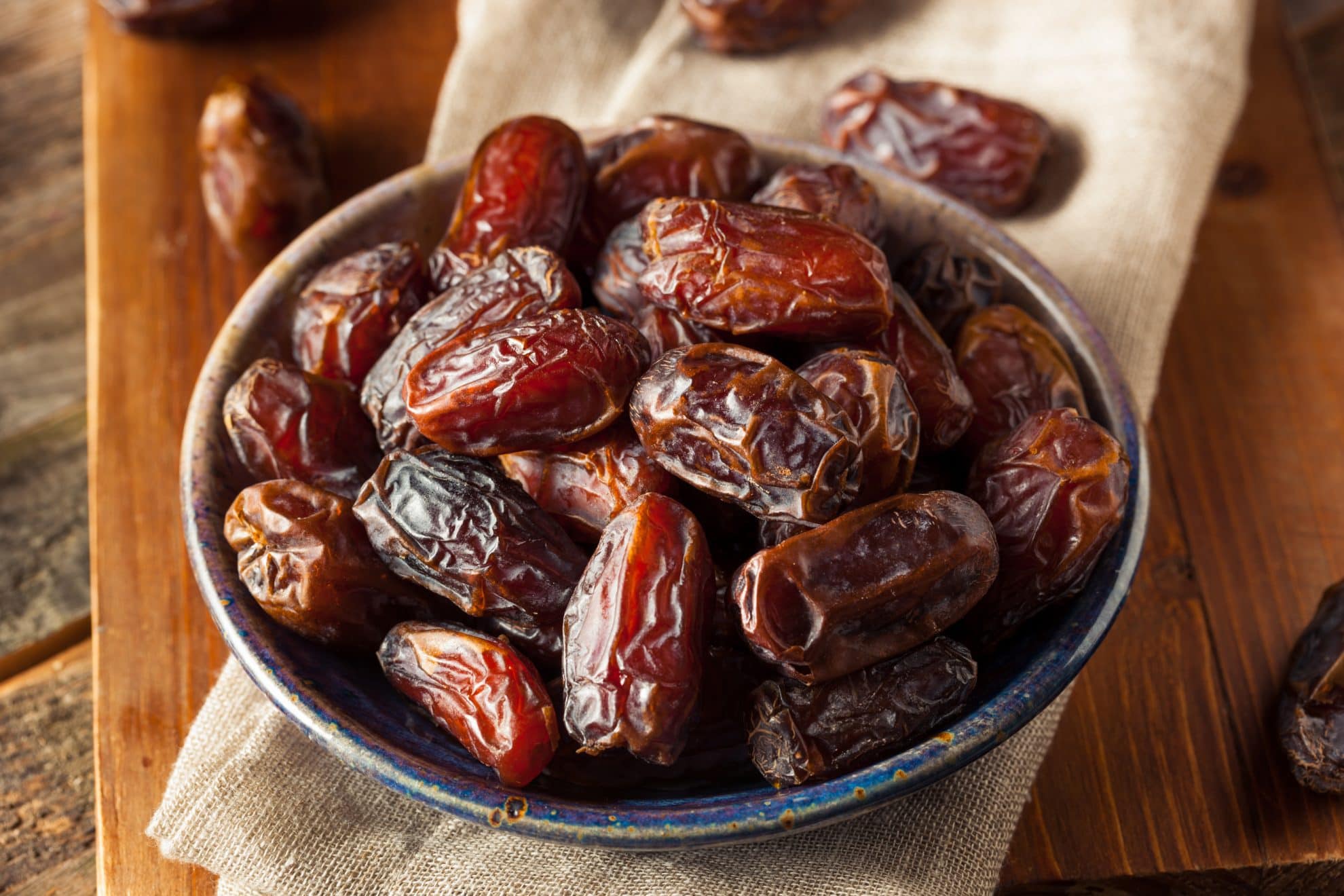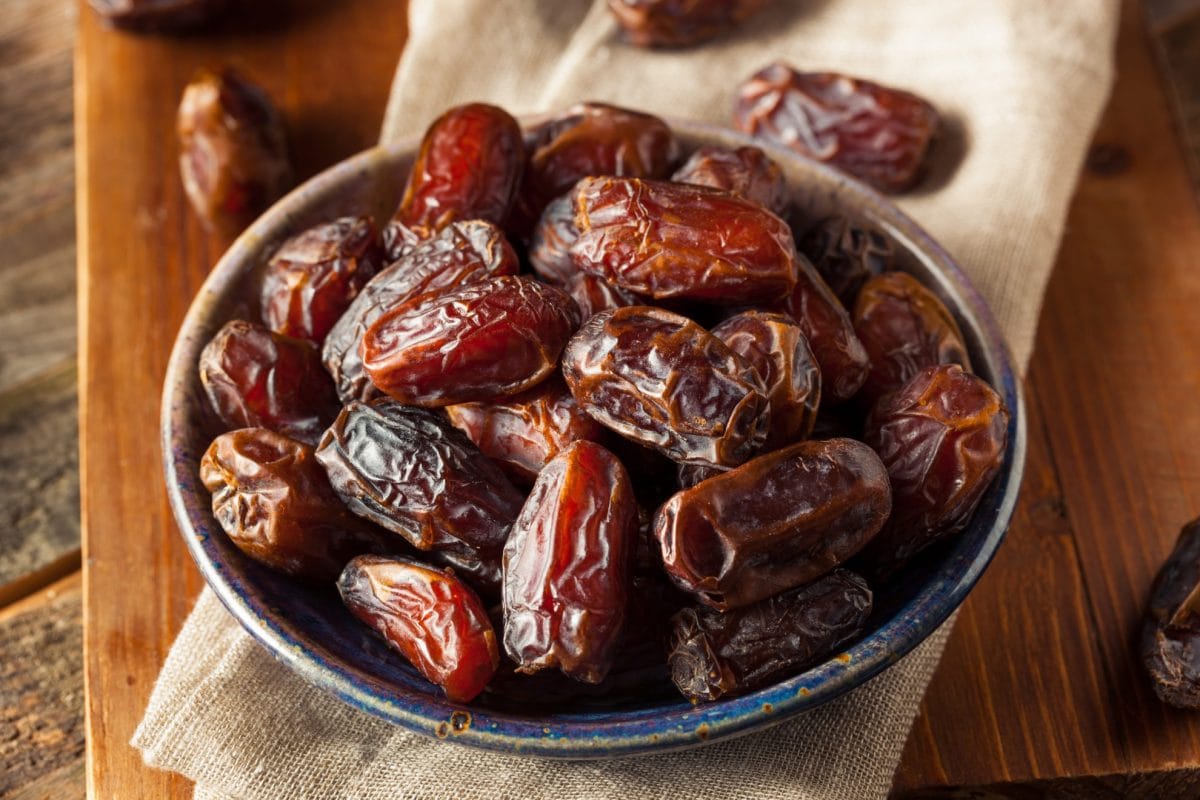 What type of dates should I use for stuffed dates? Finding dates might be the most challenging part of this recipe! Check in the fresh produce section near other pitted fruits, sometimes they are packaged into a tight little wheel. This is fine, just plan extra time to pull them apart and they won't be as plump. For plumper, more juicy dates, check near other dried dried fruits, like cranberries and raisins. Here they are typically in a bag or canister. Health food stores will likely have a larger selection on the type of dates.
Deglet Noor– The most iconic with strong "date flavor", these are a little drier and chewier. Smaller like a grape.
Medjool– Juiciest of the dates, they are also larger than other varieties. Larger like a plum.
Bahri– Sweet and syrupy, these are smaller and have a fibrous flesh.
How to Pit a Date
Many dates will come pitted, but it not you'll need to do it yourself. The spot the pit was in is also the cave for your precious cheese- so make room!
Use a paring or small knife to slice the date lengthwise- don't cut through all the way, just a slit from end to end. The knife should grace the pit, but not cut through.
Pry back the sides with your thumbs and pop the pit out, or use the end of your knife to pry it out.
Variations of Stuffed Dates
While this recipe for stuffed dates is super easy, it also has many variations to put your own spin on it. Here are some of my favorites.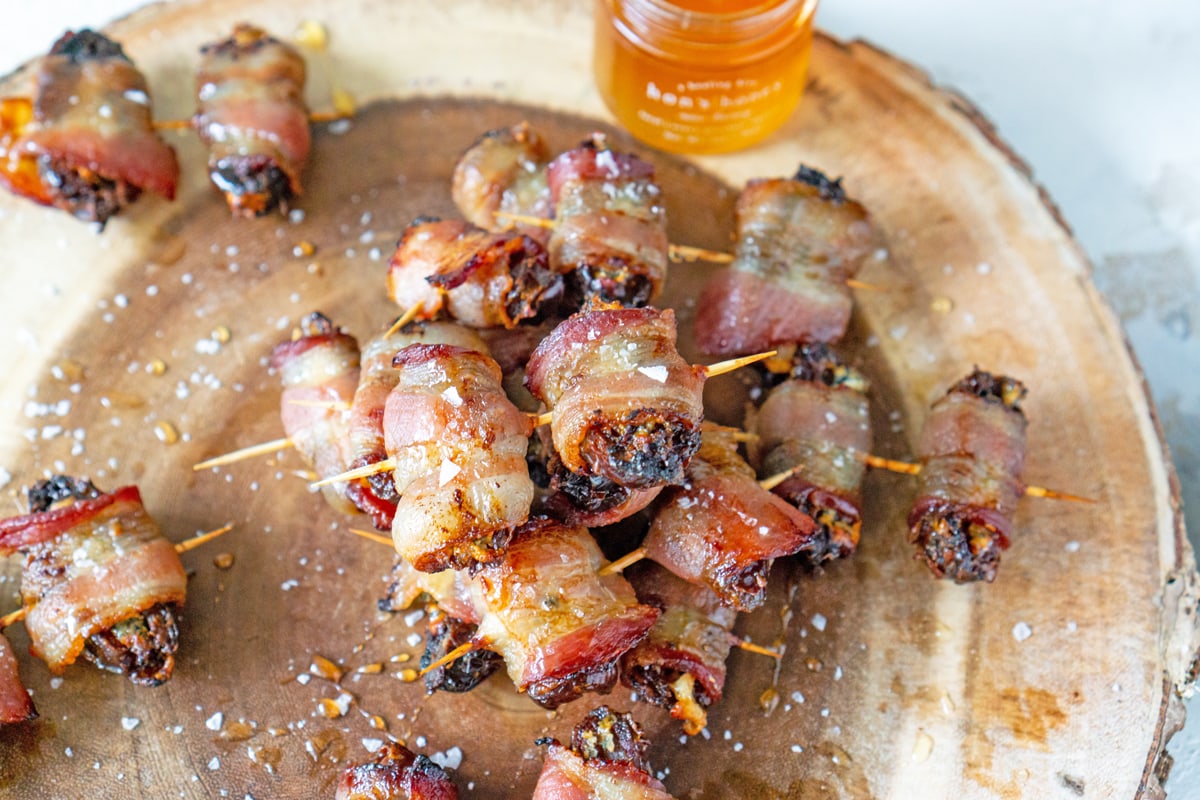 Go nuts! Add a whole or halved almond, pecan or walnut to the center along with the cheese or finely chopped nuts and sprinkle on top. The dates will be caramelized and sticky when hot, so a nice sprinkle will stick well.
Cheese– Blue cheese isn't for everyone and any soft cheese will do. Other options are goat cheese, mascarpone, cream cheese or feta.
Meat– Bacon is great, but think strips of prosciutto will also tend to the crispy texture and salty flavor.
Herbs & Spices– Mash in a pinch of smoked paprika, a few tablespoons of roasted garlic or chopped chives, parsley or rosemary to the cheese mix.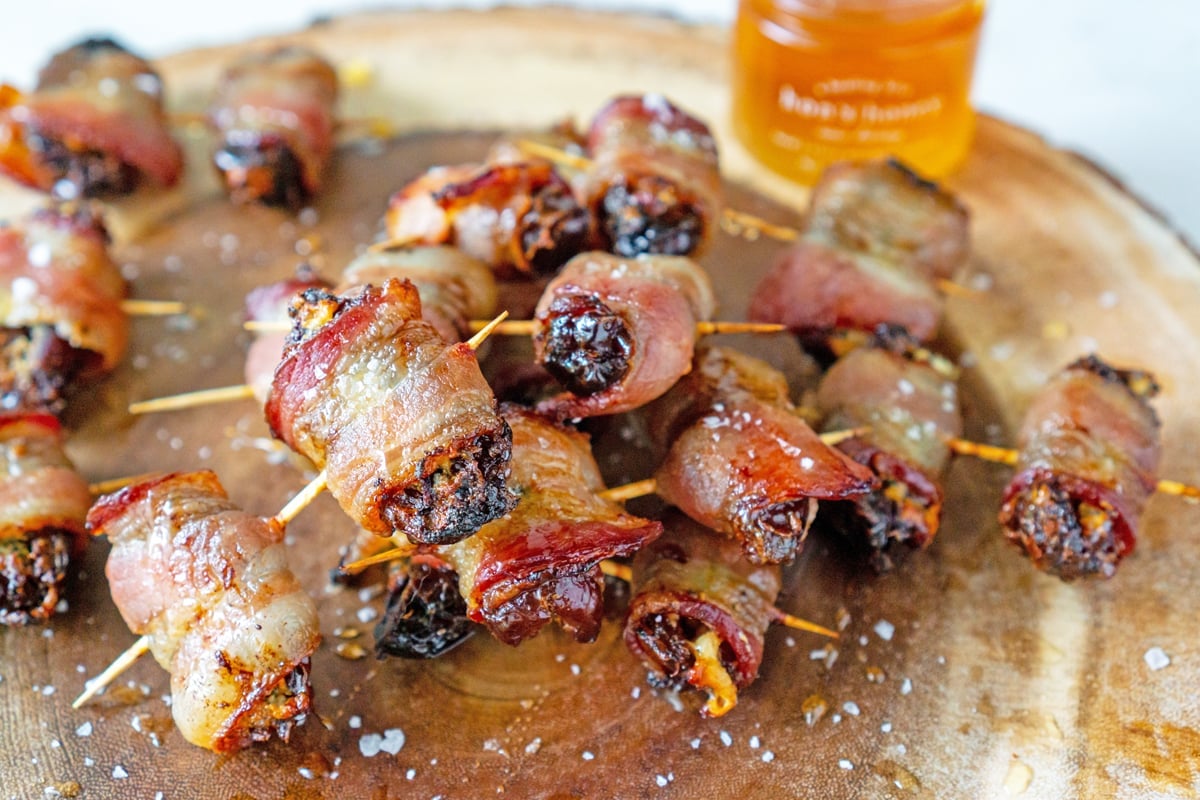 How to Make Bacon Wrapped Dates
Stuff the center of each date with the blue cheese.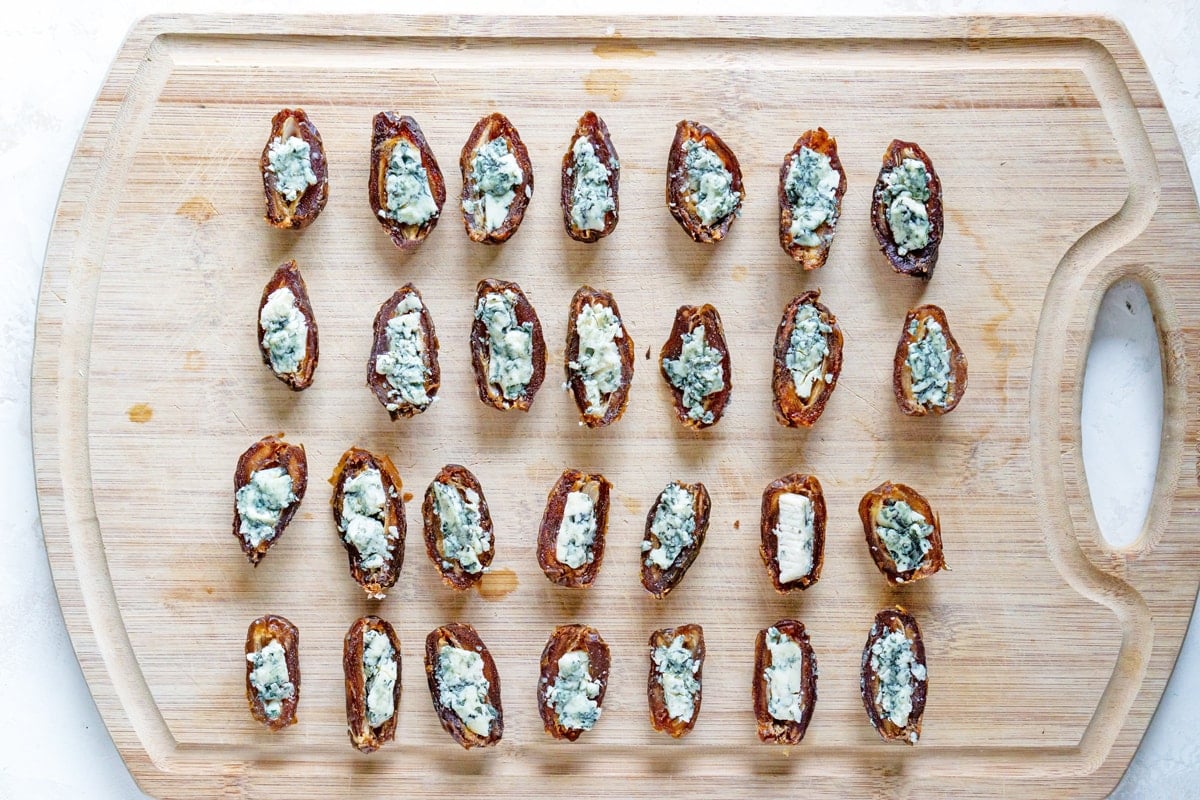 Wrap it in a piece of bacon. Edges should overlap slightly, but not make two full rounds- if it is too thick, the bacon won't cook and certainly won't get crispy. If you want thicker bacon, it will be chewier or you'll need to par-cook it.
Place two bacon wrapped dates on each toothpick to secure, but don't let them touch. You can do one each, but I like to save some toothpicks and no one ever eats just one. The trick is not to let them kiss in the center, otherwise the touching pieces won't cook thoroughly.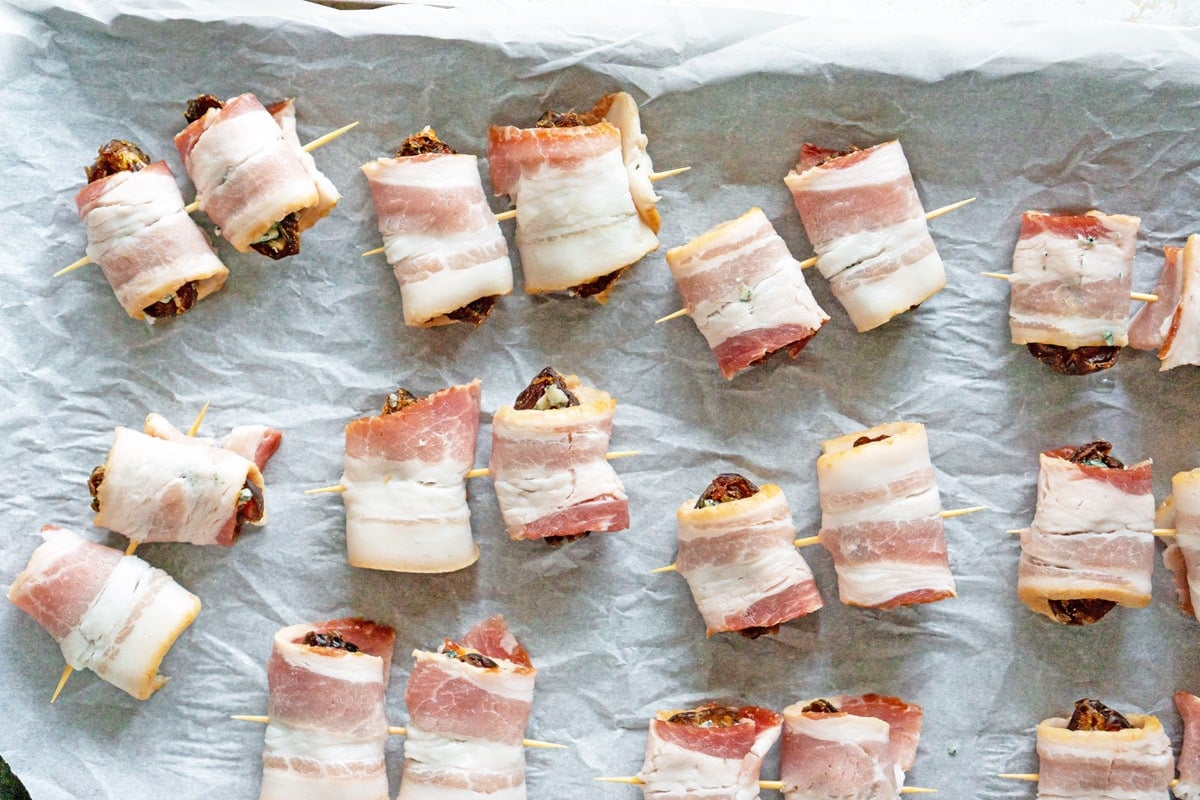 Place on a large rimmed baking sheet lined with parchment paper.
Bake until bacon is browned and dates are caramelized. Some cheese might ooze out, but that is fine, there is still plenty where is came from.
Allow to rest for 5 minutes before transferring to a serving platter and drizzling with honey and topping with flaky sea salt, both optional, but they add even more layers of texture and flavor.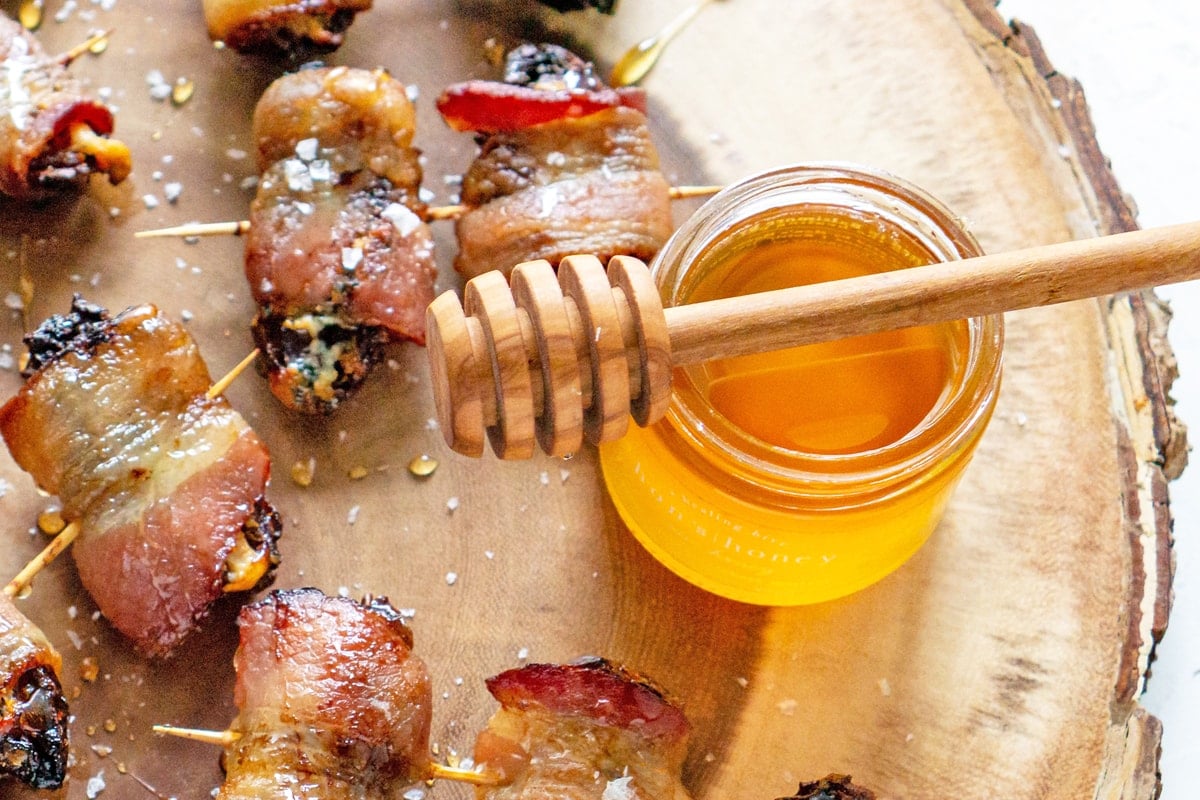 Make Ahead & Freezing
These bite sized party appetizers can be assembled up to a day in advance and kept in the refrigerator, but I highly suggest waiting until you are ready to serve before baking. Reheat leftovers in the oven at 350°F for 5 minutes.
Due to the soft cheese and dried fruits, they unfortunately do not freeze well. They thaw a little slimy so enjoy them fresh!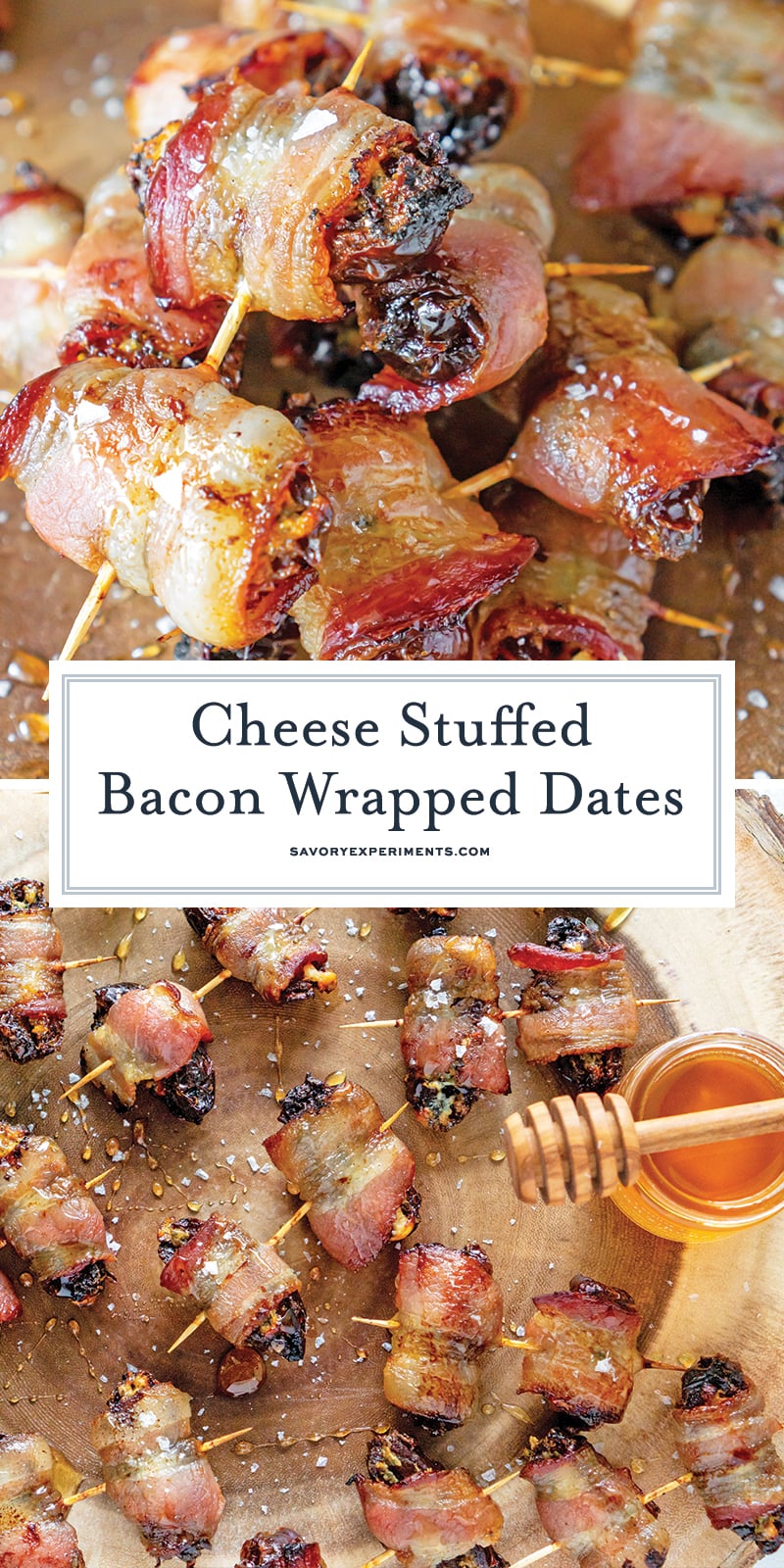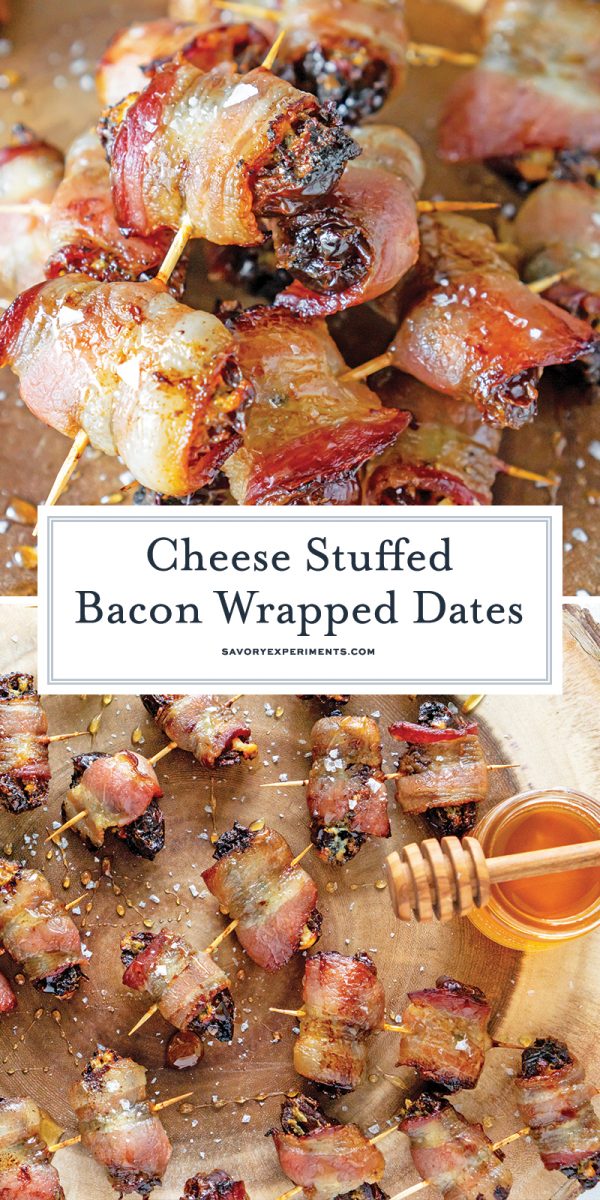 If you liked this bacon wrapped appetizer make sure you check out some of these other easy bacon recipes: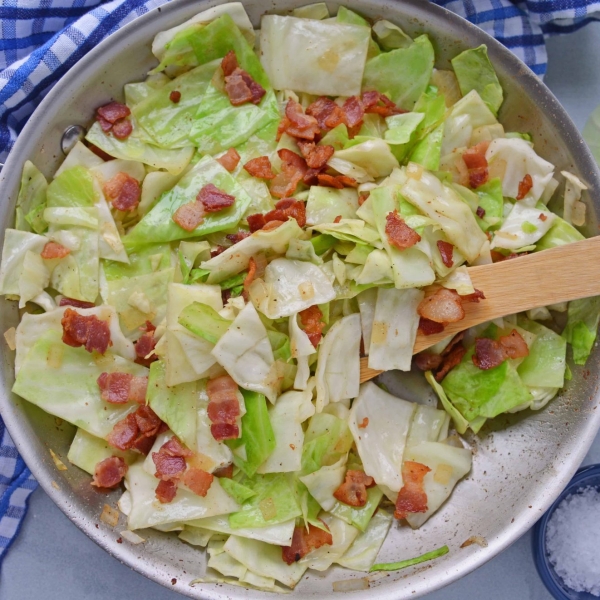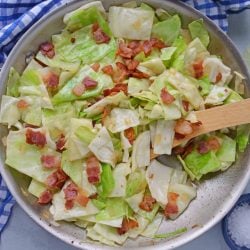 Bacon Fried Cabbage
Bacon Fried Cabbage is a great recipe using cabbage fried in bacon grease and lightly seasoned leaving it with lots of flavor and a little bit of crunch.
See The Recipe!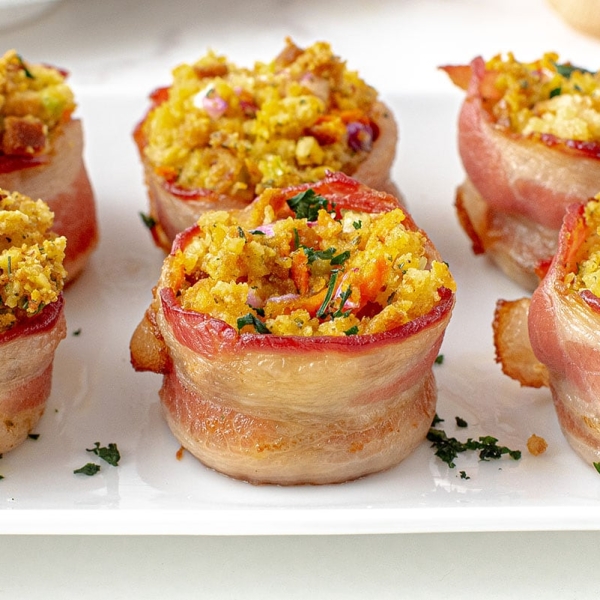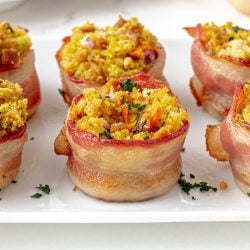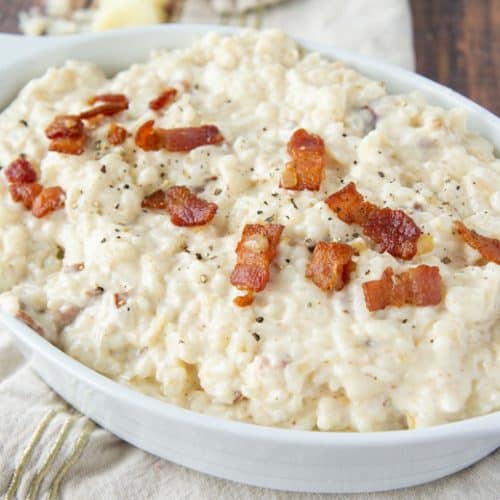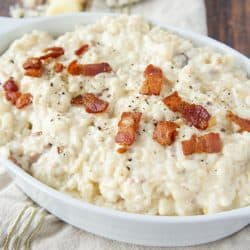 Cheesy Bacon Rice
On those nights when you just need a big scoop of comfort, look no further than this cheesy bacon rice. It's a quick and simple side dish full of flavors the whole family will enjoy!
See The Recipe!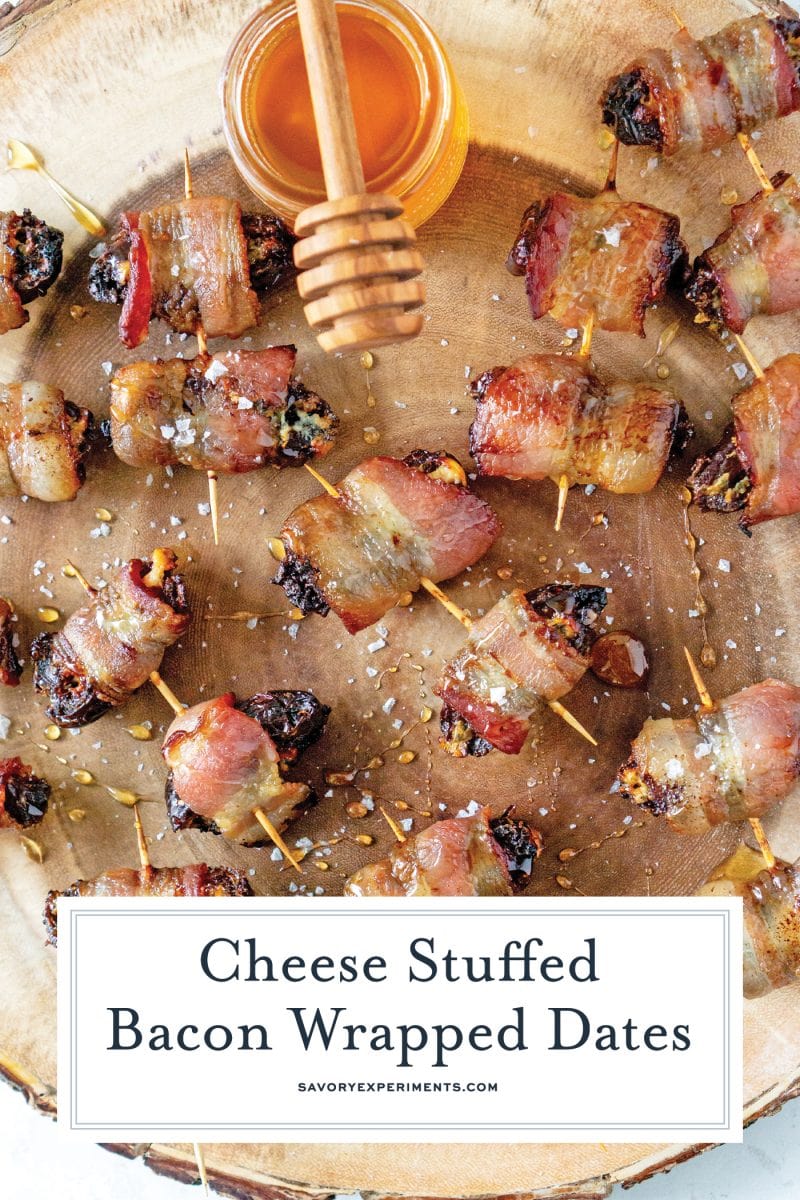 We hope you love and enjoy our bacon wrapped dates recipes- be sure to let us know how you liked them in the comments- from our kitchen to yours, have a great day!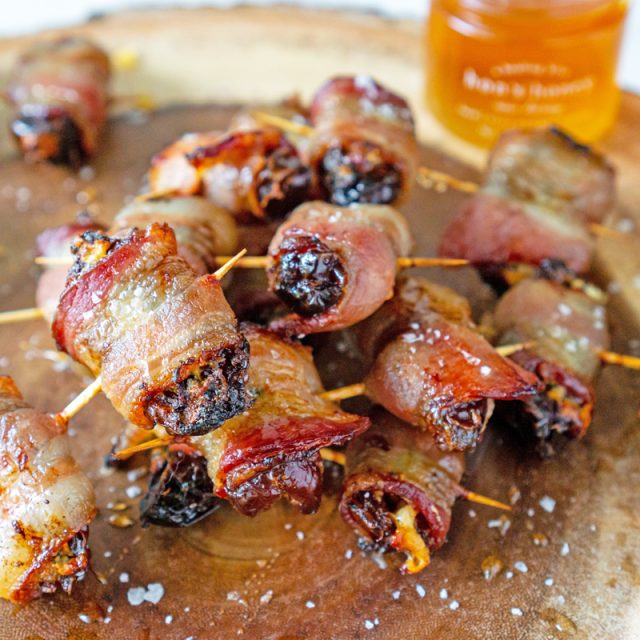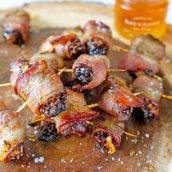 Bacon Wrapped Date Recipe
Bacon Wrapped Dates are an easy, 4 ingredient appetizer or snack. Sweet and salty, chewy and crispy- tender dates are stuffed with soft cheese and wrapped in crunchy bacon.
Ingredients
11

strips

center cut bacon

, cut into thirds

32

dates

, pitted and cut open down the center

8

ounces

blue cheese

honey

, for drizzling

flaky sea salt (such as Maldon)

, for finishing

Large toothpicks

, soaked in water for 15 minutes
Instructions
Place two bacon wrapped dates on each toothpick to secure. Place on a large rimmed baking sheet lined with parchment paper.

Bake for 10 minutes, turn and bake for an additional 12 minutes, or until bacon is browned.

Some cheese might ooze out, but that is fine, there is still plenty where is came from. Allow to rest for 5 minutes before transferring to a serving platter and drizzling with honey and a light sprinkle of Maldon sea salt.

If you've tried this recipe, come back and let us know how it was in the comments or ratings!
Nutrition
Calories:
152
kcal
,
Carbohydrates:
11
g
,
Protein:
5
g
,
Fat:
10
g
,
Saturated Fat:
4
g
,
Cholesterol:
20
mg
,
Sodium:
298
mg
,
Potassium:
158
mg
,
Fiber:
1
g
,
Sugar:
8
g
,
Vitamin A:
115
IU
,
Vitamin C:
0.1
mg
,
Calcium:
81
mg
,
Iron:
0.3
mg