This easy lemon couscous recipe is bright, quick, and so easily adaptable. It takes only 10 minutes and a handful of ingredients to create the perfect side dish that quite literally can pair with any entree.
Full of citrus flavor, this simple couscous recipe is my personal favorite for a light side dish that I can get on the table in a hurry!
Why You'll Love Lemon Couscous
If you're a fan of simple dishes that come together in a snap, this dish might make regular appearances on your dinner table.
Quick and Easy – What sets this side apart is how little time it takes to make. Plus, using only one pot means you have little to clean up after dinnertime.
Goes with Nearly Anything – Since it stores well, you can make couscous and serve it throughout the week with any number of different dishes. Plus, even though it's simple, it's sophisticated enough to pair with a more elevated meal.
It's a Canvas for Creativity – You can customize this couscous in so many ways, with additions of spices or herbs, proteins and vegetables, or even nuts.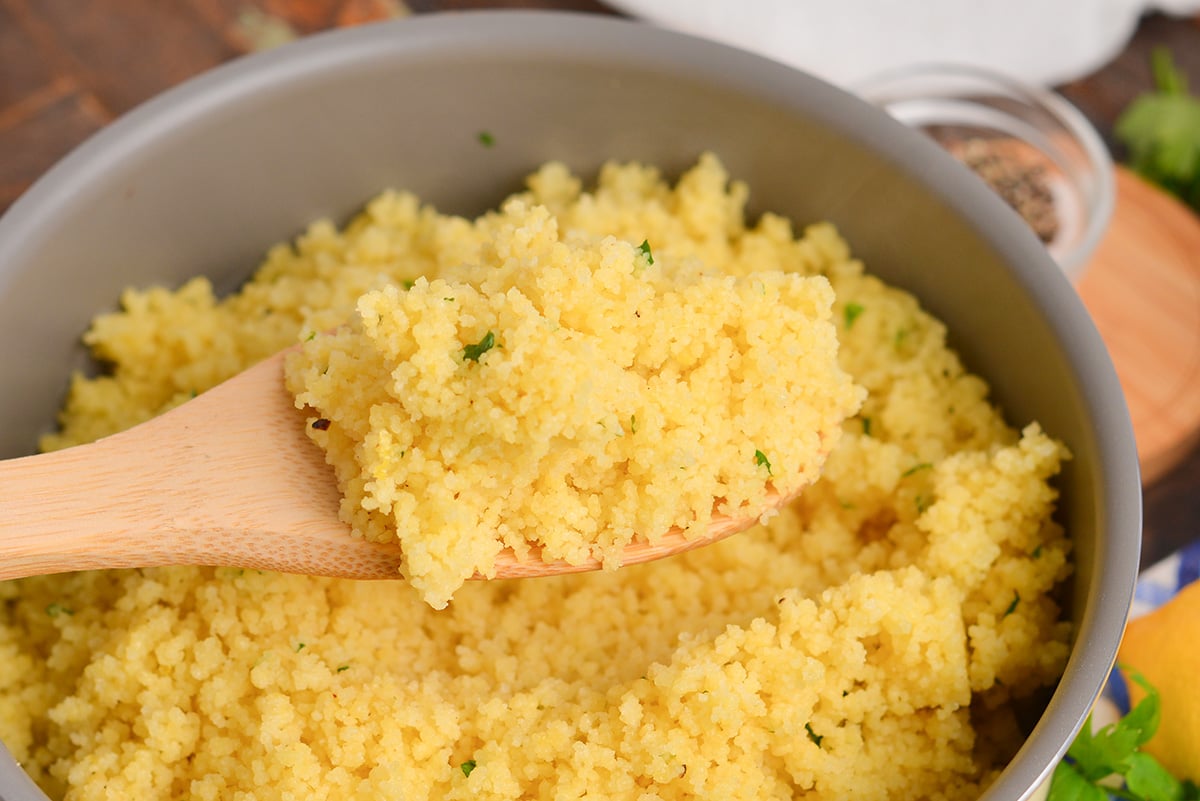 Ingredients
These simple ingredients are all you need to whip up an elegant yet easy side.
Low Sodium Chicken Broth or Vegetable Broth – Since we add salt to this recipe, it's better to use a low-sodium broth so that you have control of the saltiness.
Small Couscous – While there are various different types of couscous — like pearl couscous and Israeli couscous — you'll want to choose the traditional variety for this recipe.
Lemon Juice – Lemon adds a bright flavor that balances out the dish. I prefer to use fresh lemon juice, but you can use the store-bought variety, too.
Lemon Zest – Lemon zest adds concentrated lemon flavor to the couscous. Be sure to avoid shaving the pith (the white part) because it adds bitter flavor.
Coarse Kosher Salt – Salt helps enhance the lemon flavor and balance the flavors of the couscous.
Extra Virgin Olive Oil – Use a high-quality oil that will elevate the flavor of the dish.
Fresh Italian Parsley – Finely chop the parsley into uniform-sized pieces.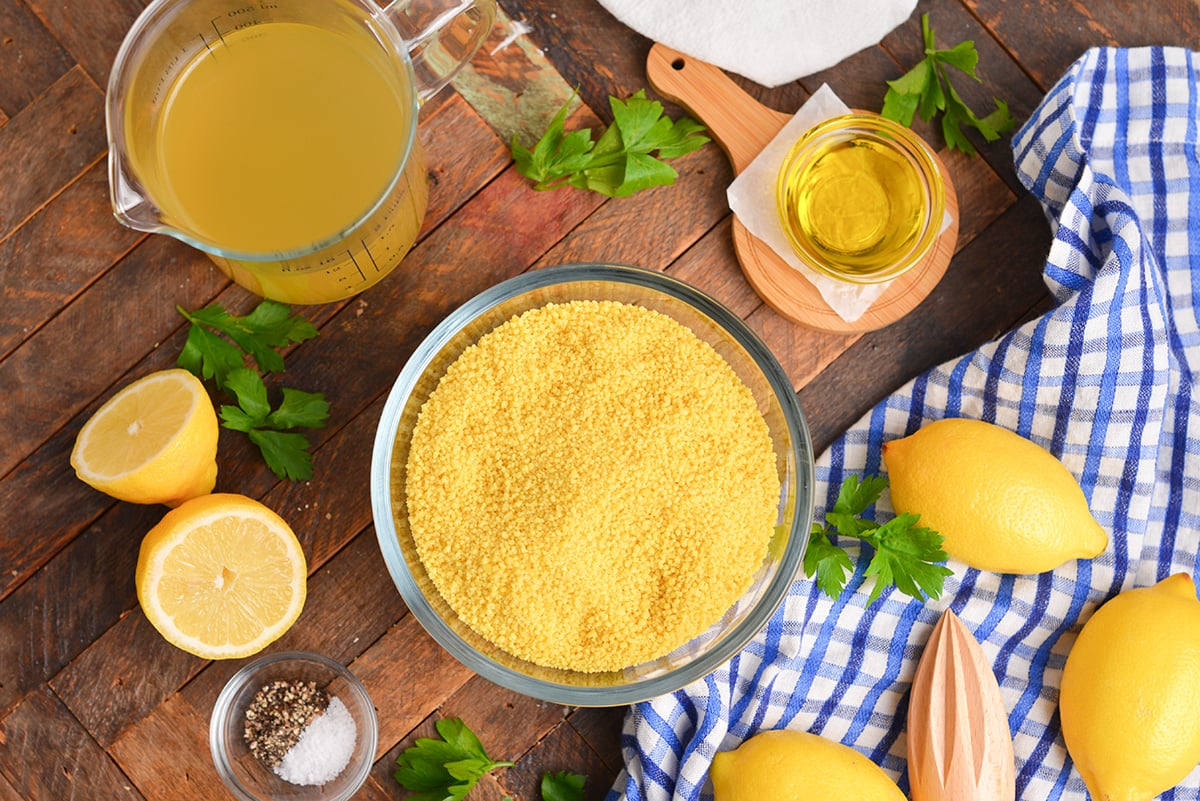 How to Make Lemon Couscous
It only takes a few minutes and one pan to make this simple side dish.
Boil broth. Pour the chicken broth into a medium saucepan and bring it to a rolling boil.
Add remaining ingredients. Once the broth has come to a boil, lower the temperature and add the couscous, lemon juice, lemon zest, and salt to the broth.
Cover and rest. Cook briefly before removing the pan from the burner. Cover the pan and allow the couscous to rest briefly.
Add olive oil and fluff. Before serving, pour in the olive oil, sprinkle in the parsley, and use a fork to combine and fluff.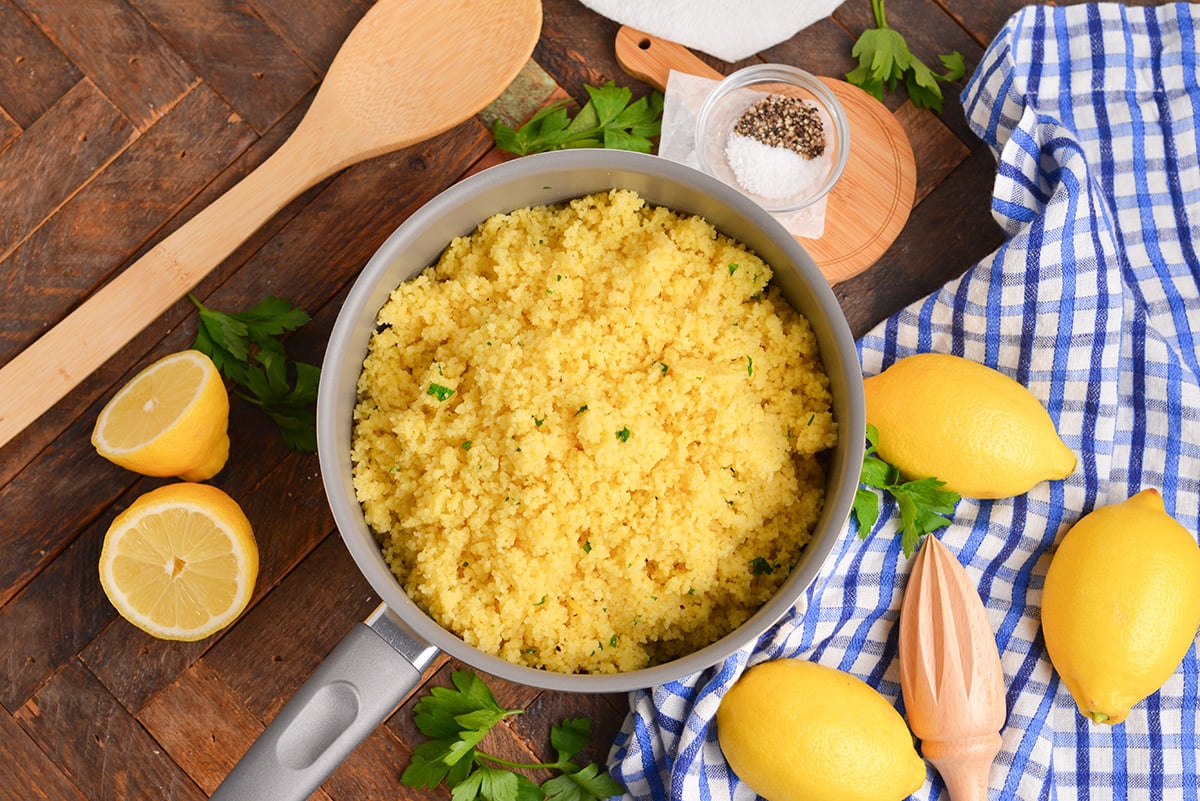 What to Serve with Lemon Couscous
This couscous is so versatile — it can be a main dish but it also goes with nearly anything you might want to serve it with! For a vegetarian meal, top it with roasted root vegetables or toss it with a Brussels sprout salad or cucumber tomato salad. For dishes with meat or seafood, try topping it with lamb stew or Italian seafood stew or serve it alongside mains like grilled chicken, creamy dill salmon, sausage and white bean cassoulet, or grilled stuffed pork chops.
You can also use couscous in place of any type of pasta in a pasta salad – try adding it to kale pasta salad, taco pasta salad, or antipasto pasta salad.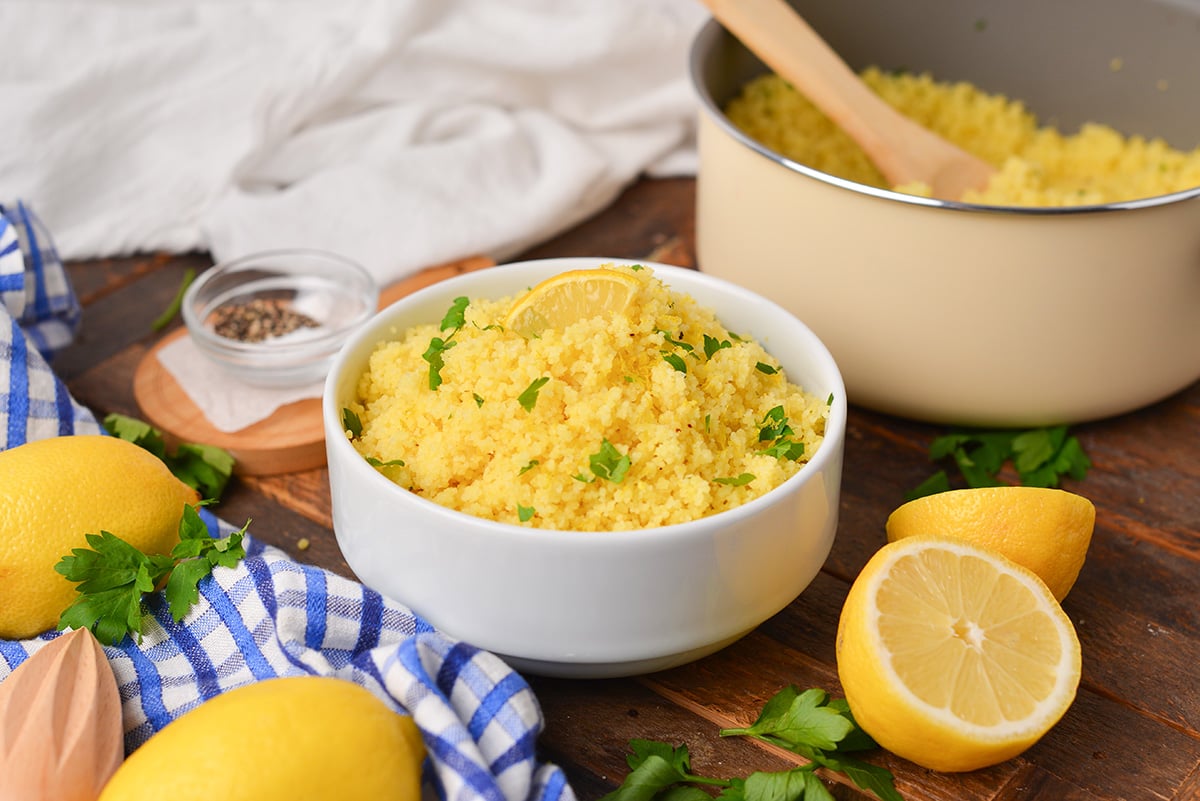 Variations
The simplicity of this delicious side dish lends itself well to all sorts of customizations — get creative with it!
Nuts– Add 1-2 tablespoons of chopped pecans, walnuts, pistachios, or pine nuts. Toasted nuts offer even more robust flavor.
Sundried Tomato– I love the tang that sundried tomato offers. Drain julienne-cut tomatoes and toss in with the olive oil and parsley.
Peas– To sneak in more veggies, I often add 1/2 cup of frozen peas to the mix when I take it off the heat. The residual heat is enough to thaw them in the couscous.
Nightshades– Both onion (and shallot) and garlic are great additions to this side dish. Both would need to be gently sauteed before adding to the mix, but this can be done in the same saucepan with a small amount of olive before adding the broth and bringing it to a boil. To add some color, try using red onion.
Serve Cold – Instead of serving it straight off the stove, serve it cold as a lemon couscous salad.
Fresh Vegetables – While this is a great side dish as is, you can also add some nutritious additions like red bell peppers, cherry tomatoes, asparagus, or your favorite vegetables.
Seeds – For added crunchiness, try incorporating pepitas or sesame seeds.
Citrus – Swap out the lemon for other citrusy flavors by using orange juice or lime juice.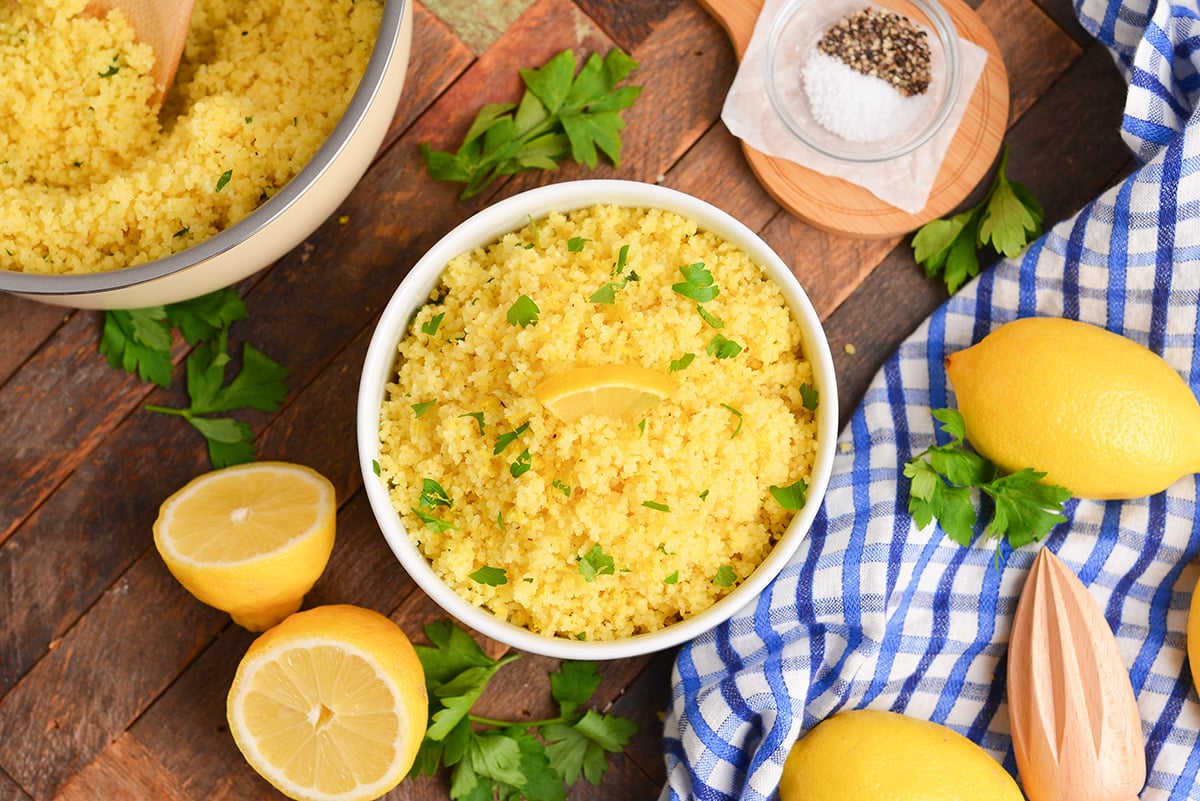 Storage and Freezing
You can store cooked couscous in the fridge or freezer, making it perfect for meal prep.
Refrigerator: Allow leftover couscous to come to room temperature. Then, store it in the refrigerator for up to 3 days in an airtight container or resealable plastic bag.
Freezer: Freeze cooked couscous for up to 4 months in a freezer bag or freezer-safe container.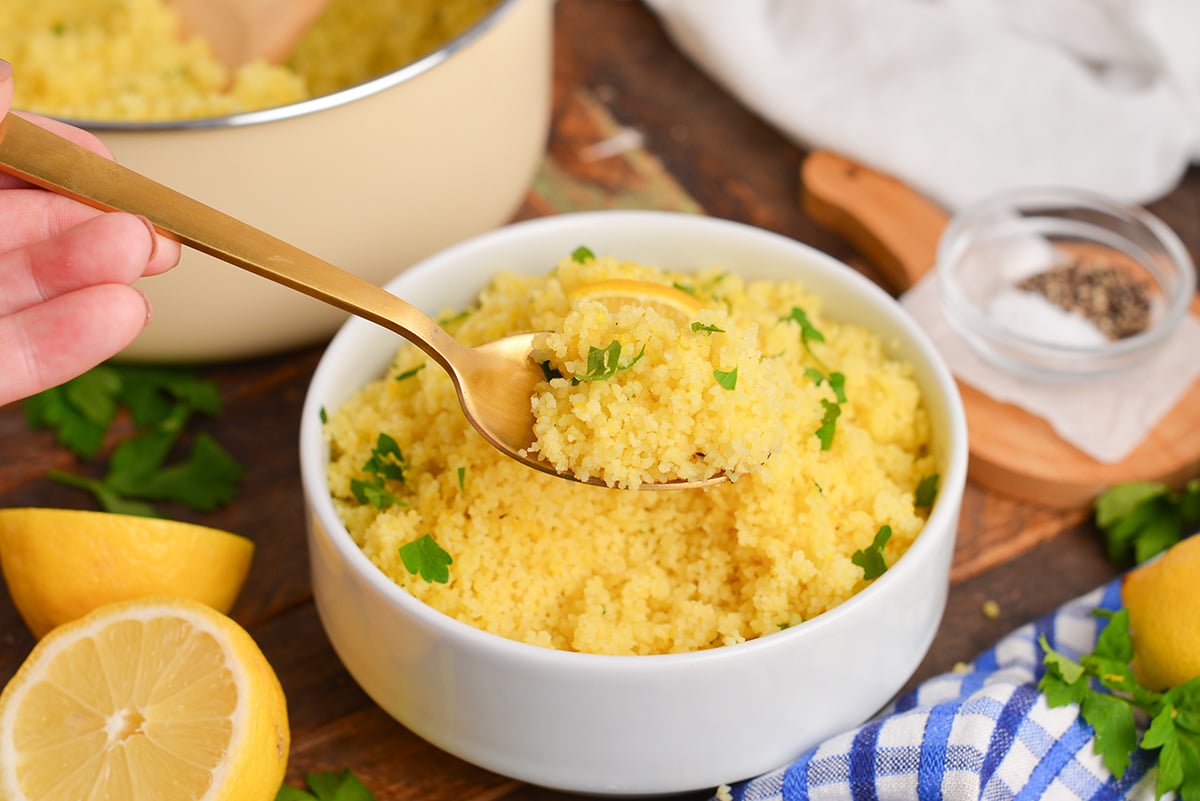 Common Questions About Lemon Couscous
Have questions? Here are the answers!
What can I add to couscous for flavor?
There are lots of different ways to add flavor to couscous — any of your favorite spices or fresh herbs will work well with it. Try adding basil or oregano and a sprinkle of parmesan cheese for Italian-style flavors or feta cheese for a Greek-inspired version. You can also try cayenne pepper for red pepper flakes for a spicy twist.
Is couscous pasta or a grain?
Couscous looks a bit like a grain, but it is a type of tiny pasta that's made from durum wheat semolina flour.
What do you eat with couscous?
Couscous can be served with a variety of different foods from veggies and proteins to soups and stews. It's an easy side dish that's perfectly paired with so many foods, thanks to its neutral flavor and the ability to customize it.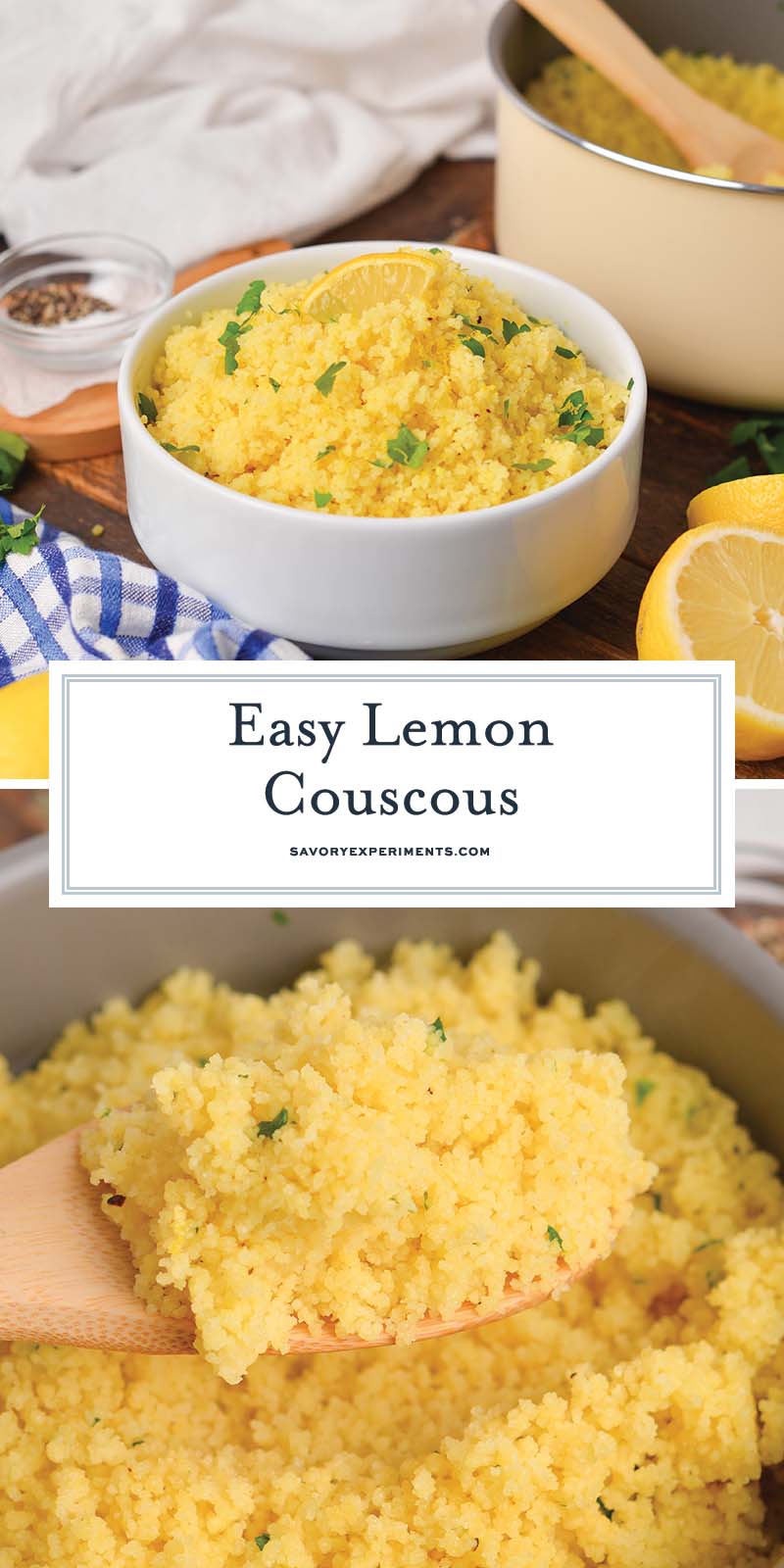 Other Simple Side Dishes
I get stuck in a rut with side dishes, here are a few to try!
White Cooking Wine Couscous
White Cooking Wine Couscous with Garlic and Mint is the perfect spring side dish for pairing with lamb, chicken, seafood and fish. This mild and fresh couscous recipe can't be beat!
See The Recipe!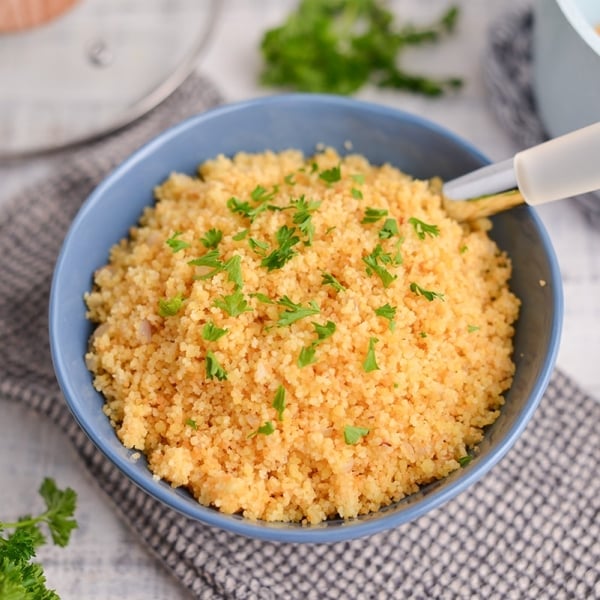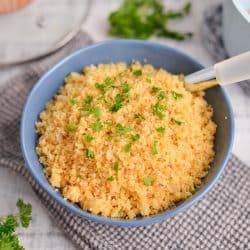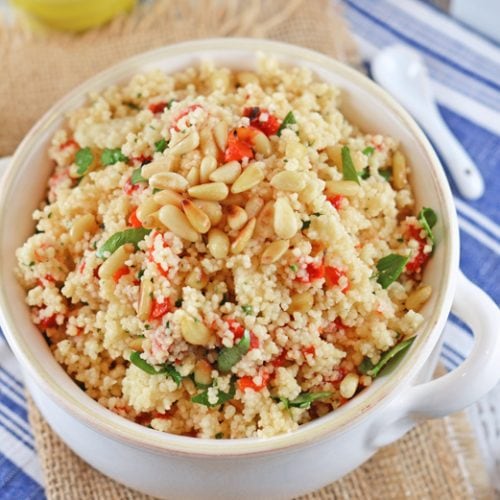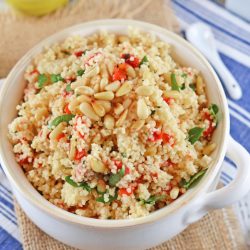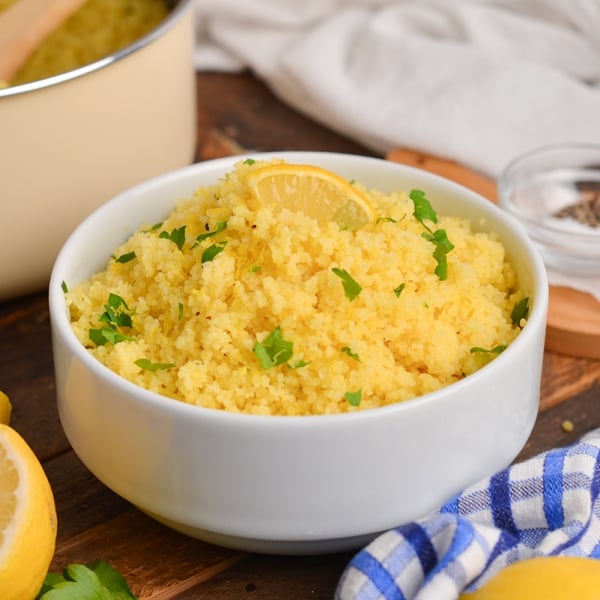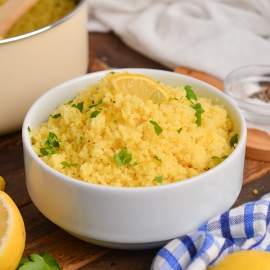 Lemon Couscous Recipe
This EASY Lemon Couscous recipe is bright and full of flavor. It makes the perfect side dish for nearly any main dish!
Instructions
In a medium saucepan, bring the chicken broth to a full boil.

When boiling, reduce to low heat and stir in the couscous, lemon juice, lemon zest and salt. Continue to cook for 1 minute.

Cover and remove from the heat. Allow to sit for 3 minutes.

Add the olive oil and parsley and fluff with a fork.

If you've tried this recipe, come back and let us know in the comments or star ratings.
Nutrition
Calories:
249
kcal
,
Carbohydrates:
46
g
,
Protein:
9
g
,
Fat:
3
g
,
Saturated Fat:
1
g
,
Polyunsaturated Fat:
0.5
g
,
Monounsaturated Fat:
2
g
,
Sodium:
123
mg
,
Potassium:
157
mg
,
Fiber:
3
g
,
Sugar:
0.1
g
,
Vitamin A:
2
IU
,
Vitamin C:
1
mg
,
Calcium:
17
mg
,
Iron:
1
mg