This post first appeared over at Real Housemoms where I'm a contributor.
Truth be told, I'm not much of a potato chip eater. There is something about them that is just lacking unless we are talking about the kettle cooked variety.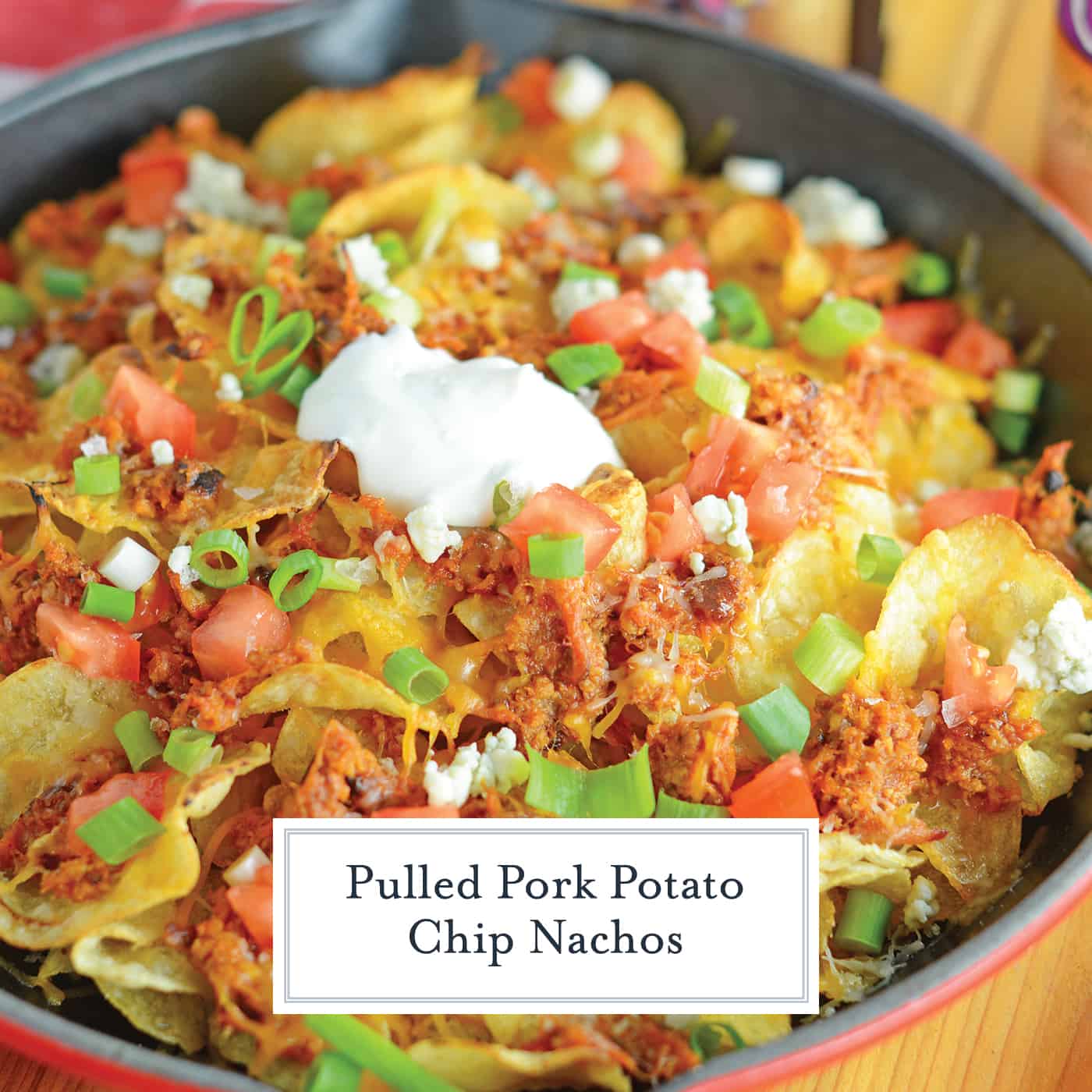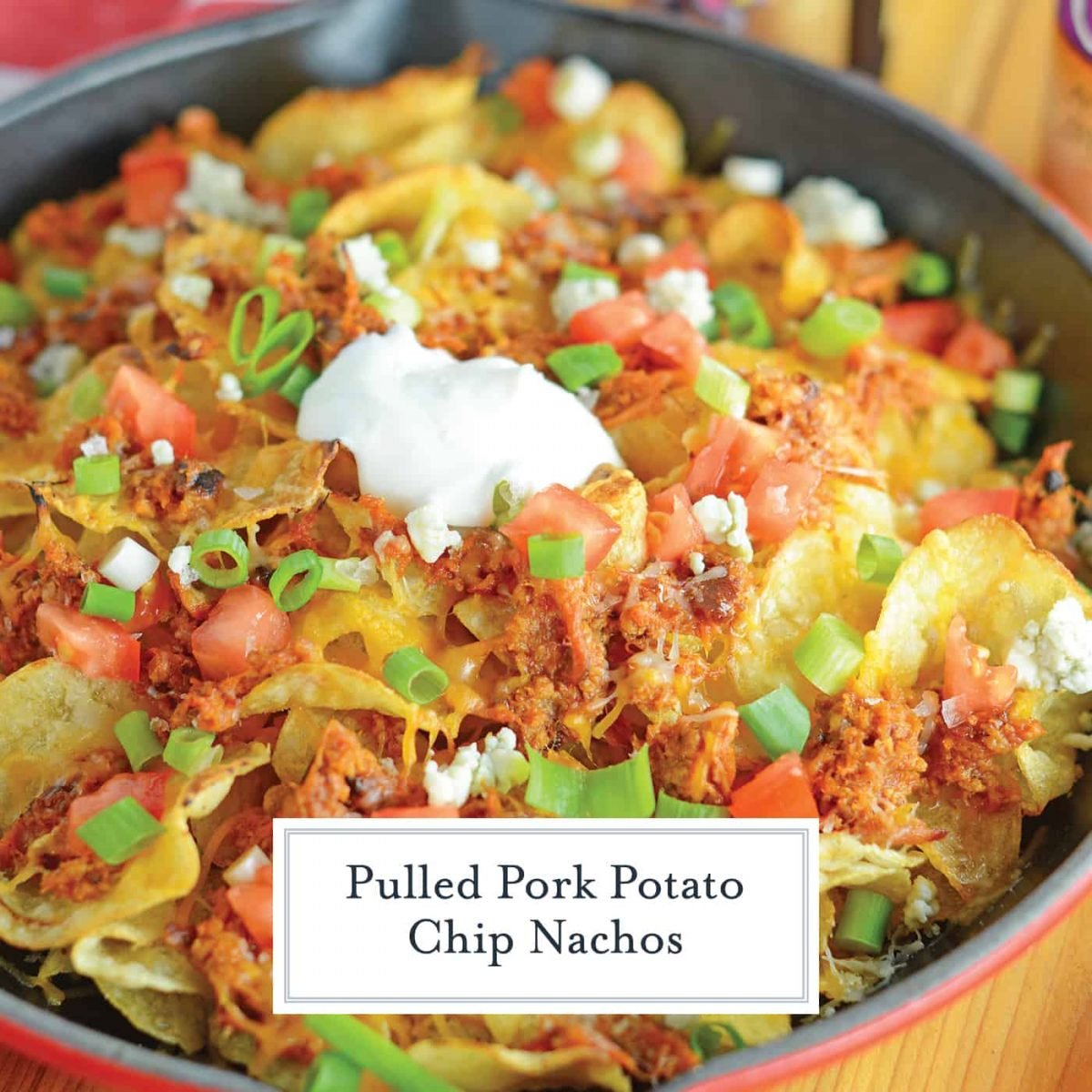 There is something about that extra thick chip goodness that just knocks me off my feet.
Pulled Pork Potato Chip Nachos are an easy appetizer or meal that your whole family will love made with kettle-cooked potato chips and zesty pulled pork!
The crunch is addictive and I will hunt through a bag for my favorites. And do you know which ones are my favorite? The ones that are all folded over or twisty turny. Why do they taste so much better?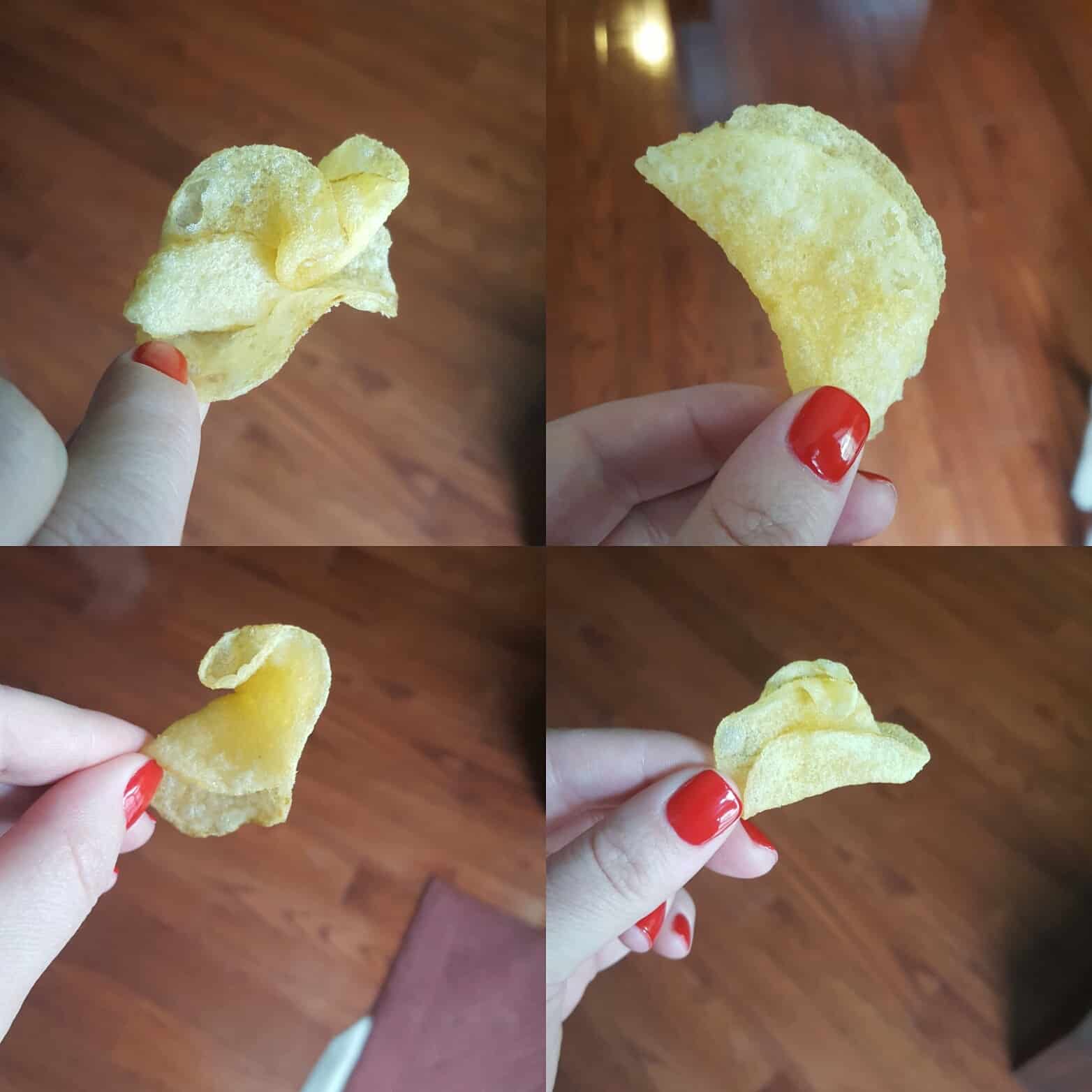 It took me a while to figure it out but I loved how sturdy they are – reinforced almost by the folds and their crunchiness levels are through the roof!
I've even been known to dump the whole bag out just to mine for those little beauties. I then put them all back in the bag for a rainy day or for hubby to munch on. I have been told that he doesn't mind.
Personally, I think it is high time for them to make a bag of the only the folded over chips already. Give me all of your throwaways!!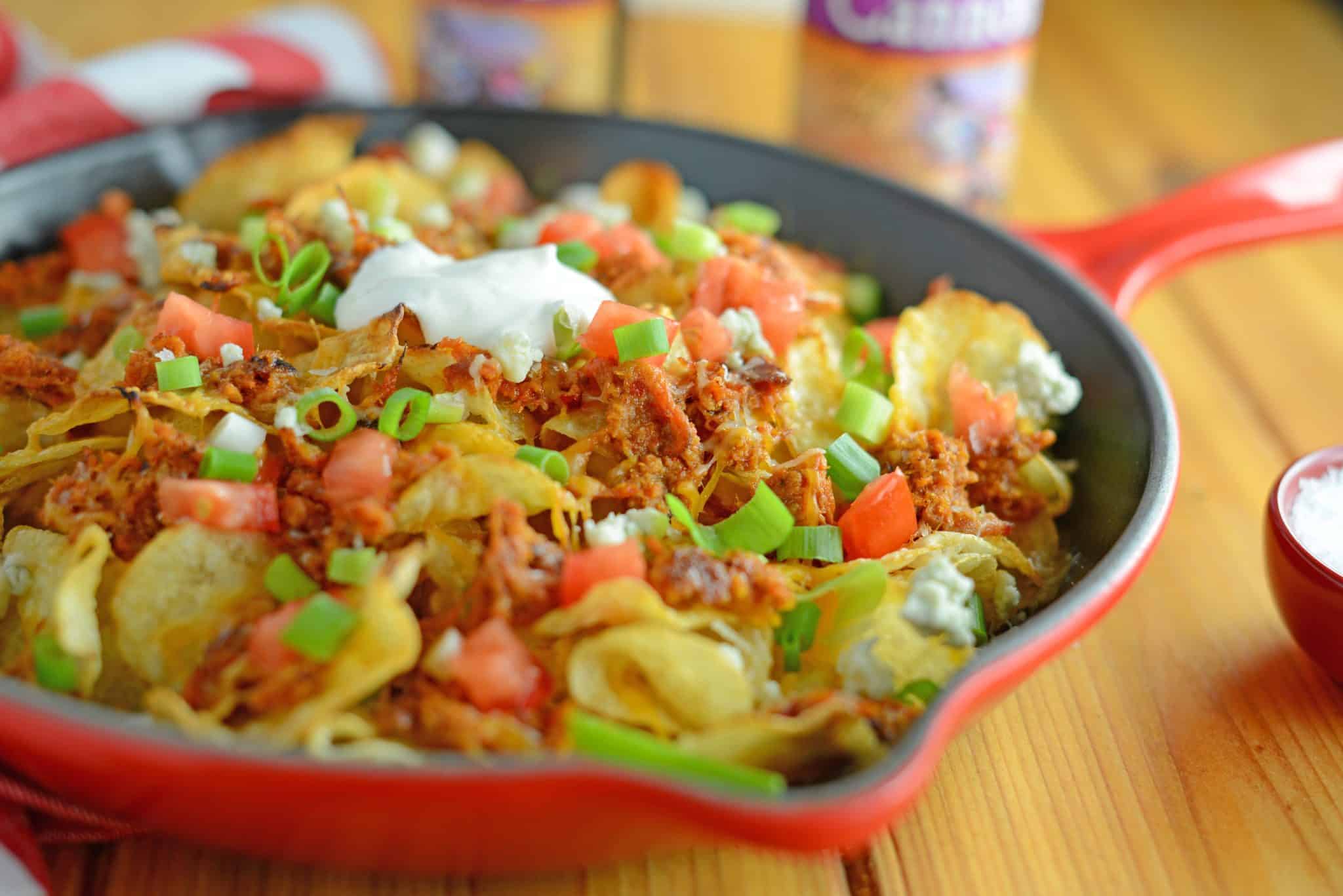 One day I was putting them back in the bag and decided I needed to do something more with them. I was wracking my brain for a recipe they might work well in and then an idea from a gastropub I visited in Florida last fall popped into my head. They had an amazing pulled pork nacho dish.
Why not use kettle chips for a nacho base? They are sturdier than your average potato chip. It was genius if I do say so myself! Pulled Pork Potato Chip Nachos are a thing of beauty.
Kettle cooked chips offer a hefty base similar to that of a corn chip which means they won't completely "sog out" (as I like to call it) under the weight of some heavier toppings like BBQ pulled pork, cheese, and fresh veggies. Also consider making homemade baked potato chips.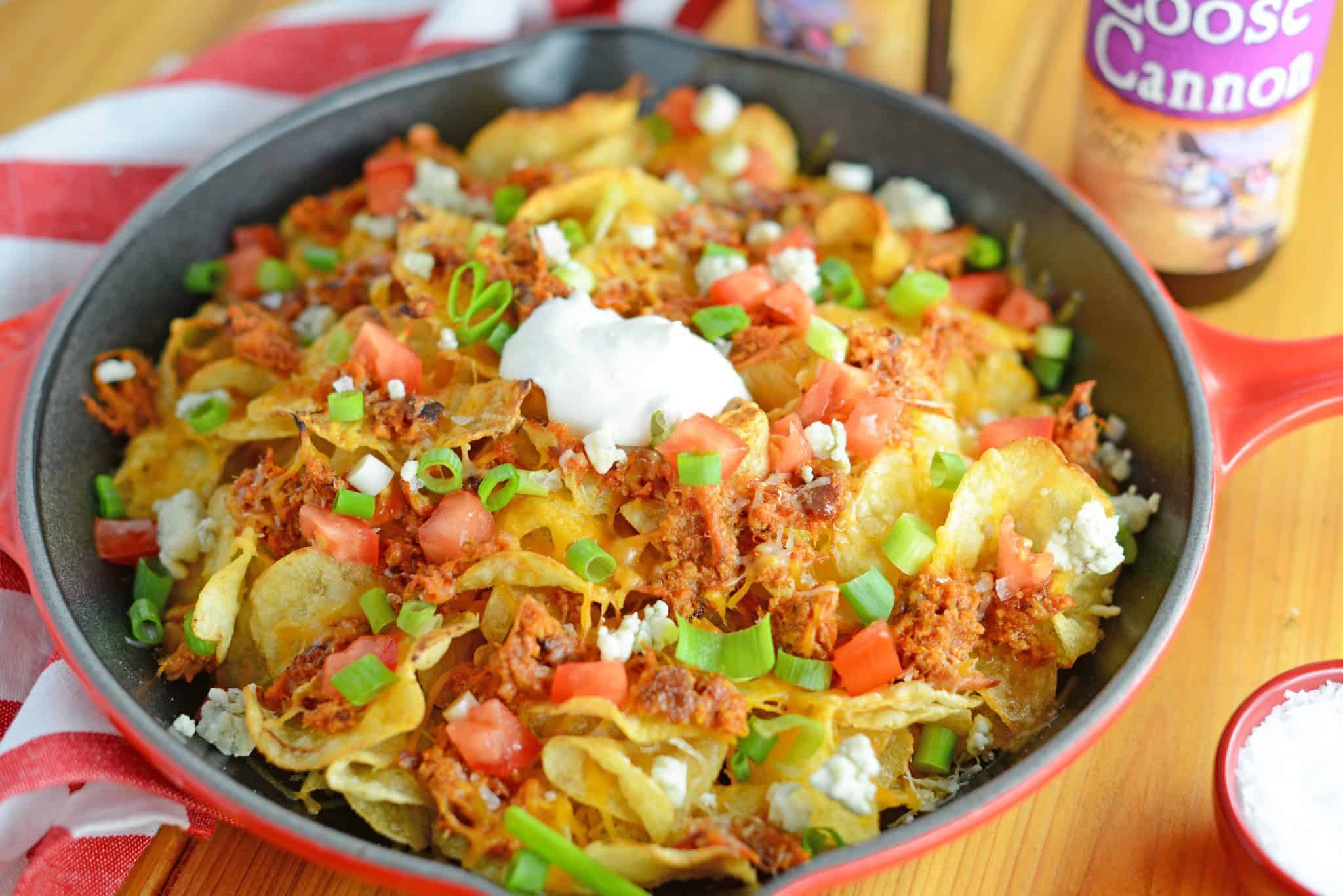 The topping possibilities are endless, for sure! I like to pop mine in my favorite all-purpose cast iron skillet, but you can also easily use a sheet pan for larger batches.
If you are feeling ambitious, whip up your favorite batch of pulled pork in the oven or the instant pot and if you are short on time, head to the grocery store to pick up some pre-made deliciousness. Nothing quite like a shortcut!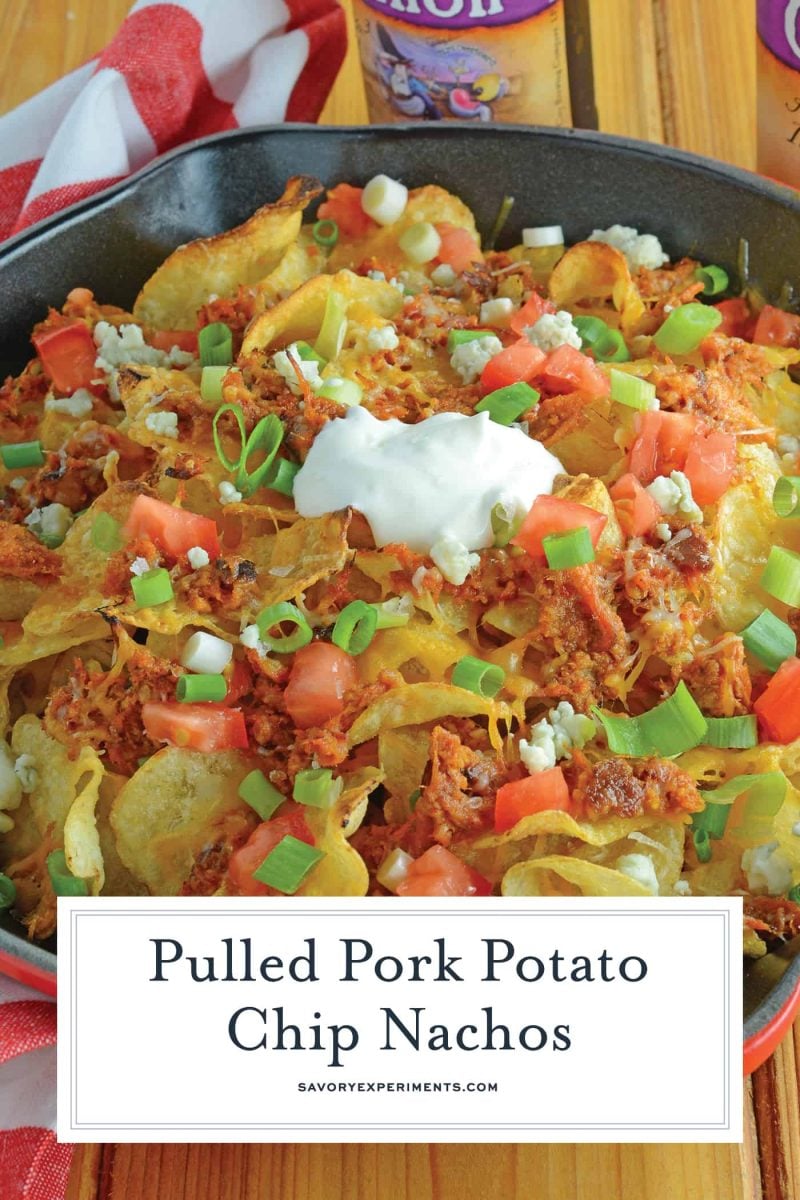 If you like my Pulled Pork Potato Chip Nachos, you'll also love these recipes and scroll on down for even more fun appetizer ideas!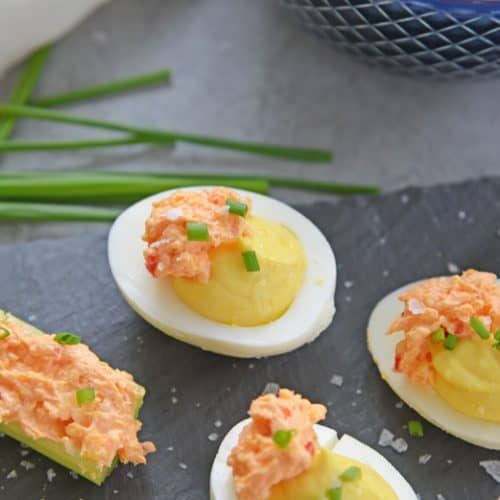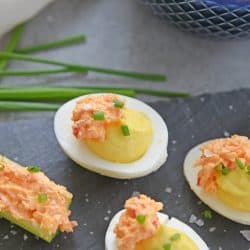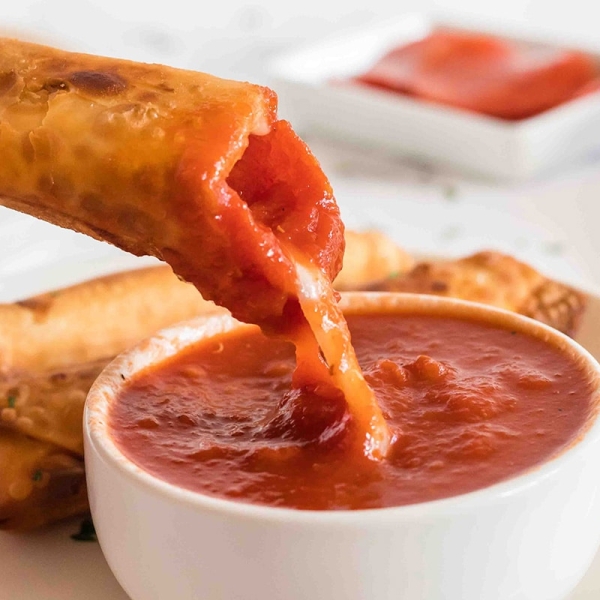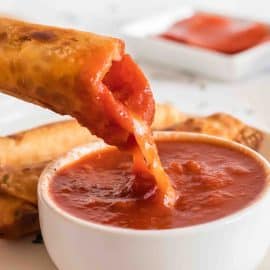 Pizza Logs
Crispy egg roll wrappers stuffed with gooey mozzarella cheese and zesty pepperoni, fried to a golden brown and dipped in marinara sauce.
See The Recipe!
Tater Tot Nachos (Totchos)
Loaded Tater Tot Nachos, also known as Totchos, are the ultimate game day snack. Smothered with cheese, chicken, pico and green chiles, they are sure to make your guests happy!
See The Recipe!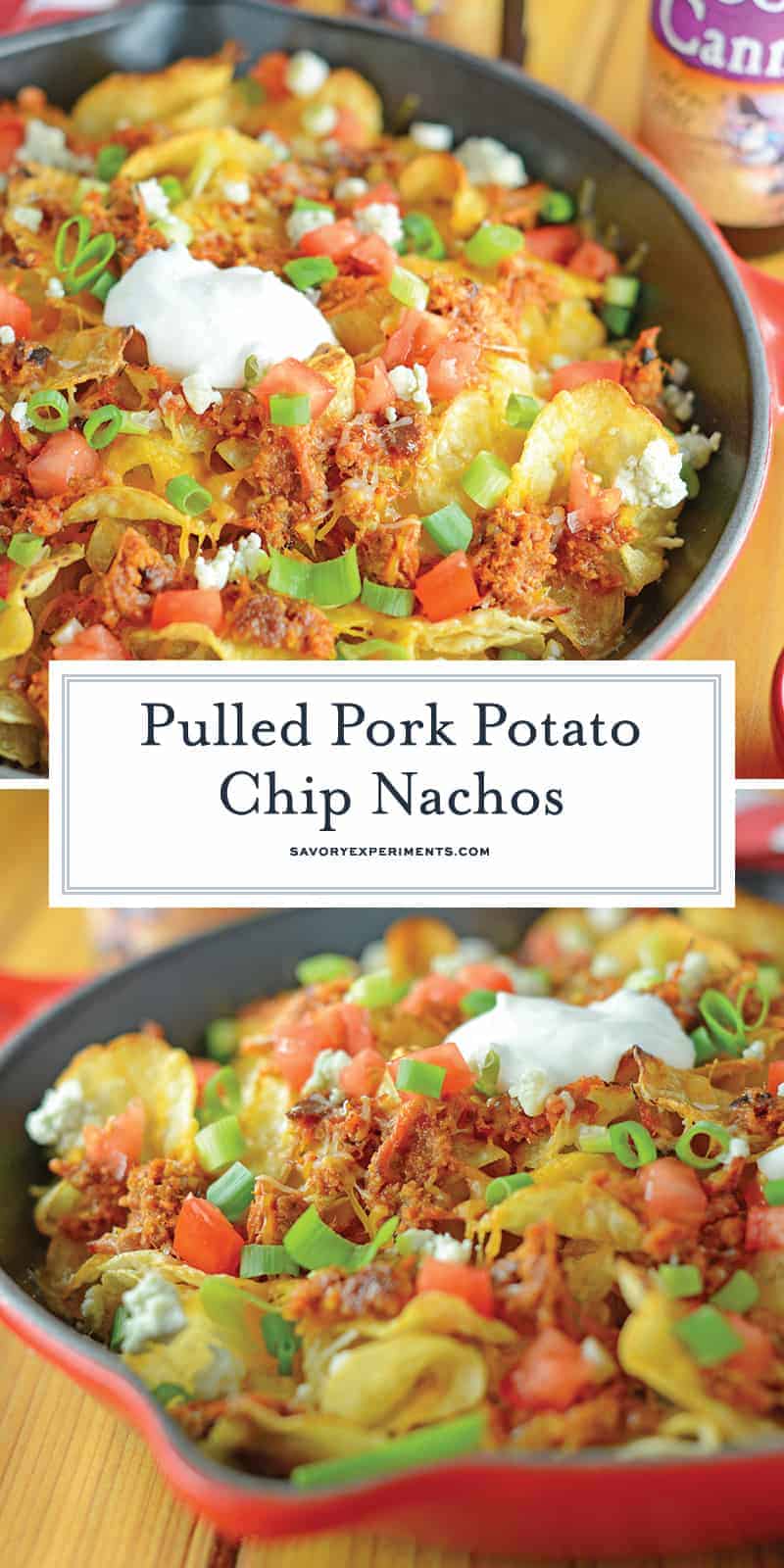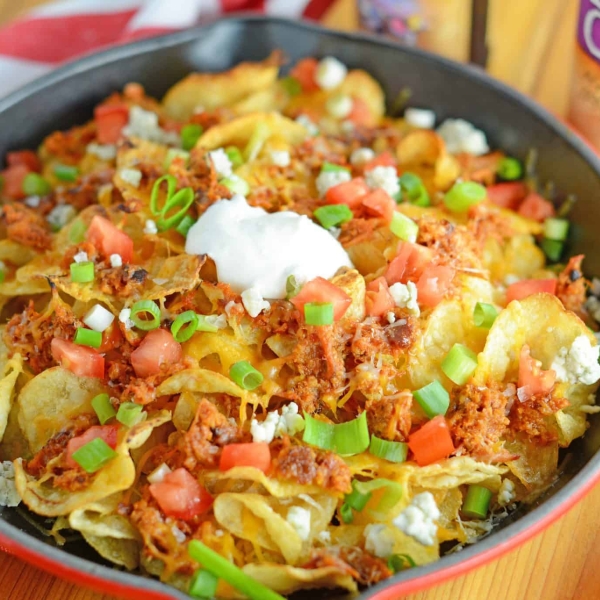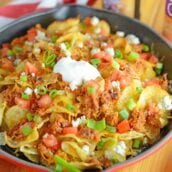 Pulled Pork Potato Chip Nachos
Pulled Pork Potato Chip Nachos are an easy appetizer or meal that your whole family will love made with kettle cooked potato chips and zesty pulled pork!
Instructions
Place kettle cooked potato chips in a cast iron skillet or rimmed baking sheet. Equally divide BBQ pulled pork over chips and then cover with shredded cheddar cheese.

Place under the broiler on high until cheese is bubbly. Remove and top with remaining toppings. Serve immediately.

If you've tried this recipe, come back and let us know how it was!
Nutrition
Calories:
607
kcal
,
Carbohydrates:
44
g
,
Protein:
14
g
,
Fat:
42
g
,
Saturated Fat:
10
g
,
Cholesterol:
35
mg
,
Sodium:
702
mg
,
Potassium:
1480
mg
,
Fiber:
3
g
,
Vitamin A:
475
IU
,
Vitamin C:
18.1
mg
,
Calcium:
273
mg
,
Iron:
1.7
mg