Peach and Cherry Cobbler combines two of my favorite cobbler recipes and two of my favorite summer fruits.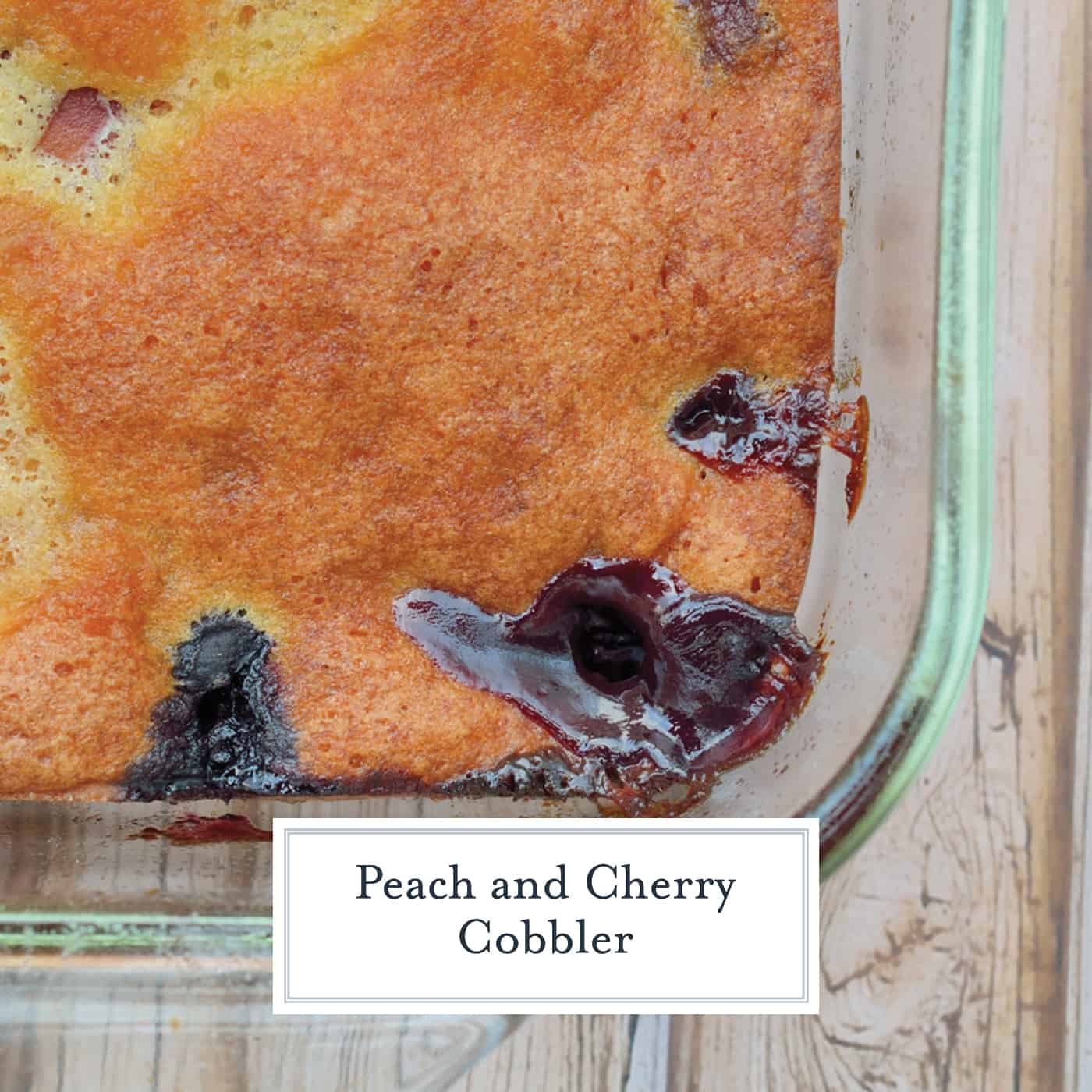 Why does the summer fruit season have to end? There is nothing I love more about hot days than biting into a lush peach or spitting cherry pits into a bucket.
I can honestly say that I've eaten at least my weight in cherries over the past month. I've also incorporated them into my food, like Peach and Cherry Cobbler.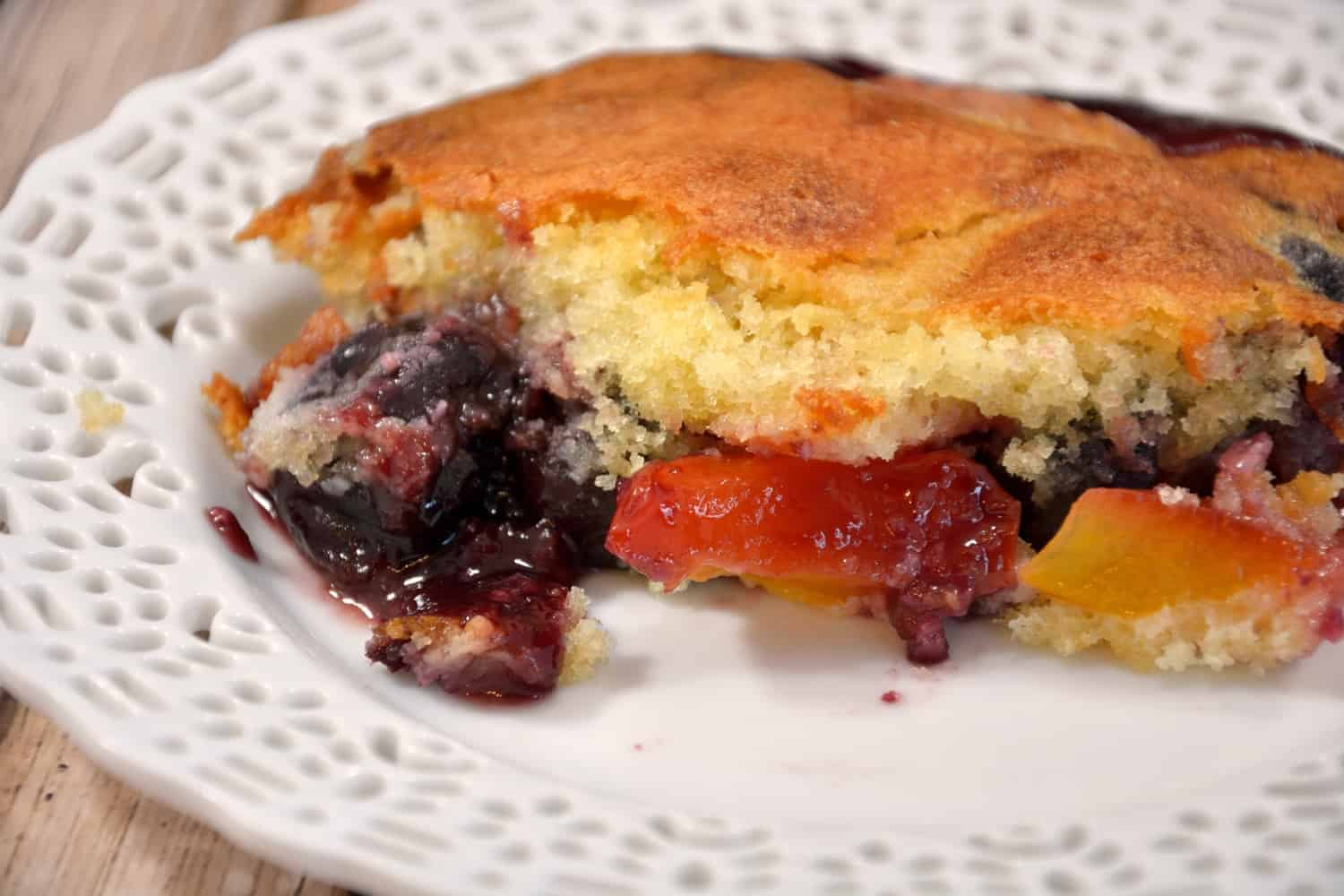 Cherry Peach Cobbler
I've actually made Peach and Cherry Cobbler two times in the last month because it is such a hit. Once I even added blueberries to the mix.
The cobbler topping isn't overly sweet and has a hint of almond without being overwhelming, while fresh stone fruits don't lose their texture or taste, but instead fossilize into the bready mixture.
This recipe is perfect for bringing to potlucks and BBQs. It comes together quick, tastes great and can even be made in a disposable aluminum pan so you don't have to worry about picking your serving ware up after the party.
It can be made ahead of time and travels with ease. What more can you ask for in a summer dessert recipe?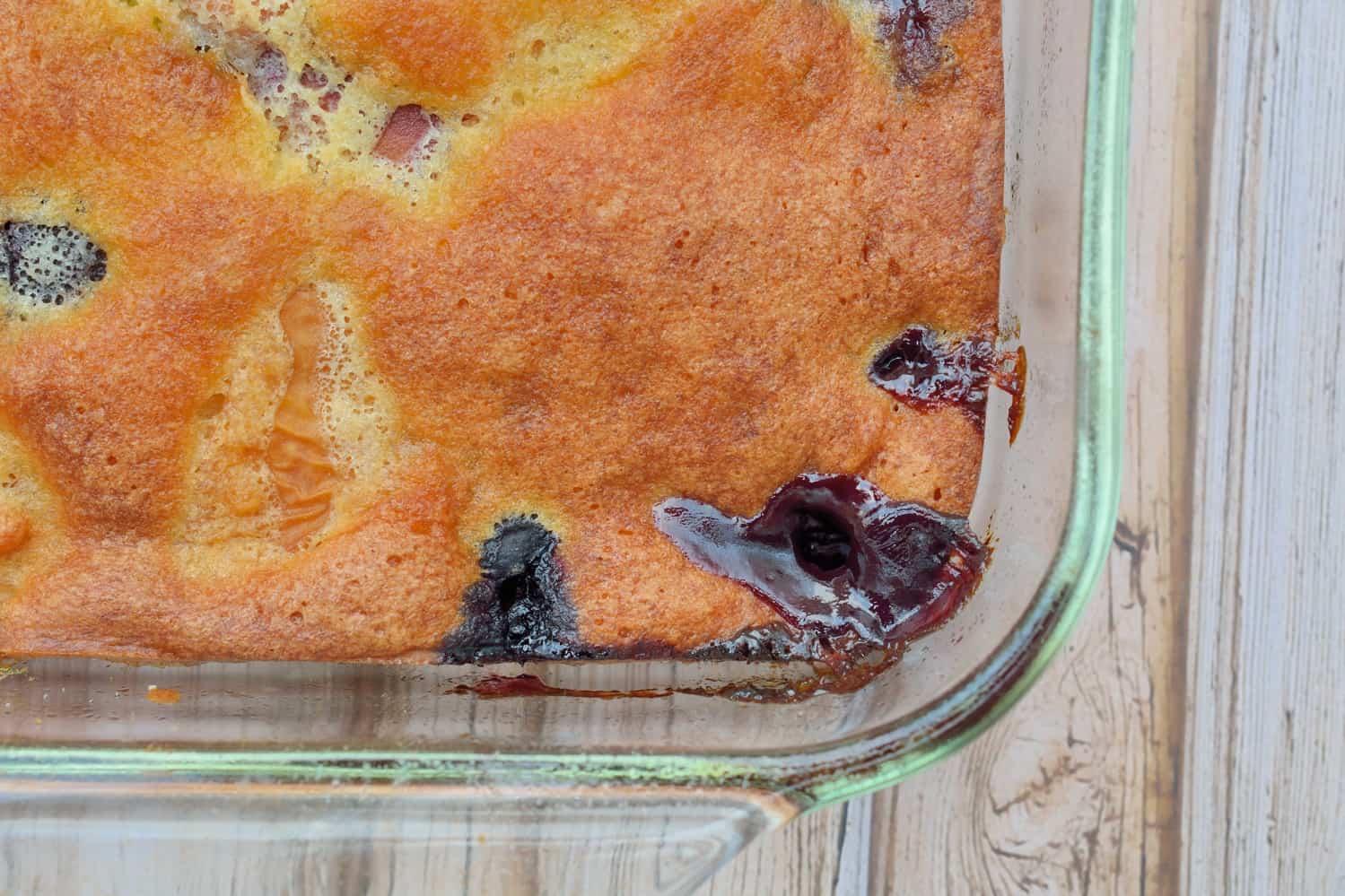 Fresh or Frozen Fruits
I don't want to generalize here, but I can say with a good amount of certainty that most recipes that call for cherries or peaches are best with fresh fruit.
I will also admit to have making this with frozen fruit because when the crazing hits during the winter months you gotta find a short cut!
If you do use frozen fruit, make sure they are fully thawed and drained well. There is potentially more water and this can make your cobbler soupy.
You even use a combination of fresh and frozen.
Stone Fruits
I love juicy sweet peaches with slightly tart cherries, but you can use any stone fruits you'd like Just make sure to cut them into uniform sizes.
Stone fruit includes:
peach
nectarine
plum
lychees
mango
apricots
cherries
Other fresh berries can work as well. Like mentioned above, I've also added blueberries.
You are using fresh peaches you have the choice of peeling them or not.
Serving
This cobbler recipe can be made ahead of time and either served at room temperature or warm. You can reheat it in the oven on a low temperature to make sure you don't overcook the sponge or for just a scoop, in the microwave on 50% power for 15 seconds.
While it isn't the best dessert to be frozen, it is doable in smaller servings. Cooked fruits just don't thaw the same as raw.
Only one thing is for sure, it will require a heaping scoop of Classic Vanilla Bean Ice Cream and possible Fresh Whipped Cream.
What You'll Need:
Cherry Pitter– I used to think this was an excessive gadget I didn't need. I was wrong.
9 x 13 Glass Baking Dish– an absolute essential for any kitchen! Use it for baking, marinating or storing. Get one with a lid, you'll thank me later.
Wood cutting board – wood won't dull your knives like plastic and if treated properly, has natural antimicrobial properties.
Stand Mixer– Oh, it was a happy day when I finally got my stand mixer and now I am not quite sure how I ever liked without one. Do yourself a favor and invest. A quality mixer will last a lifetime, plus more. Plus, they come in fun colors!
Large Mixing Bowl– Use a mixing bowl a little larger than you think you'll need. There is less pressure to keep it in the bowl. You can always transfer it to a smaller serving bowl later. I personally look for ones with lids so I can cut down on plastic wrap and aluminum foil waste.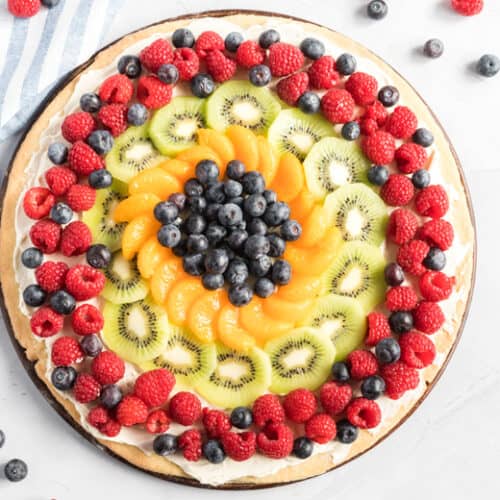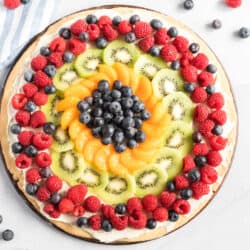 EASY Fruit Pizza
This Dessert Pizza with fresh fruit, cream cheese frosting and a crispy cookie base is a fun and tasty treat the whole family will go crazy for!
See The Recipe!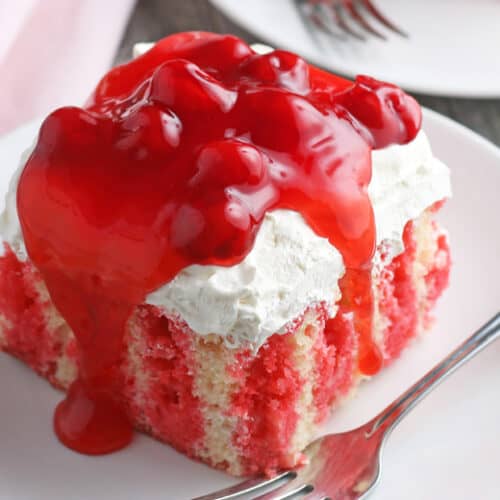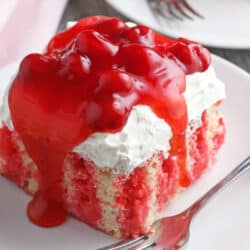 Cherry Poke Cake
Poke cakes are so fun, and this Cherry Poke Cake is no exception. Easier to make than just a white cake with cherry filling, and more delicious too!
See The Recipe!
Balsamic Strawberry Parfait
Balsamic Strawberry Parfait- Easy dessert recipe with layers of ice cream, yogurt-whipped cream mix, macerated strawberries and candied walnuts. Perfect for feeding a crowd or dinner parties!
See The Recipe!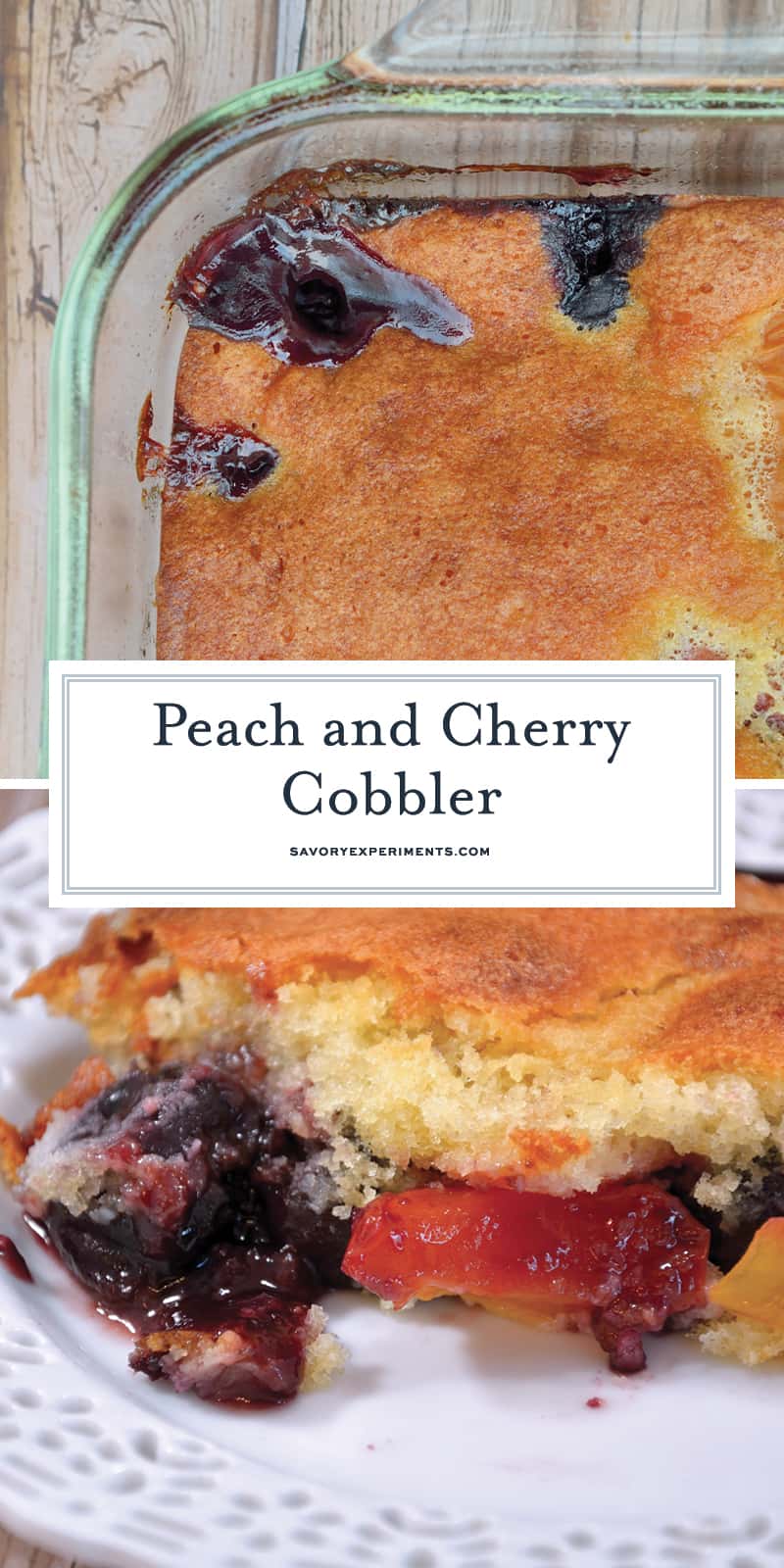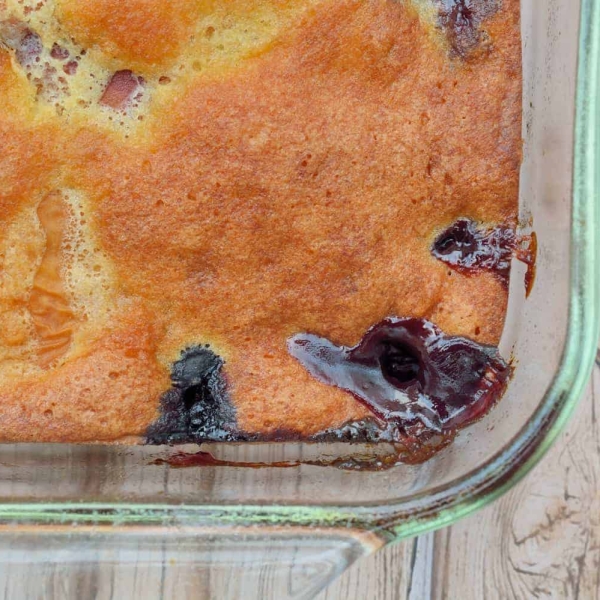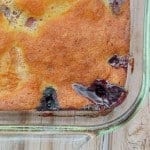 Peach Cherry Cobbler Recipe
Peach and Cherry Cobbler is an easy cobbler recipe perfect for brunch or dessert. Serve with a scoop of vanilla bean ice cream!
Instructions
Lightly coat a 9 x 13 inch baking dish with cooking spray. Preheat oven to 350 degrees.

In a large mixing bowl, mix sugar through kosher salt, then add fruit and toss until coated. Pour into prepared pan.

Sift together flour through salt into a medium mixing bowl, set aside.

In the bowl of a stand mixer fitted with the paddle attached or a large mixing with an electric mixer, beat together softened butter, sugar and almond paste until fully combined, approximately 5 minutes.

Add eggs one at a time, mixing fully after each addition. Slowly, add dry ingredients.

Spoon into 12 equal dollops over the top of fruit.

Bake for 50-60 minutes or until breading is golden browned and fruit juices are dark and thick. Allow to stand for a minimum of 20 minutes before serving. Allow to cool fully before covering if serving at a later time. serve with a giant scoop of Classic Vanilla Bean Ice Cream.

If you've tried this recipe, come back and let us know how it was!
Nutrition
Calories:
268
kcal
,
Carbohydrates:
39
g
,
Protein:
4
g
,
Fat:
11
g
,
Saturated Fat:
5
g
,
Cholesterol:
61
mg
,
Sodium:
114
mg
,
Potassium:
303
mg
,
Fiber:
2
g
,
Sugar:
31
g
,
Vitamin A:
565
IU
,
Vitamin C:
7.7
mg
,
Calcium:
45
mg
,
Iron:
1
mg