Cherry Chocolate Chip Cookies Recipe
These Cherry Chocolate Chip Cookies are just what your sweet tooth is craving! Full of cherry flavor and plenty of chocolate chips, you are going to love these cookies!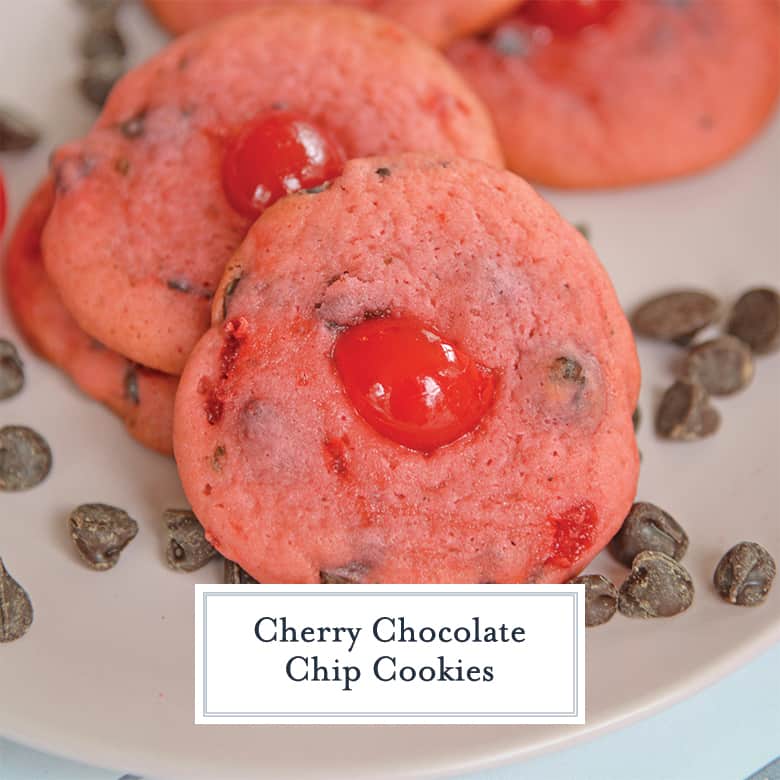 A homemade cookie recipe doesn't get much better than these Cherry Chocolate Chip Cookies! Chocolate and cherry just belong together!
I would like to start by telling you about the sacrifices I made to bring you these cookies. I went through days of recipe testing. Lots of empty calories consumed and many additional minutes needed on the treadmill.
I hadn't had Cherry Chocolate Chip Cookies since I was a kid and then I saw a glimpse of the beautiful magenta hued cookie in my Pinterest feed. I made a note to make some.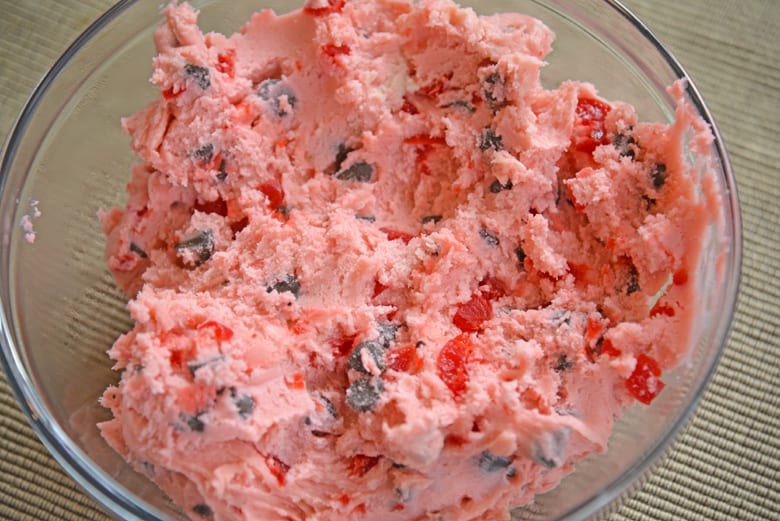 But first I looked up a few recipes and read the feedback from others. As part of my recipe development process, I like to understand what people are looking for.
Most comments included wanting to use the cherry juice, flat cookies and wanting to use dried cherries instead of maraschino cherries.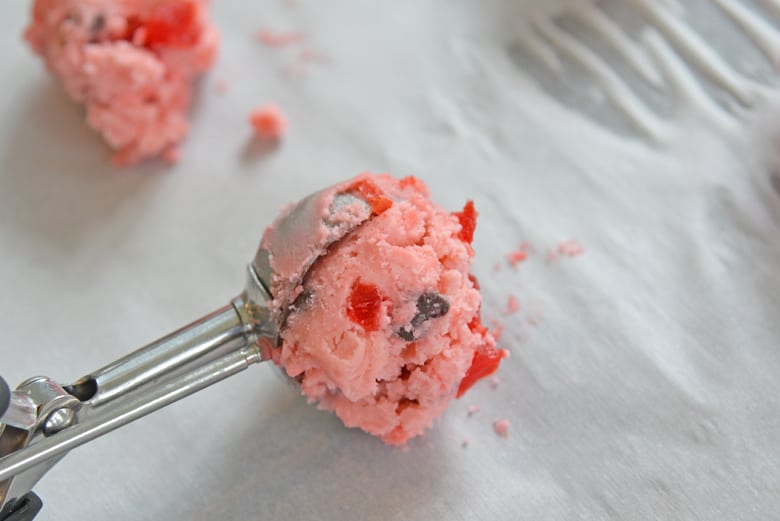 In the process of trying to make the masses happy, I encountered some of the same problems.
PRO TIP: For all-natural red food coloring, use the same amount of beet juice.
Some were too flat.
Others were undercooked in the center.
Overcooked and brown on the pretty pink.
Too pink and you could taste the red food coloring.
Just call me the Goldilocks of Cherry Chocolate Chip Cookies. I ATE A LOT OF COOKIES. So here is what I learned and my perfect cherry chocolate chip cookie recipe.
PRO TIP: Spray one spritz of water on the baking sheet to get the parchment paper to stick and not slide.
Food coloring is what gives these rosy cookies their signature pink batter, however any pink or red food coloring has a little bitter bite.
You can omit the food coloring all together and still have a light pink color from the maraschino cherry syrup.
PRO TIP: Use a cookie dough scoop to get the most evenly sized cookies. Make sure they have enough room to spread on the baking sheet.
To start making these Cherry Chocolate Chip Cookies, you will want to sift together the flour, baking soda and salt. I like to use sea salt, but feel free to just use what you have on hand.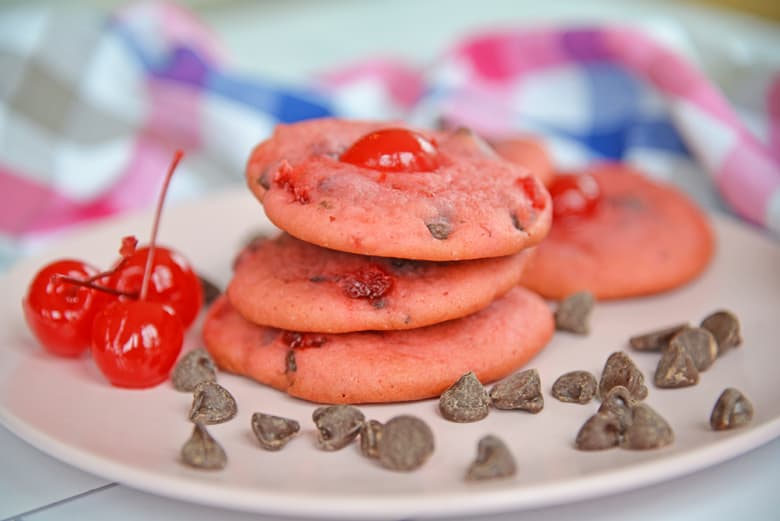 Set the dry ingredients aside and beat the unsalted butter and sugars in the bowl of a stand mixer. Continue doing so until the mixture is light and fluffy.
Next, add in the vanilla extract, eggs and maraschino cherry syrup. Mix everything until completely combined.
Now onto the dry ingredients! Add the dry ingredients to the bowl of the mixer and mix until everything is just combined. Over mixing will make the cookies tough.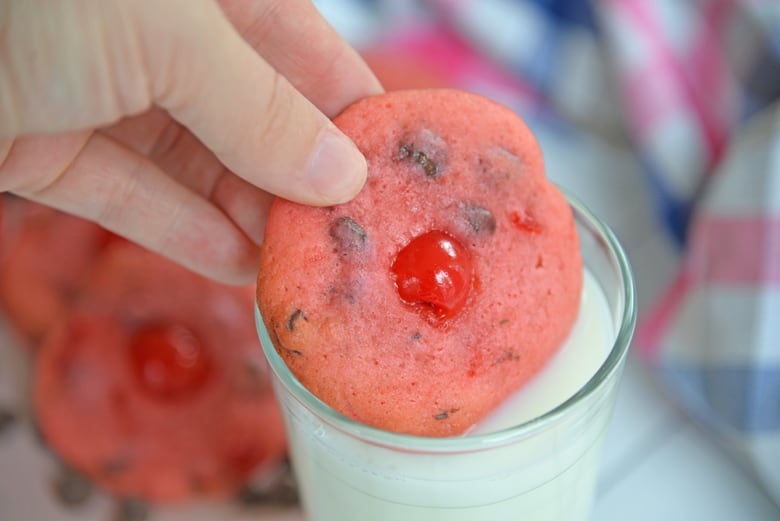 After the dough is mixed, gently fold in the chocolate chips and cherries. Cover the bowl and refrigerate the dough for about an hour. If you try baking the dough at room temperature, the cookies will spread too much and become flat.
Once the dough has been refrigerated, preheat the oven to 350 degrees and line a cookie sheet with parchment paper.
Using a spoon or small cookie scoop, drop heaping tablespoons of cookie dough balls onto the cookie sheet. Make sure the dough is evenly spaced.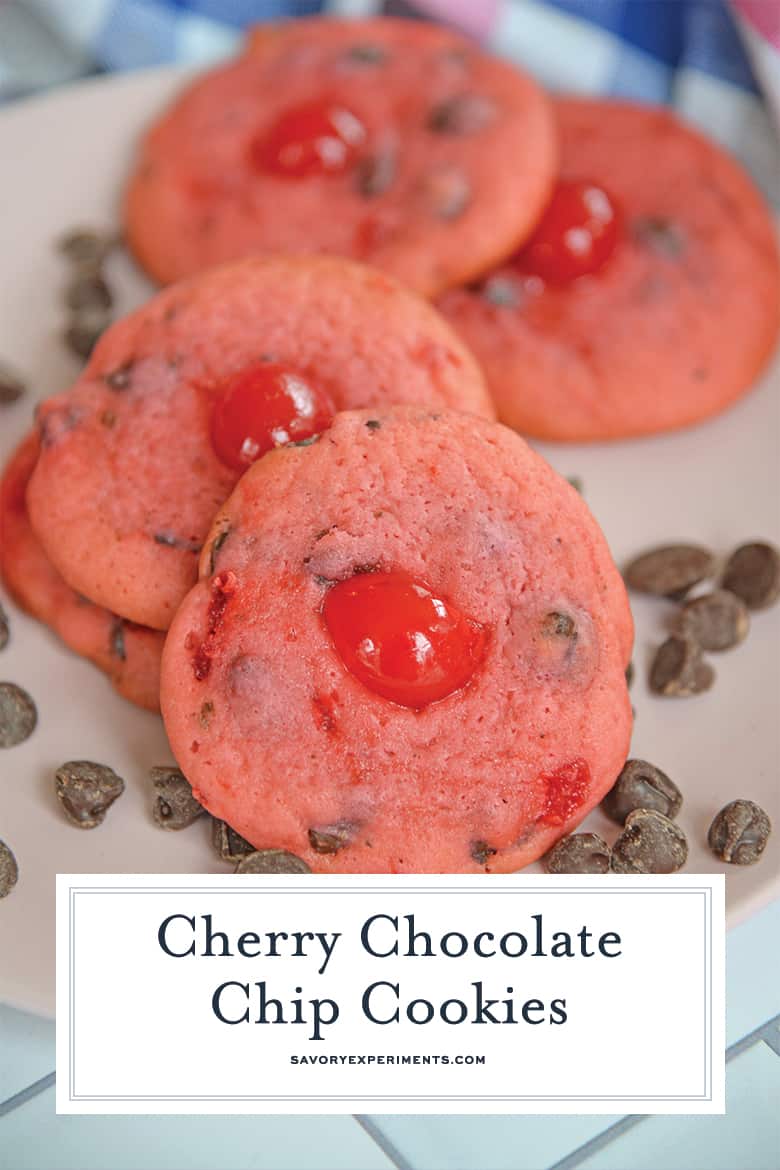 Bake the cookies for about 12-15 minutes in the preheated oven. After baking and while still soft, top with a cherry half.
After topping with cherries, transfer the cookies to a wire rack to cool. And there you have it! The perfect chocolate chip cookies with cherries!
Tips & Tricks for Better Cookies:
Use room temperature eggs. The coldness of the eggs can shock the rest of the dough.
Use room temperature butter. Warm butter blends better and is less likely to leave large chunks that could impact the baking of your cookies.
Use unsalted butter. This goes for most baked goods. Salt dries things out. Unsalted also allows you to control the salt levels.
Don't skip creaming your butter and sugar. You want it to be evenly mixed, but also to incorporate in air to make them fluffy.
Sift dry ingredients. This helps to evenly distribute leaveners and added salt, but also reduce clumps.
Reduce flour just slightly to make softer cookies. I talking just a tablespoon or two.
Don't over mix your cookies. The only step where more is more is creaming the butter and sugar. After this, only mix until just blended.
Unless specifically mentioned (like for cookie press cookies) chill the dough before baking. Chilling the dough will allow it to cook a little slower and help it keep shape.
Use insulated baking sheets. Hot air can circulate around the cookies for more even cooking.
Use parchment paper opposed to grease or oils. This prevents sticking and burning.
Check cookies 2-3 minutes before they are supposed to be done.
Remove cookies right before they look cooked. I guarantee if you want until they are lightly browned, they will be a little over cooked.
Let cookies cool on a cooling rack. Keeping them on a hot baking sheet will only make them continue to cook.
Store cookies at room temperature in an airtight container with a slice of bread. The moisture from the bread will help keep cookies soft and chewy.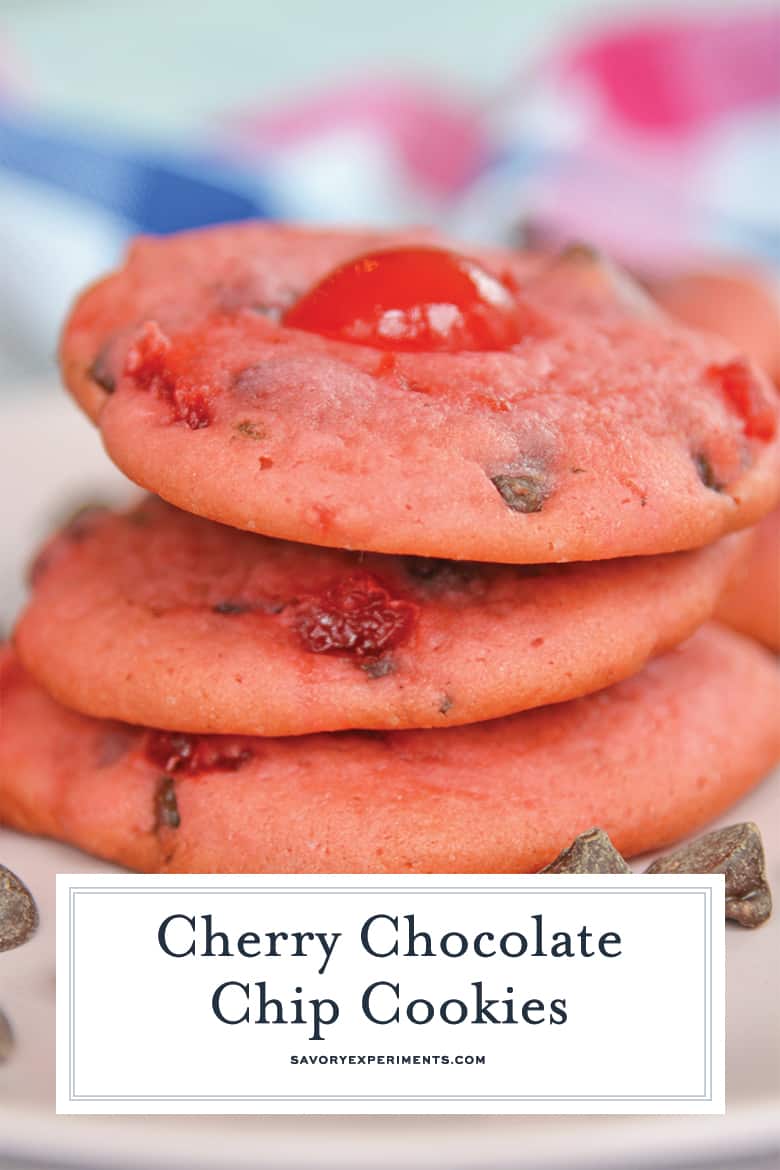 If you liked these cherry chocolate chip cookies, check out these other homemade cookie recipes:
Questions you might have about how to make cherry chip cookies:
Can I add nuts? Be my guest! Walnuts and pecans would be great in these cookies. I would add 1/2-3/4 cup of chopped nuts.
How do I get my cookies to be the same size? Easy answer. A cookie dough scoop!
Can I use dried cherries? For this recipe, no. I worked hard to make sure there was enough flour to counteract the cherry juice. If you don't have the cherry juice, your cookies will be too dry.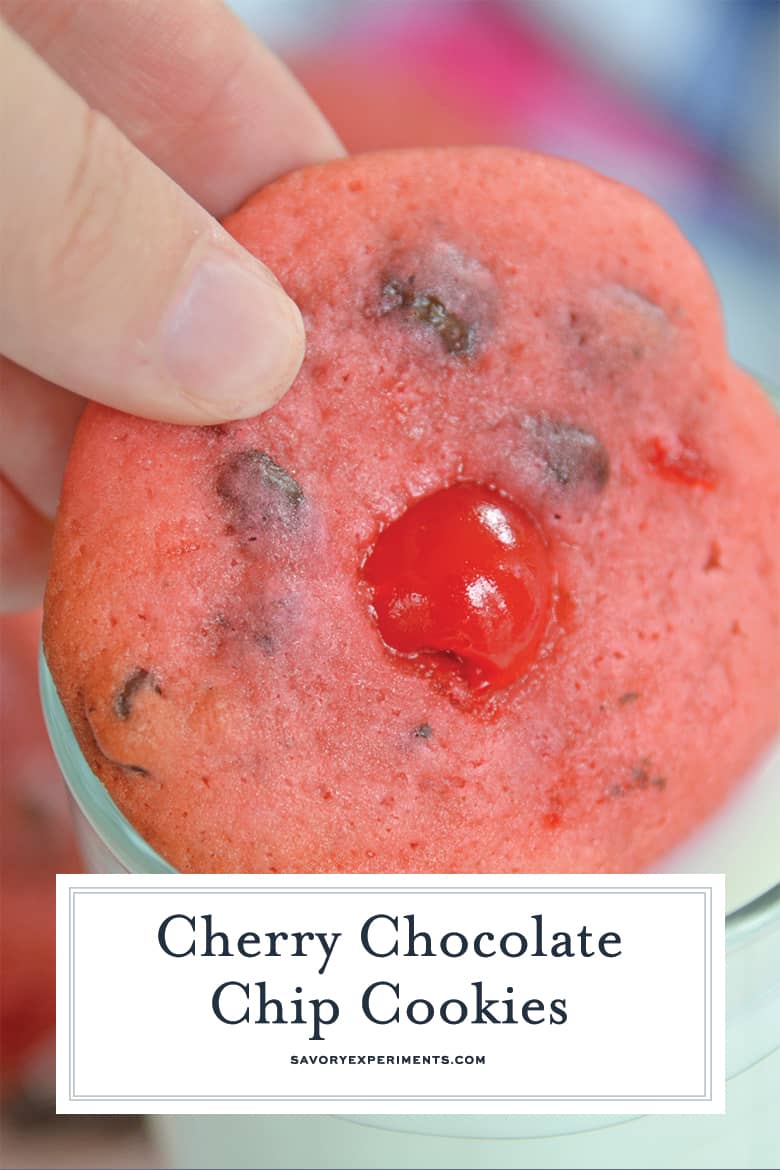 You can, however, add 1/2 cup dried cherries along with the maraschino cherries DOUBLE CHERRIES!
Can I use a non insulated baking sheet? Of course you can. I prefer to use insulated because the air can rotate around the cookie making them cook more evenly.
Can I use candied cherries? You can used candied cherries instead of maraschino cherries.
Can I use fresh cherries? I am sure there is a way to use fresh cherries in cookies, but it probably won't work with this particular recipe because the water and sugar content will be slightly off.
Can I freeze cookies? You sure can! In fact, I love making a batch and freezing them. Then I just take out one of two when I have a craving. They only take about 10 minutes to defrost.
But truth be told, I actually like eating them frozen. LOL.
Tools you might need for making Cherry Chip Cookies:
Stand Mixer– I lived for a long time without one. My life was changed when I finally bit the bullet and bought one. Just do it and thank yourself later.
Insulated Cookie Sheet– Insulated cookie sheets allow hot air to circulate around the entire cookie, resulting in even baking.
Measuring Utensils– Baking is chemistry and needs the correct measurements, so take care to use measuring utensils!
CONNECT WITH SAVORY EXPERIMENTS!

Be sure to follow me on social media, so you never miss a post!

Facebook | Twitter | Youtube
Pinterest | Instagram

Get our FREE 8 Day E-Course on How to Be a Better Home Cook. Sign up HERE!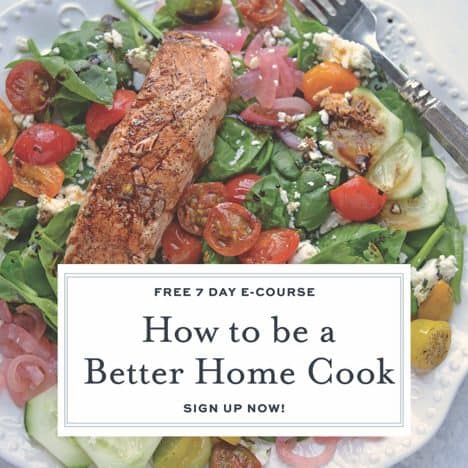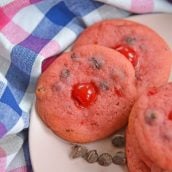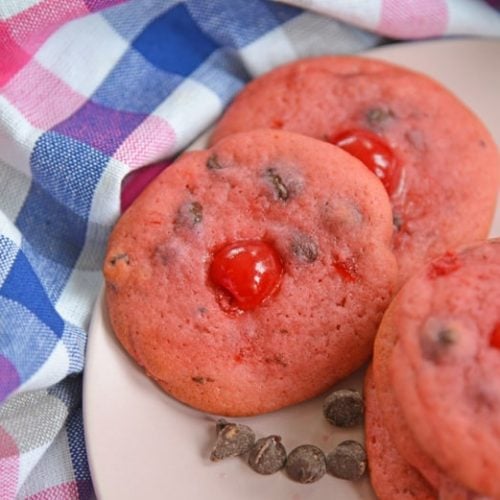 Print Recipe
Cherry Chocolate Chip Cookies
A homemade cookie recipe doesn't get much better than these Cherry Chocolate Chip Cookies! Chocolate and cherry just belong together!A homemade cookie recipe doesn't get much better than these Cherry Chocolate Chip Cookies! Chocolate and cherry just belong together!
Ingredients
2

cups

unsalted butter

, softened

1/2

cup

white sugar

3/4

cup

light brown sugar

, packed

2

large eggs

1

teaspoon

pure vanilla extract or almond extract

3

tablespoons

maraschino cherry syrup

3

cups

flour

1

teaspoon

baking soda

1/2

teaspoon

fine sea salt

3/4

cup

maraschino cherries

, drained and chopped

1

cup

semi-sweet chocolate chips
Topping:
15

maraschino cherries

, cut in half
Instructions
Sift together flour, baking soda and salt. Set aside.

In a large mixing bowl or bowl of a stand mixer, beat butter until light and fluffy.

Add sugars to butter until fully combined.

Add extract, eggs and maraschino cherry syrup. Mix until combined.

Add dry ingredients, mixing until just combined.

Fold in chopped maraschino cherries and semi-sweet chocolate chips.

Cover cookie dough and refrigerate for 1 hour or up to 24 hours.

Preheat oven to 350 degrees. Line a cookie sheet with parchment paper.

Drop heaping tablespoons of cookie dough on baking sheet.

Bake for 12-15 minutes. Cookies may look undercooked, but you want to remove them right before they look fully cooked.

Remove from the oven and lightly press a cherry halve in the center of each.

If you've tried this recipe, come back and let us know how they were!
Nutrition
Calories:
196
kcal
|
Carbohydrates:
20
g
|
Protein:
2
g
|
Fat:
12
g
|
Saturated Fat:
8
g
|
Cholesterol:
37
mg
|
Sodium:
70
mg
|
Potassium:
52
mg
|
Fiber:
1
g
|
Sugar:
11
g
|
Vitamin A:
331
IU
|
Calcium:
14
mg
|
Iron:
1
mg