I am on a pan-Asian culinary kick lately. Testing out authentic Thai and Chinese cuisine, but never Korean, until now with Spicy Korean BBQ Chicken.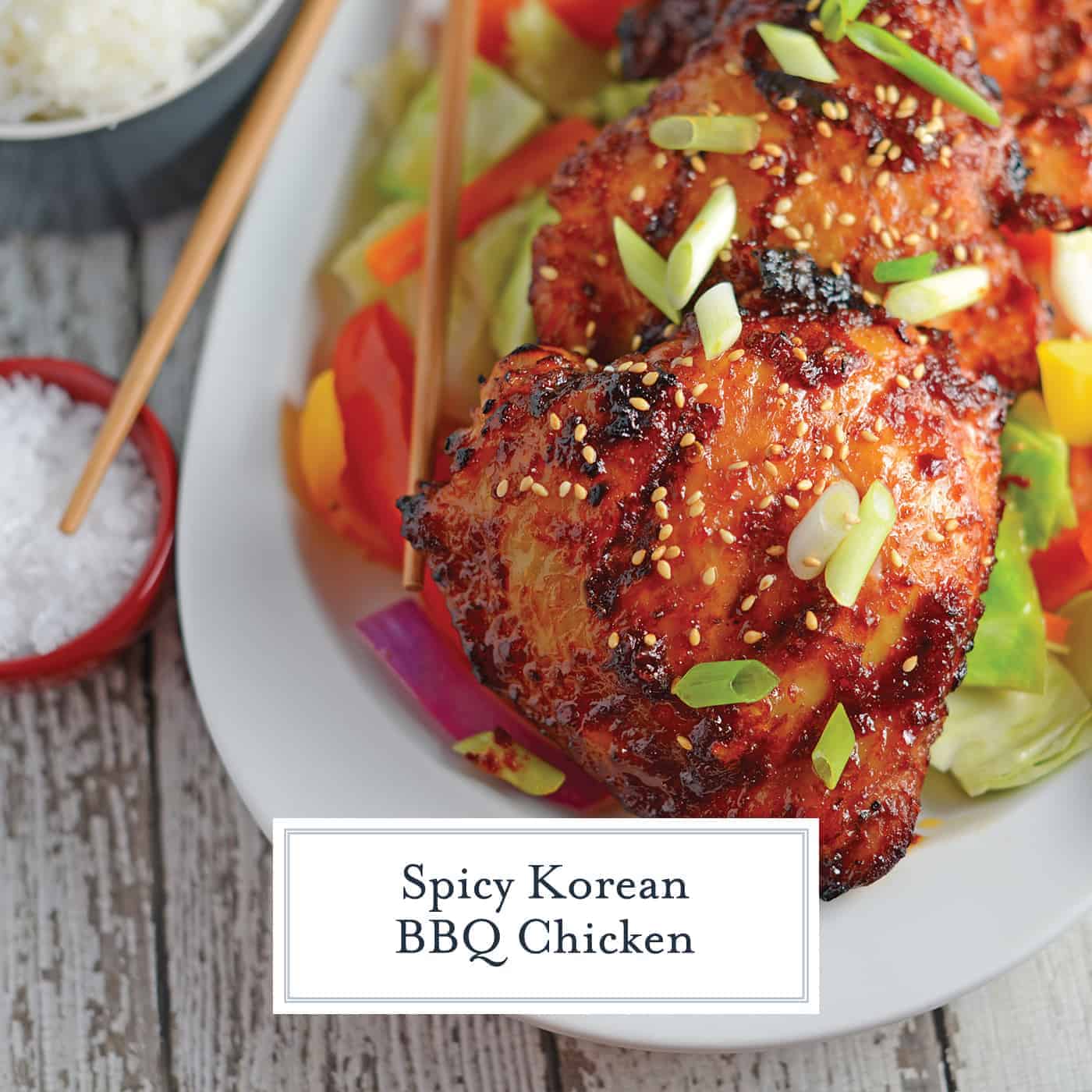 Spicy Korean BBQ Chicken is a spicy chicken marinade using chile garlic sauce, dark soy sauce and apple to balance the sweet. Use on any type of chicken and grill to perfection.
I've had Spicy Korean BBQ Chicken a lot and in many different variations. The marinade and sauce, a red chile base, is famous at traditional Korean BBQ joints, the ones where you cook your meat on a hot griddle in the middle of the table, and in Korean Hot Pots, also known as Bibimbap.
It is similar to the flavors of Beef Bulgogi, but a little spicer. Dak bulgogi is a variation made with chicken and more like this recipe.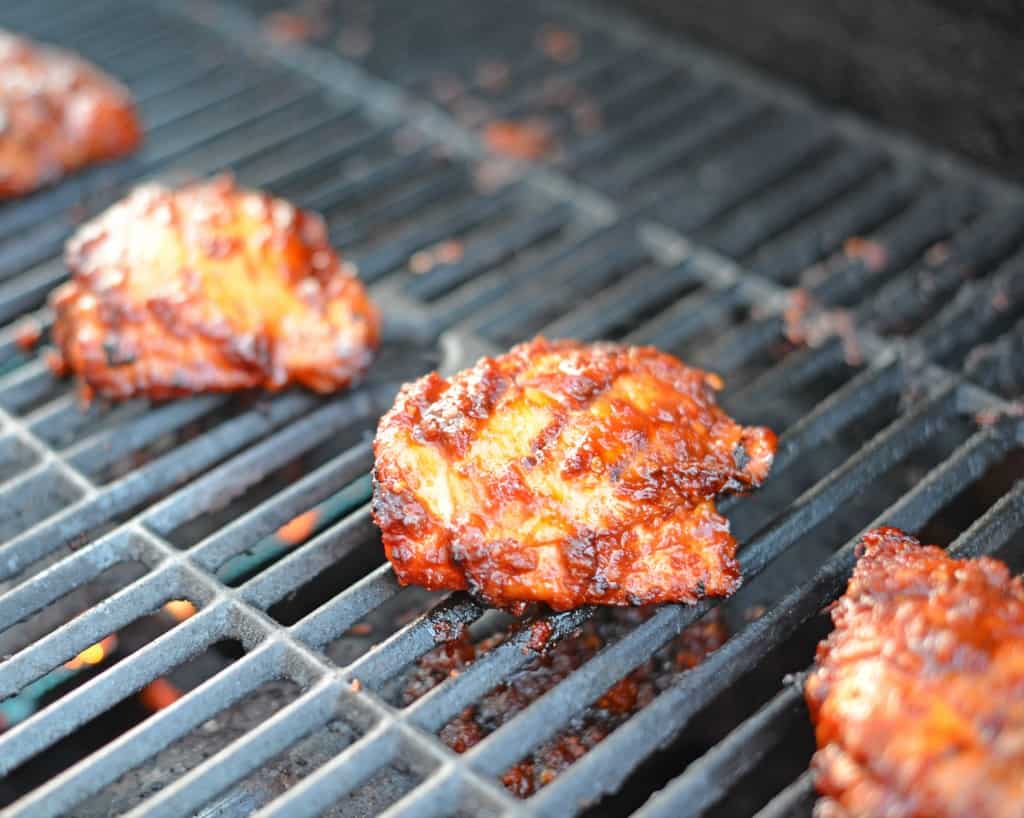 One of my girlfriends and I meet up several times a year to dine at our favorite Korean joint. A restaurant literally located in the basement of a Baltimore city row home, complete with low stone ceilings and uneven floors.
You hear the sizzle coming in a hot ceramic pot and then breath in the intoxicating scent well before it ever hits the table. I am sure they serve amazing food, but the hot pot is really the reason people come. Addictive spicy Korean grilled chicken.
We are like Pavlov's dogs hearing that sizzle. It is pure agony waiting for the 500 degree+ clay pot
to cool enough to dig in. I won't say I haven't had a few sore fingertips touching too early.
After dining at a different, but also as addictive Korean BBQ joint, I decided to take matters into my own hands and figure out how to make the simple sauce.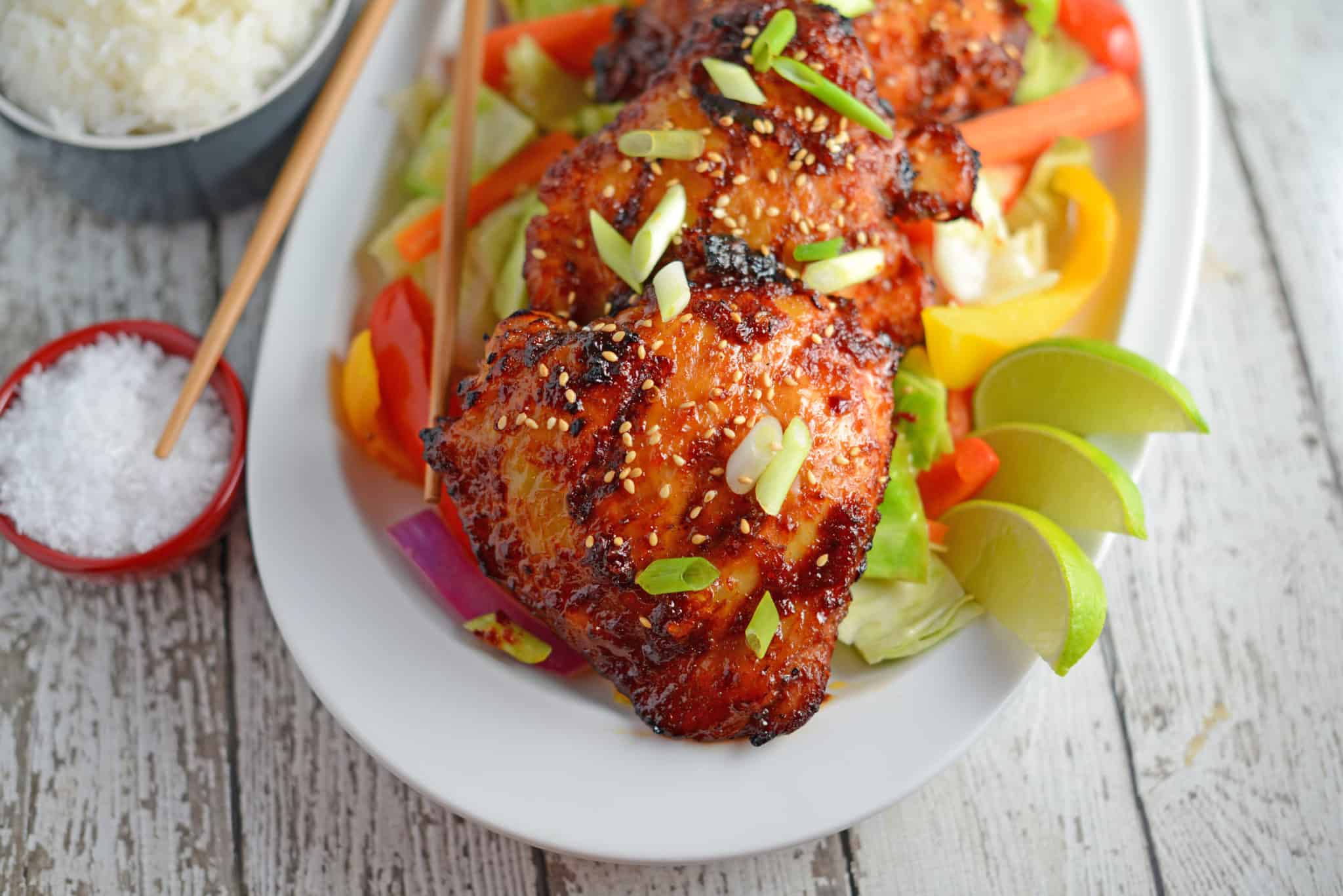 The base for Korean Chicken marinade, red chile pepper, also requires garlic and red pepper chile flakes. I decided to to consolidate and use chile garlic sauce, which is generally hot enough for my taste and I like it to make my nose sweat a little.
To balance out the spice I used honey and sugar. It seems like a lot, but I experimented with just one or the other and even molasses, agave nectar and brown sugar. After asking one of the servers at our favorite Korean BBQ restaurant, she revealed the use of both honey and sugar.
PRO TIP: Instead of grating all of the ingredients, you can use a small food processor to quickly get the fine mince you are looking for.
Traditional sauces use maesil chung, a fruit based syrup mostly green plums or apricots, but it is difficult to find. I opted for another sweet fruit, apple. The trick is to grate it so you get some apple pulp and also apple juice, natural sweeteners.
While you can use light soy sauce, as many of us do these days, it will substitute just fine, but a dark soy packs a lot more punch and flavor. Dark soy sauce is also a lot more authentic to the real soy sauce you'll experience in Asian countries.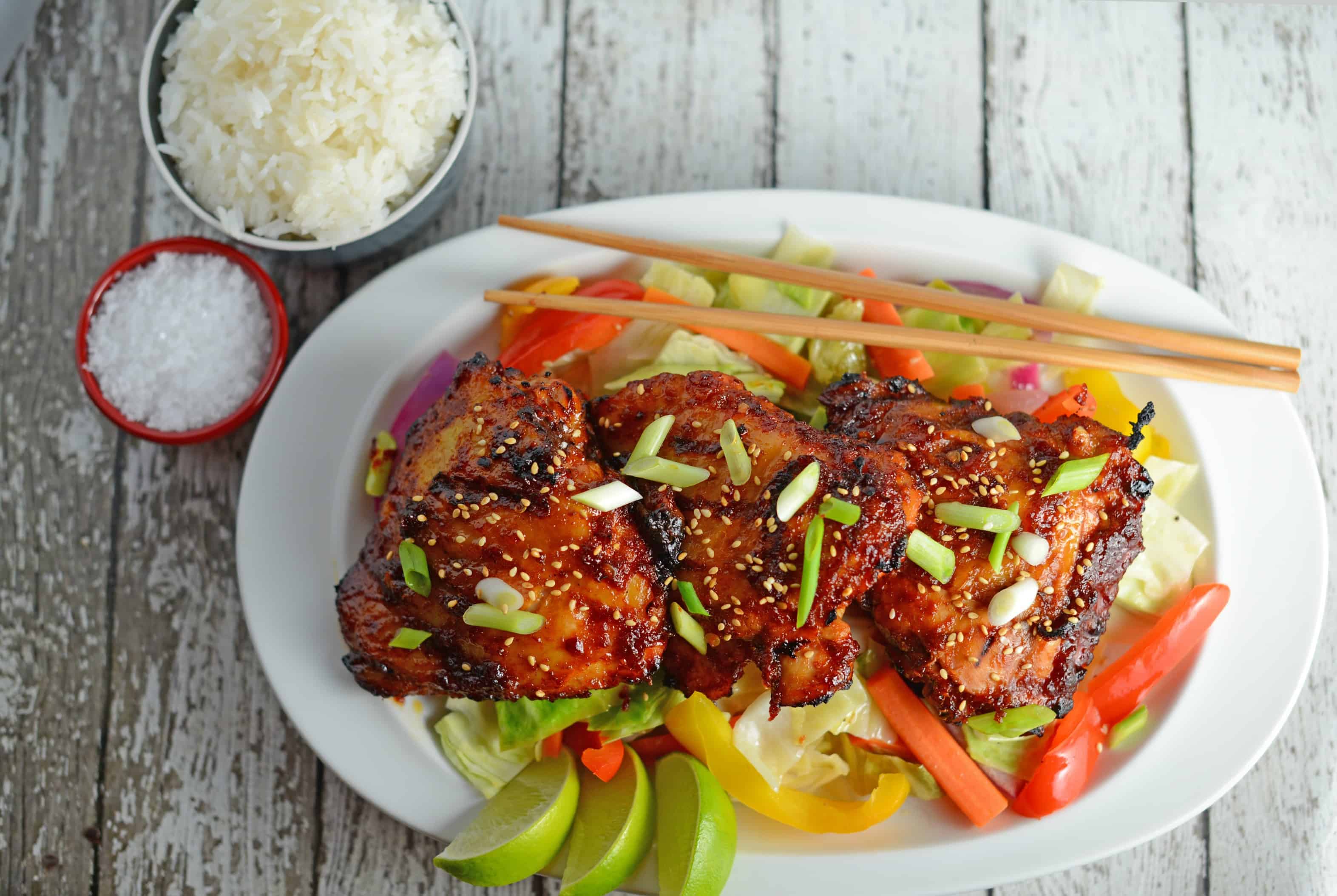 A thicker, syrupy and less salty version of American soy sauce. My favorite is called a mushroom flavor
, but honestly, I can't taste mushrooms at all. You can substitute it for a light soy sauce in any recipe, but test it out so you are familiar with the taste and texture to know if you should add more or less accordingly.
The rest of the quicky and easy chicken marinade is made with seasoned rice vinegar, fresh ginger, garlic and onion, also grated or finely minced to get a lot of onion juice. Some recipes use sesame oil, but I found it to be overpowering. You can garnish with scallions and sesame seeds, but both are purely optional.
Korean BBQ Chicken is served by itself or with rice, but I opted to quick stir fry vegetables leftover in my fridge with a small of seasoned rice vinegar.
More BBQ Chicken: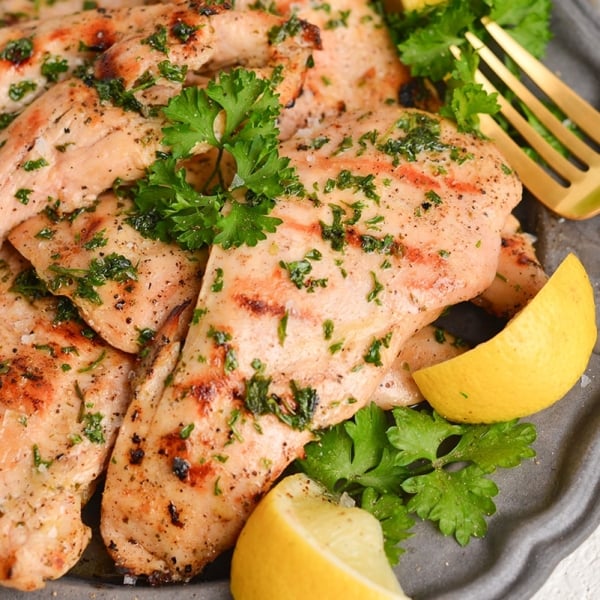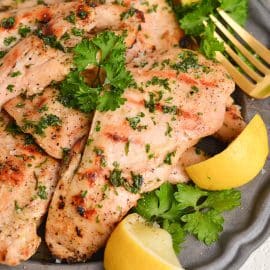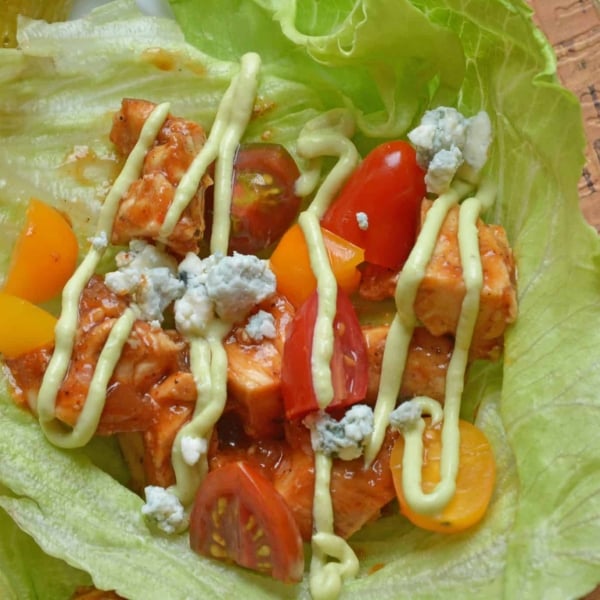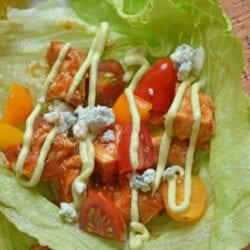 BBQ Chicken Lettuce Wraps
BBQ Chicken Lettuce Wraps use seasoned chicken with your favorite BBQ sauce and wrap them in crispy lettuce with juicy tomatoes, blue cheese and cool avocado dressing.
See The Recipe!
Tools for making Korean BBQ Chicken:
Mini Food Processor– I use this thing daily! It is by far my most used kitchen appliance, it is small and I throw all the parts into the dishwasher, well except the base and cord, of course!
Micrograter– A small kitchen utensil you find you use a lot more than you expected!
Baggy Rack– These gadgets are great. Long gone are the days of your plastic bag, full of marinade, toppling over and leaving a mess. Use these handy dandy gadgets to keep your bags upright while you work.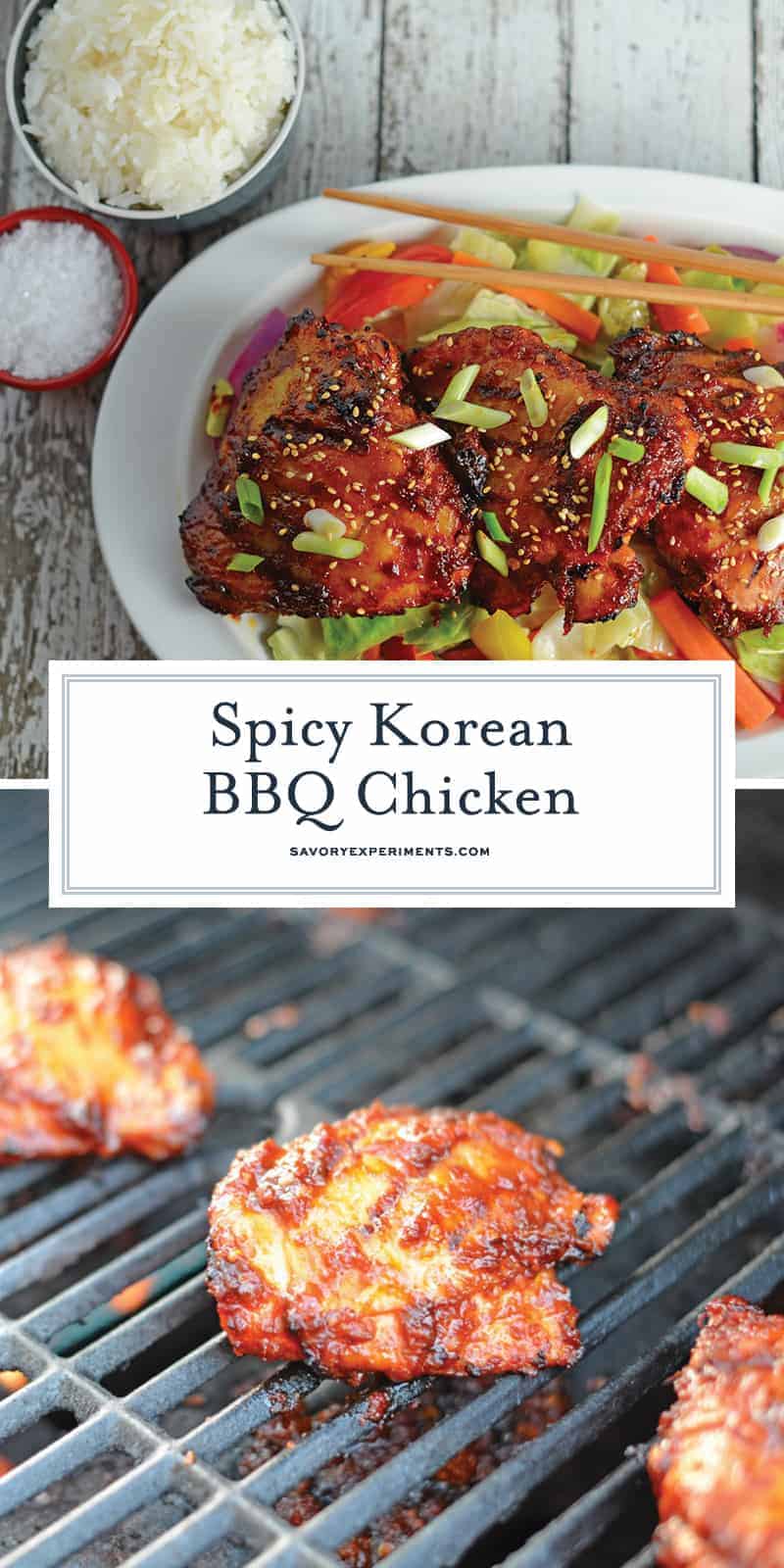 Commonly asked questions about how to make Korean BBQ chicken:
What does Korean BBQ Chicken taste like? You can get Korean chicken spicy and non-spicy, but the spicy chicken marinade is really what people talk about. This is a spicy chicken with a sweet after taste.
Do I have to use chicken thighs? No, you don't have to use chicken thighs. I use chicken thighs in my recipe because I prefer the dark, sweet meat and thighs do better on the grill being less likely to dry out.
In fact, in Korean BBQ restaurants the chicken usually comes in strips, either marinated boneless, skinless chicken breast or deboned chicken thigh fillets. You can use boneless chicken thigh fillets, chicken breasts or even drumsticks.
Can I use this Korean marinade on other meats? Sure! This sweet and spicy marinade works on beef (especially a nice skirt steak) or even salmon. I am not sure pork is the best flavor match, but feel free to try it and let us know how it went!
Beef short ribs and even chicken wings also work well.
What goes with Korean BBQ chicken? At restaurants you'll see it served with white rice and quick fried vegetables. See my recipe for how to make easy quick fried vegetables. Rice will help to cool off your mouth, but then again, so does beer. Hehehe.
Personally, I like my Cilantro Lime Rice. It also helps to ward off the spice, but has a little more flavor. If your family doesn't care for cilantro, just omit it. The rice will stay taste fabulous with only coconut milk (which doesn't actually taste a lot like coconut in case you were wondering).
Can I freeze Spicy Korean Chicken? You can certainly freeze this BBQ chicken recipe. I would recommend freezing it raw in the marinade for 3-4 months.
Make sure you get as much air out of the plastic bags or other freezer containers as you can. You can also freeze it cooked, but you'll lose the finger-licking good sticky marinade texture.
Can I make this in the oven? You can surely bake your Korean chicken or even make it in a frying pan. Simply heat a frying pan to medium high heat and sear until cooked, which will depend highly on the cut of chicken you decide to use.
To bake, preheat oven to 350 degrees and also bake until cooked based on chicken cut. Chicken should always be cooked to an internal temperature of 165 degrees. Use a meat thermometer
to make sure!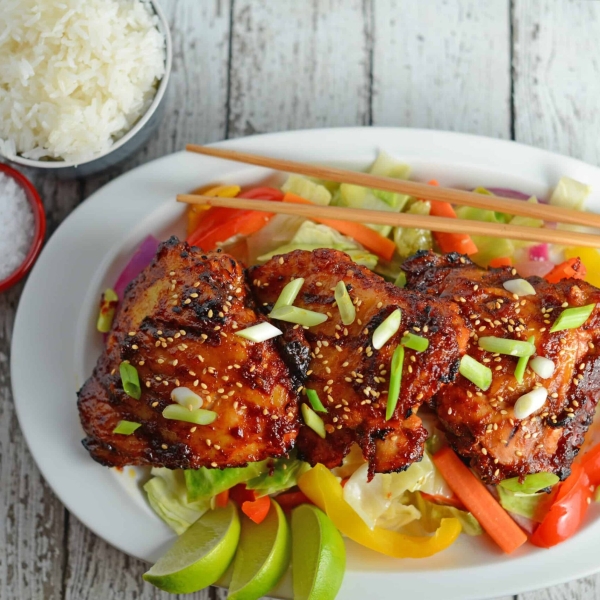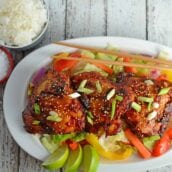 Spicy Korean BBQ Chicken Recipe
Spicy Korean BBQ Chicken is a spicy chicken marinade using chile garlic sauce, dark soy sauce and apple to balance the sweet. Use on any type of chicken and grill to perfection.
Ingredients
1/2

cup

chile garlic sauce

1

tablespoon

sugar

1

tablespoon

dark soy sauce

2

tablespoon

rice wine

1/3

cup

honey

3

tablespoons

apple

grated

1/2

yellow onion

grated

1

inch

nub fresh ginger

grated

1

garlic clove

grated

1

teaspoon

coarse salt

6

chicken thighs

Scallions and sesame seeds

for garnish

Quick fried veggies
Instructions
Mix chile garlic sauce through coarse salt in a medium bowl. Remove 1/2 cup for basting and set aside.

Marinate chicken in remaining sauce for 1-24 hours.

Heat BBQ grill to medium-high heat. Oil grill and set chicken on in-direct heat for 25 minutes, turning occasionally.

Move to direct heat and baste with remaining spicy sauce for 10 minutes+. Chicken should register at 165 degrees.

Serve with quick fried veggies and Cilantro Coconut Rice. See notes for what I used.

If you've tried this recipe, come back and let us know how it was!
Notes
Instead of grating, place apple, onion, ginger and garlic in a small food processor and grind until a paste and wet.
You can use any type of chicken, breasts, drumsticks, etc.
Nutrition
Calories:
352
kcal
,
Carbohydrates:
24
g
,
Protein:
18
g
,
Fat:
18
g
,
Saturated Fat:
5
g
,
Cholesterol:
110
mg
,
Sodium:
1612
mg
,
Potassium:
269
mg
,
Fiber:
1
g
,
Sugar:
22
g
,
Vitamin A:
90
IU
,
Vitamin C:
1.2
mg
,
Calcium:
11
mg
,
Iron:
0.9
mg