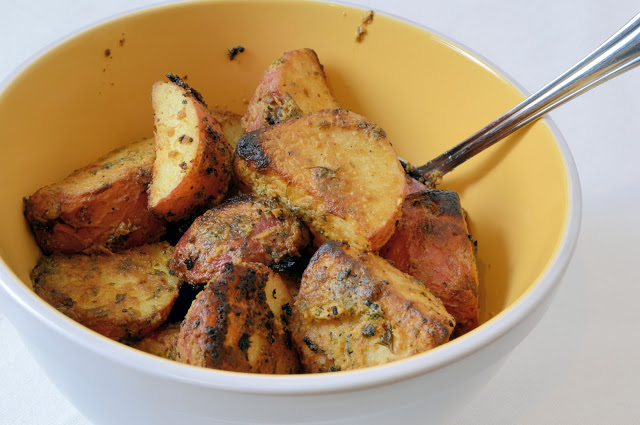 I've shared my love for potatoes through many a post such as Stuffed Breakfast Potatoes, Potato Smashers and Oven Baked Garlic and Parmesan Sweet Potato Fries. Or maybe you saw Traditional Home Fries, Buttermilk Chive Fingerlings or Hashbrown Casserole? Perhaps Rosemary Roasted Potatoes or Cheesy Bacon Tots? In fact, I have trouble not posting more about tubers, but I realize not everyone shares my affinity for the lovely root vegetable. Although categorized by some as a starch, I still view it as a vegetable dense in nutrients, vitamins and dietary fiber and therefore it is "A- OKAY" in my book.
This variety is made with Dijon mustard, which adds pizazz to the blank potato canvas, waking up your taste buds. Because the taste is so pungent, I recommend serving these with something else on the tame side, like chicken breasts marinated in Italian Dressing and grilled or a basic steak. I actually used the leftovers in a green salad. The Dijon base replaced the need for any additional dressing.
Time: 50 minutes
Serves: 4
Ingredients for Dijon Roasted Potatoes
6 medium red potatoes, quartered
1/2 cup regular Dijon mustard
2 tablespoons extra virgin olive oil
Juice of 1 lemon (approximately 2 tablespoons)
1 teaspoon lemon zest
1 tablespoon dried parsley
1 teaspoon fine sea salt
1/2 teaspoon black pepper
Cooking Spray
1. Preheat oven to 425 degrees. Spray a large baking sheet covered in aluminum foil with cooking spray.
2. In a large mixing bowl, whisk together Dijon mustard through black pepper. Toss quartered red potatoes in the mixture. Fish each quarter out, gently tapping off excess Dijon mixture and place onto the cookie sheet. Reserve remaining Dijon mixture. Bake for 15 minutes.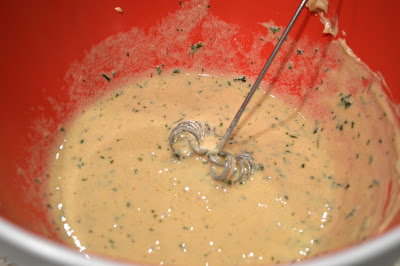 3. Remove, turn and rotate red potatoes pieces and baste with Dijon mixture. Repeat this process 2 more times, resulting in a total of 45 minutes in the oven and 2 basting's.
4. Dijon Roasted Potatoes should be lightly browned, crispy along the edges and fork tender. If they are not, allow them to continue baking for an additional 10 minutes.
5. Discard remaining Dijon mixture and enjoy your Dijon Roasted Potatoes!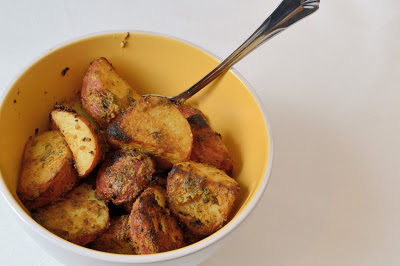 Now you want more, don't ya? Join me on Facebook for daily recipes and discussion, follow me on Twitter or see where I get some of my inspiration on Pinterest!
If you like this recipe, make sure to follow me on Pinterest for even more!