Ever wondered how to cook asparagus? My best tip – in the oven! Roasted asparagus is a quick and easy side dish that doesn't taste like it's either of those things! Perfect for casual dinners and special occasion dinner parties alike.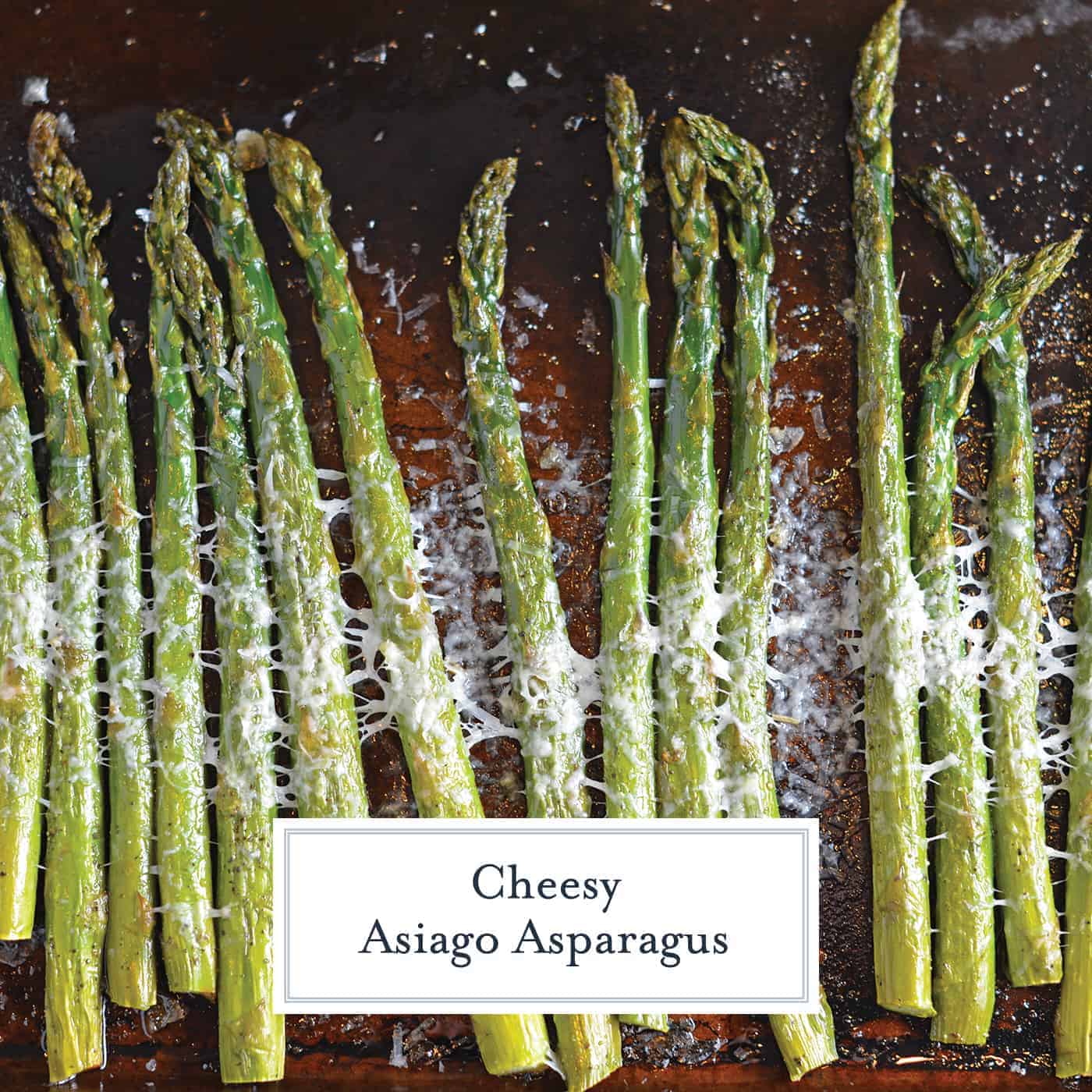 Asiago Asparagus is a delicious roasted asparagus side dish that pairs perfectly with many fish and chicken entrees. It's simple to make, with only 4 ingredients, but is full of flavor!
It's taken a bit of trial and error to figure out how to make asparagus that's delicious, easy and not tough to eat. Grilled asparagus is popular right now but it just never seems to cook evenly or ends up burnt.
But, I think I've finally figured it out – roasted asparagus in the oven is 100% the way to go. It's quick and easy and tastes delicious every single time.
My favorite way to cook asparagus in the oven is this Asiago Asparagus recipe. 4 ingredients and less than 15 minutes to a yummy side dish.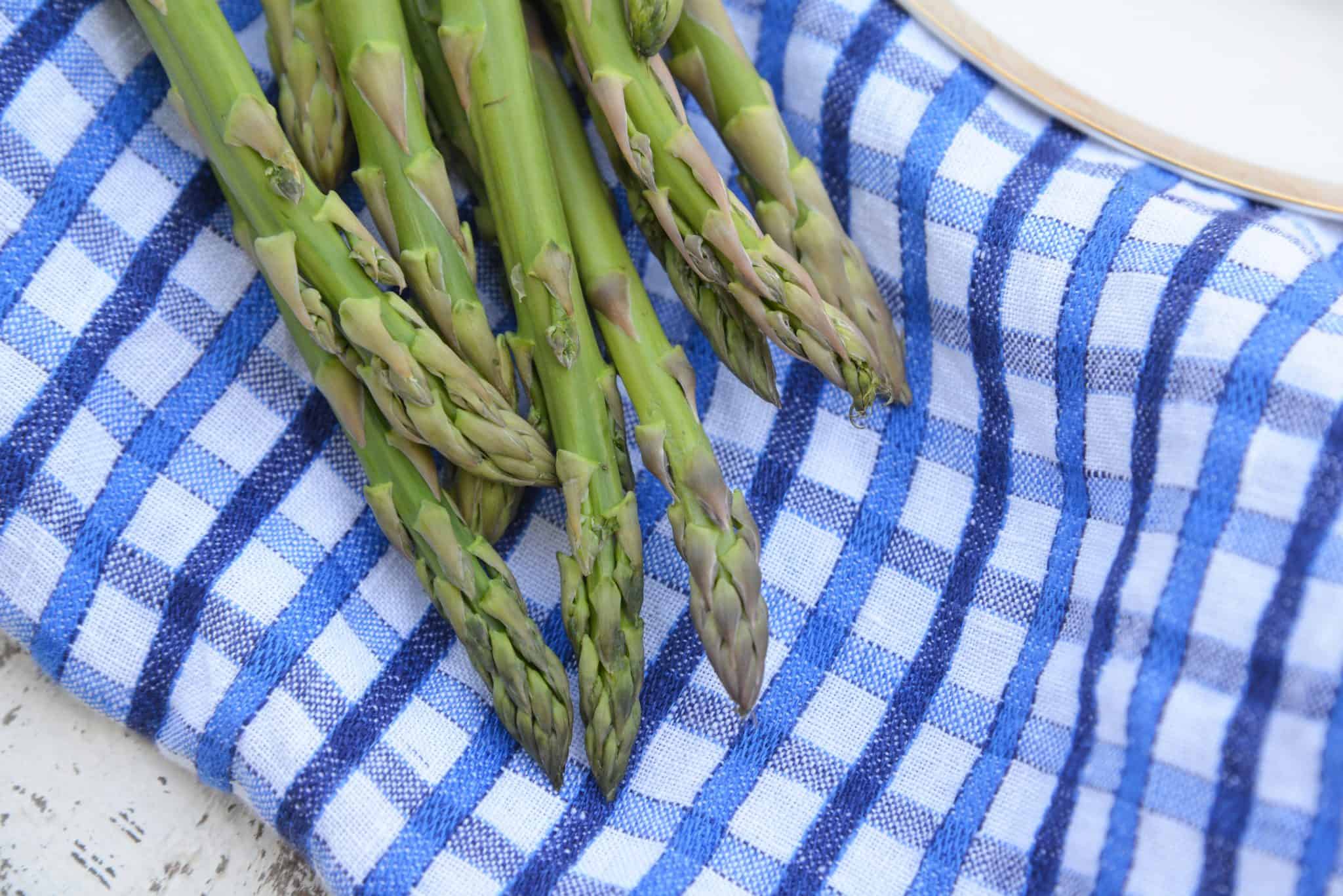 When shopping for asparagus, try to get skinnier stalks. They have less of a tendency to be woody and tough to eat. If you don't have a choice, cut off ends that aren't a deep green and blanch them before preparing as the recipe describes.
I'll put it out there. I know you are thinking it: asparagus will make your pee smell. Yes, it will, but it will be also delicious! Asiago Asparagus is a quick and easy favorite in my household.
Asparagus is also a veggie loaded with health benefits. It's low in both fat and calories but full of fiber and packed with important nutrients like vitamins A, C, E, K and B6 along with folate, iron, calcium and protein.
Oh, and it contains antioxidants as well! I'd say all of those health benefits definitely outweigh the one negative 😉
Roasted asparagus in the oven is so easy to make. You need less than 15 minutes from prep to finish! I love the flavor the asiago cheese added to the recipe.
Roasted asparagus itself has a very distinct flavor (which is why it's definitely a love-or-hate veggie!) and the sharp flavor of the asiago cheese pairs with it nicely.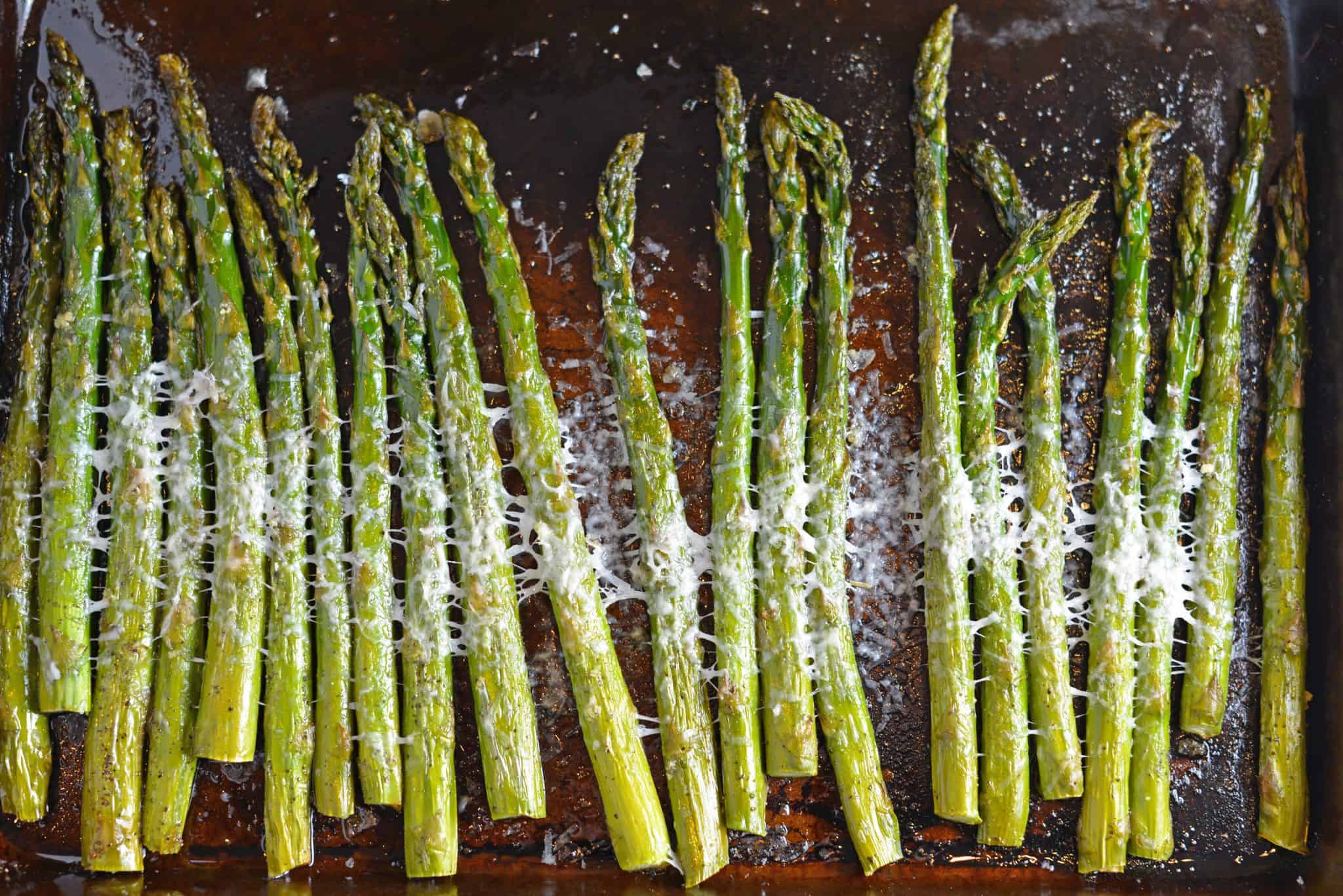 Serve this roasted Asiago Asparagus for guests and you meet even get a thumbs up from someone who claims they don't like asparagus!
Since you like this Asiago Asparagus, you may like these other easy asparagus dishes: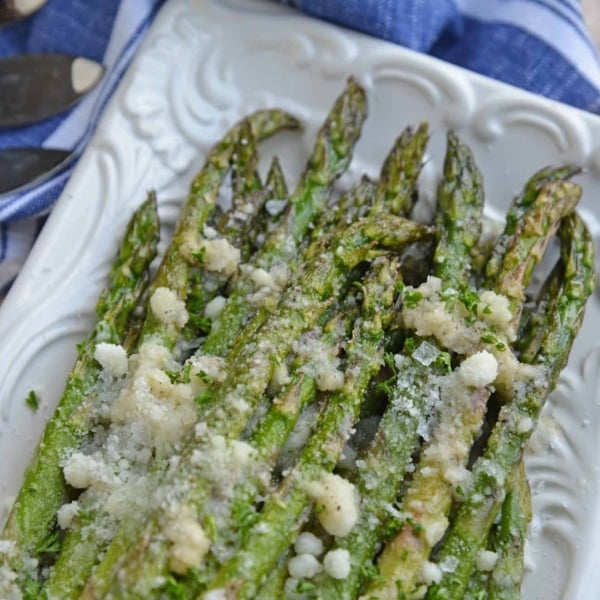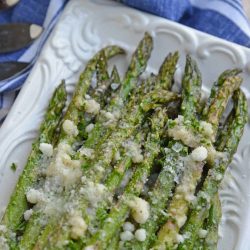 Garlic Parmesan Asparagus
Garlic Parmesan Asparagus is an easy side dish with loads of flavor. One of your favorite vegetables covered in fresh garlic and Parmesan cheese, what could be better?
See The Recipe!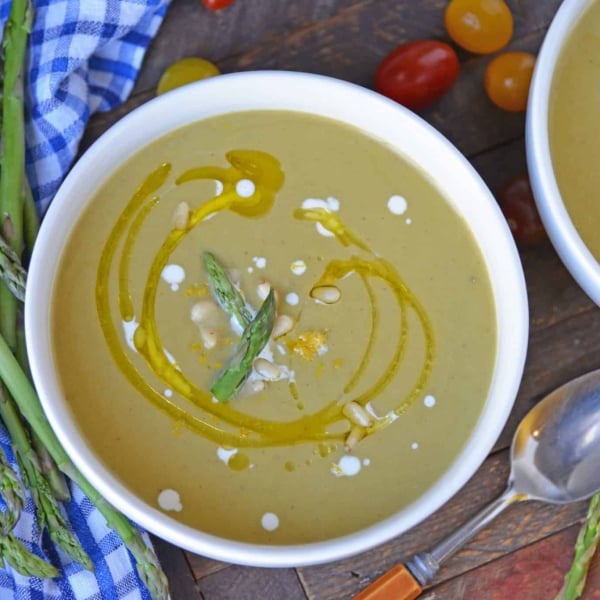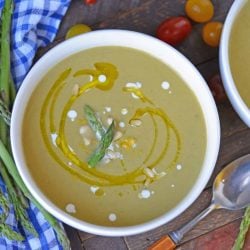 Asparagus Soup
Asparagus lovers will love this creamy asparagus soup! Deliciously smooth and flavored to perfection, this cream of asparagus soup makes the perfect appetizer!
See The Recipe!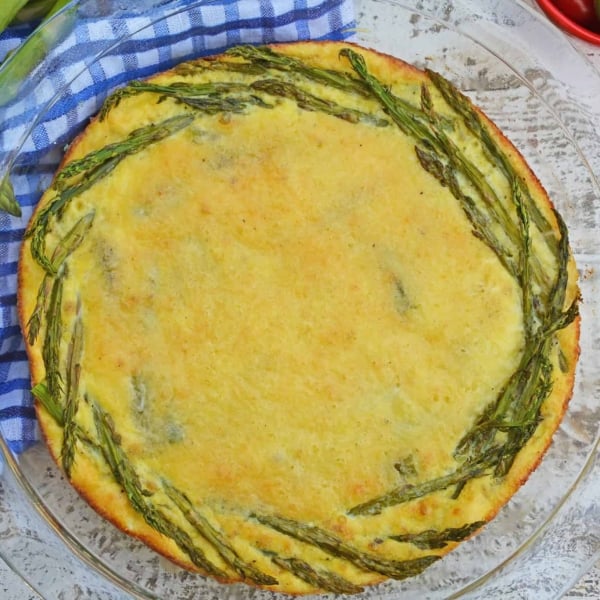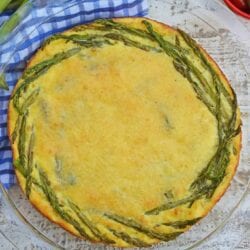 Tools for making Asiago Asparagus:
Good Extra Virgin Olive Oil– A good olive oil will taste like, well, olives, while a poorly made one will taste like vegetable oil. Gross. While people tend to favor Italian and Greek olive oils, I prefer to buy mine domestically.
These are some great ones out there from all over the world, but the reporting of ingredients isn't always the same and you could find that your super expensive olive oil was actually cut with vegetable oil.
Rimmed Baking Sheet– another kitchen staple! You'll use this for prep work, roasting and much more. I have 7 at my house.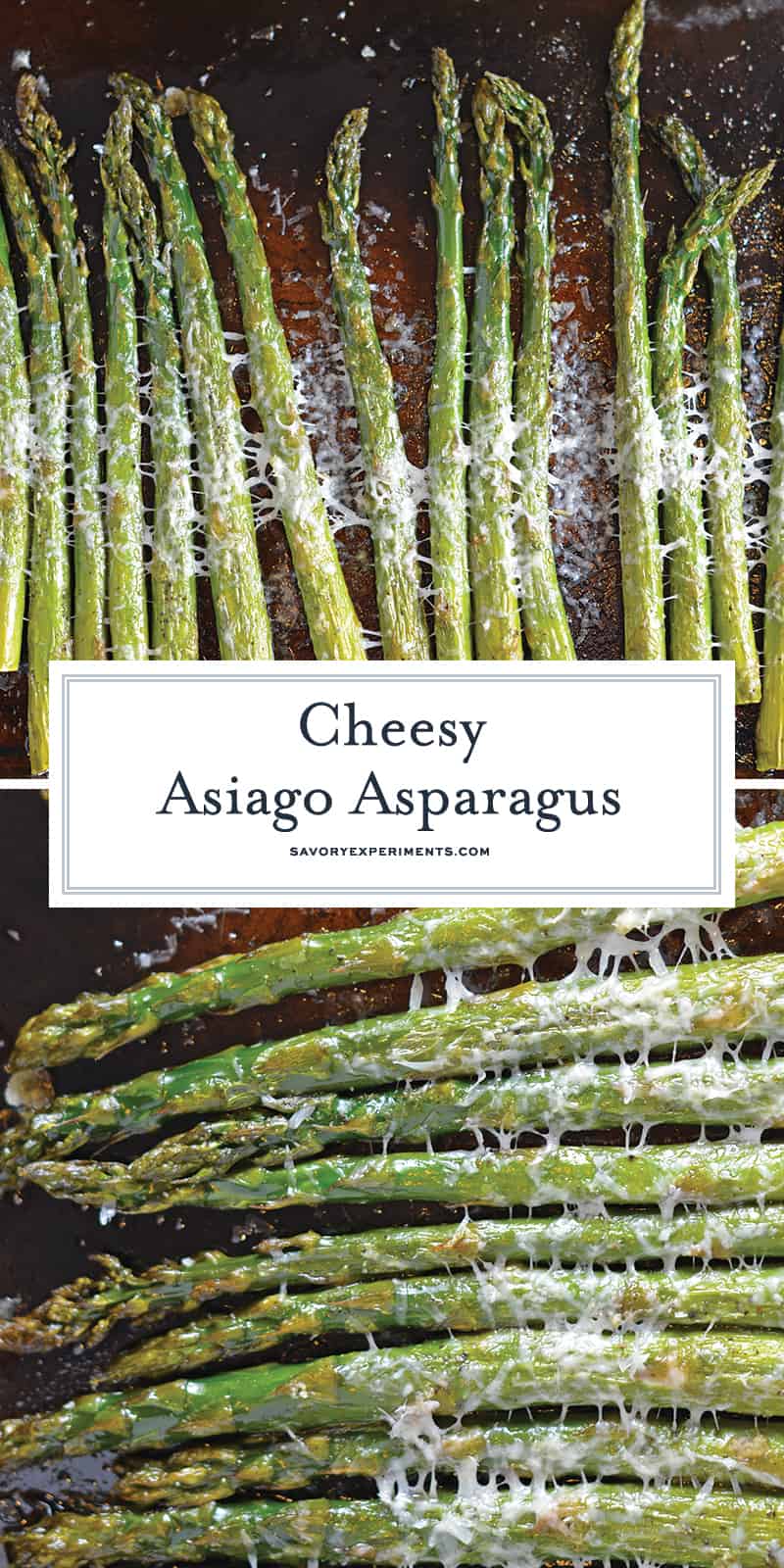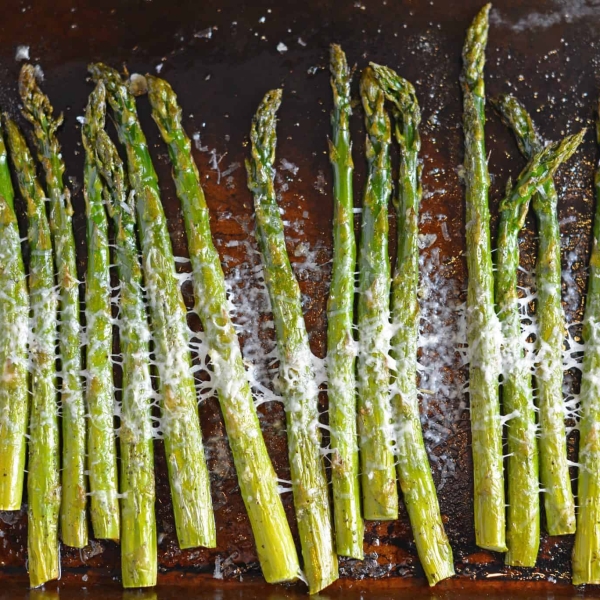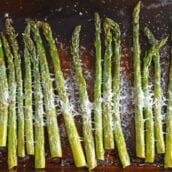 Asiago Asparagus
This delicious Asiago Asparagus is a quick and easy roasted asparagus recipe requiring only 4 ingredients and 15 minutes to prepare.
Instructions
Preheat oven to 400 degrees. Spread trimmed asparagus on a rimmed baking sheet.

Toss with extra virgin olive oil and season with Madlon sea salt and freshly ground black pepper.

Cook for 10 minutes or until tips start to get crispy.

Remove and top with grated asiago cheese.

If you've tried this recipe, make sure to come back and let us know how it was!
Nutrition
Calories:
78
kcal
,
Carbohydrates:
4
g
,
Protein:
4
g
,
Fat:
5
g
,
Saturated Fat:
1
g
,
Cholesterol:
4
mg
,
Sodium:
102
mg
,
Potassium:
229
mg
,
Fiber:
2
g
,
Sugar:
2
g
,
Vitamin A:
905
IU
,
Vitamin C:
6.4
mg
,
Calcium:
101
mg
,
Iron:
2.5
mg