The sun is out, puffy clouds gently dance across the sky and I am ready for a warm weather vacation!

Delicious Grilled Avocado Peruvian Chicken with mango salsa will have you feeling like you are on a tropical vacation without leaving your backyard.
Only problem is, my vacation isn't planned for another couple of months. Instead I create our own little summer staycation paradise at home.
Frozen drinks, miniature umbrellas and Grilled Avocado Peruvian Chicken and Mango Salsa using Mezzetta Peppers bring the heat and make me think of the tropical paradise I am yearning for.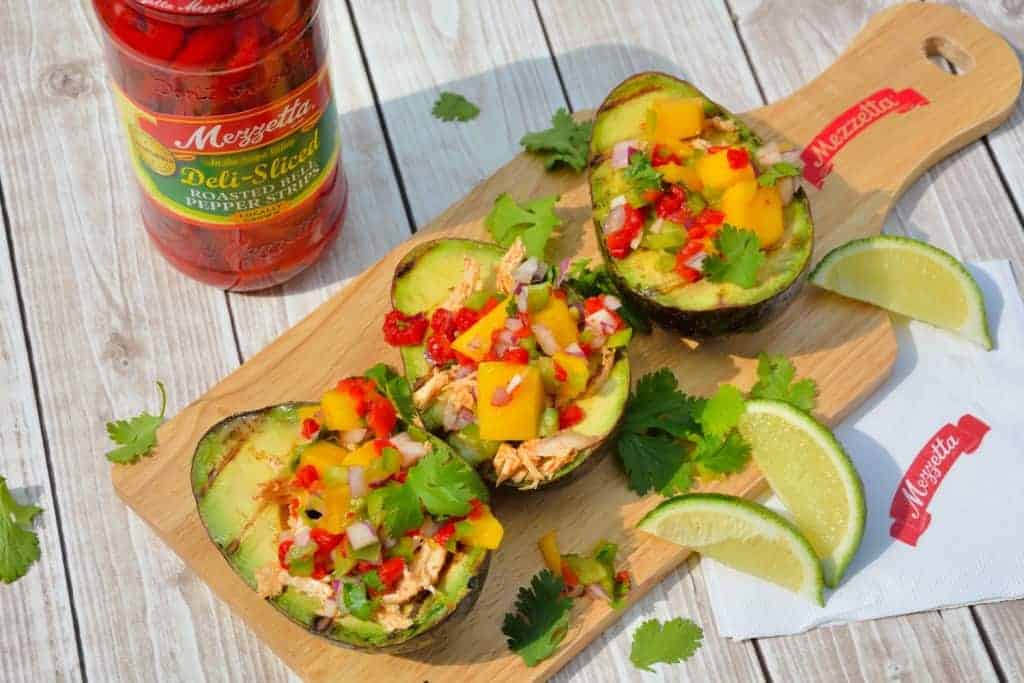 What also comes with my vacation is a lot of relaxation, which is why my Grilled Avocado Peruvian Chicken and Mango Salsa takes less than 30 minutes to put together and can be done ahead of time with only 3 minutes (yes, 3 minutes!!!) on the grill.
It is also a light meal that won't slow me down on the lawn games for the rest of the evening. You should see my bocce ball skills.
WHAT IS PERUVIAN CHICKEN? Typically, it is chicken slowly roasted with olive oil, lime juice, garlic and spices and hails from Peru.

For this grilled avocado recipe, I skip a few steps using pre-cooked chicken and just tossing it in the typical spice blend.
Grilled Avocado Peruvian Chicken and Mango Salsa tosses shredded chicken with a Peruvian spice blend and lime juice, paired with a sweet mango salsa. Chilled chicken and mango salsa complement hot, creamy and cool grilled avocado beautifully.
PRO TIP: To make your grilled avocados even fancier, top with cilantro or fresh jalapeno slices.
Most Peruvian chicken, also known as pollo a la brasa, is paired with aji amarillo, a thick yellow pepper paste. The mango salsa takes its place.
I love using Mezzetta brand peppers to achieve the flavor I am going for. Roasted Red Bell Peppers give my grilled avocados a cool sweetness, but the additional of Mezzetta Deli-Sliced Jalapeño Peppers or Hot Wax Banana Peppers will bring the heat, perfect for serving with an ice cold beer.
Mezzetta harvests their peppers at the height of ripeness and preserves them a proprietary brine keeping them crunchy and flavorful all the way to your kitchen.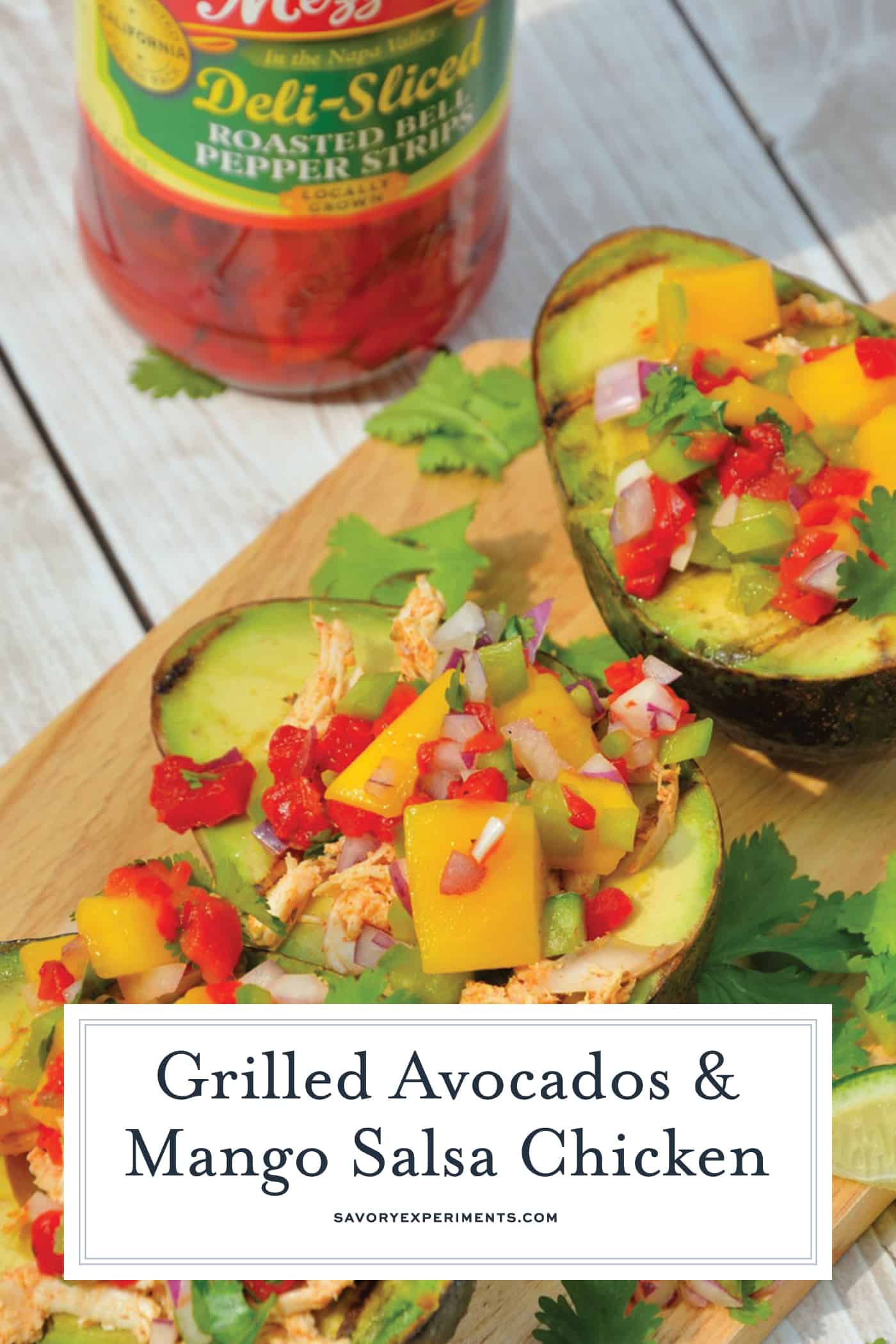 Flourless Avocado Brownies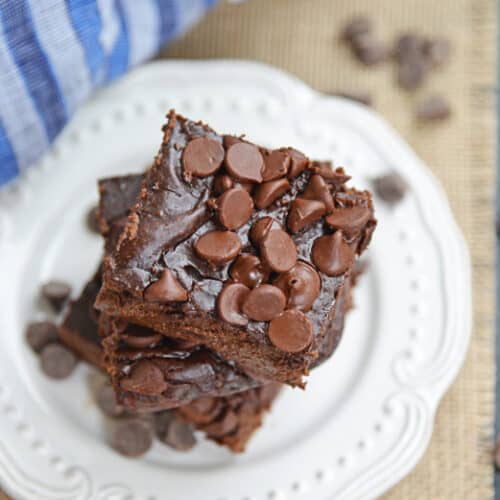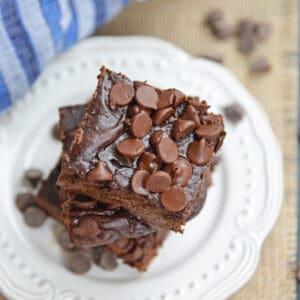 Easy Avocado Brownies are made in the blender and ready in just 30 minutes. No flour and honey instead of sugar!
Easy Chicken Tortilla Soup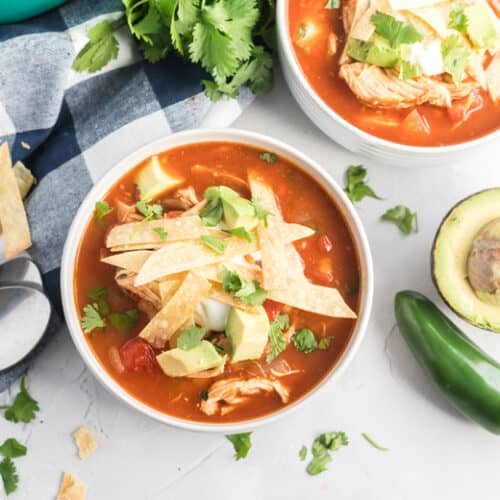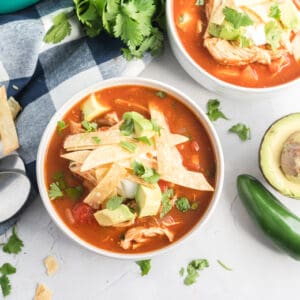 This is an easy chicken tortilla soup that can be on your table in less than an hour. A rich tomato broth with a bit of spice and large chunks of chicken make this a hearty and comforting meal!
Mexican Cream Cheese Shrimp Dip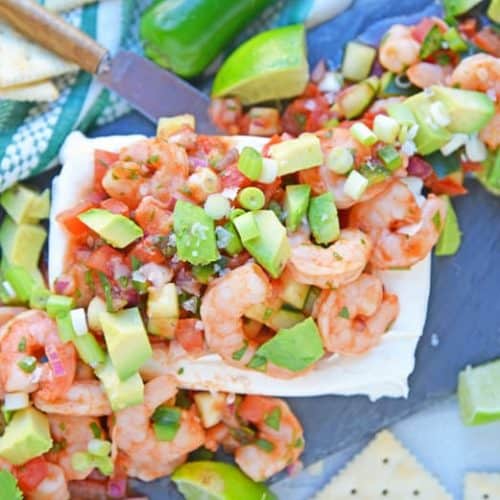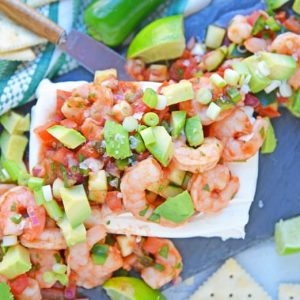 Take your usual cocktail sauce shrimp dip up a notch with this Mexican Cream Cheese Shrimp Dip recipe. It's perfect for any get together or party!
Tools for making this grilled avocado recipe:
Grilling Tools
– you are grilling, so make sure you have the right tools!
Wood cutting board – wood won't dull your knives like plastic and if treated properly, has natural antimicrobial properties.
Good knife – Global is my favorite! They are worth the price, I promise. I am kind of obsessed with them and store them tucked away so no one else can use them. Including hubby. Hands off my good stuff!
Good Extra Virgin Olive Oil– A good olive oil will taste like, well, olives, while a poorly made one will taste like vegetable oil. Gross. While people tend to favor Italian and Greek olive oils, I prefer to buy mine domestically.
They are some great ones out there from all over the world, but the reporting of ingredients isn't always the same and you could find that your super expensive olive oil was actually cut with vegetable oil.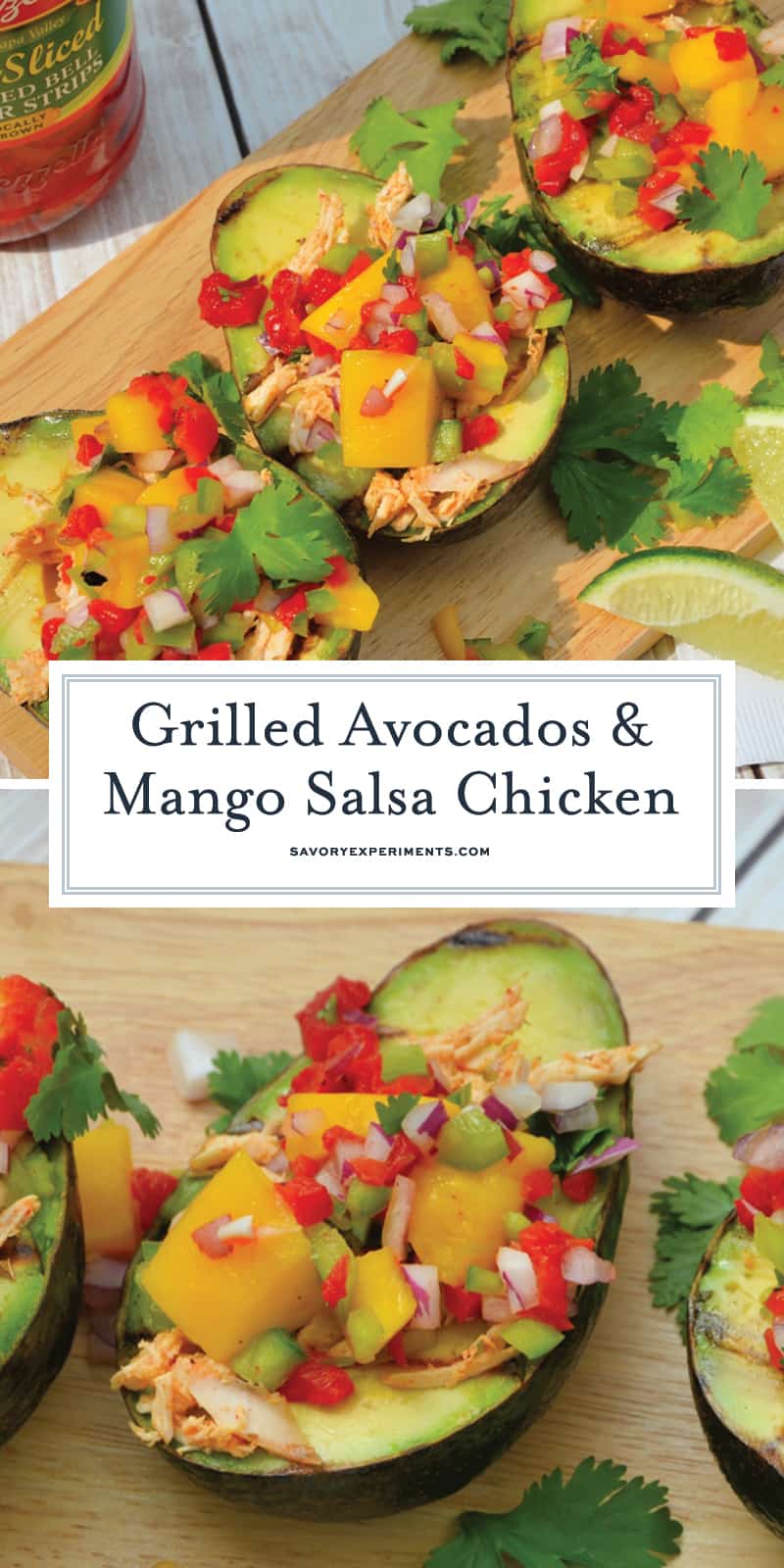 Questions you might have about how to make grilled avocados:
How do you grill avocados? It is a fairly simple process, just baste the cut avocado with olive oil to prevent sticking. Sear, cut side down, for 2-3 minutes and you are done!
From there you can fill your grilled avocados with anything you'd like. Obviously, I like Peruvian chicken! Plain old BBQ chicken is also a good option.
Can I just use mango salsa? Sure! Grilled avocados are an excellent entree idea for vegetarians or even vegans coming to your house for a party or barbeque. Fill them to the brim with mango salsa or any other type of pasta salad and you'll have an excellent dish.
Should I use ripe avocados? I find using fairly firm avocados works best. When holding it, look for a little bit of spring, but not enough that you can make a dent with your finger. Don't pay too much attention to the green hue, but more to the texture.
Delicious Grilled Avocados with Mango Salsa Chicken will have you feeling like you are on a tropical vacation without leaving your backyard. Healthy and easy to make!
CONNECT WITH SAVORY EXPERIMENTS!

Be sure to follow me on social media, so you never miss a post!

Facebook | Twitter | Youtube
Pinterest | Instagram

Get our FREE 8 Day E-Course on How to Be a Better Home Cook. Sign up HERE!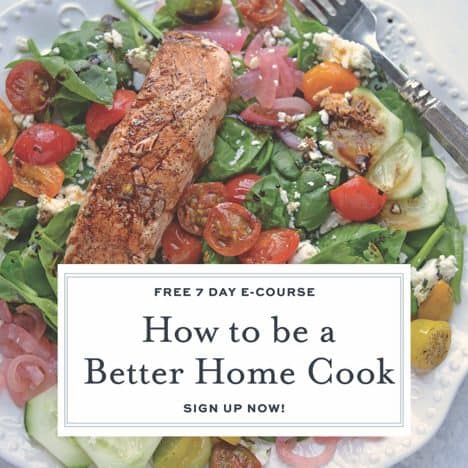 Print Recipe
Grilled Avocado Peruvian Chicken and Mango Salsa
Delicious Grilled Avocado Peruvian Chicken with Mango Salsa will have you feeling like you are on a tropical vacation without leaving your backyard. Healthy and easy to make! 
Instructions
Toss shredded chicken with spices and lime juice, set aside or refrigerate until ready to use.

Combine all ingredients for mango salsa in a medium bowl, toss and set aside or refrigerate until ready to use.

Cut avocados in half removing the seed. Brush each side with olive oil and heat the grill on high. Place cut side directly on the grate and allow to cook for 2-3 minutes.

Remove and top with Peruvian shredded chicken and mango salsa. Serve immediately and enjoy!

If you've tried this recipe, come back and let us know how it was!
Notes
I use a plain rotisserie chicken from the grocery store for my shredded chicken. Since you only need a small amount. Consider making Buffalo Chicken Dip with the remainder.
Nutrition
Calories:
293
kcal
|
Carbohydrates:
17
g
|
Protein:
9
g
|
Fat:
22
g
|
Saturated Fat:
3
g
|
Cholesterol:
22
mg
|
Sodium:
269
mg
|
Potassium:
685
mg
|
Fiber:
8
g
|
Sugar:
7
g
|
Vitamin A:
795
IU
|
Vitamin C:
46.3
mg
|
Calcium:
27
mg
|
Iron:
1.2
mg
I hope you enjoy your Grilled Avocados with Peruvian Chicken and Mango Salsa and precious time with your family. Happy summer!