Easy salad recipes don't get much better than this simple Gouda and Corn Salad! It's perfect for a quick lunch, or even to bring to a potluck or get together!
When the weather is nice and fresh produce is readily available, I find myself drawn to salads. Whether that be pasta salad, a leafy green salad or even a mix of vegetables. Some of my favorites are:
and this Gouda and Corn Salad recipe!
Most salads don't require any real "cooking" unless you're adding some sort of protein like chicken or salmon. And the prep work is usually kept to a minimum.
PRO TIP: Dry herbs are much easier to chop than wet or recently washed herbs. Dry your parsley well and use a sharp knife and wood cutting board.
So when you're outside playing with the kids or soaking up the warm rays, an easy dish is what you need!
Gouda and Corn Salad Ingredients
I originally thought of this as a summer salad, what with the corn and tomatoes. But you can find either of those items all year round, making it perfect for any occasion! The ingredients are pretty simple:
cooked corn
grape tomatoes
scallions
smoked gouda cheese
parsley
italian dressing
salt
pepper
PRO TIP: Flat parsley, also known as Italian parsley or plain parsley, is best for cooking, while curly parsley is better for garnish.
Can I make Gouda and Corn Salad ahead of time?
Yes! This salad keeps well for up to five days if stored properly. The mixture may get a little watery from the vegetables losing water, but that's okay. Simply use a slotted spoon when serving to avoid the extra water.
Alternatively, you can prep all of the ingredients, and just wait them to add them all together until you're ready to serve it. That way you can avoid the water issue altogether.
Do I have to use grape tomatoes?
You don't, but I prefer them because there isn't as much pulp and then the salad doesn't get overly watery. Even when you cut them in half, the pulp doesn't seem to seep out as much.
If you do choose to use larger tomatoes, just make sure you wait to add them to the easy Gouda and Corn Salad until you are ready to serve it. This way the salad won't get too soggy.
Can I use frozen corn or canned corn instead?
You sure can! In fact, you can make this recipe year round using either of those options.
I suppose you could also get fresh corn year round, but it never tastes as good and is more expensive. Frozen corn (thawed first) works just fine and so will canned corn.
You can even make this into an easy pasta salad.
Southwestern Sweet Potato Pancakes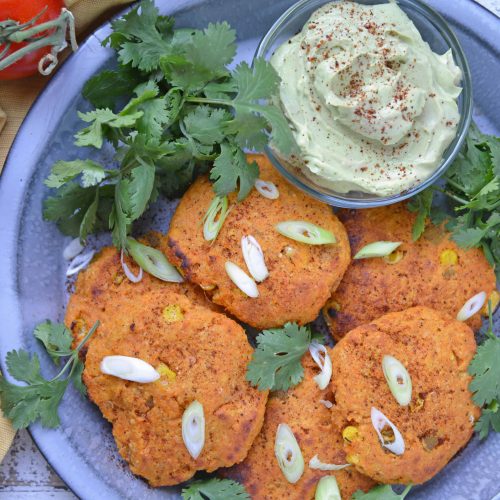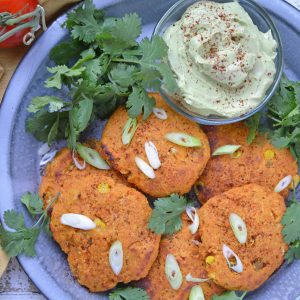 Southwestern Sweet Potato Pancakes are made with mashed sweet potatoes, green chile, corn and southwest spices making then sweet and smoky. Served with a cool, avocado dipping sauce.
Oven Roasted Corn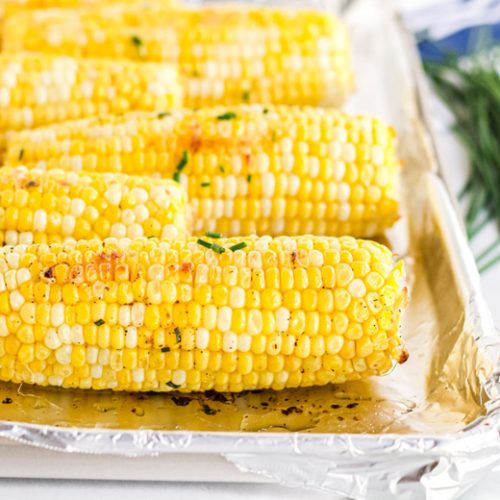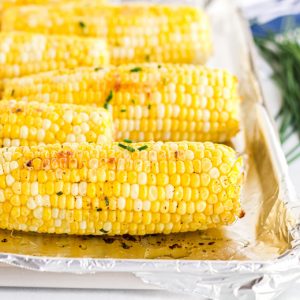 This EASY Oven Roasted Corn with chive butter sauce is a quick way to serve a classic side dish all year long. Ready in only 30 minutes!
Cheesy Chile Cornbread Casserole
Cheesy Chile Cornbread Casserole pairs the sweetness of cornbread with the subtle heat of hatch chiles and chile powder for an incredible side dish.
---
---
Gouda and Corn Salad
Easy salad recipes don't get much better than this simple Gouda and Corn Salad! It's perfect for a quick lunch, or even to bring to a potluck! #goudaandcornsalad #cornsalad #easysaladrecipes www.savoryexperiments.com
Instructions
Cut corn off of ears, transfer to a large mixing bowl.

Add tomatoes, scallions, smoked gouda, Italian dressing, Kosher salt and ground pepper. Toss to combine.

Cover and chill at least 1 hour before serving.

Toss before serving.

If you've tried this recipe, come back and let us know how it was!
Nutrition
Calories:
209
kcal
|
Carbohydrates:
14
g
|
Protein:
12
g
|
Fat:
13
g
|
Saturated Fat:
7
g
|
Cholesterol:
45
mg
|
Sodium:
769
mg
|
Potassium:
278
mg
|
Fiber:
2
g
|
Sugar:
6
g
|
Vitamin A:
661
IU
|
Vitamin C:
10
mg
|
Calcium:
284
mg
|
Iron:
1
mg