If you've been looking for a recipe that uses smoked salmon then look no further! This recipe makes the perfect salmon appetizer that will make you want to serve it again and again to friends and family.
Smoked Salmon Pesto Crackers are an easy, no-cook appetizer perfect for any potluck, party, or afternoon snack that everyone will enjoy!
'Tis the season for holiday parties, potlucks, and the need for quick and easy appetizers. Seriously, I don't know a single person who has time to create, bake, or cook anything elaborate during the month of December.
There is just too much going on. That and the fact that food bloggers generally prepare of their posts for December in November because the last of the month of the year is just too busy.
Every year, I get these lovely fancy food towers as gifts. It is such a wonderful gift to receive, but we can hardly eat half of what is in them. (Those poor pears! I try to figure out so many creative ways to use them.)
Anywho, the other thing there is a lot of is gorgeous smoked salmon. Not wanting it to go to waste, I figured out two fabulous ways to use the smoked salmon other than putting them on a bagel with cream cheese.
One is an easy appetizer recipe: Smoked Salmon Pesto Crackers and the other Smoked Salmon Rigatoni in Cream Sauce. Both are super quick recipes and both help you use up all of the smoked salmon in delicious ways.
Smoked Salmon Pesto Crackers use just a small amount of pesto. This can be any kind you like – sun-dried tomato, classic basil with pine, nuts or any other type of pesto you can find.
Mix it with plain Greek Yogurt, pop it onto some crackers with a few toasted pine nuts and you are ready to go. So easy!!!
Smoked Salmon
Is smoked salmon raw?
Well there are two ways to smoke salmon. Hot smoked and cold smoked. The most common is cold smoked in which case the salmon is not fully cooked. Essentially this is raw fish with a smokey flavor.
Hot smoking gives you that same smokiness but it actually cooks the fish giving you a firmer texture.
One last thing, lox and smoked salmon are not the same thing! Lox is simply brined and does not have any smokey flavor to it. And while it would also be absolutely amazing in this recipe, I prefer the smoked version myself.
You can use any type of cracker you want, but I prefer Triscuits. I feel like they hold up well, at least better than some other more flimsy cracker options. A buttery cracker (like the one pictured) is a great option too.
I like to make a well-balanced appetizer tray with a variety of options. Goat Cheese Zucchini Rolls and Soppressata Rolls make for the ideal and colorful appetizer tray!
The Ultimate Salmon Sandwich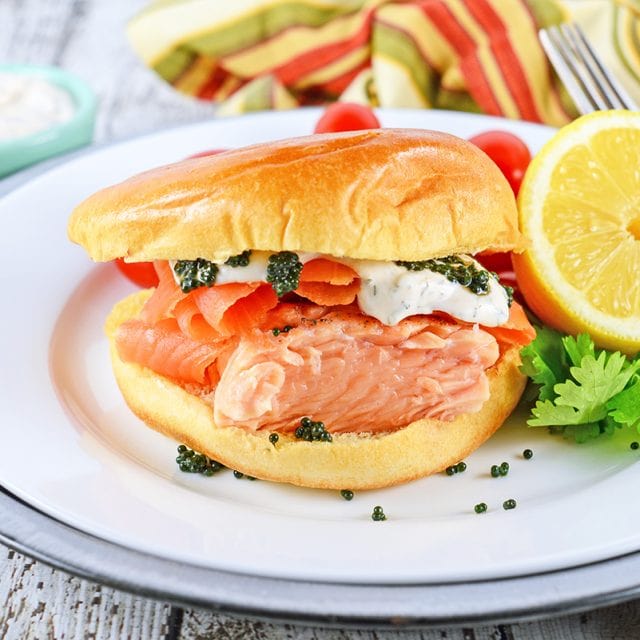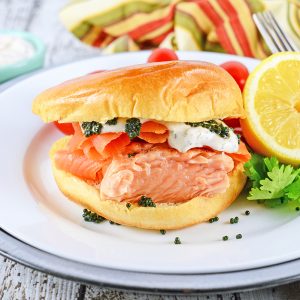 The Ultimate Salmon Sandwich is the best salmon sandwich because it uses two types of salmon with dilled sour cream and caviar on a buttery brioche roll.
Sheet Pan Crispy Salmon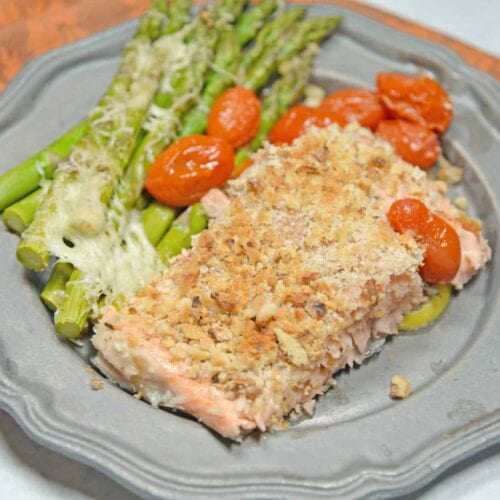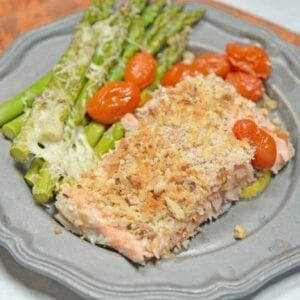 Sheet Pan Crispy Salmon is a fast, easy and healthy weeknight meal. Prep this sheet pan meal in just 5 minutes using tomatoes, asparagus and a crispy panko and walnut topping for you salmon.
Crispy Chipotle Salmon Salad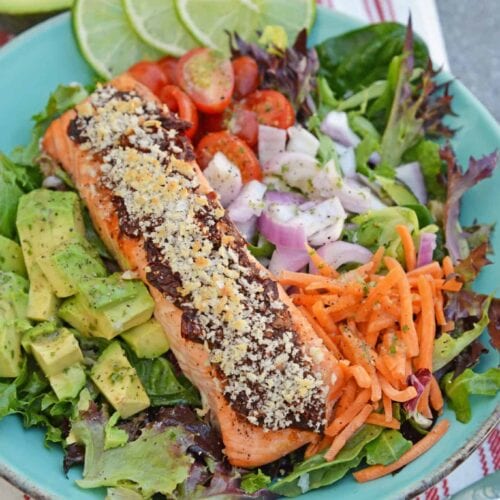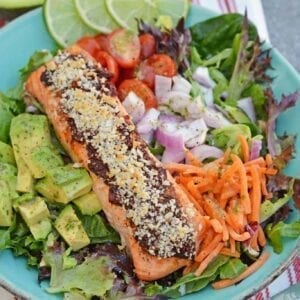 Crispy Chipotle Salmon Salad is a simple and healthy salad filled with a fun texture and spicy chipotle peppers. Top with Cilantro Lime Dressing.
---
---
Smoked Salmon with Creamy Pesto Crackers
Smoked Salmon Pesto Crackers are easy no-cook appetizers perfect for any potluck, party or afternoon snack. They are also healthy!
Instructions
In a medium bowl, mix Greek yogurt with pesto. Set aside.

Roll each thin slice of salmon into a roll. Using kitchen shears, cut into 1 inch pieces. The uneven ends are what will give you the rose effect.

To assemble, place a dollop of pesto cream on each cracker, press one salmon roll on each cracker. Sprinkle with toasted pine nuts, Maldon sea salt and dried parsley.

If you've tried this recipe, come back and let us know how it was!
Nutrition
Calories:
234
kcal
|
Carbohydrates:
11
g
|
Protein:
11
g
|
Fat:
15
g
|
Saturated Fat:
2
g
|
Cholesterol:
11
mg
|
Sodium:
614
mg
|
Potassium:
133
mg
|
Sugar:
2
g
|
Vitamin A:
530
IU
|
Calcium:
93
mg
|
Iron:
1.2
mg