I love a good bagel with lox in the morning, or a board of smoked salmon with capers, red onion and dill as a snack, so when I found myself with a few of these ingredients on hand and people coming over, this smoked salmon appetizer was born and has since become a family favorite.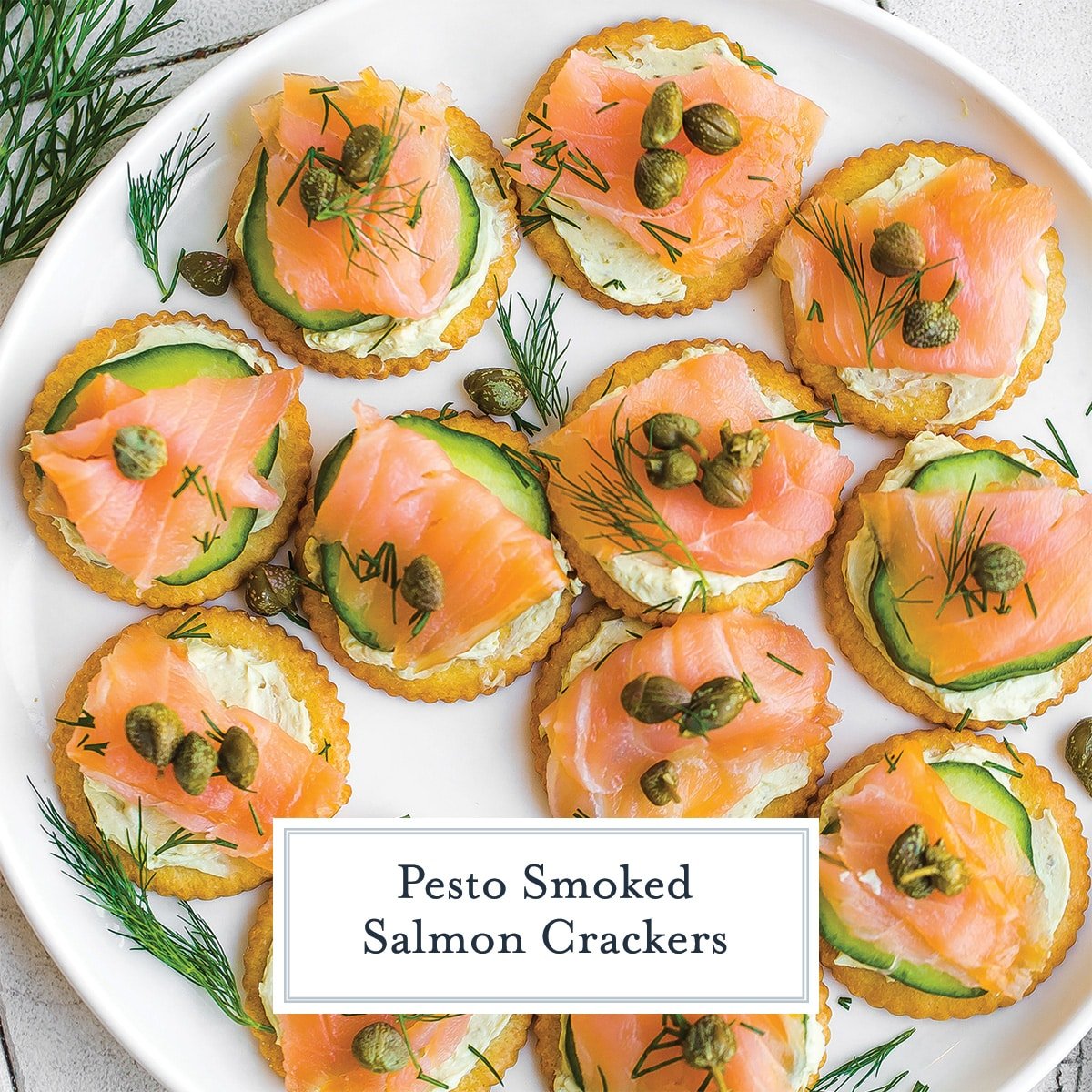 This is the perfect appetizer for parties, football games and generally any gathering.
Smoked Salmon Appetizers
'Tis the season for holiday parties, potlucks, and the need for quick and easy appetizers. Seriously, I don't know a single person who has time to create, bake, or cook anything elaborate during the month of December.
Every year, I get these lovely fancy food towers as gifts. It is such a wonderful gift to receive, but we can hardly eat half of what is in them. (Those poor pears! I try to figure out so many creative ways to use them.)
Smoked salmon is the perfect no-cook appetizer for parties. Great tasting and elevated from a standard dip, these salmon crackers are quite tasty.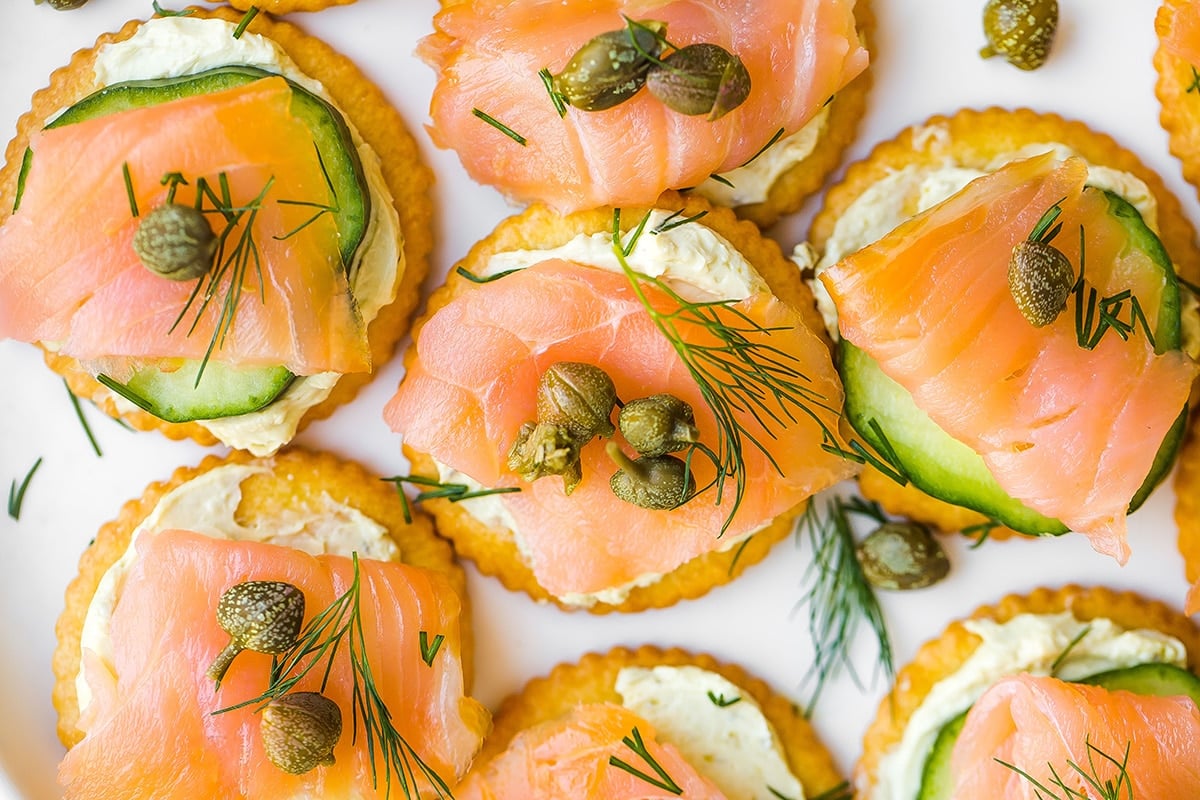 What is Smoked Salmon?
Is smoked salmon raw? There are two ways to smoke salmon. Hot smoked and cold smoked. The most common is cold smoked in which case the salmon is not fully cooked, but is cured, giving it a smokey flavor.
Hot smoking gives you that same smokiness but cooks the fish giving it a firmer texture.
One last thing, lox and smoked salmon are not the same thing! Lox is simply brined and does not have any smokey flavor to it. And while it would also be absolutely amazing in this recipe, I prefer the smoked to complement other flavors.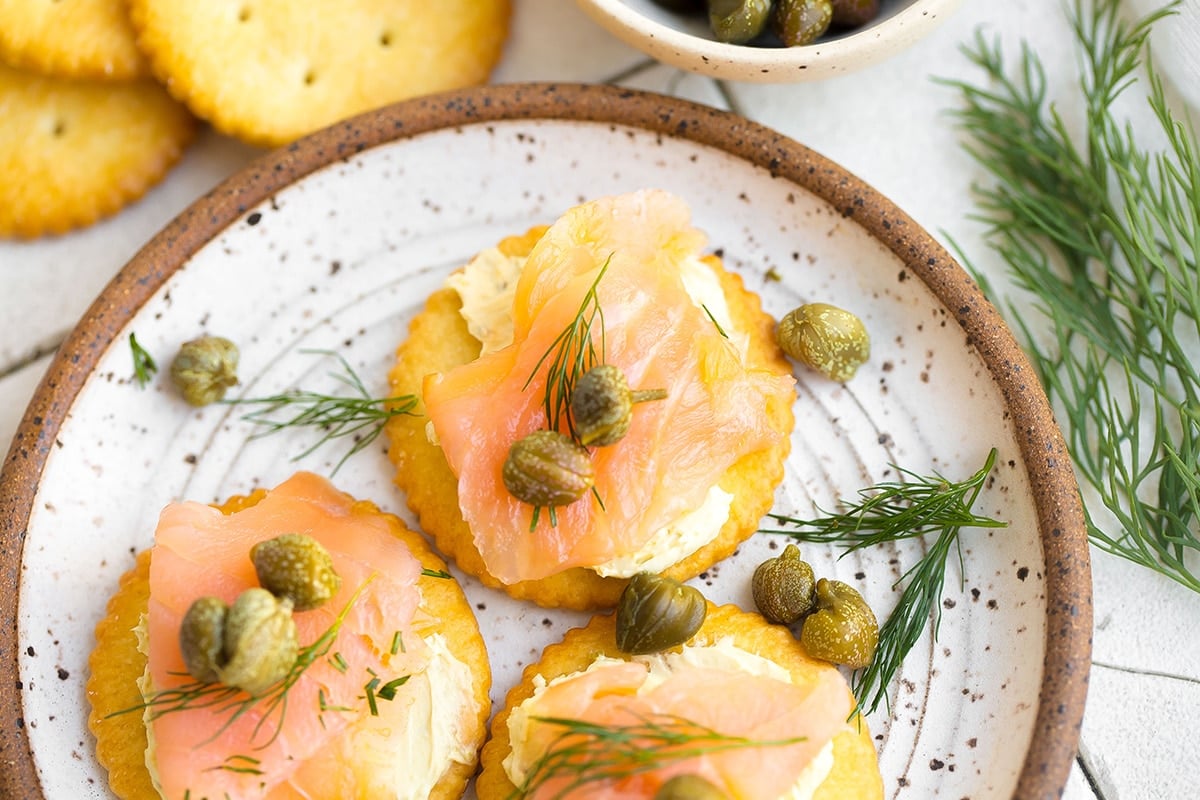 What You'll Need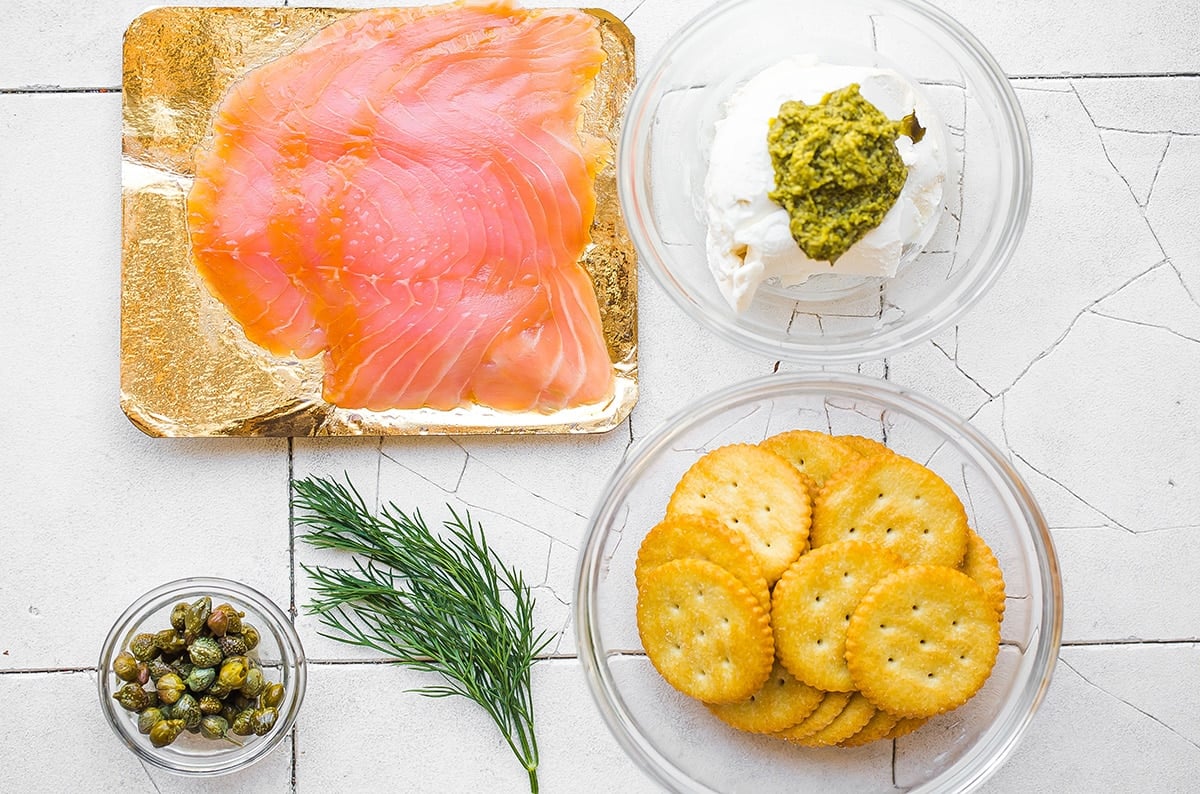 Cream Cheese– Standard brick cream cheese or whipped will work, just make sure it has softened to an easily spreadable temperature so the crackers don't break.
Pesto– I like basil pesto for this recipe, but others like tomato pesto are great options!
Crackers– The base for this delicious appetizer, I prefer a butter cracker, but something like a Triscuit will be sturdier. Flavored crackers can sometimes be a little too much since we have so many flavors in play topping the cracker.
Smoked salmon– Try to find a thinly cut salmon. It is easiest to cut into the right shapes and sizes using kitchen shears.
Cucumber- Using a mandoline slicer gives the most even and thinnest cuts. Don't go too thick or the fresh crunch can be overwhelming to the other textures. Persian cucumbers (if you can find them), have the perfect thin skin that doesn't need to be peeled. English cucumbers are another good option, or just peel them with a Y-peeler.
Capers– Capers are so under used, wouldn't you agree? I love the briny little pop of flavor they provide. Use te brined kind and rinse them if aren't a fan of that flavor profile. Roll them on a paper towel or blot dry.
Fresh dill– Another underused ingredient is fresh dill. Do not opt for dry dill weed, only fresh will do on this one.
Flakey sea salt– This helps to brighten flavors but also give another crunch. Maldon is my favorite!
Make Them!
These crackers can be made ahead of time, but no more than 4-5 hours or you'll risk the cream cheese softening the cracker.
Blend the softened cream cheese with pesto. Thinly spread the mixture on each cracker, being careful to not break the crackers! Have a few extras on hand, it happens.
Top each cracker spread with a cucumber slice, piece of smoked salmon, 1-2 capers and a small piece of fresh dill. Sprinkle with flaky sea salt, if desired.
Place them on a serving platter and serve immediately or chill until ready to eat.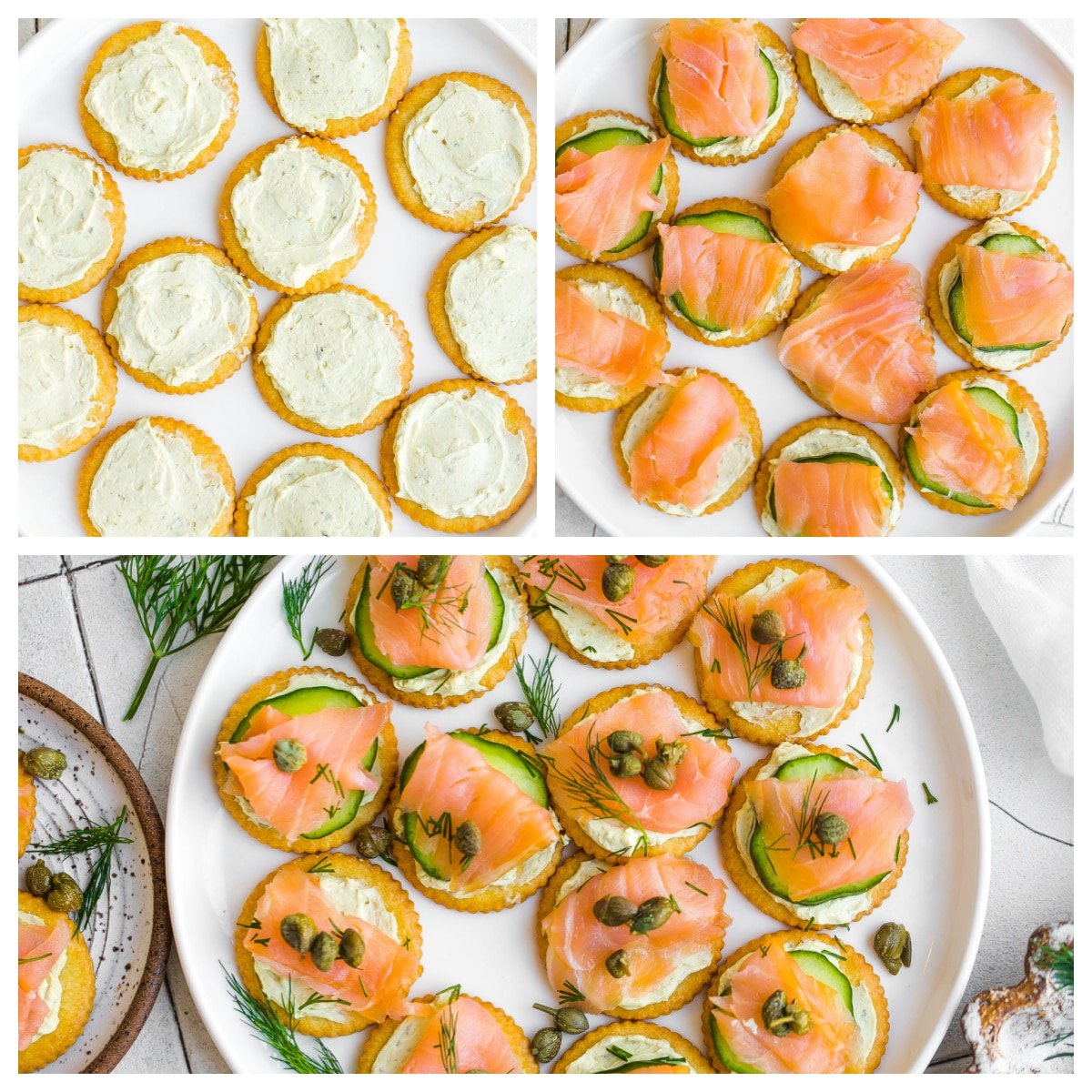 Variations
These salmon bites are so easily modified to fit your taste buds.
Add a fresh twist for fresh black pepper.
Omit the dill and add fresh basil.
Add chopped or thinly sliced red onion.
Lemon zest or a spritz of fresh lemon juice on the salmon.
Toasted pine nuts are another great addition.
Put it on a piece of toast for salmon crostini.
Add a flavored cream cheese and ditch the basil. Chive, fresh herbs and lemon dill cream cheese are great picks.
Garnish with green onion (scallions) or chives.
Roll into salmon roses.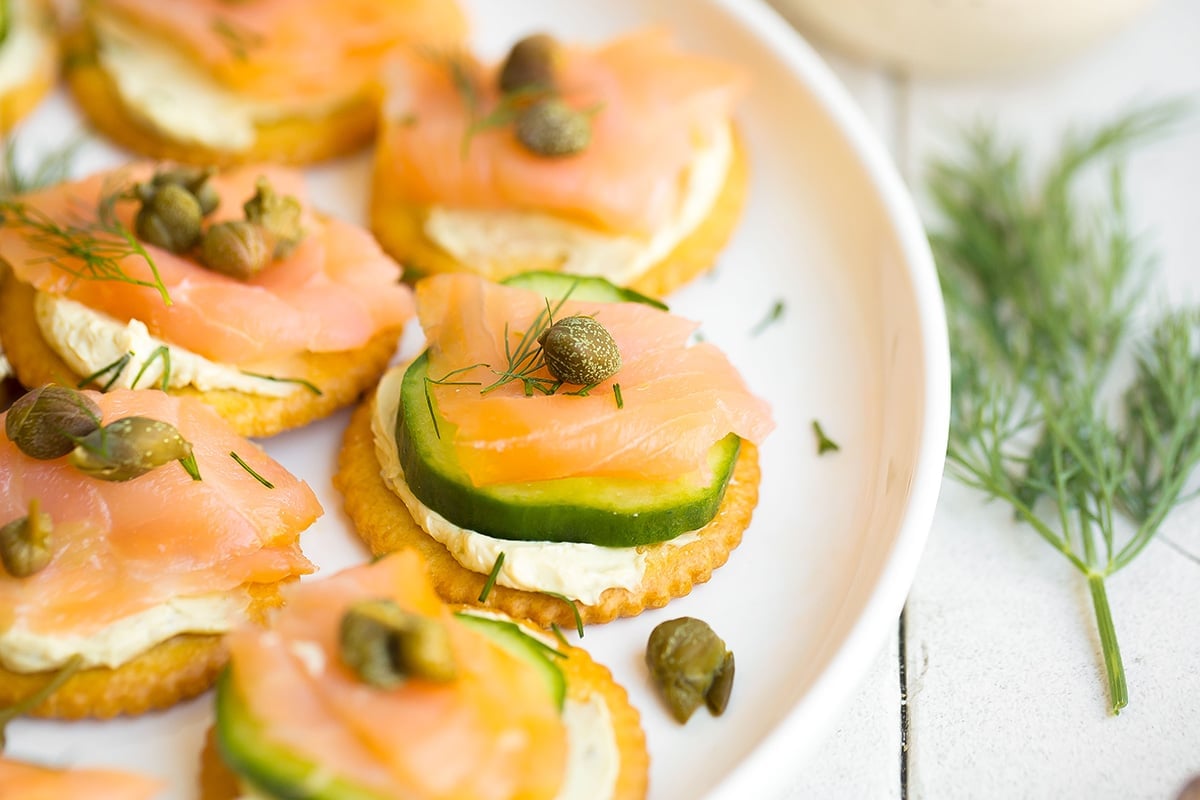 Storage
This tasty treat is best served right after assembling, but you can make it several hours ahead of time. Keep them covered (or in an airtight container) and in the fridge until ready to serve since it is seafood. The smells and flavors of smoked salmon can easily infiltrate other foods, like butter.
Leftovers can be stored in the fridge as well. They can be stored for up to 3 days, but the crackers have the a tendency to soften. There is no way to prevent this.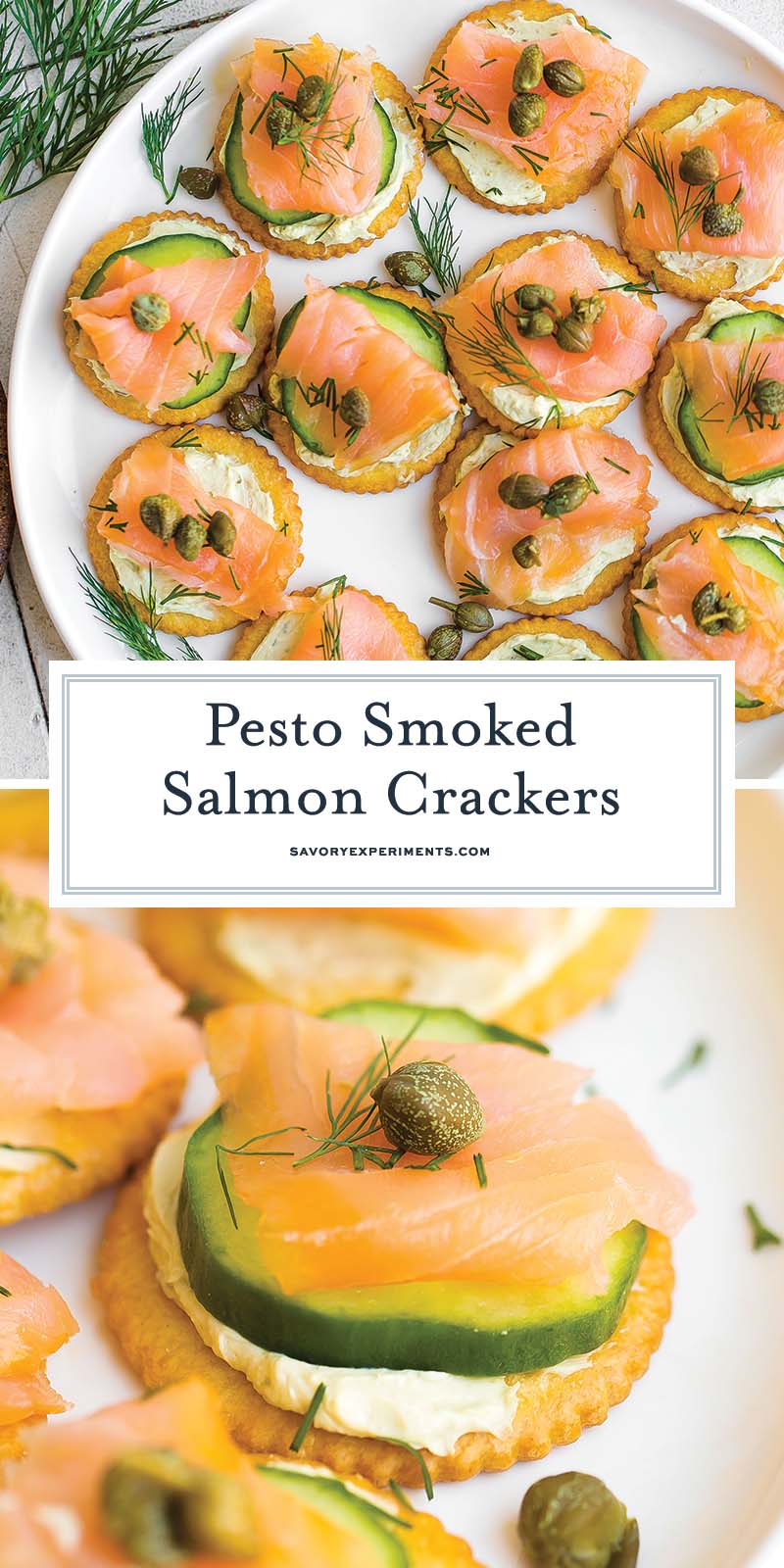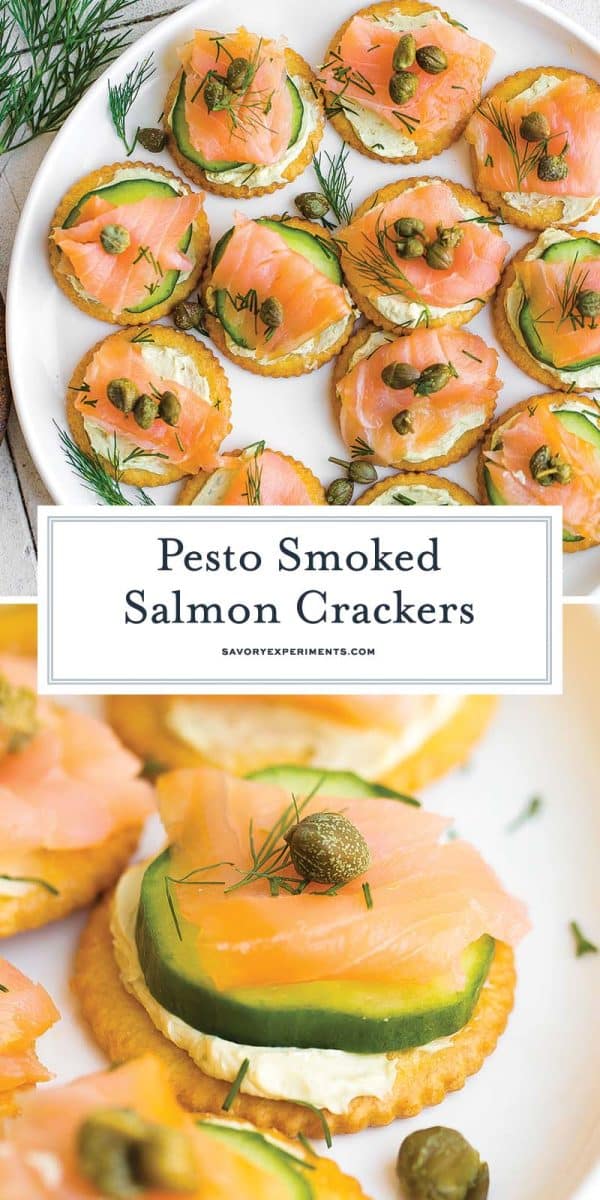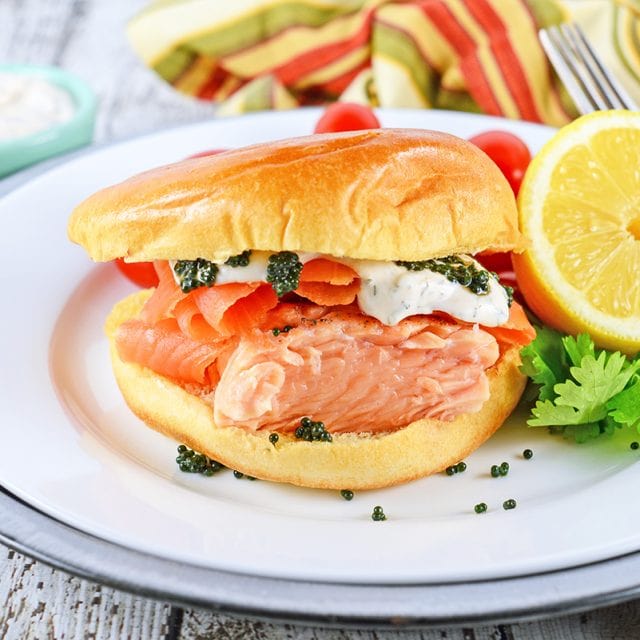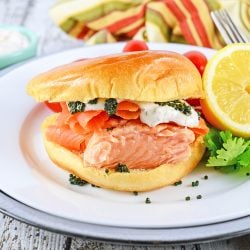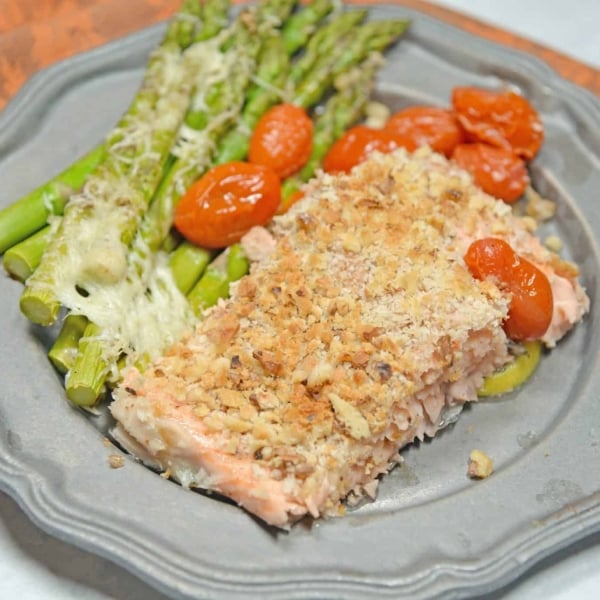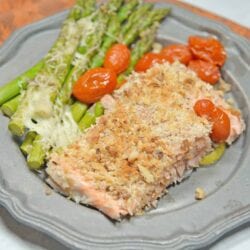 Sheet Pan Salmon Recipe
Sheet Pan Crispy Salmon is a fast, easy and healthy weeknight meal. Prep this sheet pan meal in just 5 minutes using tomatoes, asparagus and a crispy panko and walnut topping for you salmon.
See The Recipe!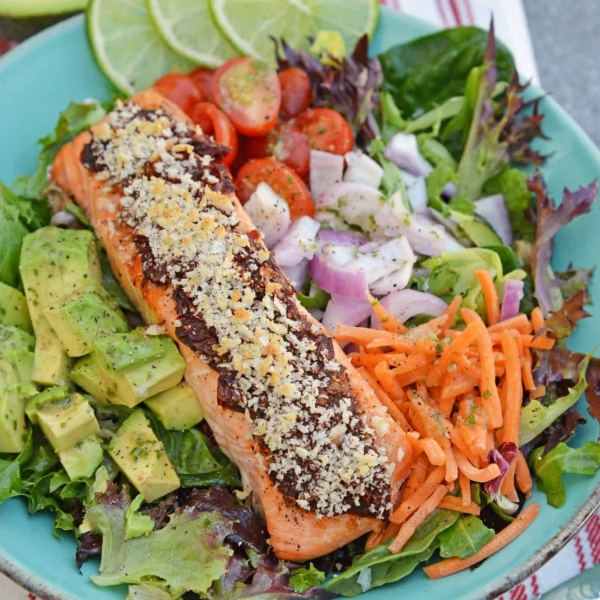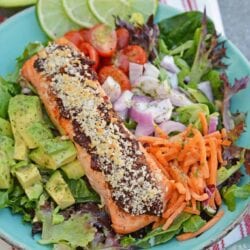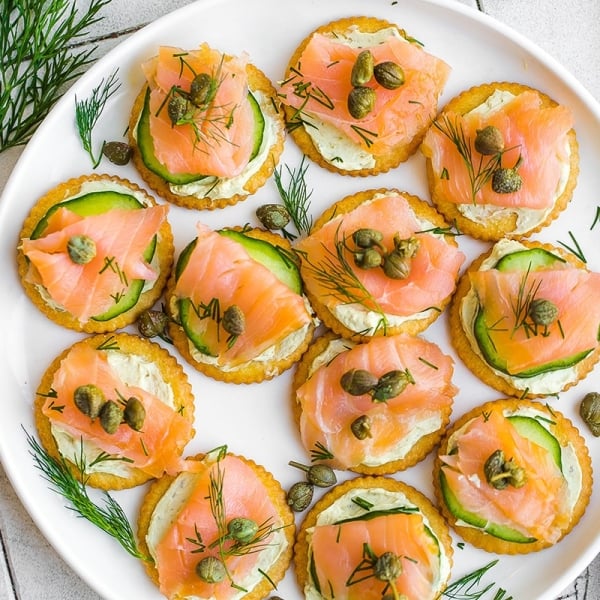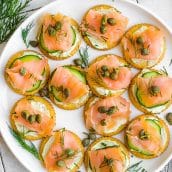 Smoked Salmon Cracker Recipe
Smoked Salmon Crackers are easy no-cook appetizers layered with pesto laced cream cheese, cucumber slices, fresh dill and capers.
Ingredients
10

ounces

cream cheese

, softened

2

tablespoons

basil pesto

40

crackers

12

ounces

smoked salmon

, thinly cut

40

slices

cucumber

, thinly sliced

1/4

cup

capers

, drained

3

sprigs

fresh dill

flakey sea salt

, such as Maldon
Instructions
In a medium bowl, mix the cream cheese with pesto. Thinly spread the mixture on each cracker.

Top with a slice of cucumber, piece of smoked salmon, 1-2 capers and a small piece of fresh dill. Sprinkle with flaky sea salt, if desired. Not all need to have cucumber, I sometimes do half and half.

If you've tried this recipe, come back and let us know how it was in the comments or star ratings.
Nutrition
Calories:
54
kcal
,
Carbohydrates:
3
g
,
Protein:
2
g
,
Fat:
4
g
,
Saturated Fat:
2
g
,
Polyunsaturated Fat:
1
g
,
Monounsaturated Fat:
1
g
,
Trans Fat:
0.03
g
,
Cholesterol:
9
mg
,
Sodium:
153
mg
,
Potassium:
38
mg
,
Fiber:
0.2
g
,
Sugar:
1
g
,
Vitamin A:
125
IU
,
Vitamin C:
0.3
mg
,
Calcium:
15
mg
,
Iron:
0.3
mg