This is a festive and fun Christmas cookie idea that also happens to be easy! These melting snowman come alive in under 20 minutes or less; an activity the whole family will enjoy!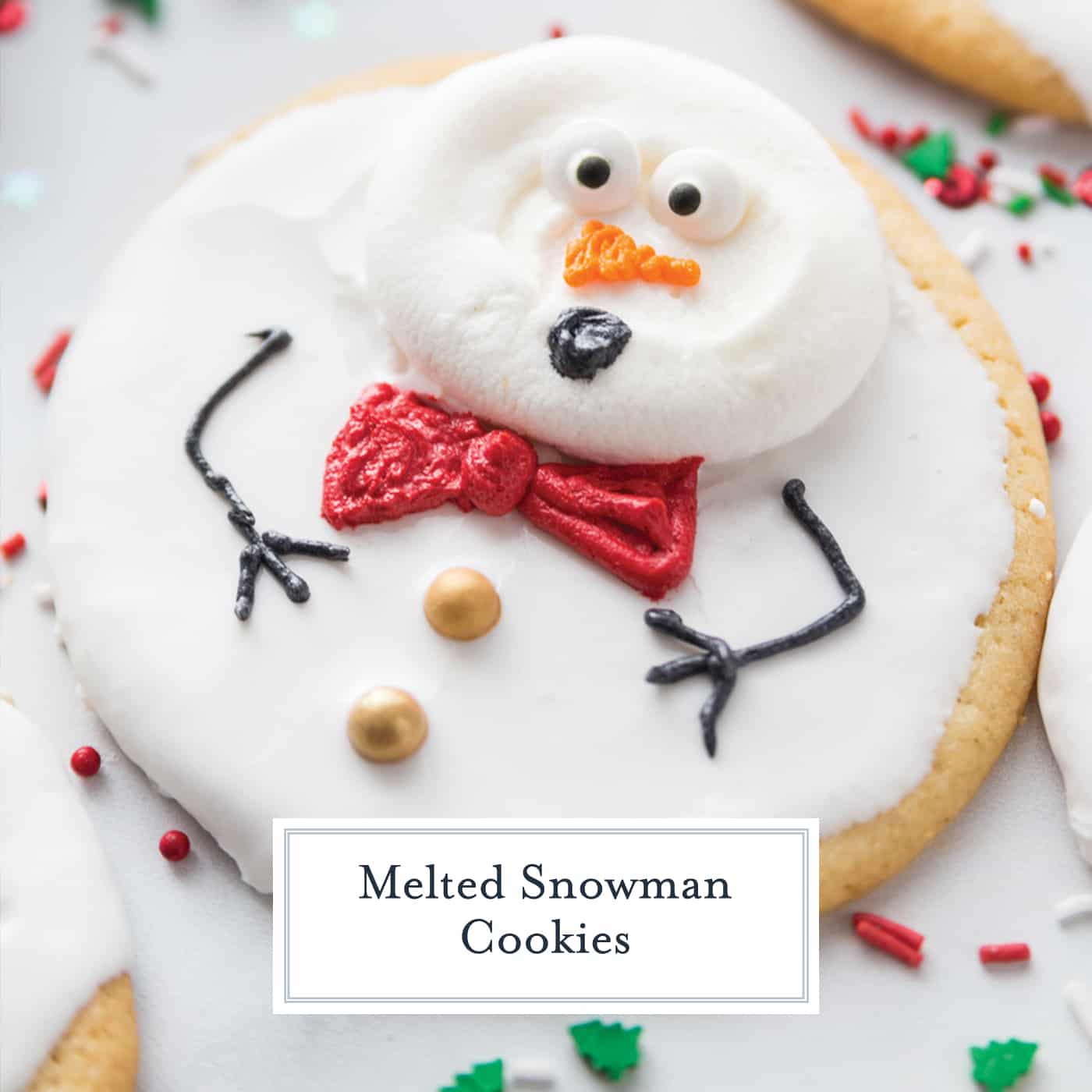 Super easy and fun to decorate, Melted Snowman Cookies are great for a children's project on a cold winter day. Even in their imperfection, these holiday cookies are adorable!
"Oh no, I'm melting!!! Please don't eat me!" I had such a fun time speaking for these little guys while making them.
Melted Snowman Cookies are so adorable, I almost didn't want to eat them. I mean really, how cute are these??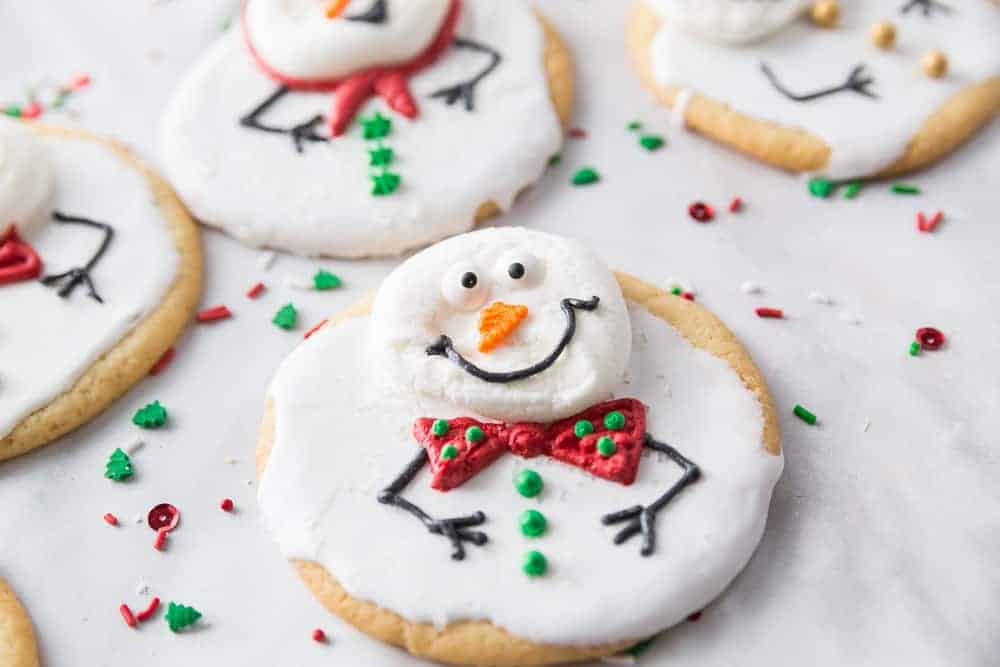 Melted Snowman Cookies start with sugar cookie dough, either store bought or homemade. That's beauty of these cute holiday cookies is that they are perfect in their imperfection.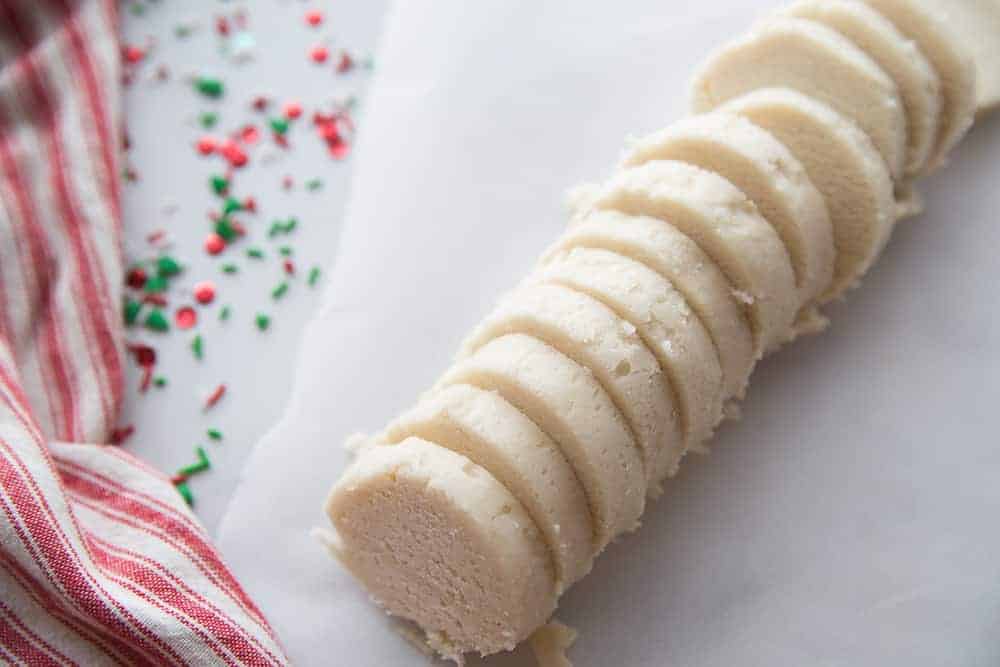 No rolling or cookie cutters, just haphazardly make a few circles or ball up some dough and press it out with your palm. If you are using a roll of cookie dough, cut it off the roll.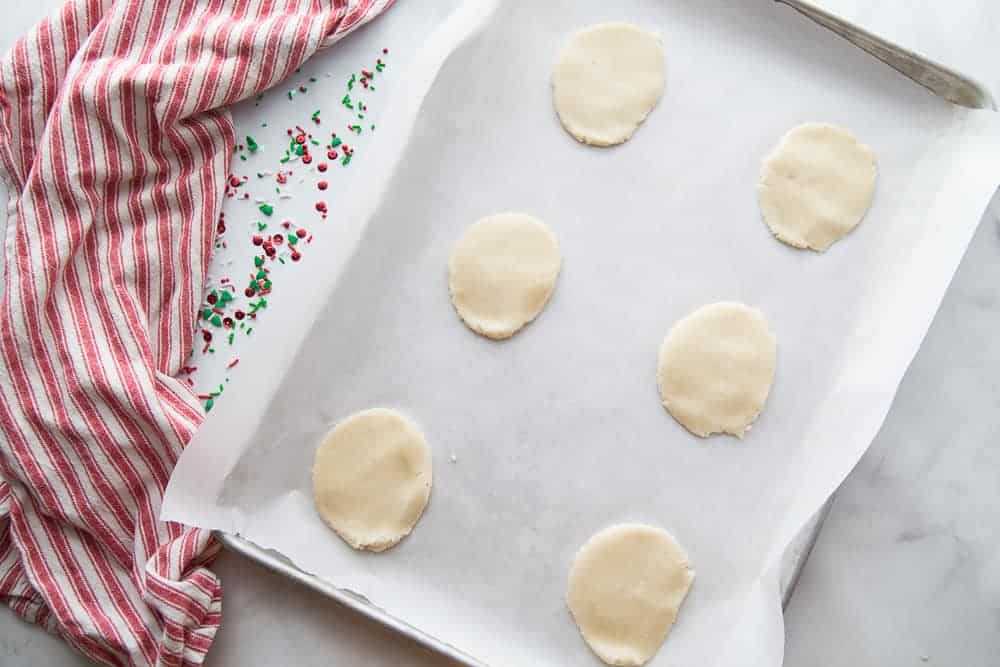 Bake and allow to cool. Melt cookie icing over the cookies, allow it to spread over the sides like it was melting. You can make a glaze from scratch out of powdered sugar and water, but why when buying a bottle of cookie icing is so easy?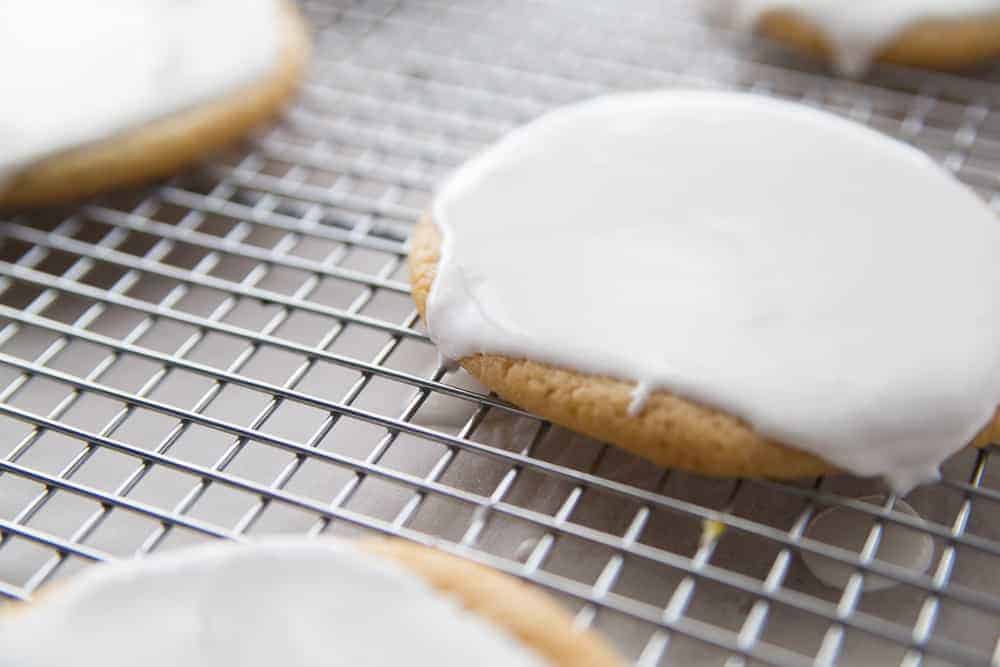 Cookie icing will harden and then you can move onto to melting marshmallows for the heads.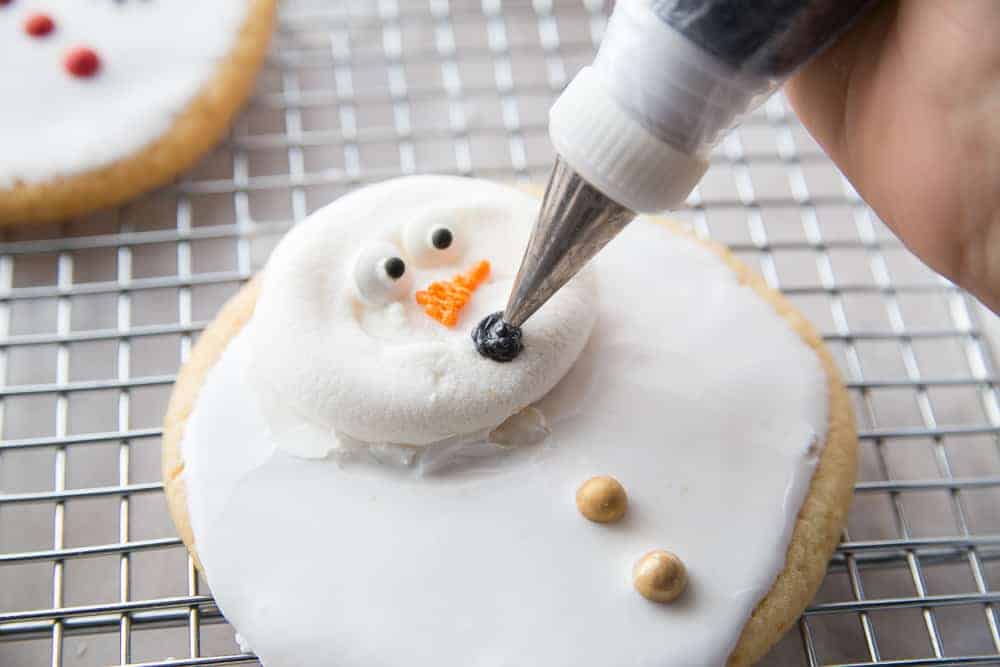 No need to be "the best" cookie decorator or have type A details. In fact, I give mine a few thumb prints and jagged edges because nothing really melts in a perfect circle, right?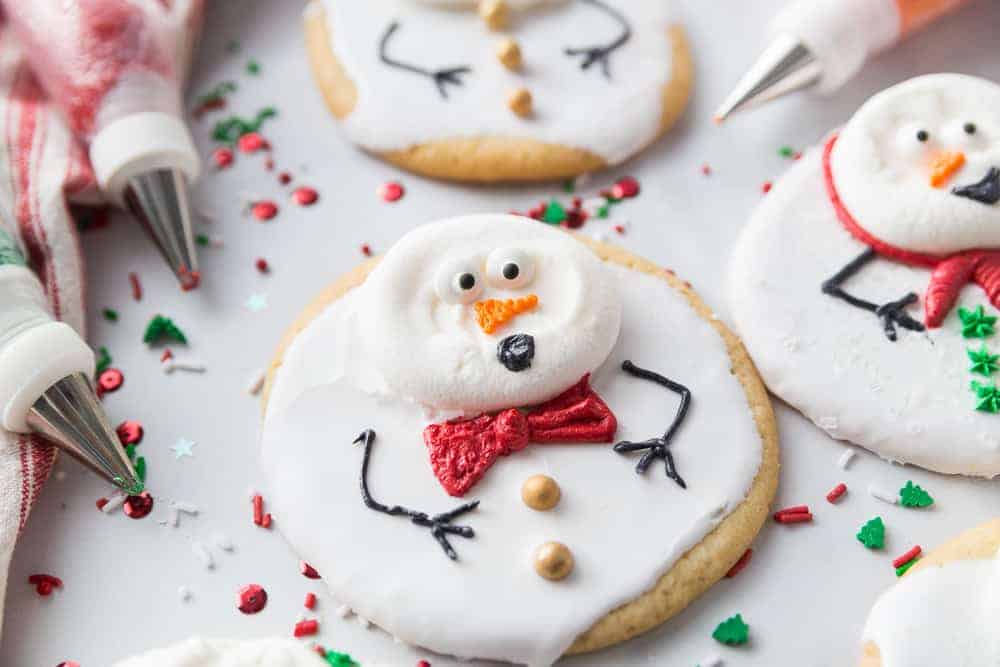 Any type of candy, hard sugar cake embellishment or sprinkles can be added. If you have a steady hand, like my friend Katie who helped me decorate these, you can even pipe out that frosting like a pro!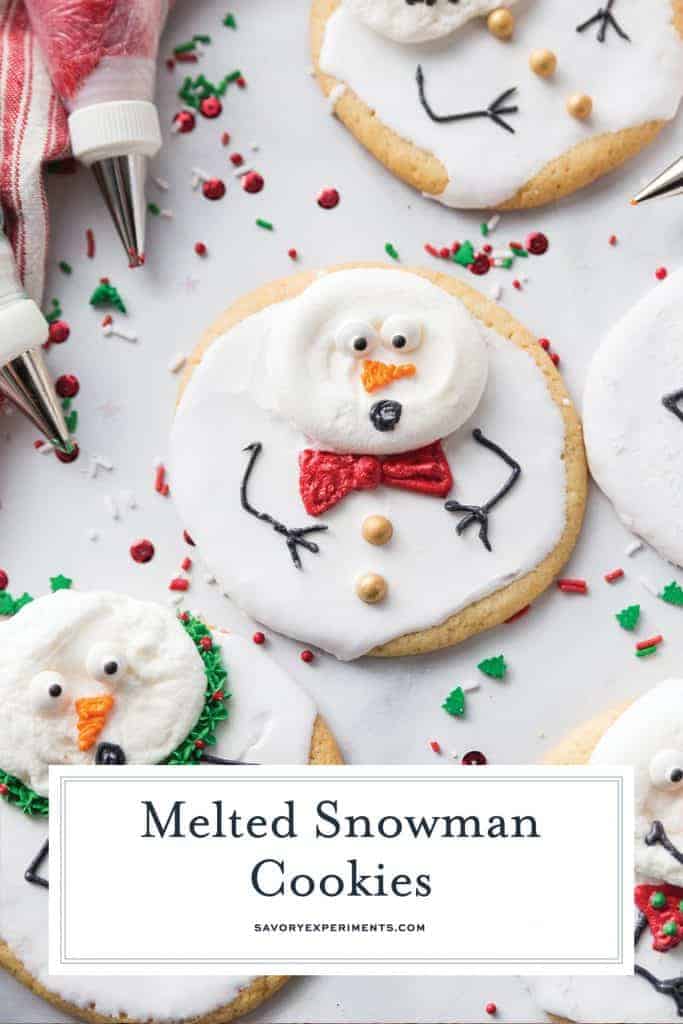 If you liked these unique Christmas cookies, be sure to check out these other easy Christmas recipes:
Nutter Butter Santa Cookies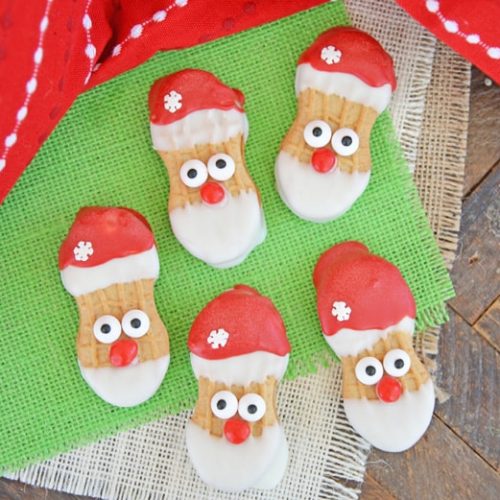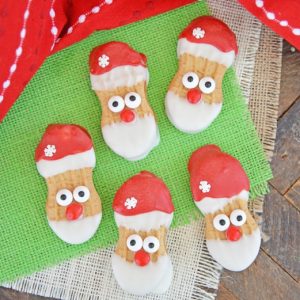 If you're looking an an easy, no-bake Christmas cookie, check out my Nutter Butter Santa Cookies! They're super festive, and simple to make.
Christmas Coal Candy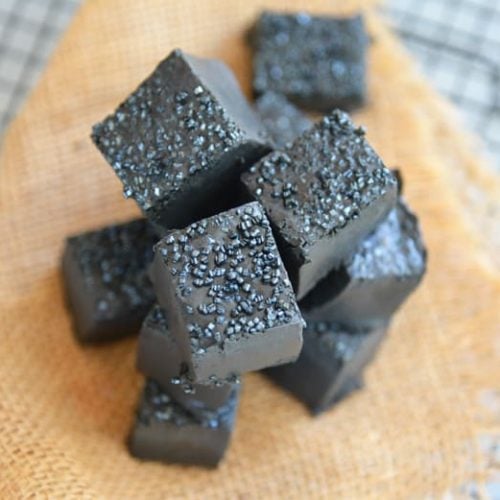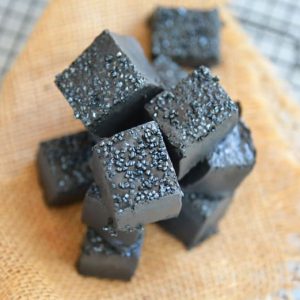 This Christmas Coal Candy is the perfect fudge recipe for Christmas! Give as a gag gift to someone who needs coal for Christmas.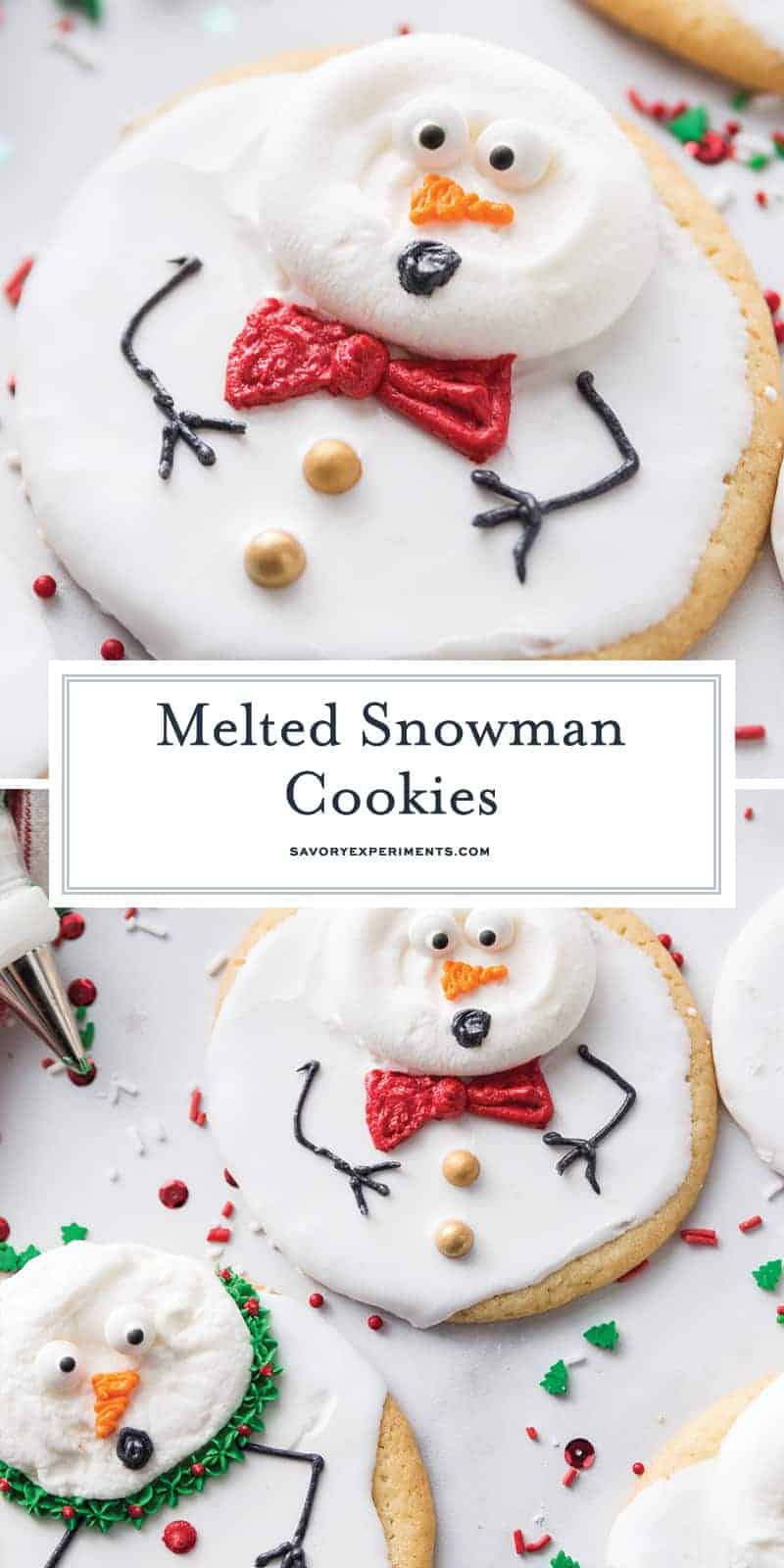 ---
---
Melted Snowman Cookies
Melted Snowman Cookies are perfect for a day of baking with the kids. Perfect in their imperfection, these holiday cookies are easy and adorable!
Ingredients
1

batch

sugar cookie dough

2

white cookie Icing

12

large marshmallows

decorating frosting

candy eyeballs

optional

Other decorating items

such as sprinkles or candy
Instructions
Preheat oven according to sugar cookie dough package. Cut dough evenly into 12 slices (they will be approximately 1/2 inch thick).

Since these are rather large, use a large cookie sheet and bake 6 at a time. Place cookie slices directly onto the baking sheet and press down with the palm of your hand. The objective is for them to be uneven, like a pool of water. This type of dough spreads and melts slightly, so don't fret over a uniform thickness. Bake according to package directions. Remove to cooling rack and repeat.

When cookies are fully cooled, allow them to remain on the cooling rack, but place a large baking sheet underneath. Take the top of the Wilton Cookie Icing and heat in the microwave for 30 seconds. Massage the bottle to spread the warmth evenly and then pour over the top of each cookie, allowing it to flow off the edges. You can use the nozzle they give you, but it takes forever.

If you are adding candy for buttons, directly to the icing, now is the time to apply it. Cookie icing will harden and then if you want to add embellishments later you will need to adhere with another dab of icing.

Generously cover a microwave safe plate with cooking spray. Place 6 large marshmallows onto the plate and set for 30 seconds. Watch them closely and wait until they start to inflate in size, wait 5 seconds longer and remove. Immediately dimple the tops with your thumb. Place a small dab of tubed cake frosting (preferably white) to the spot where you want the head and then gently remove the marshmallow and place in the desired spot. Heat a second batch fo 6 marshmallows, and repeat.

Now here is the fun part- the rest of the decorating! Use your creative freedom to create whatever you would like on your snowman. I purchase the cheap plastic nozzles to use on the tubed frosting to create different shapes. I also piped smaller amounts of frosting into plastic baggies and then snipped a small hole in the corner to create more intricate pieces such as arms and bow ties.

Store in a cool dry place. Enjoy!

If you've tried this recipe, come back and let us know how they were!
Nutrition
Calories:
386
kcal
|
Carbohydrates:
5
g
|
Sodium:
6
mg
|
Sugar:
4
g