Time to ring in the holidays and what better way to do it than with an edible holiday drink? Eggnog cookies!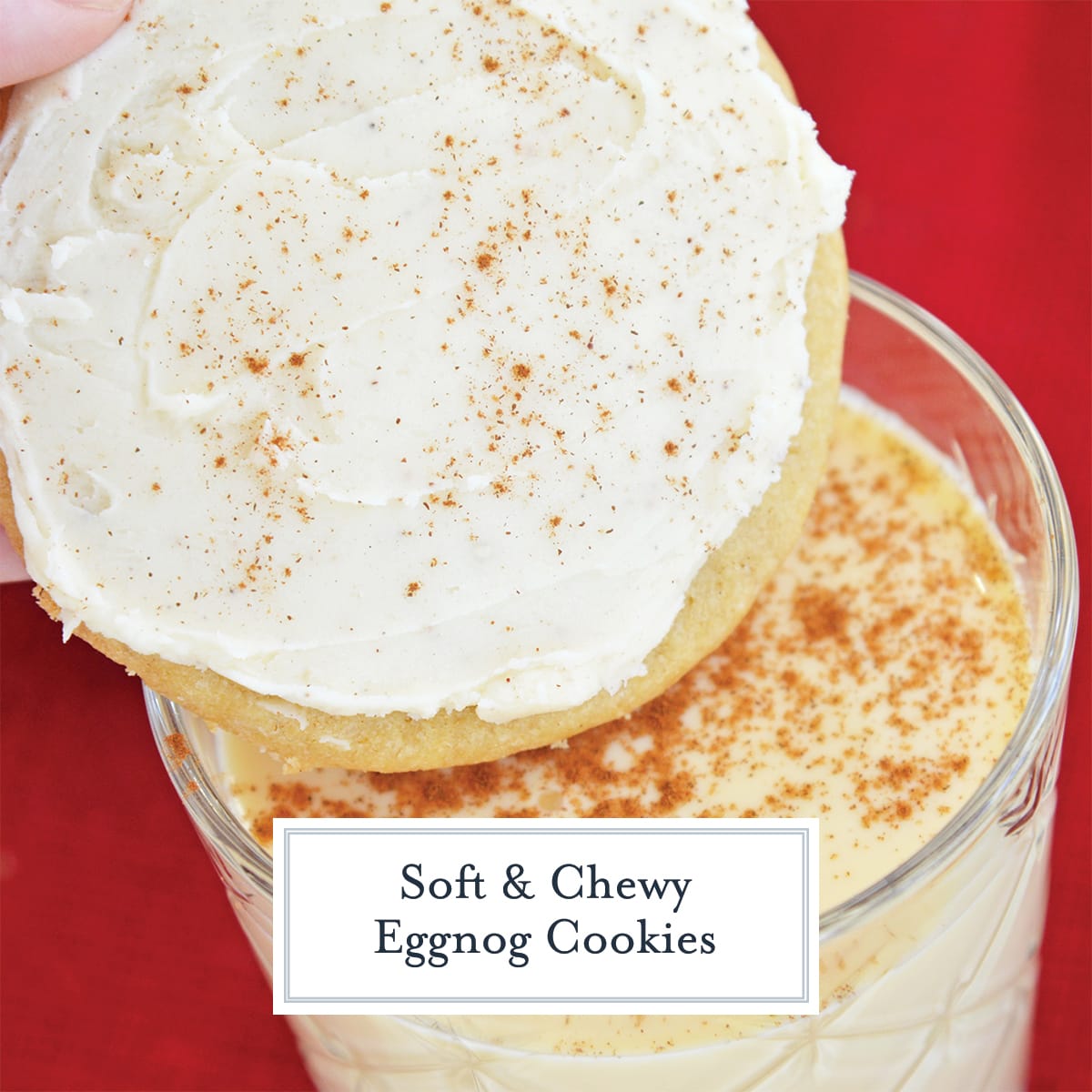 Eggnog Cookies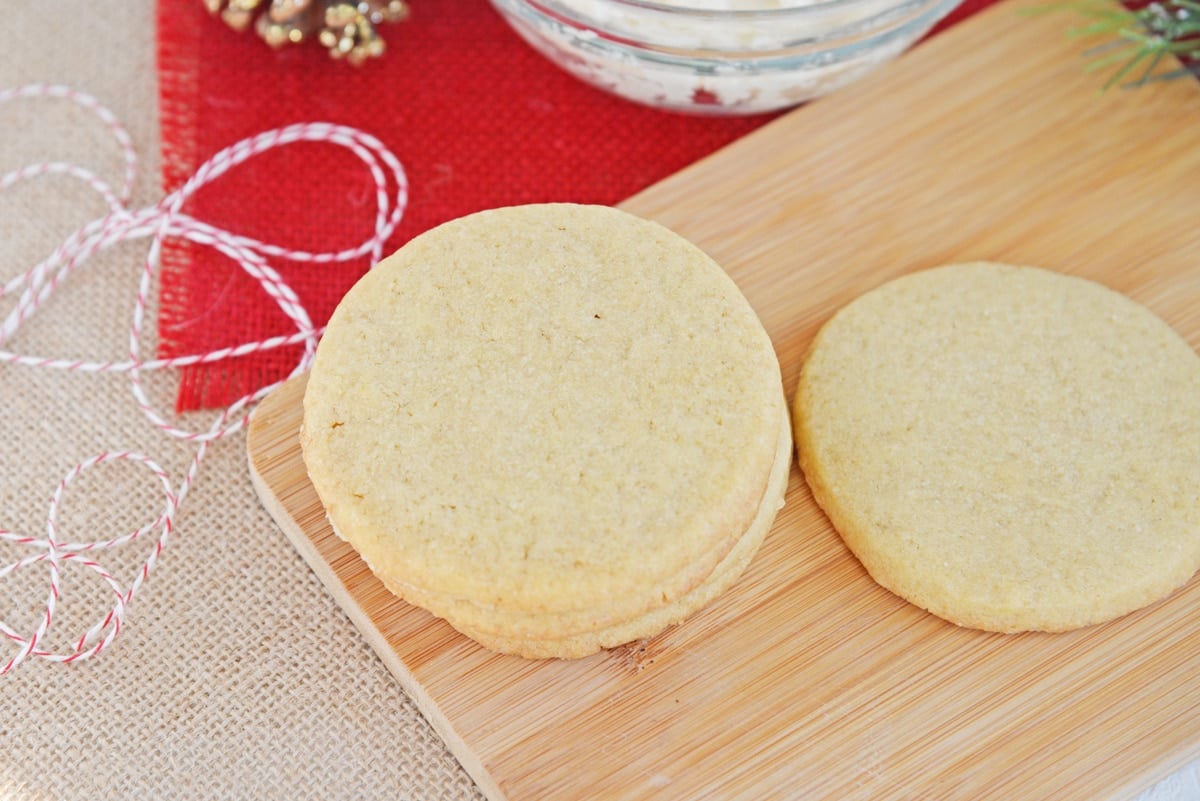 The year I decided to make eggnog cookies, the craziest thing happened. In 2002 a hurricane ripped through the Caribbean destroying spice fields in Grenada.
Holy Cow, Where is the Nutmeg?
The news broadcast that the majority of US nutmeg is farmed in this area and that their fields could take years to recover, driving up the prices to import from Indonesia's spice islands.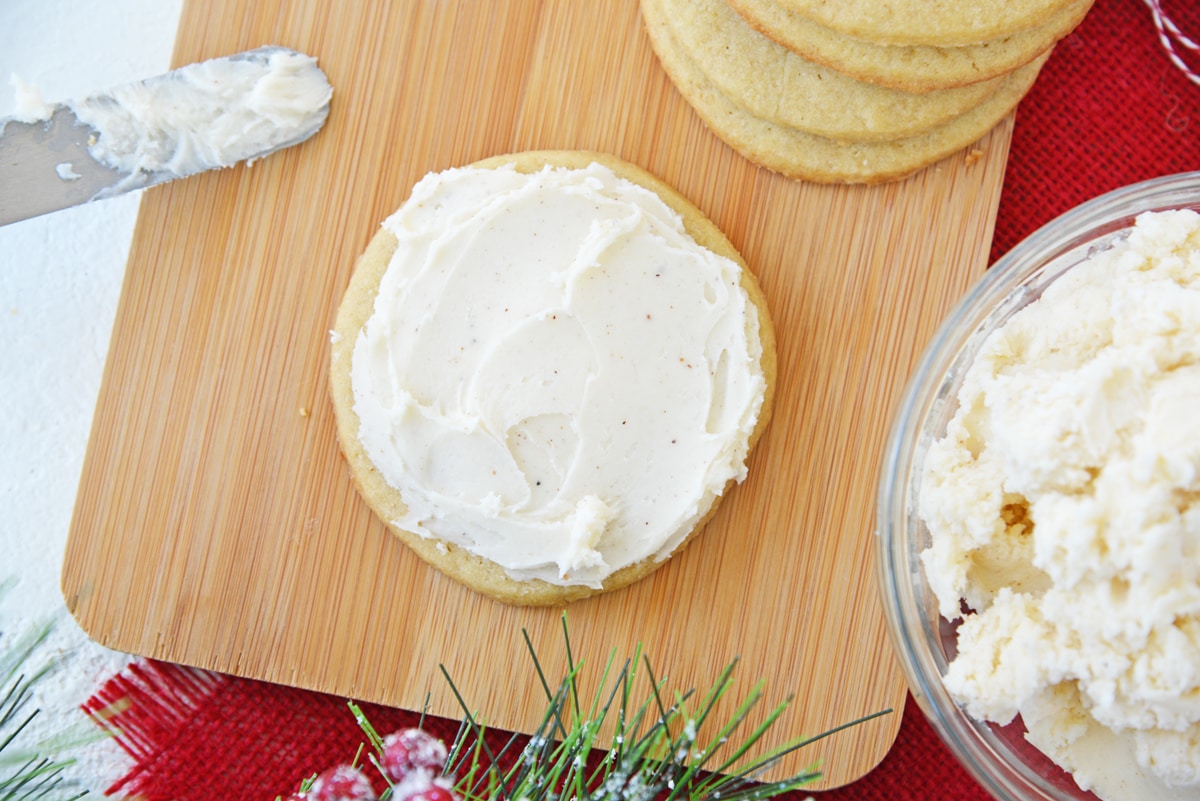 I ran to the grocery store and stocked up on nutmeg; bottles and bottles of nutmeg. I could never run out. right? Holy crap… I ran out of nutmeg! I actually ran out of nutmeg while making my eggnog cookies. How could that have possibly happened?
PRO TIP: Freshly grated nutmeg makes a world of difference in the flavor of these cookies!
Turns out, I use way more nutmeg than I realized. I also decided that the only way to use nutmeg is freshly grated.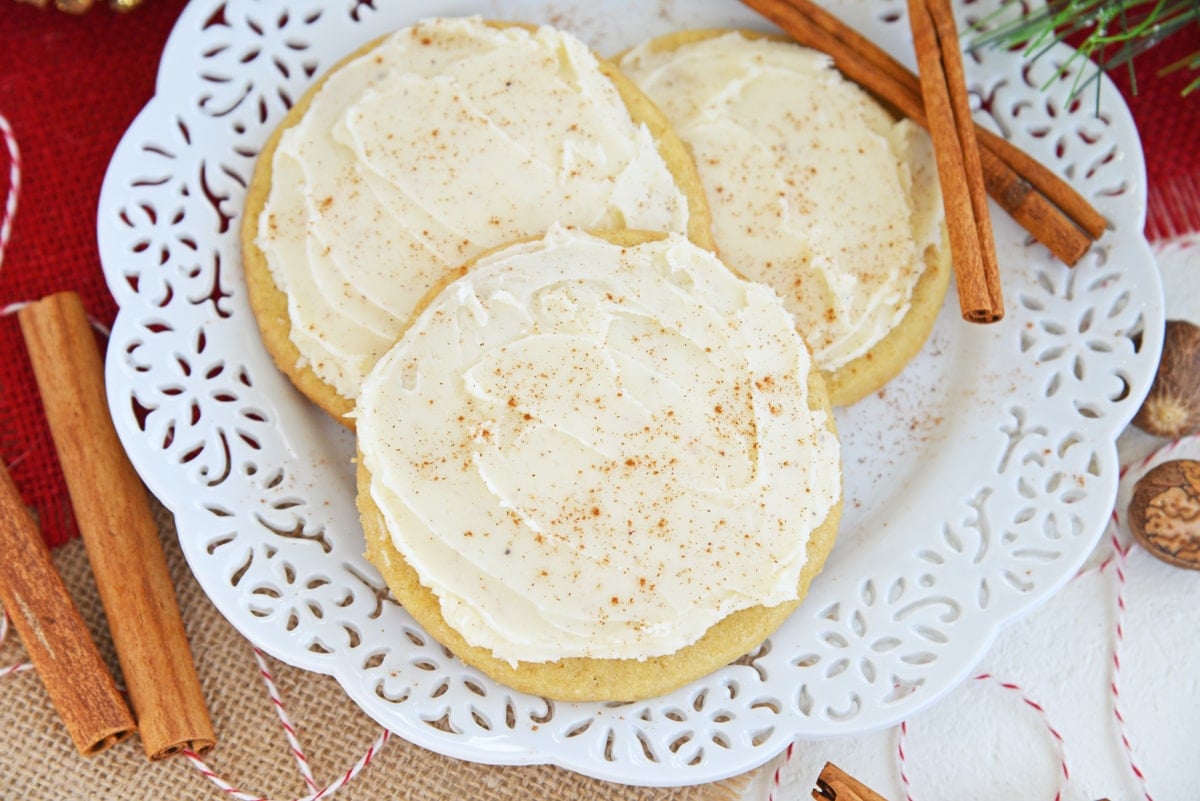 Do yourself a favor and buy whole nutmeg and a micrograter, the flavor is worlds better. These eggnog cookies will really pop with those freshly grated spices.
Eggnog
This recipe was adapted from Taste of Home magazine. One of the things that drew me to this particular eggnog cookie recipe is that it only used a small amount of eggnog. Making it perfect for that last little bit in the bottom of the carton.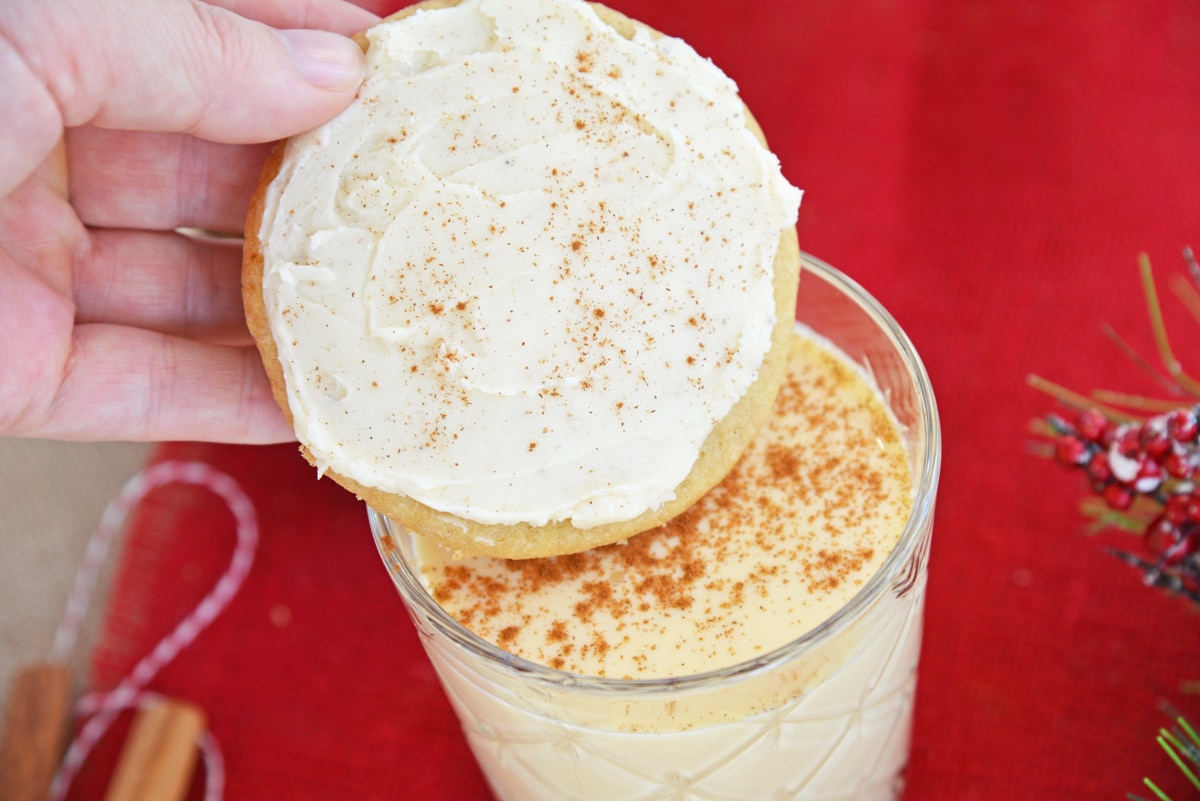 Even if you only have enough for the actual cookie dough, then substitute milk for the frosting. Or vice versa, even subbing out both and making just spice cookies.
Rum extract can also be actual rum or swapped to vanilla. Eggnog cookies are certainly versatile!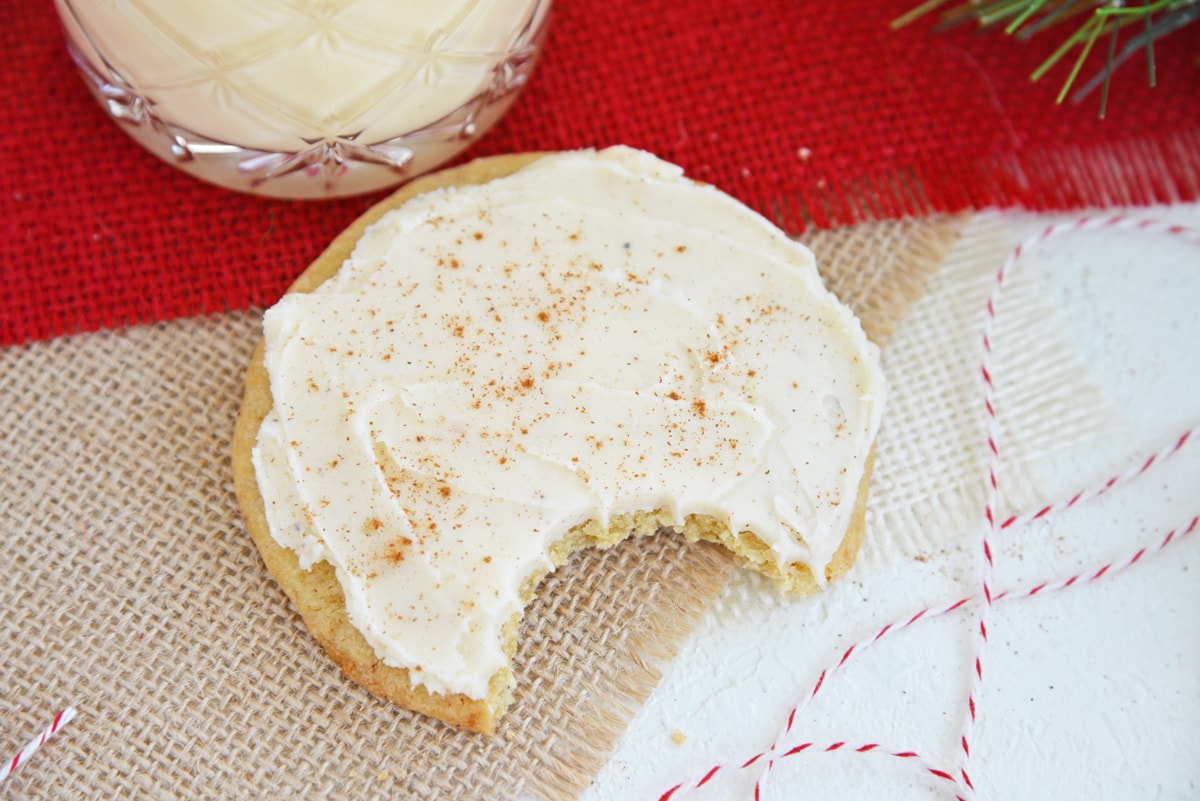 What is Eggnog?
Eggnog is the definition of Christmas, at least it is in my house. When I start seeing Eggnog at the store I know that means Christmas is on its way! So what is eggnog?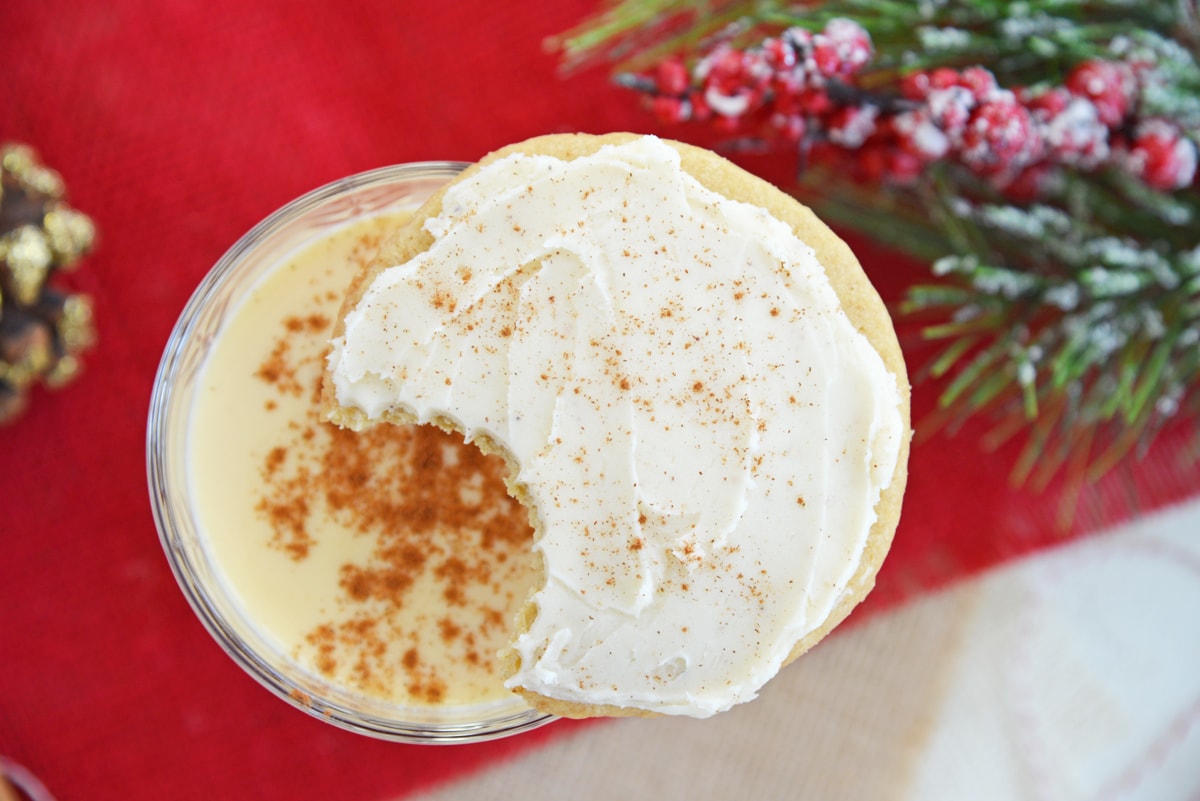 Eggnog is typically made up of egg yolks, sugar, whole milk, heavy cream, nutmeg, and possibly a splash of rum or brandy for an alcoholic version.
You can make your own or grab a carton at the store.
Storage & Freezing
Store cookies in an airtight container at room temperature for up to a week.
Freeze cookies without frosting in an airtight container for up to 3 months. Frost after they thaw.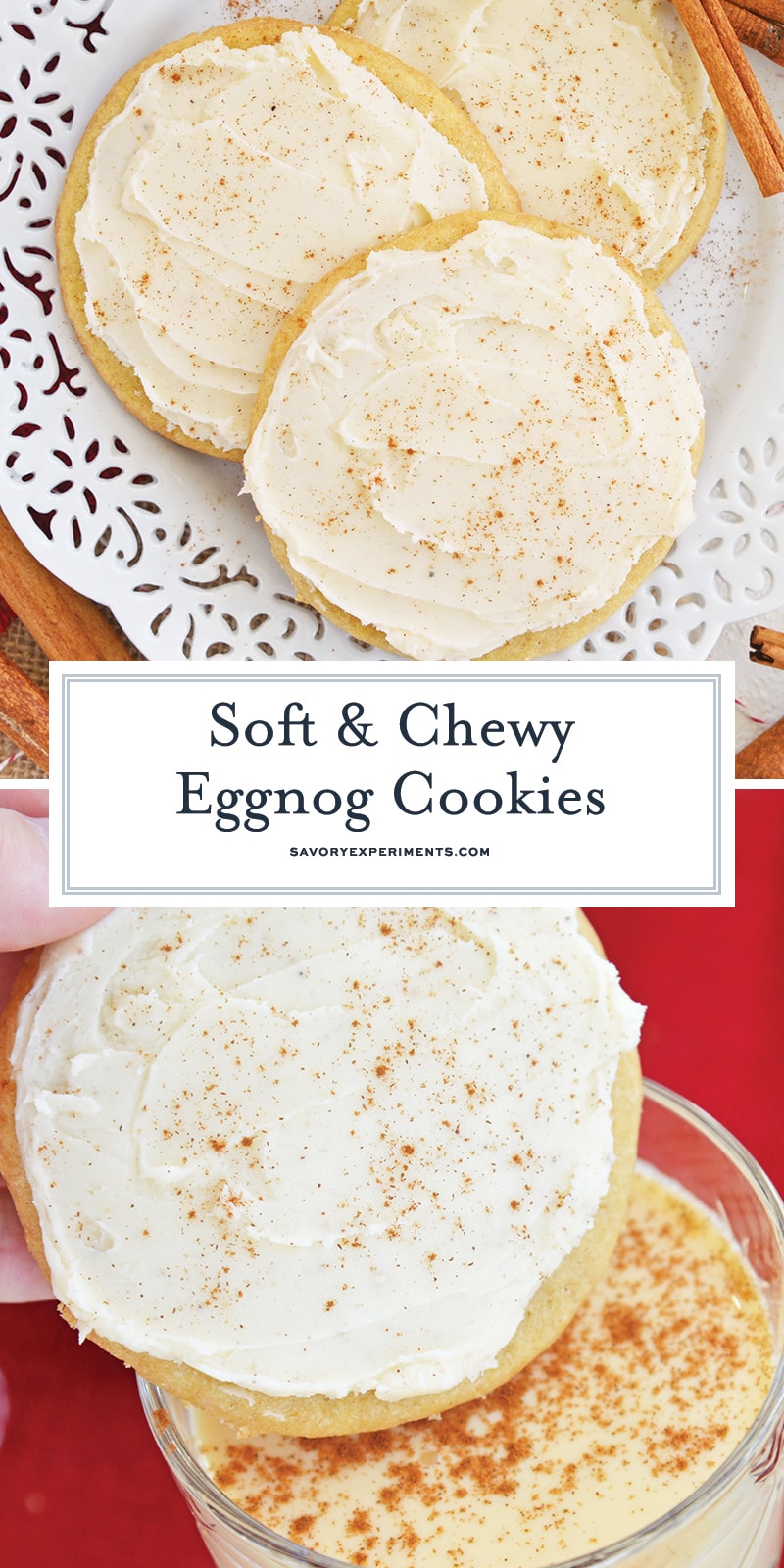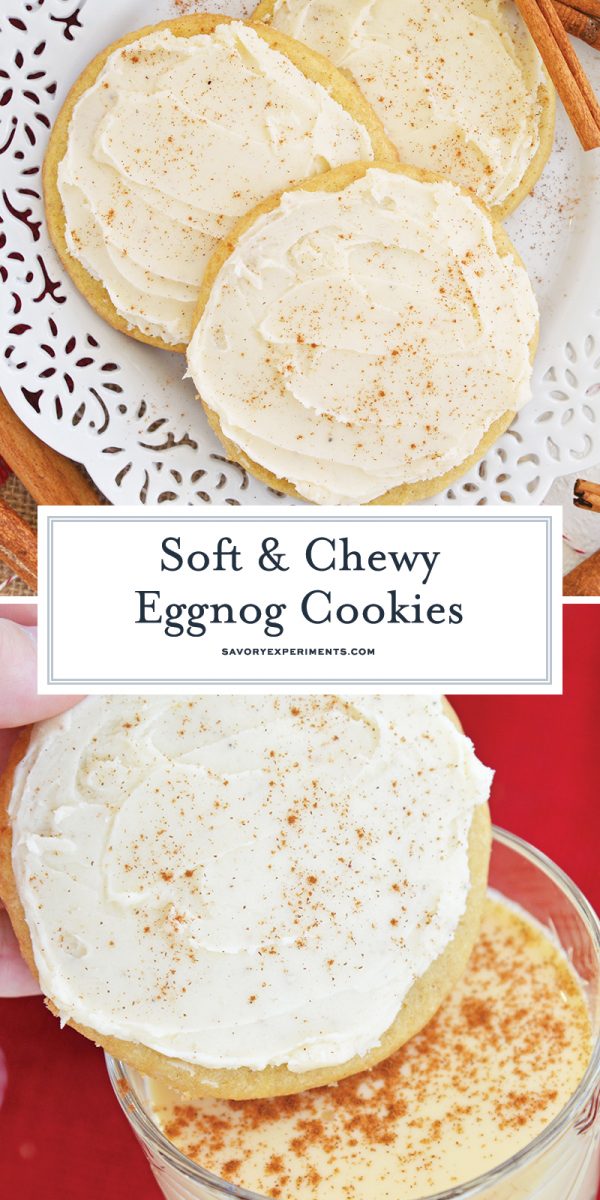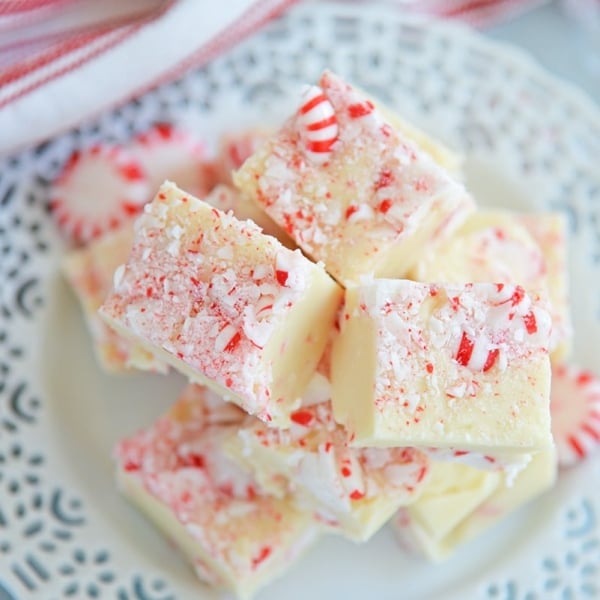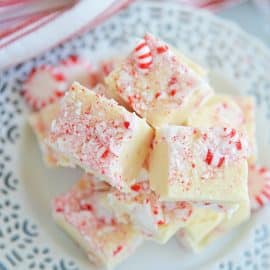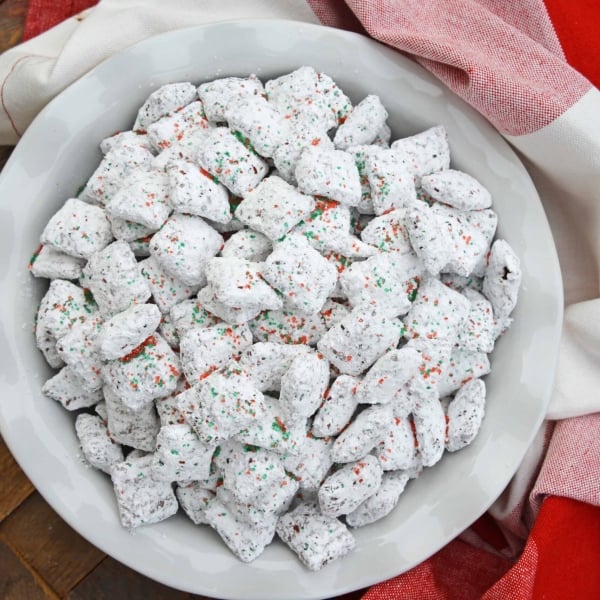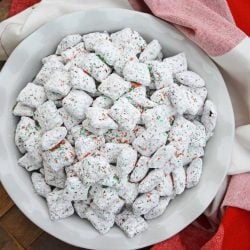 Christmas Puppy Chow
Christmas Puppy Chow transforms a traditional muddy buddy recipe into a festive Reindeer Chow mix! The perfect no-bake dessert for any party or event.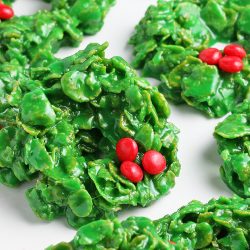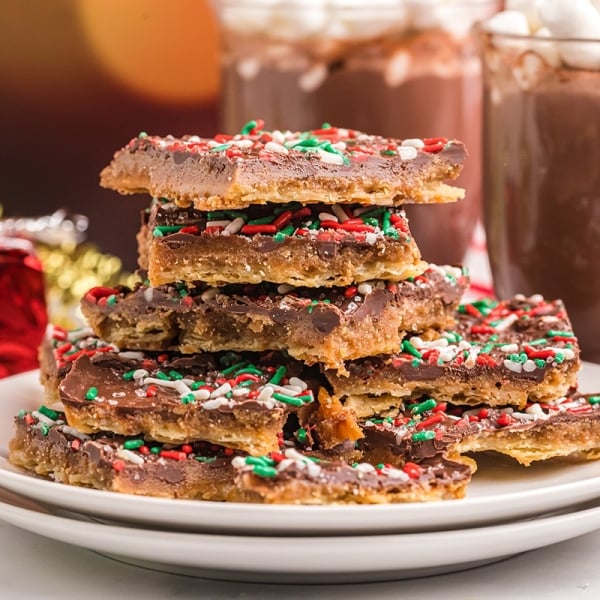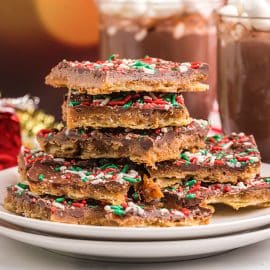 Christmas Crack Saltines
Saltine Cracker Toffee is a classic butter toffee on top of crunchy, buttery crackers. Make this classic holiday treat in just 20 minutes using 5 ingredients!
See The Recipe!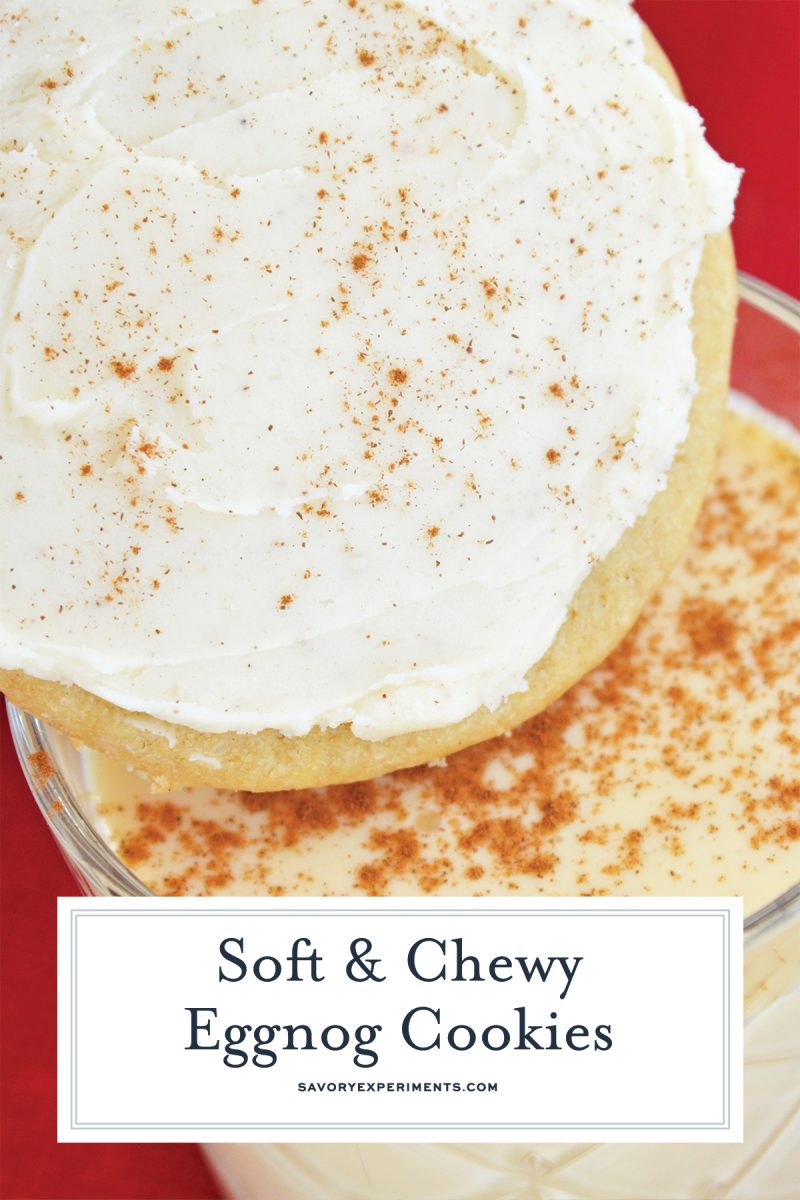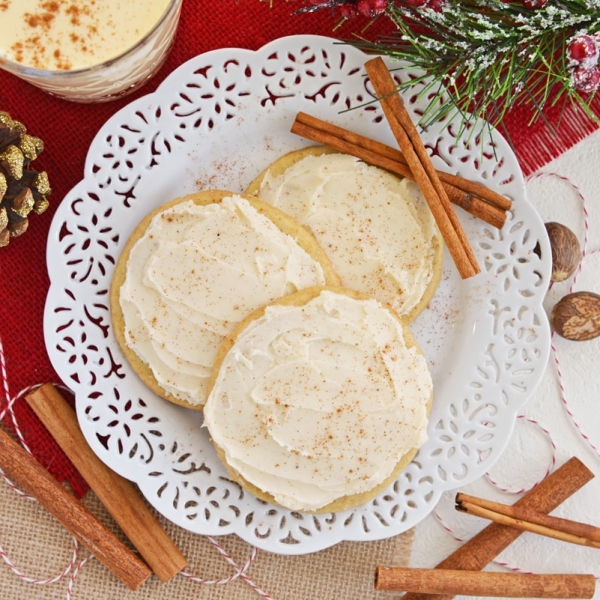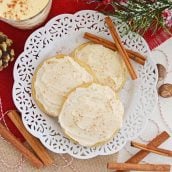 Eggnog Cookie Recipe
Eggnog Cookies are luscious, full of flavor and have eggnog mixed into the cookies and frosting. These cookies come straight from the North Pole and are the best way to use leftover eggnog!
Instructions
Sift together flour, coarse salt and baking soda.

In a large mixing bowl or a stand mixer fitted with a paddle attachment, cream butter and brown sugar until combined. Beat in egg yolks, eggnog and rum extract.

Gradually fold in flour mixture until a sticky, soft dough forms. Refrigerate for 1-2 hours.

Preheat oven to 350 degrees.

Generously flour and roll dough on a clean work surface or rolling mat. Roll out to about 1/2 inch thick. Using a 2 1/2 inch cookie cutter, round or another shape, cut out cookies and place on a parchment lined baking sheet.

Bake for 9-12 minutes. Baking times may vary depending on ovens.

Allow to sit for 5 minutes then carefully remove to a cooling rack.

When all cookies are cool, assemble frosting. Combine all frosting ingredients in a medium mixing bowl. Blend until smooth. If needed, add additional powdered sugar or eggnog to achieve a spreading consistency.

Frost cookies and allow to set in a single layer. When frosting sets they can be stacked and stored at room temperature in an airtight container. If you plan to freeze the cookies, do so before frosting. When you defrost, then assemble and frost.

If you've tried this recipe, please come back and let us know how they were in the comments or ratings!
Nutrition
Calories:
222
kcal
,
Carbohydrates:
29
g
,
Protein:
1
g
,
Fat:
11
g
,
Saturated Fat:
7
g
,
Cholesterol:
51
mg
,
Sodium:
38
mg
,
Potassium:
27
mg
,
Sugar:
20
g
,
Vitamin A:
360
IU
,
Calcium:
15
mg
,
Iron:
0.6
mg