Looking for fun Christmas desserts and treats? My Christmas Tree Cake Cones are just the ticket!
Christmas Tree Cake Cones are filled with cake and frosting and then festively decorated and a fun holiday activity for kids.
The idea for Christmas Tree Cake Cones came while making Witch Hats for Halloween. Sugar cones provide the perfect base for a piny, holiday tree.
This is a great kid-friendly project similar to decorating sugar cookies. Allow creative juices to flow while making festive edible decor. Also great for landscaping gingerbread houses.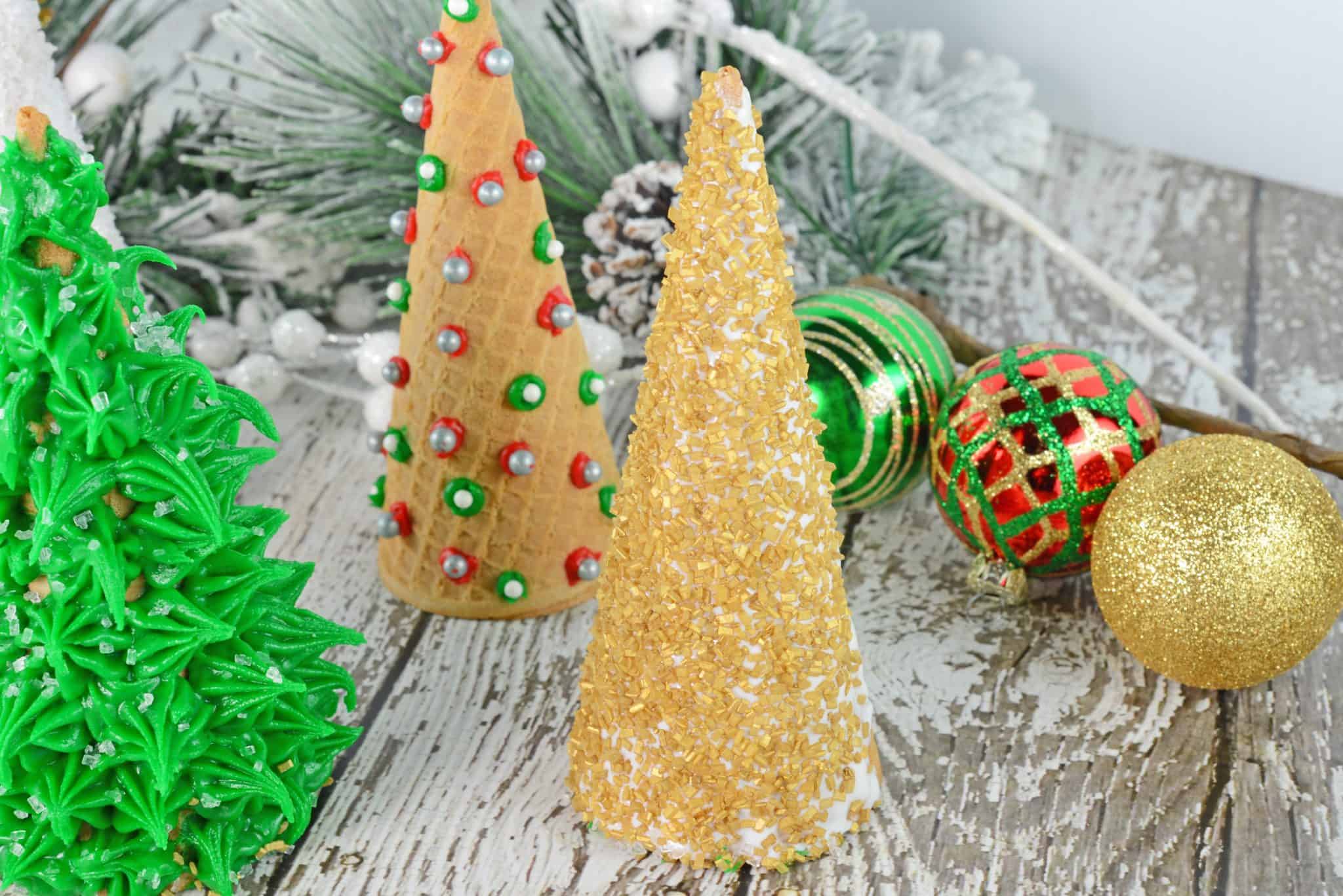 The only problem with these cute works-of-art is how to eat them!? Hold Christmas Tree Cake Cones upright and your hands will be tinted with frosting colors. The only acceptable way is in a bowl.
Allowing one to also add a scoop of ice cream to the mix. We found out the hard way that these are best eaten the day of making, otherwise the frosting makes the sugar cone a little mushy. For decoration… their shelf life is endless!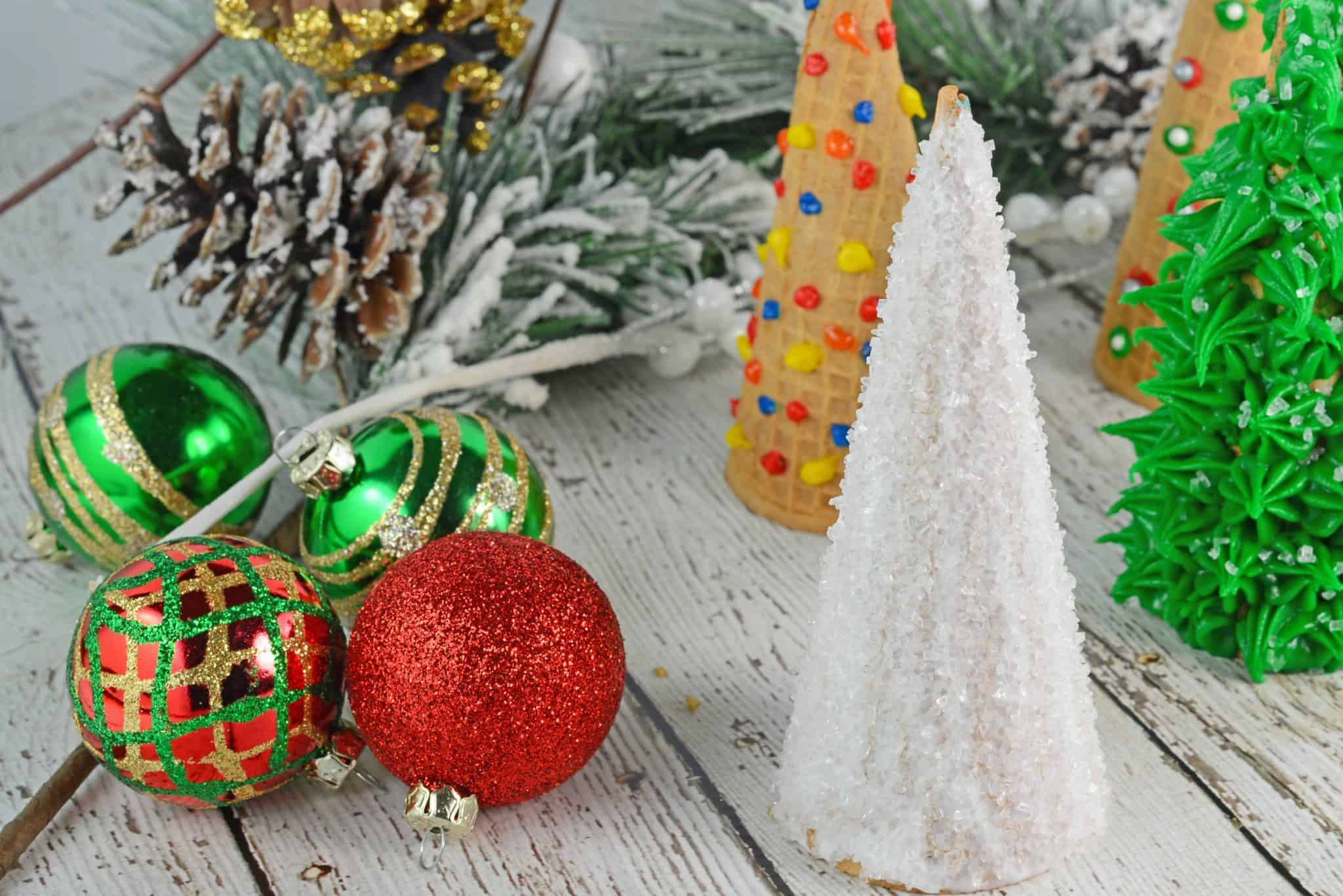 There are endless ways to decorate Christmas Tree Cake Cones. For some I used the star tip and created branches, sprinkling them with white sprinkles for a snowy effect.
Others I dotted with colored frosting to resemble twinkle lights. On others I stuck silver balls onto frosting colors.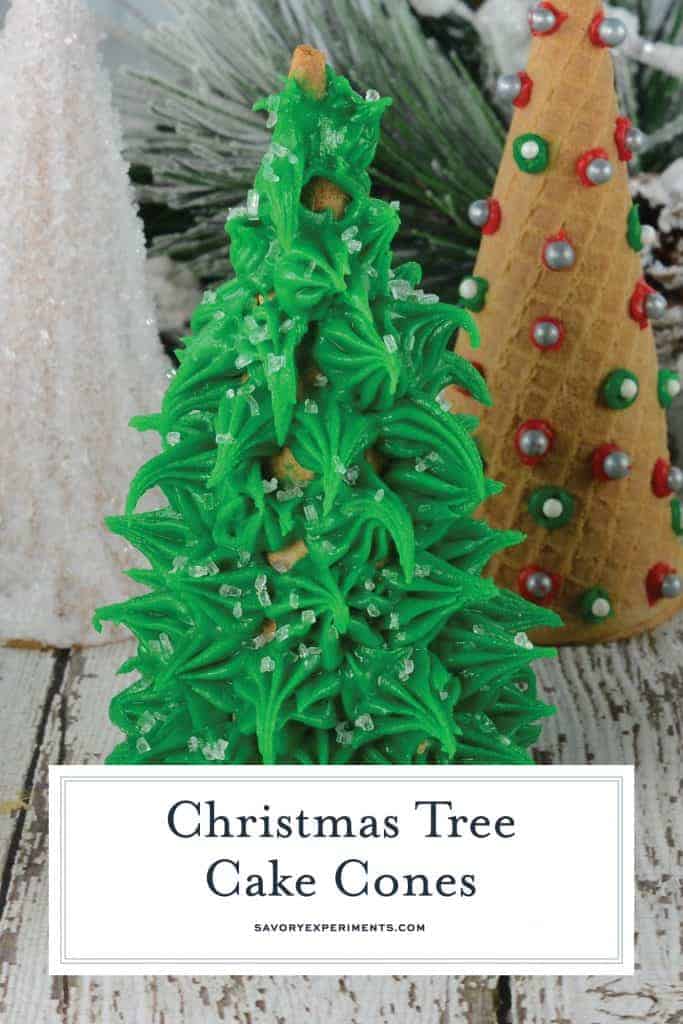 You can also place maraschino cherries as "stars". Spread frosting on cones and coat with gold and silver sprinkles, modern trees.
Since my smallest circle tip was still too big, I piped some colors into plastic baggies and snipped just a small hole on the end. I also found tweezers to put on the "ornaments" very helpful.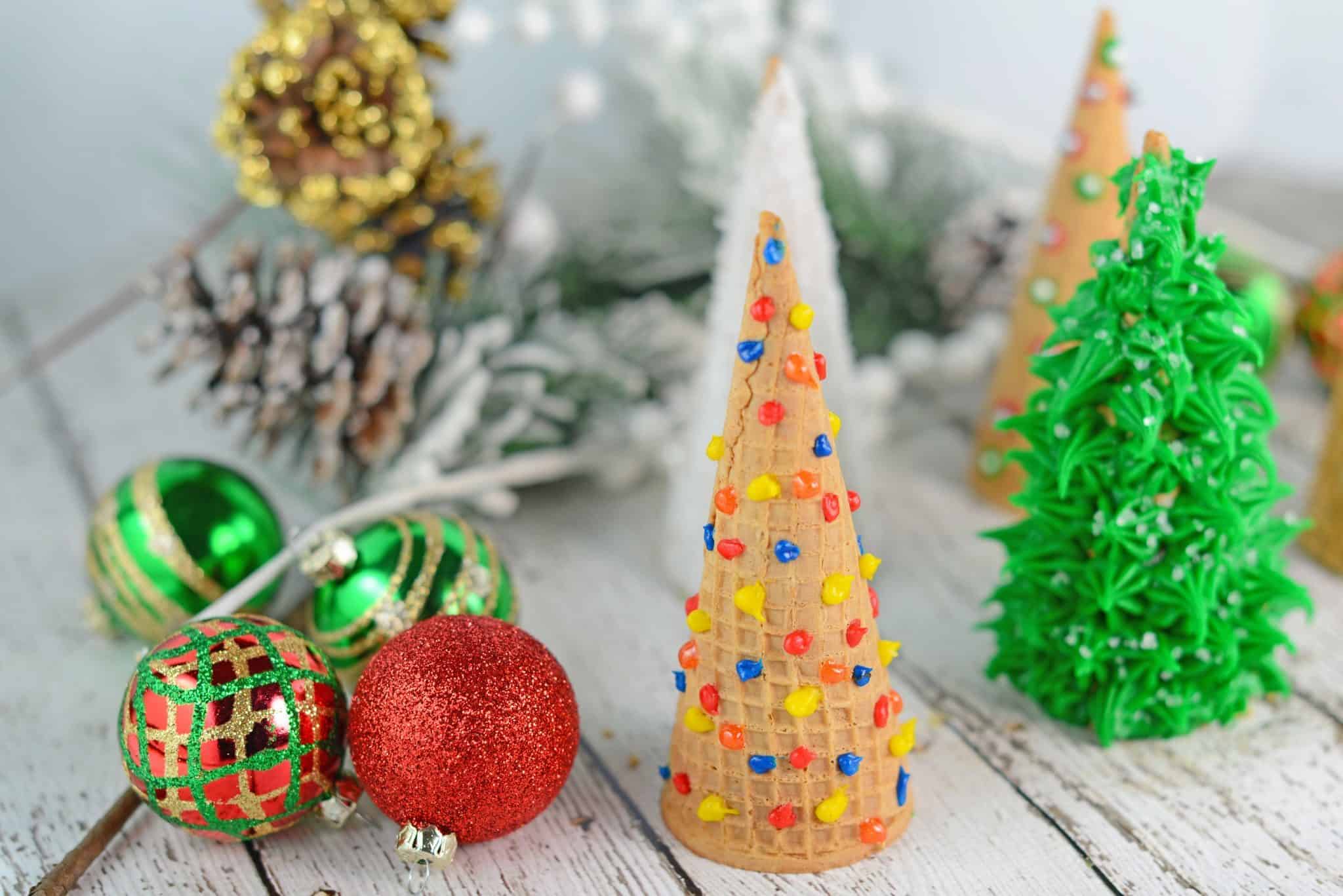 If you like my Christmas Tree Cake Cones, you'll love these!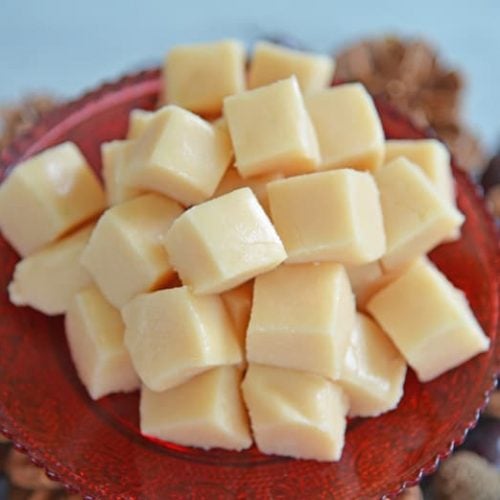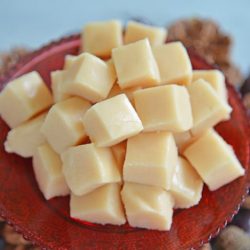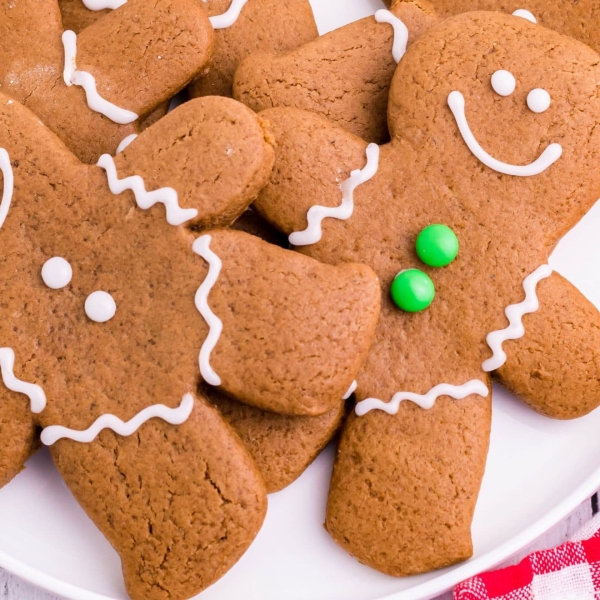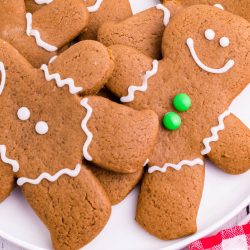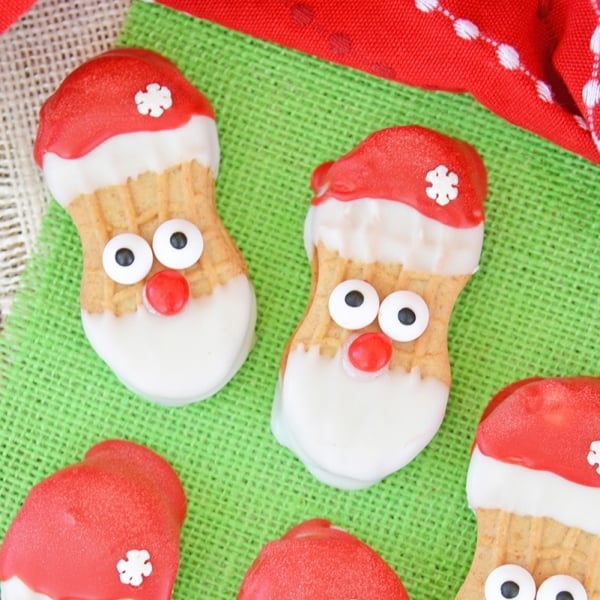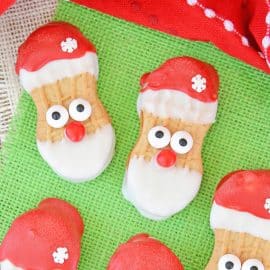 Santa Cookies
If you're looking an an easy, no-bake Christmas cookie, check out my Nutter Butter Santa Cookies! They're super festive, and simple to make.
See The Recipe!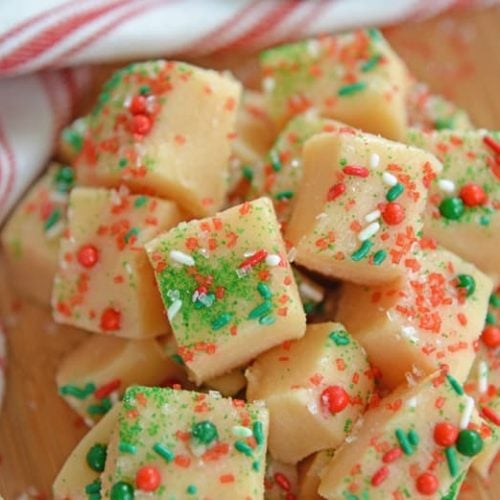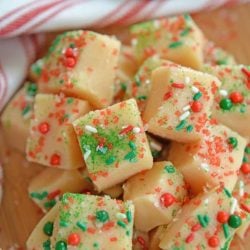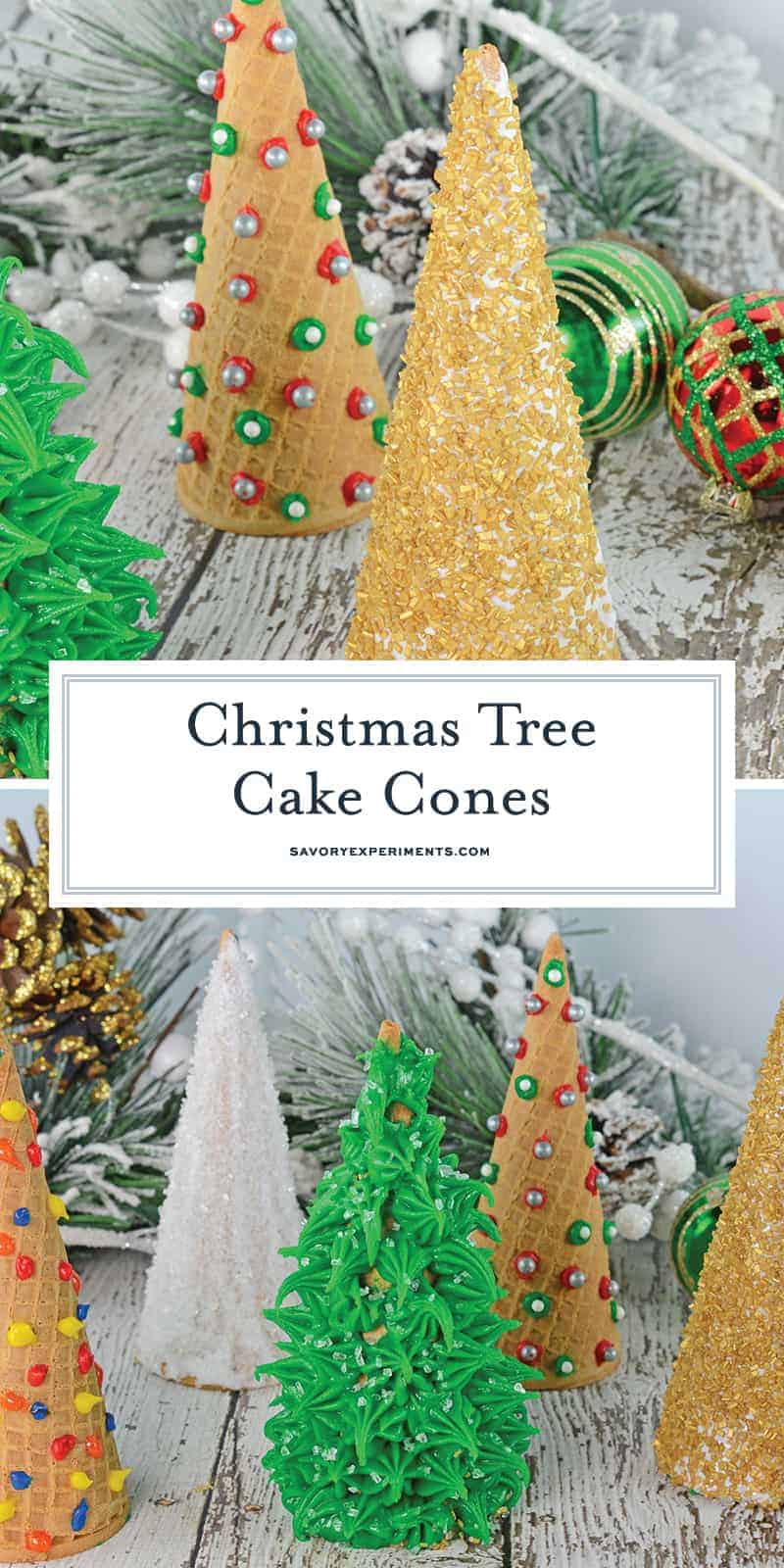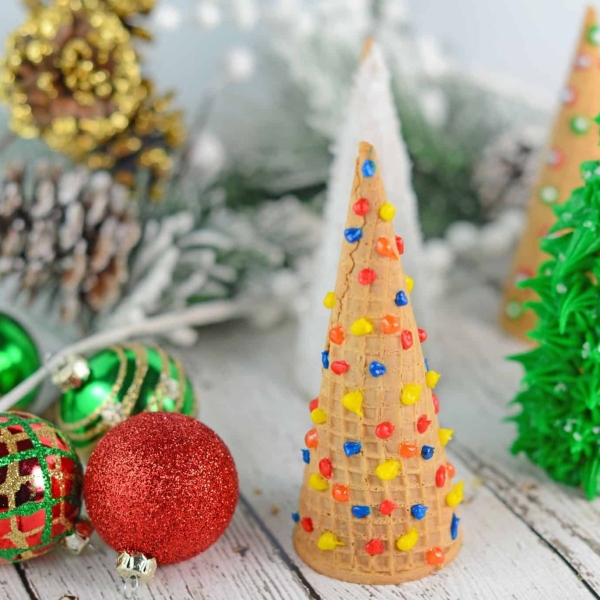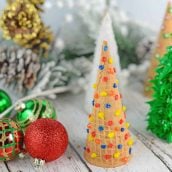 Christmas Tree Cake Cone Recipe
Christmas Tree Cake Cones are filled with cake and frosting and then festively decorated and a fun holiday activity for kids.
Ingredients
24

sugar cones

1

box yellow cake mix

ingredients to Prepare Yellow Cake Mix- see box

colored frosting

, for decorating

sprinkles/decorations
Instructions
Preheat oven to 350 degrees. Cover a bundt pan with heavy duty aluminum foil, wrapping tightly. Use two layers if you are concerned about the sturdiness. Using a sharp knife poke 12 small holes around the circle. Insert sugar cones so they are secured upright for filling and baking. If you are making 24 you will only do half at a time.

Prepare cake mix as directed on box. Fill each sugar cone 2/3 full. Bake on the second to lowest rack for 13-15 minutes or until tops spring back when gently pressed. Remove and allow to cool.

When cones are fully cooled, trim the tops with a serrated knife to create a flat surface.

Frost the cake tops with vanilla buttercream frosting, cap with a Fudge Stripe Cookie. Allow frosting to set.

DECORATE!!!! This is the fun part- use colored frosting and sprinkles to make beautiful edible Christmas trees!
Notes
**Note: If you decide to make 12 trees and an 8 inch cake, grease an 8-inch cake pan lightly with cooking spray. Pour remaining batter into the pan. Bake according to directions on the box for a 2 8-inch cakes. Allow cake to cool and decorate as desired.
Nutrition
Calories:
187
kcal
,
Carbohydrates:
35
g
,
Protein:
1
g
,
Fat:
4
g
,
Saturated Fat:
1
g
,
Sodium:
267
mg
,
Potassium:
43
mg
,
Sugar:
19
g
,
Calcium:
50
mg
,
Iron:
1.1
mg