In a hurry and looking for easy recipes for Christmas? I've got you covered with this delicious and cheerful Christmas Dunkaroo Dip recipe!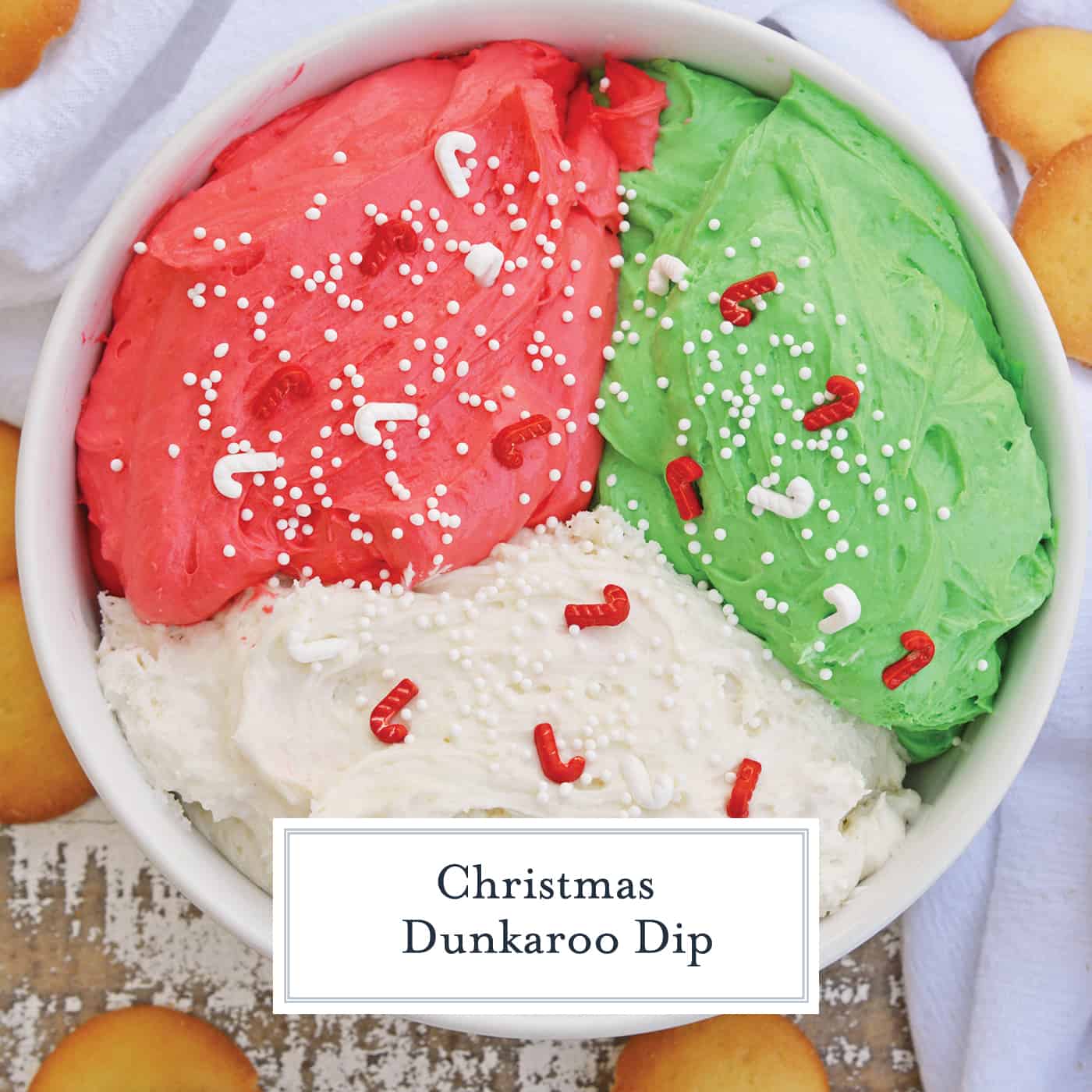 Christmas Dunkaroo Dip is a sweet and easy dessert dip, made with boxed cake mix, whipped topping, Greek yogurt, and lots of festive sprinkles. A great last-minute Christmas recipe!
Does anyone else remember the Dunkaroos? When the grocery stores started carrying them, these little boxes were quite a hot commodity.
They were little individually packaged dessert dips in all sorts of flavors paired with mini cookies of all sorts of flavors.
Kids went nuts over them and rightly so! Who wouldn't want cookies and what essentially frosting in their lunch every day. These were bonafide unch boxes staples from the '90s to the early 2000s.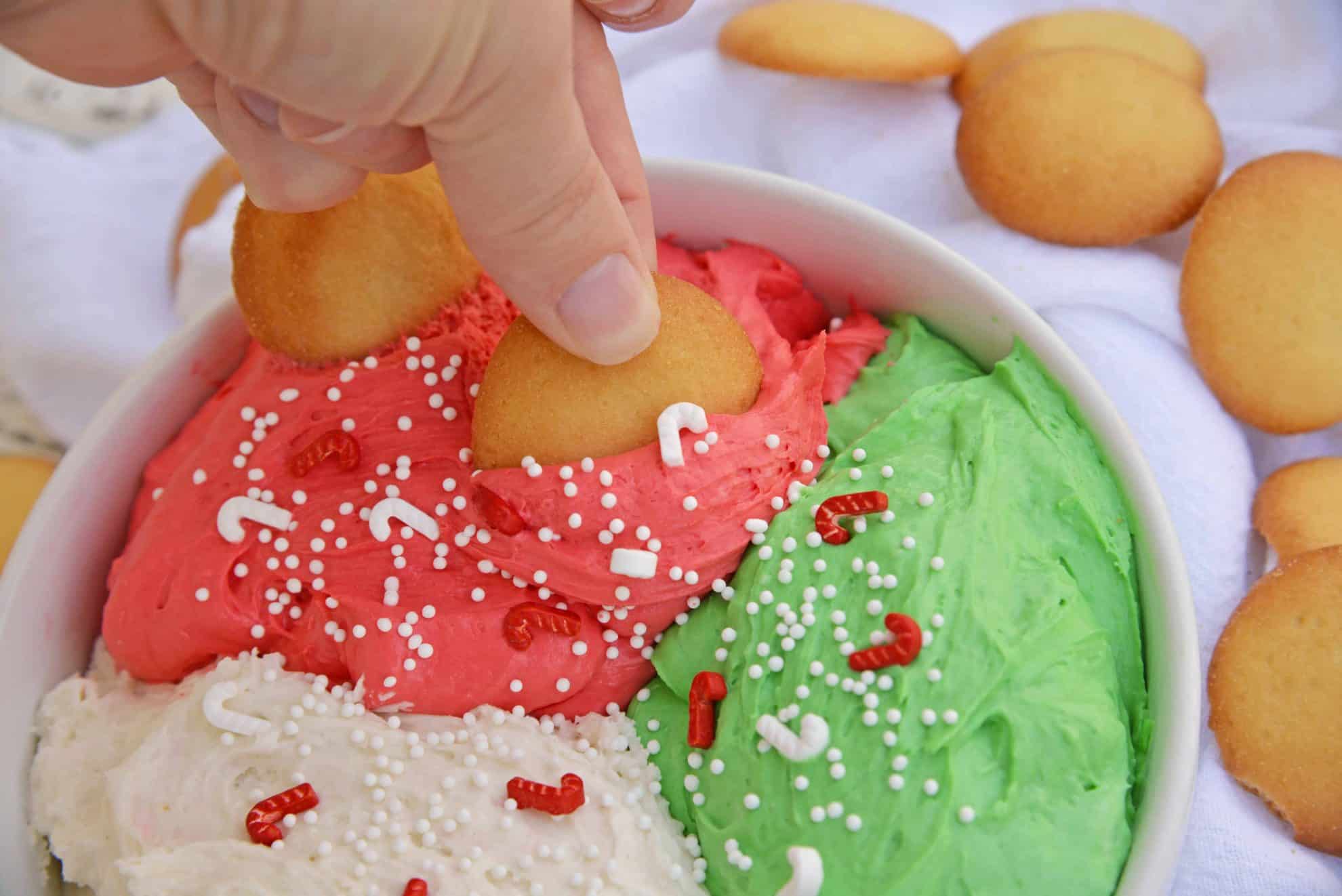 For those of you that are skeptical, let me put this way. I was not a kid during that time period but even I loved the flavor of the Dunkaroos. They were a guilty pleasure I enjoyed regularly until….they stopped selling them.
Hit with a pang of nostalgia, I decided to make my own dip a la Dunkaroos. Turns out the it isn't all that complicated and I quickly figured out a recipe that was darn near close to the original.
Of course, it's not an exact replica. I was not privileged enough to look through their recipe books, but personally, I think my Dunkaroos dip recipe is even better.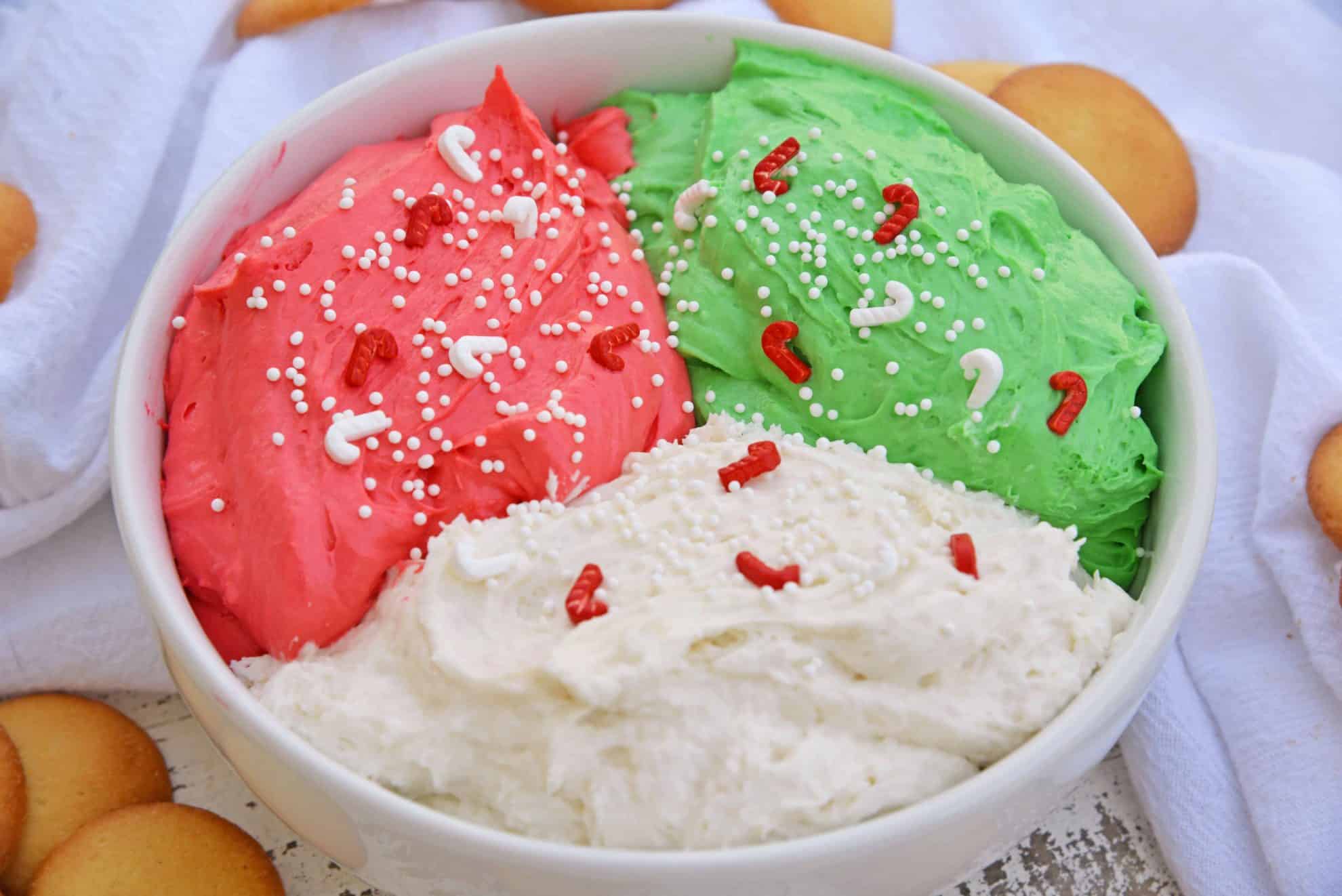 Since we're officially in the season of all things Christmas, I decided to change a few things to dress this dip up for the holidays. In my opinion, everything has to be festive from top to bottom.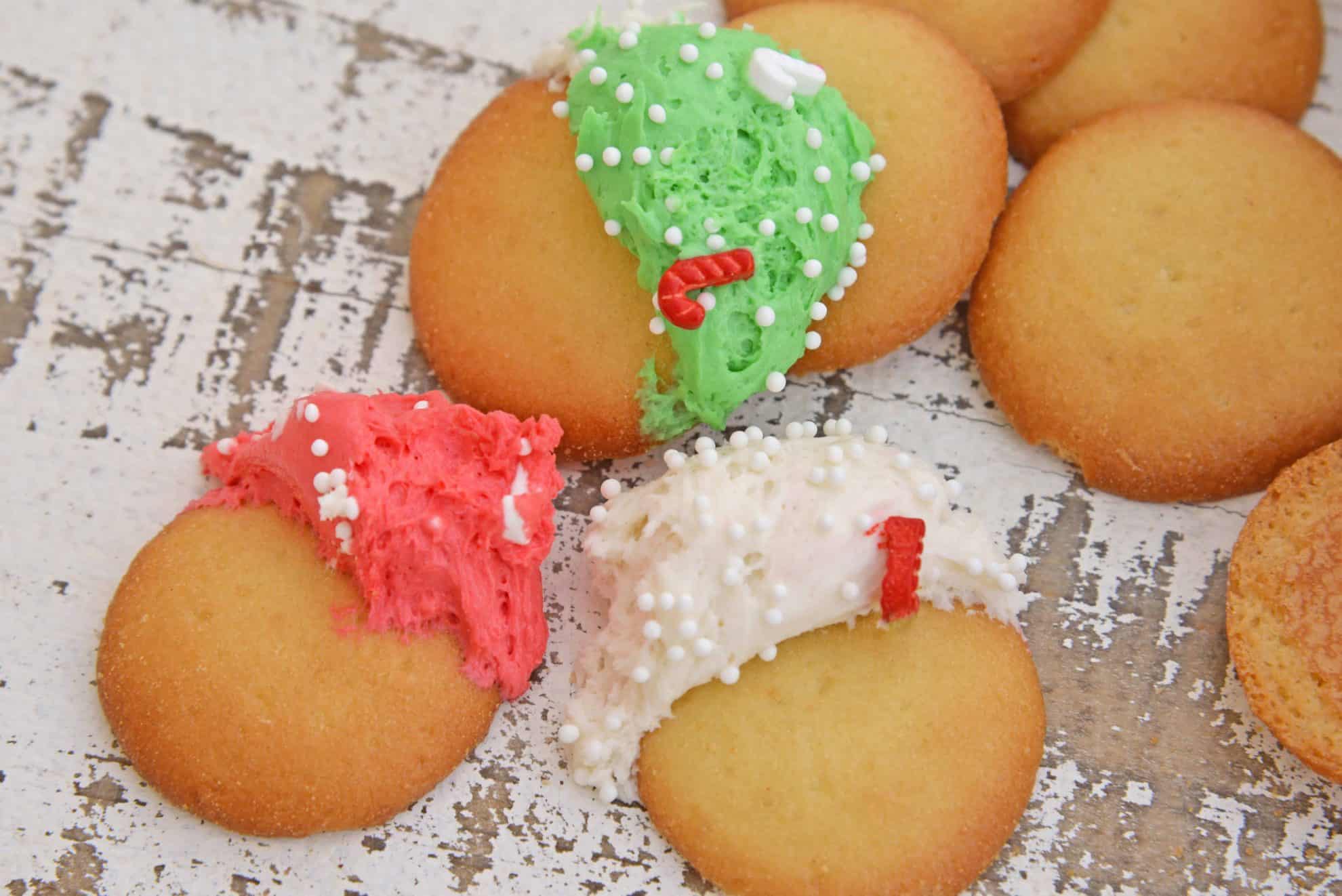 What's the key to making it you ask? White cake mix and food coloring. Oh, and sprinkles, lots and lots of sprinkles. Does anything really have Christmas cheer if it's not topped with red and green sprinkles?
I serve mine with vanilla wafer cookies, but you can choose any cookie you like! The possibilities are endless, especially around the holidays.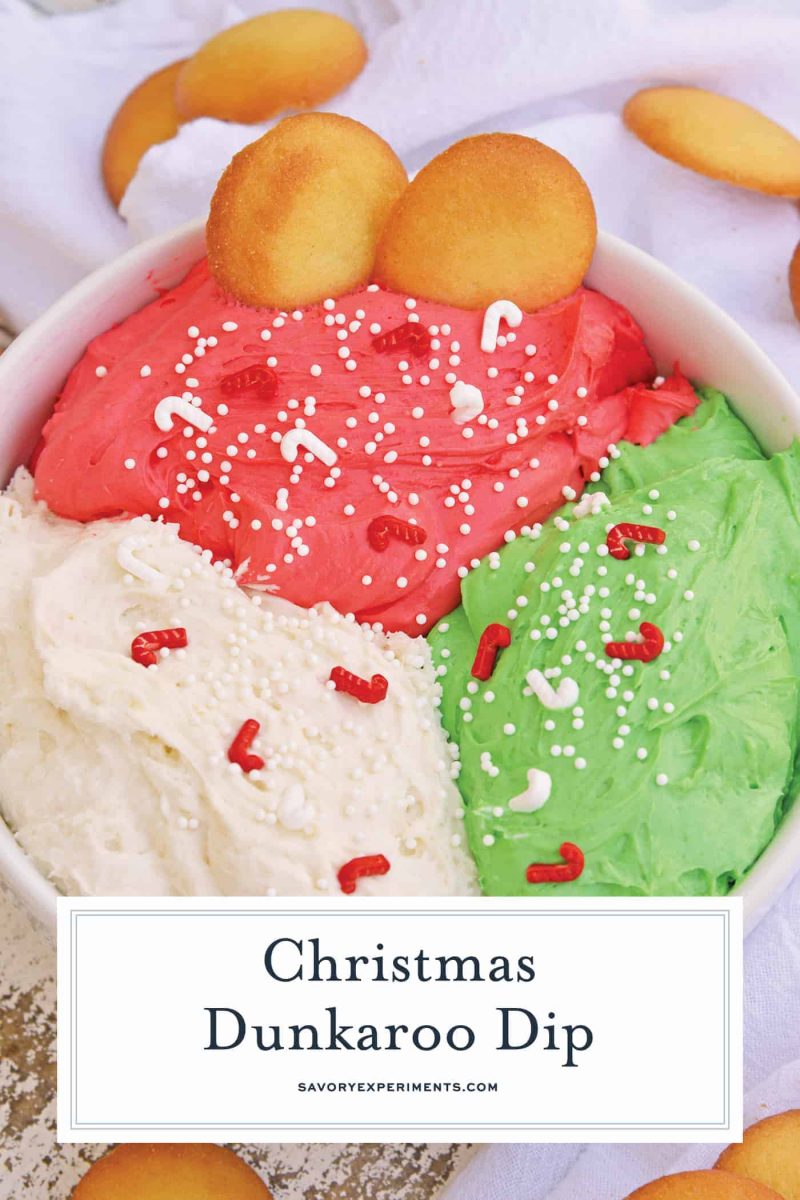 Think about it: gingerbread cookies, snickerdoodles, peppermint cookies, butter cookies, chocolate chip cookies… I could go on and on.
It is easy peasy to make and will give any dessert table a festive pop of color. This is one dessert dip that guests go absolutely wild for and kids adore it.
If you'd like to make this Christmas Dunkaroo Dip recipe for another holiday, just switch out the food coloring and sprinkles with the appropriate colors. It's perfect for all occasions.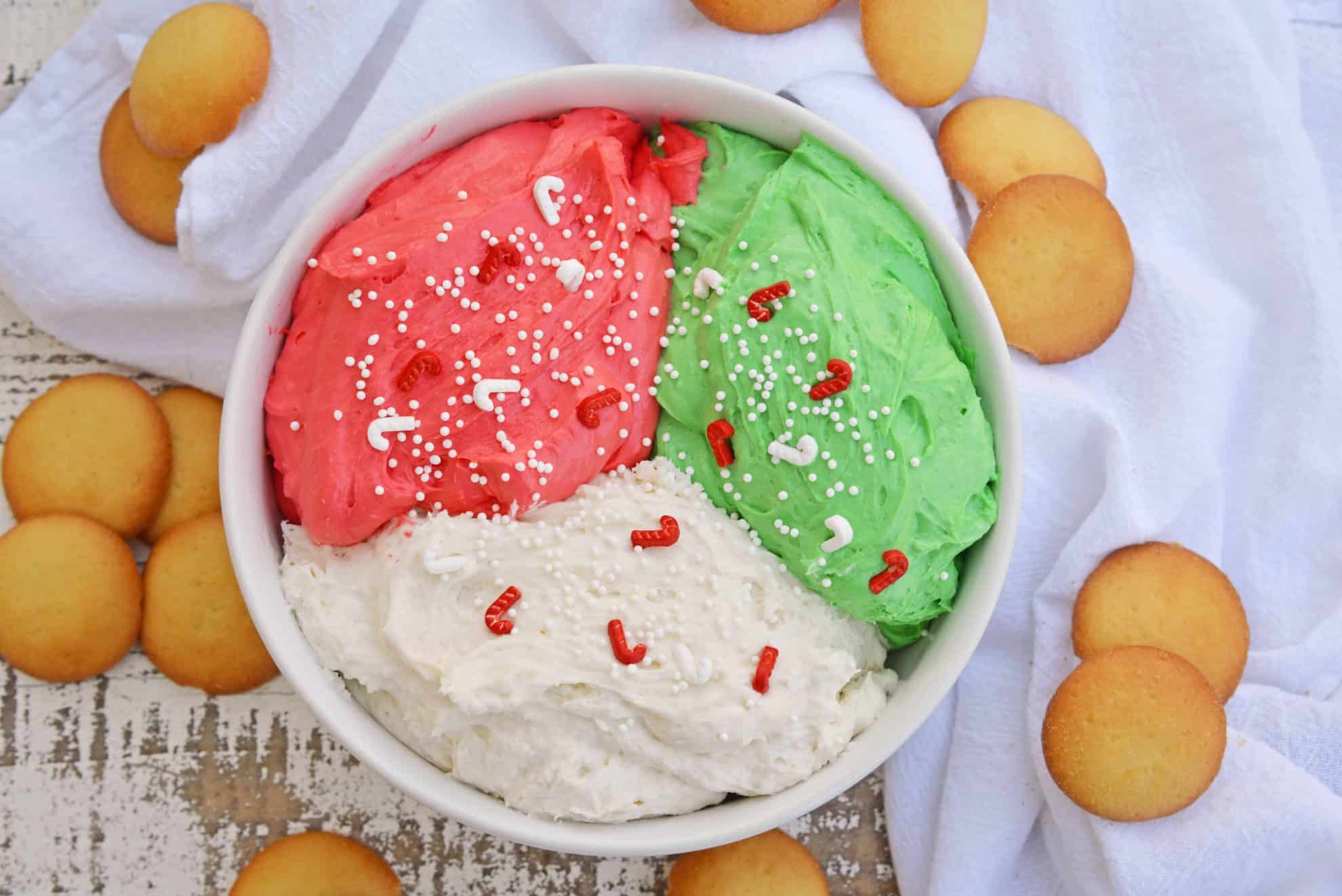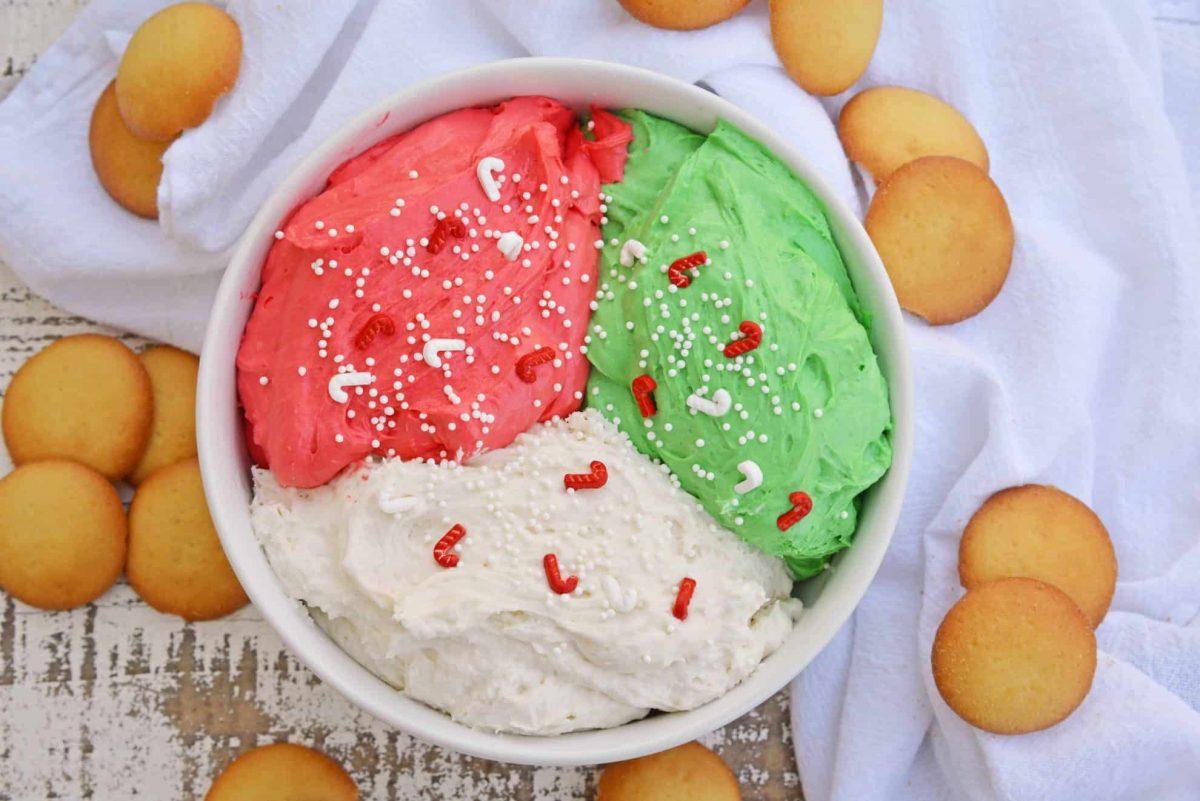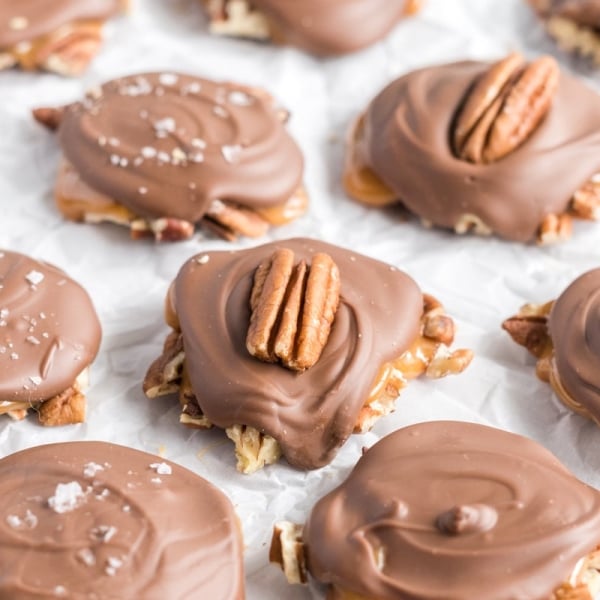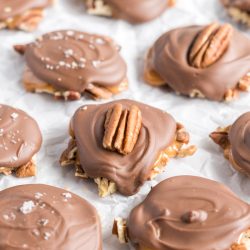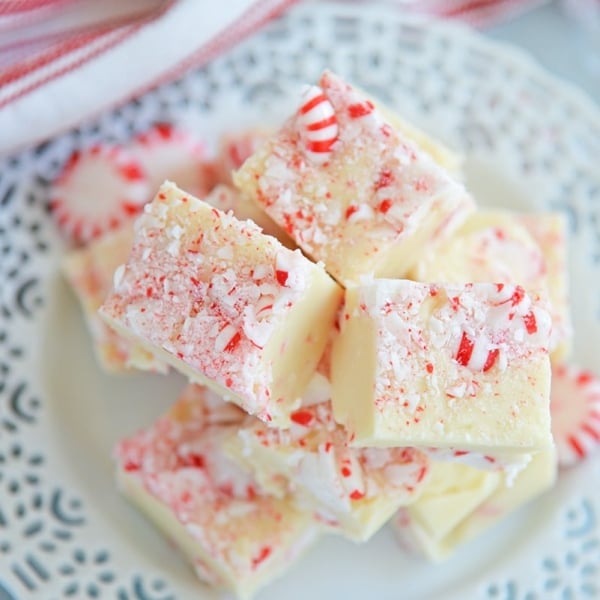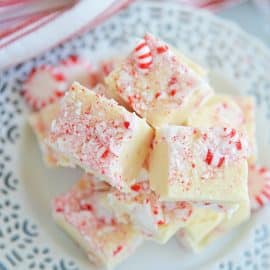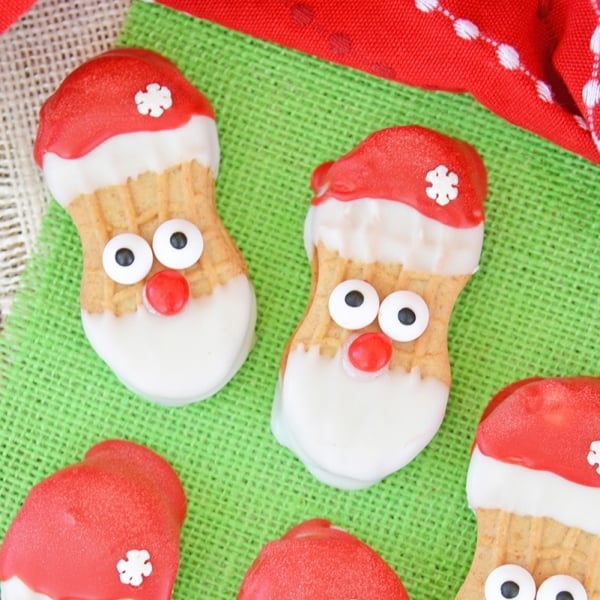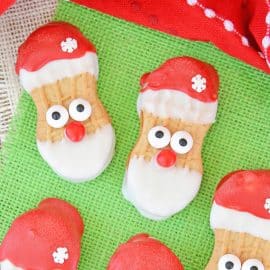 Santa Cookies
If you're looking an an easy, no-bake Christmas cookie, check out my Nutter Butter Santa Cookies! They're super festive, and simple to make.
See The Recipe!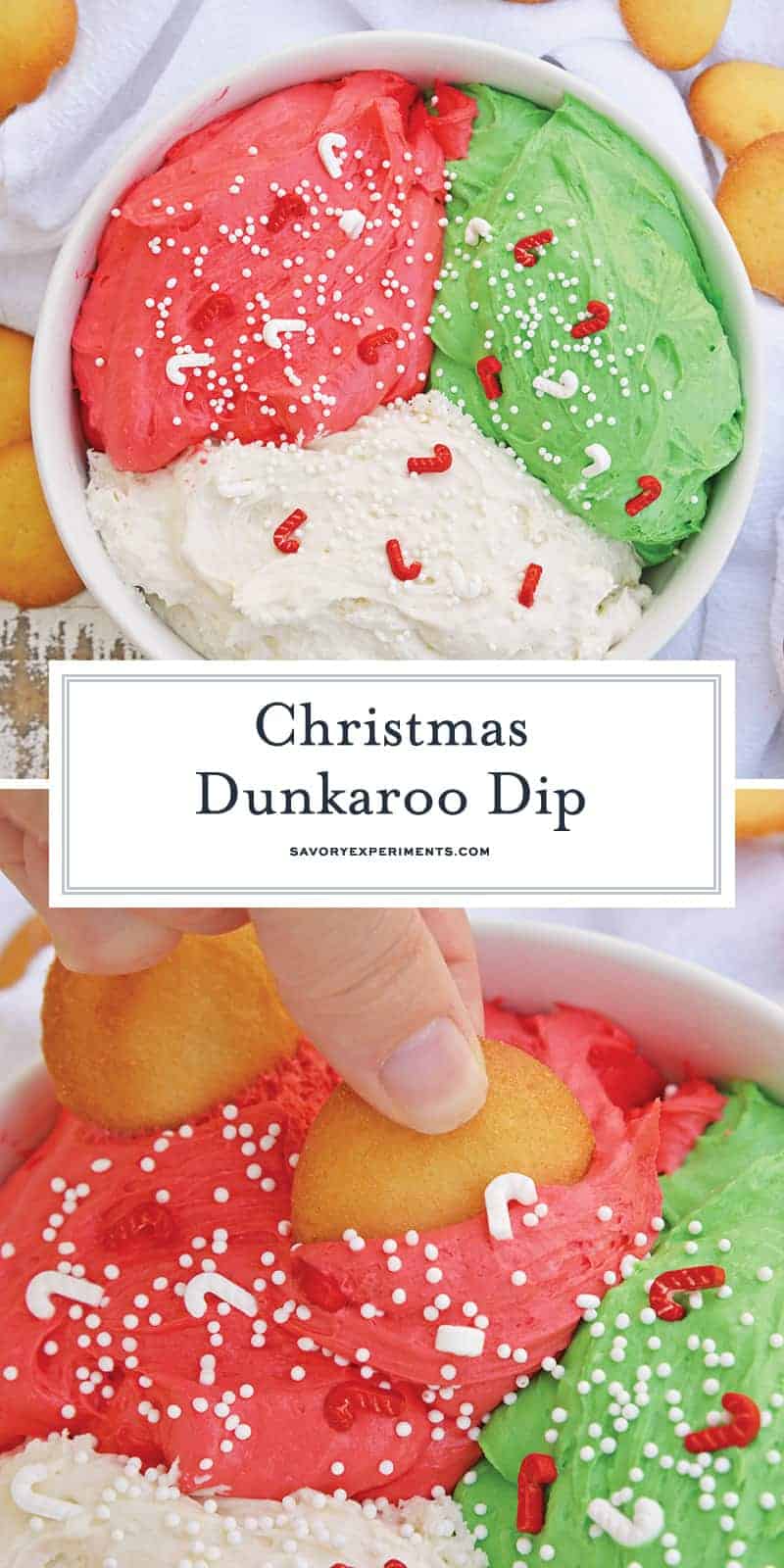 Questions you may have about dunkaroo dip:
What is dunkaroo dip? Dunkaroo dip is a cake-batter-like dessert dip, perfect for dipping cookies, pretzels or even fruit! The original came in a vanilla flavor with colorful sprinkles.
How long does dunkaroo dip last? Because this recipe is made with Greek yogurt, I would refer to the expiration date on the yogurt you use. As long as you keep the dip refrigerated in a sealed container, that expiration date should be a safe bet.
Where to buy dunkaroo dip? As far as I know, I don't think they sell it anymore! I haven't seen is around in years, and that's why I set out to recreate my own recipe.
I have several festive versions including my Chocolate Dunkaroo Dip, Halloween Dunkaroo Dip, and St. Patrick's Day Dunkaroo Dip!
What to dip in dunkaroo dip? I like to serve my Dunkaroo Dip with Animal Crackers, but you can use any type of cookie or chips you prefer. Chocolate Animal Crackers or chocolate graham crackers would be a good choice.
If you like a sweet and salty combo, you could use pretzels for dipping. Apple slices would be delicious, too! Or, you know, you could always just eat it by the spoonful!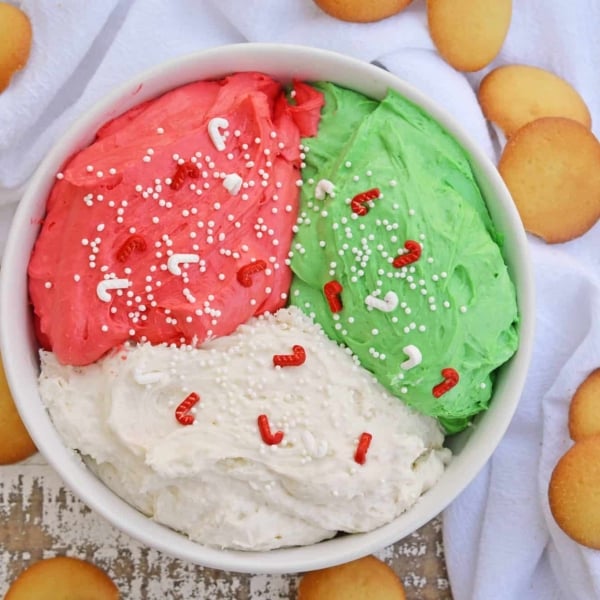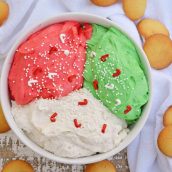 Christmas Dunkaroo Dip
Christmas Dunkaroo Dip is a sweet and easy dessert dip, make with box cake mix, whipped topping, Greek yogurt, and lots of festive sprinkles. A great last-minute Christmas recipe!
Instructions
In a large mixing bowl, combine white cake mix, whipped topping and vanilla Greek yogurt. Mix until combined.

Split dip into equal portions.

Color one with red gel food coloring until desired hue.

Color another with green gel food coloring until desired hue.

Leave the last white.

Spoon each color into a serving bowl in a pinwheel style. Top with festive sprinkles.

Serve with Nilla Wafer cookies.

If you've tried this recipe, come back and let us know how it was!
Nutrition
Calories:
191
kcal
,
Carbohydrates:
36
g
,
Protein:
3
g
,
Fat:
3
g
,
Saturated Fat:
2
g
,
Cholesterol:
1
mg
,
Sodium:
268
mg
,
Potassium:
58
mg
,
Sugar:
21
g
,
Vitamin A:
15
IU
,
Calcium:
92
mg
,
Iron:
0.7
mg