Steamed Green Beans in a Mascarpone Cheese Sauce
I'm taking green bean casserole OFF the table this Thanksgiving and moving towards a more sophisticated dish: Green Beans in Mascarpone Cream Sauce.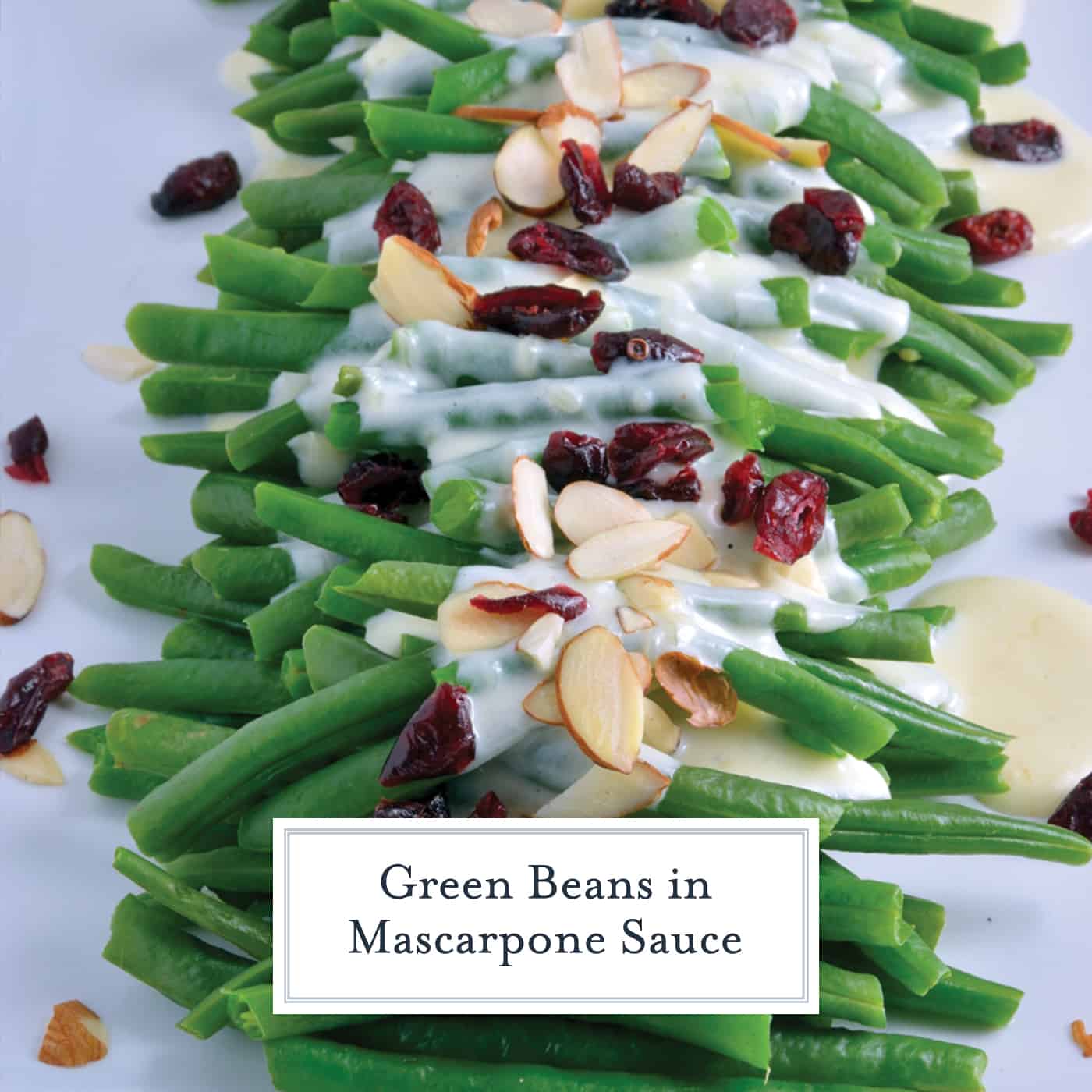 Green Beans in Mascarpone Cream Sauce is a sophisticated and delicious update to the old green bean casserole. It is sure to become a family favorite.
We all know and love the green bean casserole. It is a classic, but let's be honest, it doesn't do the humble green bean many favors. The old recipe masks their flavor and leaves you wanting in terms of texture.
The green bean casserole screamed for an update. One that would elevate the green bean while giving it a new flavor profile and of course, texture.
I chose mascarpone cream sauce because it is velvety and decadent. Similar to the that of the cream of mushroom soup, only better. The cranberries give you a hint of tart sweetness.
The slivered almonds give you crunch.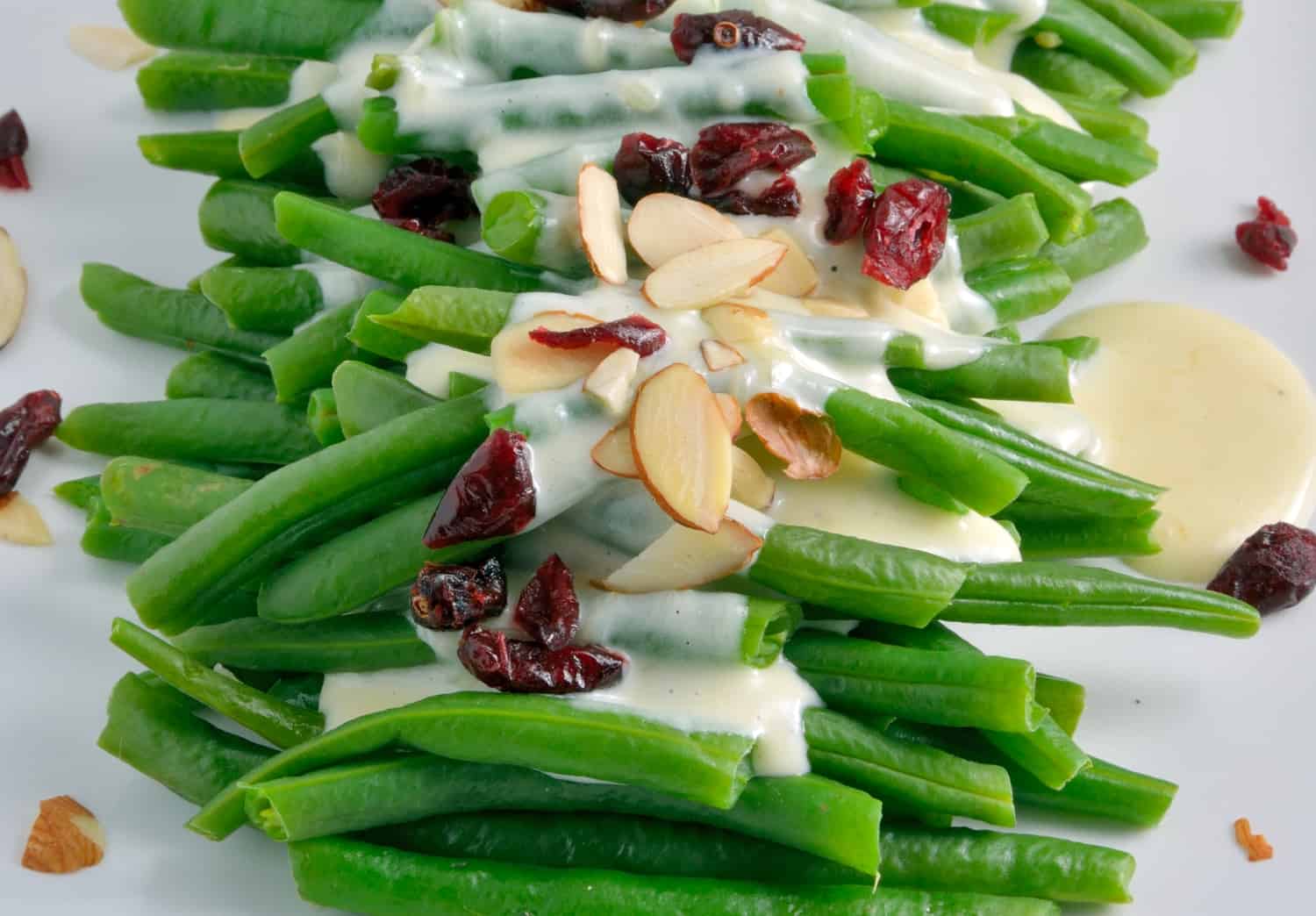 Green Beans in Mascarpone Cream Sauce can be made ahead of time, but be sure to steam your green beans last. No one likes a soggy green bean. Steaming them last minute will ensure a crunchy and brightly flavored bean.
Simply make the mascarpone cream sauce and reheat on the stove with a touch more milk to thin it out. Spoon over your beans, garnish, and serve!
Any leftover mascarpone cream sauce can be used over pasta, to dip bread, or to top any of your other leftovers from the week. If you really wanted to go crazy, you could slather it on a sandwich or serve it over eggs.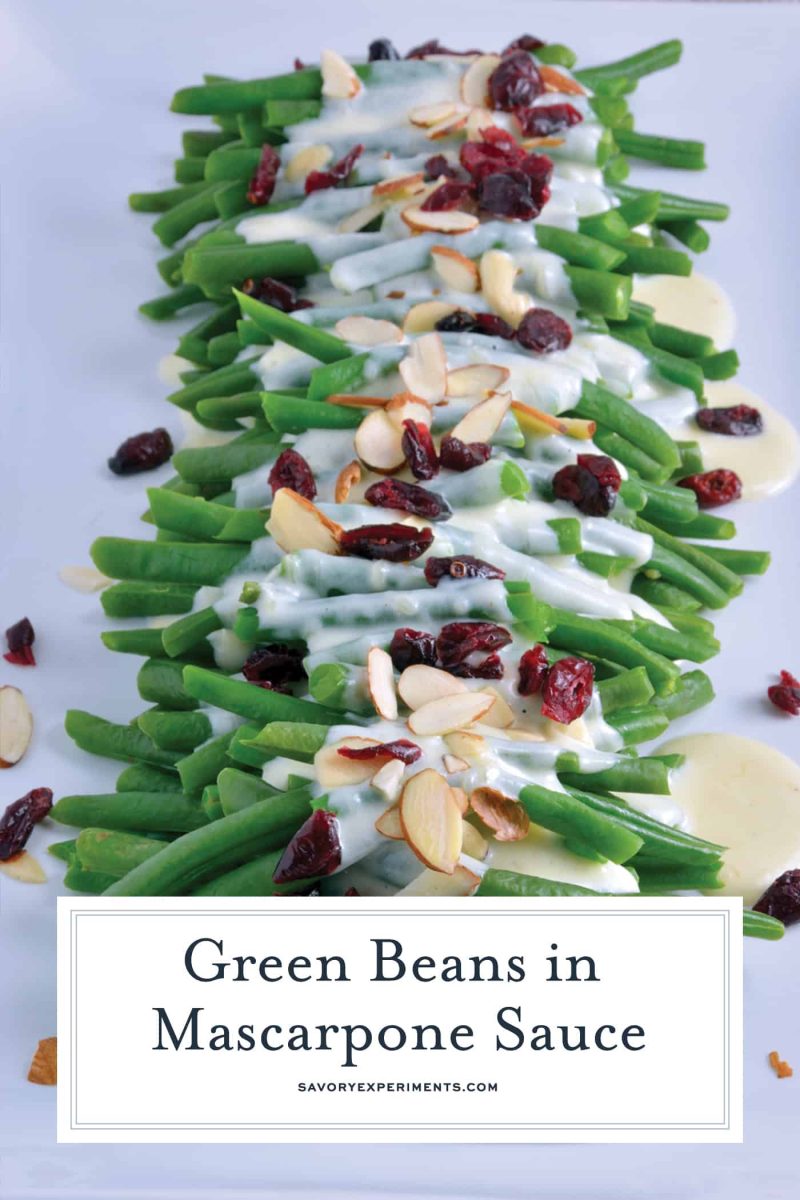 Questions you might have about how to make this green bean recipe:
Can I make this ahead of time? You can steam the green beans and make the sauce, but don't assemble it until you are ready to serve.
What cheese can I substitute for mascarpone? Cream cheese is the best substitution.
What nuts can I substitute for almonds? You can omit the nuts altogether if there is an allergy or you can use chopped walnuts or pecans. Even candied nuts would be an excellent addition.
Can I use frozen green beans? By all means, be my guest, but I find that both frozen and canned green beans have already been cooked before frozen and tend to get a little mushier on the second reheat. This is one I prefer fresh green beans.
What are the benefits of green beans? Green beans are a low-calorie legume that is high in dietary fiber, vitamin C, folate and often associated with being anti-inflammatory.
How long does it take to steam green beans? The answer to this comes in two parts. First, the amount of green beans you are steaming and second the size of the pot and steamer basket.
If you are steaming a lot, then it will take a little longer and I suggest tossing with tongs halfway through cooking so the beans on the bottom don't overcook since they are closer to the heat source.
If you are making then in a stand saucepan, this will take longer than a larger or flat-bottom pan with the beans in more of a single layer.
In general, about a 1/2 pound of green beans in a medium saucepan will take approximately 5 minutes.
What does it mean "to blanch" green beans? This Sherry Green Beans recipe does not use the technique of blanching, but you can if you wish.
Basically you'll be cooking your green beans and then placing them in a bowl of ice water to cool them down and stop the cooking process.
It is only a brief dunk, so they shouldn't lose all of their heat, but they certainly won't be as warm as they were, so you will still place them back in the hot pan to warm slightly before serving.
If you loved the recipe for Green Beans in Mascarpone Cream Sauce, try out one of my other favorite Thanksgiving recipes:
CONNECT WITH SAVORY EXPERIMENTS!

Be sure to follow me on social media, so you never miss a post!

Facebook | Twitter | Youtube
Pinterest | Instagram

Get our FREE 8 Day E-Course on How to Be a Better Home Cook. Sign up HERE!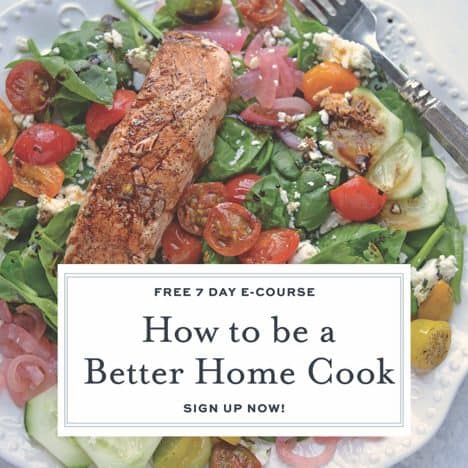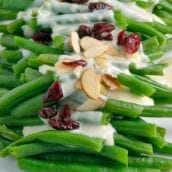 Print Recipe
Green Beans in Mascarpone Cream Sauce
Green Beans in Mascarpone Cream Sauce is a sophisticated and delicious update to the old green bean casserole. It is sure to become a family favorite.
Ingredients
2

lbs

green beans

trimmed

1/2

cup

butter

8

ounces

mascarpone cheese

1/2

cup

Parmesan cheese

1/2

teaspoon

ground nutmeg

1/4

teaspoon

white pepper

1/2

teaspoon

fine sea salt

season to taste

1/2

cup

dried cranberries

1/4

cup

sliced almonds
Instructions
Fill a large pot 1/4 of the way with water. Add steamer basket and bring to a low boil.

In a separate saucepan, melt butter in a medium saucepan. When melted, whisk in mascarpone. When combined remove from heat and whisk in Parmesan cheese, nutmeg, white pepper, and salt. Set aside.

Add green beans to the large pot, cover, and steam for 4-5 minutes, tossing once to evenly cook. Remove from steamer basket to serving tray. Spoon mascarpone cream sauce over top and finish with dried cranberries and sliced almonds.

Add additional salt or Parmesan cheese to taste. Serve and enjoy your Greens Beans in a Mascarpone Cream Sauce!

If you've tried this recipe, come back and let us know how it was!
Nutrition
Calories:
451
kcal
|
Carbohydrates:
21
g
|
Protein:
9
g
|
Fat:
37
g
|
Saturated Fat:
22
g
|
Cholesterol:
84
mg
|
Sodium:
492
mg
|
Potassium:
368
mg
|
Fiber:
5
g
|
Sugar:
11
g
|
Vitamin A:
2110
IU
|
Vitamin C:
18.5
mg
|
Calcium:
228
mg
|
Iron:
1.9
mg