No Bake Cheesecake Stuffed Strawberries are the perfect party dessert. Beautiful, festive and you don't even have to turn on your oven. Winning!
No Bake Cheesecake Stuffed Strawberries are an easy party dessert made with no bake cheesecake and fresh strawberries.
You know how food trends come and go in cycles? I feel like cheesecake stuffed strawberries were totally one of those trends. You couldn't scroll your Pinterest feed without seeing at least 2 variations.
Some of them had a graham cracker sprinkling and others were cheesecake stuffed chocolate covered strawberries.
The problem with these were that the graham crackers crumbs got all soggy after sitting for a bit and the chocolate, if not refrigerated, will start to melt or sweat.
Each one, well beautiful and well-meaning, came with its own set of ancillary issues. I think we've all fell victim to the "Pinterest Fail."
When you make something you saw on Pinterest and it looks NOTHING LIKE the photo.
In fact, you questions whether you used the same recipes or the photo was even real food. For example, my American Flag Cake. I still laugh looking at the disastrous photos of my pink, white and blue cake. Ha!
After experimentation, I decided that plain, old no bake cheesecake stuffed strawberries were the way to go. A make ahead dessert that everyone will enjoy.
A little lemon zest adds fresh flavor and bright color. They don't sweat and they don't sog. Score!
My no bake cheesecake recipe is a little different from others. I used sour cream, whipping cream and lemon for a zesty and fluffy cheesecake. Just cream cheese can get a little dense, so this makes it a little lighter and easier to pipe out.
I like to prop my no bake cheesecake stuffed strawberries on their side, but you can cut the tip of your strawberries so they stand up straight. Lemon zest for color and accent is optional.
This should go without saying but make sure you wash the lemon before zesting it. Wink, wink.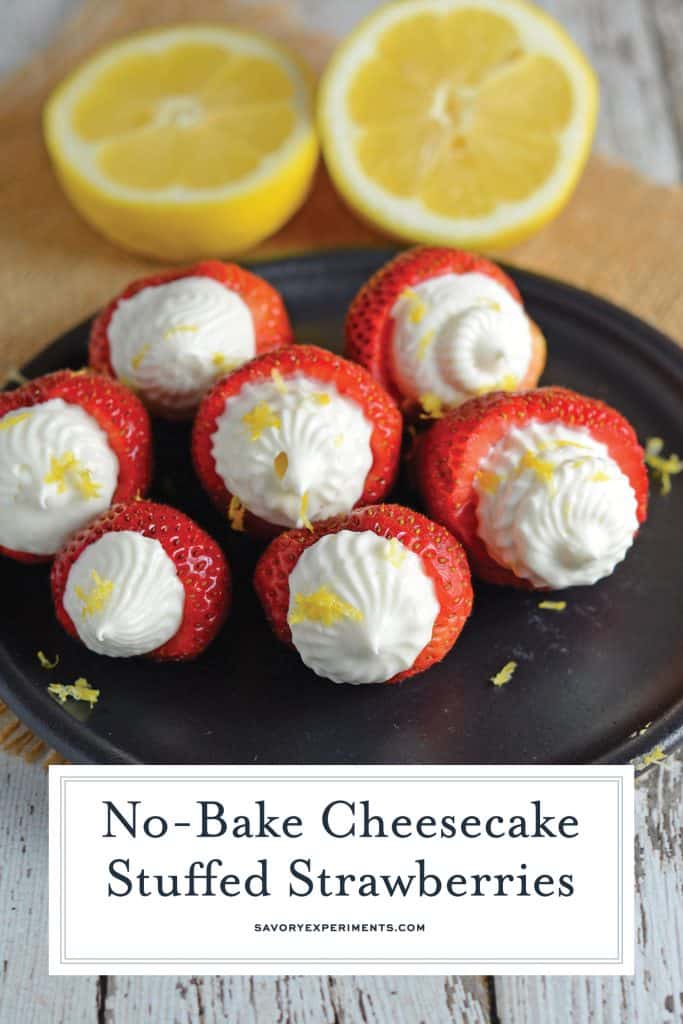 Tools for making No Bake Cheesecake Stuffed Strawberries:
Strawberry Huller– I never thought I needed one of these but now that I have one, I can't live without it. My last one accidentally got stuck in the garbage disposal and I bought one immediately. The thought of going back to free hand hulling with a paring knife.
Stand Mixer- While this is an investment, I can guarantee you will use it more than you realize and will never regret the decision. Making something like this that needs to be whipped, this is the way to go!
Pastry Bags– Use pastry bags for desserts, but also sauces and artistic touches on plating!
Frosting Tips – It is great to have a variety of frosting tips, not just the usual. Buying one can cost $3, so spring for a few extra and get the whole set.
No Bake Cheesecake Stuffed Strawberries
No Bake Cheesecake Stuffed Strawberries are an easy party dessert made with no bake cheesecake and fresh strawberries.
Instructions
Wash and hull strawberries. The more space you remove from the strawberry, the more cheesecake you can stuff in there, so be generous.*

Sit strawberries upside down on a plate covered with paper towels to drain any excess liquid. Place in refrigerator to keep cool and continue drying.

In a medium bowl or stand mixer beat cream cheese until smooth. Add lemon juice, vanilla and sour cream and sugar mix until fully incorporated.

In a separate bowl, beat whipped cream until frothy and stiff. 

Add whipped cream to cream cheese mixture and beat until it incorporates and starts to become stiff. At first it will slop around, but after 3-4 minutes it will start to resemble a meringue.

Transfer cheesecake to a pastry bag fitted with the star attachment. Pipe into each strawberry. Refrigerate for a minimum of 2 hours or until ready to serve.

Garnish with additional lemon zest, if desired.
Nutrition
Calories:
116
kcal
|
Carbohydrates:
9
g
|
Protein:
1
g
|
Fat:
8
g
|
Saturated Fat:
5
g
|
Cholesterol:
29
mg
|
Sodium:
42
mg
|
Potassium:
128
mg
|
Fiber:
1
g
|
Sugar:
7
g
|
Vitamin A:
340
IU
|
Vitamin C:
40.3
mg
|
Calcium:
30
mg
|
Iron:
0.3
mg