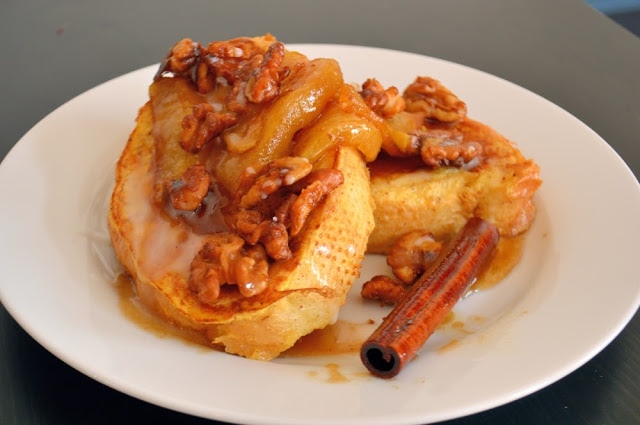 Crisp air, red and orange leaves on the ground, it is fall. During summer I am not nearly has motivated to make a large breakfast or brunch, but as soon as fall hits I can't wait to make a large comfort food breakfast and snuggle on the couch in my fleece PJ's. For this breakfast I combined two comfort foods; apple pie and French toast. Traditional French toast is topped with a homemade apple compote, candied walnuts and a powdered sugar glaze. I just love all of the flavors together- savory French toast, sweet fruit, crunchy, salty walnuts and sugary glaze. Delish!
Short on time? You can always buy canned apple pie filling instead of making homemade compote. You can also purchase walnuts that have already been candied.
Time: 1 hour
Serves: 4-6
Ingredients for Apple Pie French Toast
4 large red apple, peeled, cored and sliced into eighth's
1 1/4 cups light brown sugar, divided
1/2 cup water
1 tablespoon lemon juice
1 teapsoon vanilla
1 cinnamon stick
1 cup halved walnuts
Fine sea salt
1 large loaf French bread, cut into 1 inch slices
6 large eggs
3 tablespoons milk, divided
1 teaspoon nutmeg
1 teaspoon ground cinnamon
Cooking spray
1 cup powdered sugar
1. First, you will make the compote. In a large, heavy sauce pan, combine apple slices, 1 cup brown sugar, water, lemon juice, vanilla and cinnamon stick. Heat over medium-high heat. Stir with a wooden spoon until apples are well coated and sugar has melted. Reduce to a low simmer. The trick here is to not let the sugar get too hot and start to turn into candy. You do this by keeping the heat high enough to allow it to caramelized and cook the apples, but low enough and well hydrated with water to not get to the "hard rock" stage. Pay close attention and add additional water, 1 tablespoon at a time, if needed. The ultimate result will be soft apple slices in a syrupy, brown sauce. This process takes about 20-25 minutes. When you get to this place, remove from heat.
2. Next, candy your walnuts. Melt
butter
in a medium skillet over medium heat. Add walnuts and 1/4 cup brown sugar. Mixing continuously until walnuts are covered and sugar is melted. Place a sheet of wax paper on a plate, coat lightly with cooking spray and lay walnuts in a single layer. Sprinkle lightly with fine sea salt. Set aside and allow to cool.
3. Heat oven to 200 degrees. Heat griddle to 350 degrees. While preheating, beat eggs, 1 tablespoon milk, nutmeg and cinnamon in a shallow baking dish or pie plate.
4. Spray griddle with cooking spray. Working in batches of 4-5 slices, dredge sliced French bread in egg batter and place onto the griddle. Allow to cook on each side for 3-4 minutes or until light brown. Flip and cook on opposite side for 3-4 minutes. Remove to baking sheet and place in oven to keep warm. Repeat with remaining bread.
5. Lastly, mix powdered sugar with 2 tablespoons milk. Mixture should be a glaze consistency and easily drizzle.
6. To construct each plate, place 2 slices of French Toast on a plate. Spoon apple compote over French toast, top with candied walnuts and drizzled powdered sugar glaze. Enjoy your Apple Pie French Toast!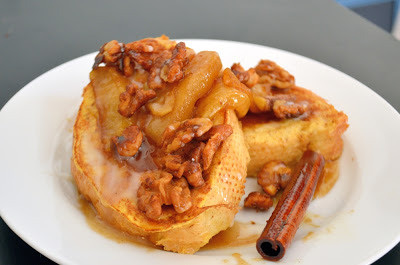 Now you want more, don't ya? Join me on
Facebook
for daily recipes and discussion, follow me on
Twitter
or see where I get some of my inspiration on
Pinterest
!
Like this recipe? Try
Danish Pastry Wreath
!
Flaky Danish with almond filling, candied cherries and powdered sugar glaze.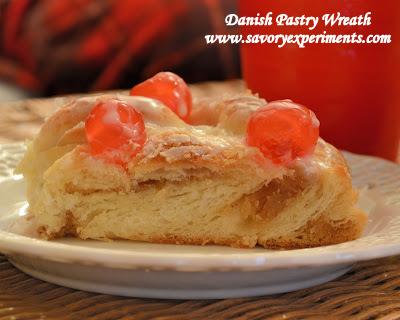 If you like this recipe, make sure to follow me on Pinterest for even more! 
Visit Savory Experiments's profile on Pinterest.