I'm about to make a bold statement. A very bold statement, but I think this Copycat Capital Grille Porcini Rubbed Delmonico with Balsamic Reduction might have been the BEST at home steak I have ever made.
Capital Grille Porcini Rubbed Delmonico is the perfect home date night dinner. An easy recipe filled with robust steak flavors and sweet balsamic reduction sauce.
The idea came from good old Capital Grille and their famous Porcini Rubbed Delmonico with 12-Year Aged Balsamic
.
While some beef fanatics might argue that a truly good piece of meat needs to no rub, crust or drizzle (and they may be correct), the porcini rubbed delmonico has won the hearts of food critics everywhere.
And now you might even see it grace the Capital Grille menu as the Porcini Rubbed Bone-In Ribeye.
Sweet, spicy and salty all combine and play well together to form a mouth watering entree worthy of a special occasion. And while even serving this dish at home is above my average "weeknight budget" is still less than what I'd pay at the restaurant, making me the winner!
The dish originates from the Delmonico Steak, which actually refers to the method of preparation rather than the cut. Made famous by Delmonico's in Manhattan, there is still much controversy as to what cut of beef was actually used.
Fast forward to today and it is most commonly from the short loin section. A New York strip is cut from the short loin so it is the perfect choice for this dish.
You will see the same terminology and preparation at the famous steakhouses of Chicago, which are often the toughest of critics.
Now that Capital Grille makes a porcini rubbed bone-in ribeye, I supposed it is totally acceptable to use the same rub on just about any cut of beef you wish. It probably tastes equally as tasty on a thick cut bone-in pork chop too!
Capital Grille uses dried porcini mushrooms
and grinds them to a fine dust, which is the obvious part. I grilled (pun intended) my last server into sharing all of his secrets of what goes into the rest of the delectable crust. If you have trouble finding dried porcini mushrooms, give dried portobello
or oyster mushrooms
a whirl.
Aged balsamic is another item that your run-of-the-mill grocer may not stock. Twelve year aged balsamic is delicious and packed with sweet flavor, but will run you $30 for a small bottle.
Instead I used a middle grade balsamic vinegar
and made a reduction which intensifies the flavor, but saves your wallet. Don't get sucked into the $13 bottle of premade reduction
at the grocery store, it is ridiculously overpriced and how often are you really using an aged balsamic?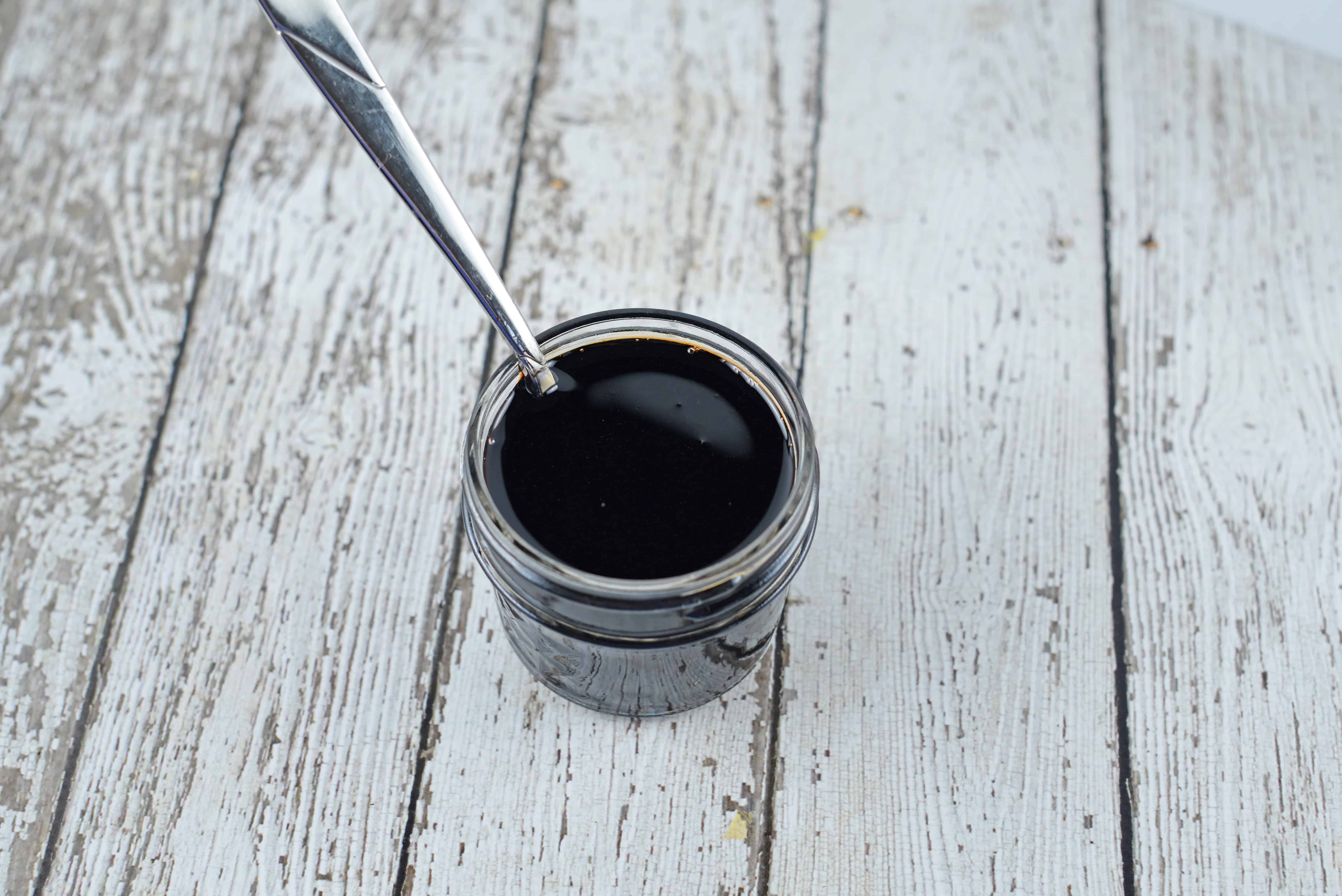 When most individuals associate steak with the grill, but in actuality, you won't find Chef de Fancy Restaurant out back flipping your steak on a Weber with his "Kiss the Cook" apron.
They are either pan fried, cooktop grilled or broiled. A properly seasoned cast iron skillet
allows the taste of the crust/rub to remain without being overpowered by the char of a grill. If you don't have time to season your own and want the care to be a little simpler, buy a Le Creuset pre seasoned pan
.
I have both. I love both. The only difference in mine is size (and price). If you aren't in the market for cast iron you can always broil, grill or use a large frying pan.
Need a side dish for your Porcini Rubbed Delmonico? Let's cross pollinate those steak houses and try copycat Flemings Au Gratin Potatoes or Burnt Carrots from the famous Lonesome Dove in Texas! Here are some other fabulous side dishes to try and scroll down for even more easy steak recipes!
CONNECT WITH SAVORY EXPERIMENTS!

Be sure to follow me on social media, so you never miss a post!

Facebook | Twitter | Youtube
Pinterest | Instagram

Get our FREE 8 Day E-Course on How to Be a Better Home Cook. Sign up HERE!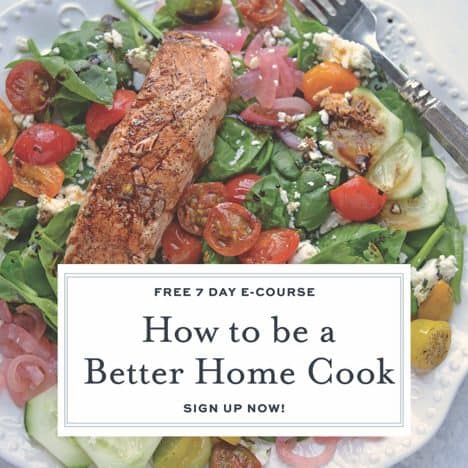 Print Recipe
Capital Grille Porcini Rubbed Delmonico
Copycat Capital Grille Porcini Rubbed Delmonico is the perfect home date night dinner. An easy recipe filled with robust steak flavors and sweet balsamic reduction sauce.
Instructions
Place dehydrated porcini mushrooms into your food processor and grind until they are nothing but dust. Word to the wise… allow to sit for a few minutes before opening or else you might get a mushroom dust bomb in your kitchen.

In a small bowl combine ground porcini mushrooms with sea salt, pepper, crushed red pepper and sugar, mix to make the rub.

Remove steaks from the fridge. Rub 1 tablespoon of light extra virgin olive oil into each steak. Evenly divide porcini spice mixture and rub over both sides of the steak. The olive oil will help it stick. I got a little crazy and made a nice thick crust on one side of mine because I was only making two. Allow to rest and marinate for 20 minutes.

When ready to cook, melt 1/2 cup unsalted butter in a large cast iron skillet. Depending on the size you might need to cook steaks two at a time to avoid overcrowding the pan. Heat over HIGH heat and turn on the fans to prevent the smoke detector from going off.

As soon as the butter has melted, add the steaks. Sear on each side for 4 (medium rare) to 8 (well done) minutes depending on desired temperature and thickness of meat. When cooking do not move the steak around, keep it in the same place except to flip. In contrast to cooking other pieces of meat in cast iron, do not baste with the butter. Basting will wear away at that beautiful crust you worked so hard on. If you have someone that requests "no pink", you might be better off baking at 400 for 4-5 minutes instead of searing for the full 8 minutes. You don't want the outside to burn.

Remove steaks from the skillet and allow to rest for at least 5 minutes. Meat holds heat well so do not worry about them getting cold. Resting helps the juices (and flavor) to reabsorb back into the meat instead of ending up on your cutting board.

When plating, drizzle with balsamic reduction sauce and serve.

If you've tried this recipe, come back and let us know how it was!
Nutrition
Calories:
854
kcal
|
Carbohydrates:
4
g
|
Protein:
46
g
|
Fat:
71
g
|
Saturated Fat:
30
g
|
Cholesterol:
241
mg
|
Sodium:
1877
mg
|
Potassium:
735
mg
|
Sugar:
3
g
|
Vitamin A:
855
IU
|
Calcium:
63
mg
|
Iron:
3.7
mg