I resisted getting an Air Fryer. Now I realize how silly that was. It might have surpassed my love for the Instant Pot. So here I am trying to make delicious air fried shrimp.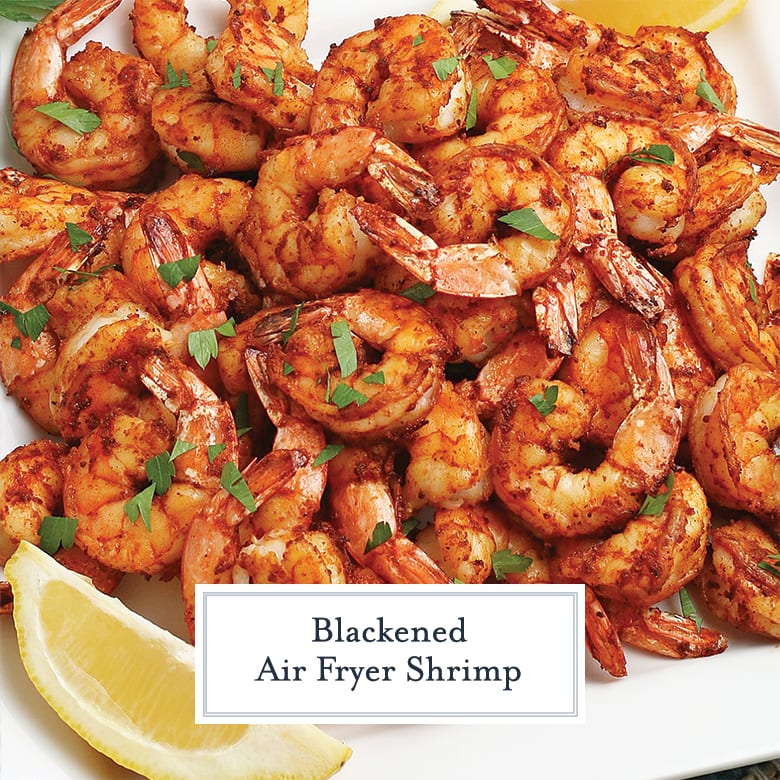 And since shrimp are hands down, my husband's favorite food, recipe testing this one was no trouble at all.
Blackened Shrimp
We eat a lot of shrimp in this house. Steamed fried, fried shrimp, shrimp in pasta. LOTS OF SHRIMP.
And although it is easy enough to cook shrimp in a skillet or steam them, I wanted to give them a whirl in the Air Fryer so what better seasoning blend than a zesty blackened seasoning?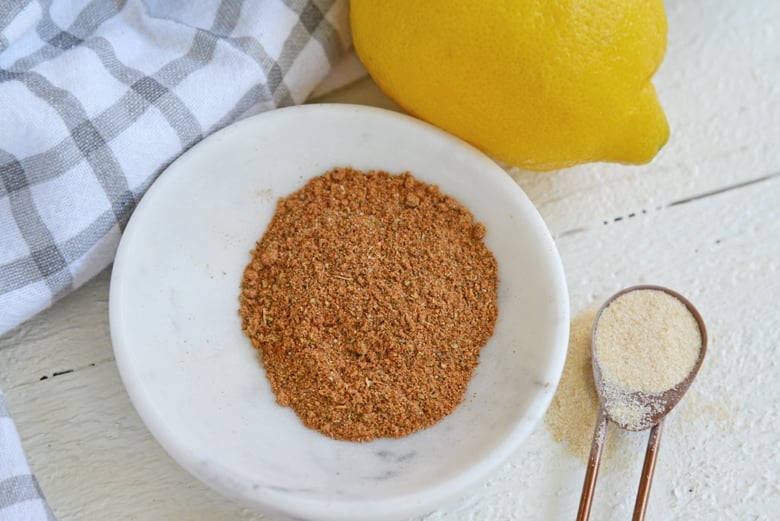 Blackening is actually a techinque, not necessarily a seasoning. The process is to dip your protein in butter, then dredge in spices, followed by a hot trip in cast iron. Quick, easy and effective.
For air fryer shrimp, I skipped the butter dredge and went directly to applying the seasoning with a little bit of olive oil. Why? Olive oil has a higher smoke point than butter and air fryers get HOT.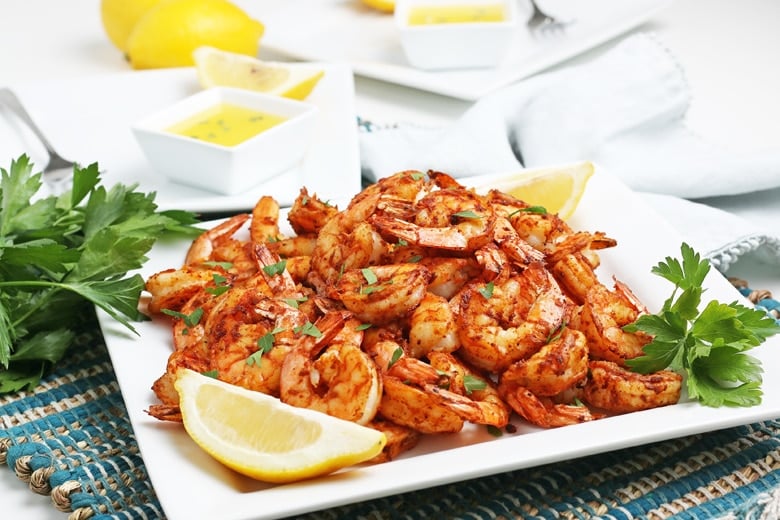 Ingredients
For this recipe, the ingredient list is simple.
Shrimp
Seasoning
Olive oil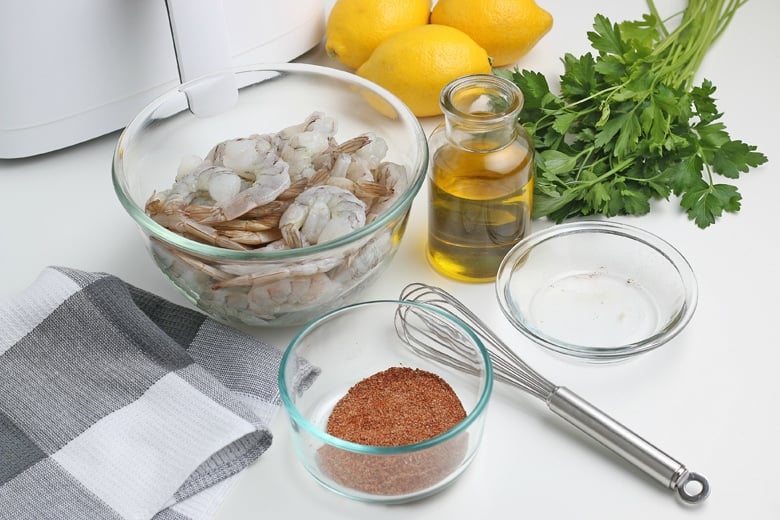 How Do You Make Shrimp in the Air Fryer?
Easily! Just like our other air fryer recipes. Here are the steps:
Preheat the air fryer to 400 degrees for 5 minutes.
Toss shrimp in olive oil and then seasoning.
Add shrimp in a single layer (the best you can or work in batches).
Cook for 5 minutes total at 400 degrees, tossing/flipping halfway through.
Serve with favorite dipping sauces- or nothing at all because they are delicious.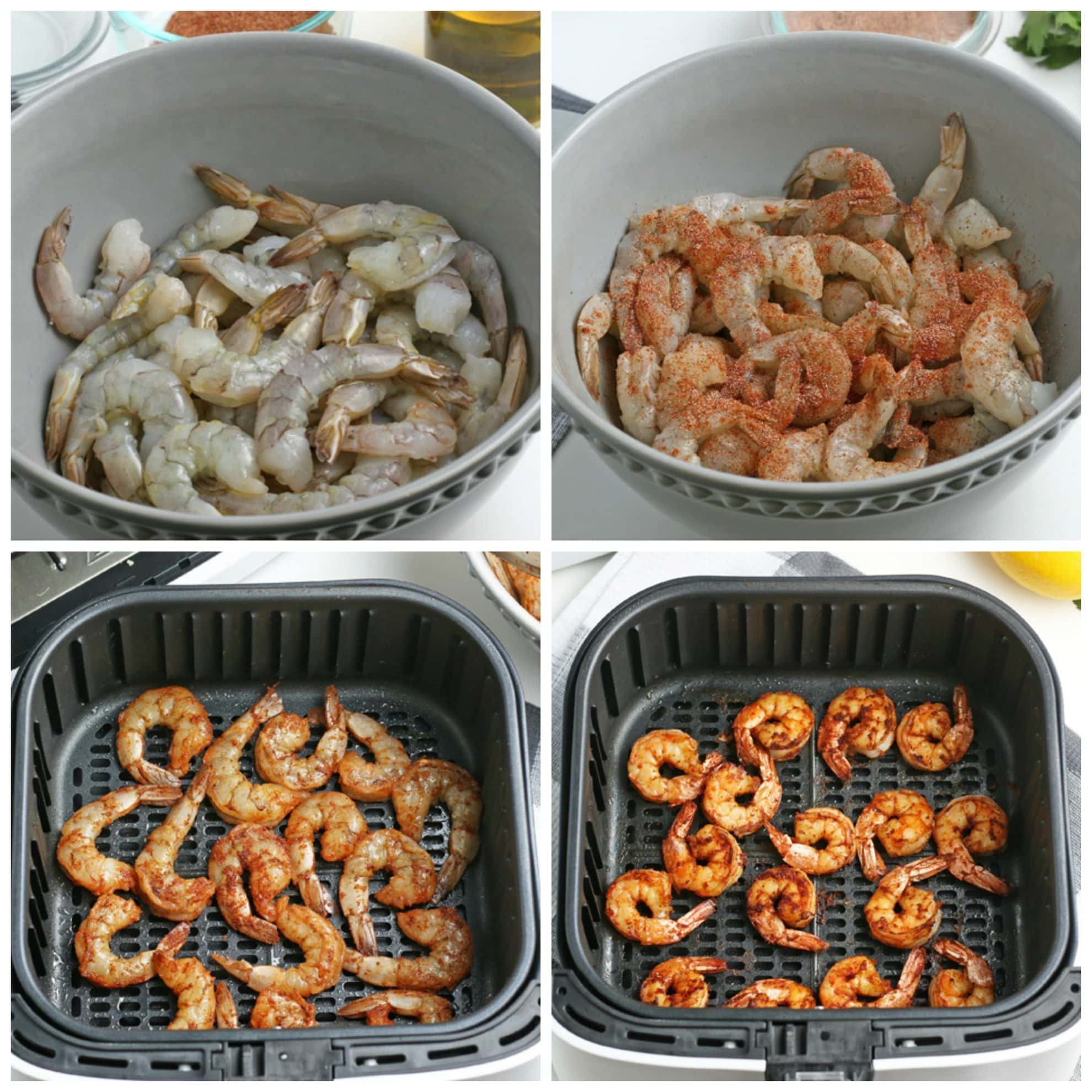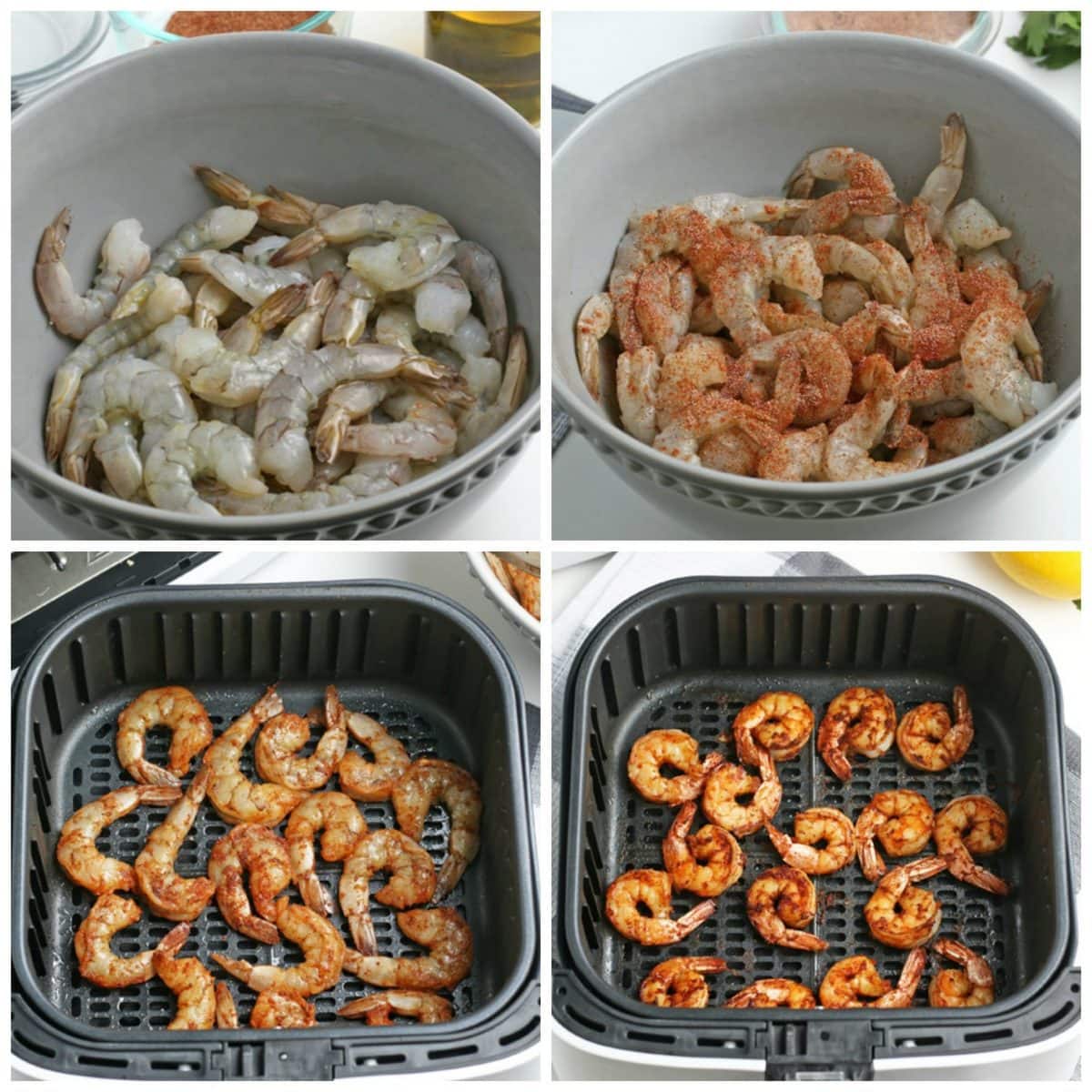 Uses
If you are in my house, these shrimp will be gobbled up before they get to any other dish. And it is totally acceptable to serve them straight up with some dipping sauces (see below) and lemon wedges.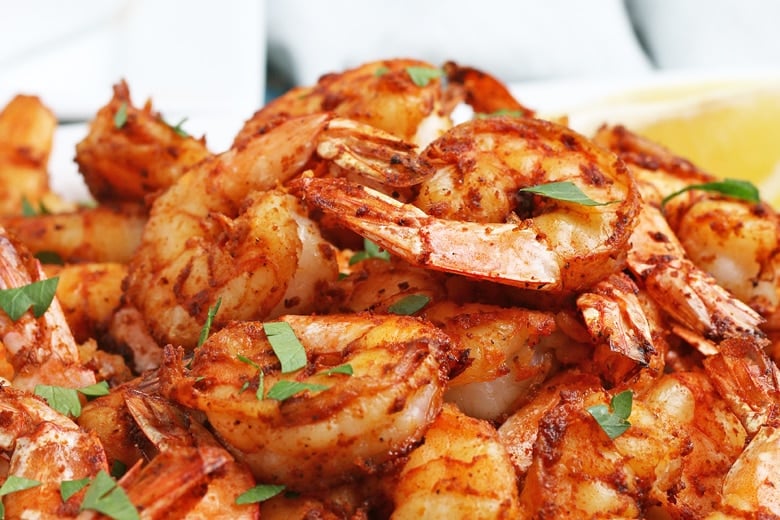 But if you want to use them for other dishes, blackened shrimp taste great in shrimp tacos, on top of pasta like alfredo or carbonara or on a leafy green salad.
Dipping Sauces
Our fridge is always full of sauces. My husband loves them. Me, I prefer simple toppings. So our shrimp always get served with a variety of sauce options.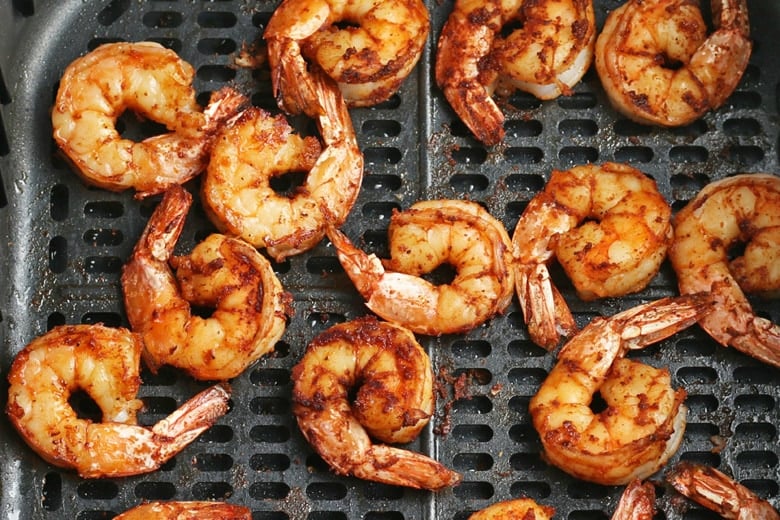 Here are our favorite shrimp dipping sauces:
Apple Cider or Malt Vinegar
Air Fryer Tips
But before you get started, here are a few tips for using your Air Fryer.
Always preheat the Air Fryer. Just like the oven, it needs to get hot.
Have your food ready to go, every minute the basket is out of the machine, it loses heat, just like opening the oven door.
Grease the basket. Even though the baskets are non-stick, a little oil never hurt.
Use olive oil in a spray bottle. Aerosol sprays can cause damage to the nonstick finish. That saud, I've sprayed mine with Pam several times and never had an issue.
Don't overcrowd the basket. Most foods cook best in a single layer, filling the whole basket will result in unevenly cooked foods. There are some foods you can pile like shrimp, fries, tots and wings.
Shake or flip foods while cooking. But again, don't have the basket out too long, it will lose heat.
Add a small amount of water to bottom when cooking fatty foods. Literally just a little. This prevents them from falling and burning to the bottom creating a mess and also smoke.
For super messy foods, like the basket with aluminum foil for easier cleaning. If the food has grease or oil, like chicken wings, make holes to allow to drain. You'll still need to wash the basket, but with less caked on mess.
Allow space around your Air Fryer. Not just in the basket, but the actual appliance. It relies on circulated air, so it pushes and pulls air in and out at a high rate. Don't stuff between other appliances, give it some room to breath.
Hand wash the parts. I know it says dishwasher safe, but your Air Fryer will last a lot longer if you take the time to hand wash the baskets.
AF stands for "Air Fryer"- not "As f-word" like the kids tend to say. 🙂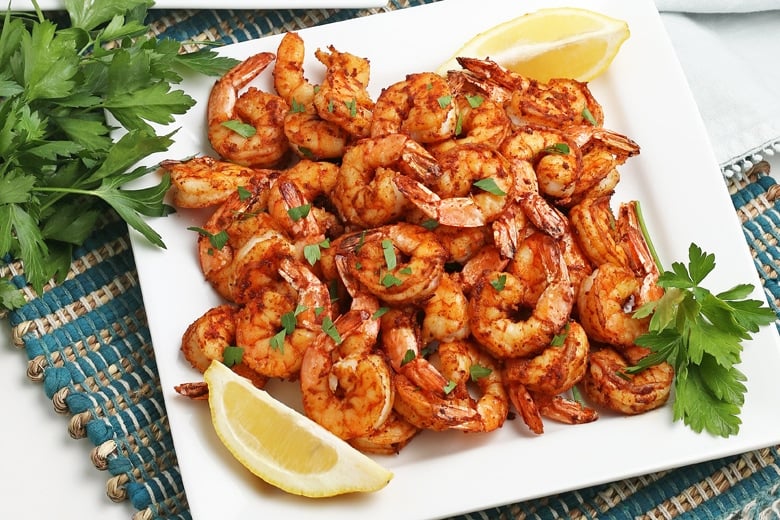 Storage & Reheating
Store leftovers (if there are any) from your blackened shrimp recipe in an airtight container in the refrigerator for up to 3 days. Air fryer shrimp are best eaten fresh. You can prepare the shrimp ahead of time and cook when it is time to serve.
To reheat, place back into the air fryer for 1 minute or they can be enjoyed cold. I do not recommend using the microwave, which as the tendency to turn shrimp rubbery.
This recipe should not be frozen after cooking.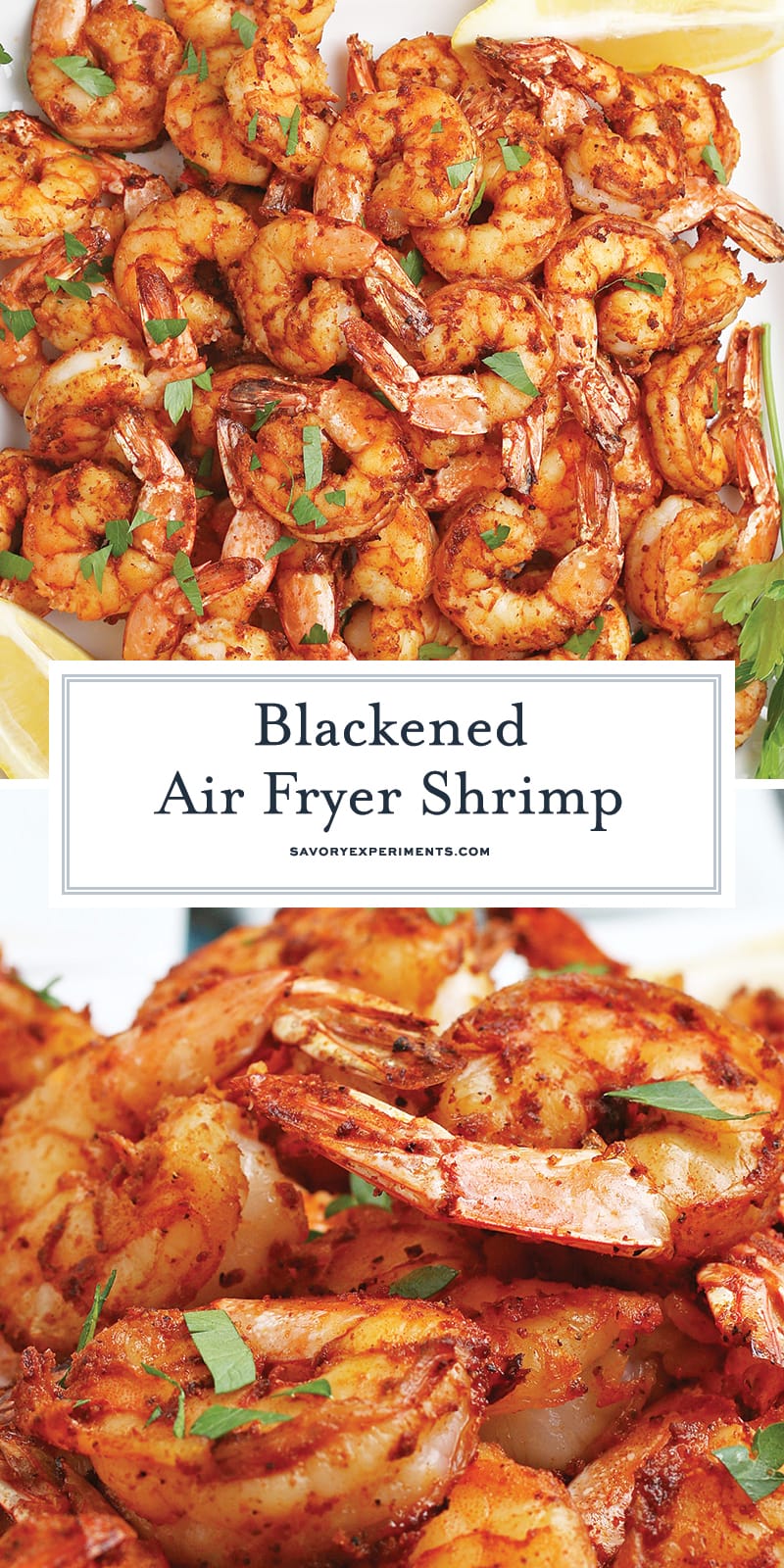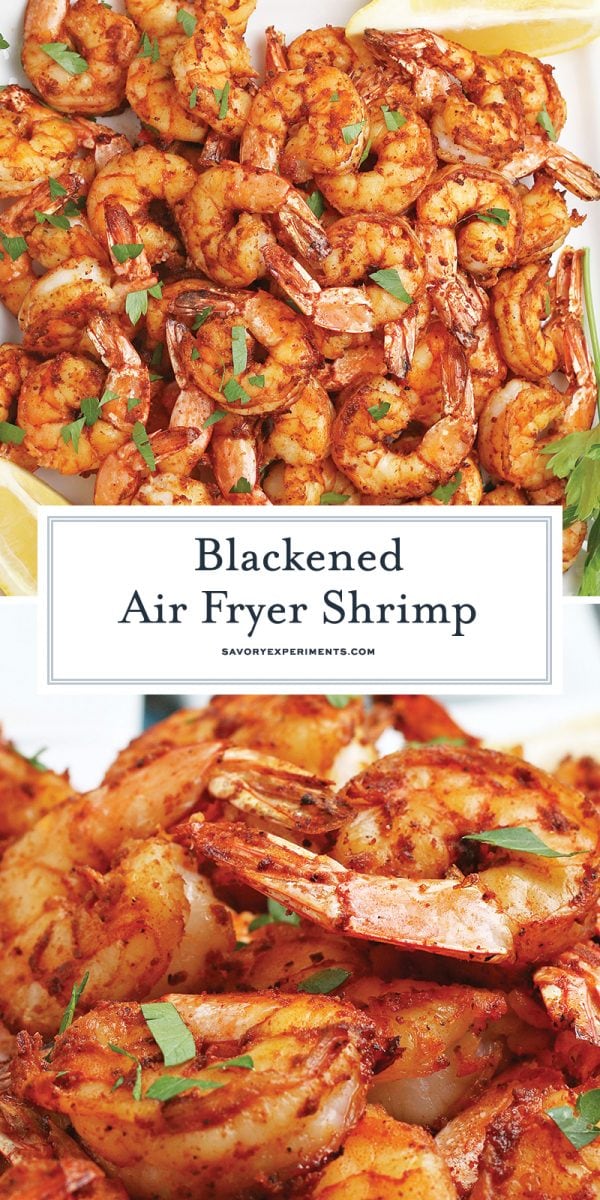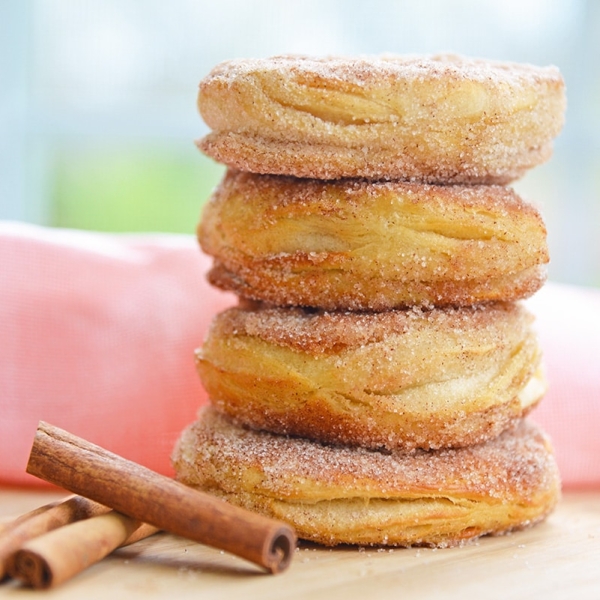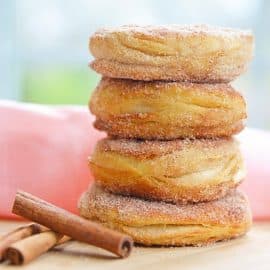 Air Fryer Donut Recipe
Buttery and delicious Air Fryer Donuts in just 10 minutes and using only 4 ingredients. Coated in cinnamon sugar, these are going to be your new favorite!
View this recipe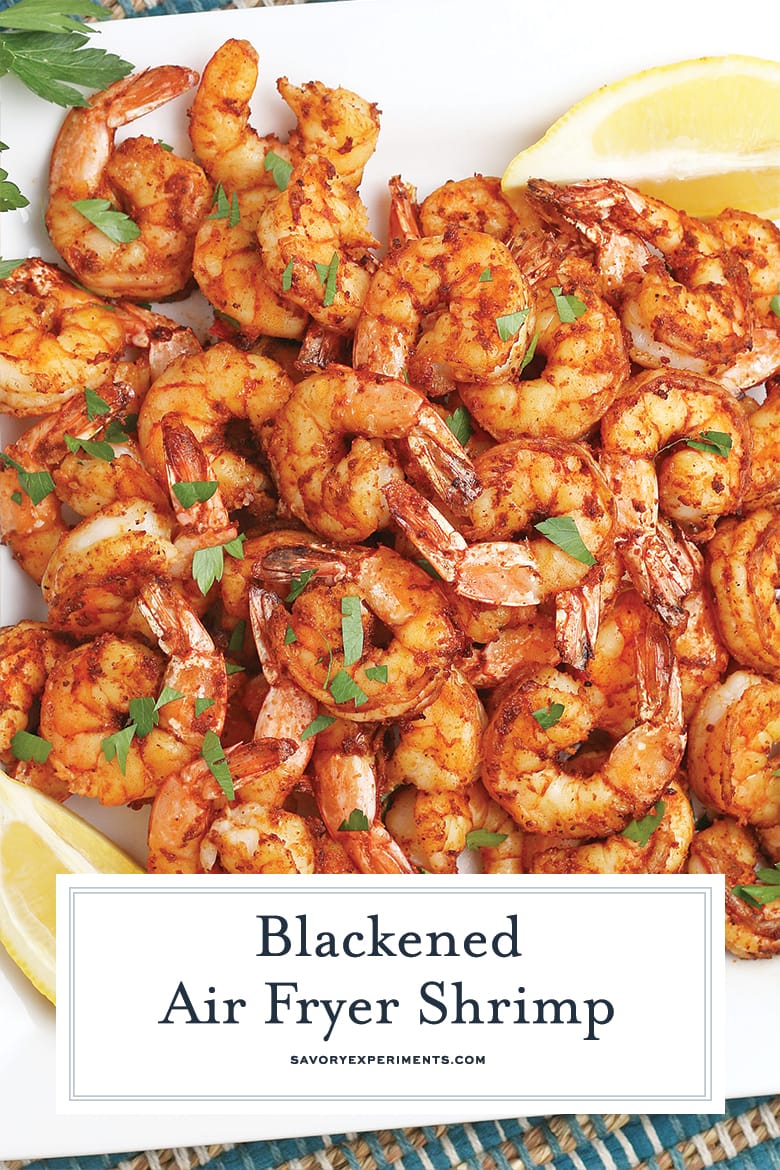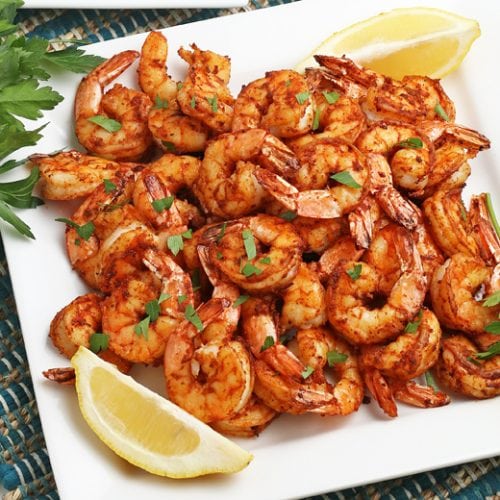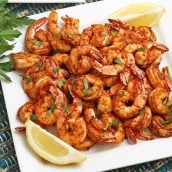 Air Fryer Blackened Shrimp
Making shrimp in the air fryer was never more delicious or easy using this quick method and our zesty blackened seasoning.
Instructions
Preheat air fryer to 400 degrees for 5 minutes.

When hot, grease air fryer basket lightly.

Cook at 400 degrees for 5-6 minutes, shaking once halfway through. Cook until shrimp are cooked, turn pink and curl.

Remove and serve with your favorite dipping sauces. Lemon wedges and parsley are optional.

If you've tried this recipe, come back and let us know how it was in the comments and ratings!
Notes
*I prefer to leave tails on like a little handle, but this is totally up to.
Nutrition
Calories:
175
kcal
,
Protein:
23
g
,
Fat:
9
g
,
Saturated Fat:
1
g
,
Cholesterol:
286
mg
,
Sodium:
1148
mg
,
Potassium:
91
mg
,
Vitamin C:
5
mg
,
Calcium:
164
mg
,
Iron:
2
mg