Chicken, bacon, sweet potatoes, and onions all smothered in bbq sauce and honey, wrapped up in foil make these BBQ Chicken Foil Packets are amazing!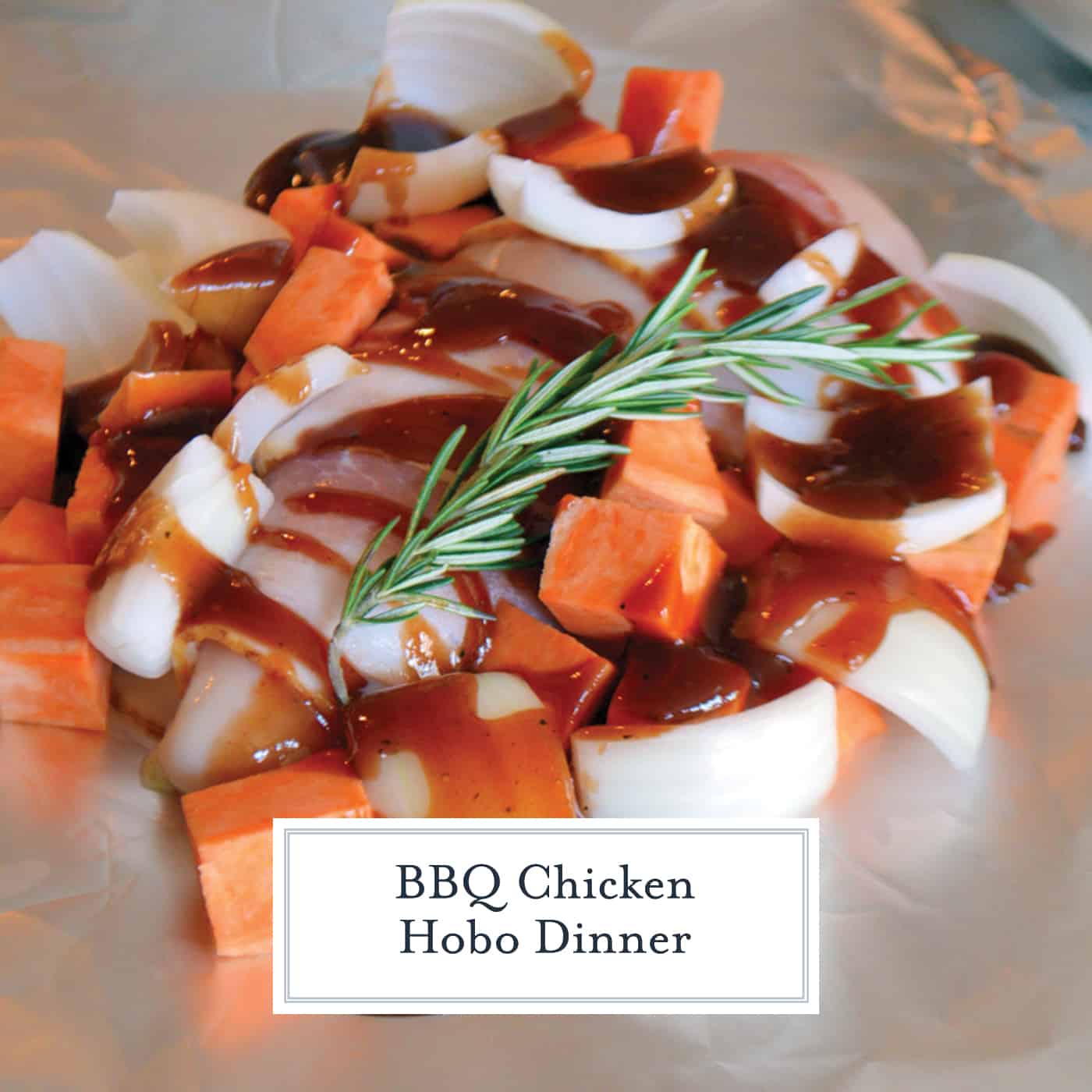 This BBQ Chicken Hobo Dinner has minimal prep time. With only a few chops of onion and sweet potato and clean up that is relatively nonexistent (you only need to throw away the aluminum foil,) it leaves you free to get all your other things done.
Since BBQ Chicken Hobo Dinner doesn't require much oversight or tending-to once the packets are on the grill, you can make them well into chilly weather. Pop them on the grill and head back inside to keep warm.
What Is a Foil Packet Meal?
If you're an annual camper, this BBQ Chicken Hobo Dinner recipe is a great camping food idea to take along with you to the campsite. Because there is raw chicken, I would make sure to make it earlier in the weekend/trip rather than later.
It's the perfect meal to make while you're camping. so you still get a delicious hearty meal to fill you up that is quick and easy!
What is a hobo dinner? I know, it's an odd term to use in a recipe since hobo is technically a migrant worker who often is without a permanent home.
That said, a hobo dinner is named as such because it is a meal that can be cooked easily, anywhere, and be self-contained in a foil packet, so it has changed to more a "foil packet meals".
A hobo dinner is when a meal is all cooked together in a foil packet. Everything is thrown in together to create an all in one meal. It makes for easy prep, simple clean up, and 100% delicious food.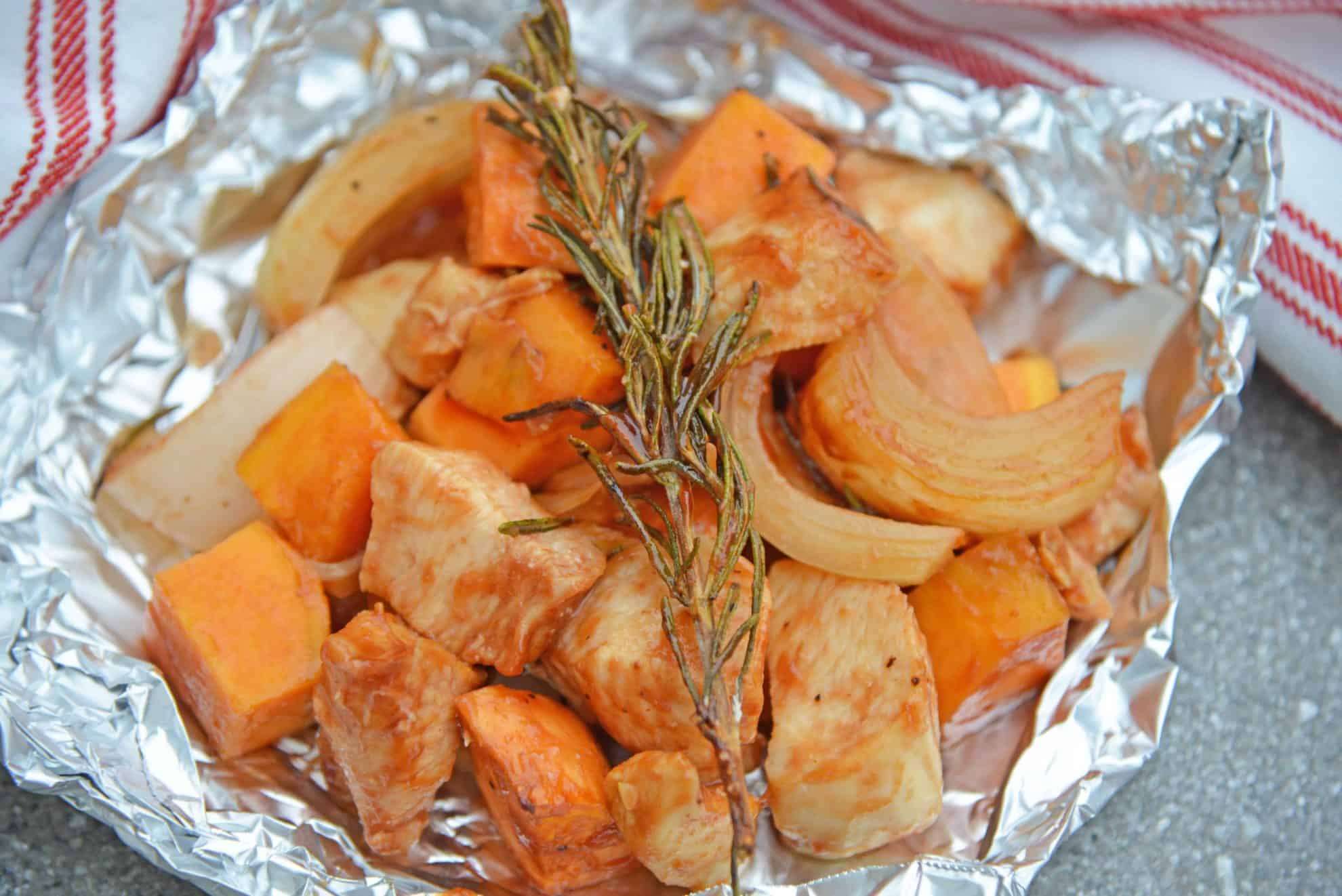 Why You'll Love Chicken Foil Packets
Tender chicken cooked at the same time as flavorful sweet potatoes and onions- what's not to love!
Complete meal – Forget about figuring out what sides to make with dinner, this chicken cooks right along with the veggies making it quick and easy to make a complete meal.
Family favorite – These flavorful packets are made with simple ingredients, making it a dish the whole family will enjoy- even picky eaters.
Simple ingredients – You only need 7 simple ingredients to make this delicious recipe, and they're all easily found at your local grocery store!
Ingredients
You only need a handful of ingredients to make these foil packs.
Chicken – I prefer to use boneless skinless chicken breasts. You can use any type of chicken you'd like, but make sure it's cut into uniform pieces so it all cooks evenly. Thicker chicken will take longer to cook, so if you breasts are extra meaty, try cutting them lengthwise to cook evenly and faster.
BBQ sauce – Use your favorite BBQ sauce; I like my Homemade BBQ Sauce or when I'm feeling spicy, Chipotle Honey BBQ Sauce.
Bacon – Make sure you use an extra thick cut bacon. Instead of oil, the grease from the bacon is what helps cook the packets.
Honey – While the barbecue sauce already has an element of sweet, I like to add a little honey to take that sweetness to the next level.
Rosemary – Fresh herbs are a great way to add even more flavor to foil packet meals.
Sweet potatoes – You want to make sure your sweet potatoes are peeled. Also make sure they are cut into cubes of the same size so that they cook evenly. Other types of potatoes work well too, but sweet potatoes are divine with BBQ sauce!
Sweet onion – I like to sue a sweeter onion like a yellow onion or white onion. If you prefer the bolder flavor of a red onion, feel free to use one instead.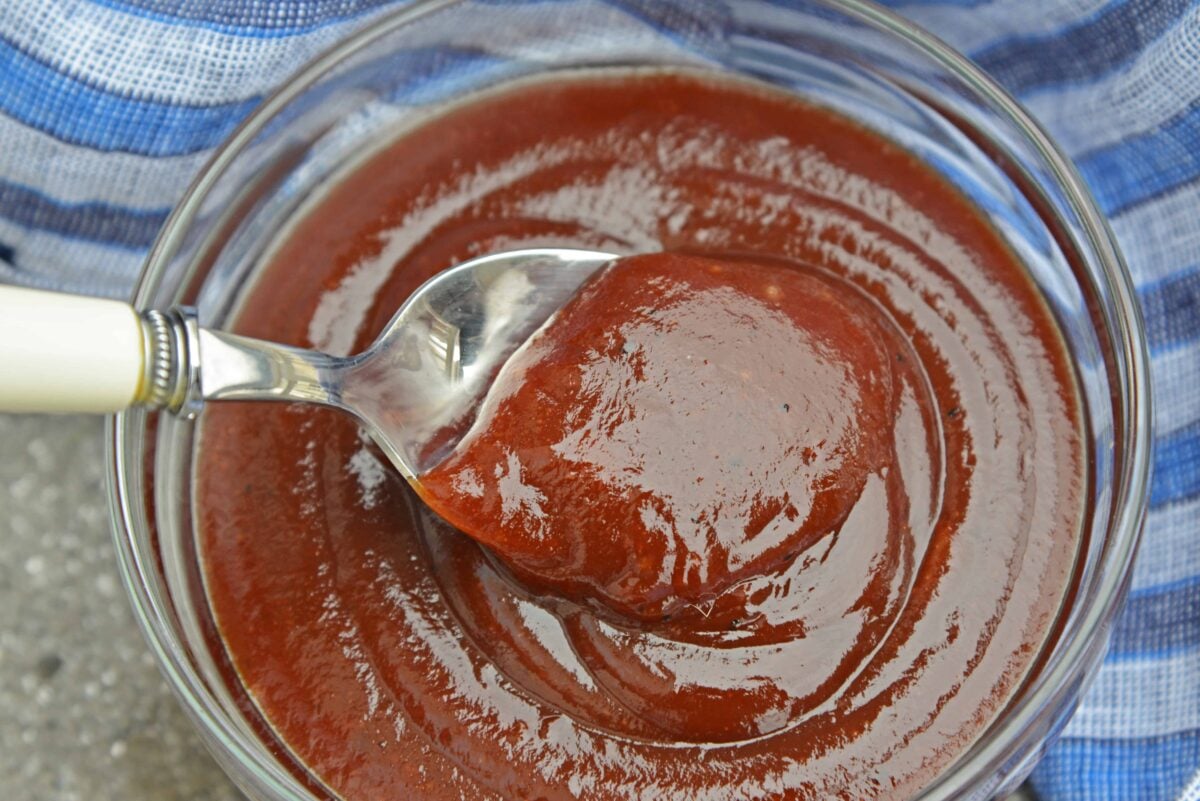 How to Make Chicken Foil Packets
You are going to love how easy it is to male these bbq chicken foil packets!
Wrap ingredients in pieces of foil. Equally divide all ingredients between 4 large pieces of aluminum foil. Double wrap with an additional layer of aluminum foil.
Add to grill. Heat grill to medium-high heat. Place each foil wrapped packet on the grill, turning once.
Allow to cool. Remove and allow to cool. Unwrap and transfer to serving dishes.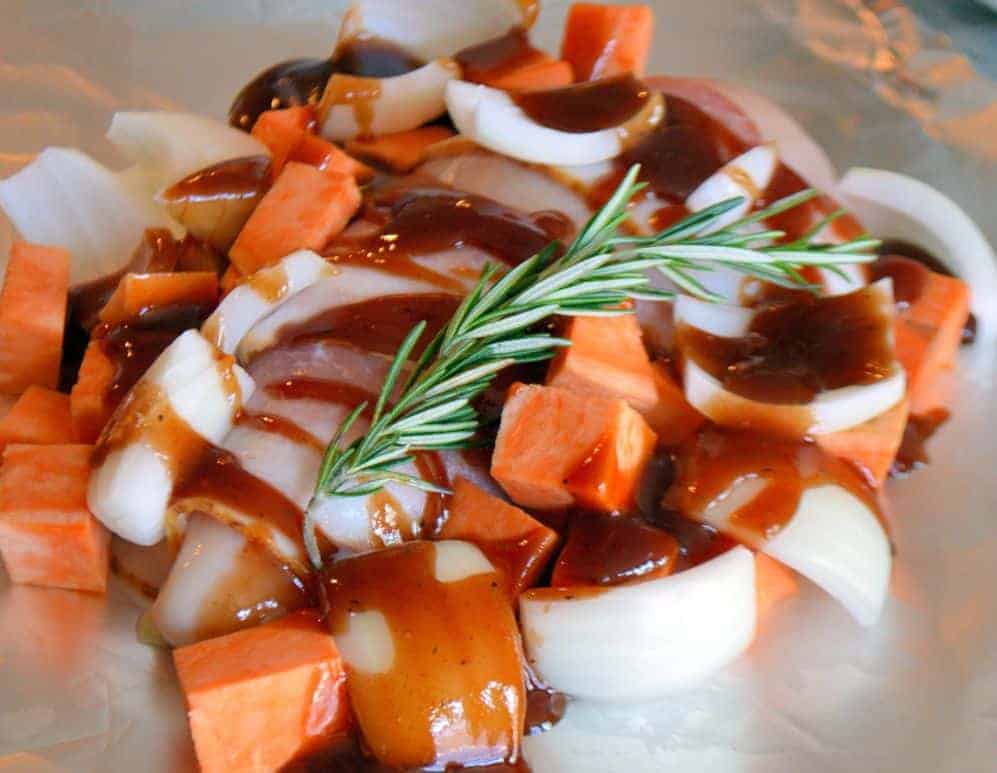 Variations
There are plenty of ways that you can make these foil packet dinners your own!
Add some cheese – If you'd like to take your juicy chicken breasts up a notch, try adding cheese. Cheddar cheese or parmesan cheese would both be great options.
Bacon ranch chicken foil packets – Instead of bbq sauce, try adding some ranch seasoning and bacon to the diced chicken for a totally different and unique flavor.
Caprese chicken foil packets – Try mixing things up by adding mozzarella cheese, tomatoes and balsamic vinegar to the chicken.
Buffalo chicken foil packets – Swap the bbq sauce for buffalo sauce and throw in some blue cheese or ranch for a perfectly spicy chicken foil packet recipe.
Salmon foil packets – Besides changing up the flavor, you can change up the protein altogether. Just be aware that the cooking time will change.
Potatoes – Instead of sweet potatoes, you could use small red potatoes or regular red potatoes. Just make sure they're cut into bite-sized pieces.
Favorite veggies – Feel free to throw in other fresh veggies like red bell pepper, mushrooms or other varieties of onions.
How to Serve Chicken Foil Packets
The best part about this kind of meal is how versatile it is. You can really serve it with any type of side dish you'd like.
I like to serve mine with something green like green beans or broccoli because we already have a starch with the sweet potatoes. A leafy side salad is also an easy way to complete this healthy meal.
We also like serving it with bread- usually just store bought dinner rolls when camping, but if you happen to be at home, check out our easy dinner rolls or garlic bread spread.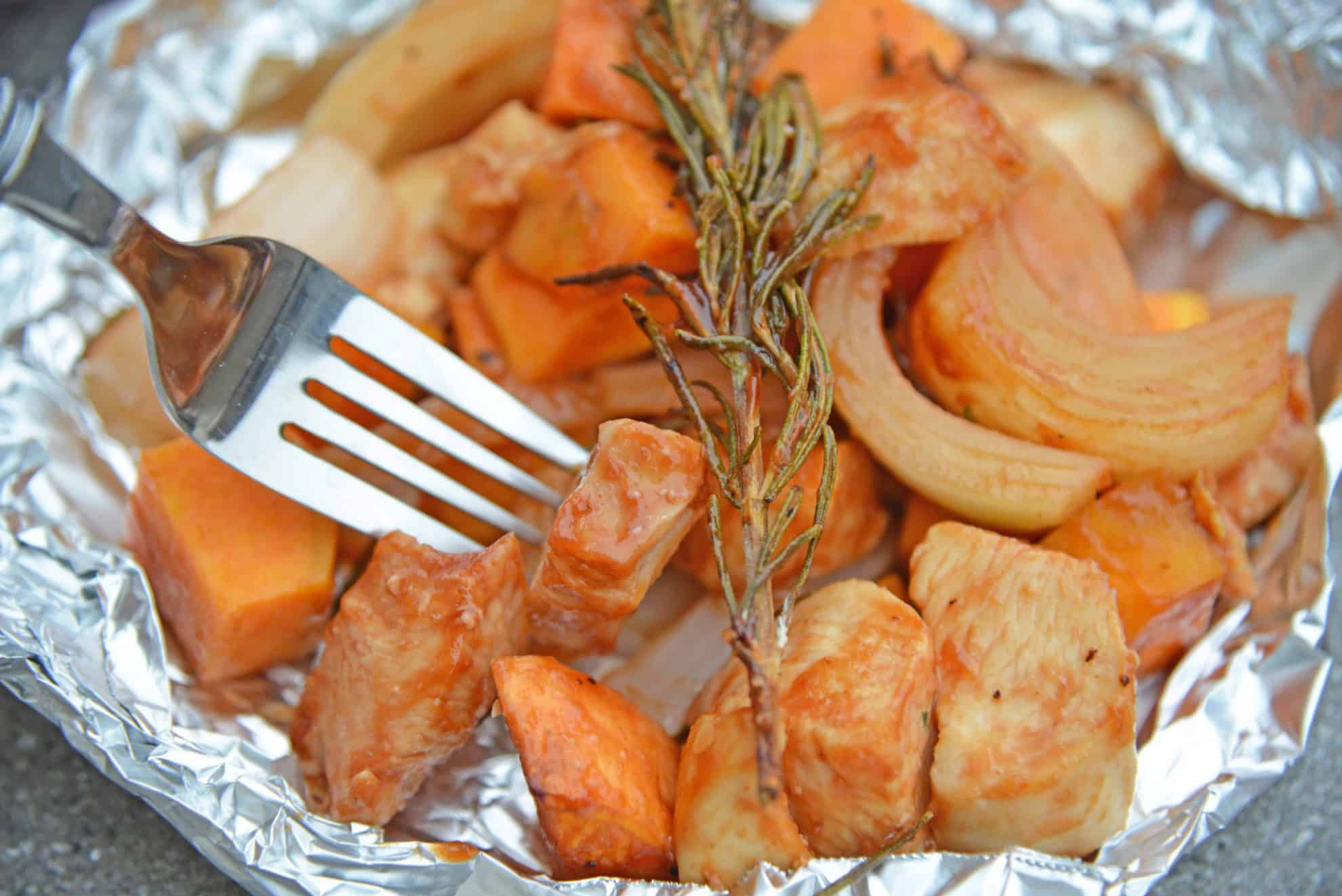 Storage and Freezing
Storage: Store any leftover chicken foil packets in an airtight container. They will stay in the refrigerator for up to five days.
Freezing: You can also freeze foil packs after they've been cooked. Remove contents from piece of foil and put in freezer bag. It will freeze for up to three months.
Frequently Asked Questions
What temperature do you cook foil packets?
We cook ours on the grill over medium heat. Just make sure your chicken is cooked to the correct temperature.
Is it good to cook chicken in foil?
Cooking chicken in heavy duty aluminum foil allows for the steam to keep the chicken tender and juicy. The juices from the meat also help to soften the potatoes and veggies.
How far in advance can you make foil packets?
Although I don't recommend making more than one day ahead of time, you can prep them, add them to a cooler and bring along to a camping trip
How large does foil need to be for packets on the grill?
We recommend 12″x18″ so you can roll the edges together well and nothing escapes. Sometimes we double wrap them to keep the sauce in tightly.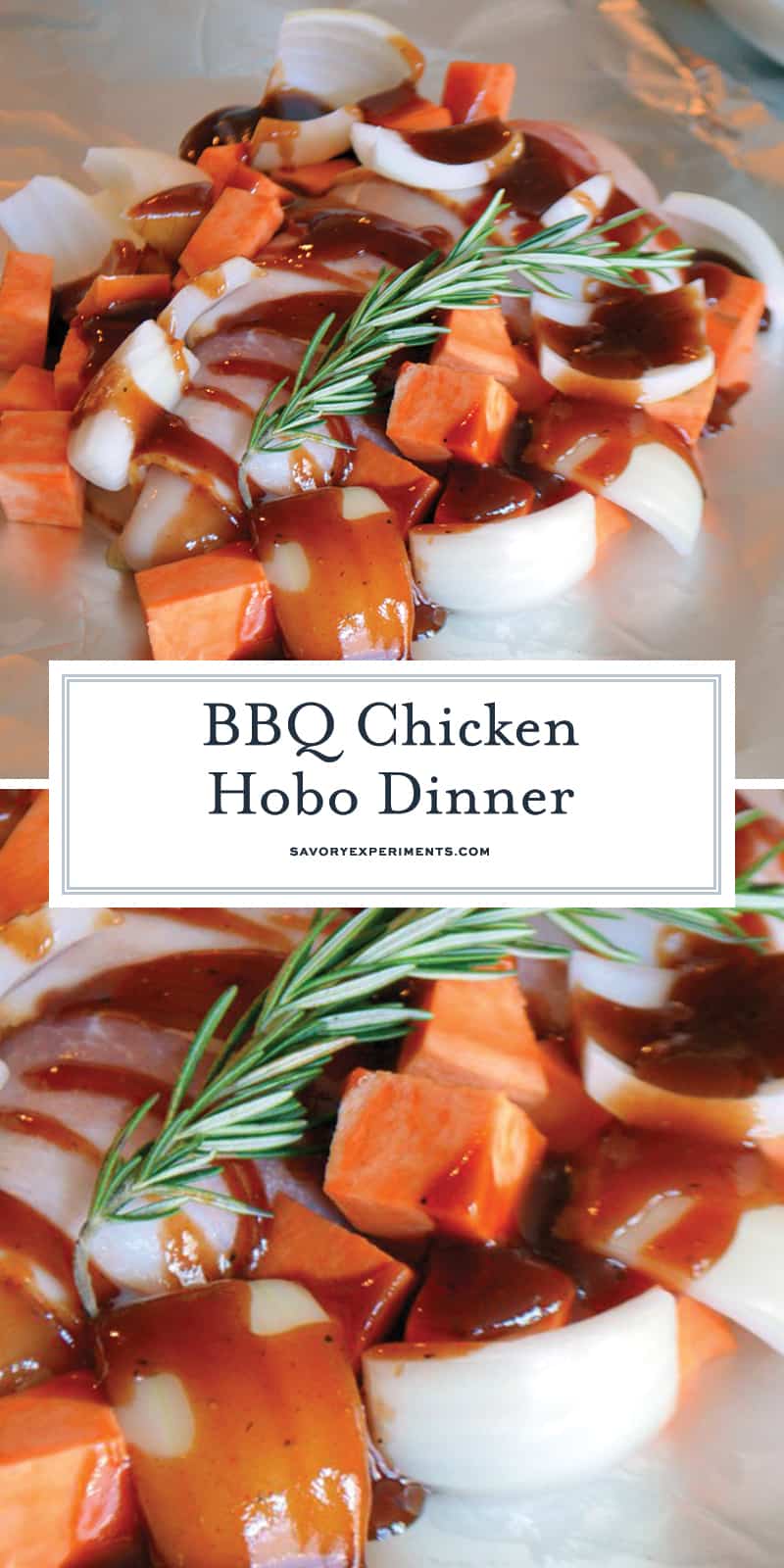 More Easy BBQ Recipes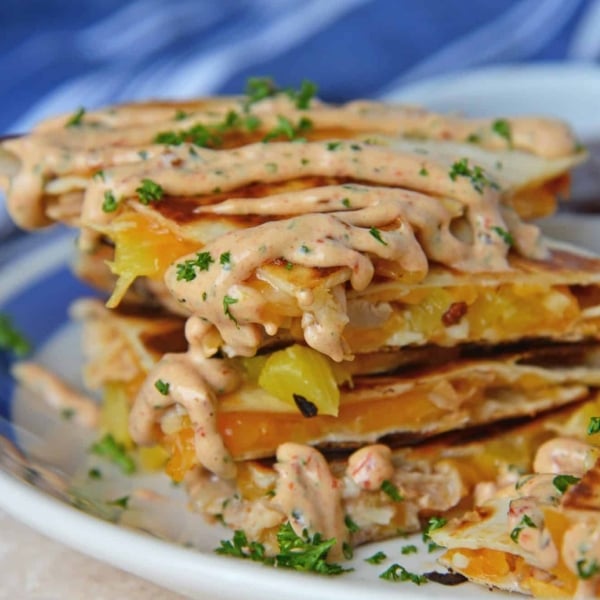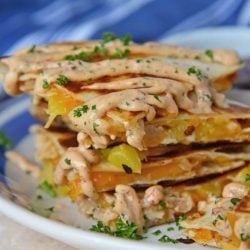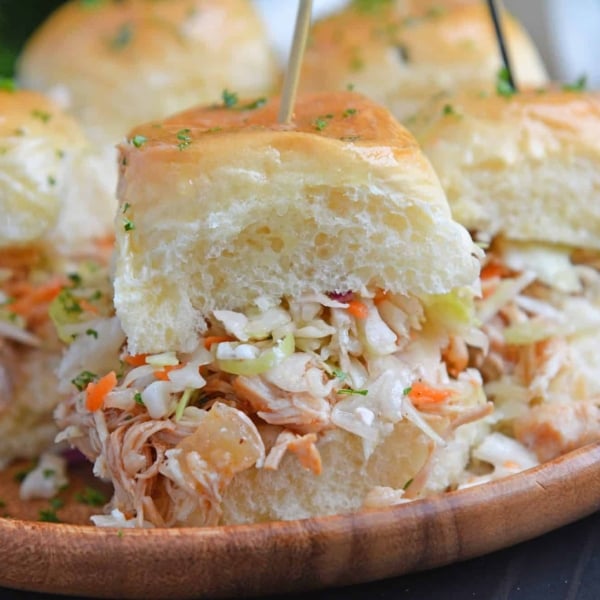 BBQ Chicken Sliders
BBQ Chicken Sliders are made with 5 unique layers making them go above and beyond any other sandwich recipe. Fabulous for parties, potlucks and game day and can be served hot or room temperature!
See The Recipe!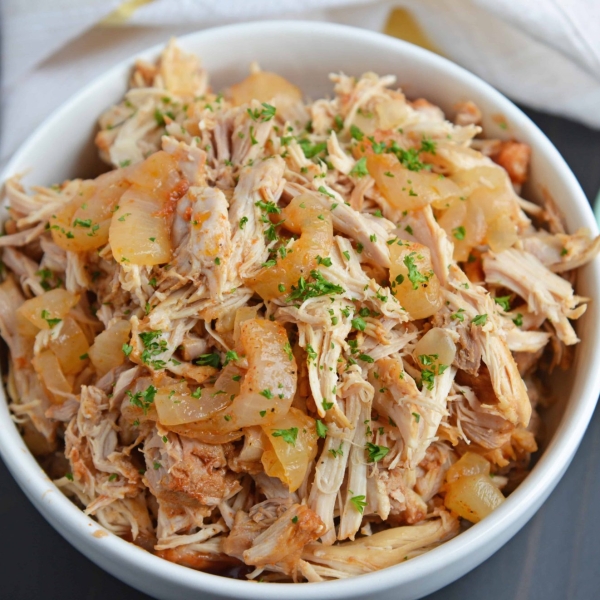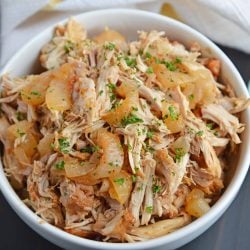 Instant Pot BBQ Chicken
Instant Pot BBQ Chicken makes two pounds of shredded BBQ chicken in just 9 minutes! Perfect for making sandwiches, nachos, quesadillas, salads and more!
See The Recipe!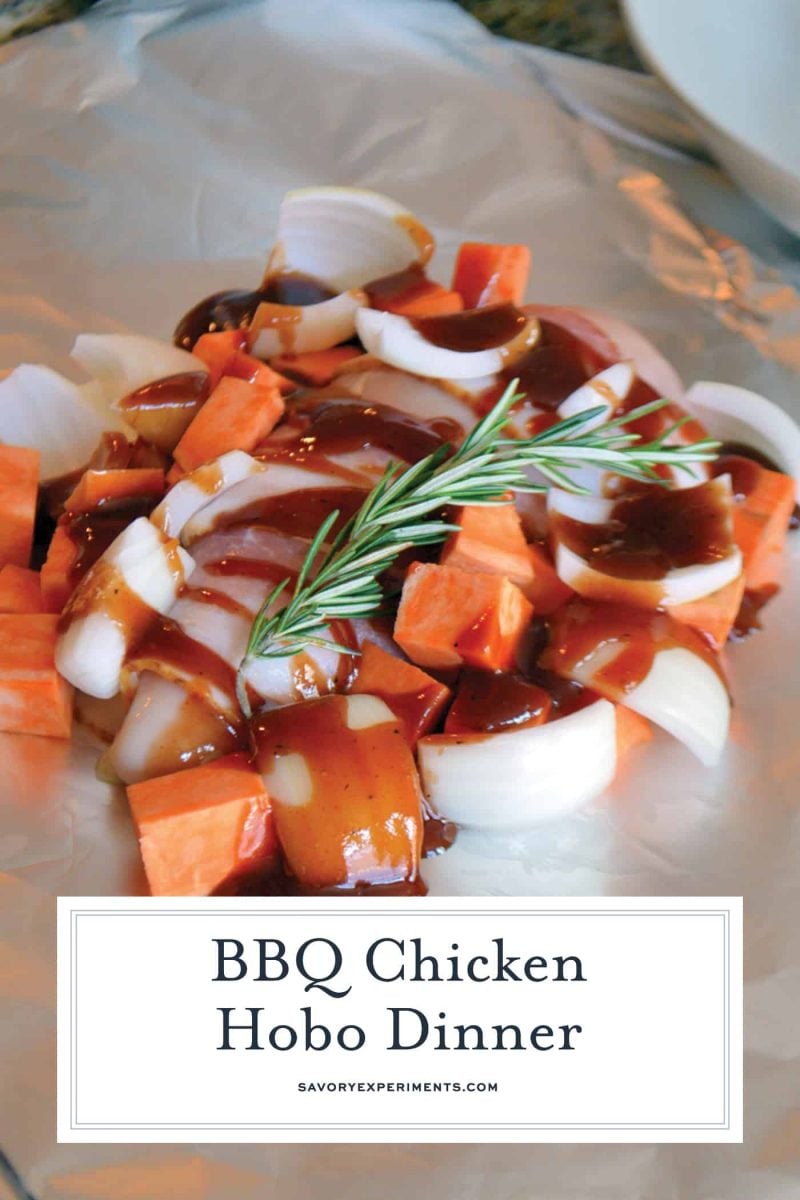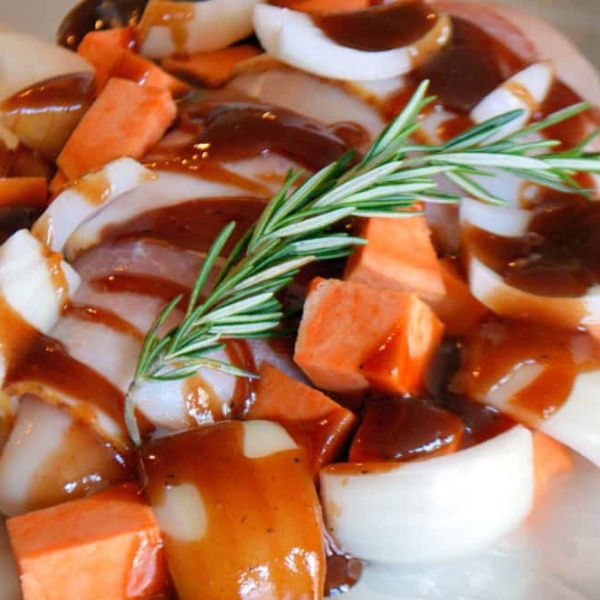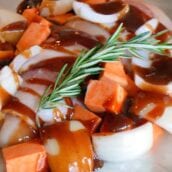 BBQ Chicken Foil Packet Recipe
This BBQ Chicken Hobo Dinner is a great dinner option for families on the go. These chicken foil packets are packed full of flavor for a weeknight meal!
Instructions
Make 4 large pieces of aluminum foil, about 12"x18".

Place 1 piece of chicken in each packet. Continue to evenly divide the BBQ sauce, bacon, sweet potato cubes, and onion. Top with 1 sprig of rosemary and then drizzle with the honey.

Fold over the edges and crimp to make a tight foil packet. I like to double wrap mine to ensure I don't lose any sauce.

Heat the grill to medium-high heat (350°F). Place each foil wrapped packet on the grill for 20-30 minutes, turning once. Unwrap one and check chicken for doneness using a digital instant thermometer. Bigger chicken takes longer while thinner cuts will be closer to 20 minutes.

Remove and allow to cool. Unwrap and transfer to serving dishes.

If you've tried this recipe, come back and let us know how it was in the comments or star ratings.
Nutrition
Calories:
801
kcal
,
Carbohydrates:
86
g
,
Protein:
56
g
,
Fat:
24
g
,
Saturated Fat:
7
g
,
Cholesterol:
173
mg
,
Sodium:
2064
mg
,
Potassium:
1572
mg
,
Fiber:
3
g
,
Sugar:
63
g
,
Vitamin A:
9625
IU
,
Vitamin C:
9.1
mg
,
Calcium:
95
mg
,
Iron:
2.5
mg