The Instant Pot is the perfect way to prepare brisket is you don't have hours to slow cook. You'll be blown away by how moist and flavorful my Instant Pot BBQ Brisket is!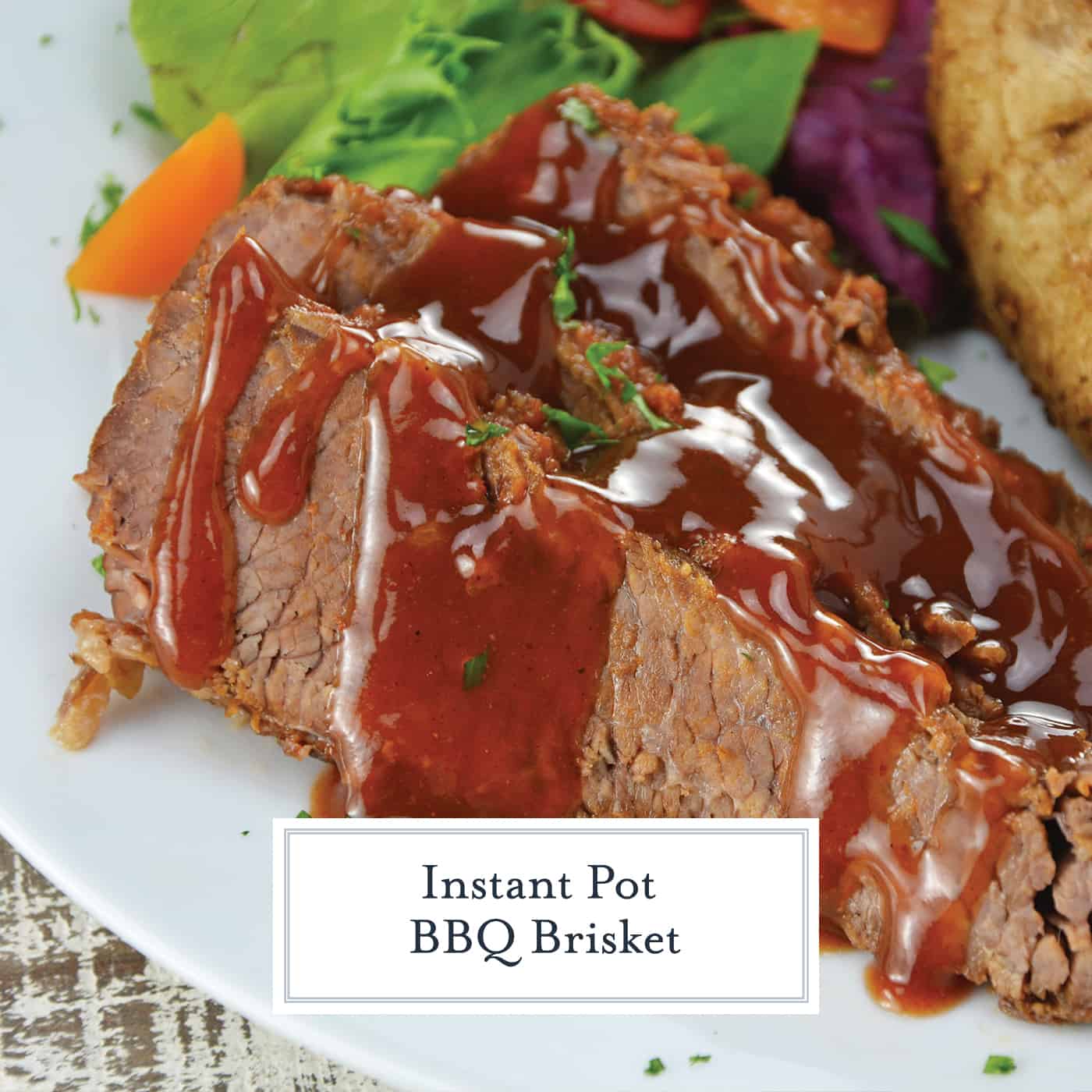 Instant Pot BBQ Brisket is the perfect dinner idea! Brisket will stay moist and offer loads of flavor.
This post is sponsored by the Certified Angus Beef® brand in conjunction with a social media campaign through Sunday Supper LLC. All opinions are my own.
I'm not going to lie, brisket is a tricky cut of beef. For that reason, many stay far away. For those folks, I am here to tell you that the Instant Pot is the ultimate way to make brisket fast!
Brisket is a cut of beef that comes from the chest of the cow. Because it is a tougher cut, it is nearly always slow cooked, whether it be braised, simmered or smoked. If slow cooked properly, the connective tissue breaks down resulting in fork tender beef.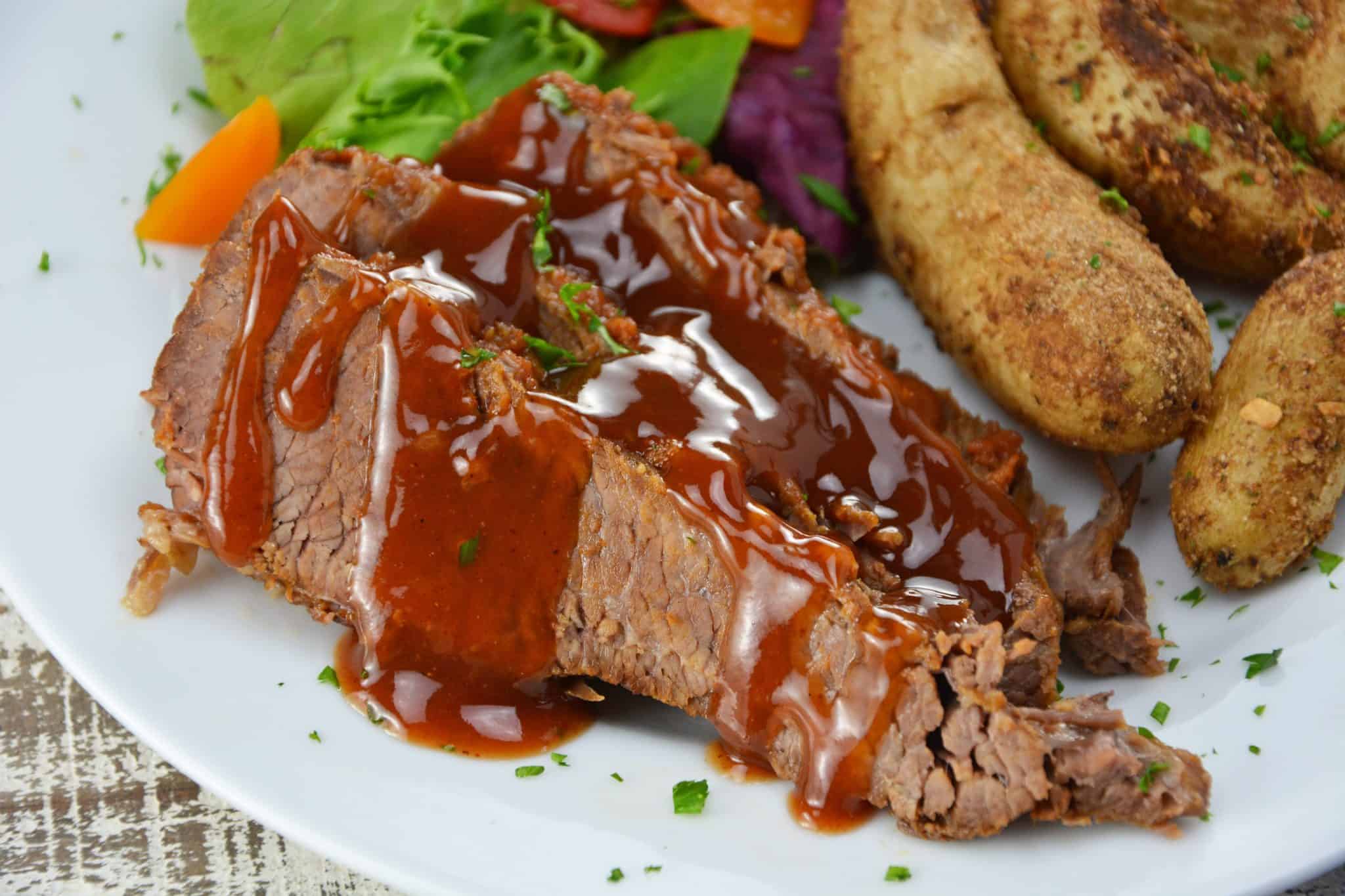 It is also known for being a large cut of beef, commonly sold in 3 and 4 pound increments. It is also a staple of Texas BBQ.
Making brisket in the Instant Pot combines the best of all these worlds. It speeds up the slow cooking process, allowing those connective tissues to dissolve in a fraction of the time.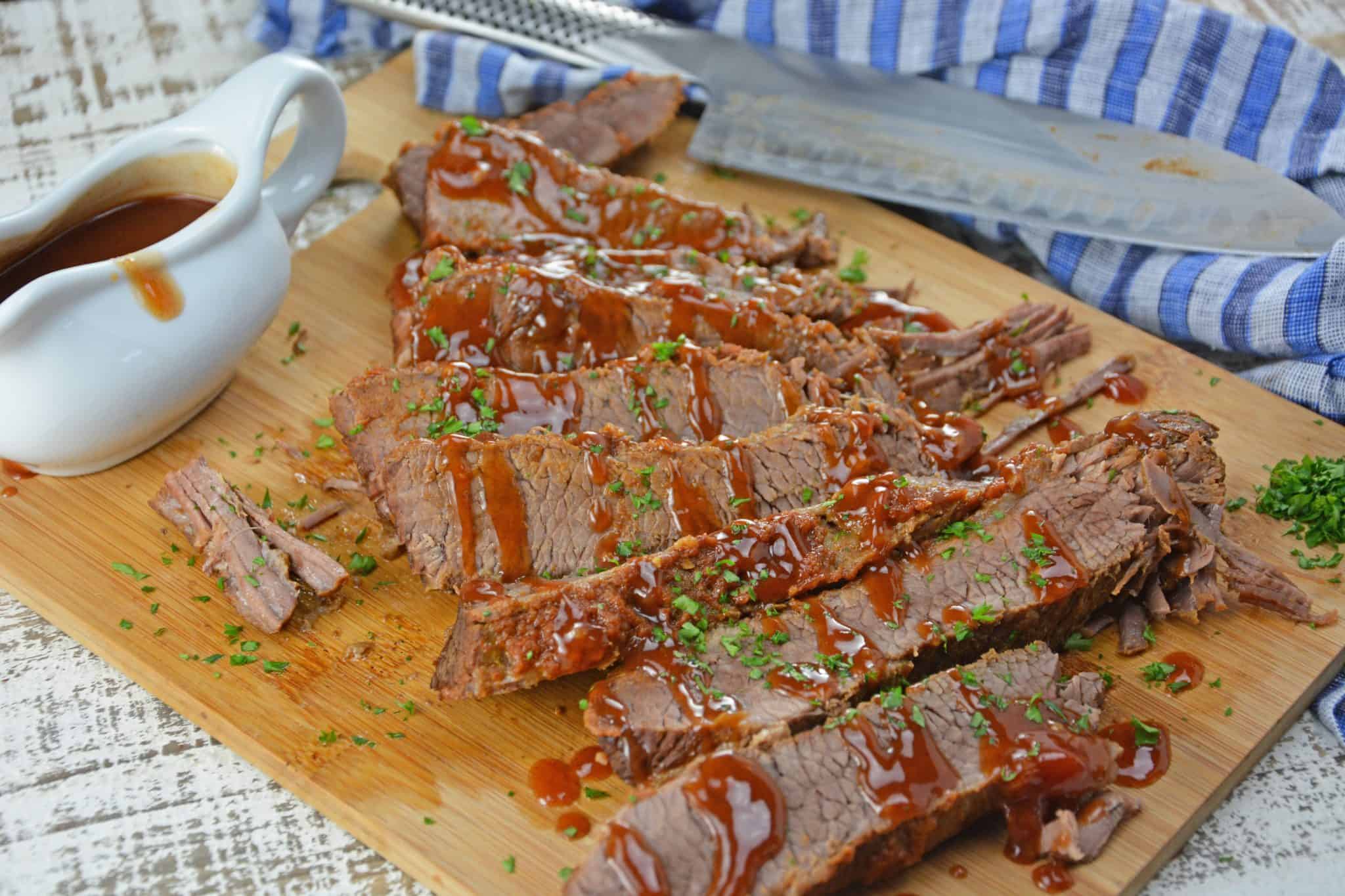 Another way to make any meat melt-in-your-mouth is to slice it against the grain.
This literally shortens the fiber because you literally cut them. Here is a nifty picture to show how to slice against the grain.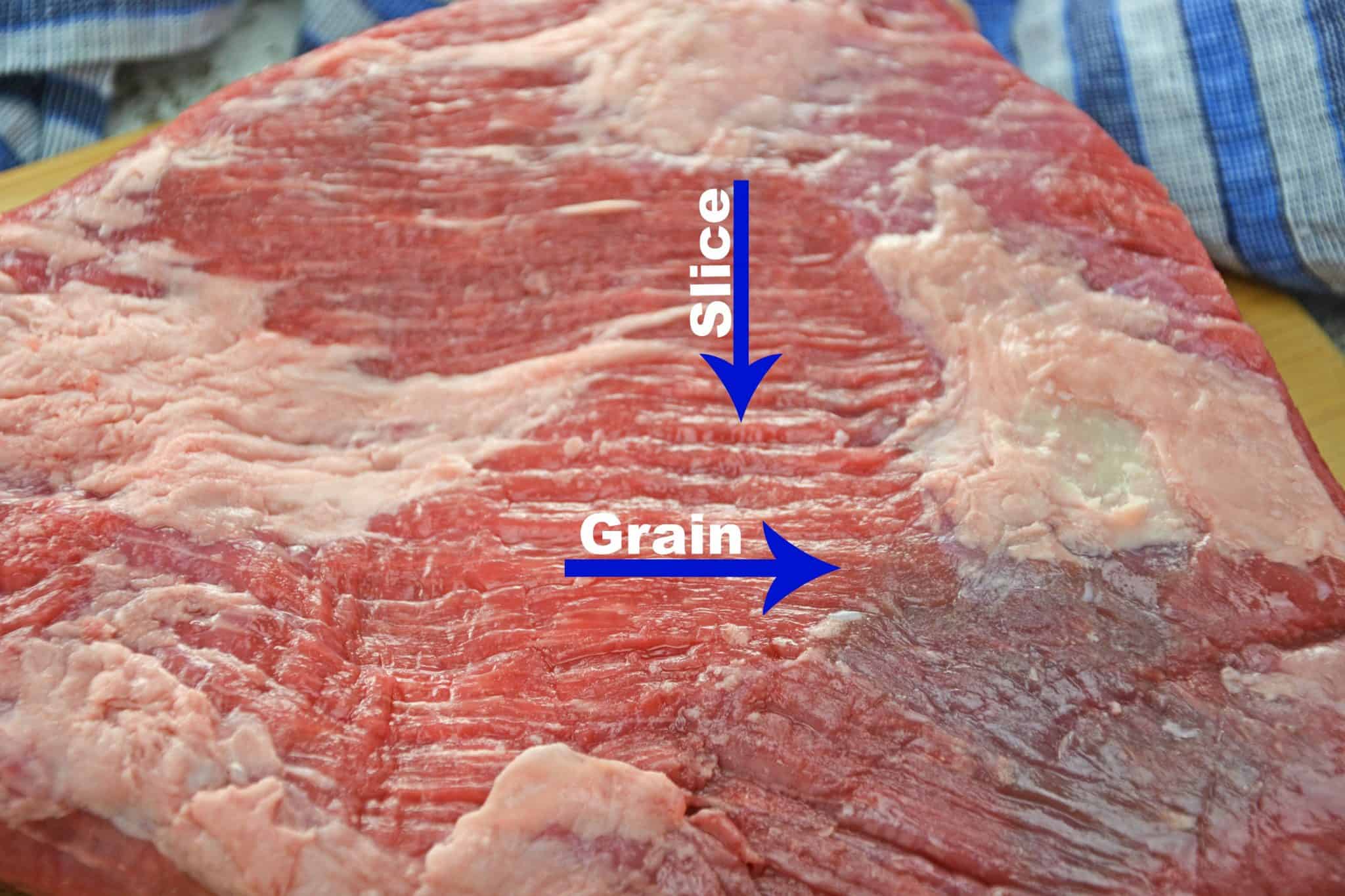 A light bating with a meat mallet also helps to break down those fibers before cooking even starts. The simmer liquid, a quick homemade BBQ sauce, imparts flavor and also serves as the slightly sweet dressing sauce.
When shopping for your brisket, make sure you are at a store that carries Certified Angus Beef® brand.The last thing you want after dropping some major coin on this lovely cut of meat is subpar quality.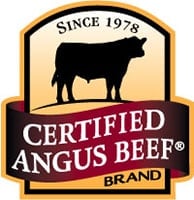 Certified Angus Beef® brand guarantees beef that has already undergone a rigorous 10 point quality check including marbling and maturity, consistent sizing and quality appearance and tenderness.
Brisket is commonly sold in two types of cuts: the first cut (known as the "flat") is the most common and is leaner, the second cut (known as the "point") is a fatty cut, resulting in ultra tender beef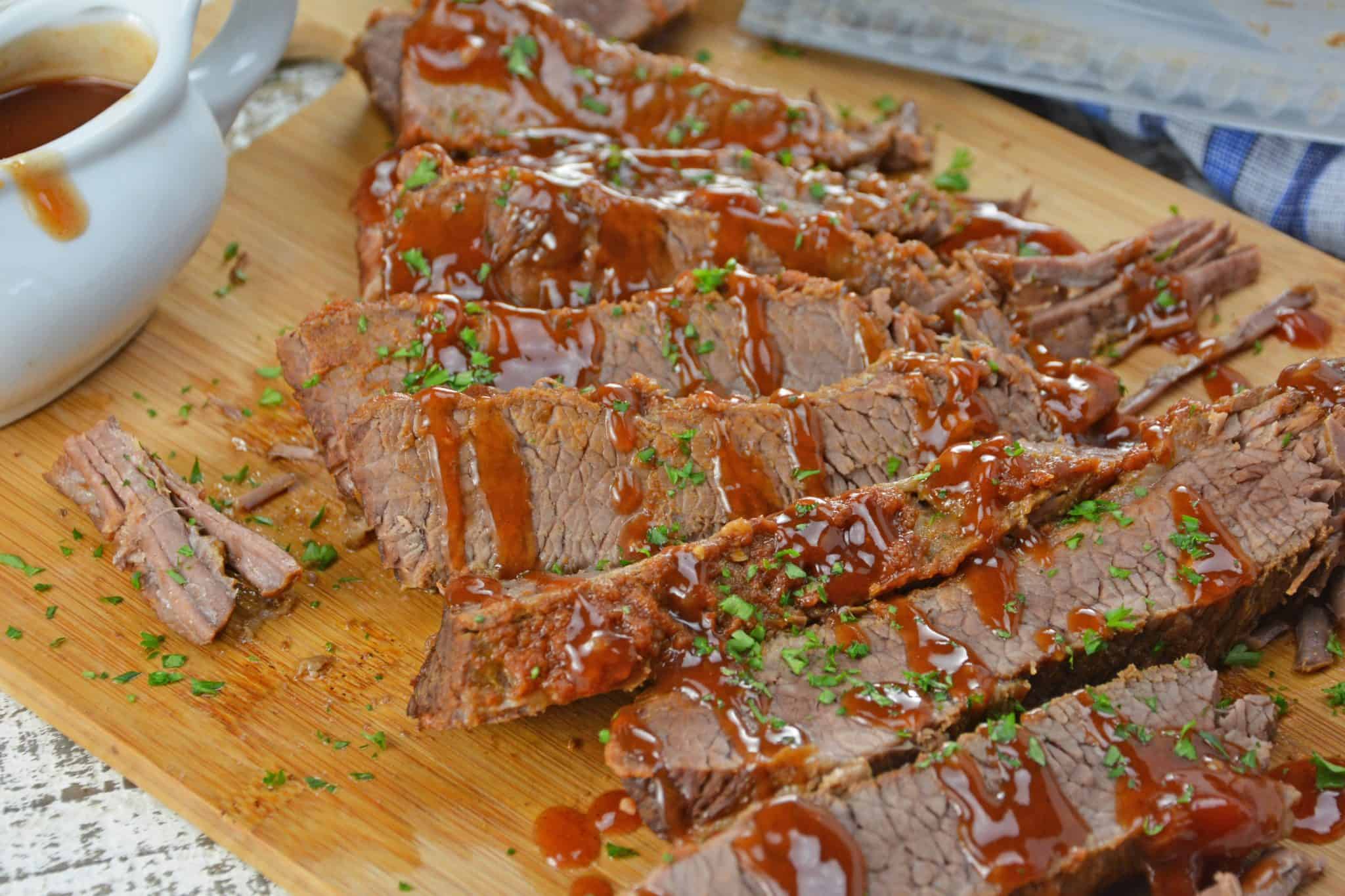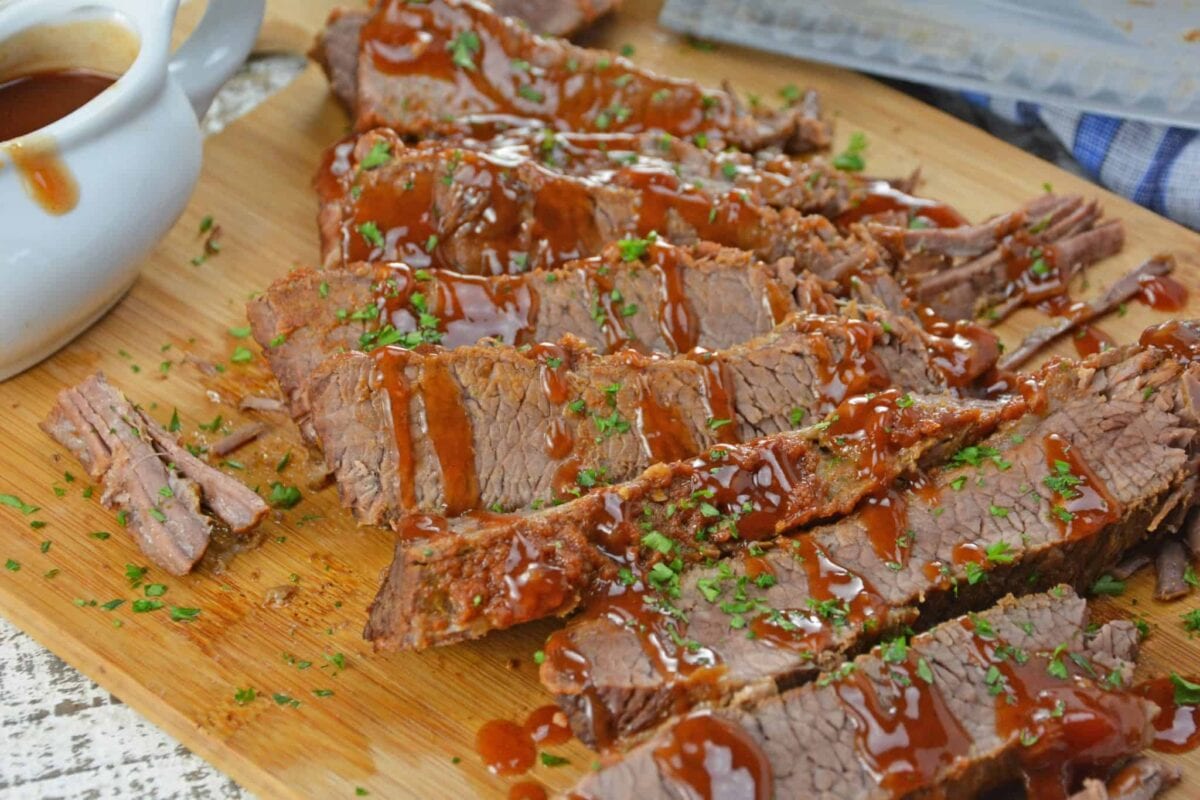 If you want to save even more time, use a bottled BBQ sauce instead of my quick homemade BBQ sauce. Adding Liquid Smoke is going to give you the illusion a long smoked brisket without the hassle.
Even if you use a bottled BBQ sauce, a few drops of Liquid Smoke will still give you that freshly smoked flavor.
Here are a few more homemade BBQ sauce recipes you might enjoy: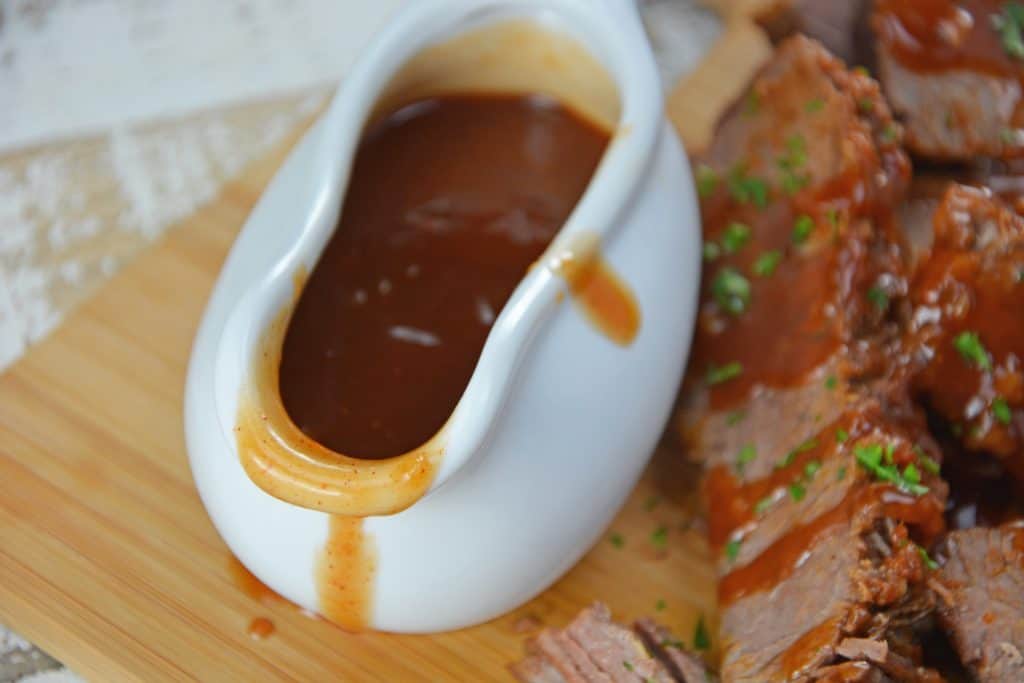 Questions you might have about how to make Pressure Cooker Brisket:
Are brisket and london broil the same thing? No, they are not, they are two different cuts of meat. London Broil is comes from the top round or bottom round part of the cow and is typically cooked with a quick broil to medium rare or medium, hence the name.
Brisket, on the other hand is from the front plate of the animal, and is generally slow cooked to break down fibers and is cooked to a medium well or well done.
What are brisket "burnt ends"? Oh, burnt ends are the bomb!!! Burnt ends are the ends of the brisket that get good and charred during the smoking or grilling process. However, since this recipe is made in an Instant Pot, I am sad to tell you that you won't get any.
Smoked brisket burnt ends are typically a little more expensive when you find them at restaurants because each piece of meat only produces two and the basic laws of supply and demand make these in demand and much more expensive.
Some people love them and others wonder what all the fuss is about.
Can brisket be overcooked? Yes, any meat can be overcooked. You really need to find the sweet spot of cooked before it gets rubbery. The first rule is to pay attention to the size of your cut.
If the recipe calls for 3 pounds and you throw in a 1 pound roast, chances are the cook time is too long and vice versa with a large cut of meat.
Brisket is a tougher cut of meat in general. Make sure you get a reputable cut of meat and tenderize it before cooking. Salt and the slow cooking process will also break down fibers to make it more tender.
Use of a liquid is also imperative. Make sure you look for these aspects in any brisket recipe.
I tell ya, I am hesitant to order brisket even at BBQ joints because it is the most commonly overcooked piece of beef there is and even some "experts" serve dry brisket. It is pretty hard to find that sweet spot, but pressure cooker brisket is one of the best ways to do it.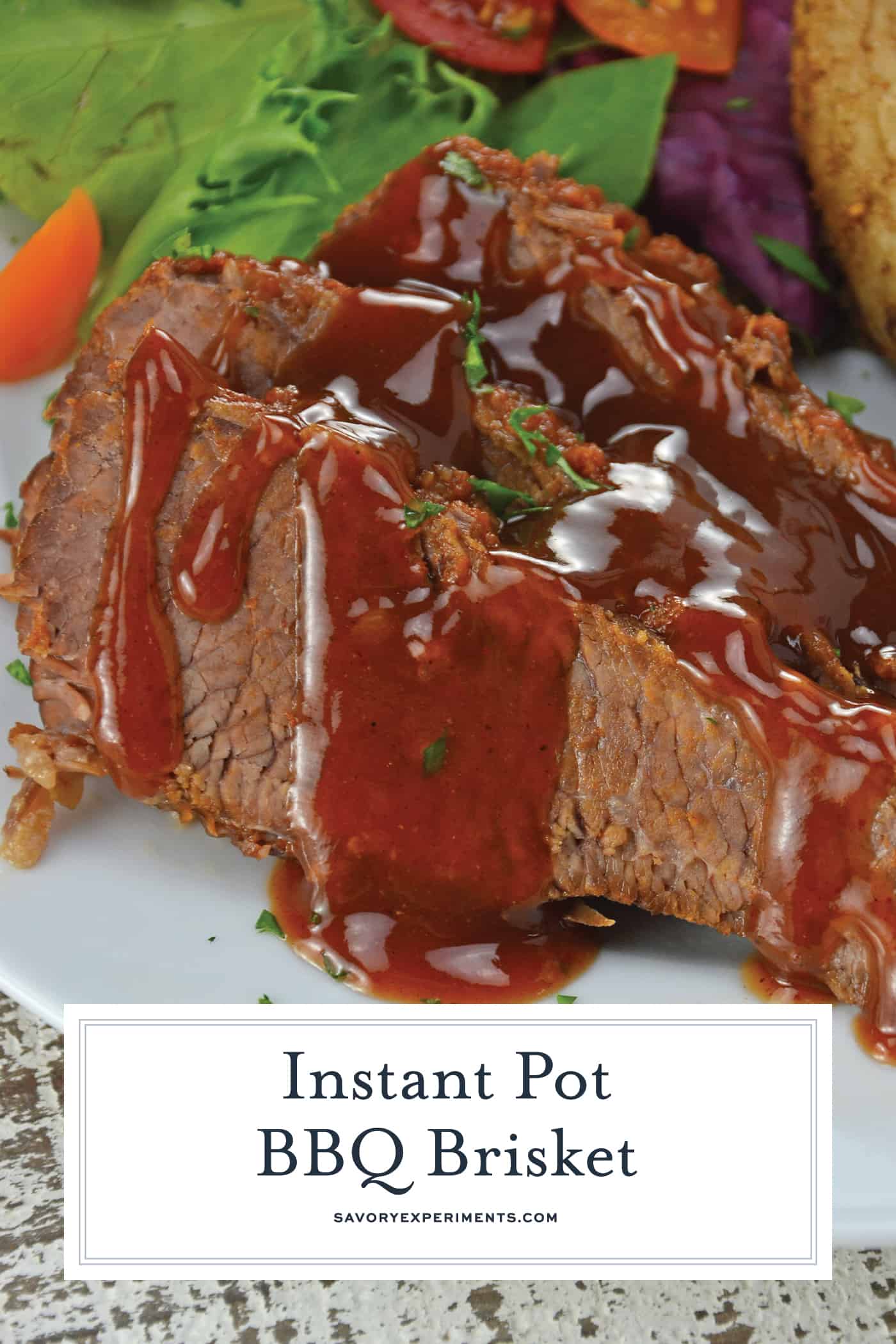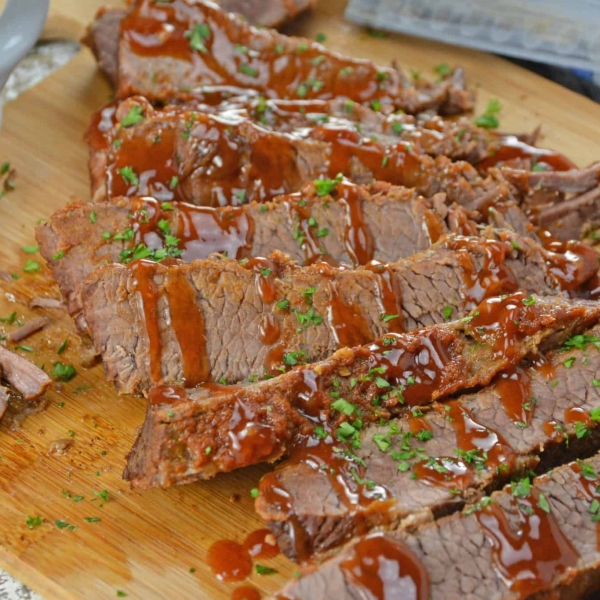 Instant Pot BBQ Beef Brisket
Instant Pot BBQ Brisket is the perfect dinner idea! Brisket will stay moist and offer loads of flavor.
Instructions
Combine Kosher salt, garlic powder and onion powder in a small bowl.

Using a meat mallet, tenderize both sides of the brisket, then massage with Kosher salt mixture. Set aside.

In a medium bowl, whisk together all ingredients for BBQ sauce including ketchup, apple cider vinegar, brown sugar, Worcestershire sauce, garlic, Liquid Smoke, chili powder, white pepper, celery salt and yellow mustard.

In the inner pot of your Instant Pot, combine onion, garlic and beef broth. Lay tenderized beef brisket on top and then cover with 1/2 of BBQ sauce mixture, set the rest aside for serving.

Lock the lid in place and set to Manual, high pressure for 60 minutes. Allow to naturally release for 10 minutes before quick releasing remaining pressure.

Meanwhile, heat the remaining BBQ sauce in a small sauce pan. Keep warm until serving.

Remove to a cutting board, slicing thinly against the grain.

Serve slices topped with reserved BBQ sauce.

If you've tried this recipe, come back and let us know how it was!
Nutrition
Calories:
585
kcal
,
Carbohydrates:
55
g
,
Protein:
49
g
,
Fat:
17
g
,
Saturated Fat:
5
g
,
Cholesterol:
140
mg
,
Sodium:
2563
mg
,
Potassium:
1193
mg
,
Sugar:
47
g
,
Vitamin A:
610
IU
,
Vitamin C:
6.8
mg
,
Calcium:
66
mg
,
Iron:
5.6
mg
For even more fabulous beef recipes, check out www.certifiedangusbeef.com .