This Navy Bean Salad is quick to pull together, perfect for cookouts, salads, pot lucks and more! With snappy flavors inspired by the Mediterranean, it is about to be your new favorite lunch, side dish or healthy snack.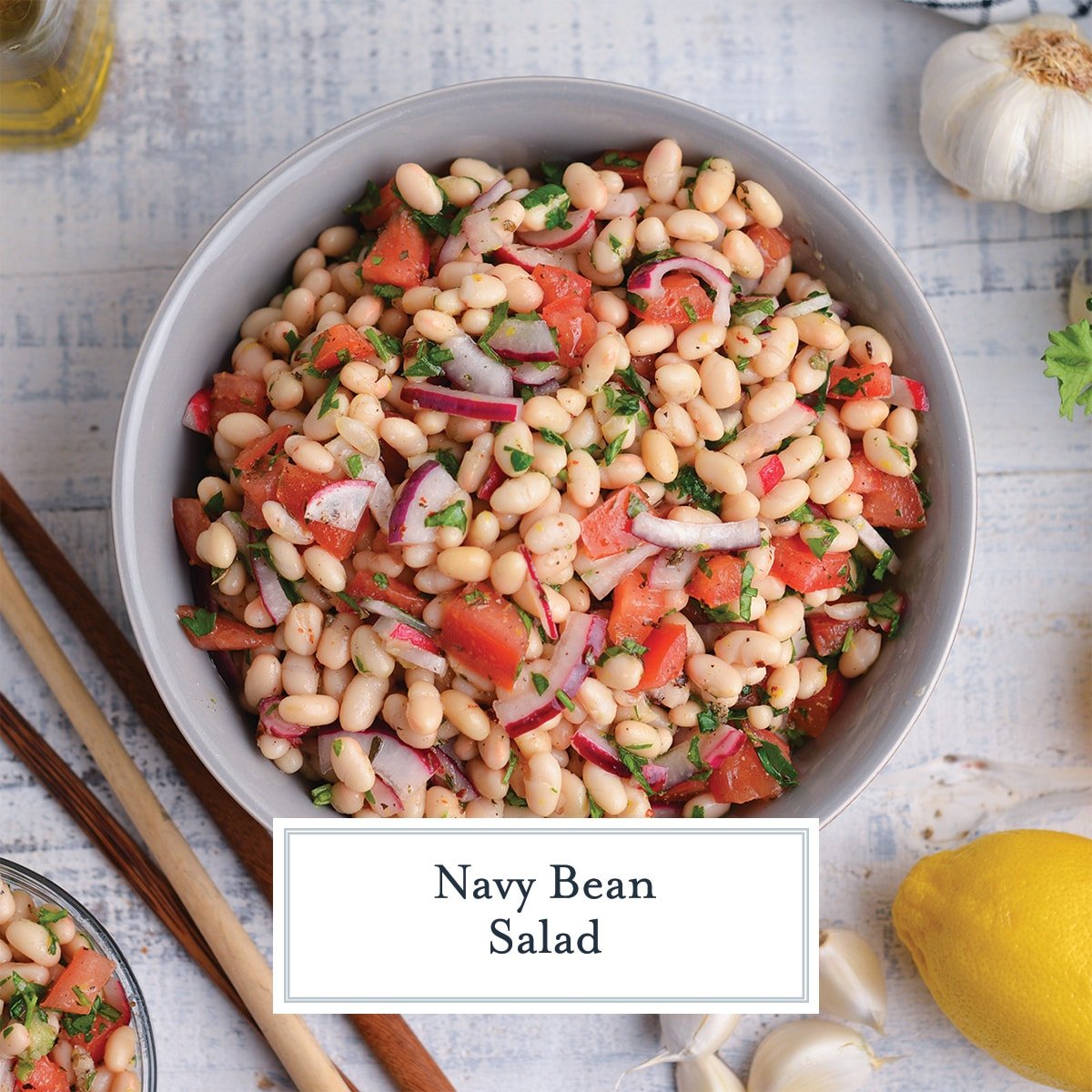 White Bean Salad and Navy Bean Salad The Same?
Beans are a common ingredient in so many global cuisines and many of them can be used interchangeably. Since navy beans are a white bean (not navy), this dish is commonly called a white bean salad or piyaz, which is a Turkish navy bean salad.
So yes, they are the same thing.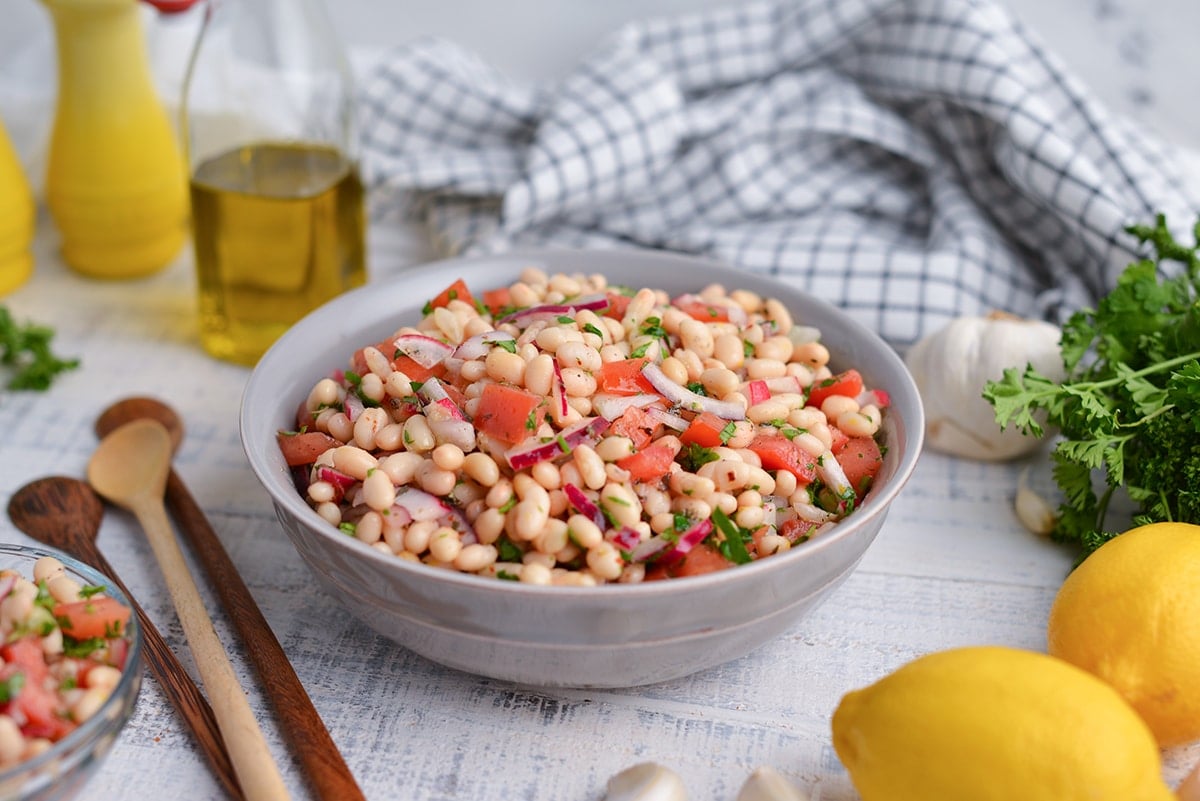 What are Navy Beans?
Navy beans have many alternate names, sometimes called a haricot, pearl haricot bean, Boston bean, white pea bean, or pea bean. They are a variety of the common bean native to the Americas.
It is a dry white bean that is smaller than many other types of white beans, and has an oval, slightly flattened shape. Even though it is common in the Americas, it is commonly used in many Mediterranean dishes that require beans before of its texture and taste.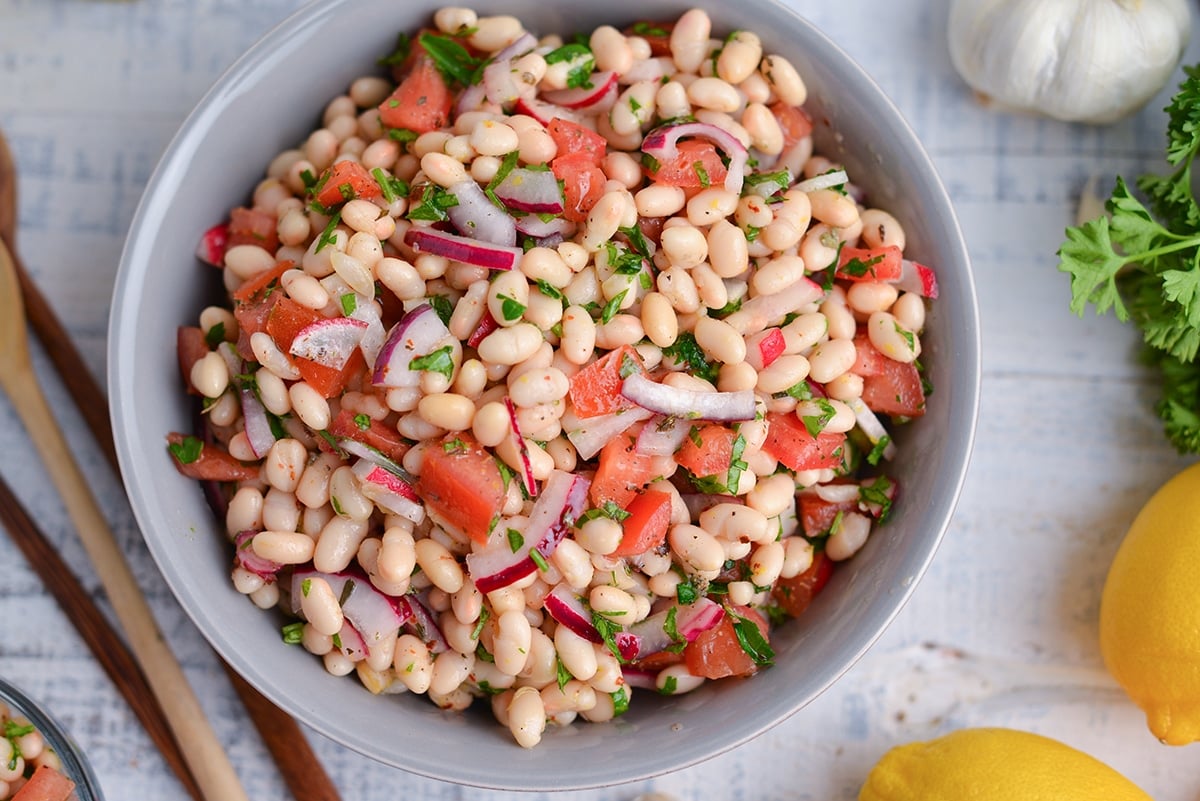 What do Navy Beans Taste Like?
Navy beans have a soft, velvety texture and a slightly nutty taste. They are smooth and mild, making them excellent for a wide variety of dishes and a blank slate that can soak up flavors.
When mashed, they can also serve as a thickening agent.
What Else Can be Used for Navy Beans?
Cannellini beans, garbanzo beans, great northern beans, white kidney beans or flageolet beans- any variety of white beans.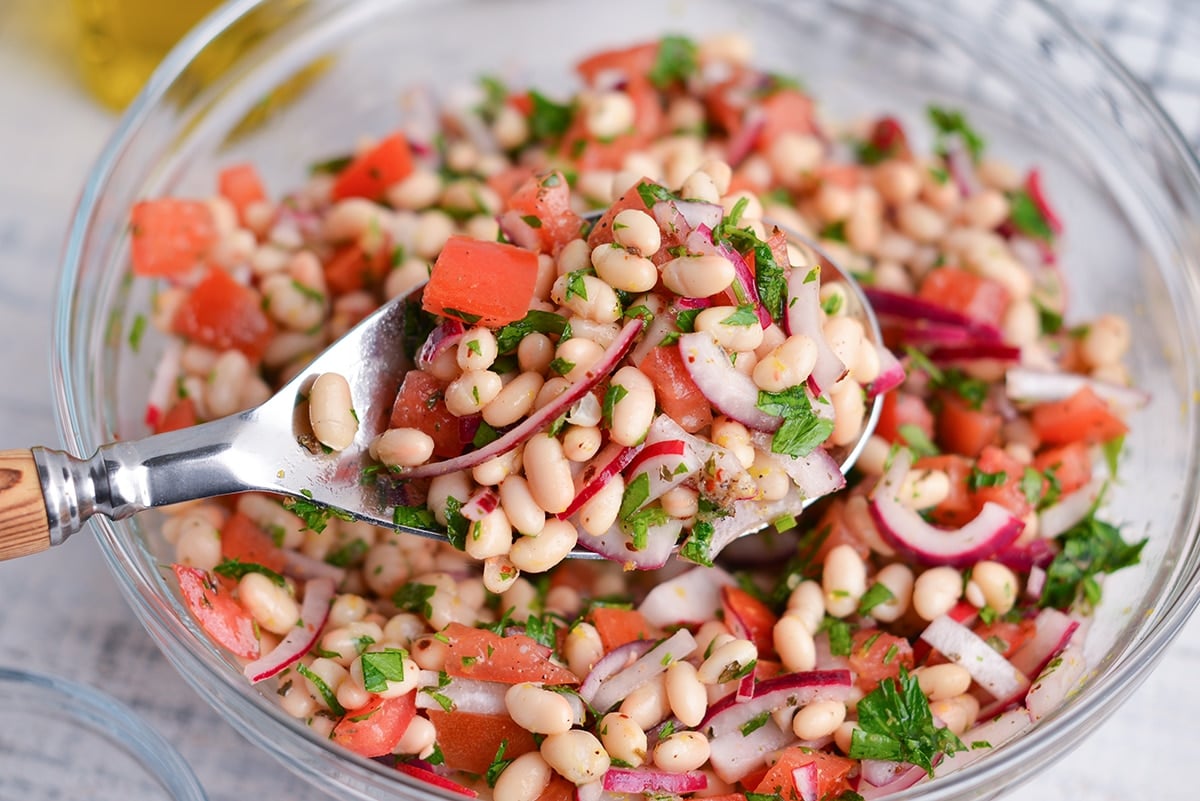 Substitutions for Coriander
Coriander isn't the traditional spice for this bean salad recipe, in fact it is sumac. But I don't typically cook with a lot of sumac and since it starts to degrade after about 6 months, I prefer to use a spice I do use more frequently. And that is coriander.
Coriander has a similar lemony flavor with warm, earthy undertones. Because of this, you can also easily omit it and just add more lemon juice and lemon zest.
Za'atar is another good swap and contains sumac, but also has other floral and bright flavors.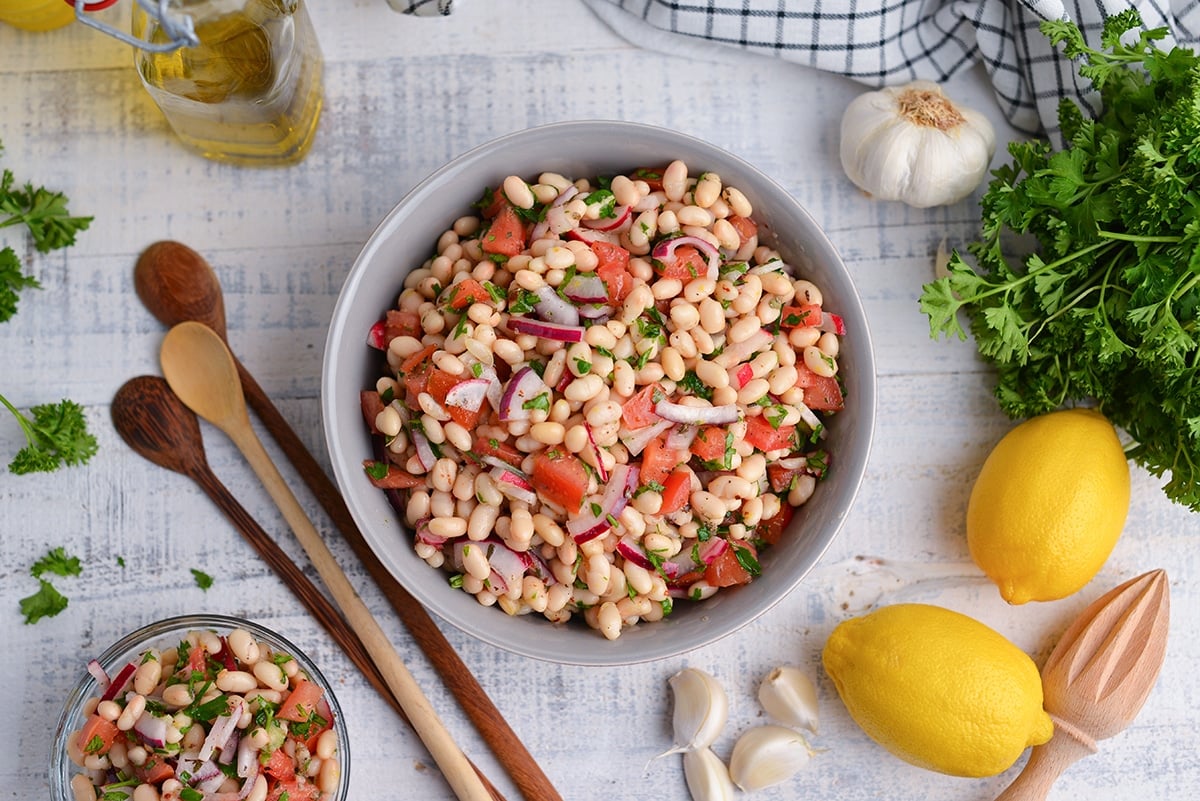 What's in Navy Bean Salad?
The ingredients in this easy bean salad are super verstile and generally pantry staples. Feel free to add or decrease volumes of things you love and those you might not. Measurements do not have to be exact, feel free to eyeball it.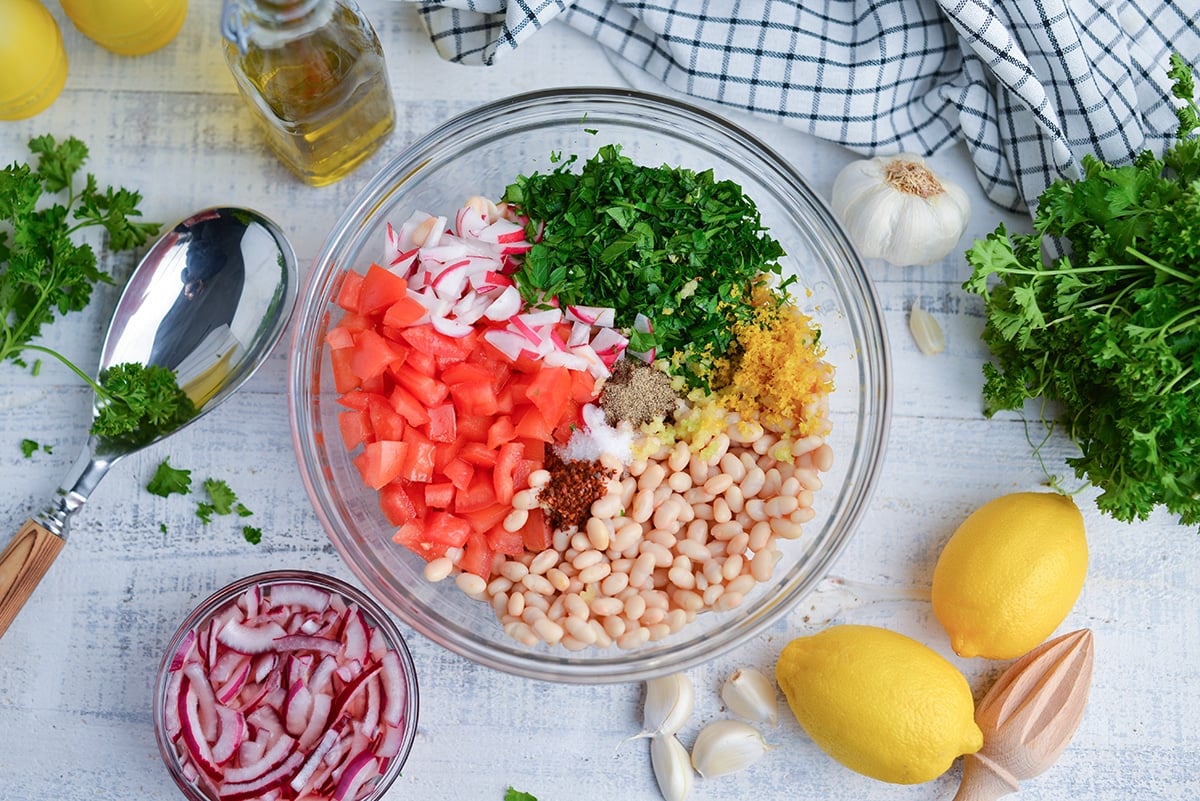 Red Onion– This dish has a heavy and forward onion flavor made a tad milder by a quick soak in vinegar. Think of them as a light pickled onion. You can use pickled onions, if you wish, or swap these out for a milder onion flavor like sweet onion, shallot or even green onions.
Apple Cider Vinegar- Used mostly for softening the onions, many other varieties of vinegar can be used such as white vinegar, champagne vinegar, white balsamic vinegar or red wine vinegar. If you love the heat of onion, skip this step and just toss them in raw.
Navy beans– Make sure to rinse them very well in cold water and tap to get excess water off.
Tomatoes– I like to use grape tomatoes or plum tomatoes because they have less pulp and seeds than other varieties. Chop into bite-size pieces.
Flat Parsley– Fresh flat parsley, sometimes called Italian parsley, has a fresh, slightly peppery taste. Don't waste time trying to take off all of the leaves, add the stems into the chop too! Other fresh herbs are welcome too!
Radish– An element of the bright and vibrant flavors, it adds crunch to the mix.
Fresh Mint– The smell alone is intoxicating, but the flavor will bring this navy bean salad recipe to life. If you have dried mint, use 1-2 teaspoons. And if this flavor doesn't excite you, just leave it out.
Garlic– I do love garlic, but for this salad, fresh garlic has the tendency to overpower, so just stick with grating one clove.
Fresh Lemons– Zest adds a pure lemon flavor while the juice is the acidity and touch of tart that helps balance the veggies and spices. Some prefer lime juice.
Extra Virgin Olive Oil– Use a good quality, first press olive oil for this dish since it will be so prominent.
Ground Coriander– A spice made from coriander seeds, which is from the cilantro plant.
Coarse Kosher Salt & Black Pepper– Make sure to use a coarse salt, not a fine salt or table salt. Freshly ground pepper will provide the best flavor profile. White pepper is milder.
Aleppo Pepper– A dried flat pepper commonly seen in Turkish, Middle Eastern and Mediterranean cuisine. Also known as the Halaby pepper. You can used red red pepper flakes as a substitute.
Other variations include red bell pepper, black beans, green beans, olives, chopped kale or any other fresh vegetable you enjoy.
How Do You Make Navy Bean Salad?
It doesn't take long to make this great side dish using simple ingredients.
Start by placing the sliced red onion with apple cider vinegar in a small bowl and set it aside. This is basically a mini pickling session. They will soften a tad and the vinegar will remove a slight amount of bite.
In a medium to large bowl, combine the navy beans, tomatoes, parsley, radish, mint, garlic, the zest of 1 lemon and the juice of two lemons, olive oil, coriander, salt, aleppo pepper and ground black pepper. Drain the red onions, discard apple cider vinegar, and add to the navy bean mixture. Toss well to coat and combine.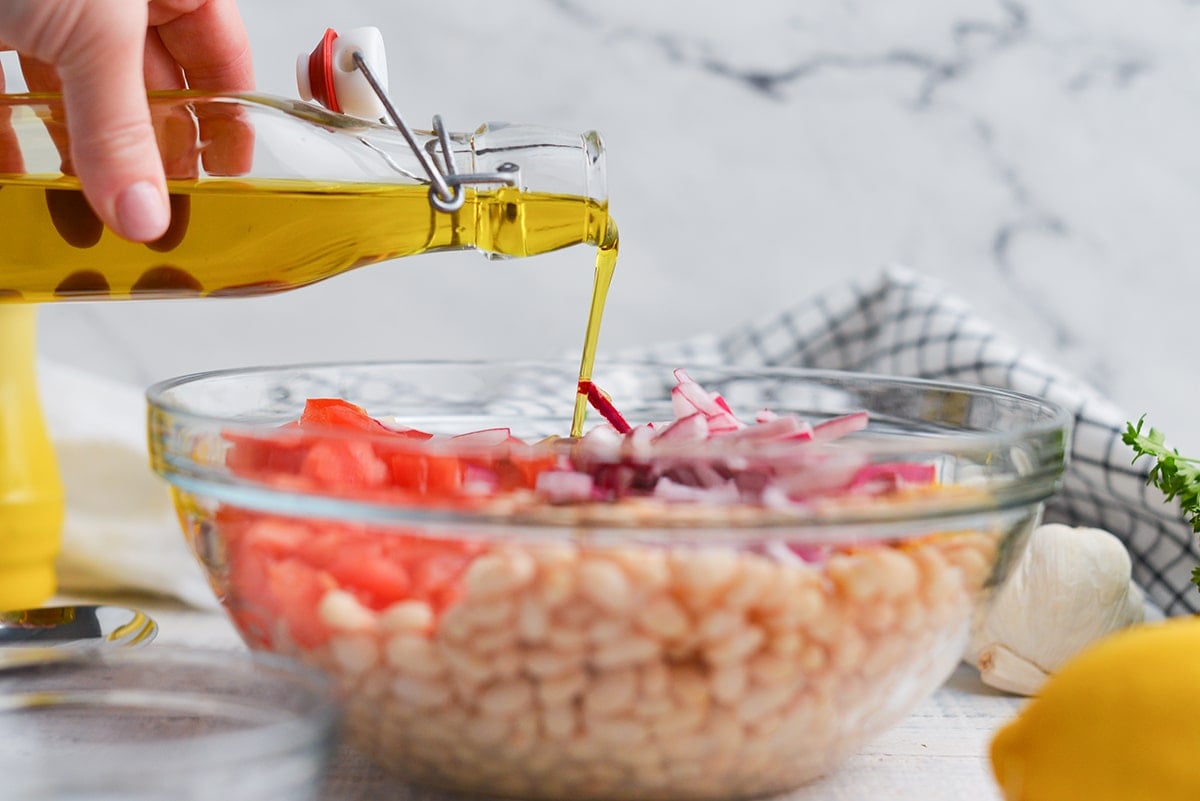 Cover and allow to sit for 30 minutes so the flavors can marry and marinate. Toss again before serving.
This simple salad can be served chilled or at room temperature.
How to Soak Dry Beans
We used canned beans because the purpose of this recipe was ease and brevity, but if you prefer to prepare your beans from scratch here are instructions.
In a large bowl, cover 1 pound of dry beans with water by 2 inches.
Add 2 tablespoons of coarse kosher salt per pound of beans, stirring well.
Allow them soak for at least 4 hours or up to 12 hours.
Rinse and drain well before using.
This step can be done ahead of time and beans can be stored in an airtight container for up to a week in the fridge.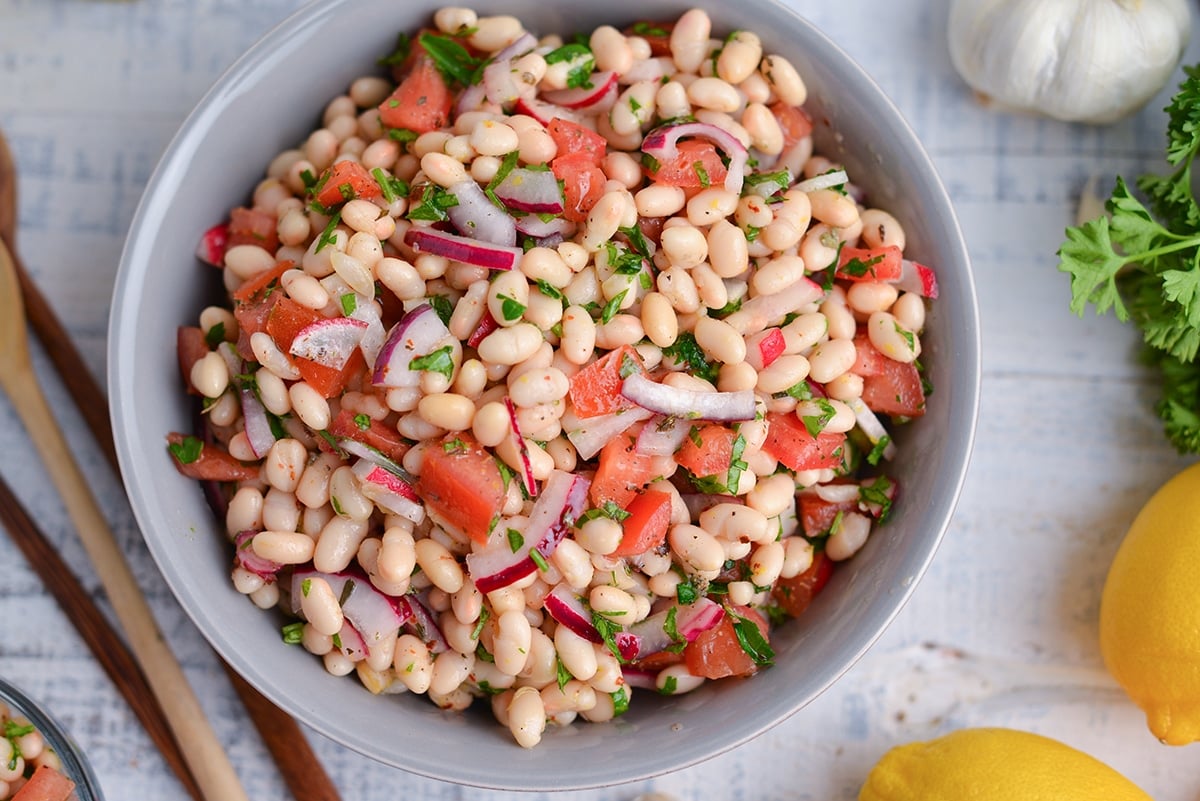 Serving & Leftovers
Make Ahead– This salad is an excellent choice for potlucks, gatherings, parties and BBQs because it can be made up to 3 days in advance. Keep in mind that the acidic nature of lemon juice will pickle the ingredients a bit, so it will continue to change the flavor profile as it sits.
These will also absorb into the ingredients, so I recommend tossing with a small amount of olive oil before serving to give it some texture back.
All of this also make this bean recipe great for meal prep.
Leftovers- Leftovers can be stored in an airtight container for up to a week. Stir well before serving. Consider tossing small amounts of leftovers into your next leafy green salad or in with rice.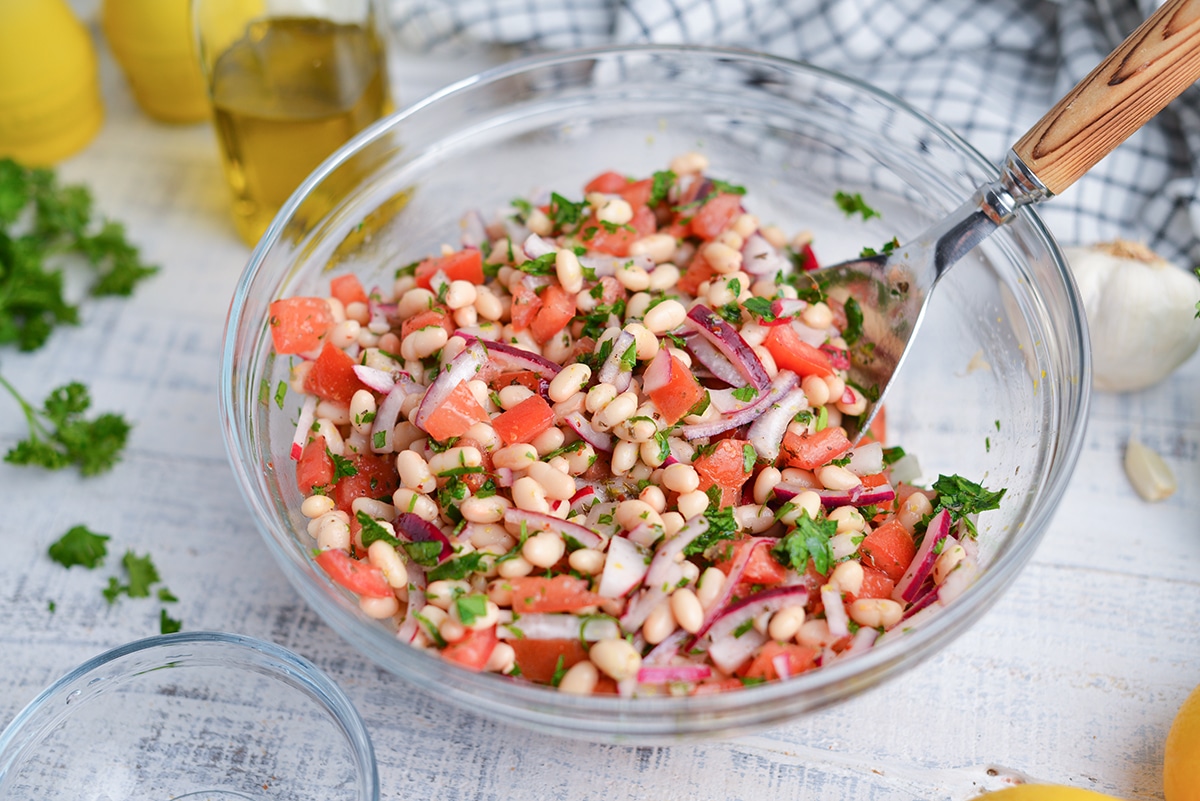 Serving Suggestions
Navy bean salad can be served as a hearty side dish, light lunch or mezze or over grilled meats. Pan seared lamb chops, grilled steak or lemon pepper chicken.
Consider adding your own customizations with the addition of crumbled feta cheese, chopped carrots or bell pepper or celery.