While one could easily spend weeks exploring Rome and still not see all there is to see, you can also spend just a weekend and hit all of the hot spots.
Rome is a walking city and luckily, most of the highlights are all within walking distance to one another. So put on your walking shoes and your FitBit and let's begin!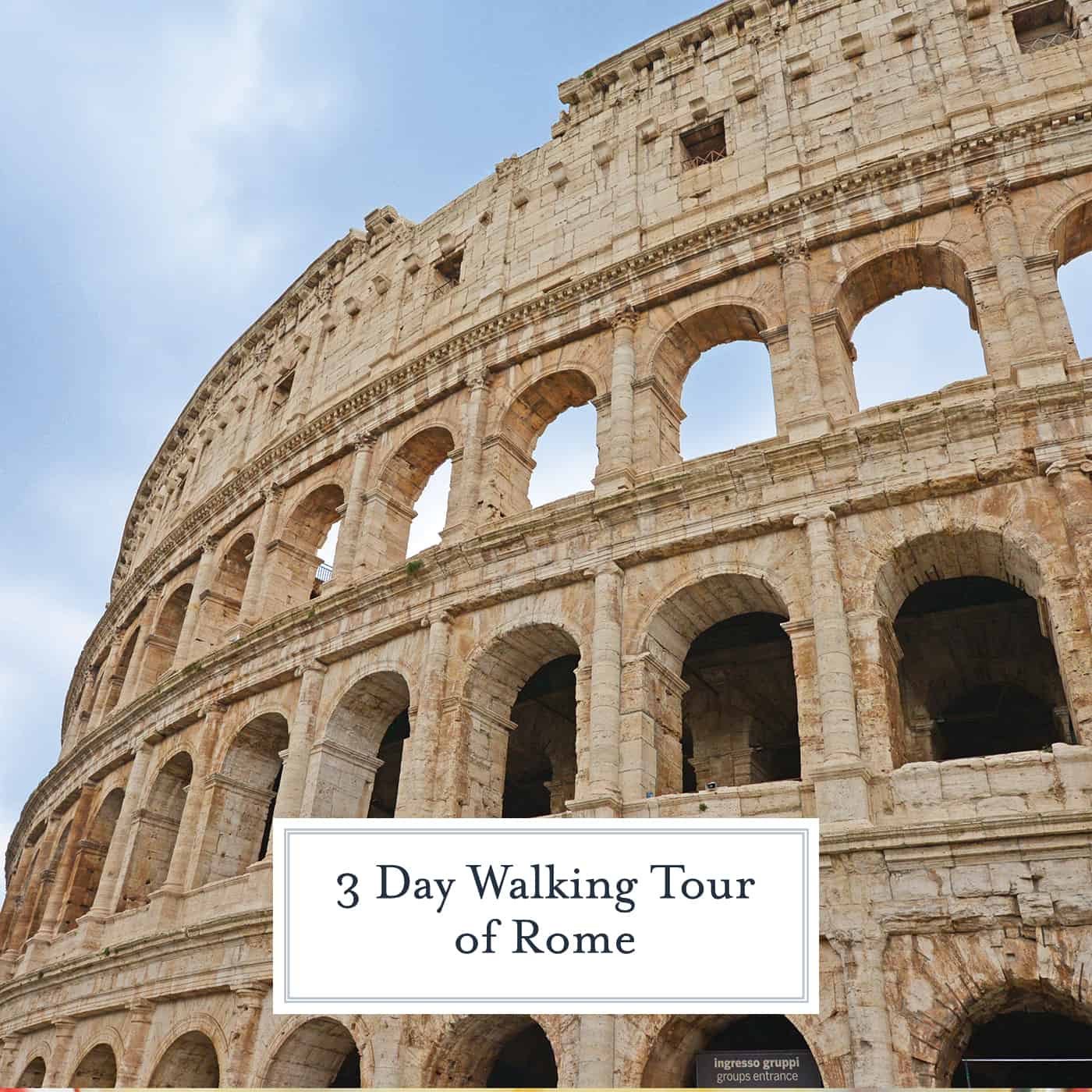 Get ready to start planning your 3 day walking tour of rome! Before leaving check out my Rome travel tips and must-eat items on Roman menus.
Start with a few travel tips for Rome:
ONE. All religious sites require covered knees and shoulders. Wear layers and plan accordingly.
TWO. Breakfast in Italy is espresso and a pastry. You'll see some hotels advertising an "American breakfast", which is just what you think- continental and warm foods.
Also, don't order a cappuccino after noon, it considered a social fopaux and Italians take coffee seriously.
THREE. "Skip the line" tickets are totally worth it. Pay the extra money and skip the line. You are already spending a small fortune to visit, why waste time in line?
FOUR. Everyone gets an early start, especially tourists and tours, so sometimes the best times to visit museums and the Vatican is late afternoon.
FIVE. Plan your trip in spring or fall. Americans aren't taking summer vacations and the temperture is comfortable for walking.
SIX. Tipping isn't customary, but appreciated. Carry cash to tip, when using a card, there is no option to leave gratuity.
SEVEN. Museums and historical sites are free on the last Sunday of the months, which sounds great, but in actuality is horrible. They are packed and many of the skip the line and behind the scenes tours don't operate on this day. Also, some are closed on Mondays. Look it up ahead and plan accordingly.
EIGHT. You can buy tickets online ahead of time, but also know that there are generally individuals offering the same tours outside of each location, so don't panic if you didn't get them ahead of time.
NINE. Dinner starts late. Some restaurants don't even open until 8:00 p.m., so have an afternoon snack! And by all means, stop and eat and eat often. Italian food, even at driving spots, is so good!
TEN. Order the house wine. One of the things I loved so much about Rome was the lack of pretentiousness around wine. Just ask for red or white and you'll get something fabulous with no pomp and circumstance.
What to eat in Rome:
Carbonara – Eat ALL the carbonara you can handle. Creamy, egg-based sauce with pancetta.
Prosciutto and Melon – salty and sweet at its best.
Porchetta – slowly cooked, deboned pig.
Gelato – Acceptable any time of day is a scoop of creamy Italian ice cream.
Supplì -a gently fried rice-ball mixed with ragù and mozzarella.
Fiori di Zucca – fried zucchini flowers stuffed with cheese.
Baccalà – salted cod is on every menu and it is goood.
Carciofo alla Roman – Roman artichokes lightly braised and fork tender.
Cacio e Pepe -salty pecorino cheese with freshly ground black pepper.
Now that you are armed with a few travel tips and what to look for on menus, here is your 3 day itinerary! Have fun!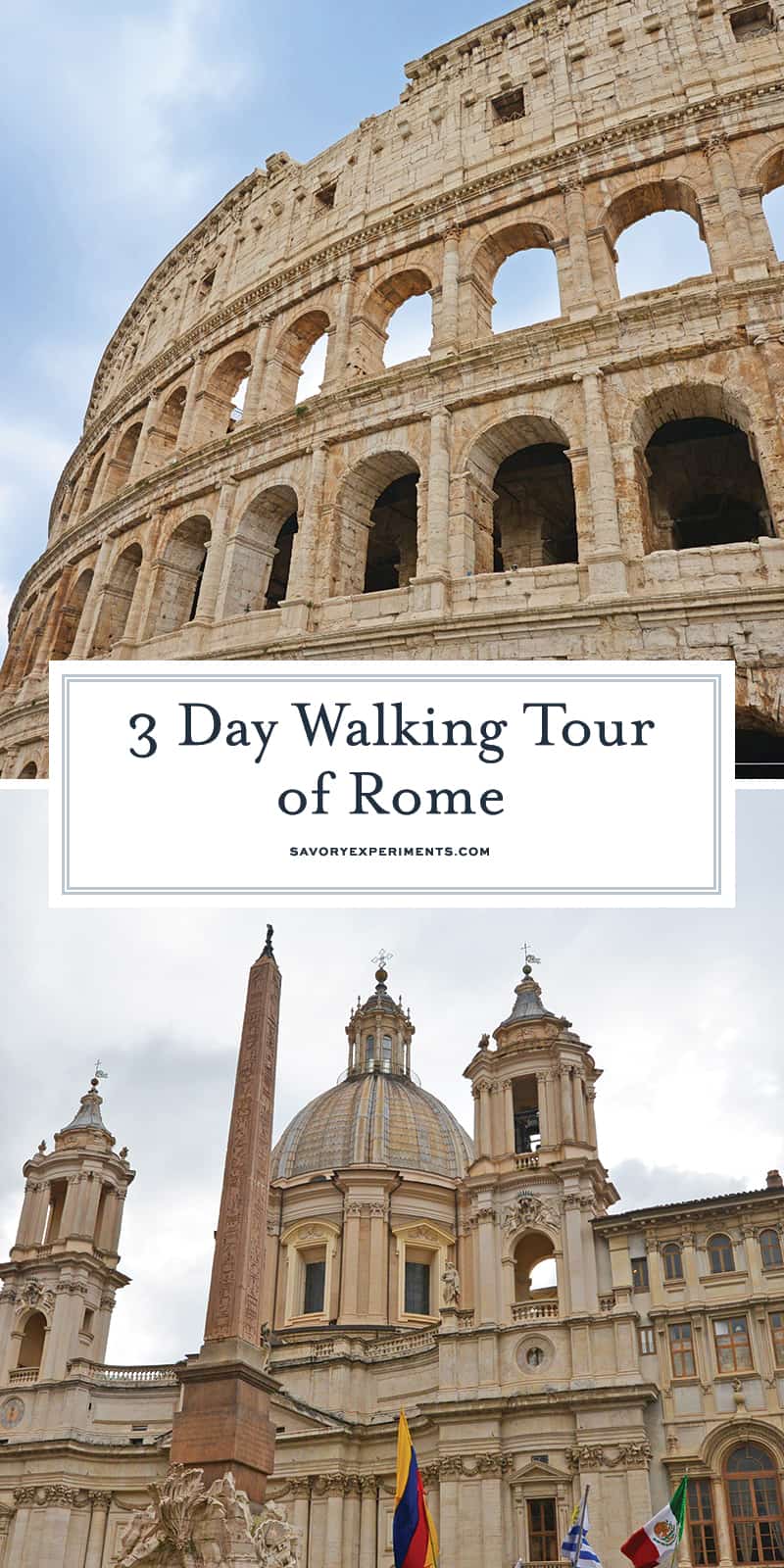 Make sure to check out more of our travels from Italy– we are sure they will help you plan your best Italian holiday!