These delicious applesauce brownies are chock full of rich chocolate flavor, from the brownie itself to the sweet topping.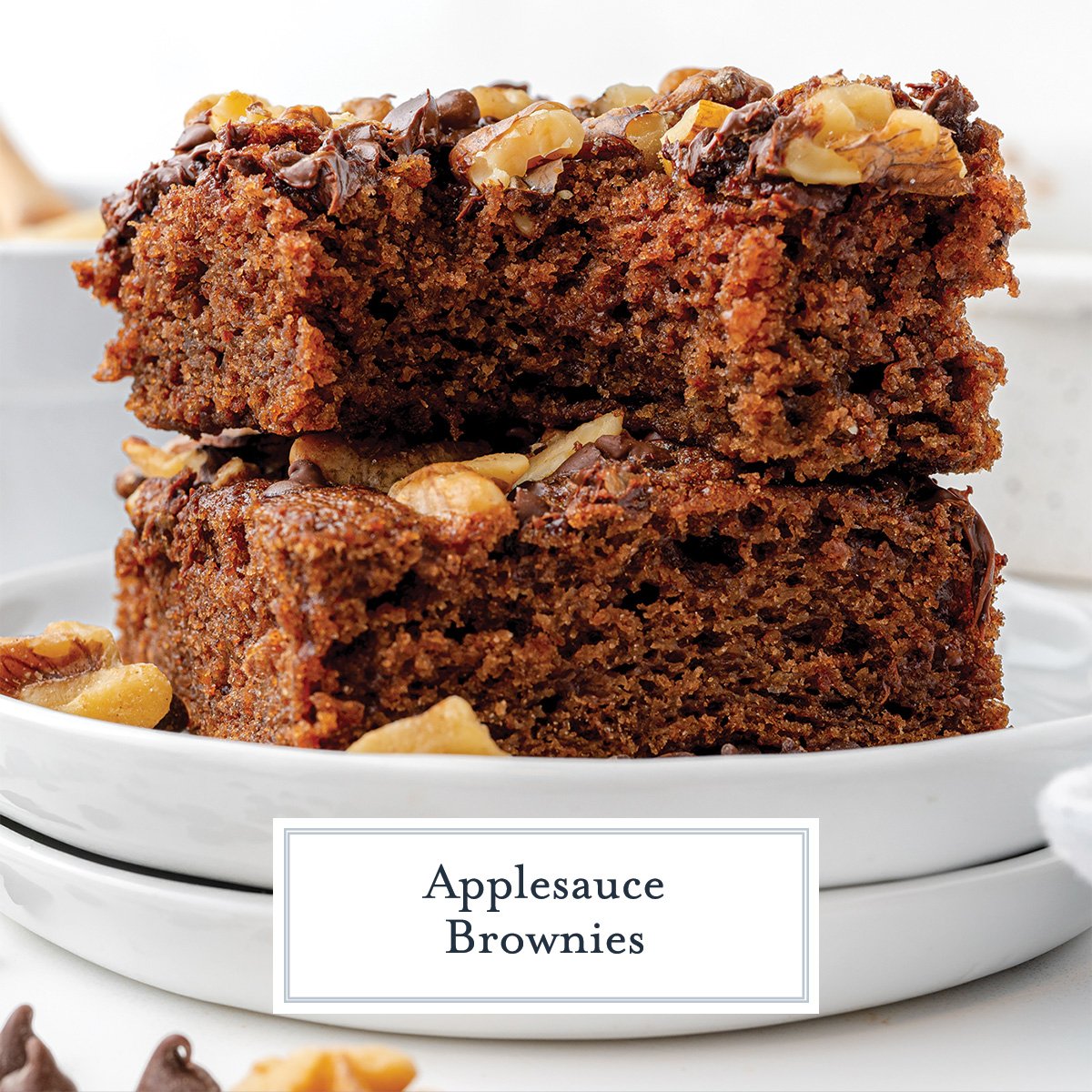 Traditional brownie recipes often call for oil but this one uses applesauce instead. Applesauce is a great replacement for the oil — it keeps the brownies moist without altering the flavor.
Plus, you have the added bonus of a lower fat brownie that has some extra nutrients!
If you're looking for a brownie that tastes amazing but has less fat (yet all the flavor), this could become your go-to brownie recipe.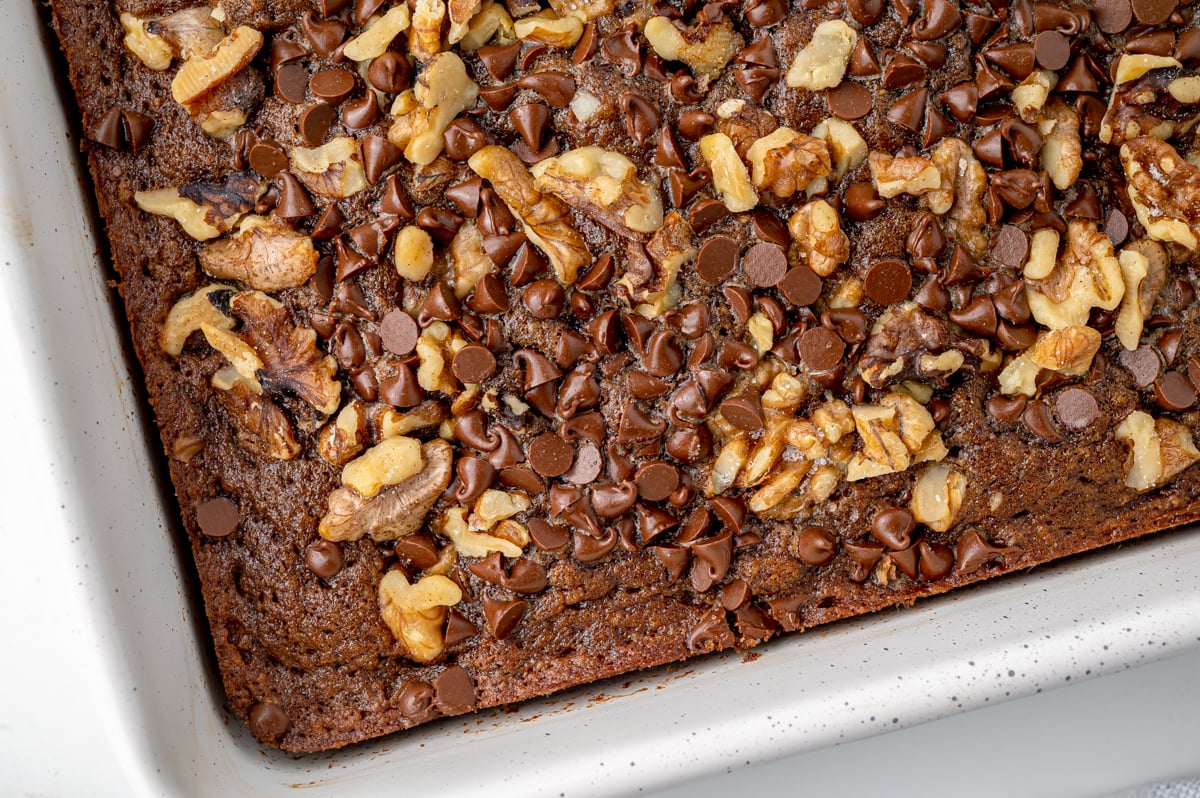 Why You'll Love Applesauce Brownies
If you love traditional brownies, you'll enjoy these, too.
Delicious – These brownies made with applesauce taste just as good as regular brownies made with oil.
Easy – There's no need to rely on a brownie mix when you can make homemade brownies this easily.
Versatile – You can serve these at birthday parties or cookouts or you can pack them in lunch boxes.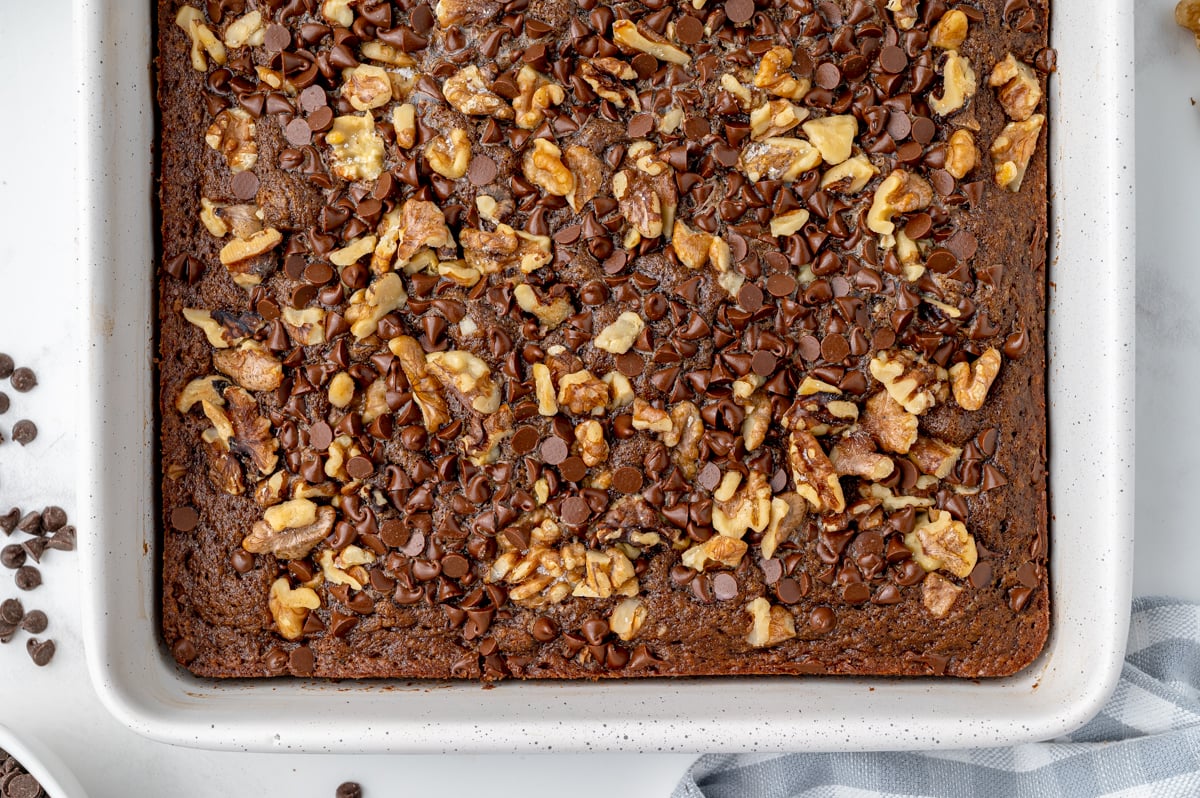 Ingredients
One of the best things about these easy fudgy brownies is that you likely have most of the ingredients already!
Brownies:
Unsalted butter – Softening the butter ahead of time will make it easier to mix the batter.
Sugar – Granulated sugar works best for this recipe.
Large egg – Use a large sized egg to make sure you have just the right amount. Egg size is directly related to the how moist (or dry) brownies will be.
Vanilla extract – You can easily make your own homemade vanilla extract (or use store-bought).
Flour – All purpose flour works perfect for this brownie recipe.
Unsweetened cocoa powder – You'll want to use natural cocoa powder for these brownies. Avoid using Dutch process since the recipe has baking soda.
Baking soda – This leavening agent will help your brownies to rise perfectly.
Fine sea salt – Sea salt helps to balance the brownie's flavors. If you like a salty/sweet combination you can sprinkle extra on top.
Ground cinnamon – Grind cinnamon sticks for the freshest cinnamon flavor or just sprinkle it from the jar.
Ground nutmeg – Nutmeg adds warm flavor to the brownie.
Unsweetened applesauce – Since sugar is already in the recipe, be sure to use an applesauce that has not been sweetened.
Topping:
Semi-sweet chocolate chips – Using this variety will give the topping just the right amount of chocolatey flavor.
Chopped walnuts – You can chop whole walnuts yourself or buy them already chopped.
Sugar – Just a bit of added white sugar lends just enough sweetness to the topping.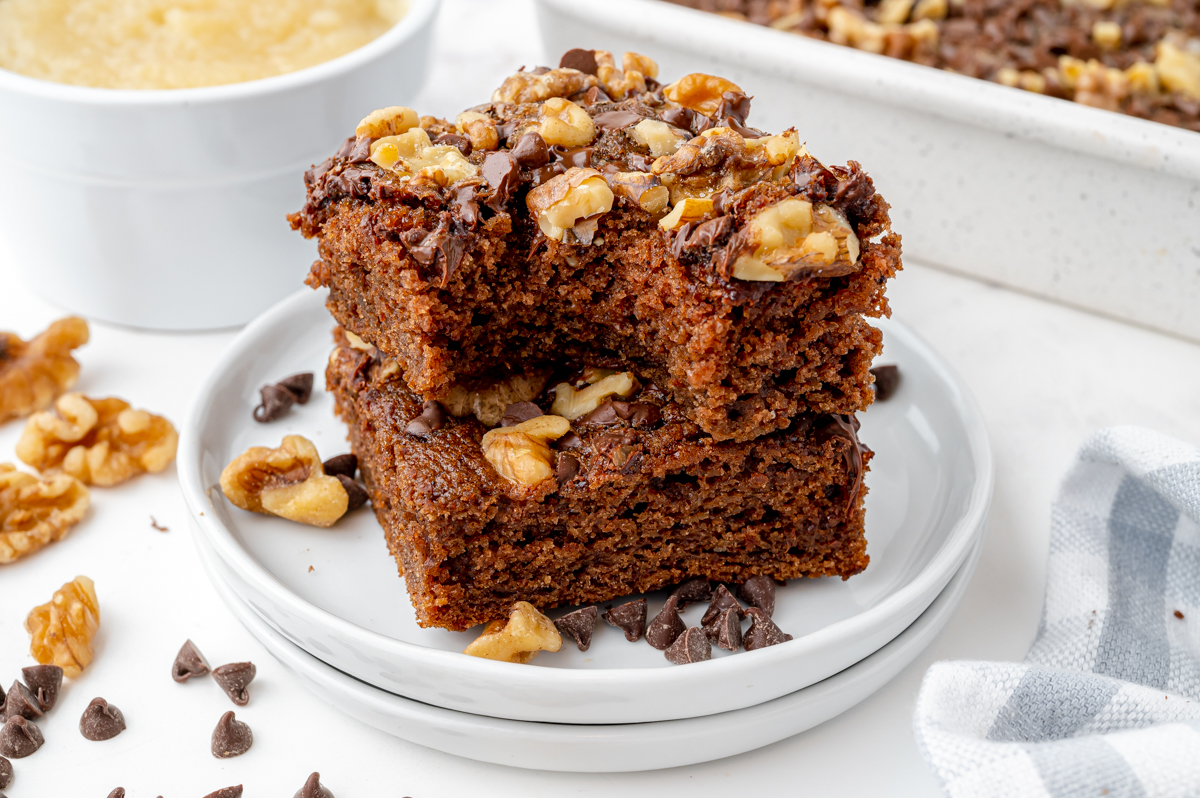 How To Make Healthy Applesauce Brownies
This chocolatey treat come together quickly and easily.
Cream the butter. Add the butter and sugar to a large bowl of a stand mixer fitted with a paddle attachment (or use an electric mixer). Beat the two ingredients together until entirely combined.
Continue with Wet Ingredients. Pour in the vanilla and the egg and continue to mix.
Sift Dry Ingredients. Next, add the flour, cocoa powder, baking soda, salt, cinnamon, and nutmeg to a separate bowl and whisk to combine. You can also use a sifter to add the ingredients to the bowl.
Add Them Together. Gradually add the dry ingredients to the wet ingredients while mixing on low speed.
Fold in Applesauce. Using a rubber spatula, fold the applesauce into the brownie batter.
Pour into Baking Dish. Pour batter into the baking dish prepared with cooking spray.
Make Topping. Pour the chocolate chips, walnuts, and sugar into a small mixing bowl and stir to combine.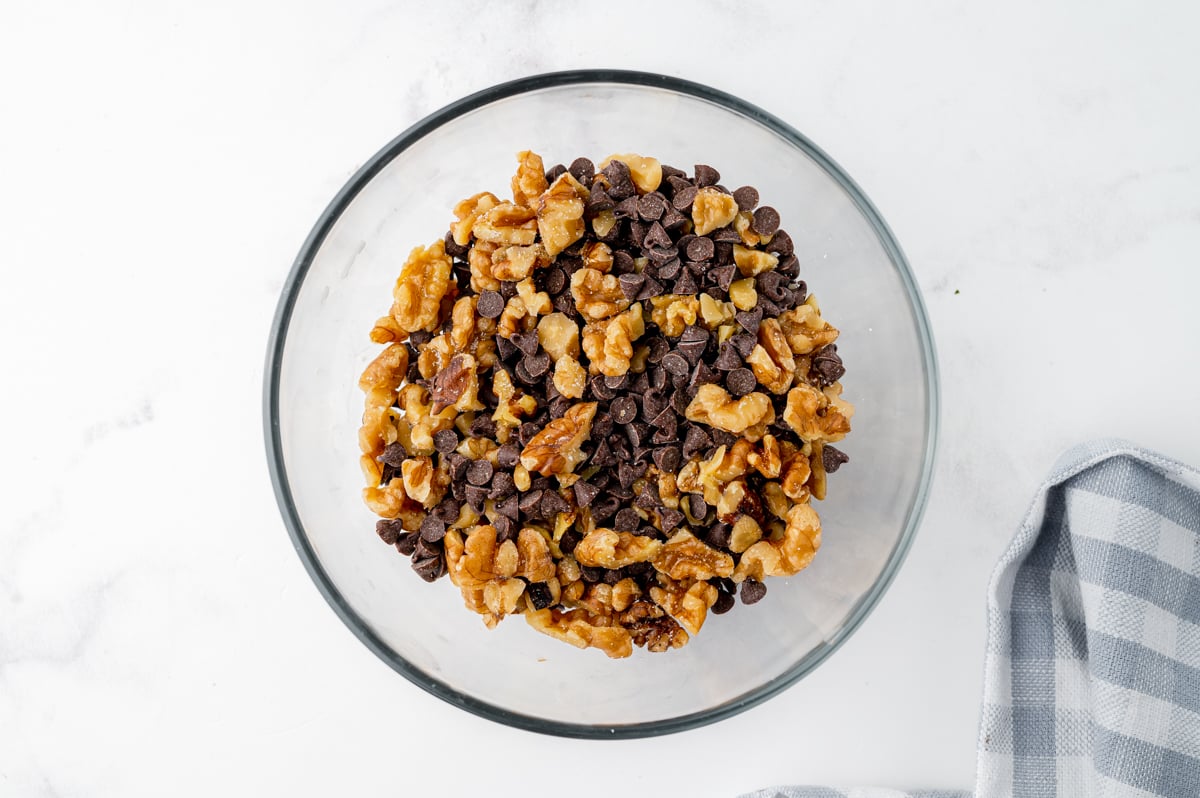 Top Brownies. Place the chocolate chip mixture evenly on top of the brownies.
Bake. Bake brownies until an inserted toothpick comes out clean.
Cool and Slice. Remove from the oven and allow to cool on a wire rack before slicing.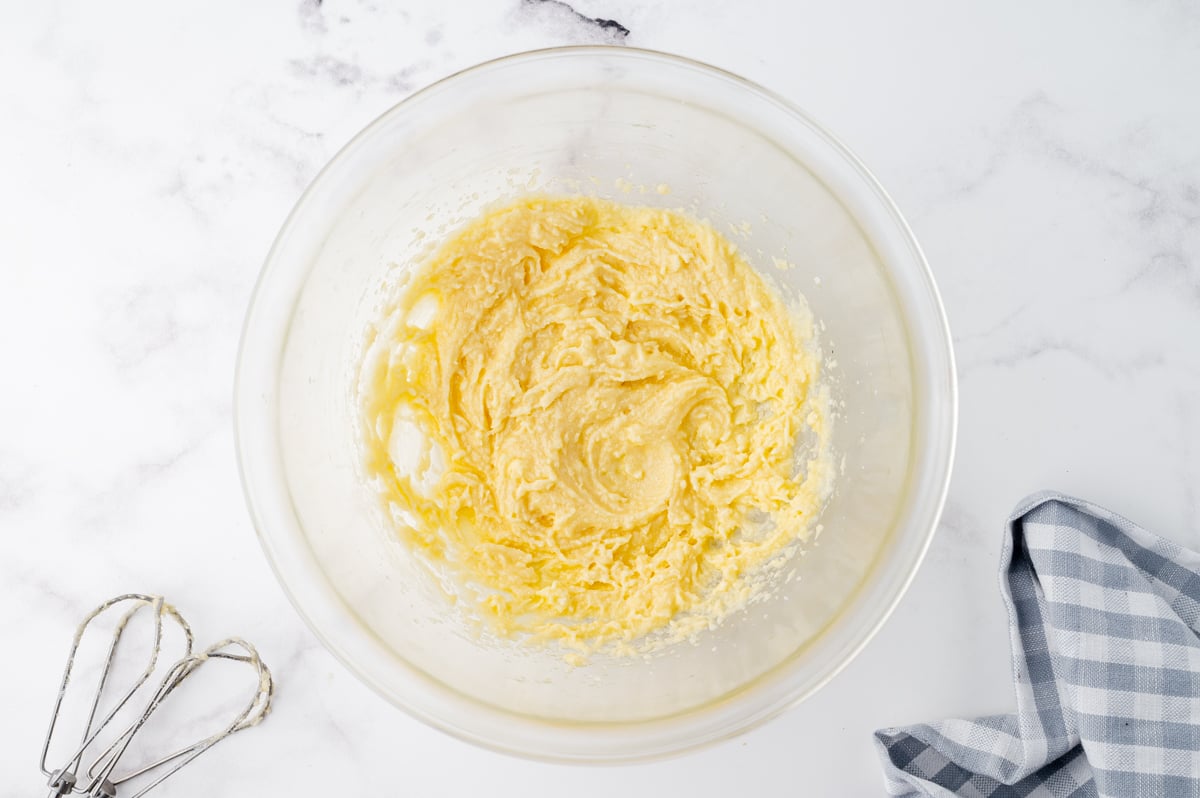 What to Serve with Brownies Made with Applesauce
While you can snack on these delicious brownies all by themselves, you can also serve them with ice cream or whipped cream. They're also great alongside a cup of dalgona whipped coffee or hot chocolate.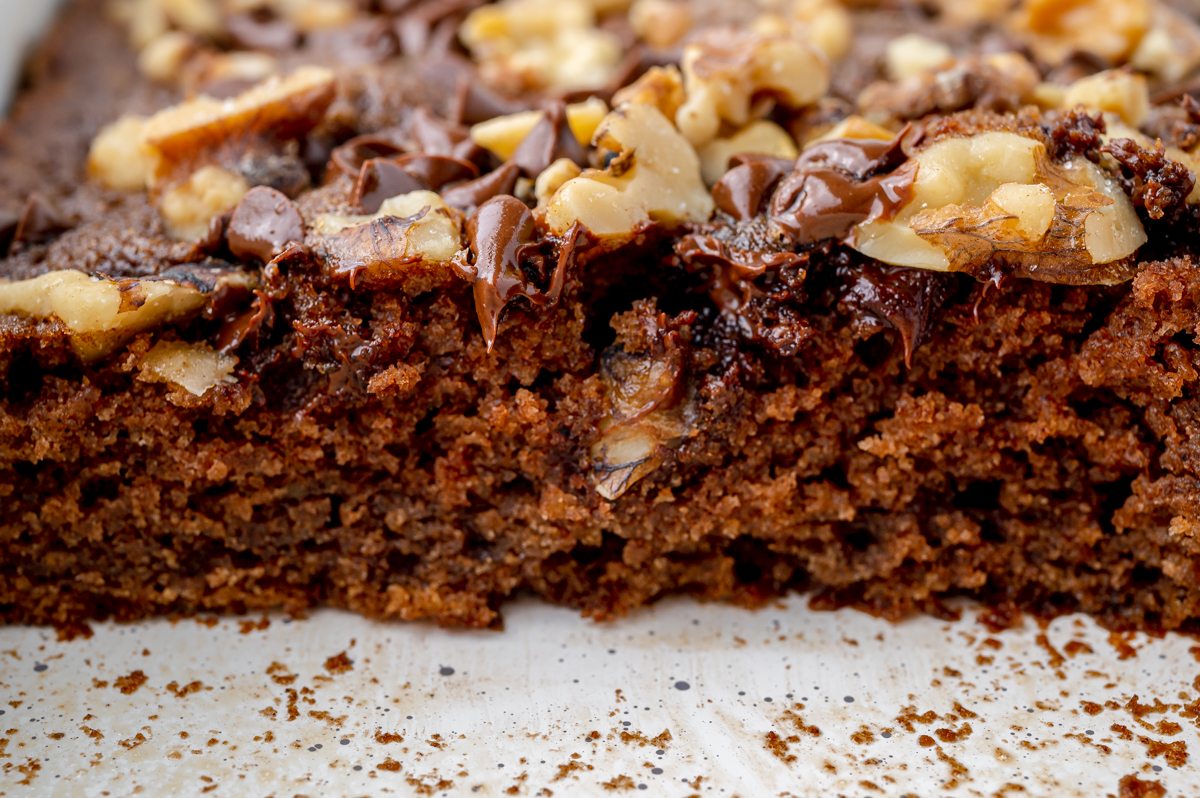 Variations
These chocolate brownies are easy to adapt with any of your favorite add-ins or swaps.
Nuts – Instead of walnuts use crushed pecans, pistachios, or your favorite nut.
Chips – Swap out some or all of the chocolate chips for peanut butter chips, caramel chips, or white chocolate chips.
Candies – Fold a little bit of candy, like mini M&Ms, into the batter before baking.
Sprinkles – Use colorful sprinkles to top the brownies.
Flour – Instead of regular flour, experiment with using alternative flours. Coconut flour, oat flour, almond flour, or any gluten free flour are all good options.
Sugar – For the sugar in the batter you can try replacing it with other options like coconut sugar or your favorite alternative.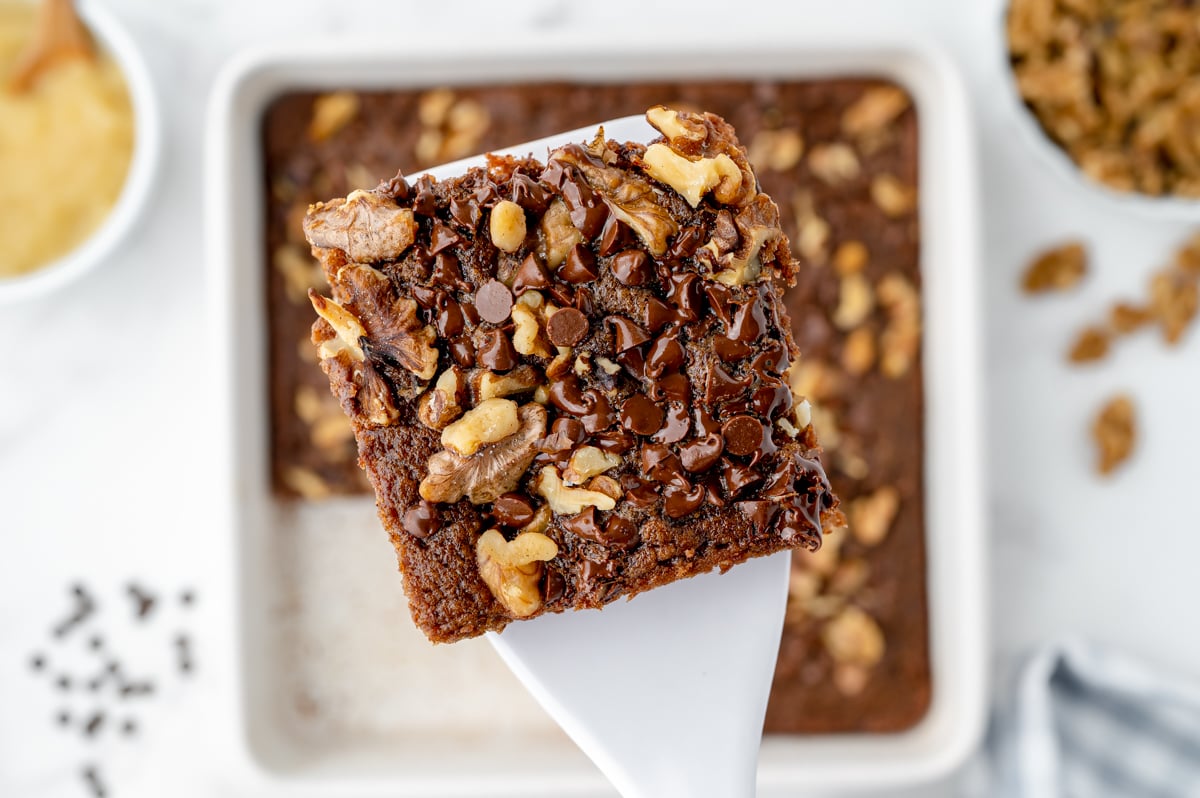 Storage, Make ahead and Freezing
Make ahead: Brownie batter can be made up to 3 days ahead of baking. Store in the refrigerator until ready to bake.
Refrigerator: Brownies will stay fresh for up to 1 week stored in the refrigerator. Wrap with plastic wrap or aluminum foil or seal in an airtight container.
Freezer: Freeze brownies for up to 3 months in freezer bags or a freezer-safe container.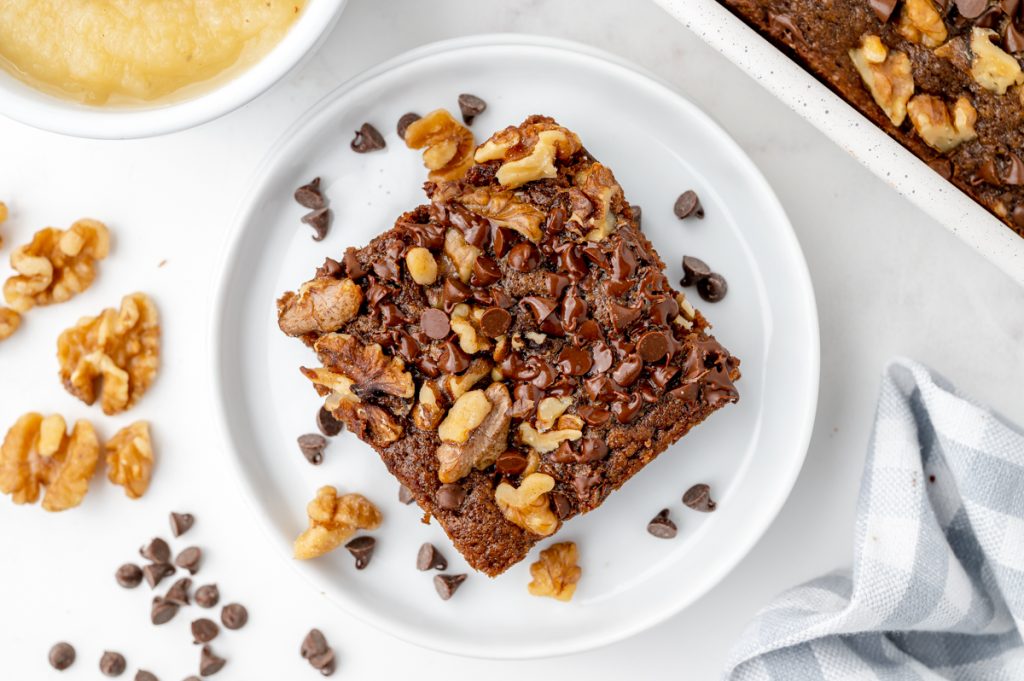 Common Questions About Applesauce Brownies
What does applesauce replace in brownies?
Applesauce is a perfect 1:1 substitute for oil in brownies.
How does applesauce affect brownies?
As long as you follow the recipe and ensure that the batter is the right consistency, you shouldn't notice any significant difference in a brownie made with applesauce versus one made with oil.
How much applesauce to replace oil in brownies?
When you're replacing oil with applesauce you'll use the exact same amount of applesauce as you would oil.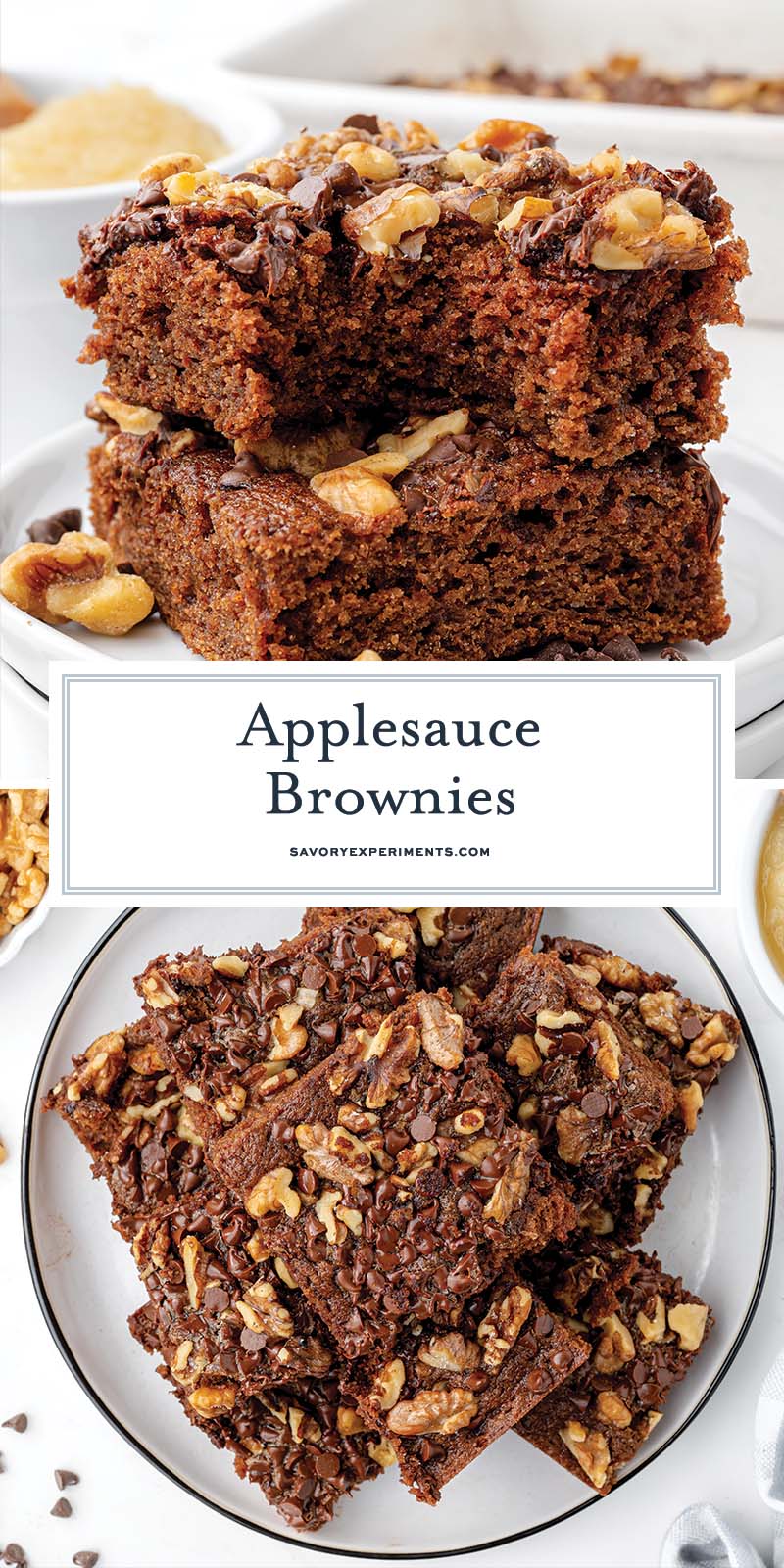 More Brownie Recipes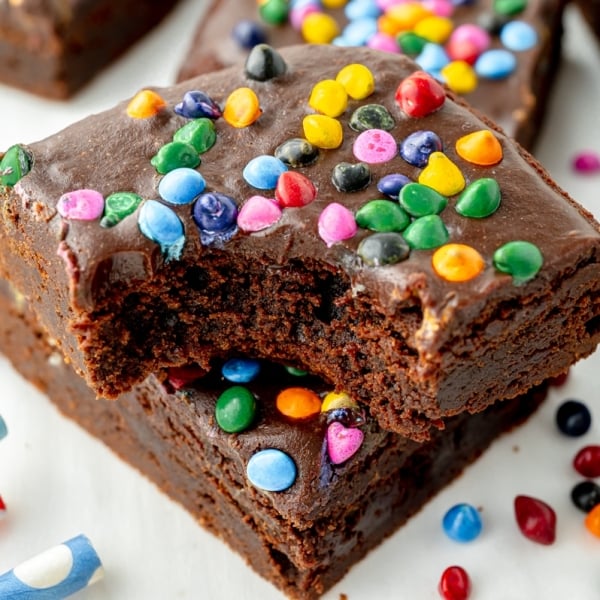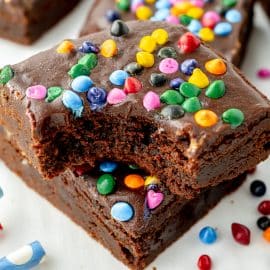 Cosmic Brownies
This Cosmic Brownies recipe channels childhood. Inspired by the Little Debbie classic, with two layers of chocolate and fun rainbow chips!
See The Recipe!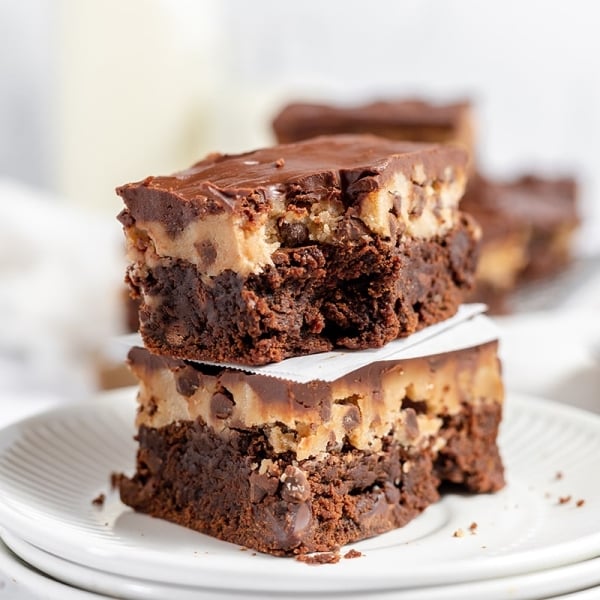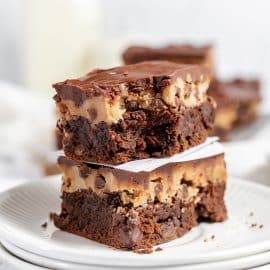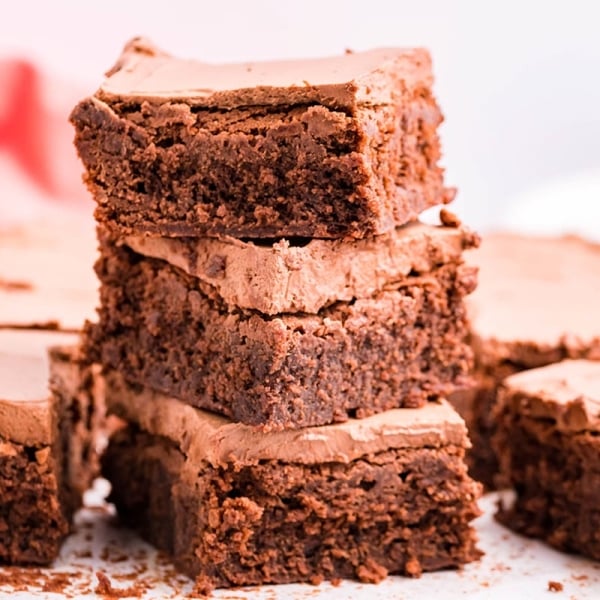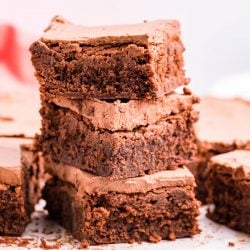 Frosted Brownies
Homemade brownies don't get much better than these fudgy Frosted Brownies! With a moist crumb and a light, airy frosting, they can't be beat!
See The Recipe!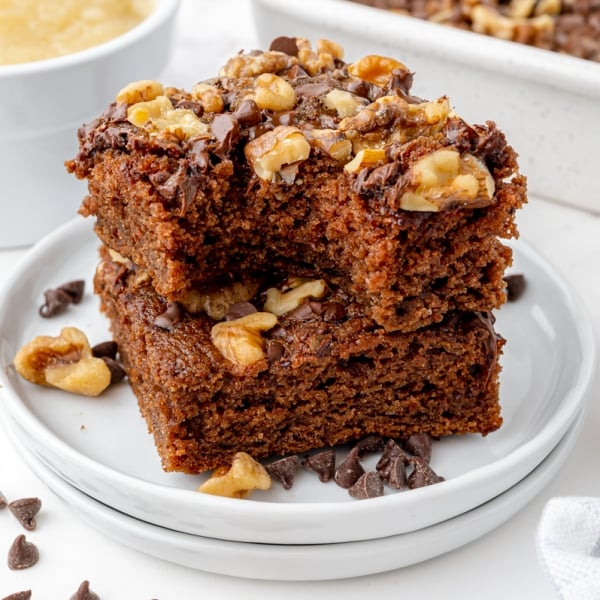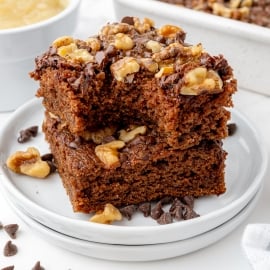 Applesauce Brownie Recipe
This delicious Applesauce Brownies recipe is chock full of rich chocolate flavor, from the brownie itself to the sweet topping!
Ingredients
Topping:
½

cup

chopped walnuts

1

tablespoon

sugar
Instructions
Preheat the oven to 350°F and prepare an 8×8 baking dish with cooking spray. Set aside.

In a large bowl with an electric mixer or in the bowl of stand mixer fitted with a paddle attachment, cream together the butter and sugar until light and fluffy.

Add the egg and vanilla, blending until combined.

In a separate bowl, sift or whisk together the flour, cocoa powder, baking soda, salt, cinnamon and nutmeg.

Slowly add the dry ingredients to the wet ingredients.

Stir in the applesauce.

Spread the brownie batter into the prepared dish. Set aside.

In a small bowl, combine the chocolate chips, walnuts and sugar. Sprinkle evenly over the brownie batter.

Bake for 23-25 minutes or until it passes the toothpick test.

Remove to a wire rack to cool and then cut into squares.

If you've tried this recipe, come back and let us know how it was in the comments or star ratings.
Nutrition
Calories:
287
kcal
,
Carbohydrates:
38
g
,
Protein:
4
g
,
Fat:
14
g
,
Saturated Fat:
6
g
,
Polyunsaturated Fat:
4
g
,
Monounsaturated Fat:
3
g
,
Trans Fat:
0.2
g
,
Cholesterol:
32
mg
,
Sodium:
200
mg
,
Potassium:
139
mg
,
Fiber:
2
g
,
Sugar:
24
g
,
Vitamin A:
199
IU
,
Vitamin C:
0.4
mg
,
Calcium:
22
mg
,
Iron:
2
mg