Remember that dalgona whipped coffee trend? Well say hello to your newest obsession: Whipped Hot Chocolate!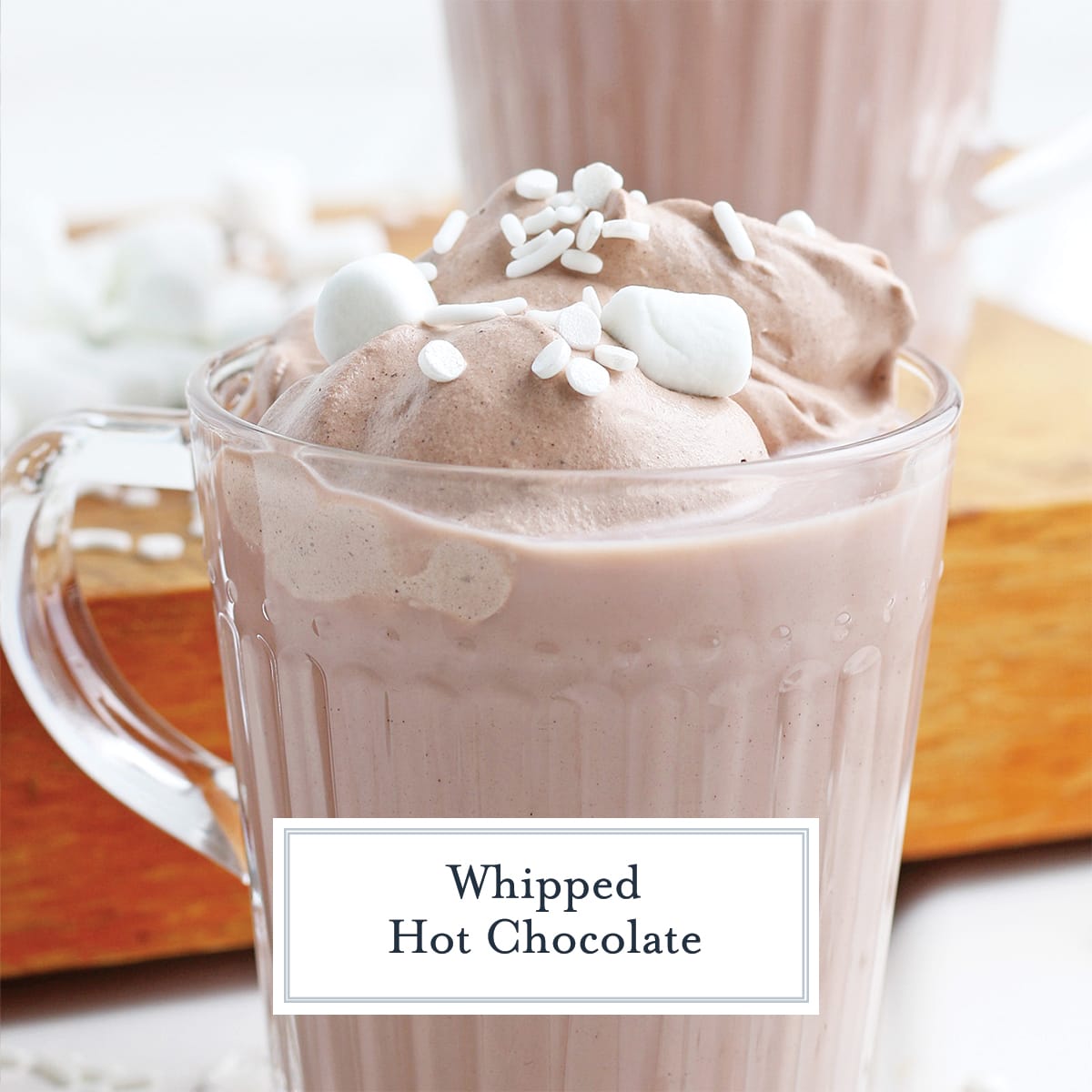 During the cold winter months, I love sipping on a hot beverage. Whether it be my morning coffee, a Wassail Hot Toddy or even a mug of Mulled Cider.
But sometimes I crave something just a little sweeter and more comforting. Hello hot chocolate!
I love it because you can customize it really however you want. Change up the flavors, temperature, and now the consistency. Serve it hot, serve it cold. Just serve it.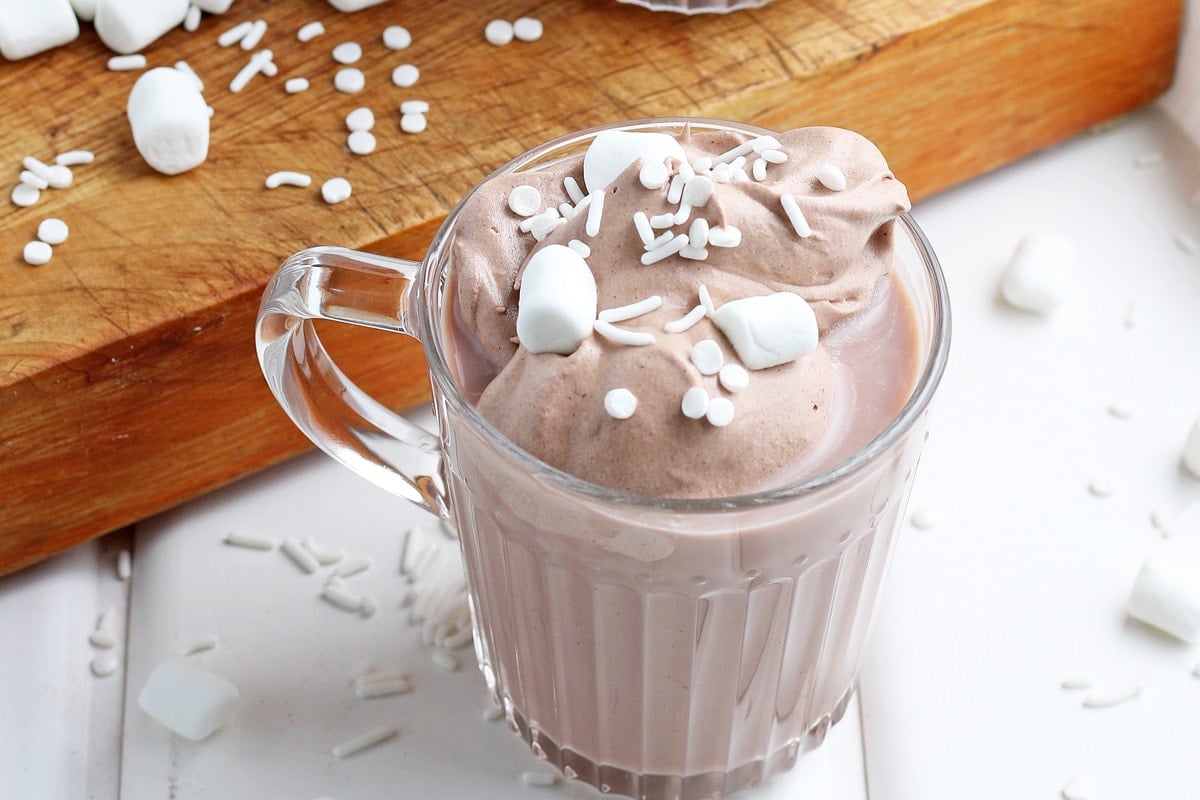 Ingredients
Simple ingredients are one of the things I love about this hot cocoa recipe. You might even have all of them on hand already.
Dry hot chocolate mix – You can use a mix from the store, or you can use my homemade hot chocolate powder recipe that consists of unsweetened cocoa powder, powdered milk, powdered sugar and granulated sugar.
Heavy cream – when whipped, stiff peaks form which is crucial for this whipped chocolate recipe.
Milk – I prefer to use chocolate milk to really celebrate that chocolate flavor. However, you can use whole milk or any type of milk that you prefer.
What should you top your whipped hot chocolate with? Anything you'd like! The options are endless really. But I will list a couple of our favorites:
Mini marshmallows – this is a given and probably the most popular hot chocolate topping. If you don't have the mini ones, check out my marshmallow conversion chart!
Chocolate sprinkles – you can't go wrong with chocolate on chocolate, right? I always have some sort of sprinkles in the pantry, so this is an easy and festive topping. You could always opt for some red and green sprinkles to make it even more fun!
Chocolate shavings – I like to call these "classy sprinkles." Chocolate shavings, sometimes called chocolate curls, are really pretty on desserts, and this whipped hot chocolate is basically a dessert in beverage form! You can use either dark, milk or white chocolate.
Mini chocolate chips – I think these are the cutest! And if you don't have mini chips, regular sized work well too.
Crushed candy piece– Candy canes, chocolate bars, candied nuts. Anything you can think of.
You can also use a Chocolate Covered Candy Cane to stir it up with! It will give it a slight peppermint flavor, and also makes your whipped hot chocolate super festive too.
This recipe only makes two drinks, but you can easily double it to make more. It's best consumed right after making, so only make as much as you're going to drink.
It's super easy to make, so just whip up a mug whenever you feel like having a fancy pick me up!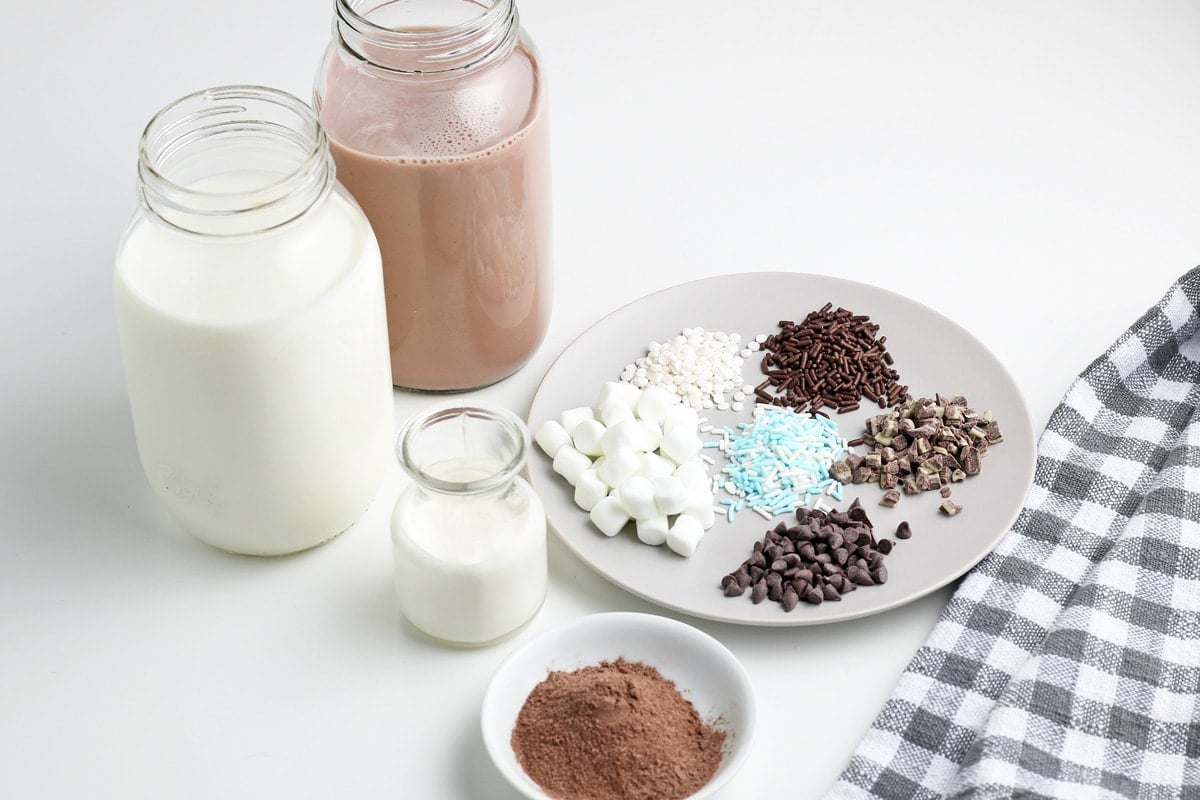 How to Make Whipped Hot Chocolate
You are going to be blown away by how easy this whipped hot chocolate recipe is to make. The process is very similar to making dalgona coffee, actually.
Start by using two tablespoons of my homemade hot chocolate mix. You can certainly used the store bought version if you prefer, but I promise mine is better!
You are going to whisk the mix with heavy whipping cream until soft peaks form and it's a creamy consistency. You can use a hand mixer or stand electric mixer too. After you've done that, heat your cold milk in a saucepan. You could also heat it up in the microwave is you prefer, just don't get it too hot!
Then simply pour the warmed milk into a mug, top with the whipped hot chocolate mix, and garnish with your favorite toppings! Easy peasy, right?
Then simply pour the warmed milk into a mug, top with the whipped hot chocolate mix, and garnish with your favorite toppings! Easy peasy, right?
It's a fun drink for the kids, too. Just warm the milk slightly less than you would for yourself so that it's not too hot for them. They have a blast picking out different toppings.
With the kiddos you can also make what is called frozen hot chocolate and just let them eat the whipped part.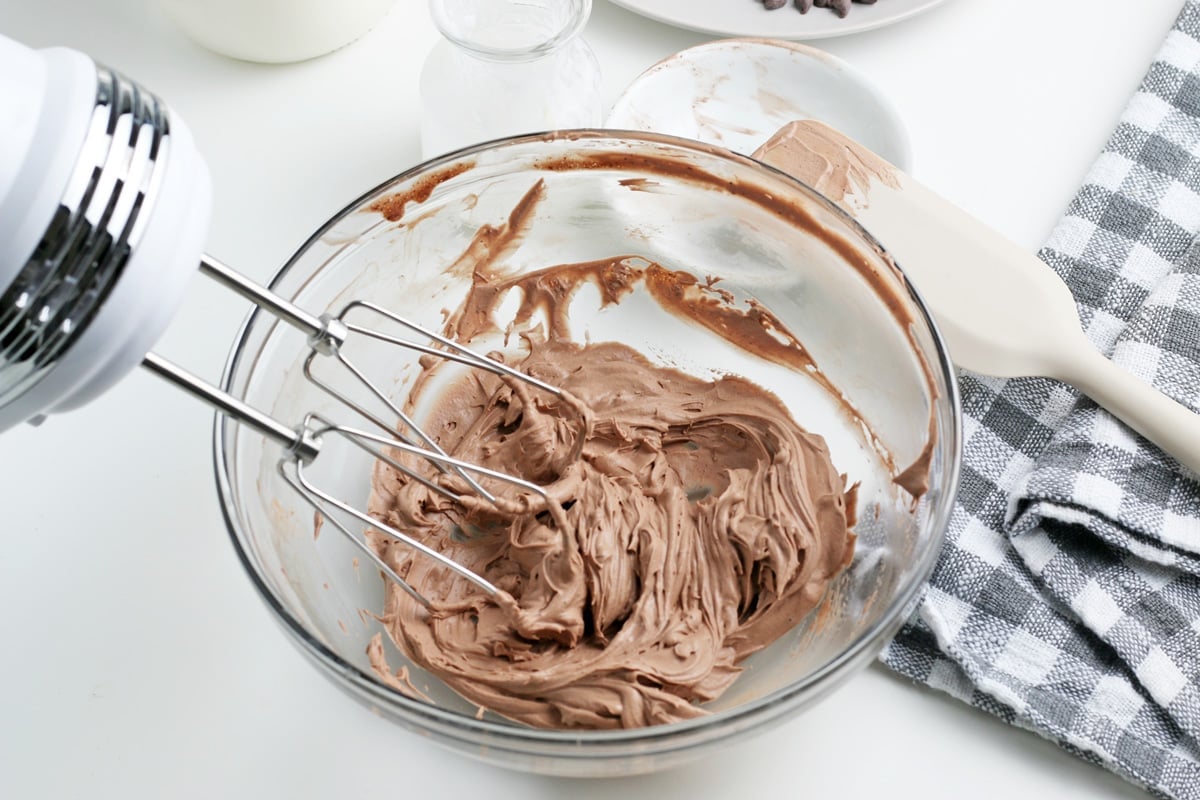 Variations
Spiked – I'm glad you asked and the answer is YES! Spike it with anything you'd use for a cup of hot chocolate so Bailey's Irish Cream, Coffee Liqueur, Peppermint schnapps. Any will do. Add a floater or even Vodka Whipped Cream!
Milk alternatives – For the frothy, whipped part, whipped cream really does work best, however, you can use the Silk brand whipped cream or another pre whipped vegan or non-dairy substitute and fold in the hot chocolate mix. For the warmed milk, you can use chocolate milk, oat milk, almond milk, soy milk, coconut milk or any other non-dairy or nut milk is fine.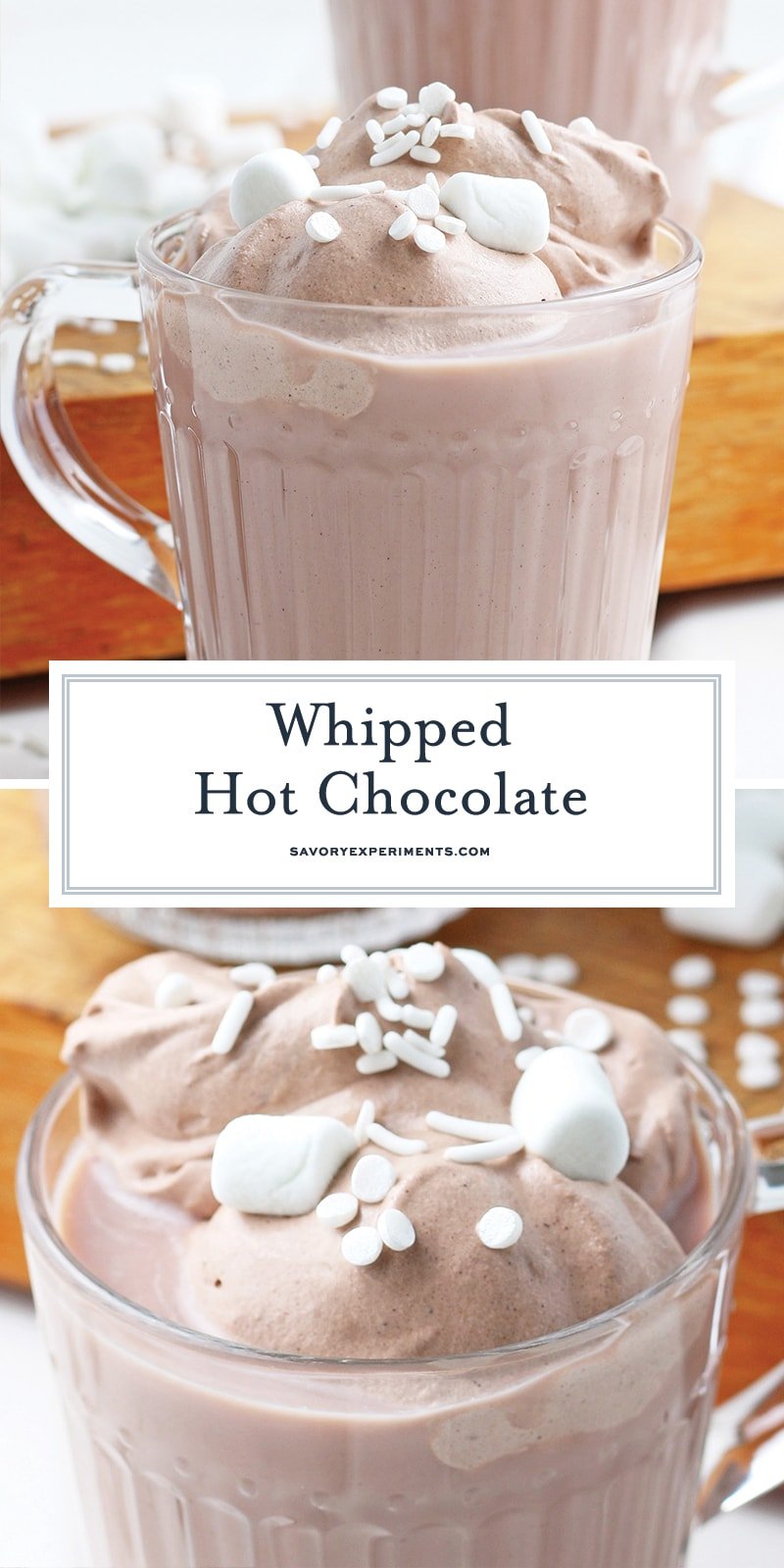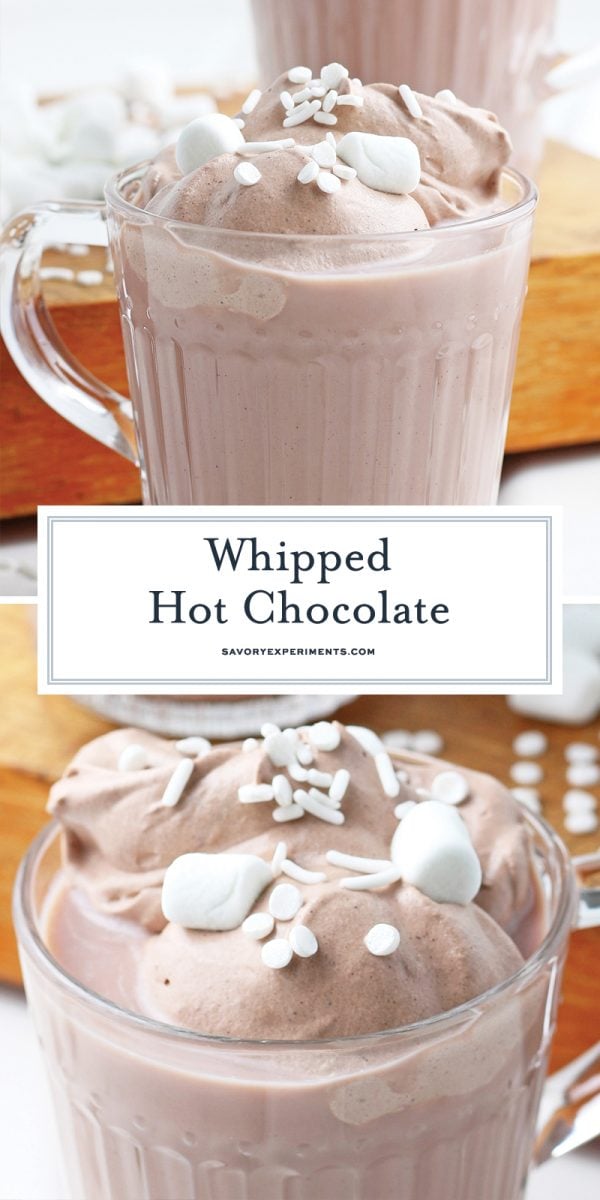 More hot chocolate recipes: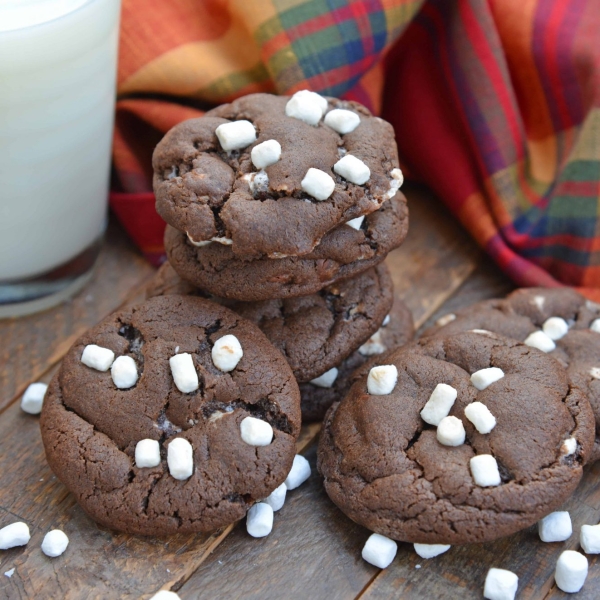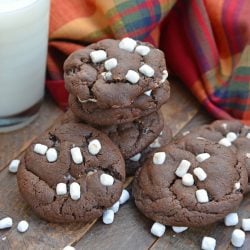 Hot Chocolate Cookies
Hot Chocolate Cookies are must-make Christmas cookies! A favorite chocolate sugar cookie recipe with marshmallows, you'll never be able to eat just one!
See The Recipe!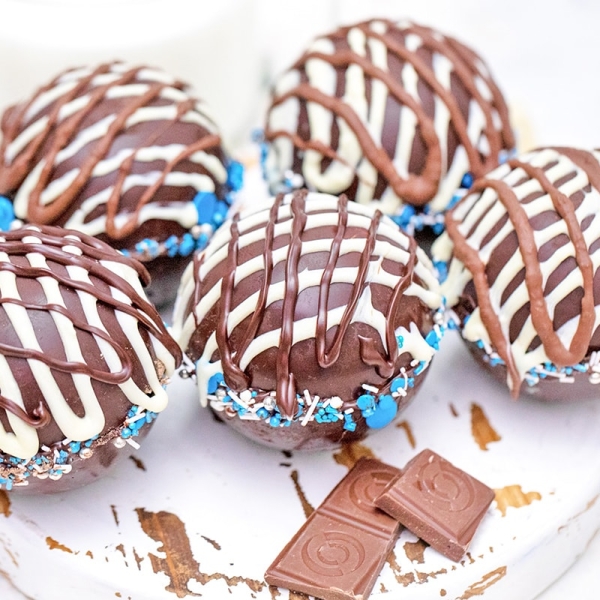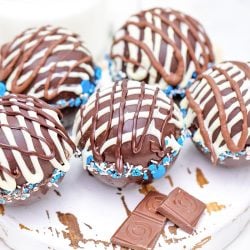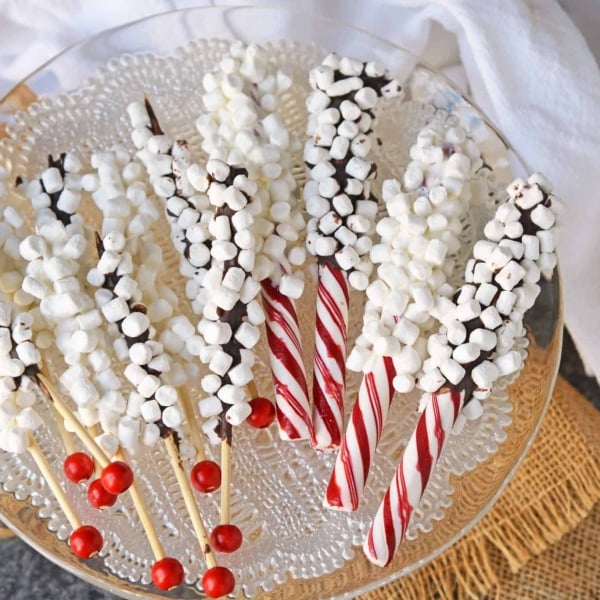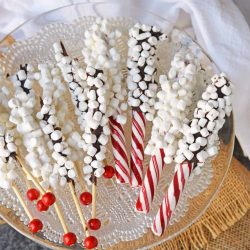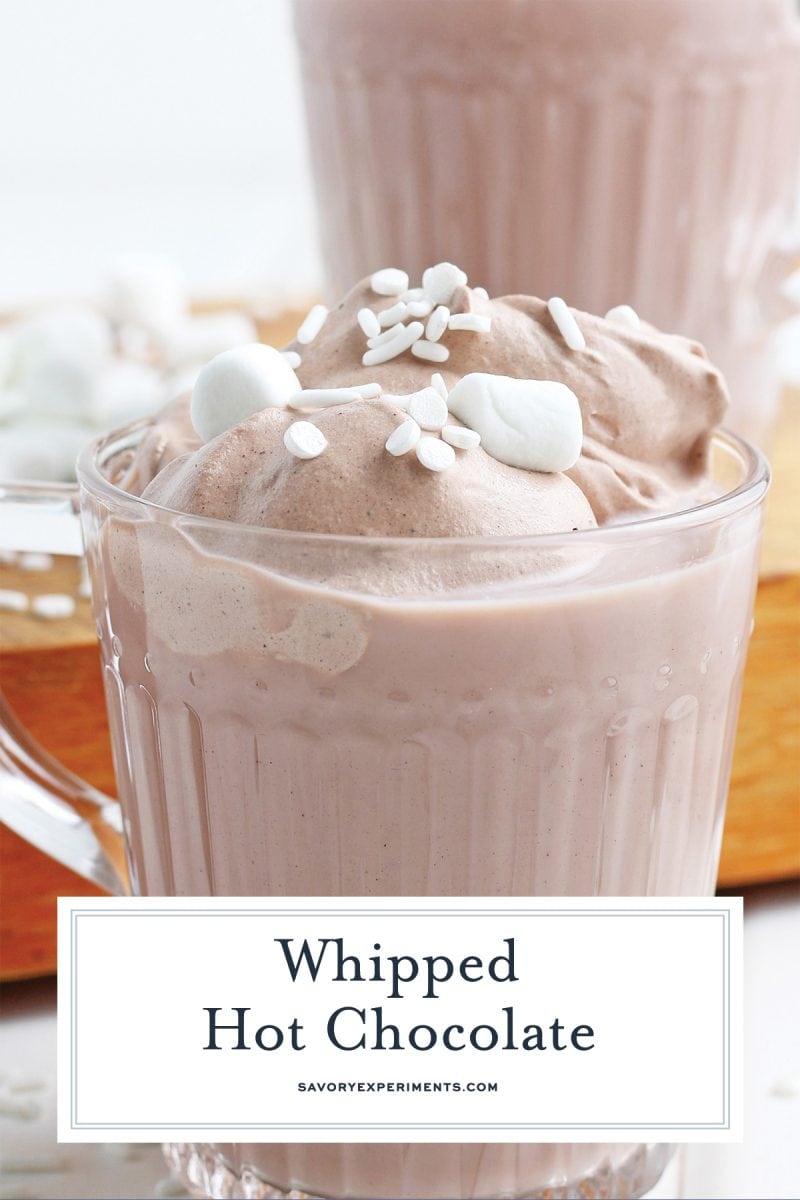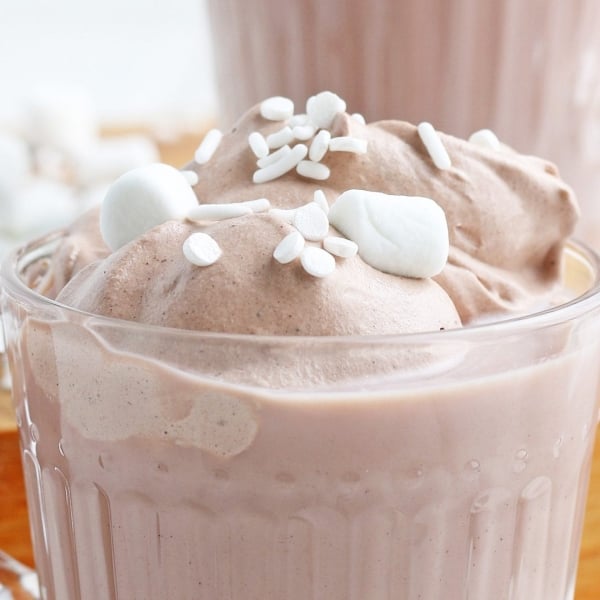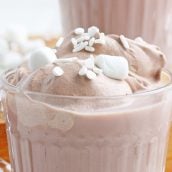 Whipped Hot Chocolate
Remember that dalgona whipped coffee trend? Well say hello to your newest obsession: this EASY Whipped Hot Chocolate recipe!
Ingredients
Garnish
Chocolate Sprinkles

Chocolate Shavings
Instructions
In a medium bowl or stand mixer fitted with the whisk attachment, whisk together the hot chocolate mix and heavy cream until stiff and creamy.

In a small saucepan, heat chocolate milk over low heat until just warm.

Pour warm milk into a tall glass.

Top with whipped hot chocolate.
Notes
You can also use plain milk and top with whipped hot chocolate.
Nutrition
Calories:
501
kcal
,
Carbohydrates:
51
g
,
Protein:
13
g
,
Fat:
29
g
,
Saturated Fat:
18
g
,
Cholesterol:
96
mg
,
Sodium:
367
mg
,
Potassium:
654
mg
,
Fiber:
4
g
,
Sugar:
45
g
,
Vitamin A:
919
IU
,
Vitamin C:
3
mg
,
Calcium:
459
mg
,
Iron:
1
mg