Brownies are one of my favorite chocolate desserts and these zucchini brownies are no exception. They're easy to take on the go for picnics, cookouts, and parties, but they're also a delicious evening dessert after dinner.
I like to top mine with simple vanilla bean ice cream or dunk one in some Bailey's Irish Cream Coffee.
Regardless of how you like to eat your brownies, these simple zucchini brownies may become your go-to brownie recipe. With only ten minutes of prep time, you can forget about needing to buy a box of brownie mix, and with the addition of zucchini, these brownies are kind of healthy brownies.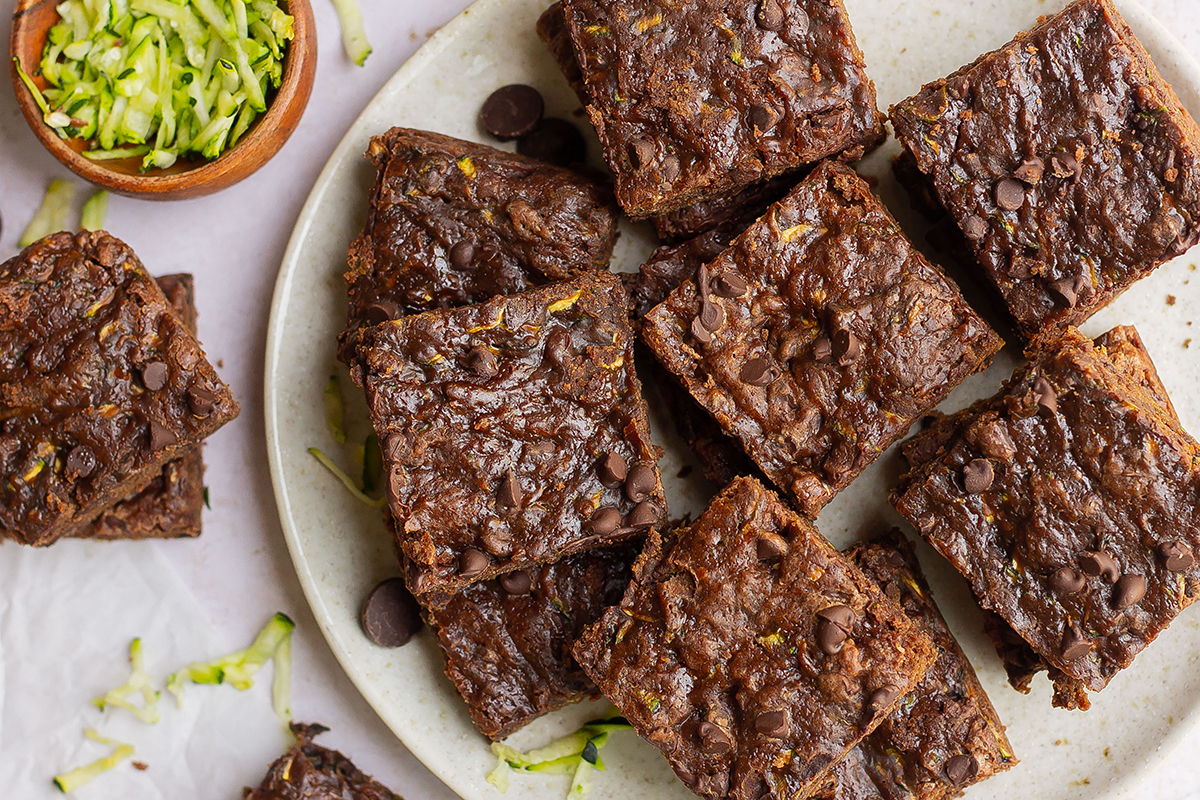 Zucchini Brownies
Zucchini is often used when baking to replace other ingredients like bananas or applesauce. However, in this recipe the zucchini is an addition to the base brownie recipe. Adding it makes for a moist brownie with the benefit of added nutrients. Who doesn't love a dessert they can call healthy?
This brownie tends toward a cakey consistency (as opposed to a fudgy brownie). However, that moisture from the zucchini helps to make it the rich, decadent dessert that it is. Think zucchini bread meets chocolate cake.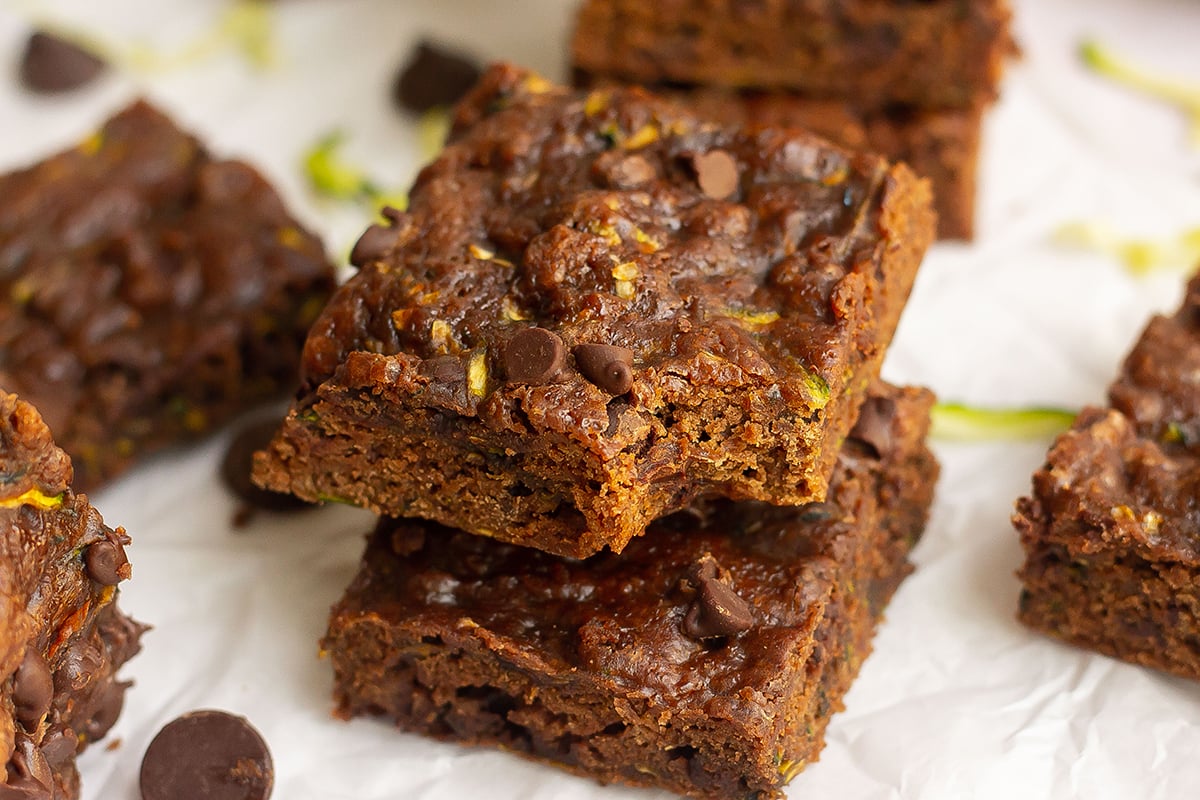 Ingredients
All of these are simple ingredients except, perhaps, the zucchini.
Canola or vegetable oil– canola is lower in saturated fats and is therefore touted by some as being healthier than vegetable oil. You can use whichever you have on hand.
Sugar– granulated sugar will dissolve quickly when added to the wet ingredients in this recipe.
Brown sugar– brown sugar is one of the keys to helping these best brownies retain their moistness.
Vanilla extract– if you're into experimenting in the kitchen, making extracts like a homemade vanilla extract might be up your alley. If not, just buy your favorite brand if you don't already have it in the pantry.
Egg– large size eggs are typically the standard for baking so it would be ideal to use that size for these zucchini brownies.
All-purpose flour– this ingredient helps to thicken the batter. Be sure to use all-purpose and not self-rising flour since this recipe already includes baking powder.
Unsweetened cocoa powder– using unsweetened cocoa powder in this zucchini brownie recipe is the key to getting rich chocolate flavor without too much sweetness.
Baking powder– baking powder helps baked goods to rise and contributes to lightening the texture.
Fine sea salt– salt rounds out the flavor of any baked good and will help to highlight the chocolate flavor in these brownies.
Semi-sweet chocolate chips– since this recipe uses cocoa powder as well, semi-sweet chips add just enough chocolate flavor without making the brownies overly sweet.
Shredded zucchini– when shredding the zucchini, the finer you can get it, the better your brownies will turn out. Be sure not to squeeze out the excess moisture after shredding. We want as much moisture as we can get.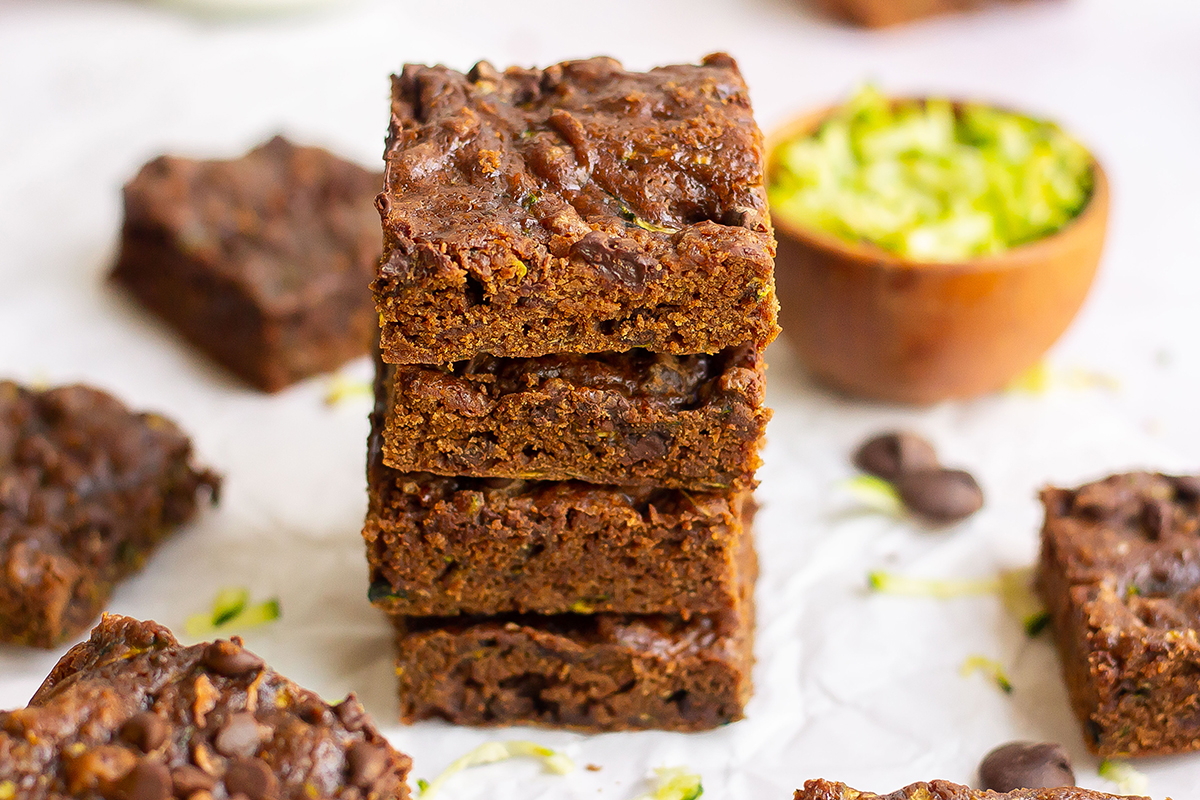 How To Make Zucchini Brownies
Preheat oven and prepare pan. Preheat the oven and spray pan with nonstick cooking spray or line the pan with parchment paper to prevent the brownies from sticking to the pan.
Shred zucchini. Using a grater, shred the zucchini. Reserve the zucchini for the final step of preparing the batter.
Mix wet ingredients. Combine the oil, sugars, vanilla extract, and egg in a large bowl, ensuring there's enough room for mixing and adding the remaining ingredients. Whisk together for about a minute until all ingredients are incorporated.

Add dry ingredients. To that mixture add the flour, cocoa powder, salt, and chocolate chips. Gently combine these ingredients until all of the ingredients are mixed together. It is important to avoid over-mixing so that the zucchini brownies are not too dense.
Fold in zucchini. Next, fold in the shredded zucchini until it's evenly dispersed throughout the batter.

Bake. Spread the zucchini brownie batter evenly into the prepared pan. Add to oven and bake. To test if they are done cooking, quickly insert a toothpick and ensure that it is clean when it is removed.
Cool and enjoy. Allow some time for the brownies to cool on a wire rack. Then, slice and eat immediately, or wrap tightly to store for later.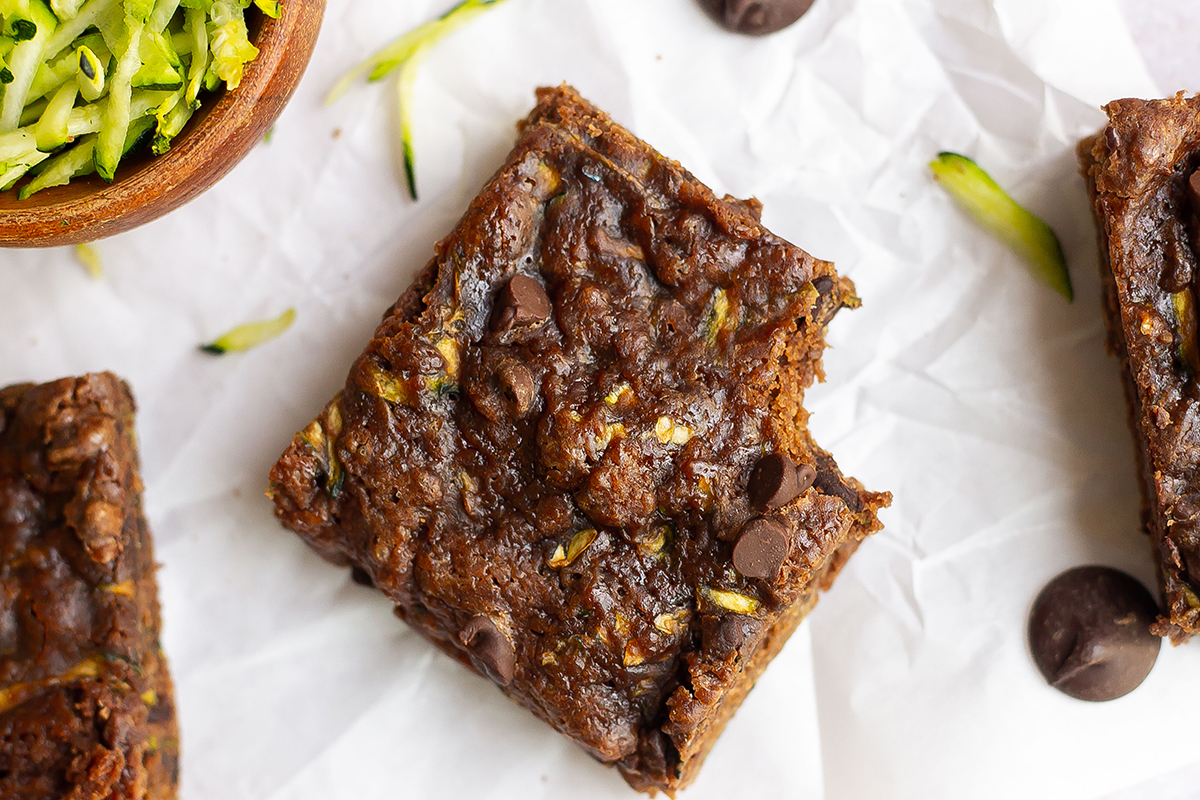 Why You'll Love Best Zucchini Brownies
They're quick and easy- with only 10 minutes of prep time and 20 minutes of bake time, these zucchini brownies are a cinch to make.
You can sneak in nutrients- do you have picky eaters at home? These zucchini brownies are a great way to infuse some goodness into your baked goods.
You can freeze them- after slicing them into bars, wrap tightly with plastic wrap and store in the freezer for a quick treat to throw in lunchboxes or microwave whenever you want a sweet treat.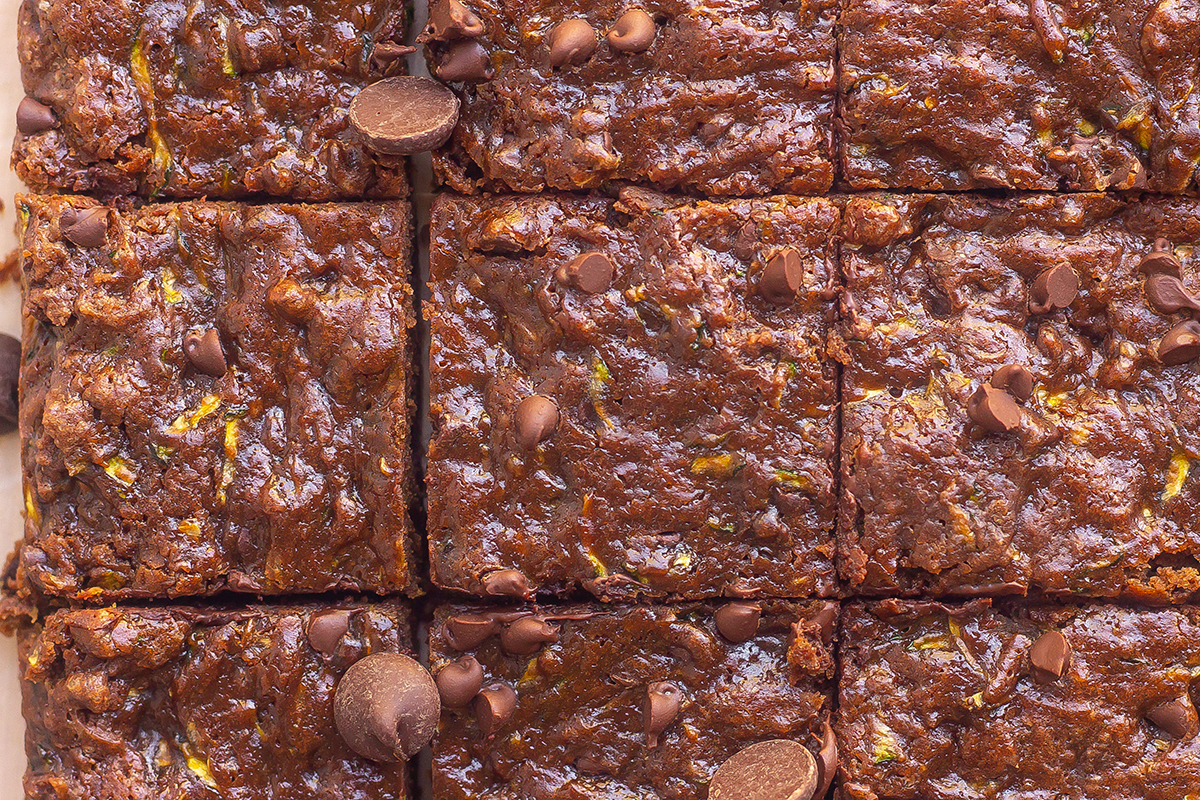 Variations
Try using almond, coconut, or even coffee extract instead of vanilla.
Substitute monkfruit sweetener for the granulated sugar for a lower carb version of these zucchini brownies. Monkfruit is an alternative sweetener that can be a 1:1 substitution. You can also find 1:1 substitutions for brown sugar as well.
Experiment with using other flours instead of all-purpose flour. Almond flour and coconut flour are both 1:1 substitutes for all-purpose flour.
Substitute peanut butter chips or butterscotch chips for some of the chocolate chips to add another element of flavor to the zucchini brownies.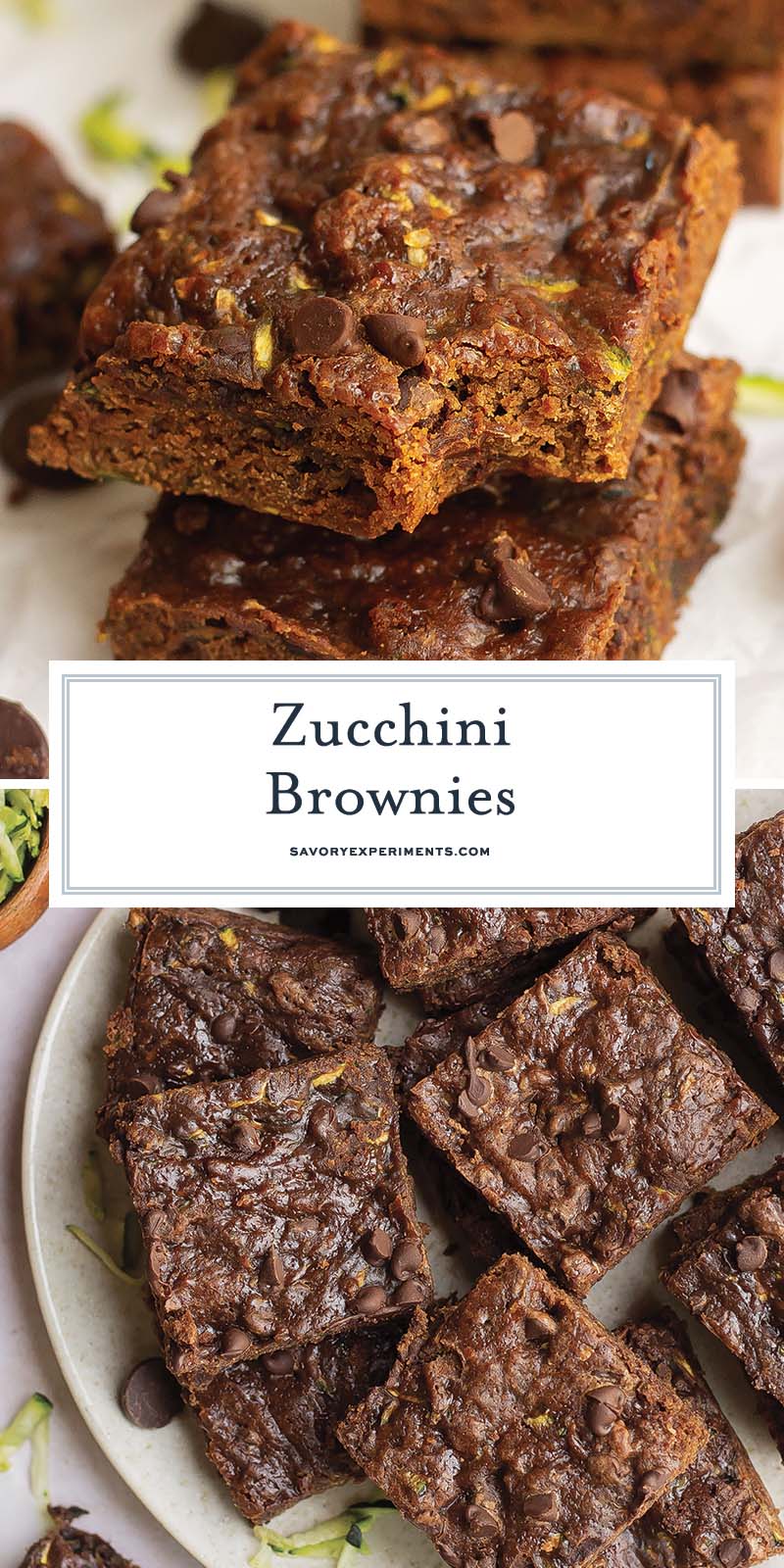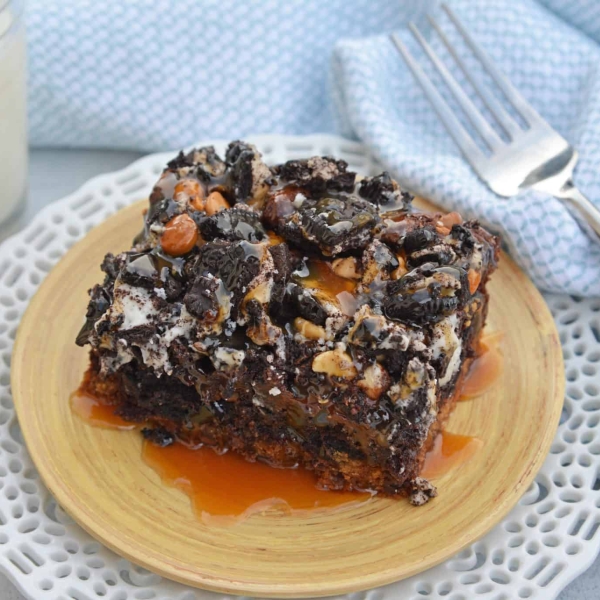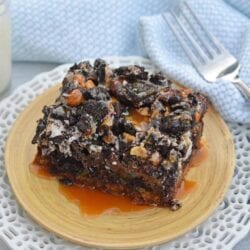 Nutella Brownies
Homemade Nutella brownies are made in one bowl. With 7 simple ingredients and in less than 1 hour you can enjoy a piece of this delicious brownie recipe!
See The Recipe!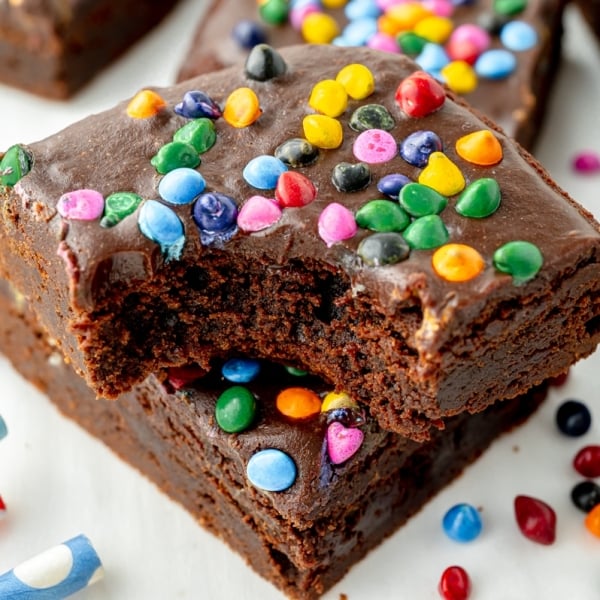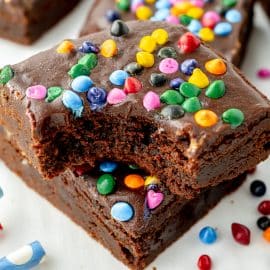 Cosmic Brownies
This Cosmic Brownies recipe channels childhood. Inspired by the Little Debbie classic, with two layers of chocolate and fun rainbow chips!
See The Recipe!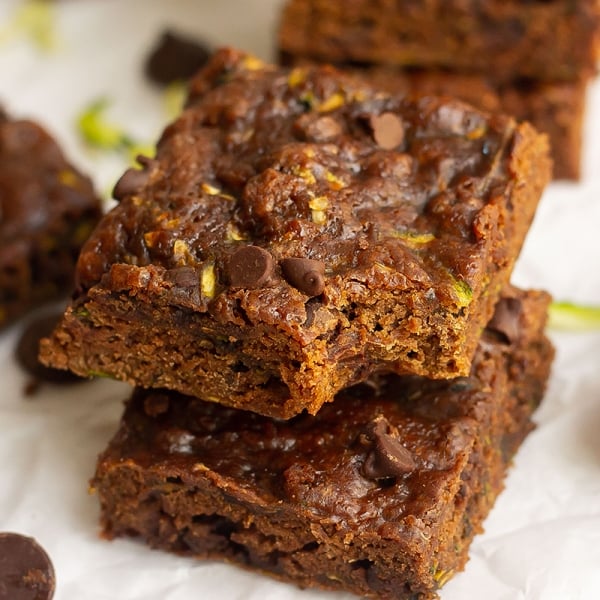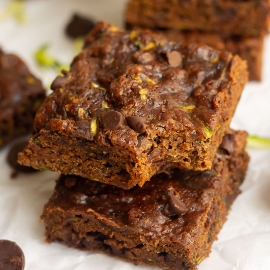 Chocolate Zucchini Brownie Recipe
These EASY Zucchini Brownies are easy to take on the go for picnics, cookouts, and parties, but they're also a delicious evening dessert!
Instructions
Preheat the oven to 350°F and spray a 9 x 13 inch pan with nonstick cooking spray or line with parchment paper. Set aside.

In the bowl of a stand mizer fitted with a paddle attachment or a large mixing bowl using an electric hand mixer, whisk together the oil, sugars, vanilla extract, and egg until combined.

Sift or whisk together the flour, cocoa powder, salt. Slowly add to wet mixture, then stir in chocolate chips and zucchini by hand. Do not over mix.

Spread evenly into the prepared baking pan.

Bake for 20-25 minutes, or until it passes the toothpick test. Remove and allow to cool fully before slicing.

If you've tried this recipe, come back and let us know how it was in the comments or star ratings.
Nutrition
Calories:
206
kcal
,
Carbohydrates:
29
g
,
Protein:
3
g
,
Fat:
10
g
,
Saturated Fat:
3
g
,
Polyunsaturated Fat:
3
g
,
Monounsaturated Fat:
2
g
,
Trans Fat:
1
g
,
Cholesterol:
9
mg
,
Sodium:
67
mg
,
Potassium:
137
mg
,
Fiber:
2
g
,
Sugar:
16
g
,
Vitamin A:
41
IU
,
Vitamin C:
2
mg
,
Calcium:
33
mg
,
Iron:
2
mg