Love macarons but don't love the price? Make them at home! This recipe for Vanilla Macarons is easy to follow, plus I'm sharing all of my tips and tricks!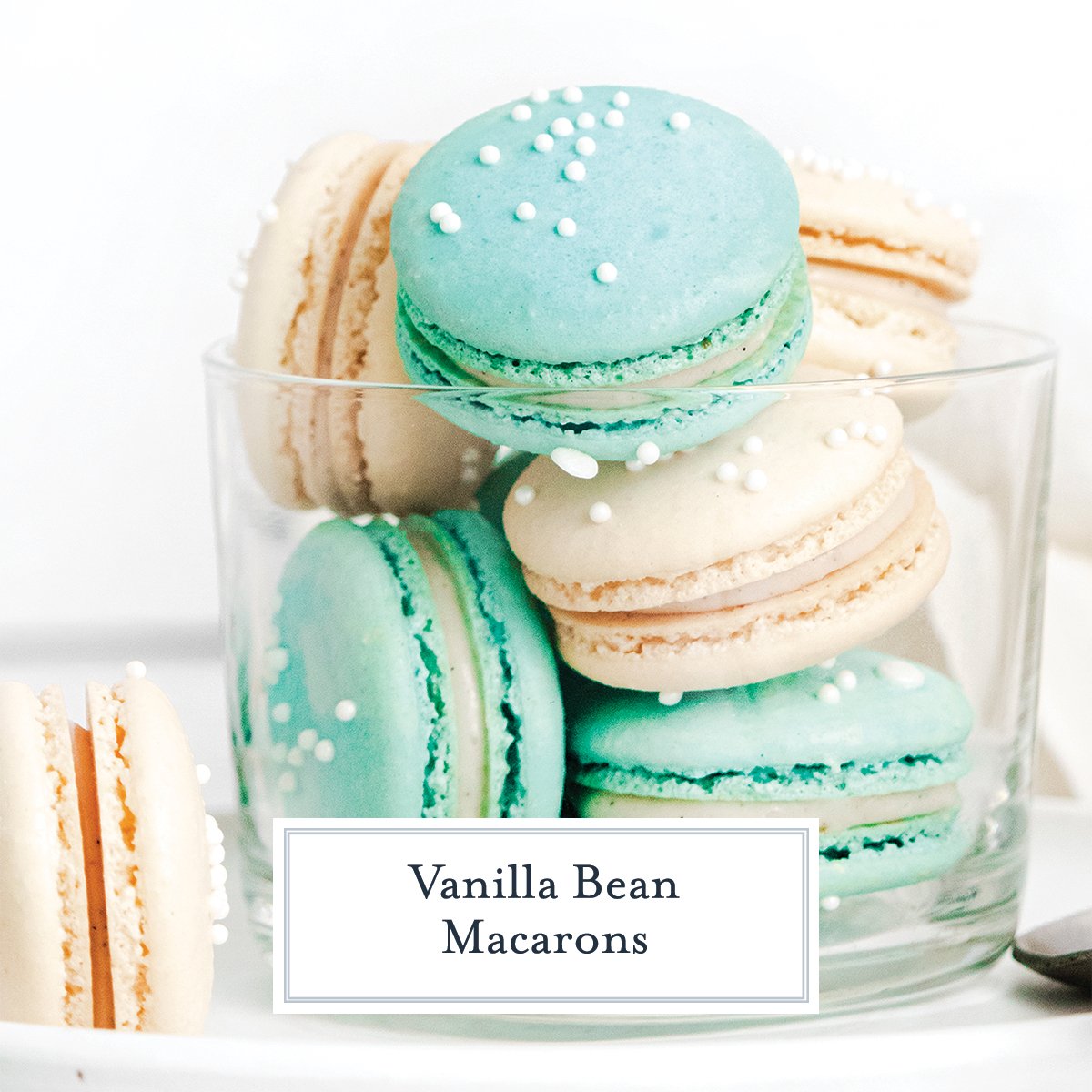 Oh, macarons, how I love you. But at $3-$4 per cookie, I simply cannot afford to eat you like I'd wish. Solution: my own macaron recipe.
And what is the most basic of French macarons? Vanilla, of course. With a base recipe you can go to endless places as far as colors, flavors and also fillings. In fact, I'll share some of my favorite macaron combinations in this post.
But making macarons is also intimidating… and I am the first to admit that I am not an expert baker. I'll provide some tips and tricks so that you too, can produce expensive cookies at home.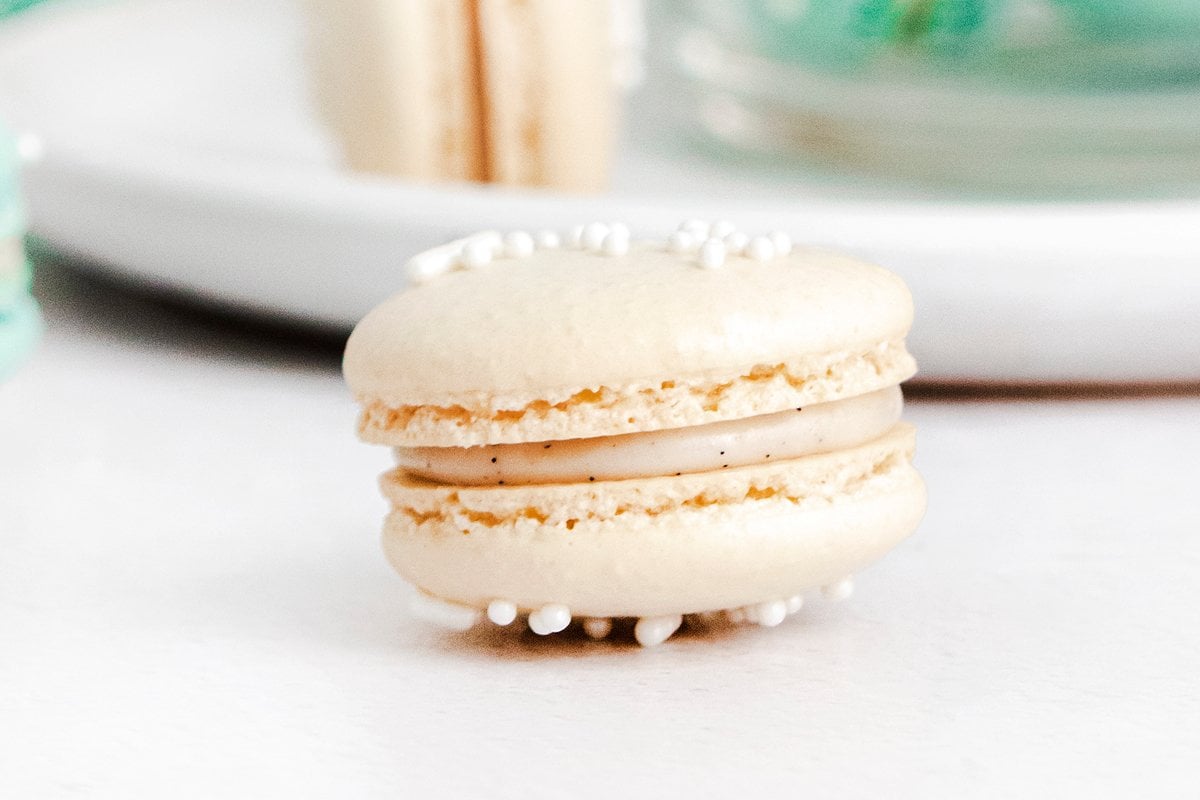 French Macarons
Let's start with the basics, what is a French macaron? They are little cookie sandwiches that some might declare a pastry. Two shells made with merginue, almond flour and sugar are held together with filling.
Vanilla macarons are naturally gluten free (unless gluten is used in the center filling) and cost more because almond flour is several times for expensive than regular all-purpose flour. However, all-purpose flour can not be substituted or else you will lose the light, airy texture that macarons are famous for.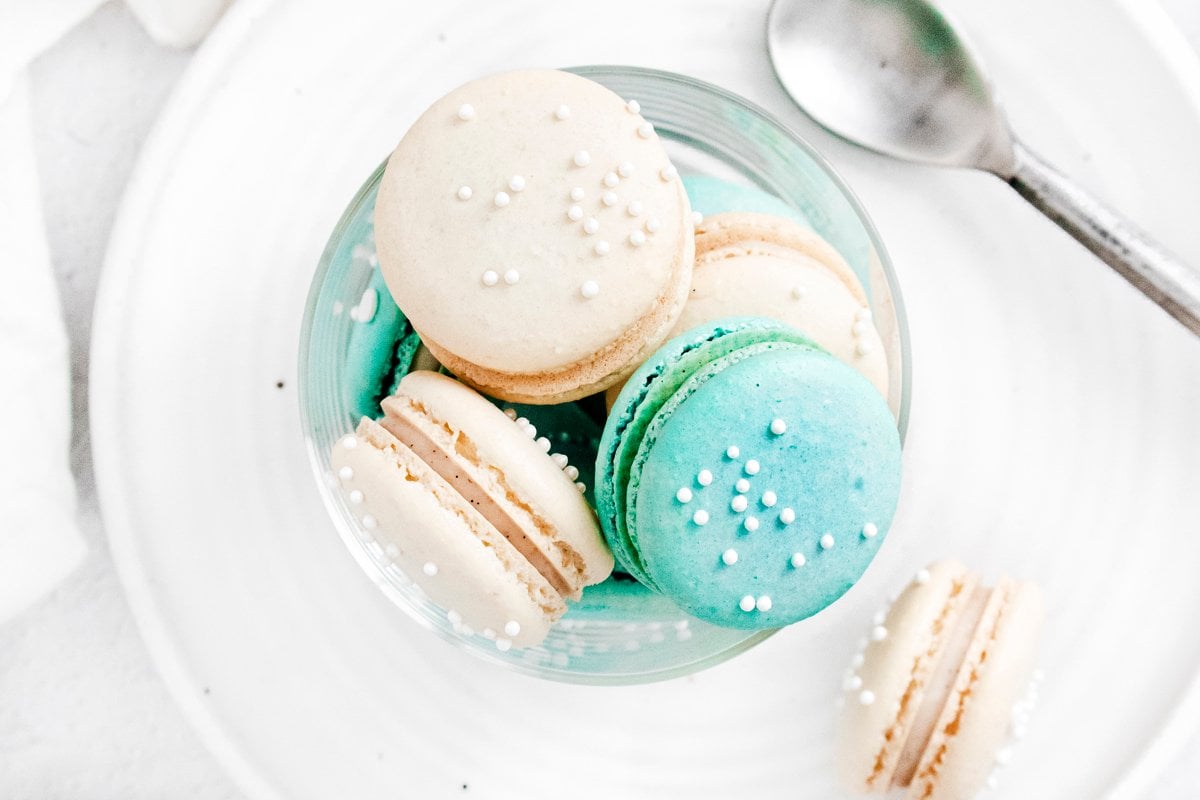 This also uses French meringue, which means that the egg whites and sugar are heated before whisking. This makes for a smoother batter and also prevents you from having to let the eggs come to temperature.
Ideally the shell should be a little crunchy and the interior slightly chewy with a deliciously sweet filling.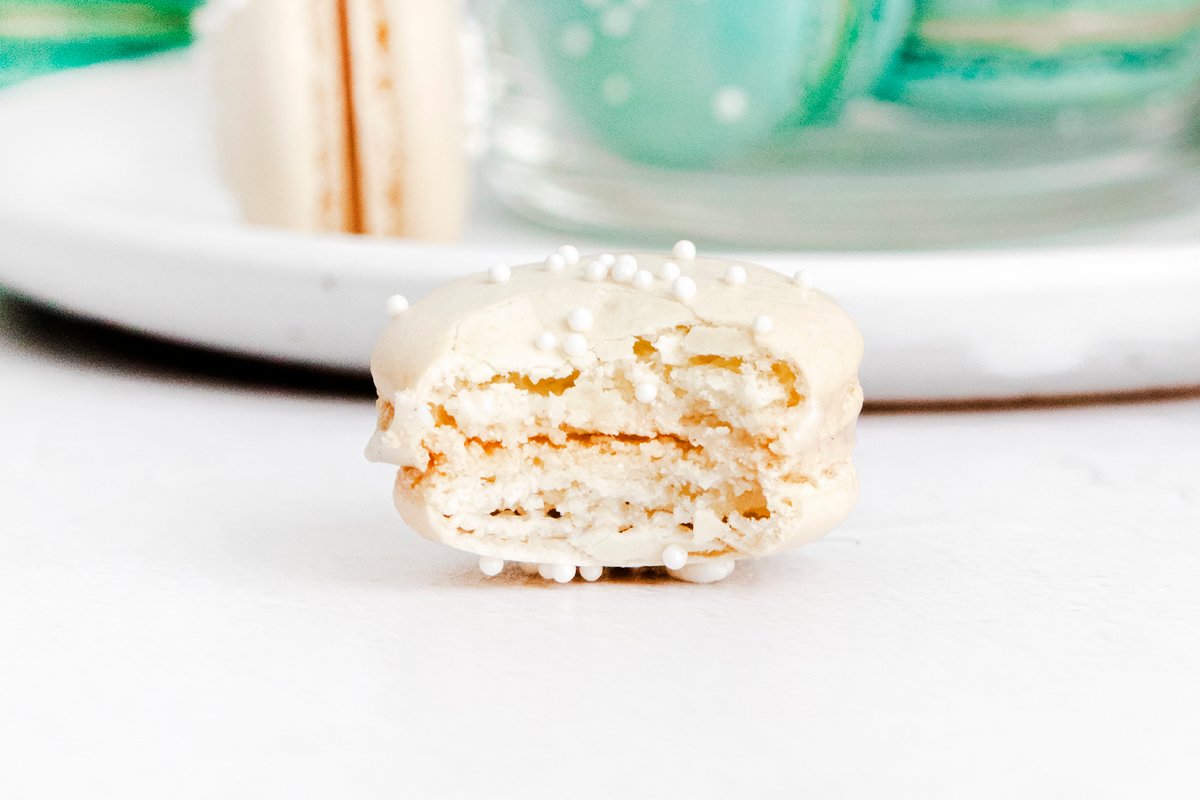 Macaroons vs Macarons
Which evidently leads to the next question: what is the difference between a macaroon and a macaron? Other than the pesky extra "o", a lot actually.
A macaron is a French cookie sandwich while a macaroon is a sweet ball made from sweetened condensed milk, flaked coconut, almonds and chocolate.
Vanilla Macarons Ingredients
Let's get down to the nuts and bolts starting with ingredients. The list is not long, it is technique that will build your delicate little cookie sandwich, so don't just skim the next few paragraphs, I highly encourage you to read them.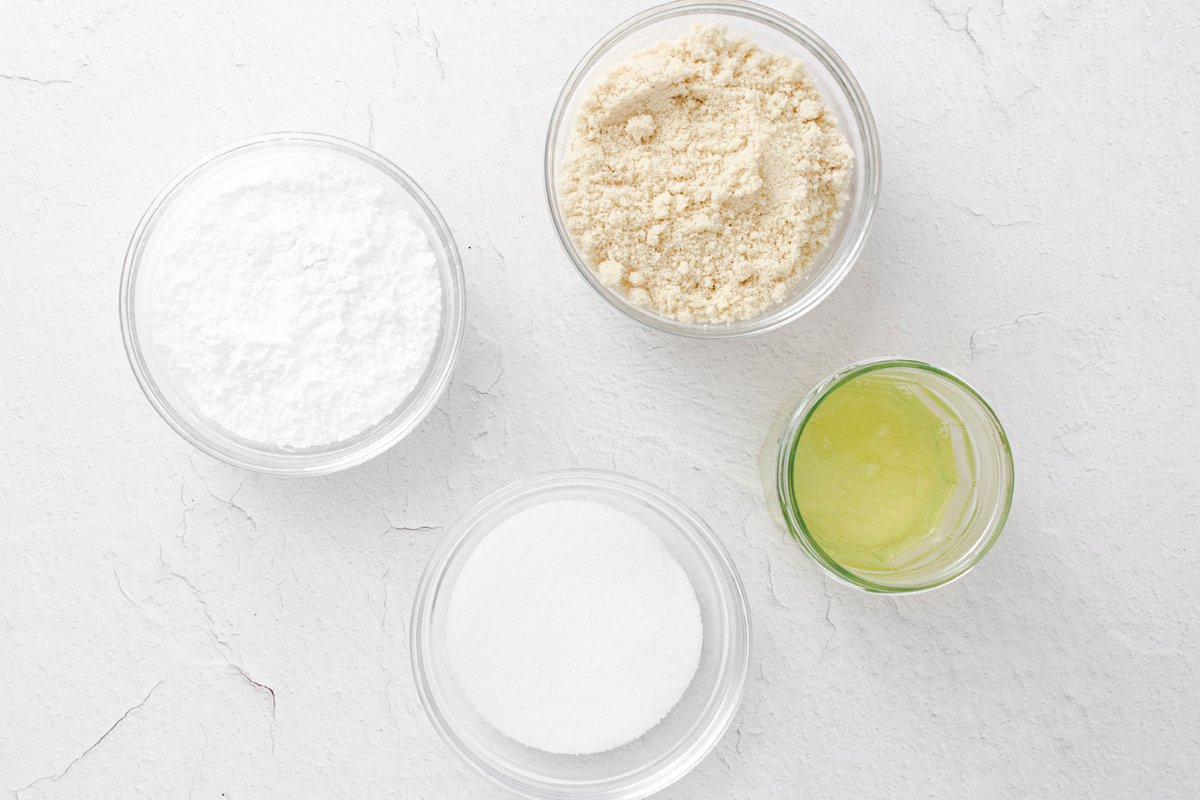 And for the frosting…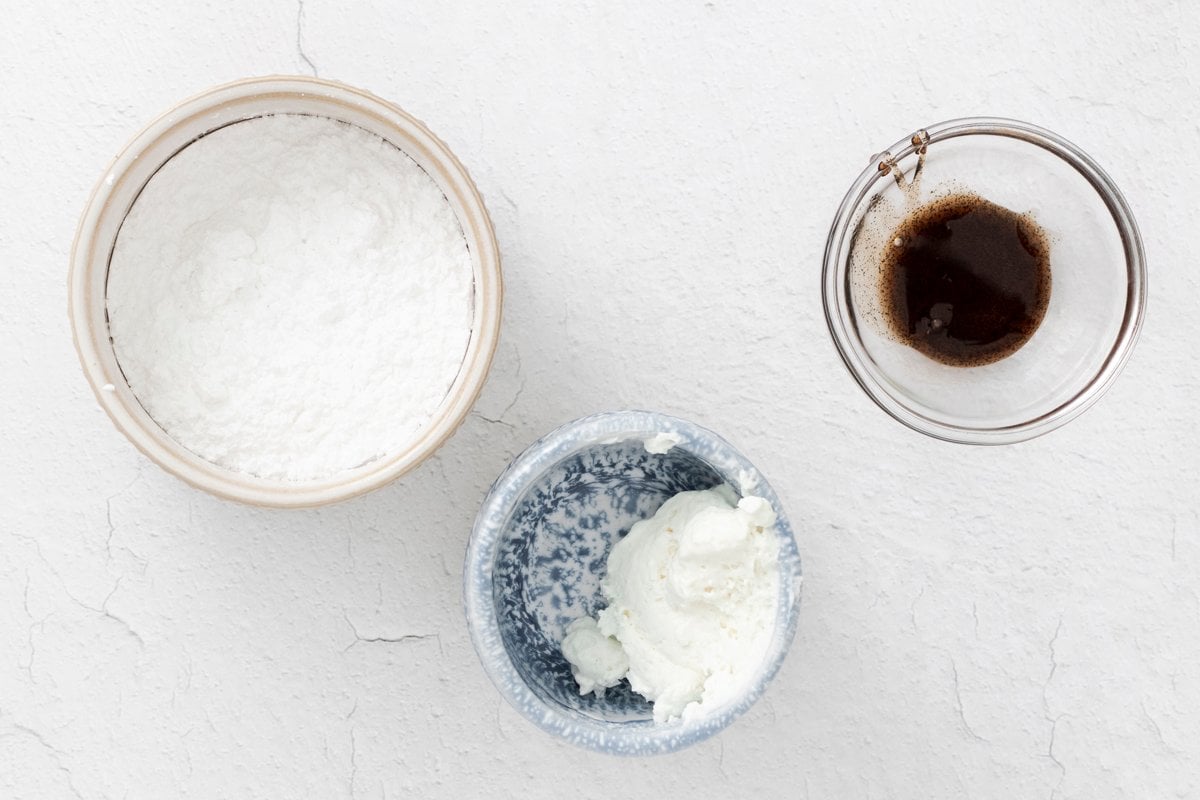 Do I need cream of tartar for macarons? Some recipes call for cream of tartar, but these are typically an American meringue, this is a French meringue and doesn't require it. It just works as a stabilizer.
I'm not going to repeat the directions below in the body post, it is long enough! The recipes instructions for how to make macarons are quite detailed and printable.
Vanilla Bean Paste
The innards of a vanilla bean pod are called the caviar and sometimes marketed as vanilla bean paste. This is the most concentrated form of vanilla you will be able to get and use and because vanilla bean pods are so hard to grow and harvest, this is also quite expensive. It also provides those lovely little flecks indicative of a vanilla flavored item.
Whole vanilla beans are often available in the same spice jars and as other seasonings at the grocery store, and I prefer them for my vanilla macarons. Using a paring knife, scrape out the beans (caviar) and add it directly to the recipe. You'll still have another half and what is called a spent pod. Use these to make vanilla ice cream or your own extract. Don't waste them! They are like gold!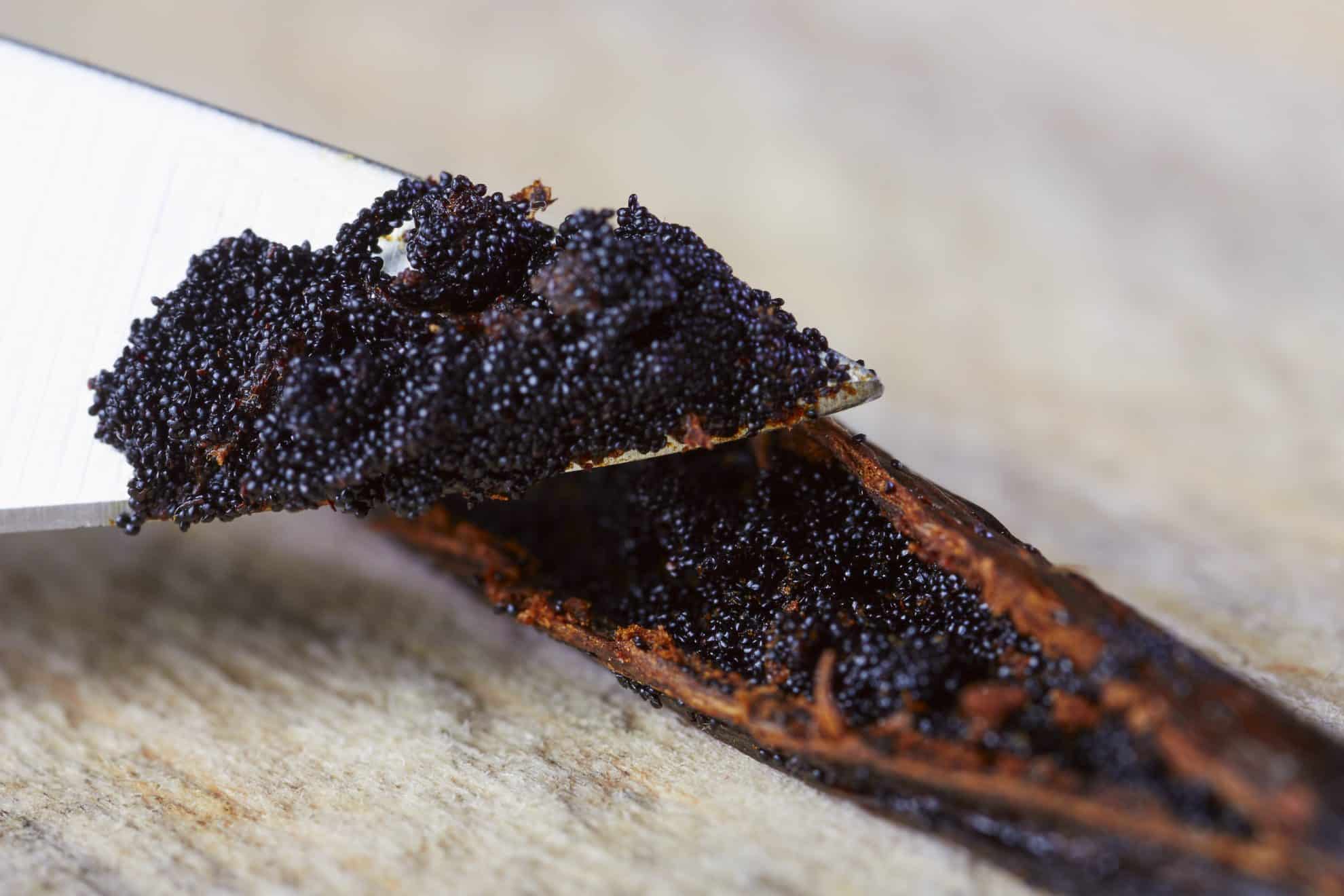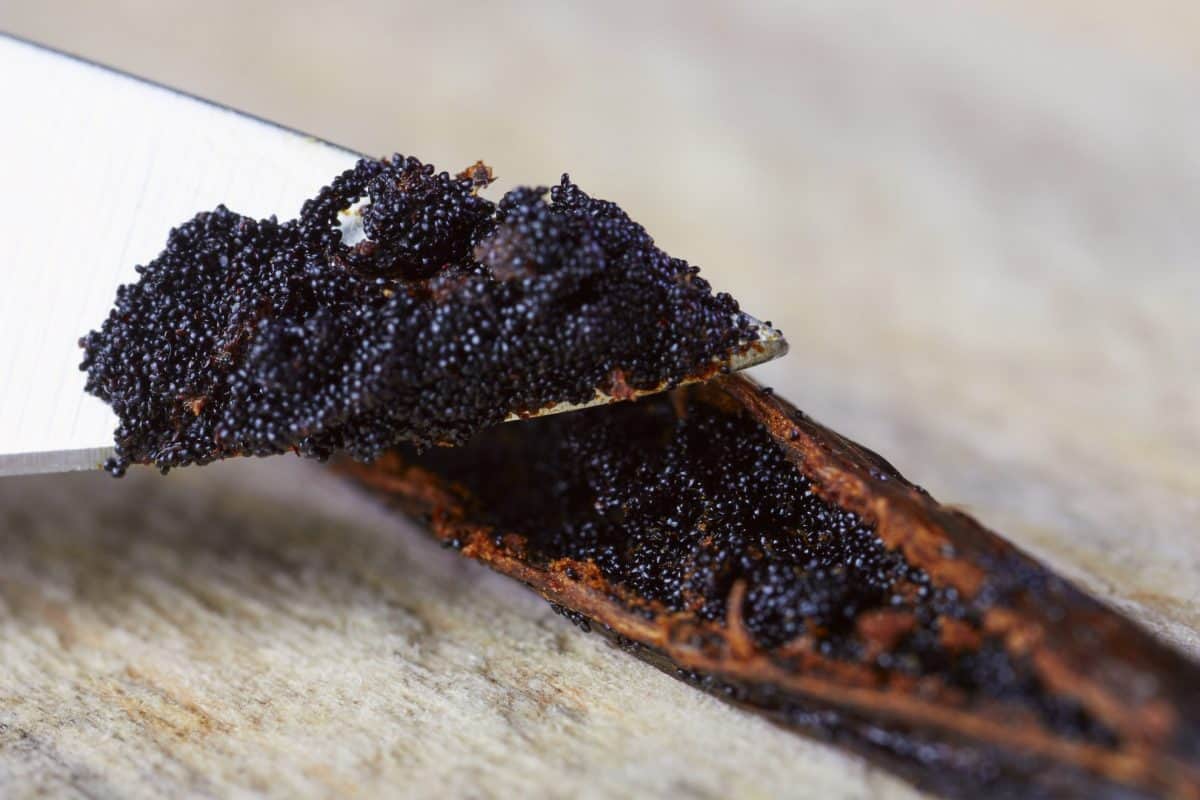 Small jars of vanilla bean paste are also available at specialty grocery stores and online. It is slightly diluted from the purest form, so a middle-of-the-road option. Also slightly less expensive.
Last, but not least, if you want to save money or can't find whole vanilla beans, feel free to use a good quality vanilla extract. The swap is a 1:1 ratio so 1/4 teaspoon vanilla bean paste will be 1/4 teaspoon extract.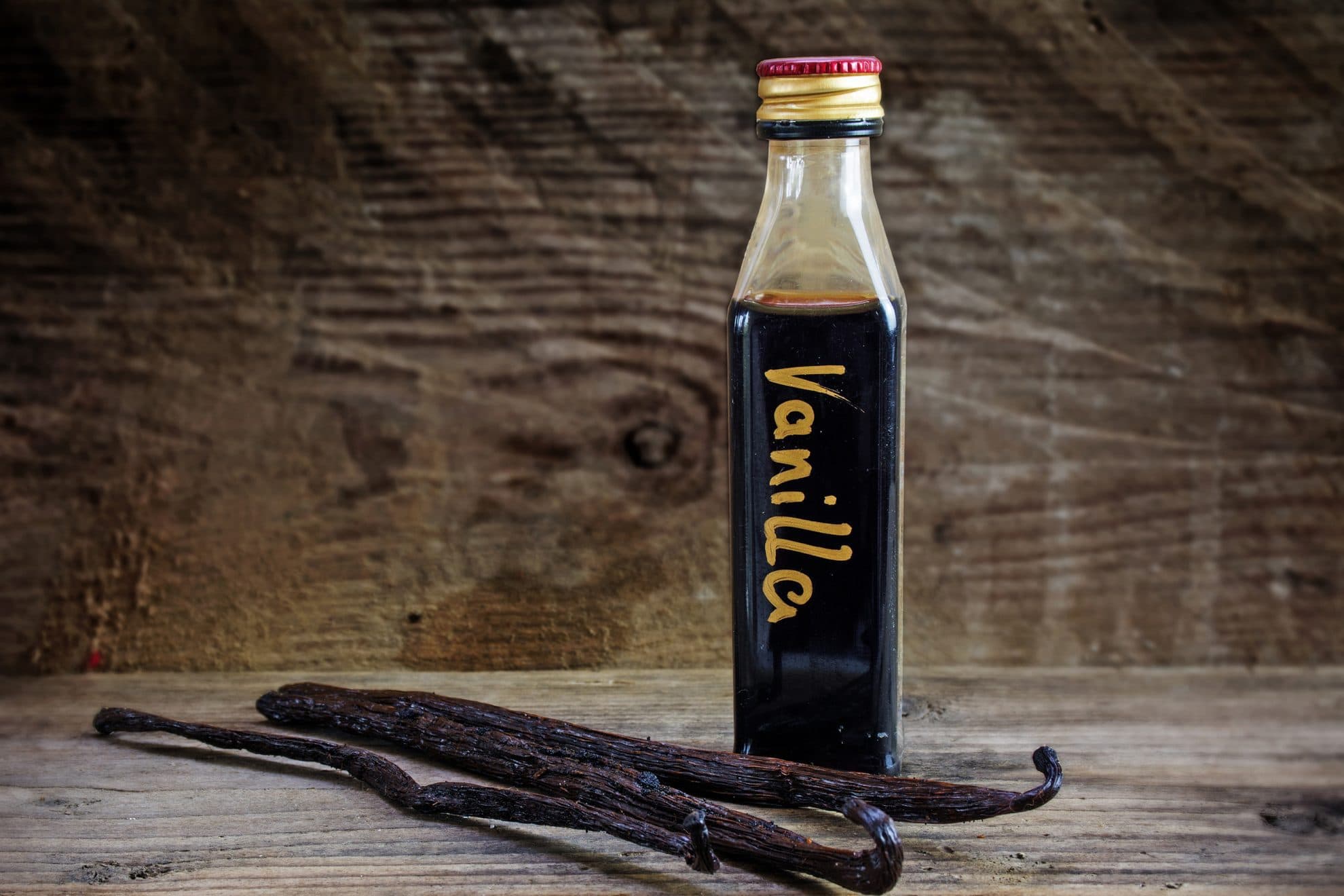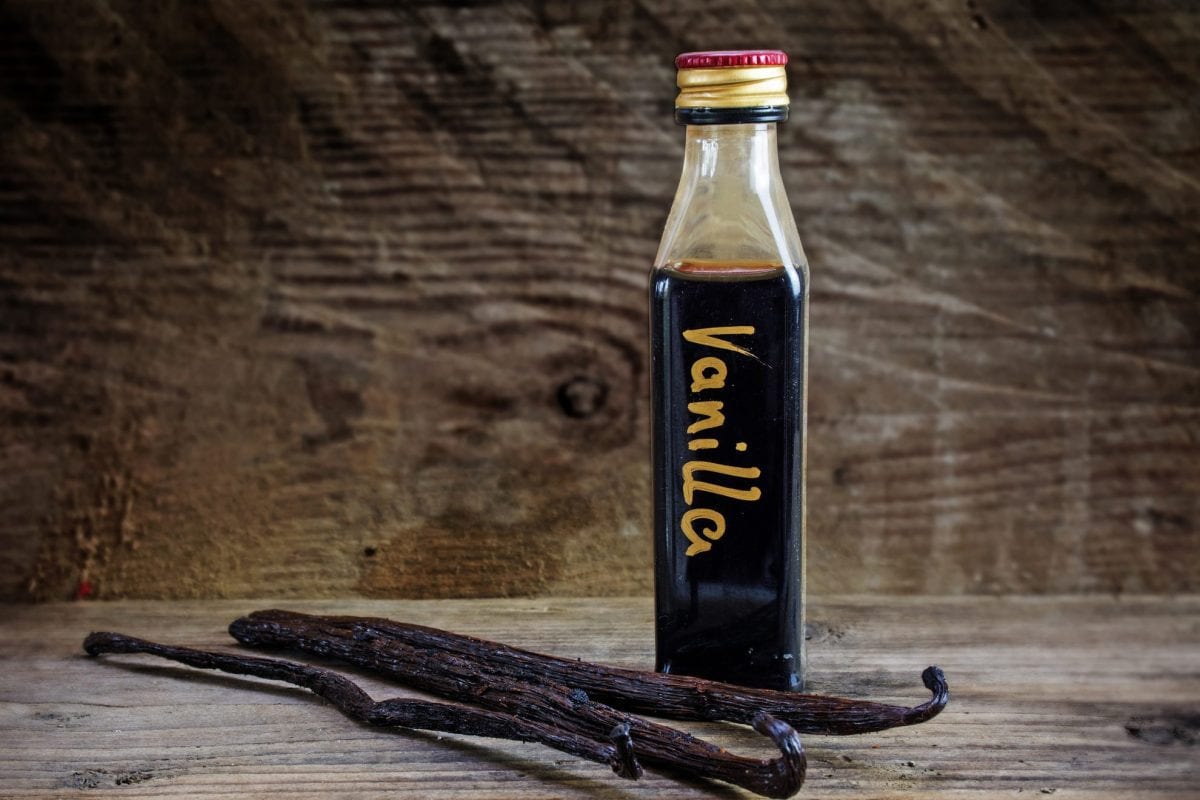 Meringue and the Figure 8
Why do all the macaron recipes ask you make a figure 8? It is an ol school way of knowing the batter has reached the correctly consistency. You don't need to put into a piping bag or anything, just get a good bit onto the spatula you are folding with and try to "write" an 8 quickly. If you can, you are ready, if not, keep working.
You can also use a different number. I won't tell.
Vanilla Macarons Filling Ideas
The fillings for macarons are vast. This recipe uses a cream cheese frosting, but feel free to use other types of frostings or even preserves and jams. The only key is to make sure it is thick and dense enough to not leak right out of the sides.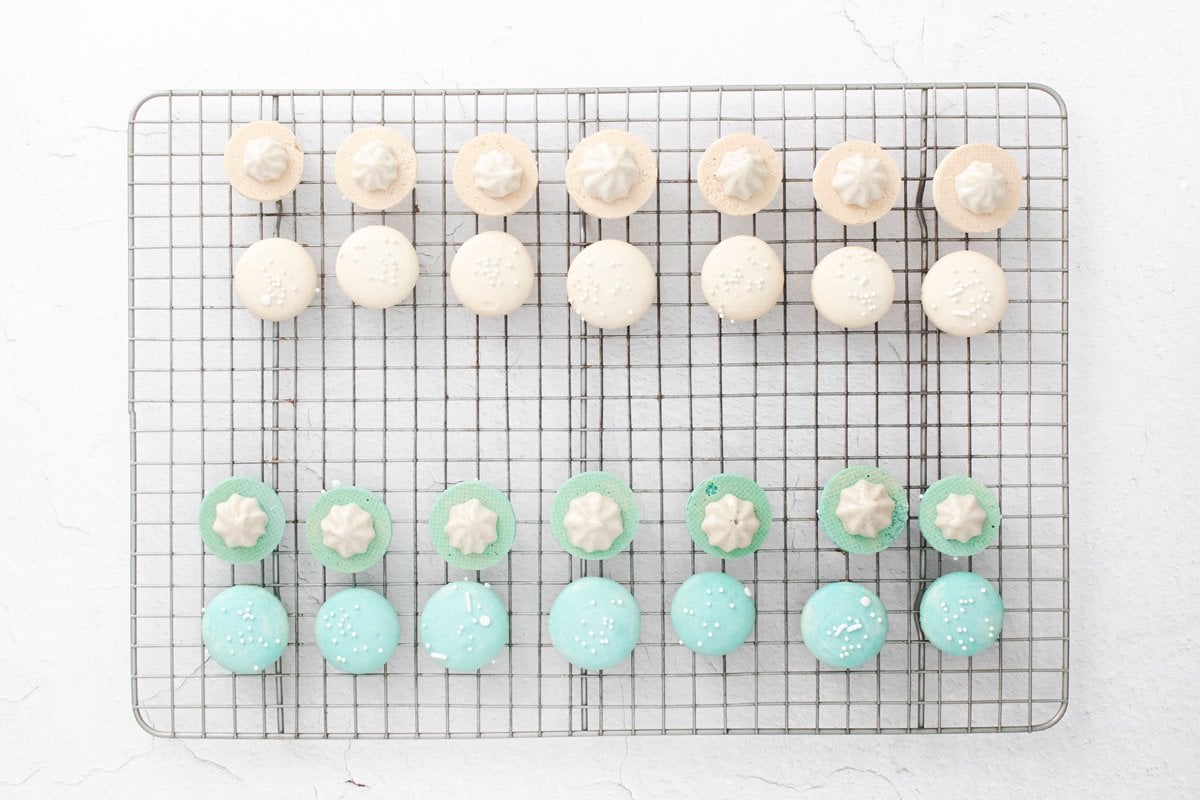 You can even mix two, like a cream cheese and then a small dollop of raspberry preserves. Get creative!
Troubleshooting Vanilla Macarons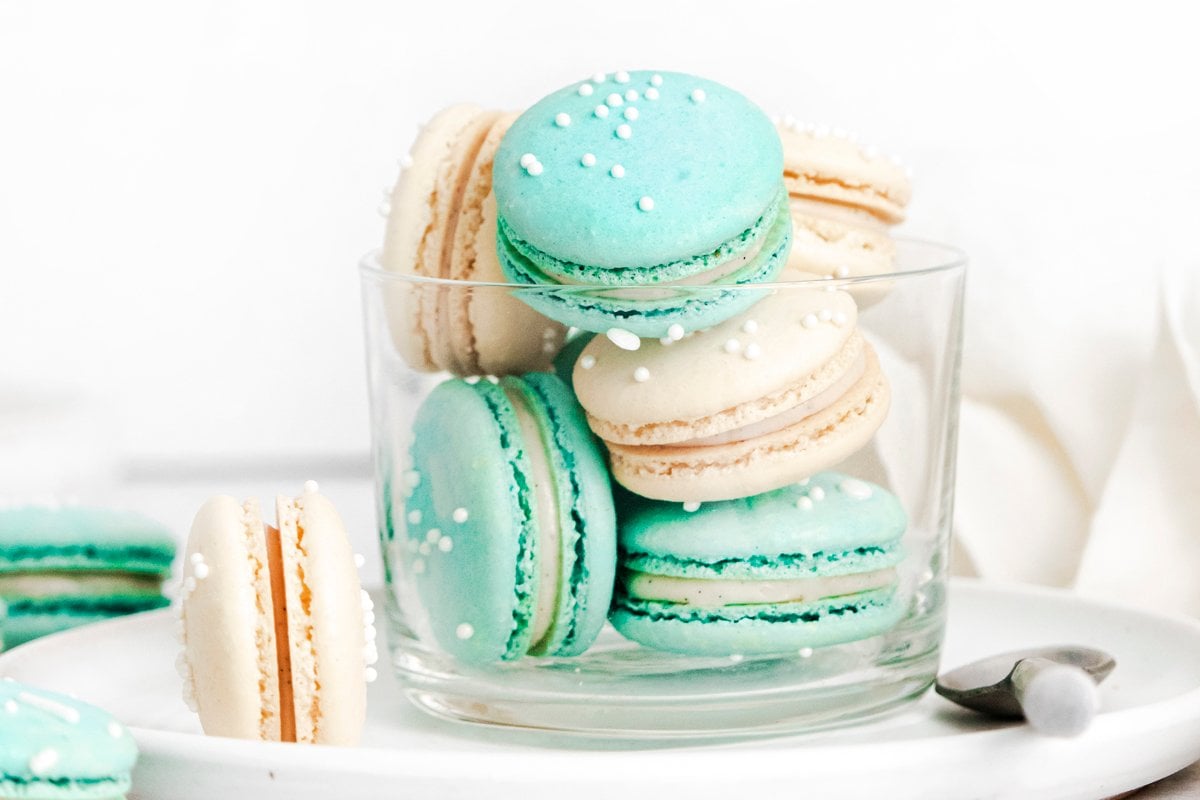 Even though the recipe is so simple, the execution can often get people. Practice makes perfect so just keep at it if you fail the first time. Here are my expert tips to prevent that from happening even just once!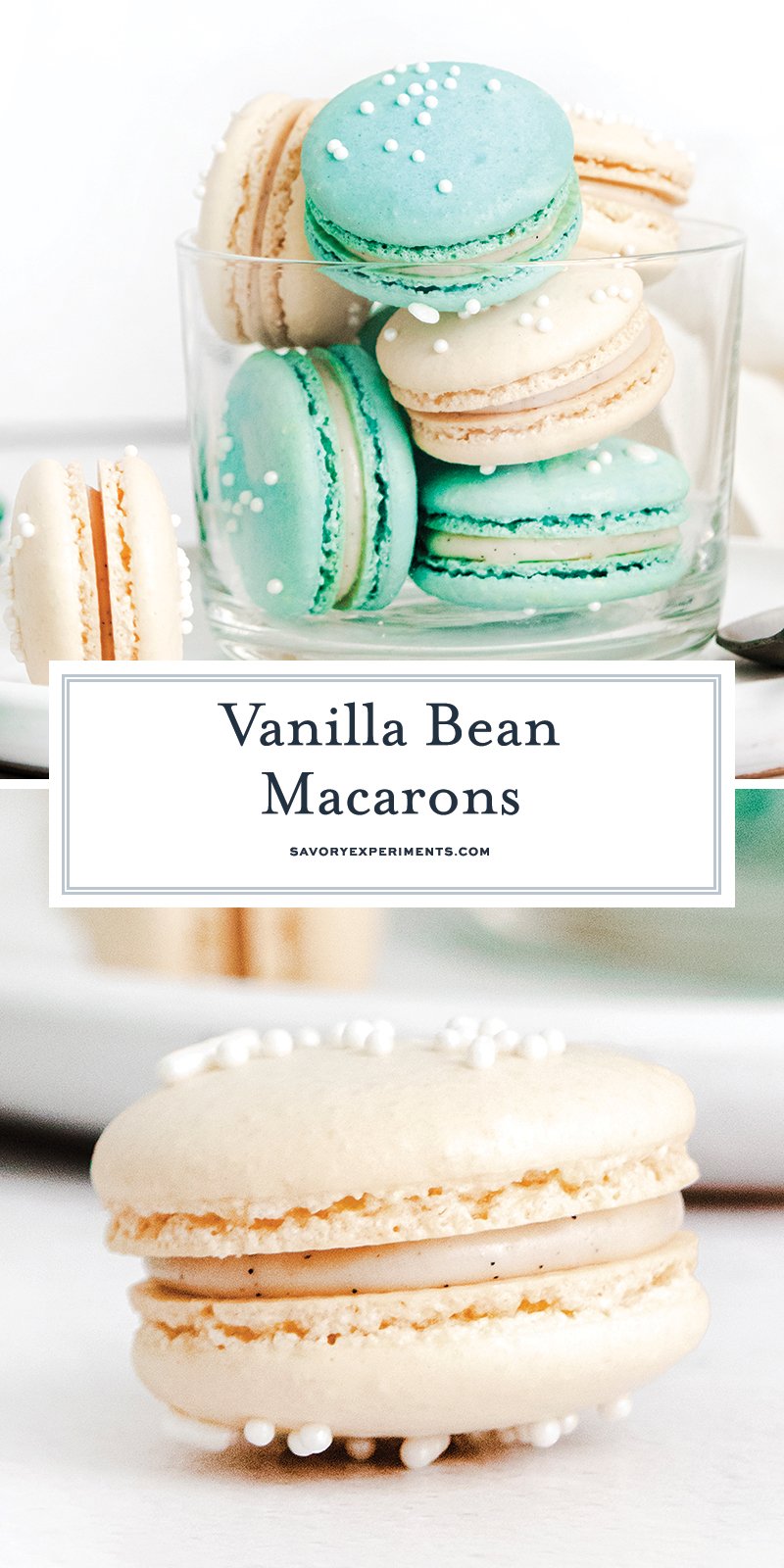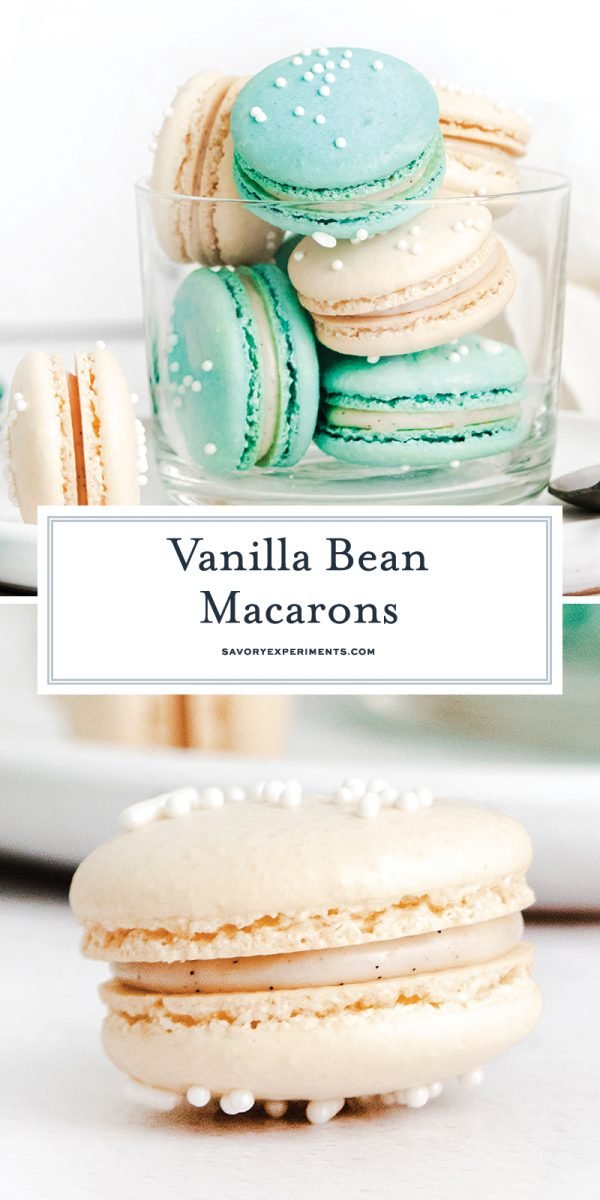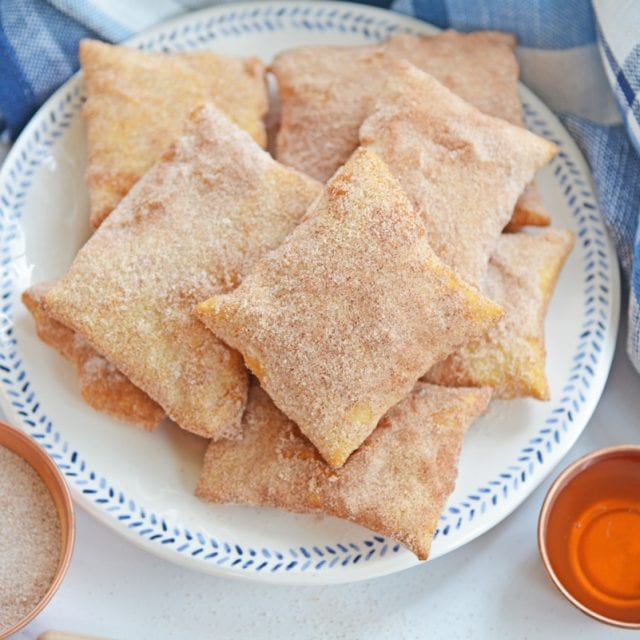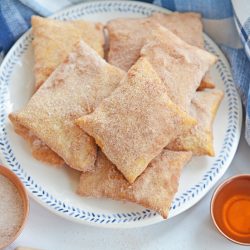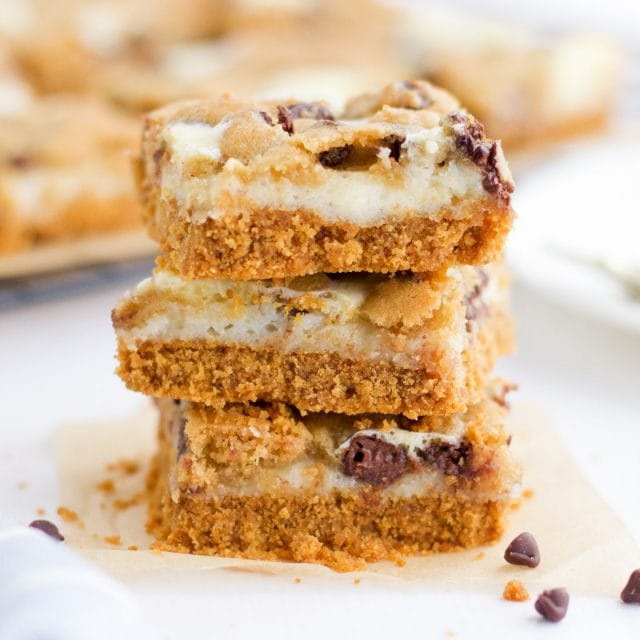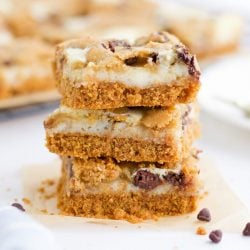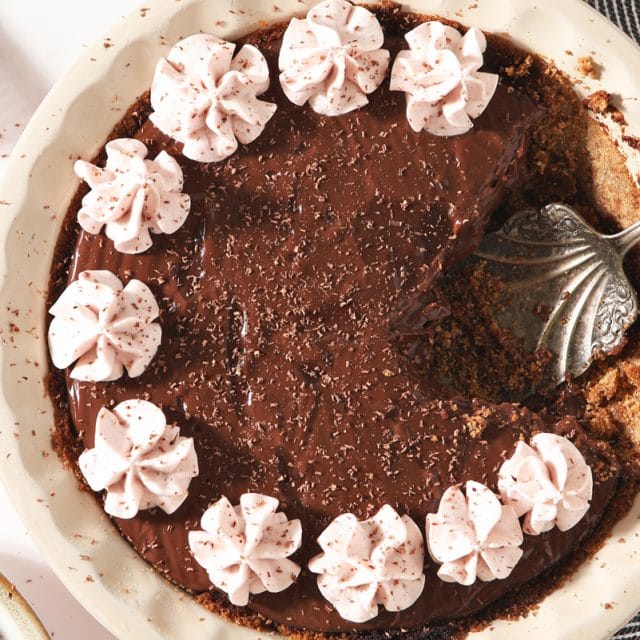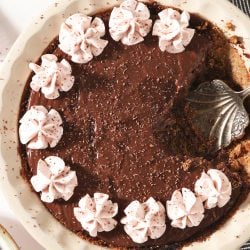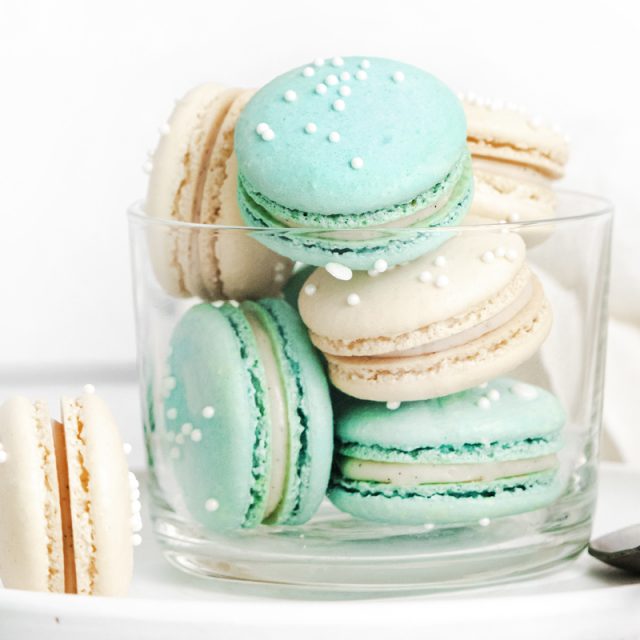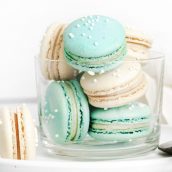 Vanilla Macarons
How to make French macarons, plus our favorite variations and tips and tricks for making homemade vanilla macarons foolproof!
Instructions
Macaron Shells:
Measure the egg whites, granulated sugar, powdered sugar, and almond flour into separate small bowls.

Line two large sheet pans with a silicone mat or parchment paper. Fit a piping bag with a small, round tip (I like a Wilton #10 or 12).

Heat water in the bottom of a double boiler, in the top pot, add the egg whites and granulated sugar. Whisk them together continuously until the sugar has fully dissolved– about 4-5 minutes.

Transfer the egg whites and sugar to the bowl of a stand mixer fitted with the whisk attachment. Beat the egg whites on medium-high speed until they form stiff peaks.

Sift the powdered sugar and almond flour three times through a fine mesh sieve or sifter. If there are any large bits, remove them.

Fold the powdered sugar and almond flour gently into the egg whites mixture, making sure not to deflate the egg whites. Make sure to scrape all the way to the bottom of the bowl while you fold.

When half way folded, add vanilla extract.

(Optional) Once all of the ingredients have been incorporated, remove half of the meringue to a separate bowl and add gel food coloring. To make the teal, I used ¼ teaspoon of Wilton teal gel food coloring.

Smush the batter against the sides of the bowl and fold it back together until the meringue flows smoothly. When the meringue is ready to pipe, you should be able to draw a figure 8 with your spatula without the stream breaking.

If the batter falls off in clumps or breaks during your figure 8, continue smushing and folding a few more times before testing again.

Transfer the meringue to the piping bag fitted with the round tip. Pipe 1" macarons about 2" apart on the prepared baking sheets.

Immediately when you've finished piping a tray, tap it on the counter to release any air bubbles. Repeat 5-6 times, or until it appears that any large air bubbles have popped.

(Optional) Make sure to decorate the macarons with sprinkles before they dry.

Allow the macarons to sit at room temperature until they have formed a skin– about 30 minutes. If it's a humid day, it may take up to one hour. While the macarons rest, preheat your oven to 325°F.

Bake the macarons one tray at a time for 14 minutes, turning the tray half way for even baking. Turn off the oven and open the door for 5 minutes. Preheat again and repeat with the second tray.

Allow the macarons to cool fully before removing them from the tray.
Macaron Filling:
Whisk together the cream cheese, powdered sugar and vanilla beans. Whisk vigorously until no lumps of powdered sugar remain. Transfer the icing to a piping bag and store in the fridge until ready to use.
Assembly and Aging:
Place the macarons in similar sized pairs on a work space.

Pipe a small dollop of icing onto the flat size of one of the macarons. Gently press another macaron on top, just until the icing reaches the edges.

Transfer the macarons to an airtight container and place them in the fridge to age overnight. Bring to room temperature before serving.

If you've tried this recipe, come back and let us know how it was in the comments or ratings!
Notes
*Or substitute 1/4 teaspoon vanilla extract
Nutrition
Calories:
73
kcal
,
Carbohydrates:
11
g
,
Protein:
1
g
,
Fat:
3
g
,
Saturated Fat:
1
g
,
Cholesterol:
1
mg
,
Sodium:
10
mg
,
Potassium:
8
mg
,
Fiber:
1
g
,
Sugar:
11
g
,
Vitamin A:
16
IU
,
Calcium:
11
mg
,
Iron:
1
mg