Almond Coconut Macaroons are about to become your new favorite coconut cookies. Read about the origin of a macaroon, the difference between a macaroon and macaron and how to make your own light and fluffy coconut macaroons!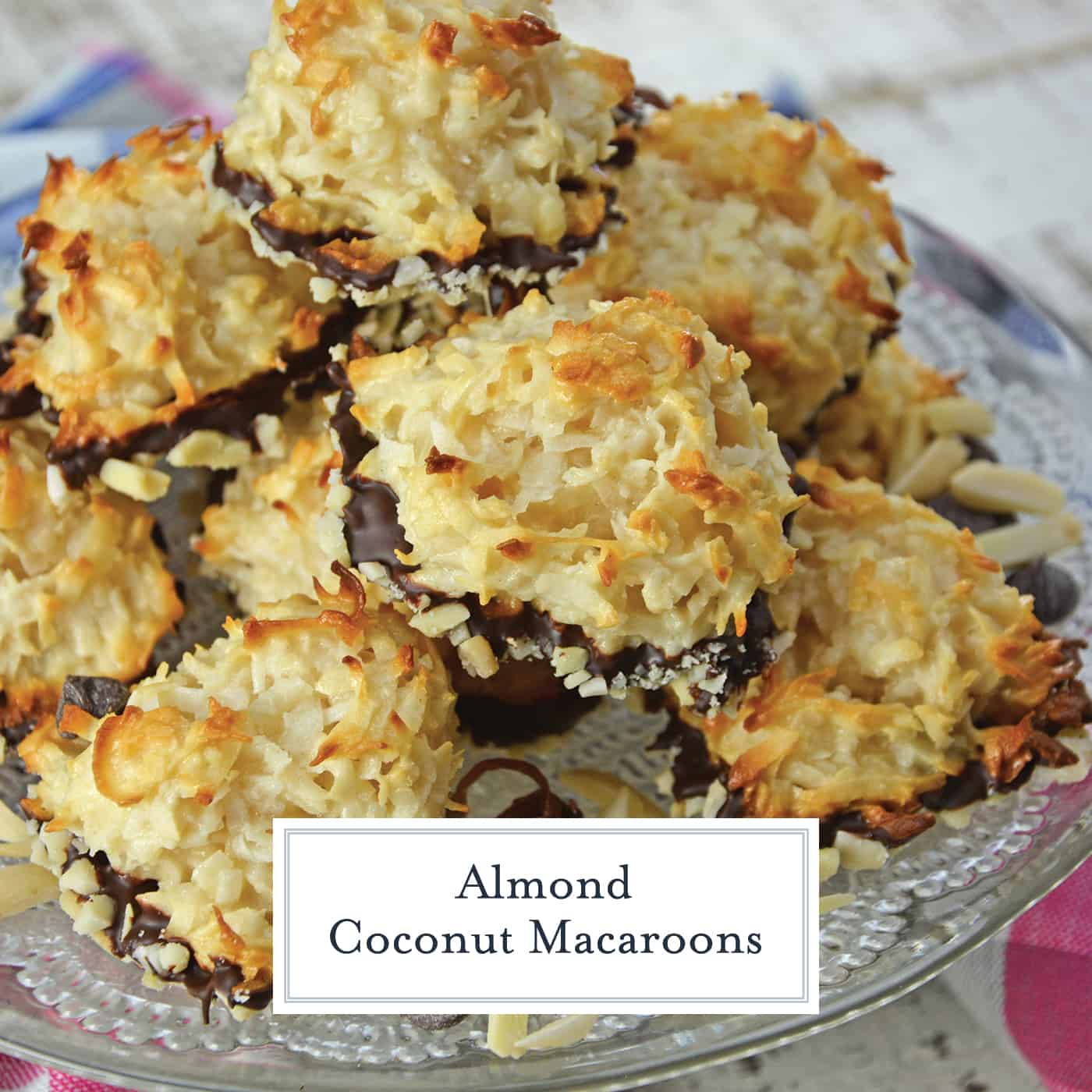 Almond Coconut Macaroons are light, fluffy coconut cookies dipped in chocolate and almonds. Perfect as a dessert, for tea for as a an afternoon snack.
I can't tell you how many folks ask about the difference between a macaroon and a macaron or how many are sorely disappointed when they expect one confectionary treat and end up with the other.
Both are equally as good, but are vastly different even though their spelling only varies by one letter.
Fact: Traditional macaroons use crushed almonds and coconut.
Coconut macaroons are Italian, with the word macaroon being derived from the word ammaccare, which means "to crush." This was in reference to almond paste historically used to make coconut macaroons. They are sometimes referred to as Almond Macaroons because of this.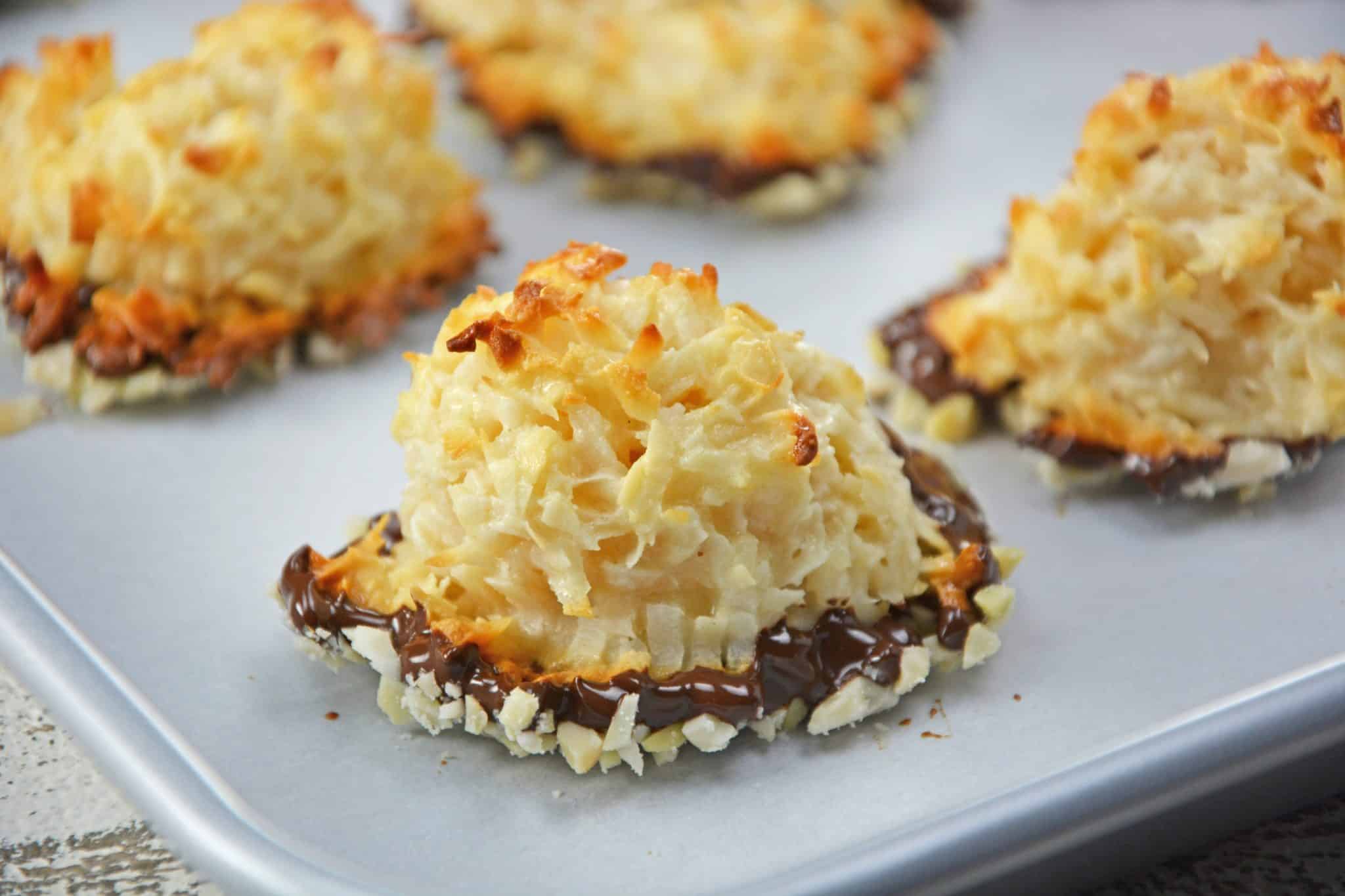 Through the centuries the recipe has morphed into being an egg white and flour base or a sweetened condensed milk base and the almond paste has disappeared altogether, making them just shredded coconut and chocolate. Some don't even have almond.
FACT: Italian and French Macarons use the same ingredients, but have a different process.
There are actually two types of macarons, a meringue style cookie sandwich. Italian and French macarons have the same ingredient list: egg whites, almond flour and castor (or powdered) sugar, but have different processes to get to the end result.
We'll save those details for another post.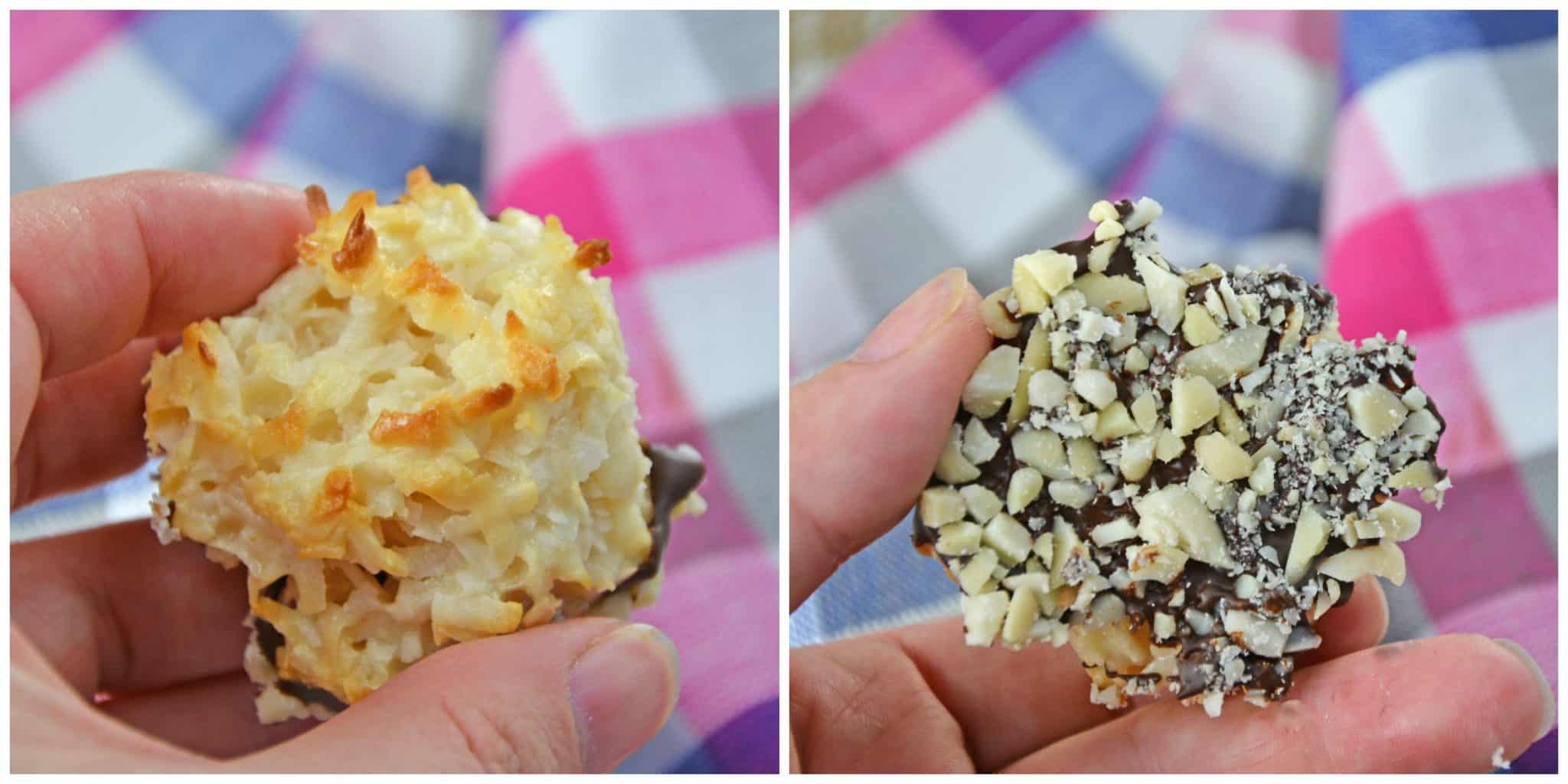 Right now we are focused on coconut macaroons. Almond has somehow been squeezed out of new age macaroons, so I wanted to introduce it back in, but in an easier (and cheaper) fashion than crushing it by hand, although I do like any excuse to use my mortar and pestle.
My Almond Coconut Macaroons use almond extract and chopped almonds instead of almond paste. I also used a combination of sweetened condensed milk and egg white to make a light, fluffy cookie that was more stable than using just one or the other.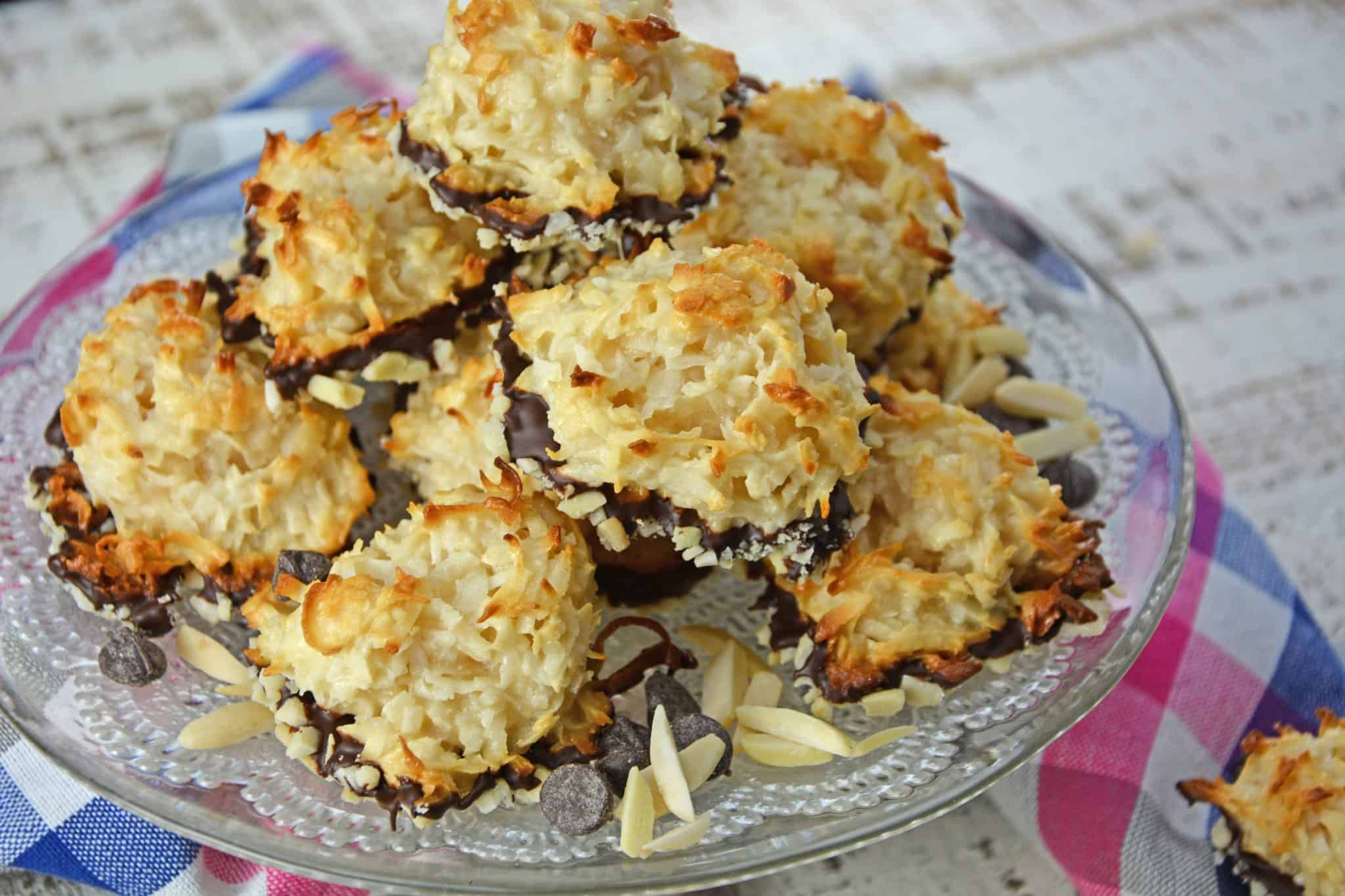 Almond Coconut Macaroons are still super easy to make with only 8 ingredients. The coconut biscuit can be mixed and baked in just 15 minutes. The longest time will be allowing them to cool before dipping them in milk chocolate and chopped almonds.
Much simpler than their close friends, the macaron.
If you prefer one type of chocolate over another be my guest to substitute it. White chocolate, dark chocolate, semi-sweet chocolate, milk chocolate- it is all welcome! You will need chocolate in order for the almonds to stick.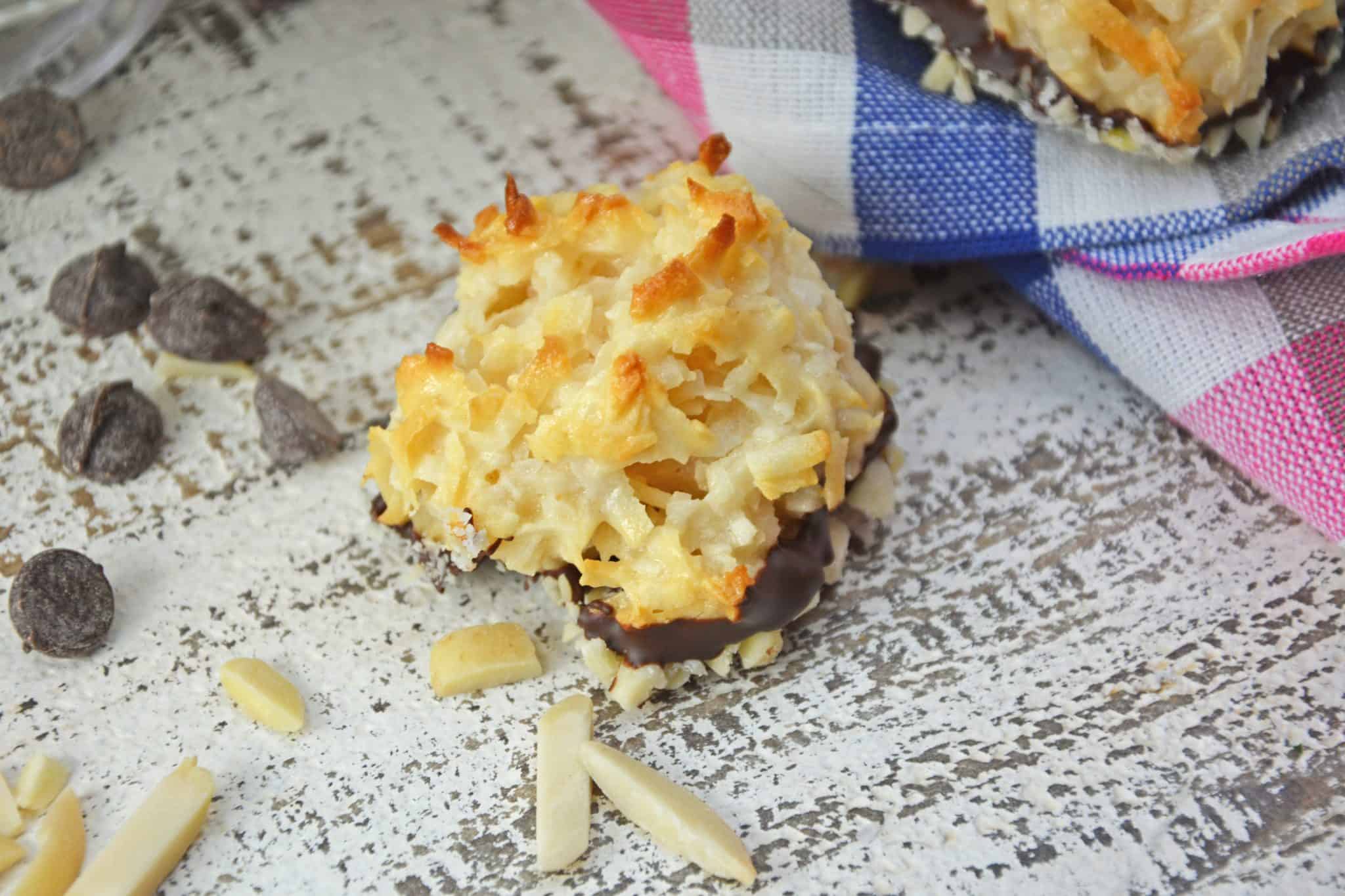 While you desire a light brown top with crunchy little coconut edges, you don't want the bottoms to brown too fast. To prevent this, I suggest using insulated cookie sheets and parchment paper. See links below for some ideas.
Tools for making Almond Coconut Macaroons:
Insulated Cookie Sheet– Insulated cookie sheets allow hot air to circulate around the entire cookie, resulting in even baking.
Parchment Paper– Prevent sticking and burning with parchment paper!
Cookie Scoop– The easy way to make sure all of your macaroons are uniform in size!

Questions you might have about how to make almond coconut macaroons:
Can you make macaroons in advance? Sure! Be mindful that with any cookie, they are best served within the first 24 hours.
How do I store almond coconut macaroons? Store your macaroons in airtight plastic containers in a cool and dry place. Making sure it is dry is imperative to not growing mold. Seperate layers with parchment or wax paper.
How long do macaroons stay good? I would say about 5 days if stored correctly, but I doubt yours will last that long!
Are almond macaroons gluten free? The recipe as it is written is not gluten free and needs the flour to rise.
Can I freeze macaroons? I have never had to freeze my delicious coconut cookies, but I am sure you can. Simply package in an airtight container or plastic bag and they should stay good for up to 4 months.
Make sure to scroll on down for even more Macaroon Recipe Ideas!

Almond Coconut Macaroons
Almond Coconut Macaroons are light, fluffy coconut biscuits dipped in chocolate and almonds. Perfect as a dessert, for tea for as a an afternoon snack.
Instructions
Preheat oven to 350 degrees.

In a large mixing bowl, combine sweetened flaked coconut, flour and salt, mixing well.

Add egg white, sweetened condensed milk and almond extract. Mix until all is just wet. Do not over mix.

Using a tablespoon cookie scoop, scoop out 12 macarons onto a parchment lined cookie sheet.

Bake for 12-14 minutes or until the tops start to brown.

Remove and allow to cool.

Dip bottoms in melted chocolate and immediately roll in minced almonds. Return to parchment lined cookie sheet to harden. You may want to transfer to the refrigerator for 10 minutes to speed up the process.

Store in an airtight container at room temperature until ready to serve. Best 1-2 days after baking.

After you've tried this recipe, we welcome you to come back and let us know how it went! We love comments and it helps other readers.
Nutrition
Calories:
177
kcal
|
Carbohydrates:
23
g
|
Protein:
2
g
|
Fat:
8
g
|
Saturated Fat:
6
g
|
Cholesterol:
5
mg
|
Sodium:
266
mg
|
Potassium:
154
mg
|
Fiber:
2
g
|
Sugar:
17
g
|
Vitamin A:
45
IU
|
Vitamin C:
0.4
mg
|
Calcium:
54
mg
|
Iron:
0.6
mg
I'm part of this fabulous group called Celebrating Food Holidays… we get together and make some of the BEST recipes to celebrate national food holidays. For this post, we are celebrating National Macaroon Day!!!!! Woot woot!
And even more coconut macaroon recipes!