This Kung Pao chicken recipe is a stir-fried chicken with the perfect combination of salty, sweet and spicy flavors. Made with tender chicken, veggies, velvety peanuts, and spicy chili peppers, it is the ultimate take-out Chinese food, at home.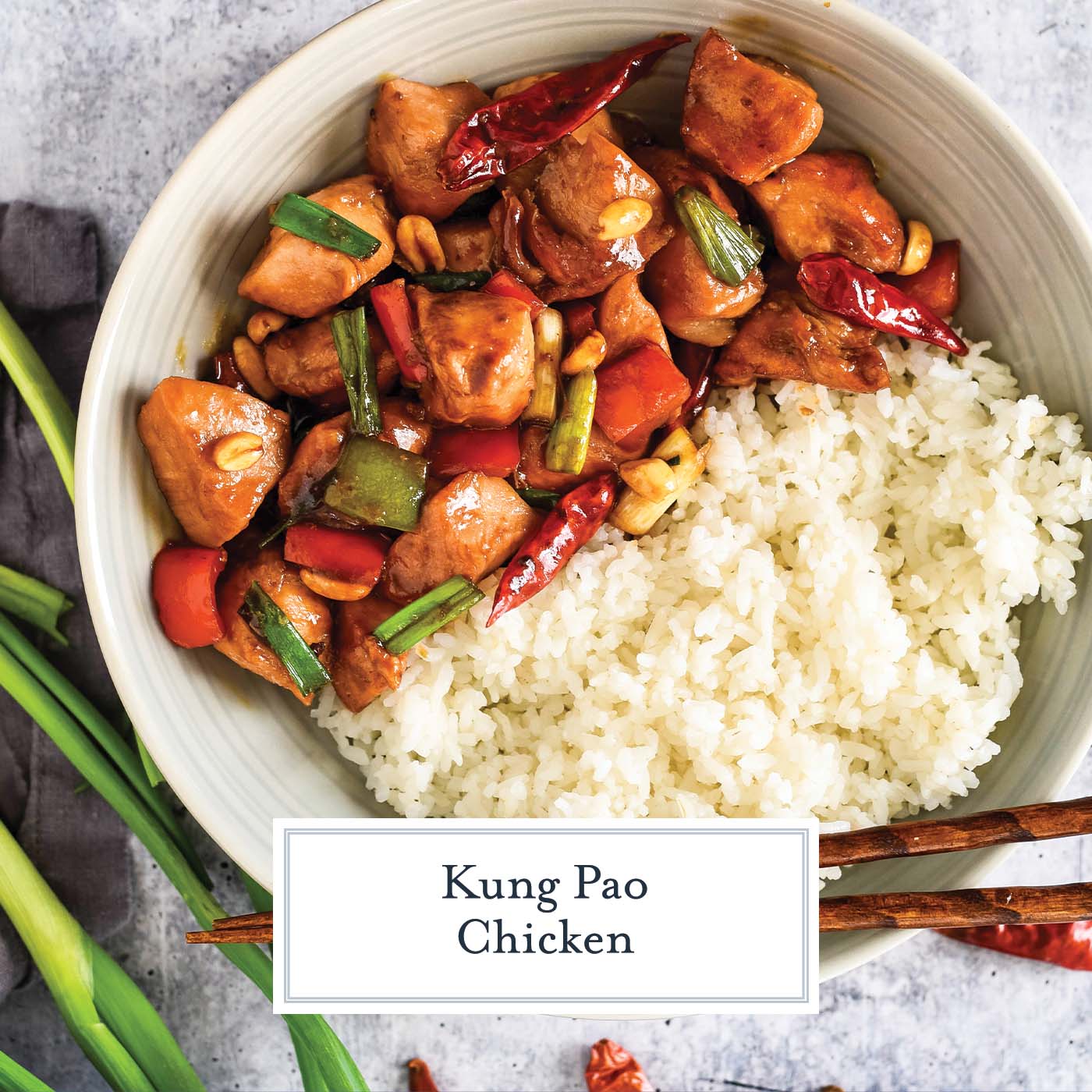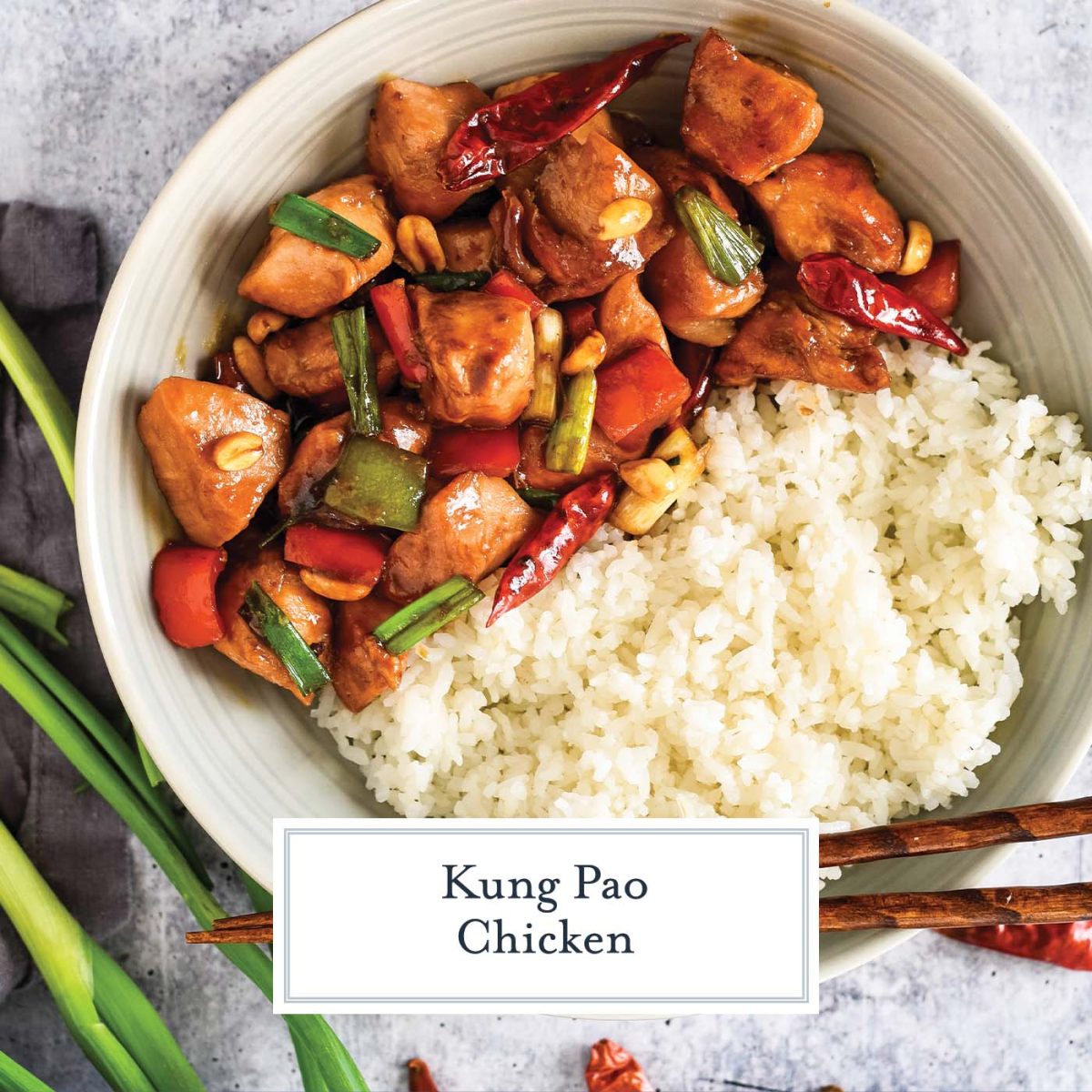 This easy kung pao chicken is better than takeout and ready in 30 minutes, which makes it a perfect weeknight meal, great for leftovers and meal prep. Serve with your favorite white or brown rice on the side.
What is Kung Pao Chicken?
You have probably previously heard of this dish because it's so popular all around the world. Kung Pao Chicken originated in the Sichuan province of southwest China, known for its spicy cuisine. This stir-fry is made with chicken (or shrimp), vegetables, peanuts, and chili peppers. The dark sauce has elements of sweet, tangy, salty, and spicy- just about everything you could possibly fit into a sauce.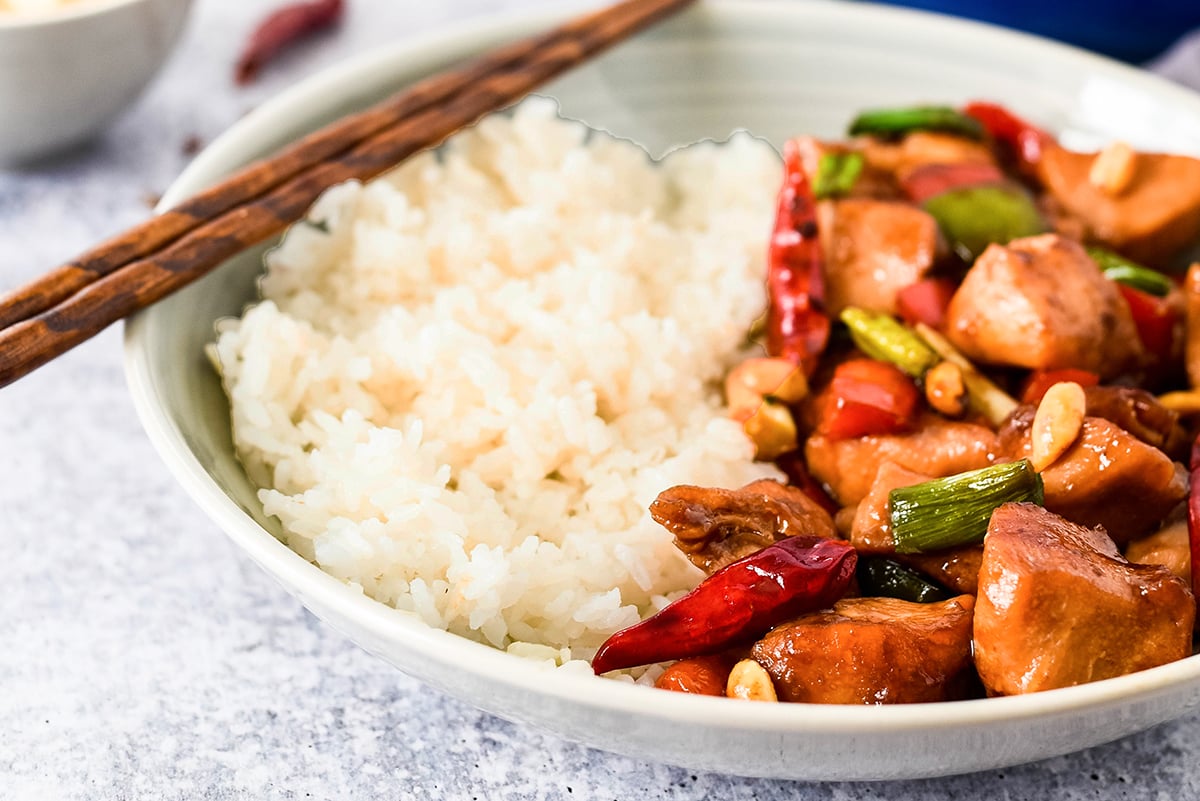 As the world fell in love with this dish, each place began to put its own spin on it (as that happens as food travels around). The sauce has been changed many times to reflect ingredients available in different locations, and the vegetables included change a lot, too.
This version tries to be mindful of authentic versions with the addition of sichuan peppercorns (for that numbing feeling) and dried red chiles for the spiciness, while also giving plenty of substitution choices to make the sauce and tips for varying heat levels and local ingredient availability.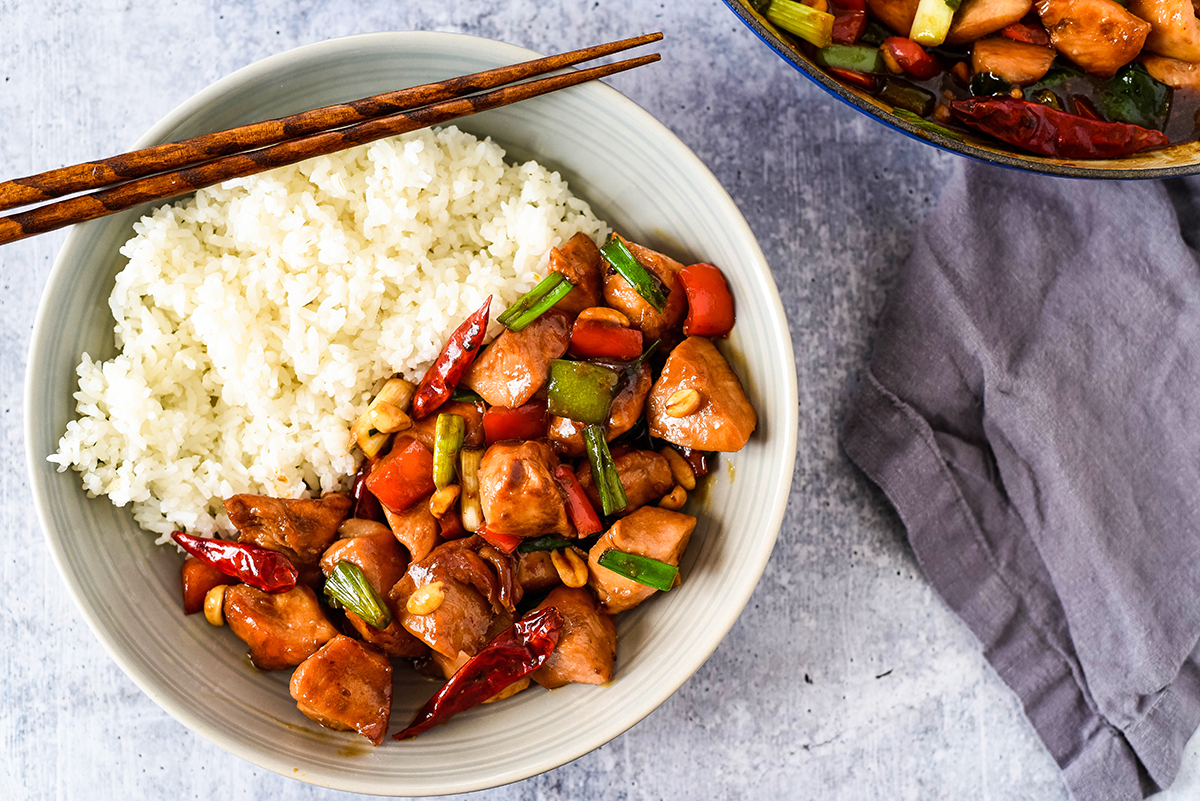 Kung Pao Chicken Ingredients
Chicken Marinade
Using a marinade and a sauce gives this dish levels of sophistication with distinct flavors. A combination of baking soda and cornstarch, known as "velveting", helps protect the chicken's moisture from the high heat and give it the signature soft exterior. The marinade tenderizes and brines, helping the chicken get a beautiful golden edge without overcooking
Chicken Breasts – use fresh, good quality boneless skinless breasts. Cut them into even 1-inch pieces of uniform size. Chicken thighs can also be used, as can shrimp or a combination of all of them.
Shaoxing Wine – this is a Chinese rice wine with a dark amber color. You can also substitute it with dry sherry, but don't substitute with a clear rice wine or rice wine vinegar – it is not the same thing.
Soy Sauce– Light soy sauce is the go-to for most Americans. While this is fine- try a true dark soy sauce or my favorite, mushroom flavored. These are more like a syrup, less salty and robust in flavor so go light on the volume.
Baking Soda– There is no substitution, baking soda is a chemical leavener common in baked goods, but when activated by an acid (soy sauce and shaoxing wine) it gets all bubbly alkalizes the meats surface which helps those bite-sized chunks stay soft. You can get velvet chicken with just cornstarch, but it is more effective with both.
Cornstarch– As a thickener, cornstarch dries the surface allowing for a nice brown, which deepens the flavors. The residual cornstarch will also thicken the sauce and bring it all together.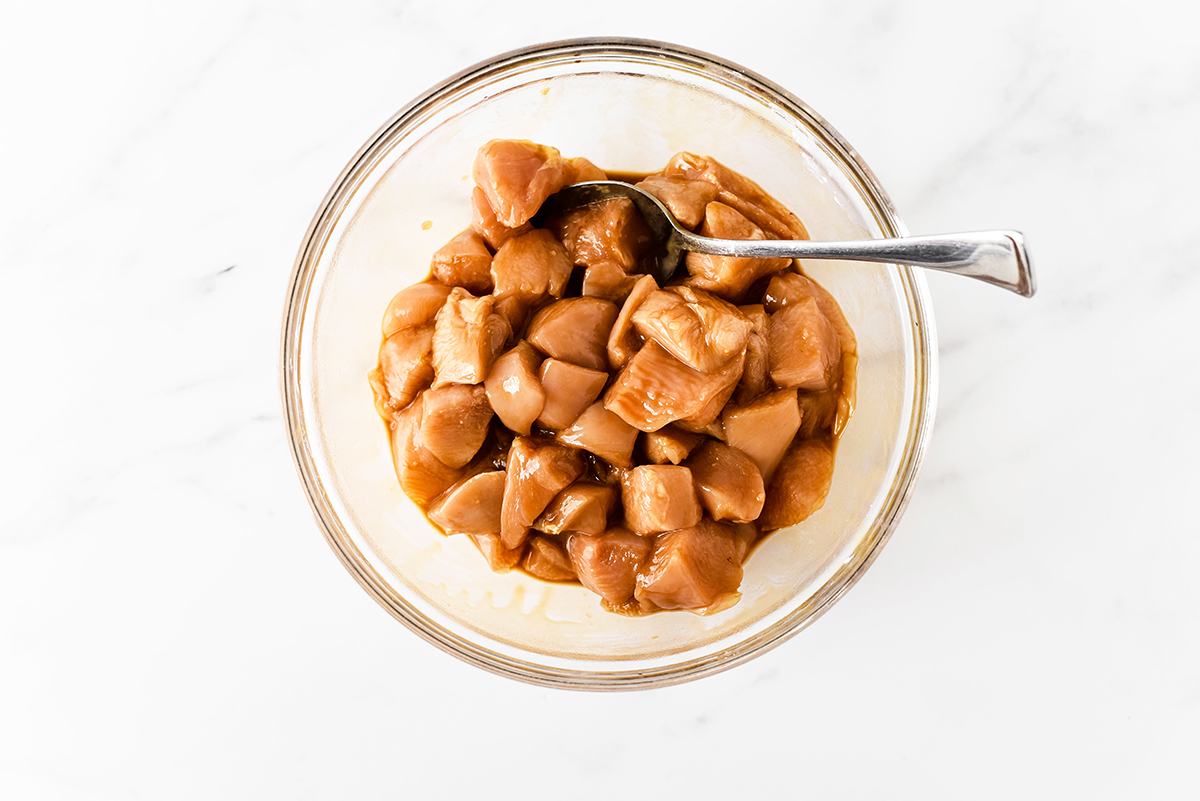 Kung Pao Sauce
Soy sauce (or tamari)– Read out notes above regarding soy sauce, but also known you can use tamari, which is a byproduct of miso and naturally gluten-free.
Rice wine vinegar– Here we are using rice wine vinegar, which is made from rice wine and you got it, vinegar.
Shaoxing wine (or dry sherry)– See notes above.
Brown sugar– To balance all of the savory and acidic elements, you need something sweet. In this case, we've used brown sugar. LIght or dark will do the job, but honey can also be swapped.
Cornstarch– To thicken it into a shiny sauce.
Hoisin sauce– This sauce is not only salty, but sweet. It is naturally multifaceted and this one ingredients can make it break this zappy sauce.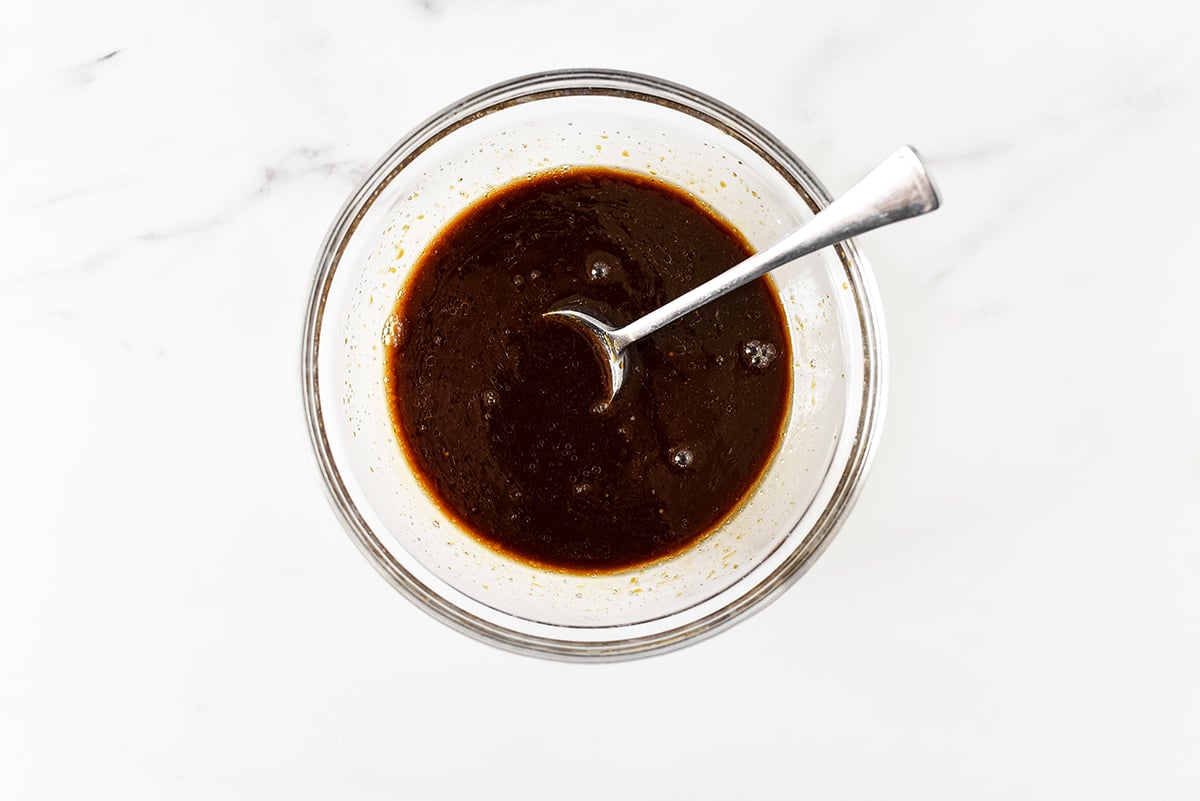 Stir Fry
In this kung pao chicken version, I have included plenty of crisp and colorful vegetables, and traded out some of the spicy chiles for milder bell peppers. Adding flavorful aromatics of ginger, garlic, and onion help deepen the flavors of the overall dish.
Red and green bell peppers and celery– Feel free to use more or less of the ones you prefer.
Garlic, Ginger and Green Onions (Scallions)– All aromatic and from similar families, they offer distinct tastes.
Dried Red Chiles- These can be a little tricky to find, but you can also order them online. They are typically just marked "dried red chiles" and come in a bag in the International food aisle. Reduce these if you don't like spicy.
Szechuan peppercorns – These can bring the heat and add a fun mouth tingly effect that Kung Pao is known for! You can find it in both whole and ground forms. Start with using only 1 teaspoon, and then you can gradually increase to what your family's palate enjoys (up to 1 tablespoon ground). You'll get more bang for your buck freshly grinding whole, but it certainly saves time to buy them pre-ground. Look for these near other Asian foods or in the gourmet spice section. Toasting them also helps to subdue the citrus undertones and heighten the woody flavors, which is what gives the unique tingling sensation on the tip of your tongue.
Roasted unsalted peanuts– Roasted peanuts have more flavor and many of the other ingredients are already salty, so please make sure yours are unsalted.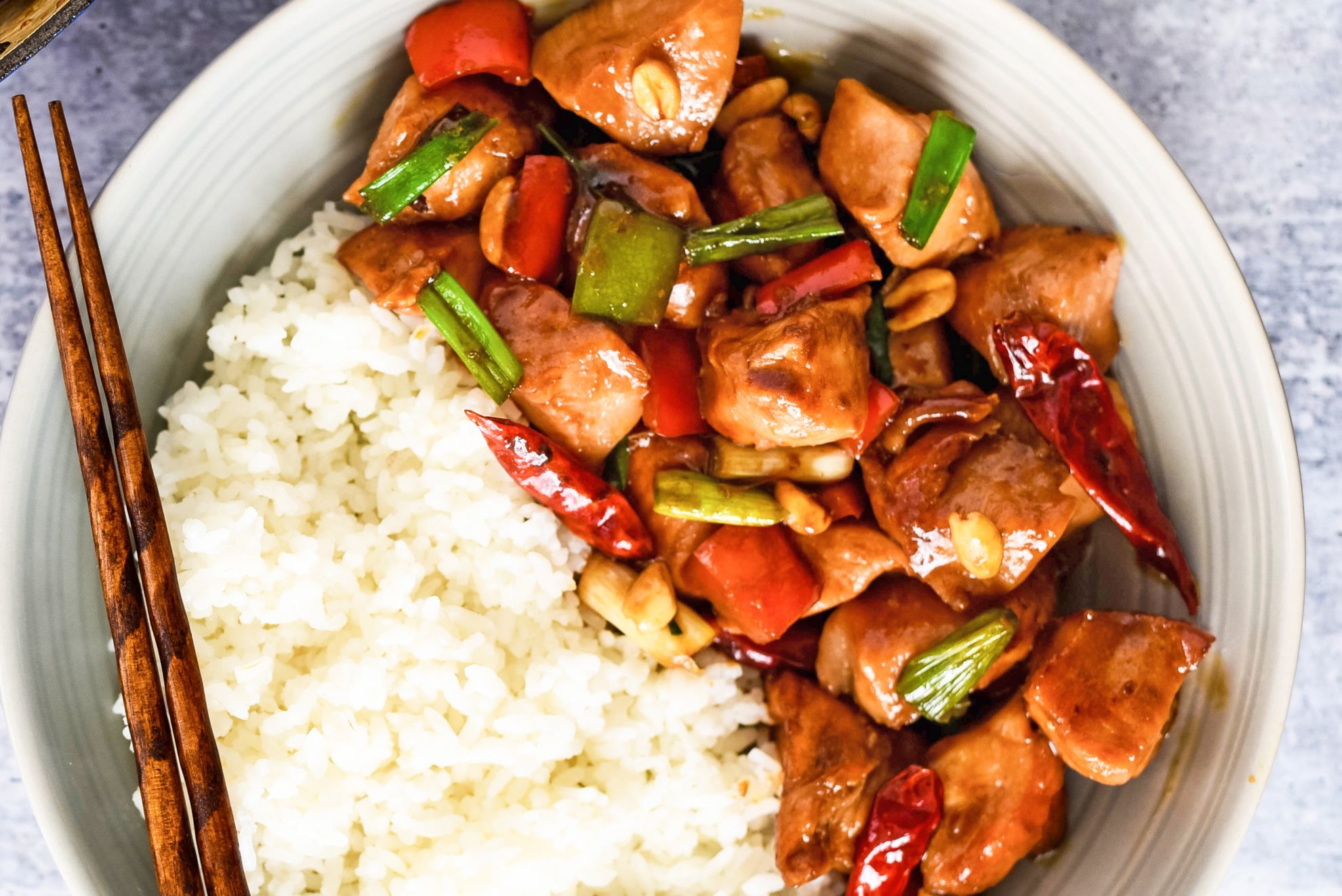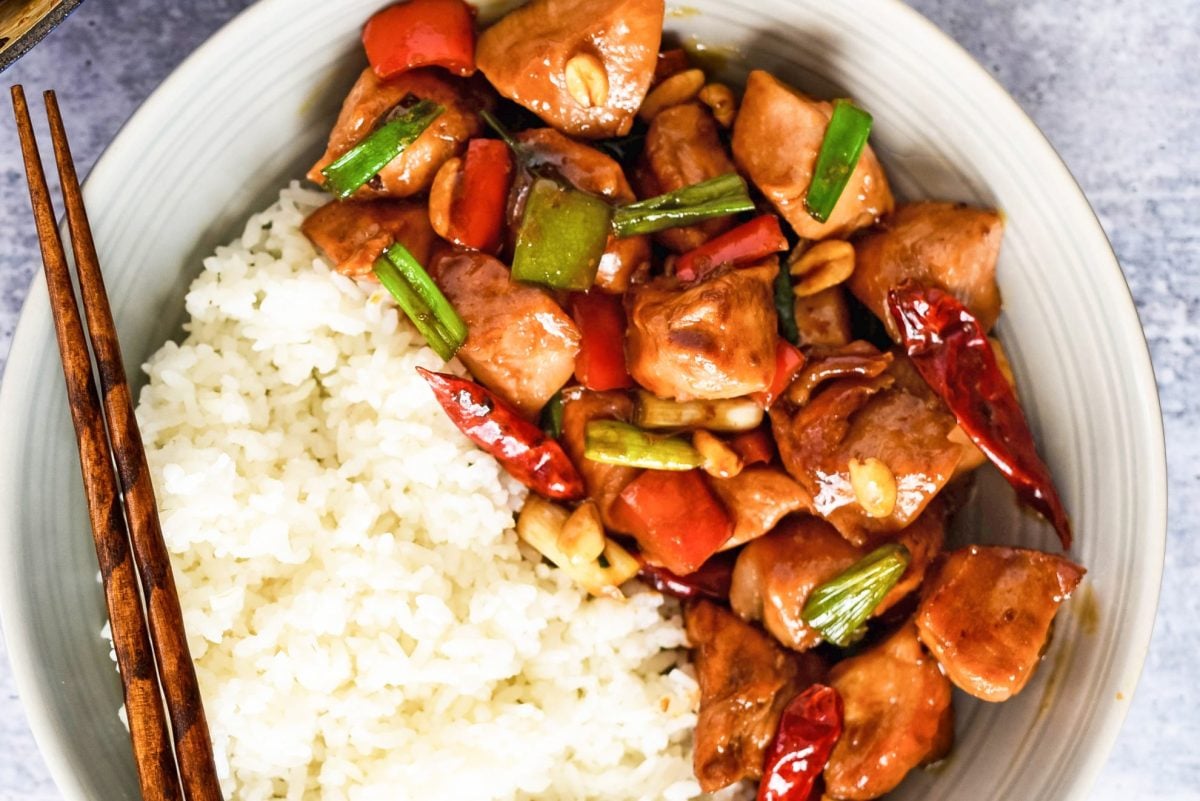 How to Make Kung Pao Chicken
Here is how you can recreate this classic Chinese dish at home on any weeknight:
Marinate the chicken. The chicken gets a quick marinade of cornstarch, baking soda, and Chinese wine. We add in soy sauce and sesame oil for extra flavor. Because the chicken is cut into small pieces, it only needs about 10 minutes to marinate, but if you want to let is sit longer, be my guest.
Mix the sauce. Getting the sauce ready before you start cooking is key. Stir frys go fast, so mix up your sauce and chop everything ahead of time. Once it starts to cook it will turn into a beautiful silky sauce. In a medium bowl, whisk together the broth, soy sauce, rice wine vinegar, shaoxing wine, brown sugar, hoisin sauce and cornstarch.
Prep the veggies. Chop the bell peppers and celery into a medium dice, ensuring that the pieces are as even as possible and about bite-size. Mince the garlic and ginger, and chop the green onions into thin slices. If you are using whole szechuan peppercorns, you will want to grind them into a powder with a mortar and pestle or a spice grinder.
Stir fry. For this kung pao chicken you can use either a wok or a large pan heated over medium-high heat. You want to make sure the pan and the oil are both hot and ready before you add the chicken, that way they cook quickly and develop that perfect golden crust. Add in the veggies and saute until they begin to soften, then add in the garlic, ginger, green onions, peanuts, and dried chiles and saute.
Pour in the sauce and let the chicken and sauce simmer together. The heat will help to thicken the sauce, and it should only take a minute to reduce the liquid to make a gorgeous sauce that sticks to the chicken.
Serve. Ladle each serving onto a plate! Serve with white or brown rice on the side.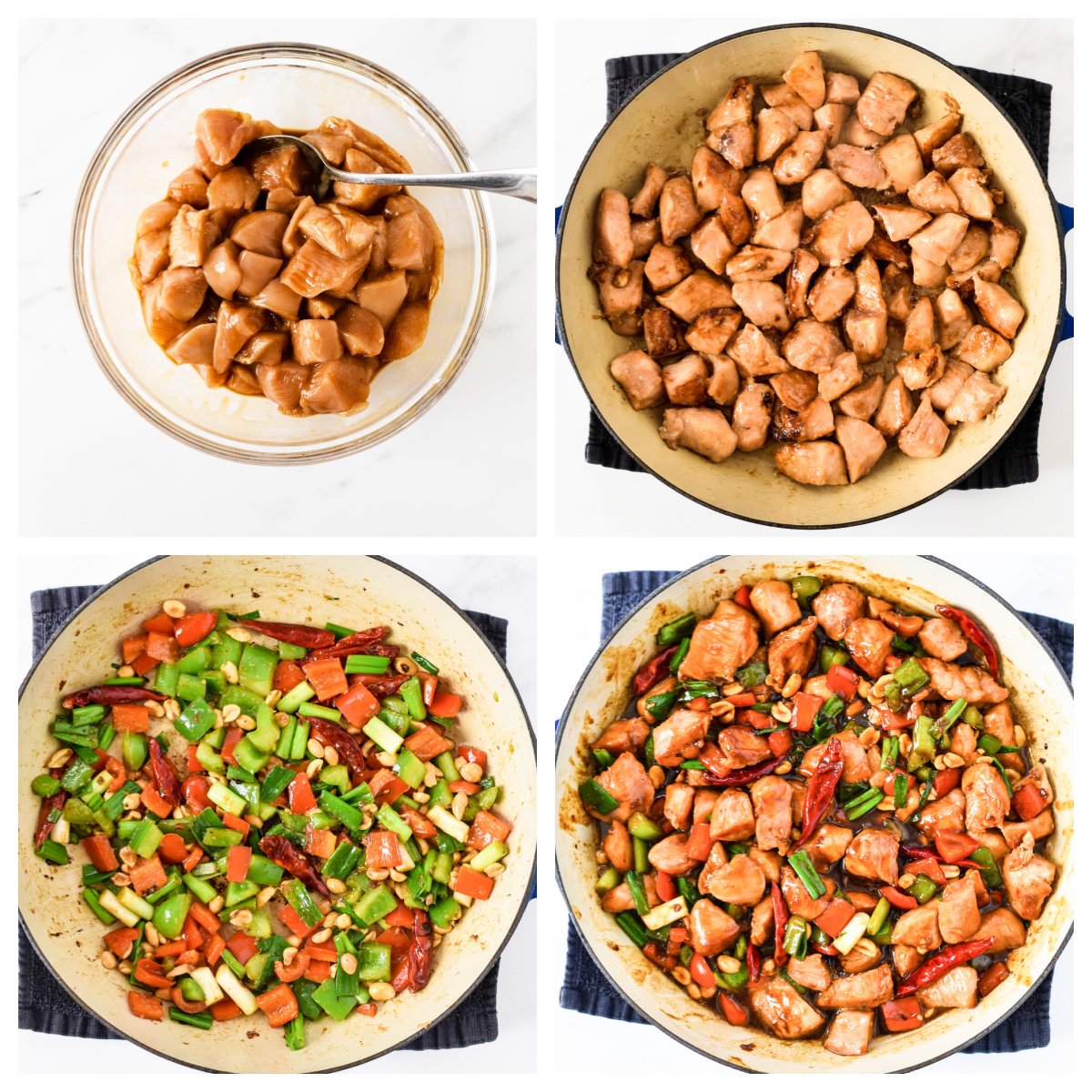 Spicy Kung Pao Chicken: Whole Dried Red Chili Peppers
Using whole dried red chili peppers gives Kung Pao Chicken that signature heat and look. You can find them in any Asian or Latin speciality market or grocery. The trick to using these is how you prepare them!
If you use them whole, they won't add any additional heat to the sauce but add a nice smoky aroma.
If you split them open and remove the seeds, it adds a mild heat level to the dish.
And finally if you split the chiles open and leave the seeds, it adds a serious kick! Get ready to sweat.
If you are hesitant to use these, you can substitute them with some dried red pepper flakes, just sprinkle them on top of each dish that you want during serving.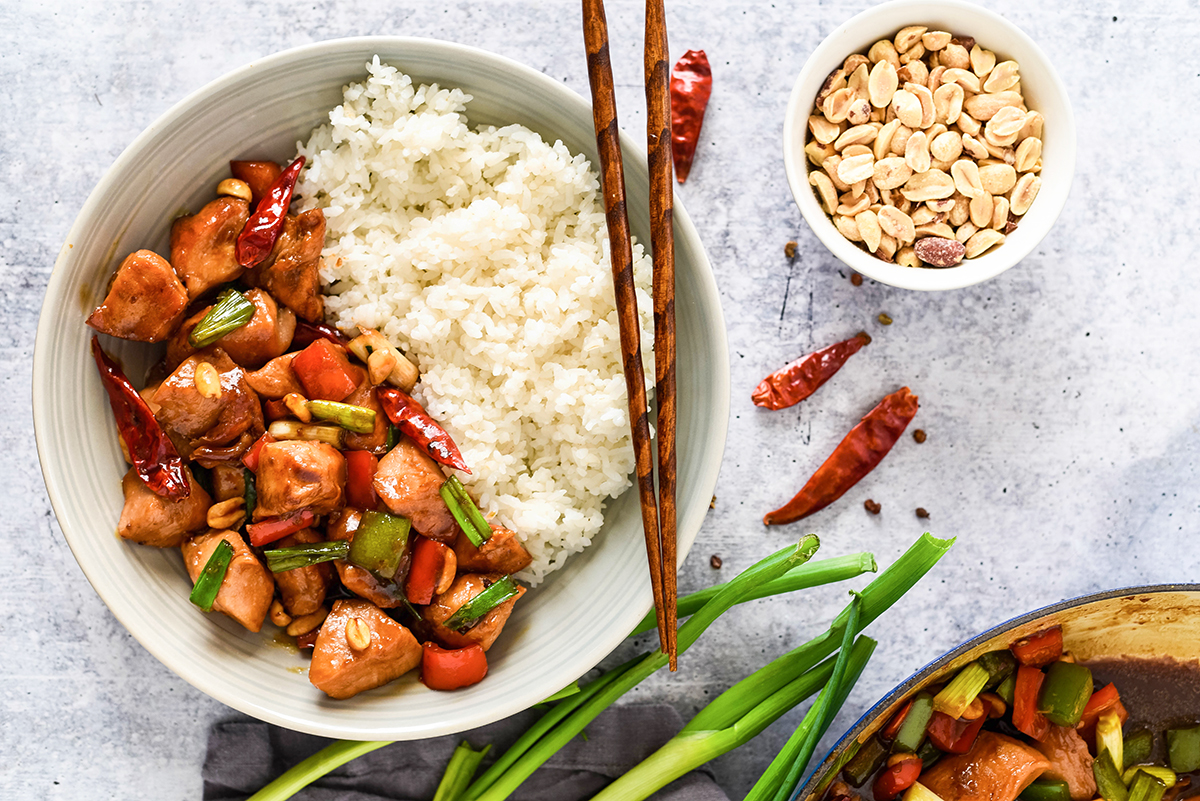 What to serve with Chinese Kung Pao Chicken
To keep with the Asian flavors, start the meal with crab rangoons or potstickers. Add a side of greens beans or egg drop soup.
Storing Chinese Kung Pao Chicken
Leftovers can be stored in an airtight container for up to 5 days. Reheat on the stovetop or in the microwave.
Can this Kung Pao Chicken Recipe be frozen?
Yes, this Kung Pao Chicken can be frozen. We recommend freezing the chicken separately from the rice or making fresh rice when thawed.
Place in an airtight container or freezer bag, with as little air as possible. Freeze for up to 6 months. Thaw overnight in the refrigerator.
You can freeze this dish, but the sauce tends to get thick and slightly gummy when thawed, so you might need to thin it out and re-season.
How to reheat Chinese Kung Pao Chicken
For best results, the chicken can be reheated in a hot wok with a little bit of neutral oil. It can also be reheated in the microwave.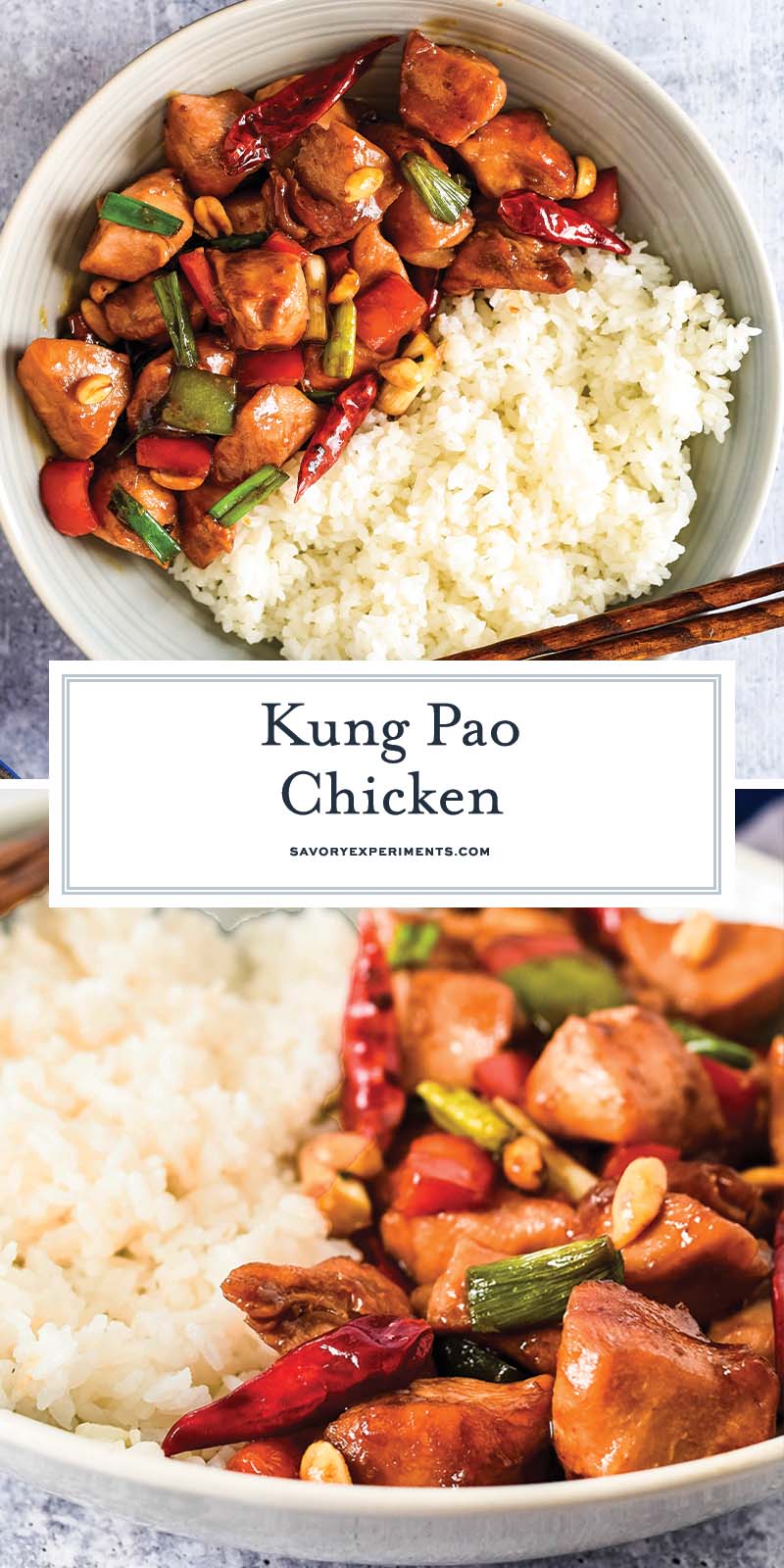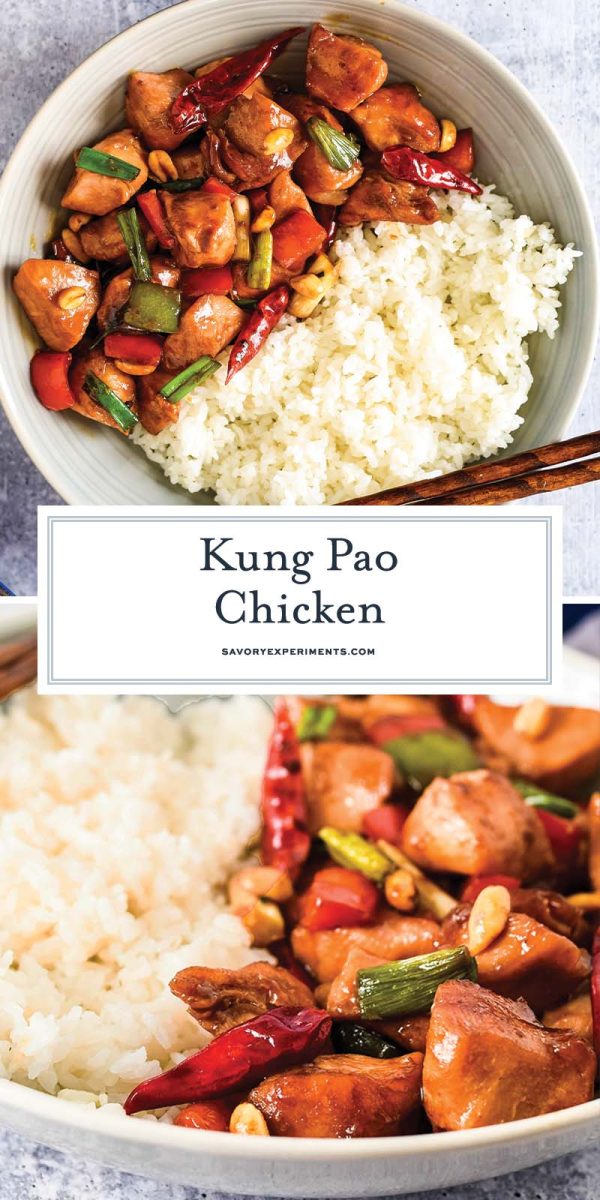 Kung Pao Chicken Recipe FAQs
What is the difference between General Tso and Kung Pao Chicken?
General Tso Chicken and Kung Pao Chicken are similar Asian-inspired dishes that include chicken and chiles. General Tsos uses a sweet, sticky sauce to coat while Kung Pao is a lighter, soy and vinegar based sauce.
Which is hotter – General Tso or Kung Pao?
It depends on who it making it! Either can be hotter depending on personal preference and how many chiles were added.
More easy chicken recipes: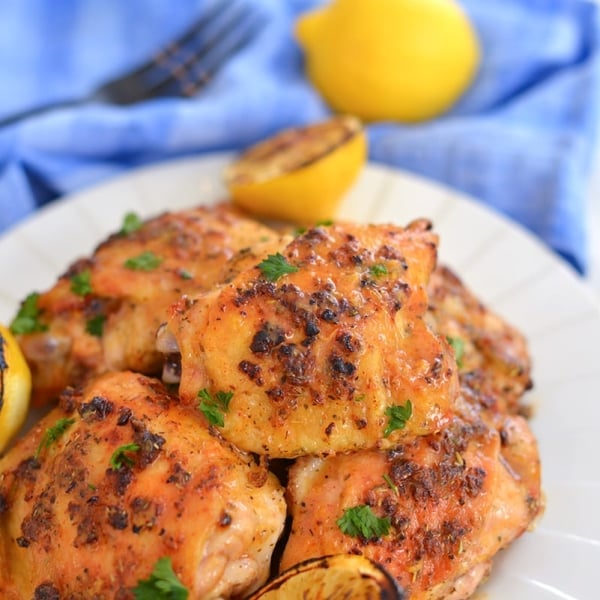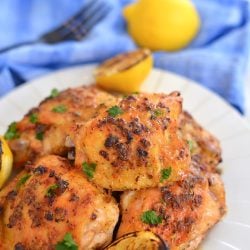 Baked Chicken Thighs
Flavorful and crispy baked chicken thighs basted with a garlic lemon butter sauce. An easy chicken dinner in the oven.
View this recipe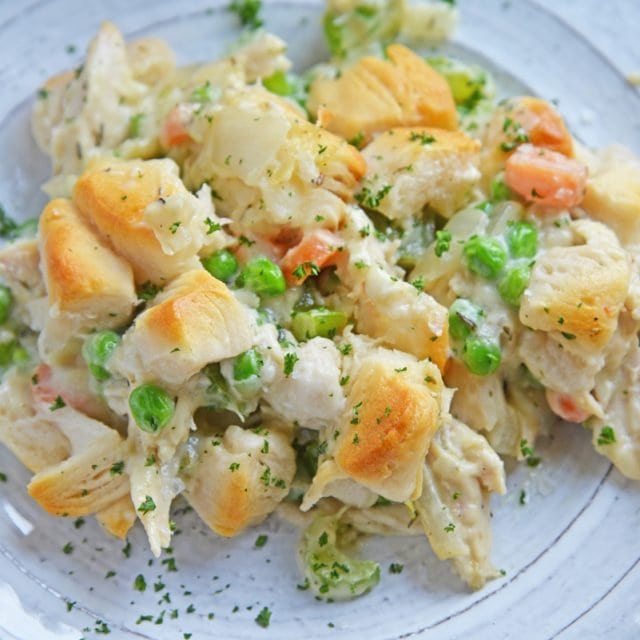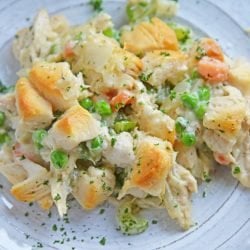 Chicken Pot Pie Casserole
Chicken Pot Pie Casserole using biscuits is an easy way to make a comforting chicken casserole. Easy pot pie filling with buttery topping.
View this recipe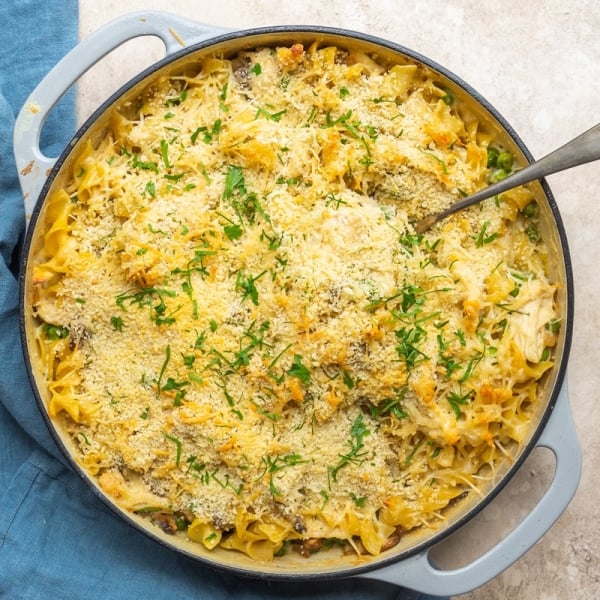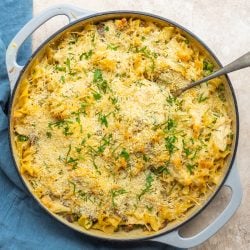 Easy Chicken Tetrazzini
When you need to get dinner for the whole family on the table quickly, make this EASY, no fuss One Pan Chicken Tetrazzini recipe!
View this recipe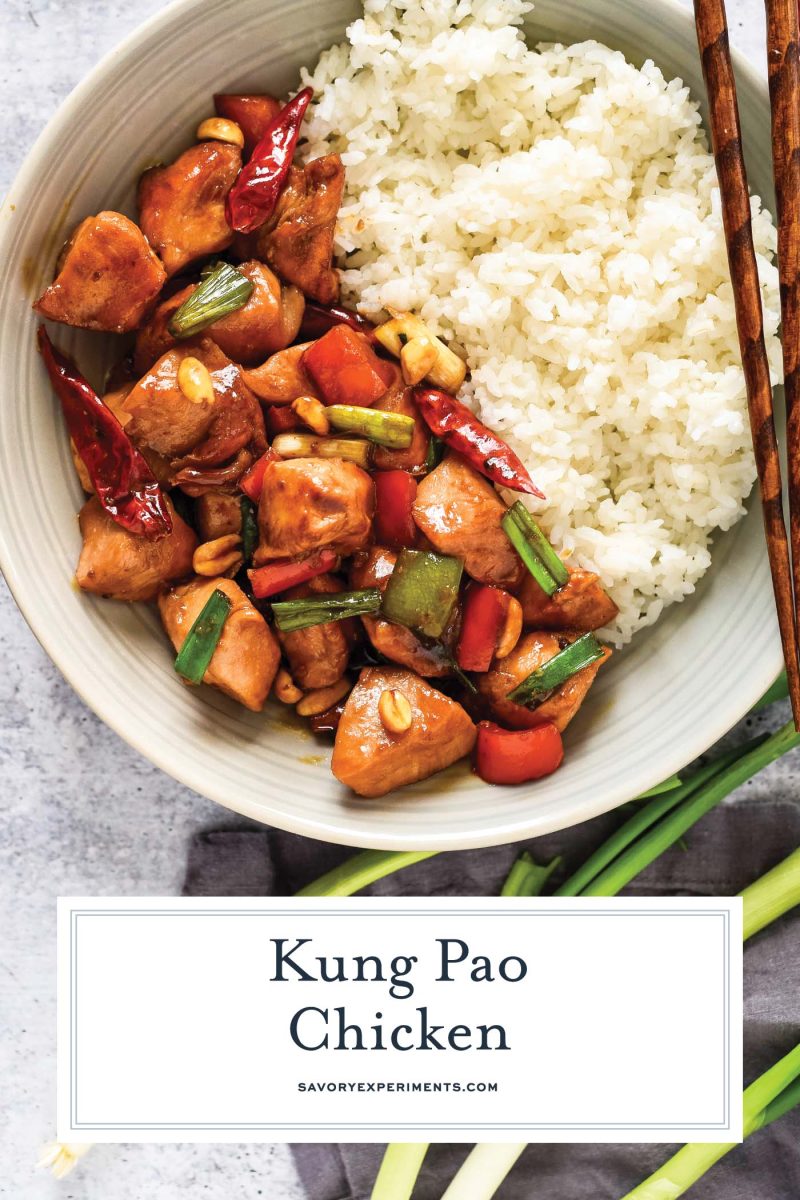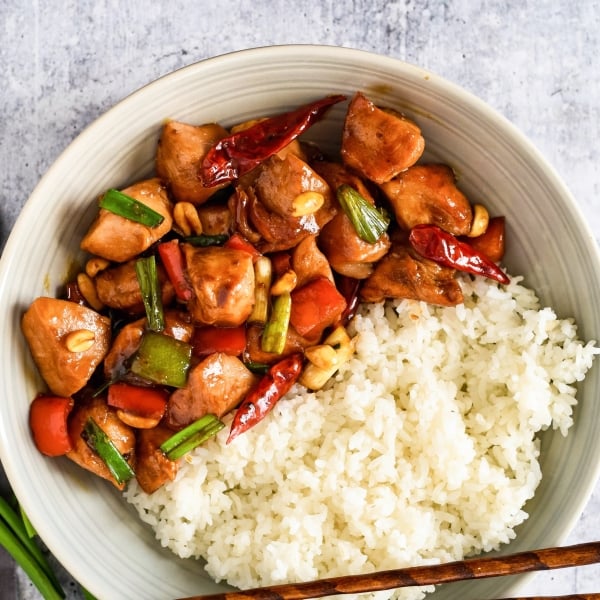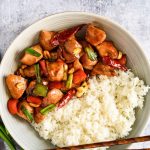 Best Kung Pao Chicken Recipe
This easy Kung Pao Chicken recipe is better than takeout and is on the table in 30 minutes, which makes it a perfect weeknight meal!
Ingredients
Chicken
2

pounds

boneless skinless chicken breast

, cut into 1" cubes

1

teaspoon

baking soda

1

teaspoon

cornstarch

1

tablespoon

Shaoxing wine (or dry sherry)

1

tablespoon

soy sauce
Instructions
Marinate the chicken:
Place the chicken in a large mixing bowl and sprinkle with the baking soda and cornstarch.

Add the shaoxing wine and soy sauce to the bowl and toss the chicken to coat. Allow to sit for 10 minutes while you prepare the vegetables and sauce.
Mix the sauce:
In a medium bowl, whisk together the soy sauce, rice vinegar, shaoxing wine, brown sugar, hoisin sauce, cornstarch and sesame oil. Set aside.
Stir Fry:
Heat a wok or a large pan over medium-high heat. Add the vegetable oil until shiny. Make sure the pan and the oil are both hot.

Add the chicken to the hot pan and let it sit for 2 minutes to crisp up before you stir the pieces. Allow the chicken to sit for another 2-3 minutes to cook on the other side.

Remove the chicken to a bowl, cover with foil, and set aside.

Add the bell peppers and celery to the hot pan and saute until they begin to soften, but maintain their shape, approximately 4-5 minutes.

Add the garlic, ginger, green onions, roasted peanuts and dried chiles and saute just a few seconds, until they become fragrant.

Pour in the sauce and chicken, tossing to coat. Simmer for 3-4 minutes or until the sauce thickens and coats the back of a spoon.

If you've tried this recipe, please come back and let us know how it was in the comment or star ratings.
Nutrition
Calories:
572
kcal
,
Carbohydrates:
21
g
,
Protein:
57
g
,
Fat:
28
g
,
Saturated Fat:
4
g
,
Polyunsaturated Fat:
11
g
,
Monounsaturated Fat:
9
g
,
Trans Fat:
1
g
,
Cholesterol:
145
mg
,
Sodium:
2134
mg
,
Potassium:
1260
mg
,
Fiber:
4
g
,
Sugar:
11
g
,
Vitamin A:
1349
IU
,
Vitamin C:
69
mg
,
Calcium:
63
mg
,
Iron:
3
mg