Skip the takeout and make the best Orange Chicken recipe at home! With a sticky sauce made with fresh orange flavor, it can't be beat.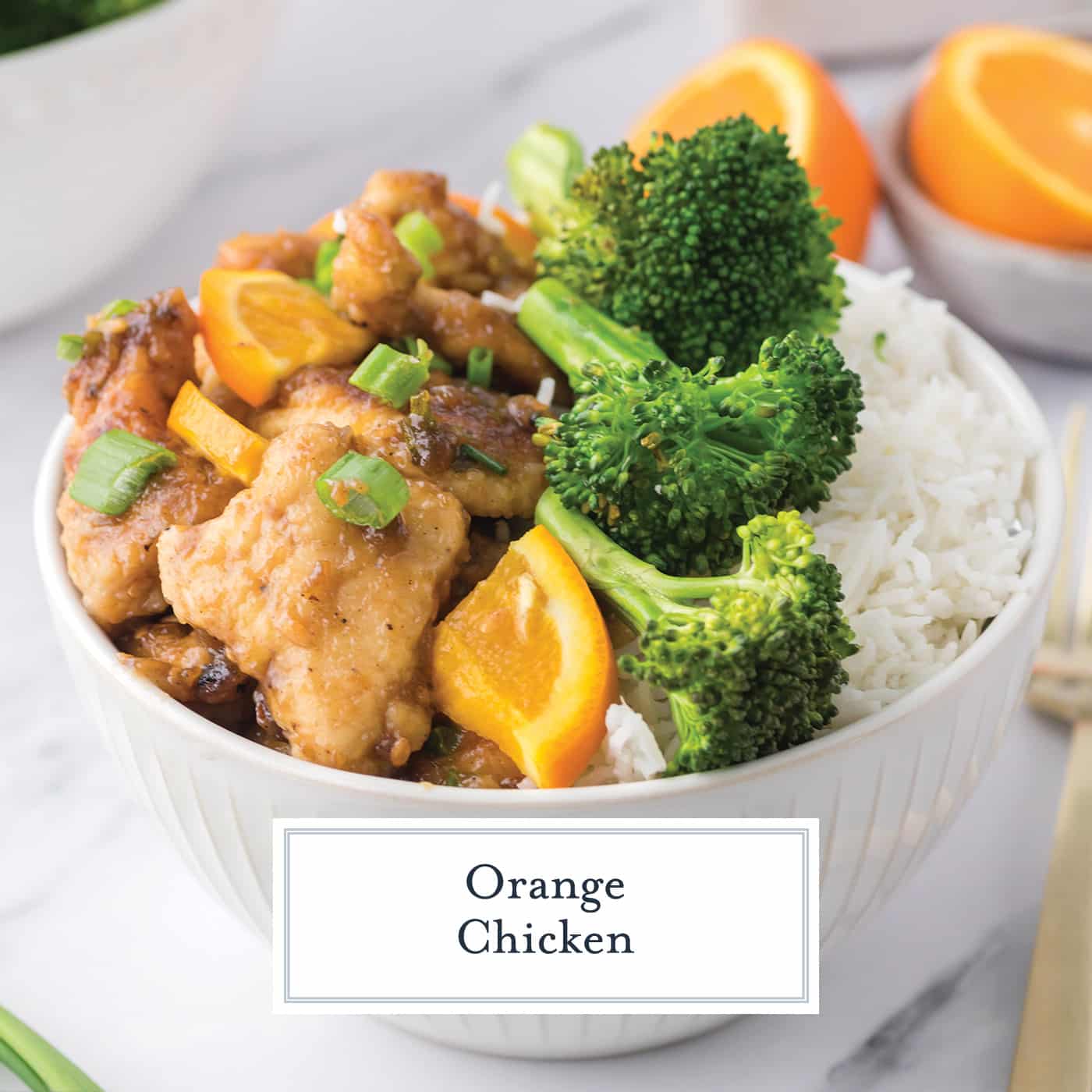 When at the mall or on the run, I'm a sucker for Panda Express. And what is my favorite Chinese food to order? You guessed it, chinese orange chicken.
And while Chinese takeout is easy and quick, making homemade orange chicken with fresh ingredients is more cost effective, and you can customize it the way you like it.
Orange chicken is one of the most delicious, tangy, and sweet chicken recipes that flaunts the sweet citrus taste. It has a mild hint of spice with the orange flavor.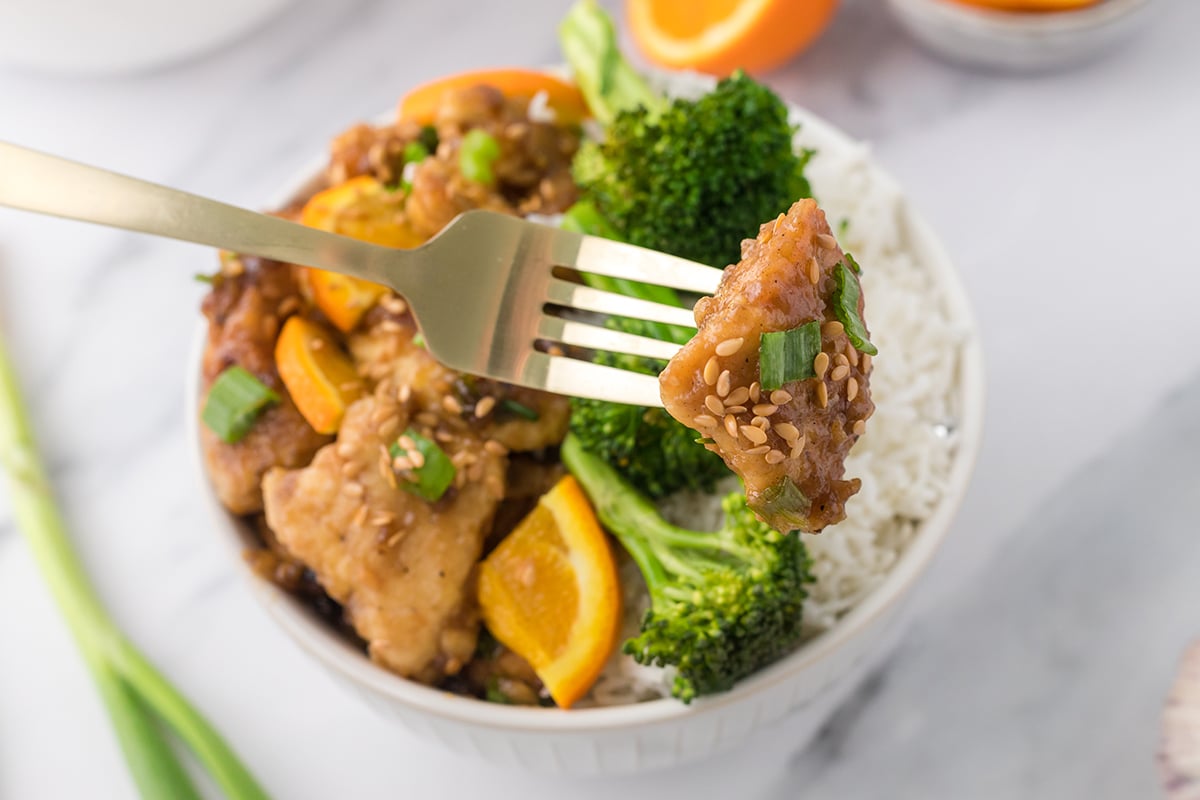 Ingredients
You might just have some of these ingredients already on hand. Anything that you don't can be easily found at your local grocery store.
Chicken breasts – I use boneless skinless chicken breast pieces, but you can also use boneless chicken thighs. Thigh cuts are juicier and more tender as compared to the breast part.
Eggs – These will be used as an egg wash. You will dip the pieces of chicken into the egg whites so that the corn starch mixture will stick to the chicken.
Cornstarch and flour – This is the perfect mixture to coat the chicken pieces. When you deep fry the coating, it becomes nice and crispy, perfect for soaking up that orange chicken sauce recipe.
Salt – I like to use Kosher salt, but you can use any salt you have on hand, or your favorite salt.
Vegetable oil – Any neutral oil will work.
Orange – We will be using both orange zest and orange juice, so fresh oranges are preferred here rather than bottled orange juice. The orange flavor
Honey – While the orange juice itself is pretty sweet, the honey adds another flavor element to the orange-flavored sauce.
Rice vinegar – This should be easy to find in the grocery store. It's found near the other vinegar types, or in the international or ethnic aisle.
Hoisin sauce – This is a thick and fragrant sauce that is commonly used to coat and marinate meats. Check the section below for alternatives if you don't have it.
Sesame oil – We use this to make the sauce to coat the crispy chicken pieces. It has a mild flavor and can be found near all the other oils in the grocery store.
Garlic cloves – I absolutely love adding fresh garlic of fresh ginger to recipes. The pre-minced jarred variety doesn't pack as much flavor.
Green onions – Also known as scallions, I like to throw some of these on top of the crispy fried chicken not only for flavor, but for some color too.
Sesame seeds – These are totally optional, but I like the crunch and flavor that sesame seeds add to this great recipe.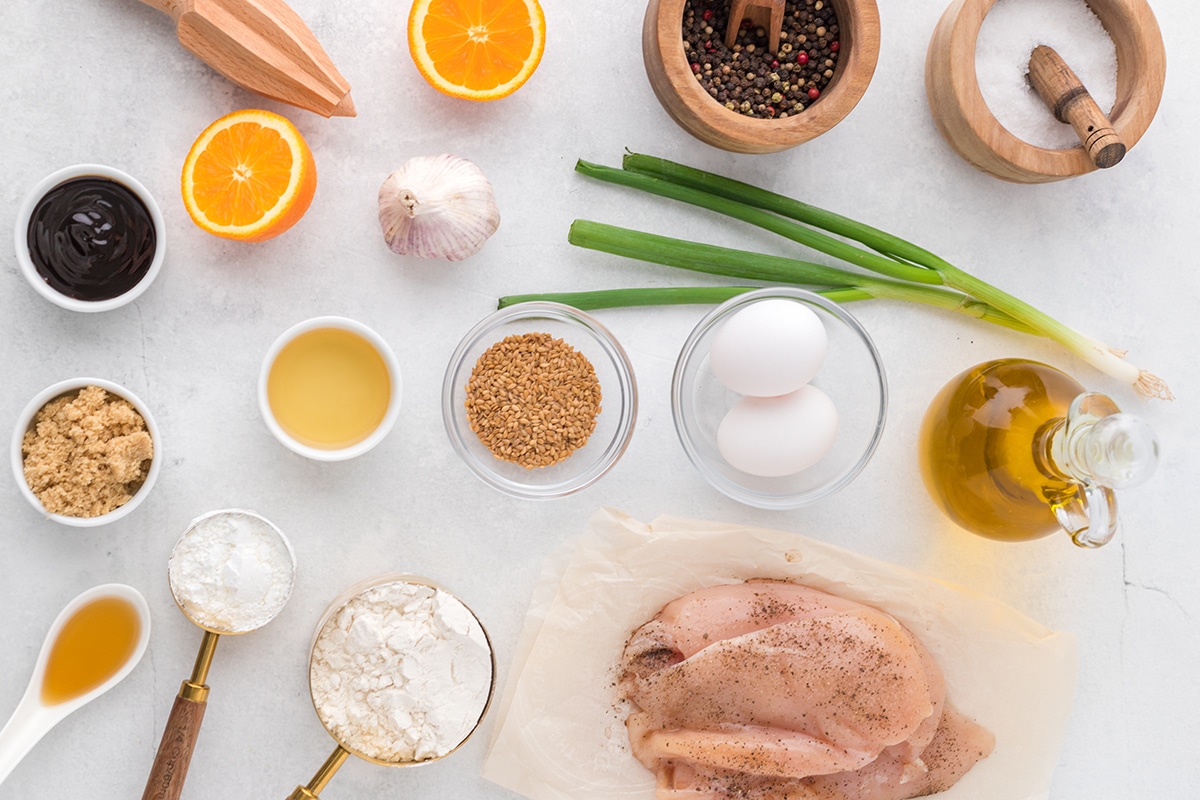 How to Make Orange Chicken
This simple recipe really couldn't be easier. check out just how easy it is to make:
Cut chicken. Cut the chicken into small bite pieces.
Make coating. Combine the flour, cornstarch, and salt in a shallow dish; in another bowl, whisk in eggs.
Dredge chicken. Take each piece of the chicken and dip it into the egg mixture, then transfer it to the flour mixture.
Cook chicken. In a wok or a large saucepan, add the oil over medium-high heat; once hot, add the chicken and cook until the chicken is all cooked and no longer pink on the inside.
Let rest. Remove the chicken from the wok and reserve on a plate of paper towels.
Make sauce. In the same wok, add all the sauce ingredients and mix to combine everything. Cook until the sauce has thickened.
Toss chicken in sauce. Reduce heat and add the chicken back to the wok with the sauce.
Add toppings. Turn off the heat and sprinkle with green onion and sesame seeds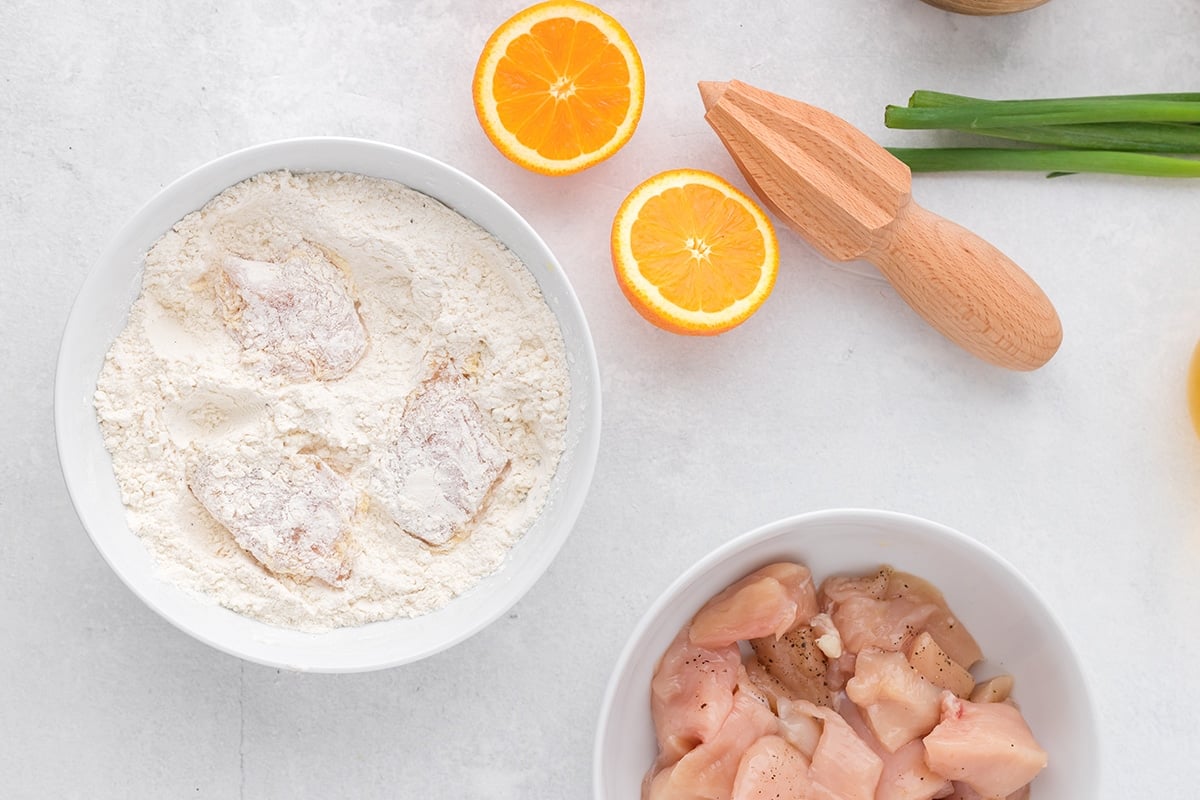 What to Serve with Orange Chicken
This easy orange chicken recipe can be paired with all sorts of things. The tender chicken and tangy orange sauce pairs especially well with these things:
Cauliflower rice
Fresh steamed vegetables
Baby arugula
Grated carrots
Chopped cucumber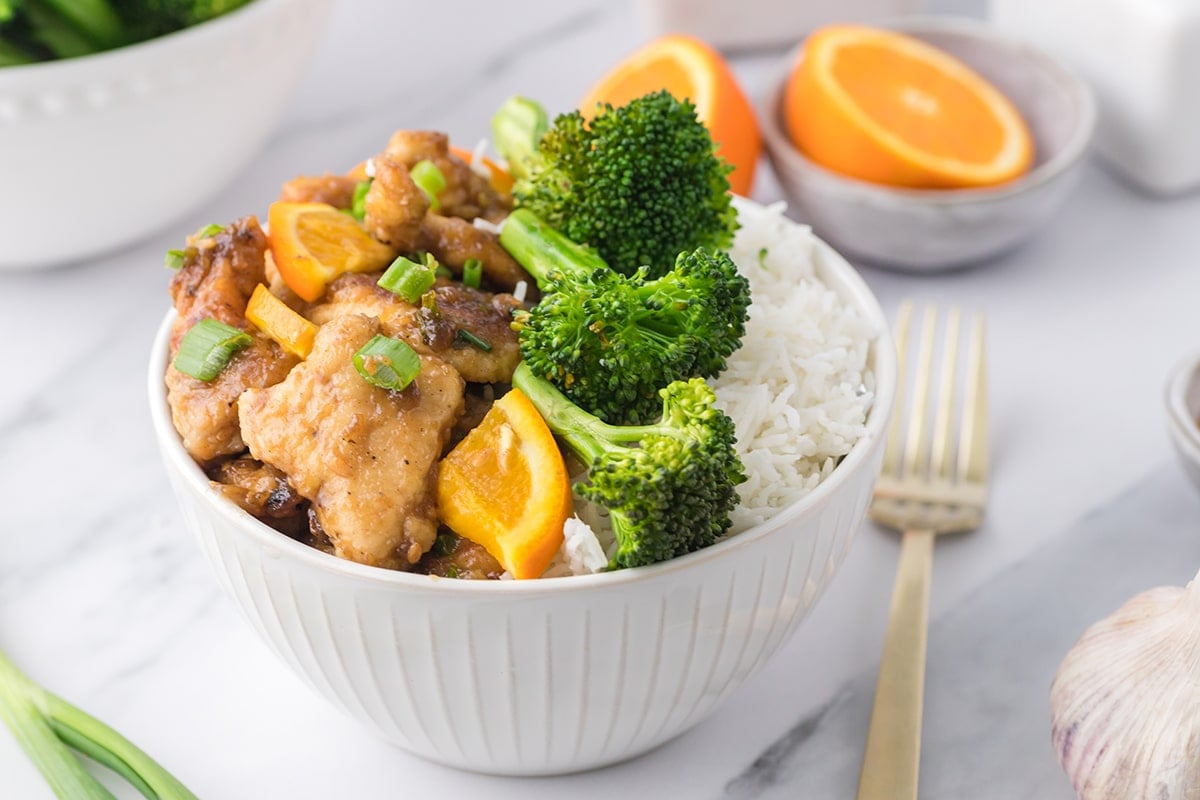 Variations
There are many ways that you can make this best orange chicken recipe perfect for the whole family.
Sweetener – Instead of using honey, you can use maple syrup or agave syrup instead. You could also use brown sugar.
Vinegar – If you can't find or don't have rice vinegar, feel free to use white wine vinegar instead.
Hoisin sauce – This could be a little difficult to find if your local grocery store doesn't have an international aisle, so you can use soy sauce or tamari sauce too.
Garlic – Fresh garlic is preferred for this recipe, but if you don't have garlic cloves, you can use 1 teaspoon of garlic powder.
Spicy – If you like a spicier like general tso's chicken, you can add some red chili flakes or red pepper flakes.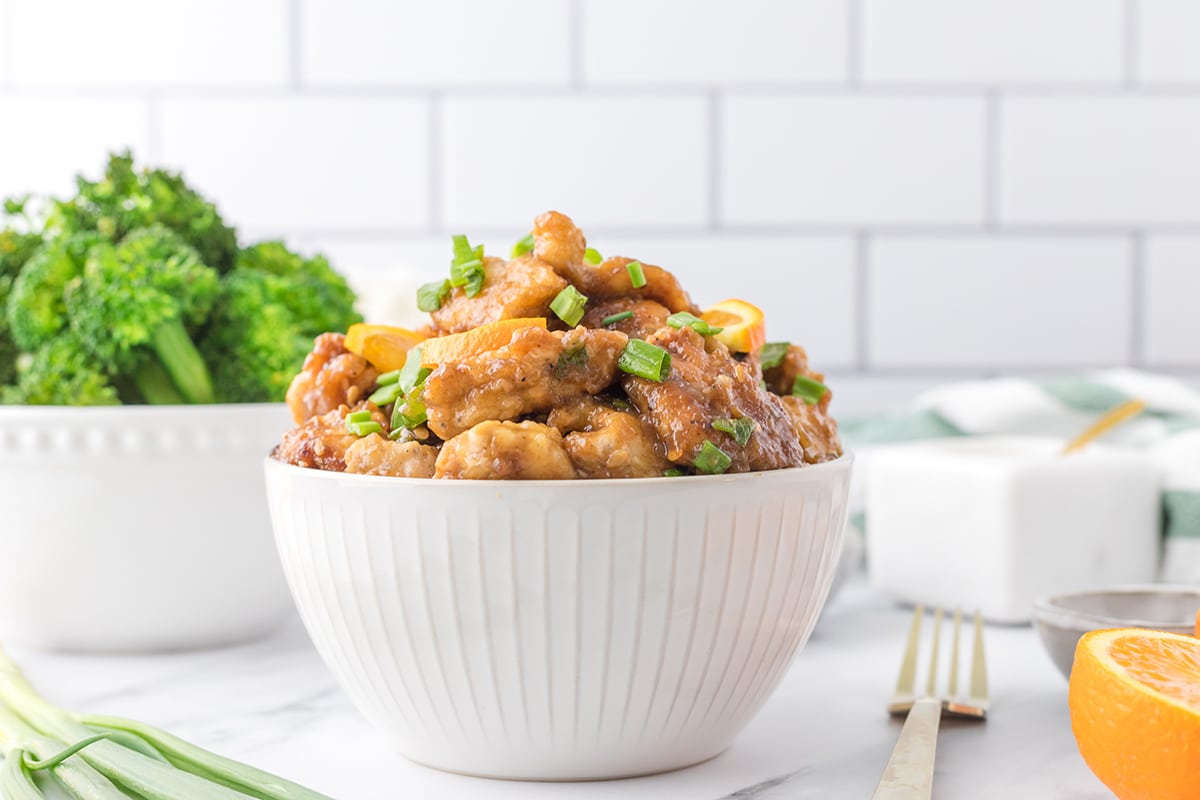 Storage, Reheating and Freezing
Storage: You can use an airtight container to store the leftover orange chicken in the refrigerator for up to four days.
Reheating: Reheating tends to make the chicken soggy, and it will lose the crisp. It is better to reheat the orange chicken in the skillet to maintain the crispness rather than using a microwave oven.
Freezing: You can also freeze it for up to three months.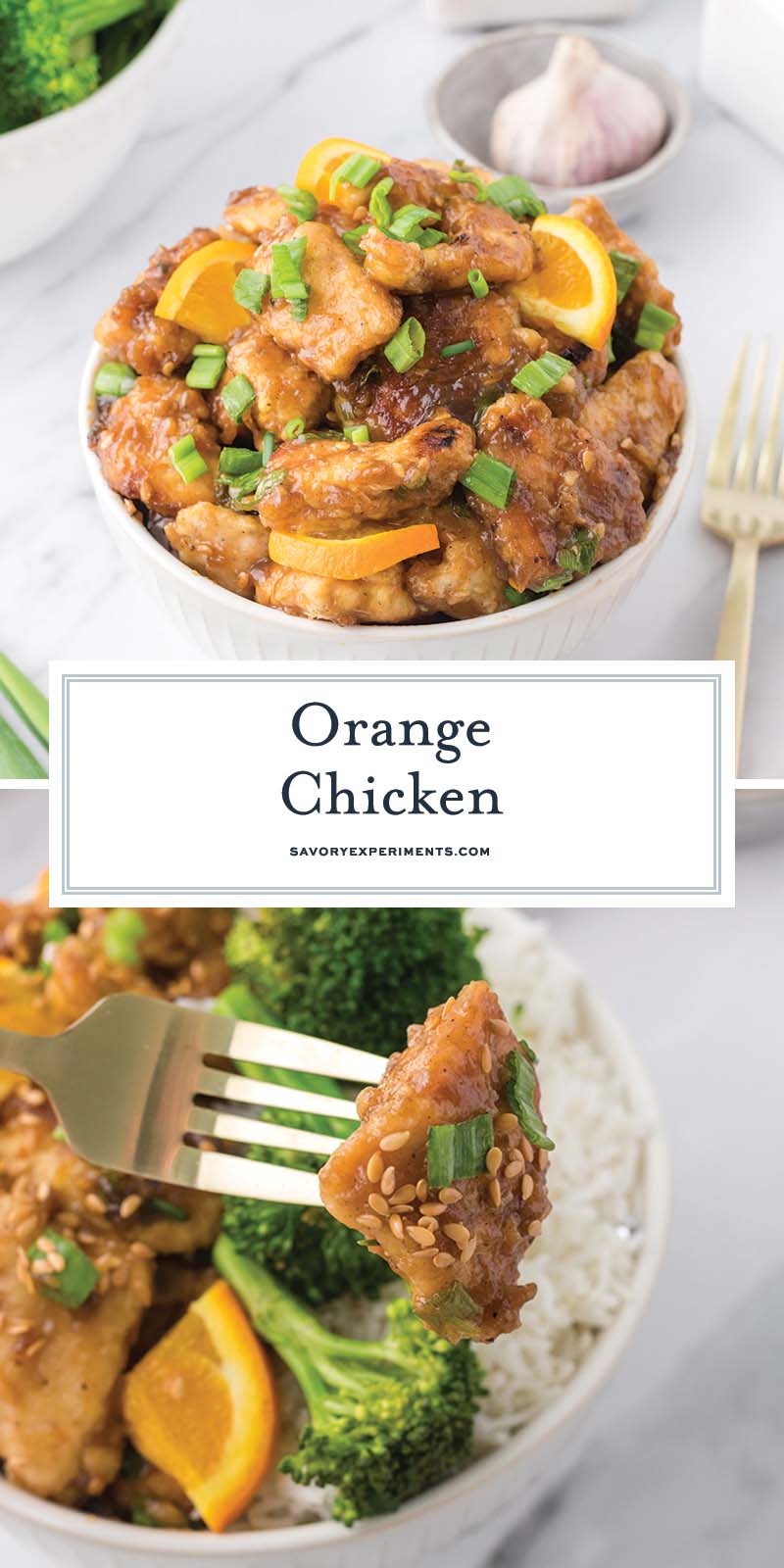 More Easy Chicken Recipes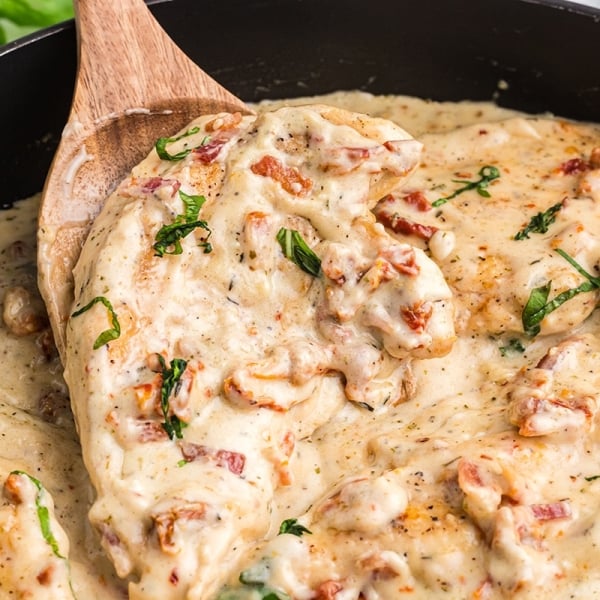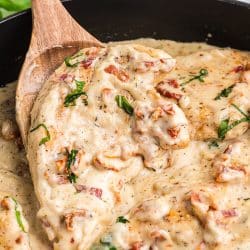 Marry Me Chicken
Juicy chicken breasts in a creamy sauce and ready in under an hour, this Marry Me Chicken recipe is the perfect weeknight meal!
See The Recipe!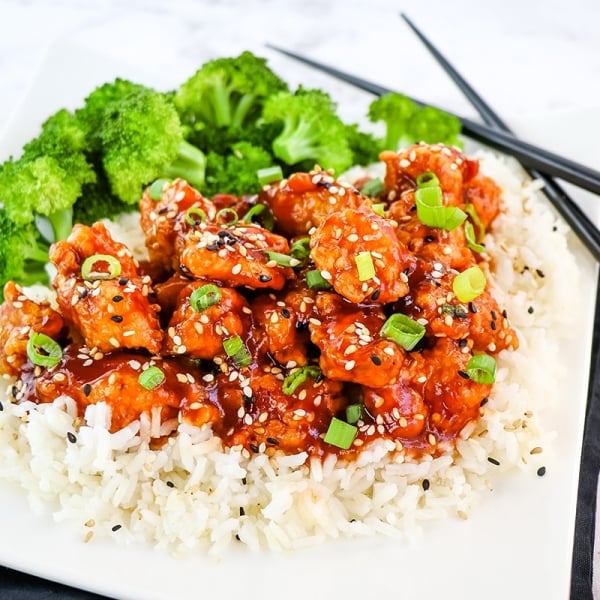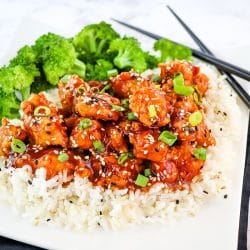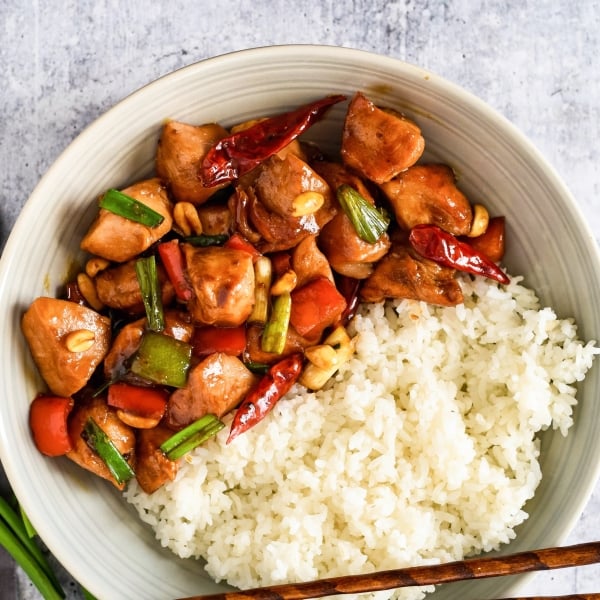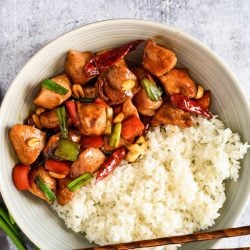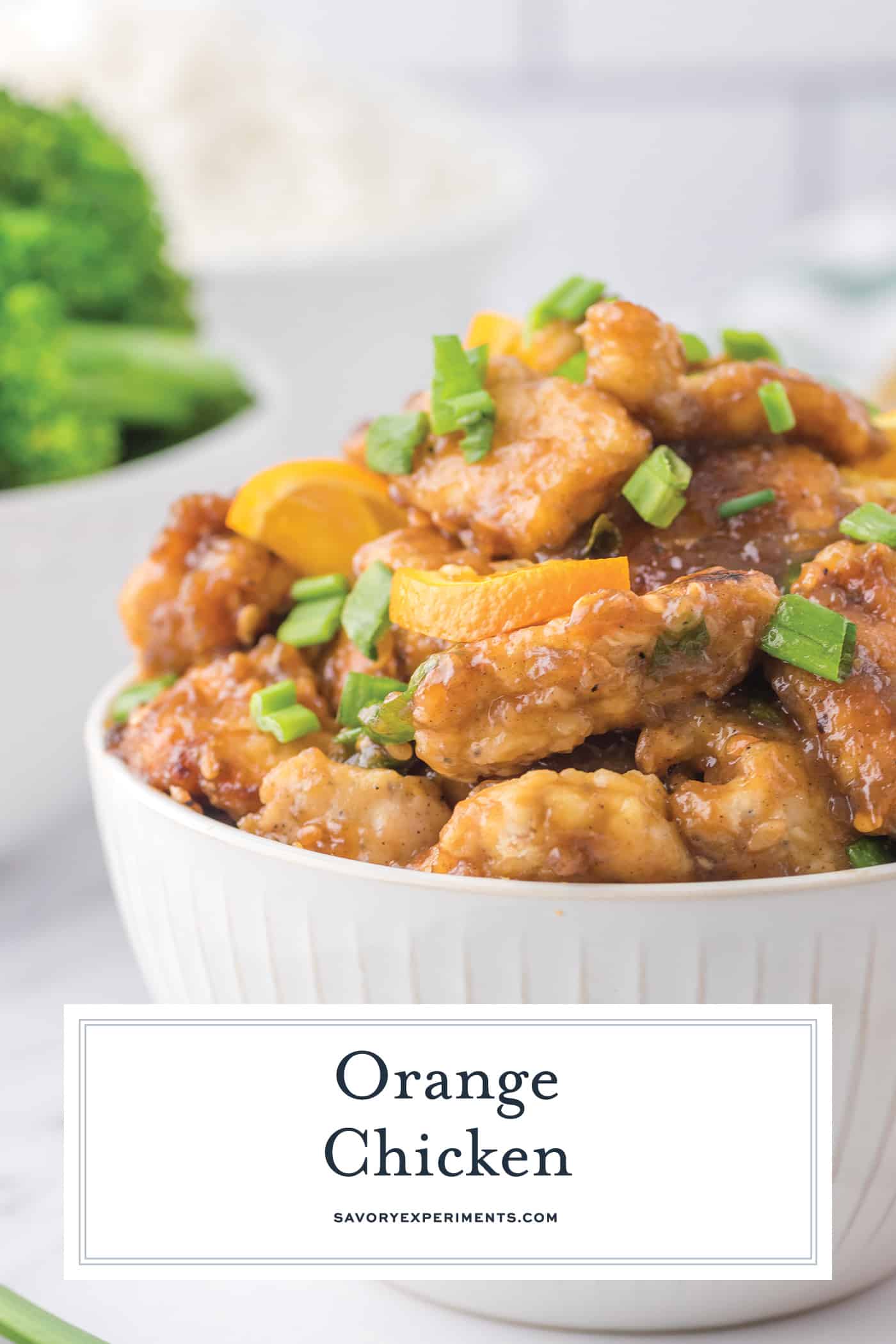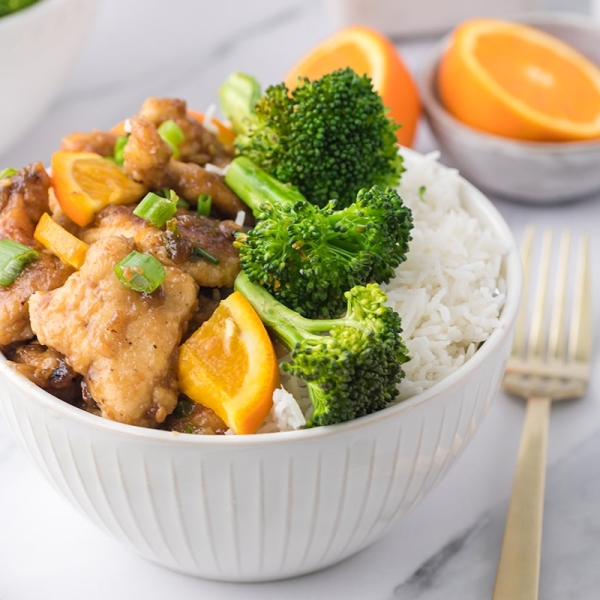 Easy Orange Chicken
Skip the takeout and make the BEST Orange Chicken recipe at home! With a sticky sauce made with fresh orange flavor, it can't be beat!
Instructions
Cut the chicken into small bite pieces.

Combine the flour, cornstarch, and salt in a shallow dish; in another bowl, whisk in eggs.

Take each piece of the chicken and dip it into the egg mixture, then transfer it to the flour mixture.

Repeat until you have all the pieces of the chicken well covered with the flour mixture.

In a wok or a large saucepan, add the oil over medium-high heat; once hot, add the chicken and cook until the chicken is all cooked and no longer pink on the inside.

Remove the chicken from the wok and reserve.

In the same wok, add all the sauce ingredients and mix to combine everything. Cook until the sauce has thickened.

Reduce heat and add the chicken back to the wok with the sauce.

Continue cooking and stir until the chicken is well covered with the sauce.

Turn off the heat and sprinkle with green onion and sesame seeds

Serve hot on rice if desired
Nutrition
Calories:
425
kcal
,
Carbohydrates:
38
g
,
Protein:
29
g
,
Fat:
17
g
,
Saturated Fat:
3
g
,
Polyunsaturated Fat:
7
g
,
Monounsaturated Fat:
5
g
,
Trans Fat:
0.1
g
,
Cholesterol:
155
mg
,
Sodium:
650
mg
,
Potassium:
494
mg
,
Fiber:
1
g
,
Sugar:
16
g
,
Vitamin A:
154
IU
,
Vitamin C:
2
mg
,
Calcium:
29
mg
,
Iron:
2
mg