Sauerkraut recipes are not usually on my to-do list, but after experimenting with this Beer and Bacon Sauerkraut recipe, it may have to be something I am making far more often! It is a great condiment to have in the fridge.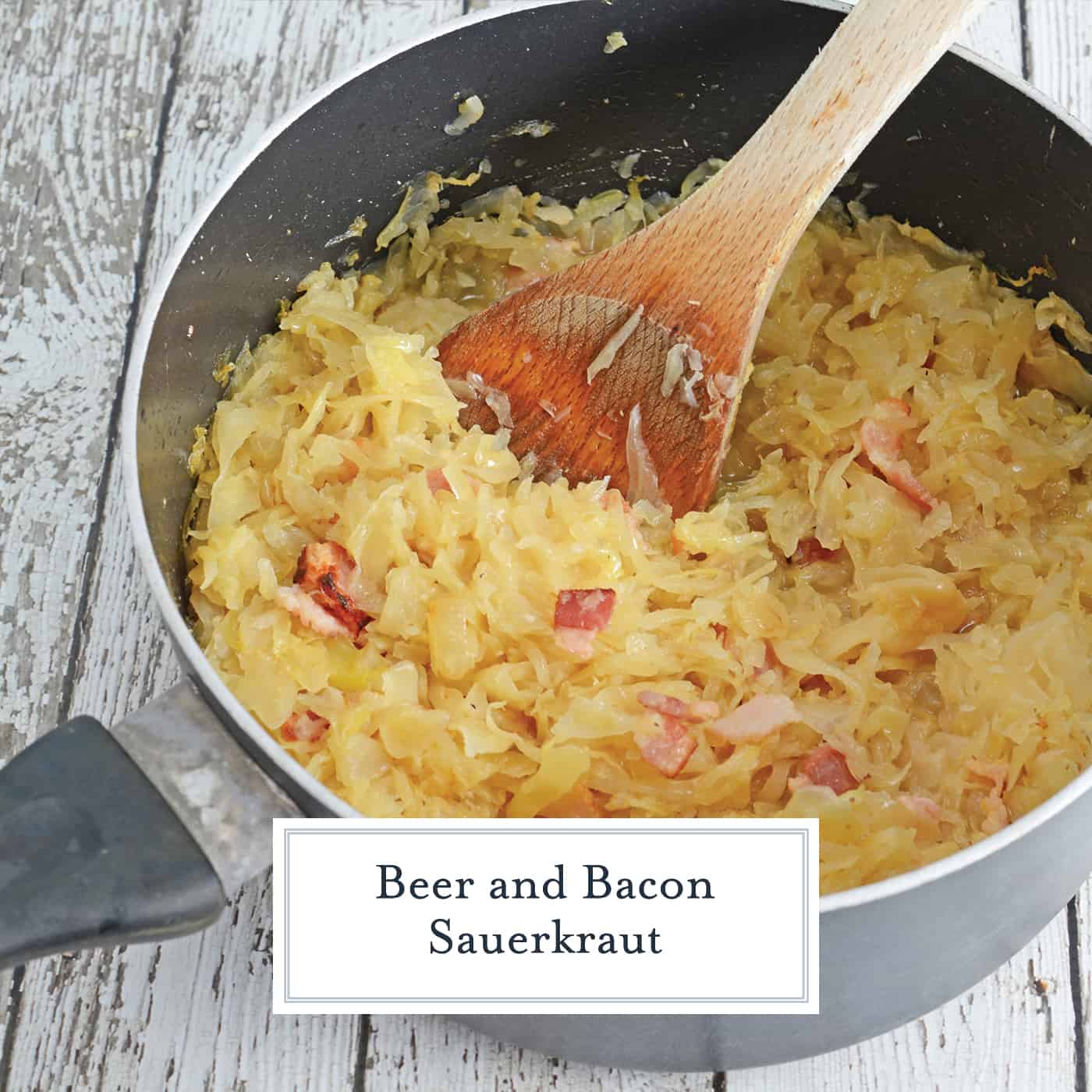 Beer and Bacon Sauerkraut is made from drained sauerkraut reconstituted with the flavors of beer and bacon. Pile it onto hamburgers or hot dogs for a delicious treat.
First off, what is sauerkraut? Sauerkraut is is a dish in which cabbage is finely chopped and fermented in lactic acid bacteria. Over the course of a week, the cabbage breaks down and the result is a soft yet crunchy cabbage that has a distinctive sour flavor – surprise!
While Sauerkraut seems like a quintessential German / Eastern European condiment, it is thought to have been introduced to Europe by clans migrating from China.
There is even one theory that it was brought over by Genghis Khan of the Mongol Empire. Whatever its origins, it is certainly delicious.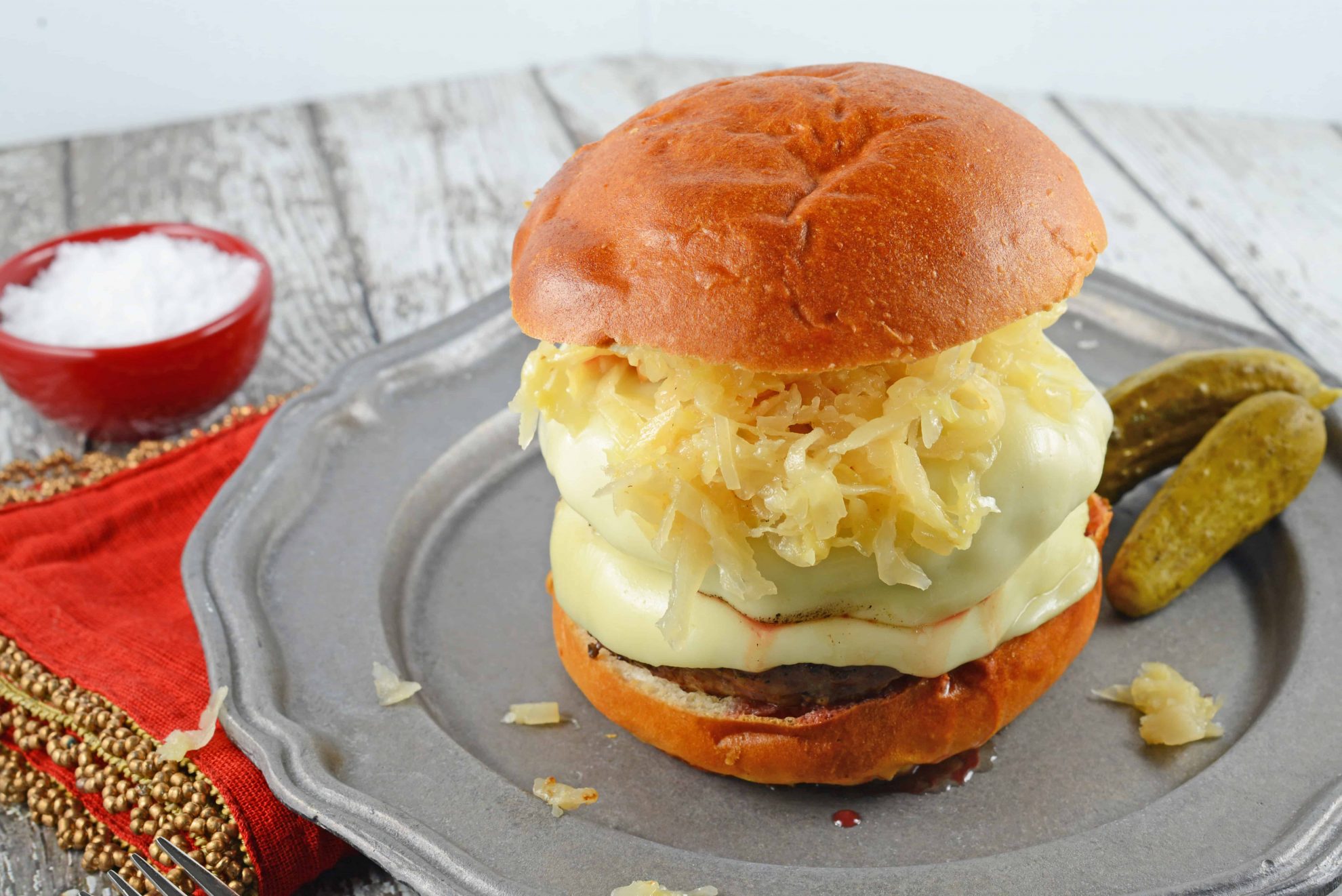 Truth be told, sauerkraut just isn't my jam. I struggle to get past the smell of it. That is until I paired it with beer and bacon!
Beer and Bacon Sauerkraut can be used on hot dogs, bratwurst, or most sausages, reuben sandwiches, inside pierogies, on to of soups, even on pizza!
Like so many fermented foods, sauerkraut is believed to be good for your digestion and for the microbiome of your gut. It falls into the same category as yogurt and pickles in that it naturally is chock full of probiotics.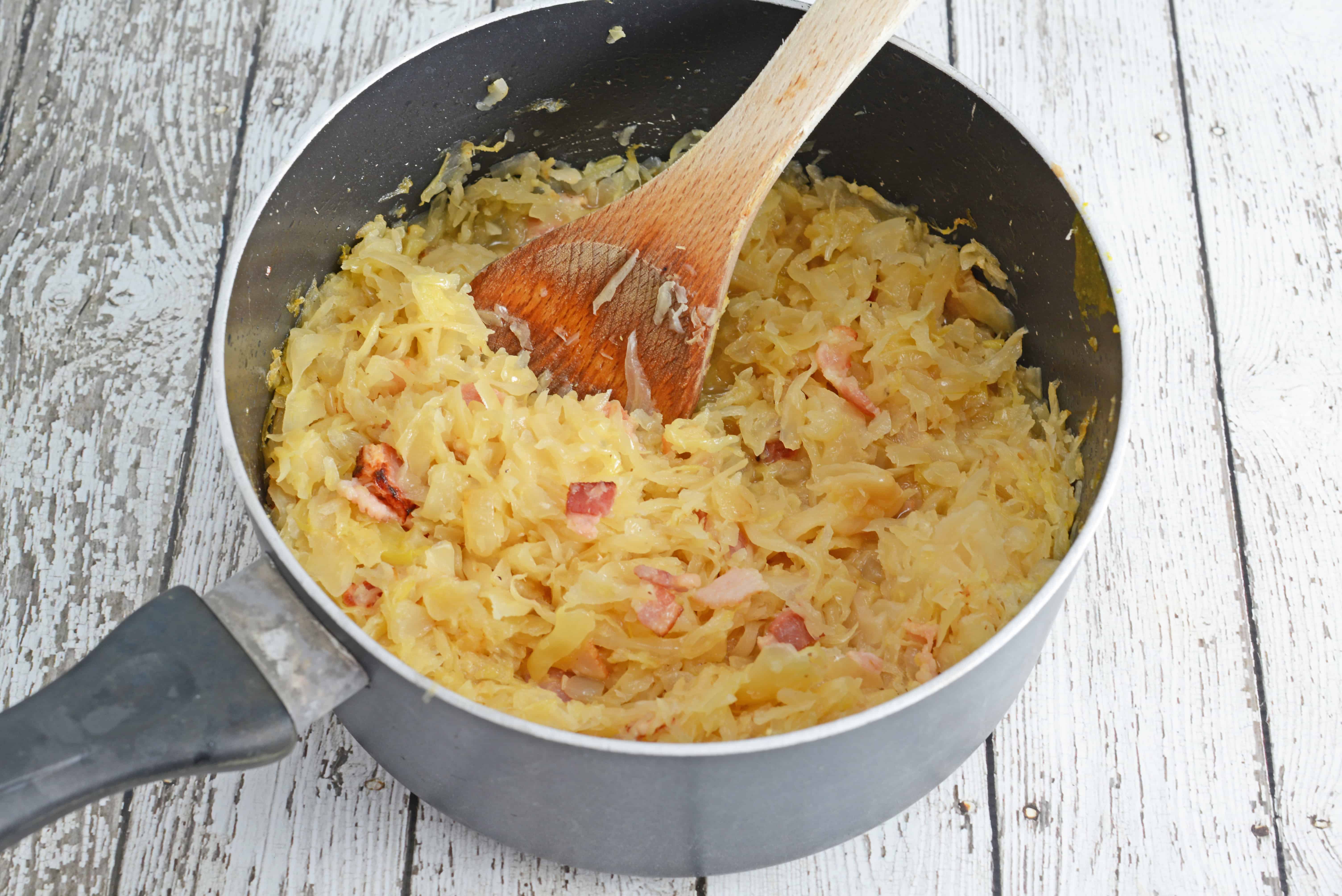 You can make your own sauerkraut base at home if you are feeling adventurous or you can easily use a brand you find in the store. Before simmering, you will wring out most of the liquid in the sauerkraut. This will allow you to add additional ingredients without making it a soggy mess.
The liquids you add will soak right on like a sponge, resulting in a flavor bomb like no other. The alcohol from the beer will burn off, leaving nothing but flavor. If you don't have beer or choose not to use it, chicken stock or water can be used as well.
Fair warning: it will probably start a little soupy. Stick with it. It but will soon cook right on it.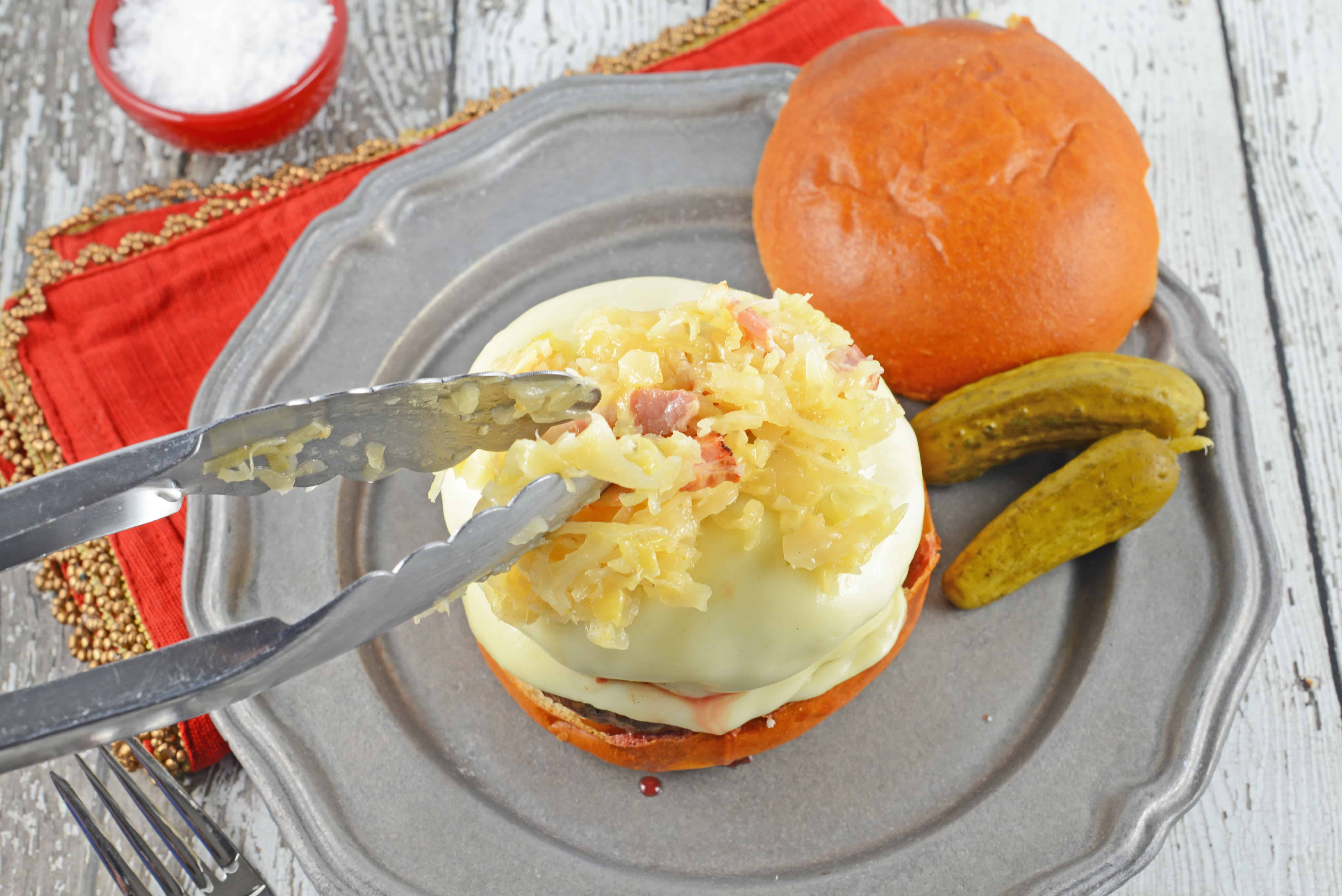 I personally like to whip up a batch before a cookout at our house during the summer. If you have hamburgers and hot dogs coming off the grill, it is a fun and somewhat unusual condiment to be able to offer your friends and family.
You can even try making sauerkraut from scratch with my easy step-by-step instructions! It is a bit of a time commitment taking take about a week, but it is a fun science project for the kids.
If you liked this
bacon sauerkraut check out these other easy condiment recipes: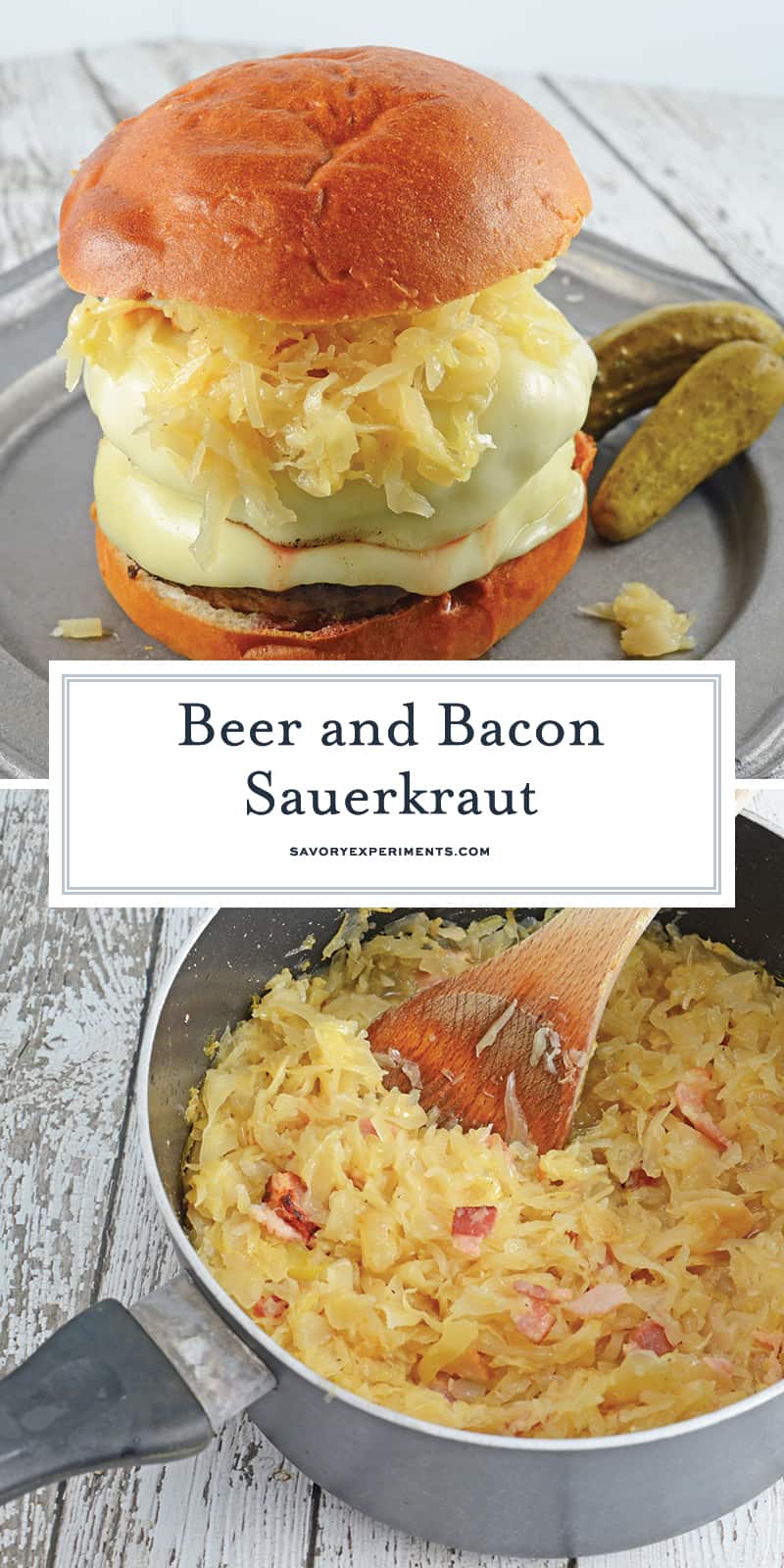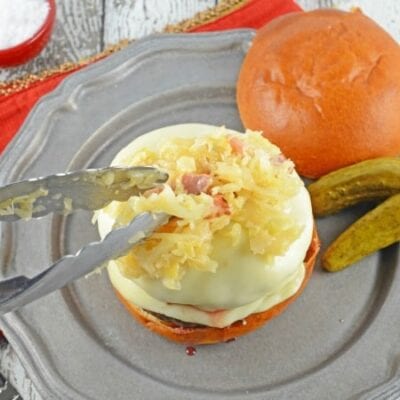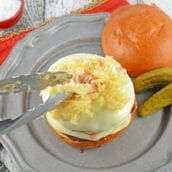 Beer and Bacon Sauerkraut
Beer and Bacon Sauerkraut is made from drained sauerkraut reconstituted with the flavors of beer and bacon. Top on hamburgers or hot dogs.
Instructions
Drain sauerkraut, rinse with cold water and then then squeeze any excess water out. Set aside.

In a medium sauce pan, heat vegetable oil over medium-high heat, adding onions and bacon. Cook, stirring frequently for 4-5 minutes, or until bacon starts to cook. Add garlic, sautéing 1 minute.

Add remaining ingredients, stirring well.

Reduce heat to low and simmer, stirring occasionally for 30 minutes.

If you've tried this recipe, come back and let us know how it was!
Nutrition
Calories:
125
kcal
,
Carbohydrates:
8
g
,
Protein:
2
g
,
Fat:
8
g
,
Saturated Fat:
4
g
,
Cholesterol:
7
mg
,
Sodium:
1170
mg
,
Potassium:
267
mg
,
Fiber:
3
g
,
Sugar:
3
g
,
Vitamin A:
20
IU
,
Vitamin C:
19.1
mg
,
Calcium:
42
mg
,
Iron:
1.8
mg