Truth be told, sauerkraut just isn't my jam. I just couldn't get past the smell. Until… I paired it with beer and bacon! Beer and Bacon Sauerkraut can be used on hot dogs, bratwurst, ruben sandwiches, in pierogies, soups, even on pizzas!
What exactly is sauerkraut? It is fermented cabbage. With a distinct sour flavor, lovers of sauerkraut typically also enjoy kimchi and pickles. Fermented foods are also believed to be good for your gut and digestion. While sauerkraut is most well known in German dishes, it can also be used in American foods, like hot dogs and hamburgers.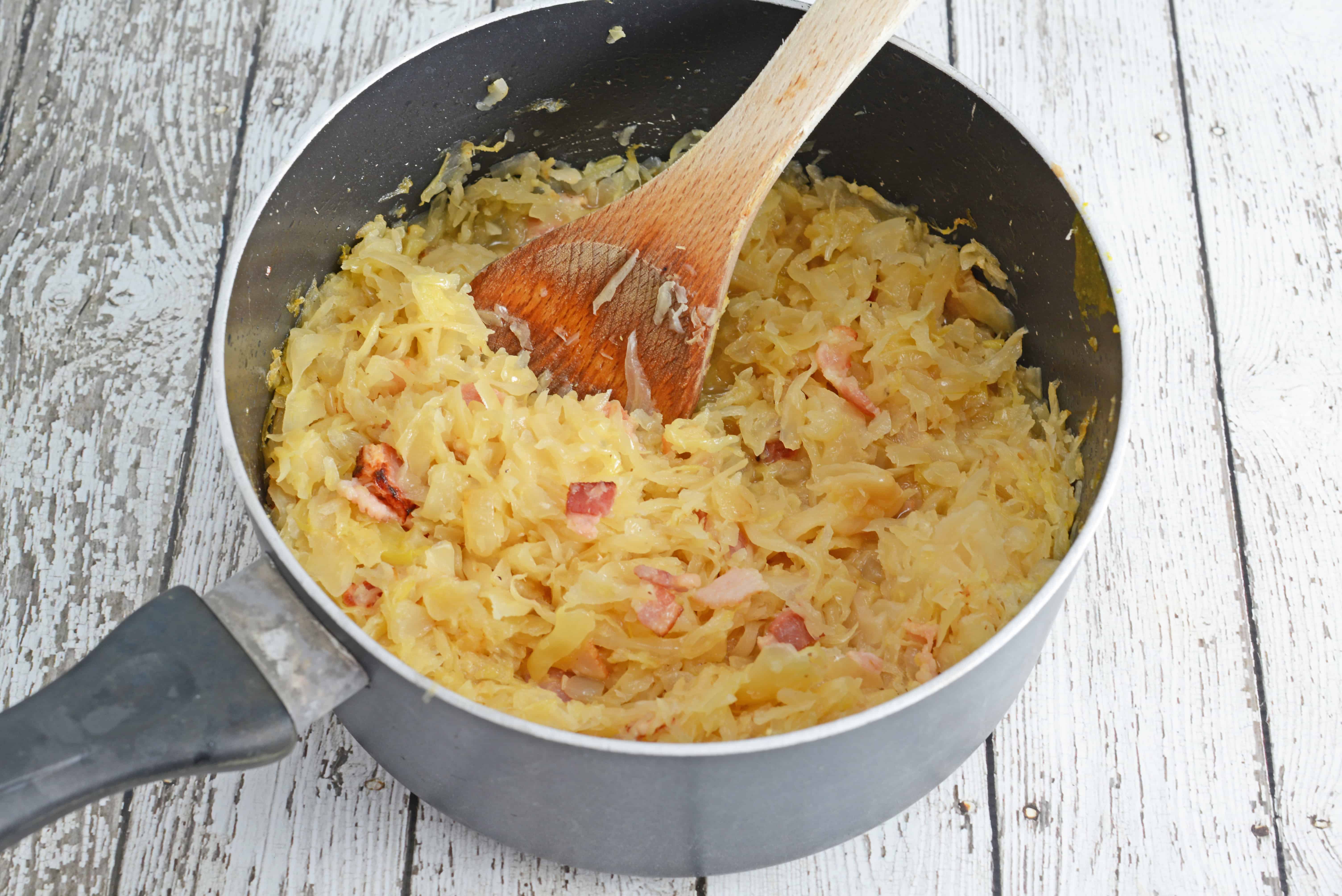 Beer and bacon sauerkraut is particularly American, adding two icons in our culture. Before simmering, your will wring out most of the liquid in the sauerkraut, making it dry and lifeless. The liquids you add will soak right on like a sponge, resulting in a flavor bomb like no other. The alcohol from the beer will burn off, leaving nothing but flavor, however you can substitute water or additional chicken stock, if desired. It will start a little soupy, but will soon cook right on it.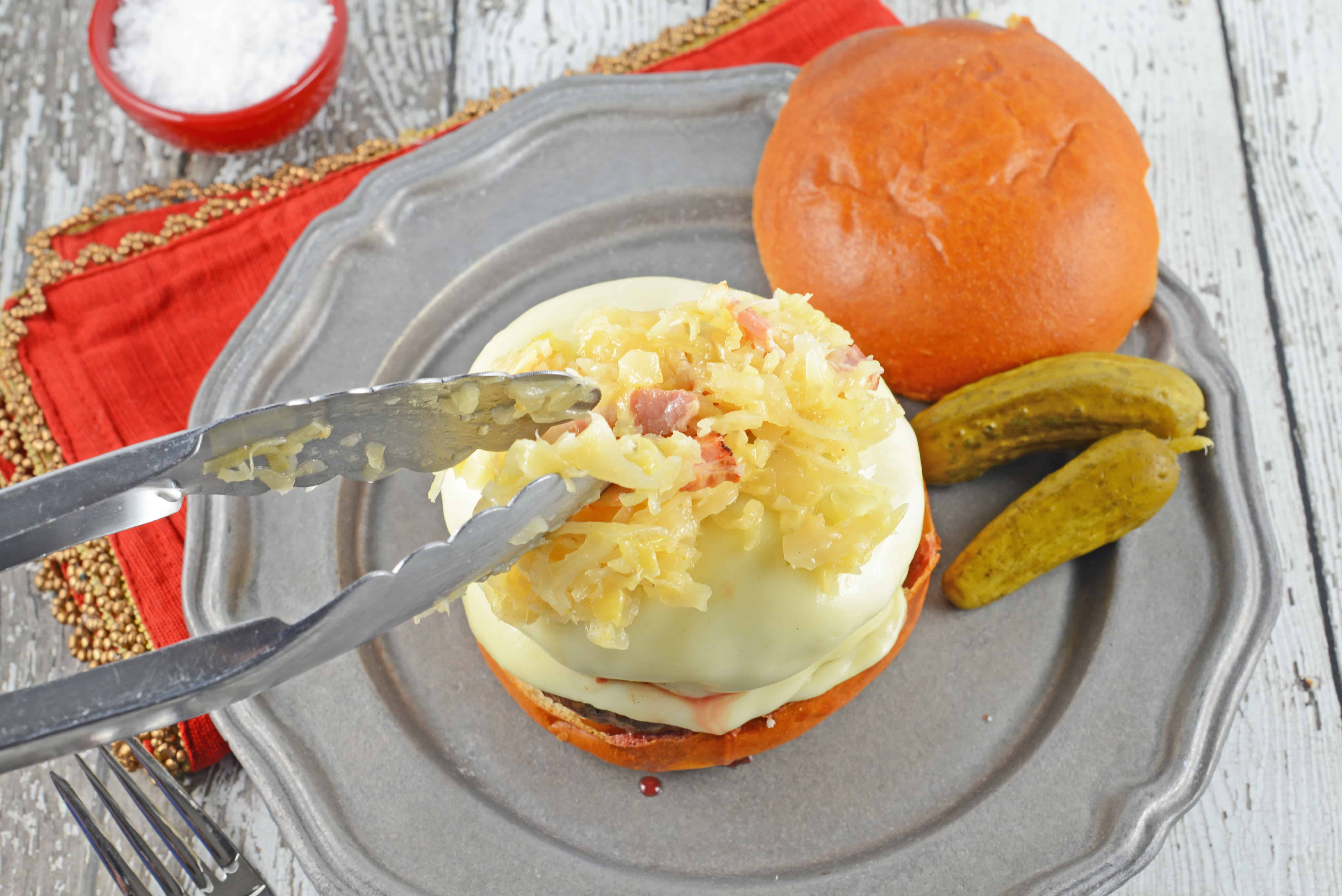 Don't forget to PIN Beer and Bacon Sauerkraut!
Print Recipe
Beer and Bacon Sauerkraut
Yum
Beer and Bacon Sauerkraut Recipe- drained sauerkraut reconstituted with the flavors of beer and bacon. Top on hamburgers or hot dogs.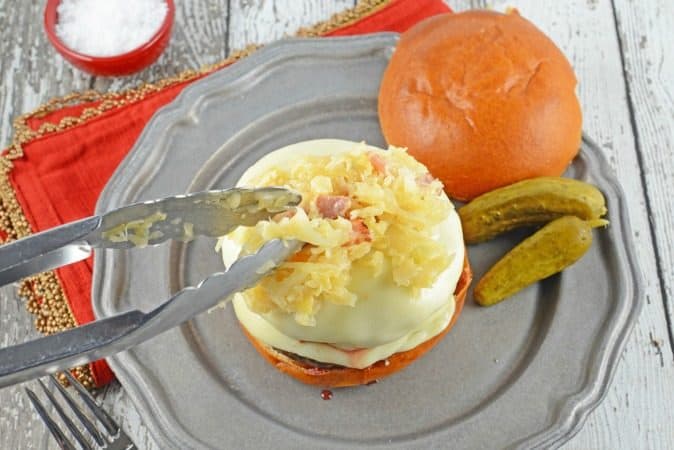 | | |
| --- | --- |
| | |
Drain sauerkraut, rinse with cold water and then then squeeze any excess water out. Set aside.

In a medium sauce pan, heat vegetable oil over medium-high heat, adding onions and bacon. Cook, stirring frequently for 4-5 minutes, or until bacon starts to cook. Add garlic, sautéing 1 minute.

Add remaining ingredients, stirring well.

Reduce heat to low and simmer, stirring occasionally for 30 minutes.
If you like this recipe, make sure to follow me on Pinterest for even more!