Orange Caramel Scallops are one of those recipes that seems challenging and sophisticated, but in reality is pretty simple and certainly "restaurant worthy."
Make this dish for a dinner party or special occasion!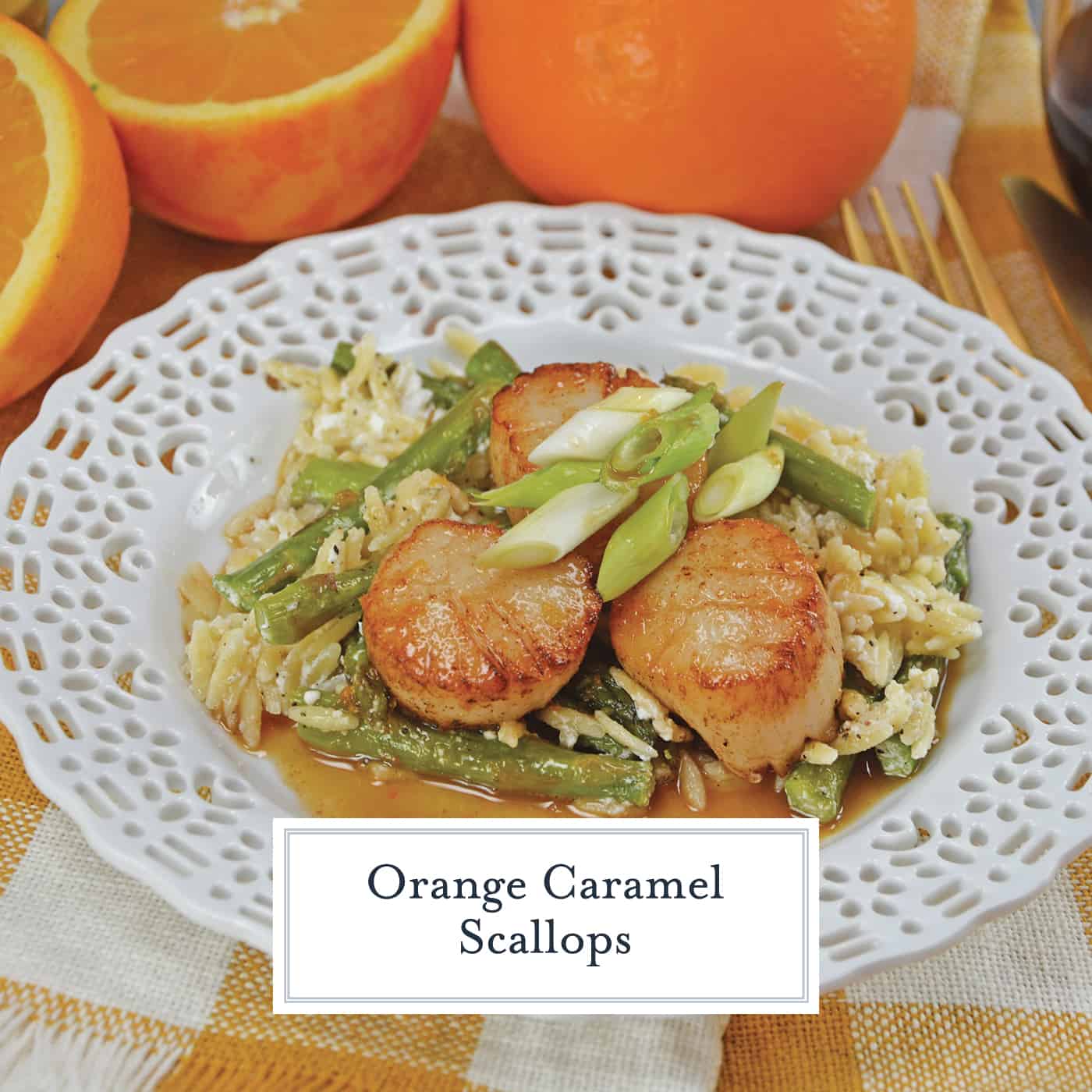 Orange Caramel Scallops are an easy and sophisticated recipe that brings the feel of the restaurant right to your home. This Orange Caramel Scallops recipe uses scallops smothered in a sticky, sweet orange caramel sauce!
Fall brings a new palette of smells and tastes, one of which is orange. I saw a recipe for orange glazed scallops and then had a dish of salmon over goat cheese orzo at a restaurant and thought- man these would taste darn good together!
It needed some more color and a vegetable hence the asparagus, and viola, there was dinner. A robust burst of orange flavor rounded out with tart goat cheese and tender scallops.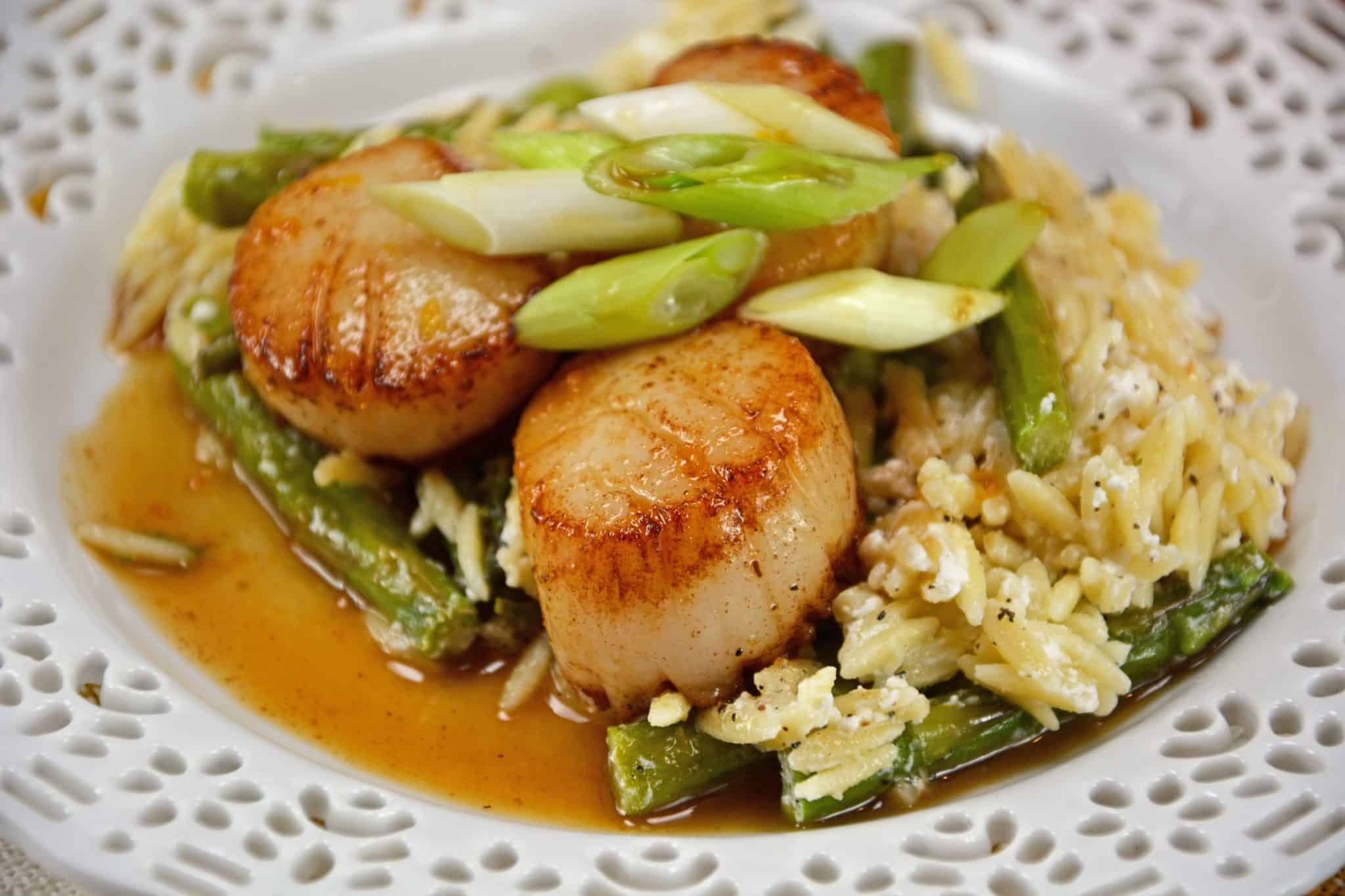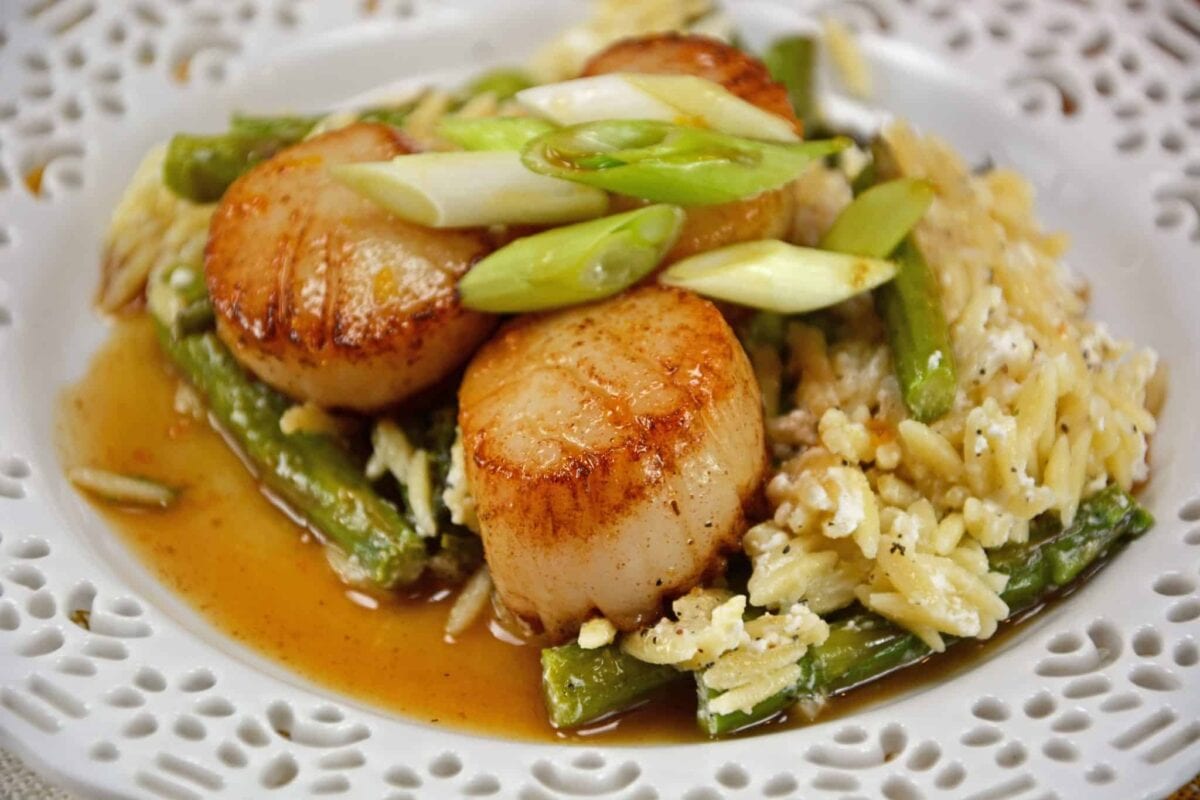 I especially like the orange caramel sauce and technique used to make it. Literally making caramel and then infusing it with citrus and soy makes a sticky, sweet accompaniment to this dish and would compliment almost any other fish as well.
If scallops aren't a favorite then salmon, tilapia, shrimp or halibut would be excellent substitutions. I used my Orzo Salad with Goat Cheese and Asparagus, but you can use egg noodles or plain white rice.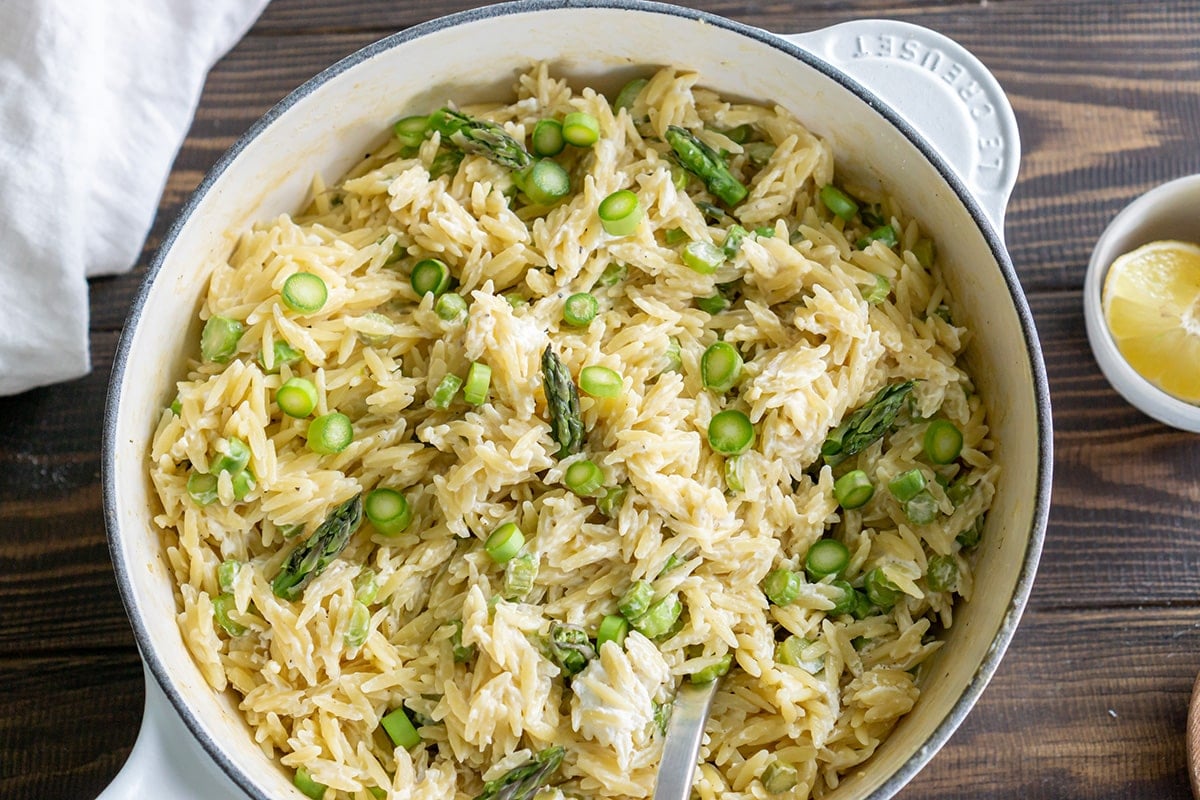 When buying scallops look for large "dry packed" scallops. This means they haven't been submerged in water. Have you ever bought giant scallops, taken them home to cook them and then they shrink down to the size of a quarter?
It is because they were bloated with water while packing and now that it burned off you are left with the actual scallop and frustration that you just paid $X per pound for water. Dry packed scallops are all scallop, little water and will stay plump while cooking.
While cooking scallops is super fast, it can also be the most difficult. The key is to have fresh, never frozen, scallops that have been washed, patted dry and then left in the fridge to dry further. Any excess water will release during cooking inhibiting a nice sear.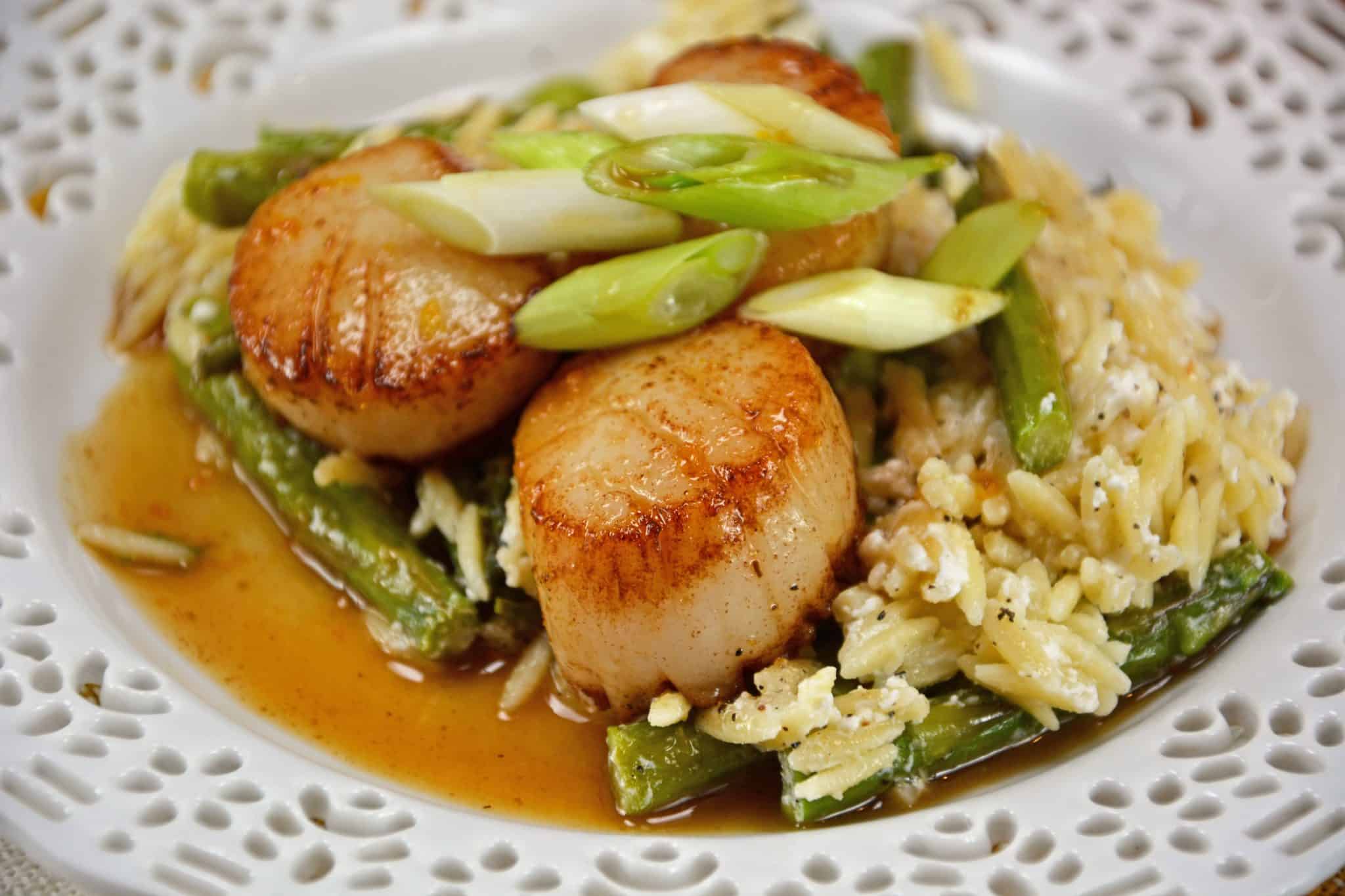 They are also easy to overcook, which is why the home cook usually says "mine never taste like the restaurant." They are generally overcooked. If your pan is to the smoke point, it will literally take less than 4 minutes to perfectly brown your scallops.
If you're wondering the difference of sea scallops versus bay scallops, then sea scallops are typically a lot bigger in size and have a more chewy texture but still sweet.
Bay scallops are a lot smaller and have a tender, sweet texture. They're both good for different recipes.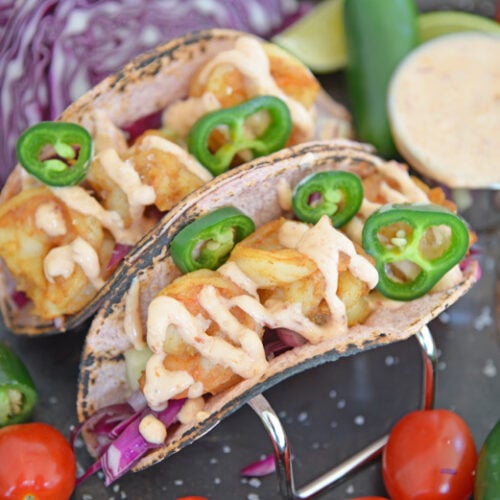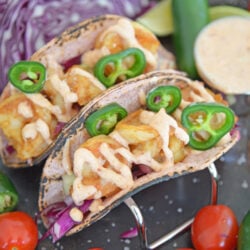 BOMB Shrimp Tacos
Easy shrimp tacos don't get any better than these Shrimp Tacos with Cabbage Slaw! Taco Tuesday will never be the same! Full of fresh flavor and seasoning!
See The Recipe!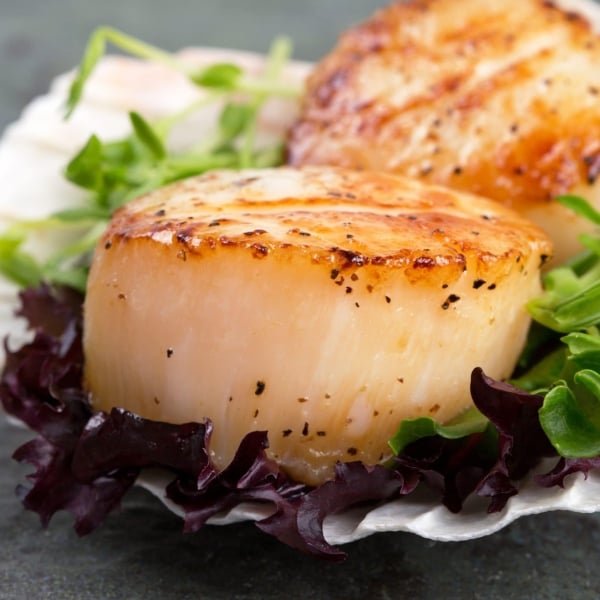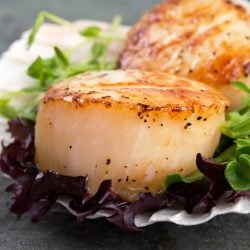 How to Sear Scallops
Pan Seared Scallops at home are easy to make. Learn how to prevent your scallops from sticking and get restaurant quality crust every time!
See The Recipe!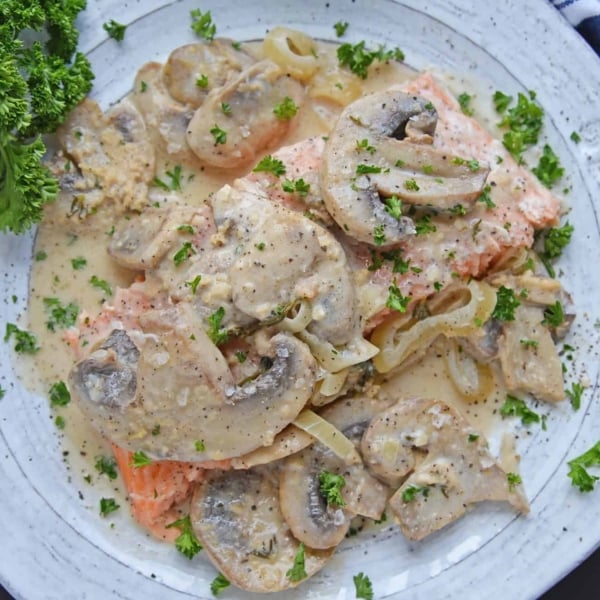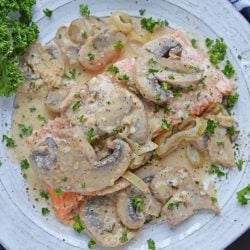 Tools for making Orange Caramel Scallops:
Heavy Bottom Saucepan
– A workhorse of your kitchen, make sure you have a good, heavy bottom sauce pan. Don't skimp on this one!
Heavy Bottom Frying Pan
– You'll need this to evenly distribute the heat and not burn your scallops. Cast iron
also works.
Tongs
– have at least 3 pairs of these at varying lengths around the kitchen!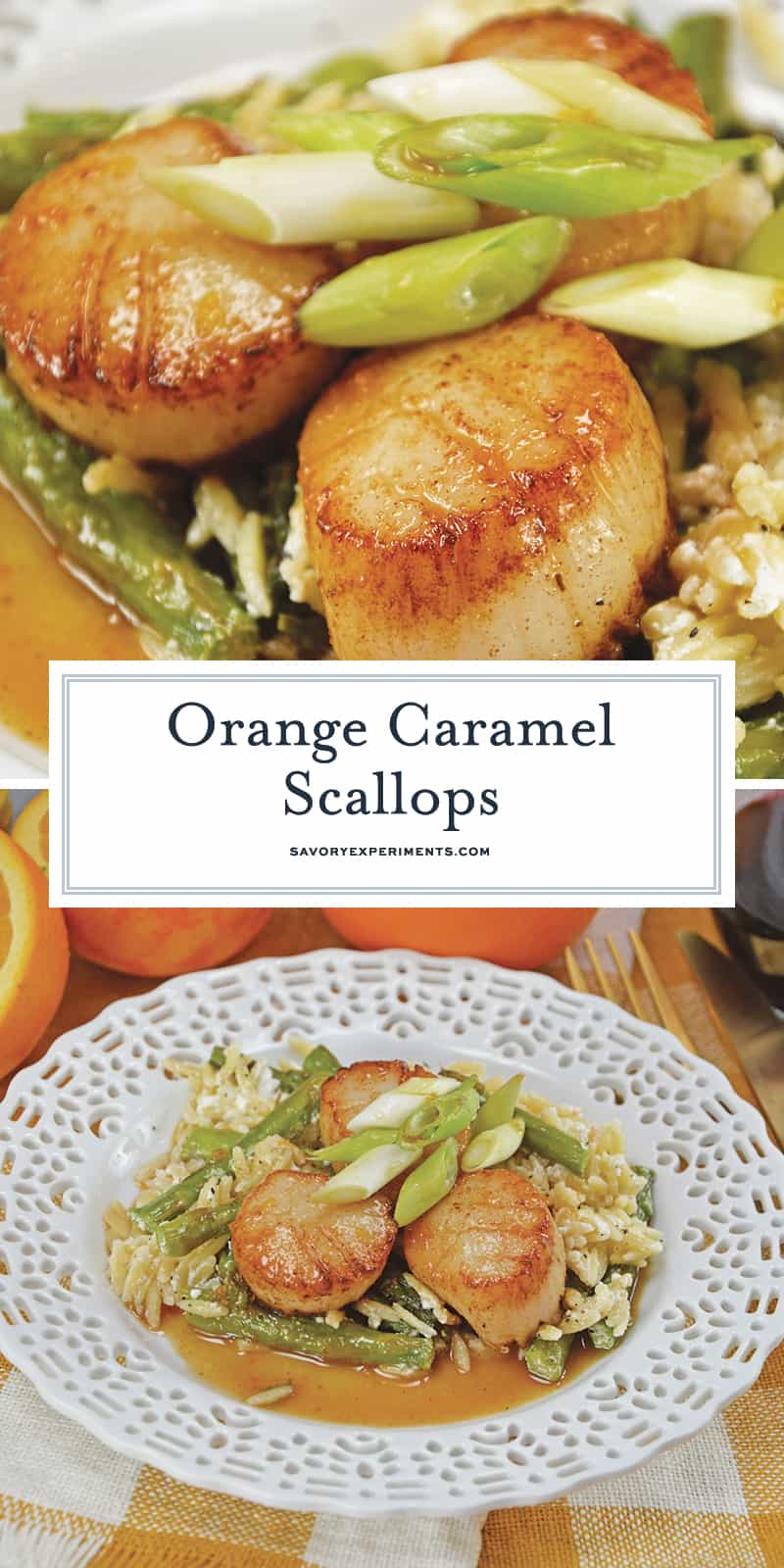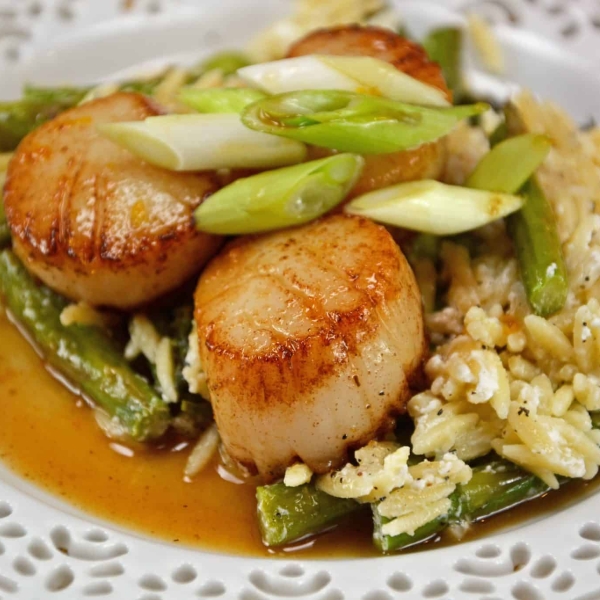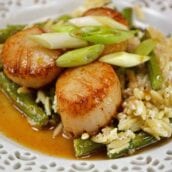 Orange Caramel Scallops
Orange Caramel Scallops are an easy recipe using scallops in an orange caramel sauce served over Orzo Salad with goat cheese and asparagus.
Ingredients
Scallops:
2

tablespoons

butter

20

large

scallops

rinsed, muscle removed and patted dry

3

scallions

chopped diagonally, whites and greens
Instructions
In a medium saucepan combine butter, sugar and water over medium heat. Stir until sugar has dissolved. Continue to cook, but do not stir. Instead gently swirl the pan (just like making caramel). Heat for 3-4 minutes or until mixture comes to an even rapid boil and a deep amber color. Remove from heat.

Whisk in cream, mixing fully before adding orange juice, orange zest, soy sauce and rice wine vinegar. Set aside or over VERY low heat while you cook the scallops and finish the orzo salad.

Heat remaining butter tablespoon in a large skillet or cast iron pan over high heat. In order to get the sear you are looking for the pan must be SMOKING and butter close to burning. Using tongs, add scallops and season with fine sea salt and freshly ground pepper. Do not move. Cook on one side for 90 seconds and then turn using scallops. If they are moved around you will not achieve a nice brown sear. Cook for an additional 90 seconds. Remove to a paper towel lined plate.

Spoon orzo salad with goat cheese and asparagus into serving dishes, top with 4-5 scallops each, a ladle of orange caramel sauce and finally garnish with scallions.

If you've tried this recipe and enjoyed it, come back and let us know!
Nutrition
Calories:
314
kcal
,
Carbohydrates:
25
g
,
Protein:
19
g
,
Fat:
14
g
,
Saturated Fat:
9
g
,
Cholesterol:
76
mg
,
Sodium:
944
mg
,
Potassium:
403
mg
,
Sugar:
19
g
,
Vitamin A:
610
IU
,
Vitamin C:
17.9
mg
,
Calcium:
24
mg
,
Iron:
0.9
mg