Creamed Spinach Shells and Cheese uses creamed spinach as a sauce for an amazingly quick pasta dish, that you won't be able to get enough of!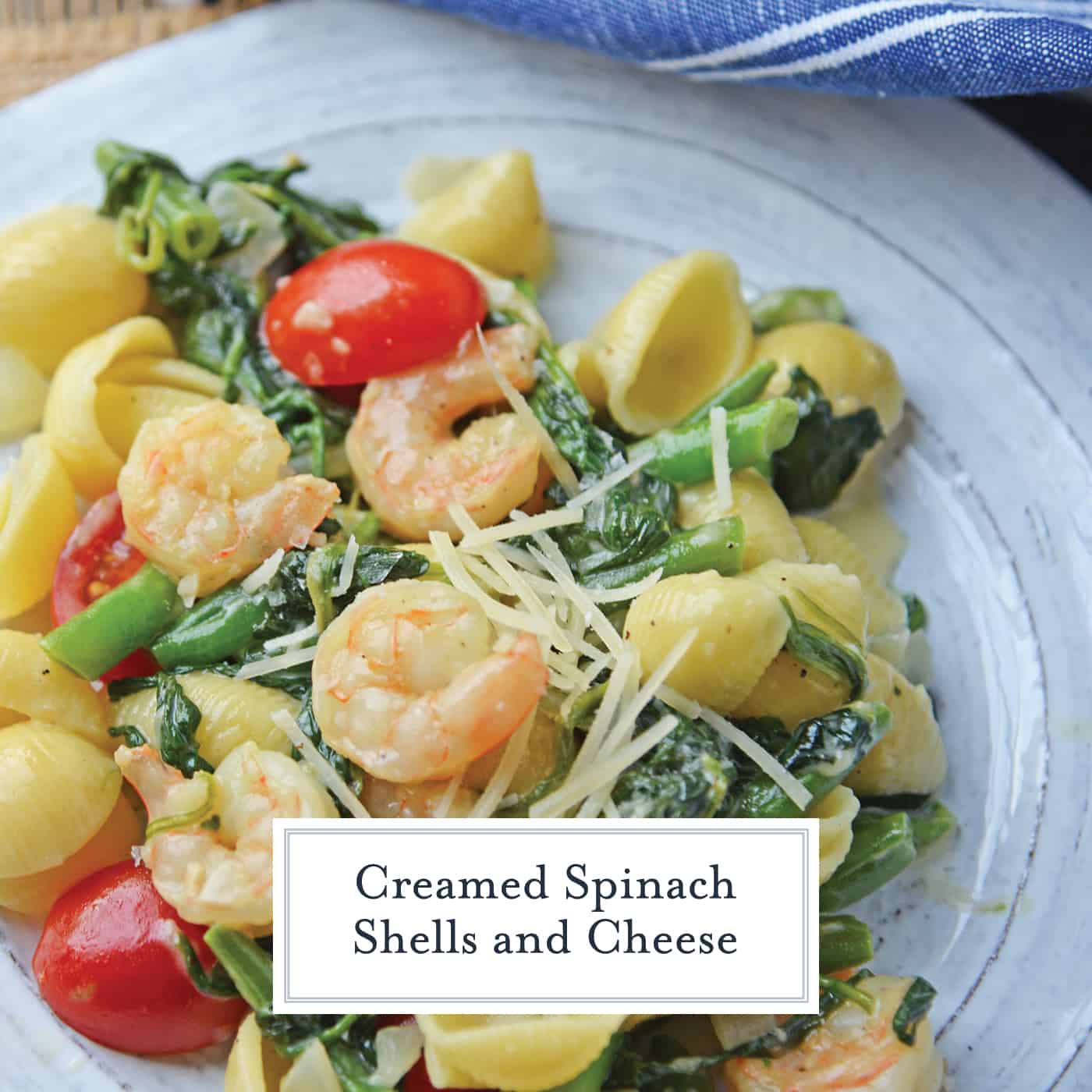 Clean out the fridge night; a night to use your imagination and every once and while develop a recipe that is remarkable or noteworthy.
Maybe it was the high end ingredients I used or just culinary prowess (kidding), but Creamed Spinach Shells and Cheese was both remarkable and noteworthy. Seriously, like I told hubby we needed to go eat steak again so we could get more creamed spinach leftovers. He liked that idea.
Creamed spinach recipes are really something amazing, the spinach cream sauce really makes this recipe pop without having to add too many spices and seasonings.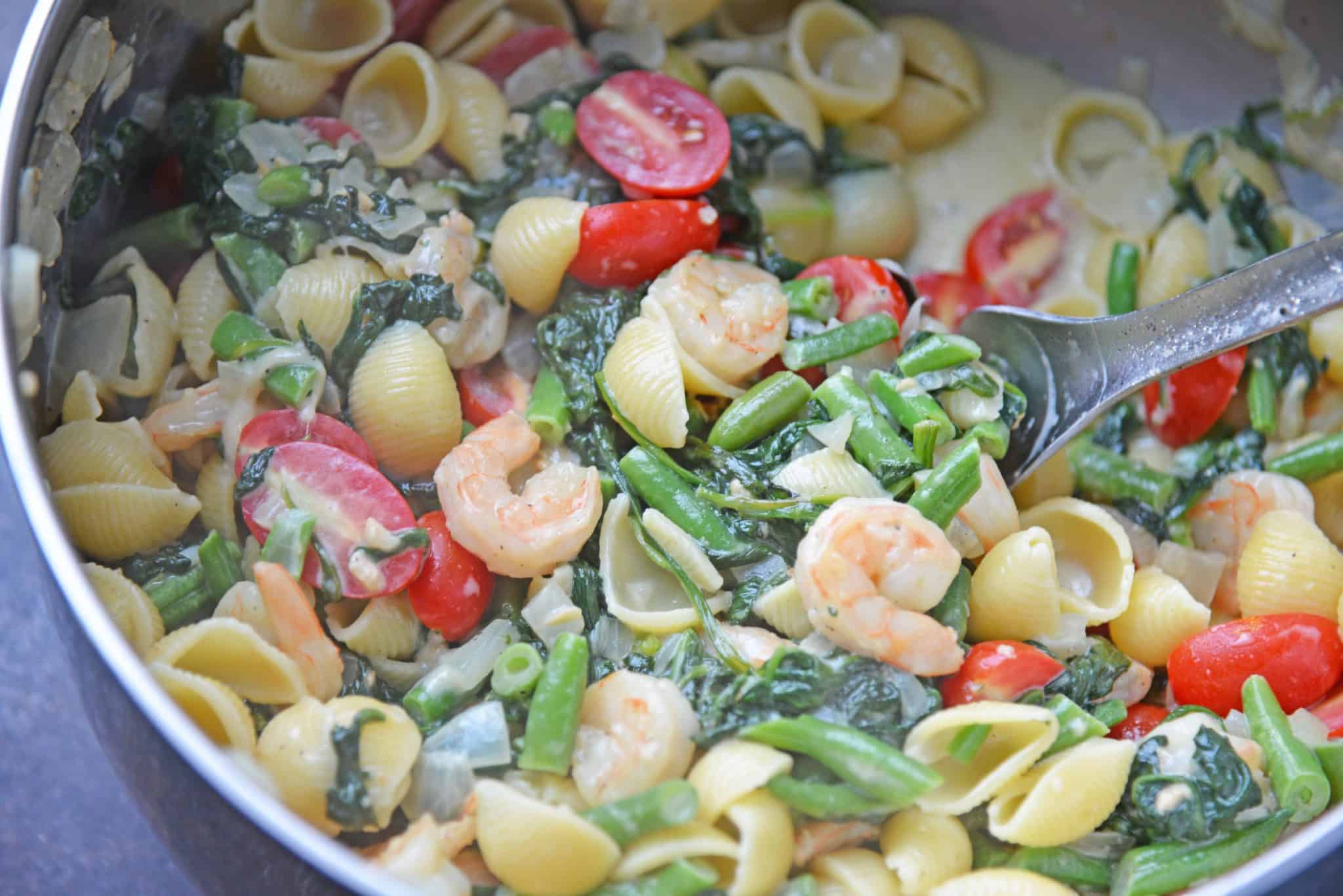 Shells and cheese are also something amazing. I don't think anyone in my generation doesn't have positive memories associated with Velveeta Shells and Cheese. This isn't your childhood favorite though. This is an updated adult version.
These items were leftovers from one of my favorite steak houses. As usual, my eyes are bigger than my stomach, and after two appetizers, a salad, some bread, a couple glasses of bubbly … then came my perfectly cooked steak and side dishes.
They all came home with me to dine on the following day. I ordered too much. It all looks so good, how do you decide?! Well, I had my potatoes au gratin for breakfast and was left were creamed spinach, green beans. and steak.
My bourbon and maple filet mignon did not make it into the pasta (it was devoured for lunch), but the sides, sautéed green beans and creamed spinach, sure did!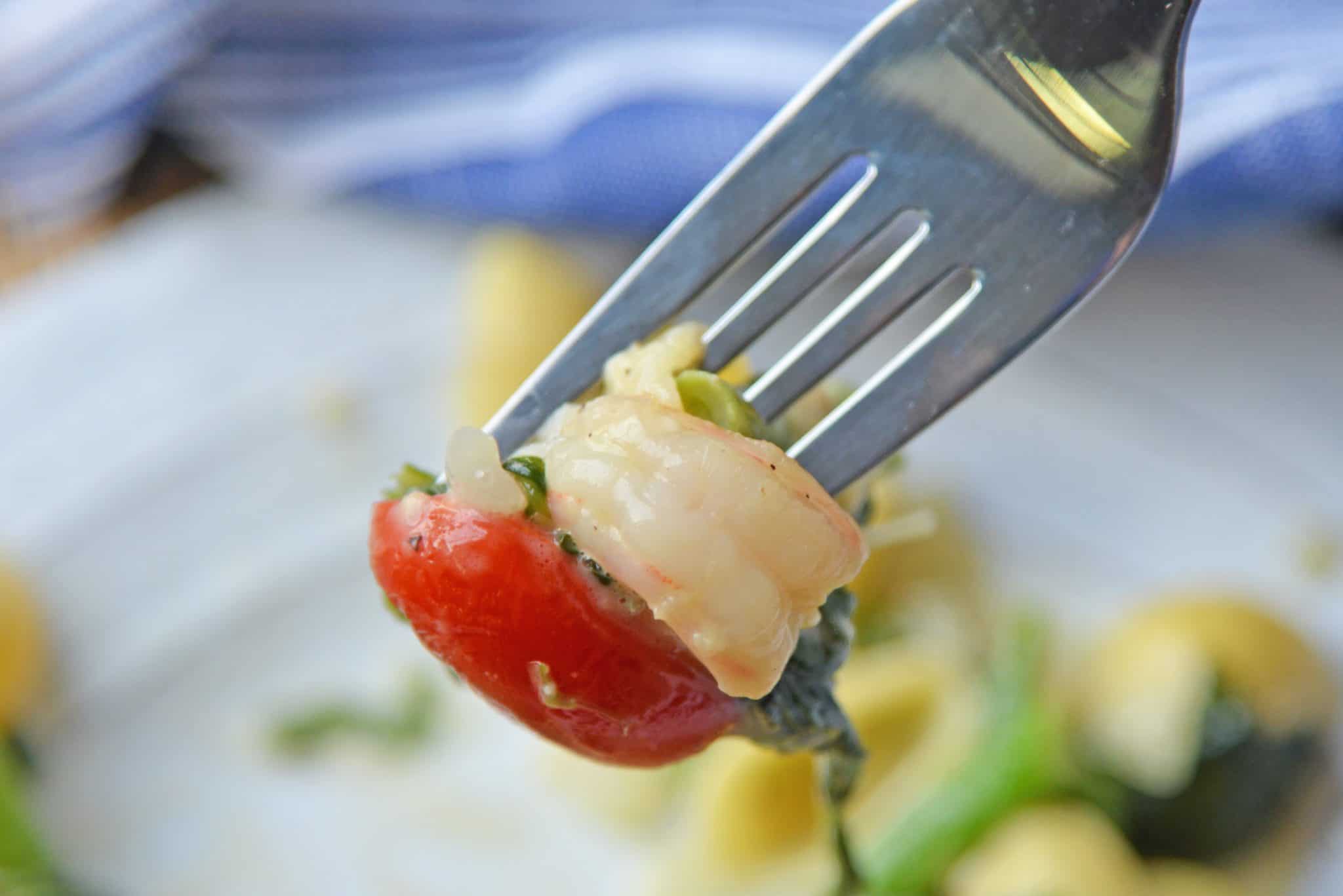 I needed to lighten up my recent food consumption so I paired it with shrimp. Do you love my powers of rationalization? Cause eating pasta and creamed spinach is certainly not light.
If you aren't lucky enough to have dined out the night before, just pick up canned or frozen green beans and creamed spinach or make your own super easy. My creamed spinach recipe uses a few grates of fresh nutmeg to add nuttiness and intrigue. It will leave your guests "not being able to put their finger on it" but knowing it was the best darn creamed spinach ever.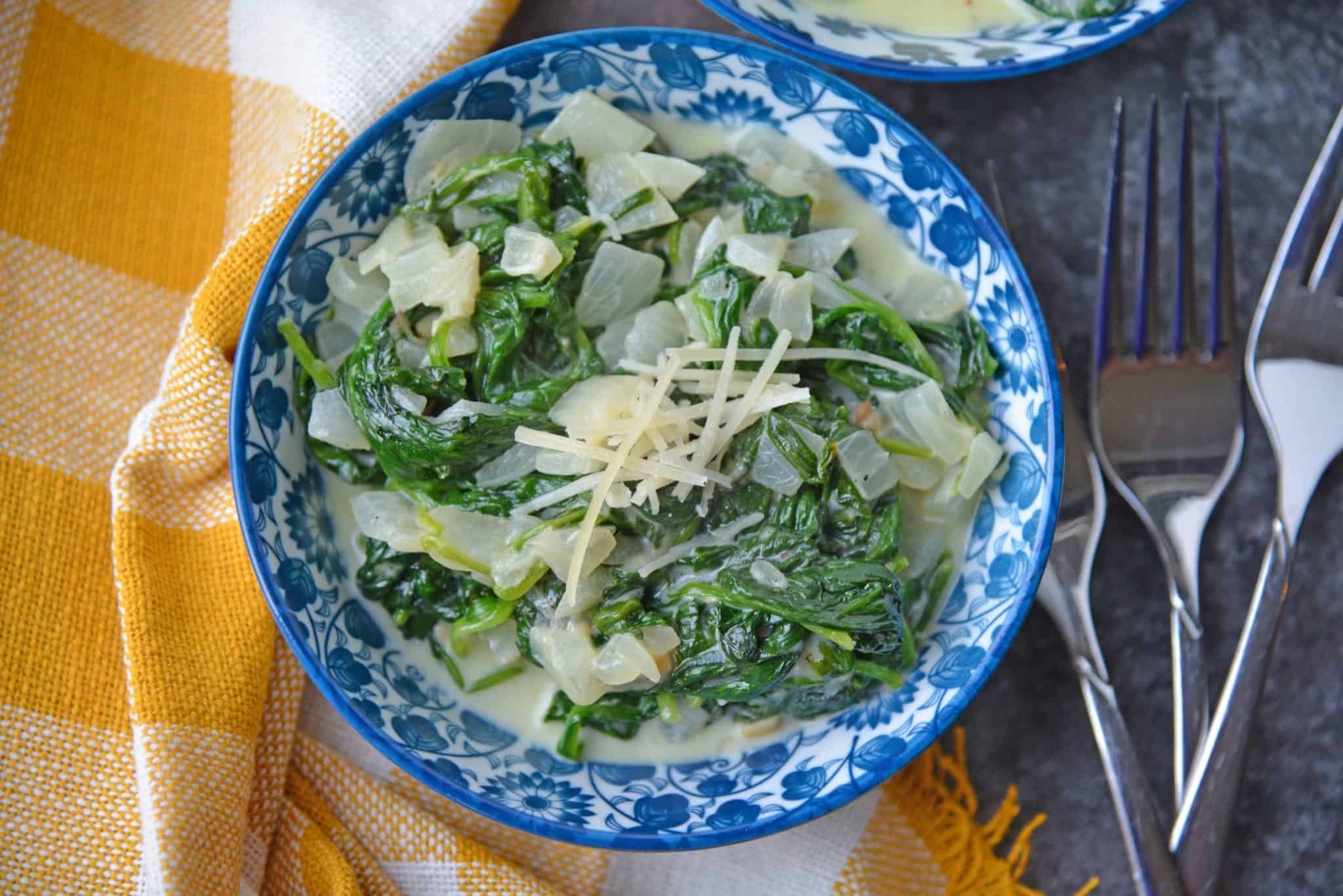 So why not transform that into a main dish? It is so easy, it will come together in just 25 minutes, including boiling pasta. Add tomatoes for color and garlic for amped flavor and you ready to serve!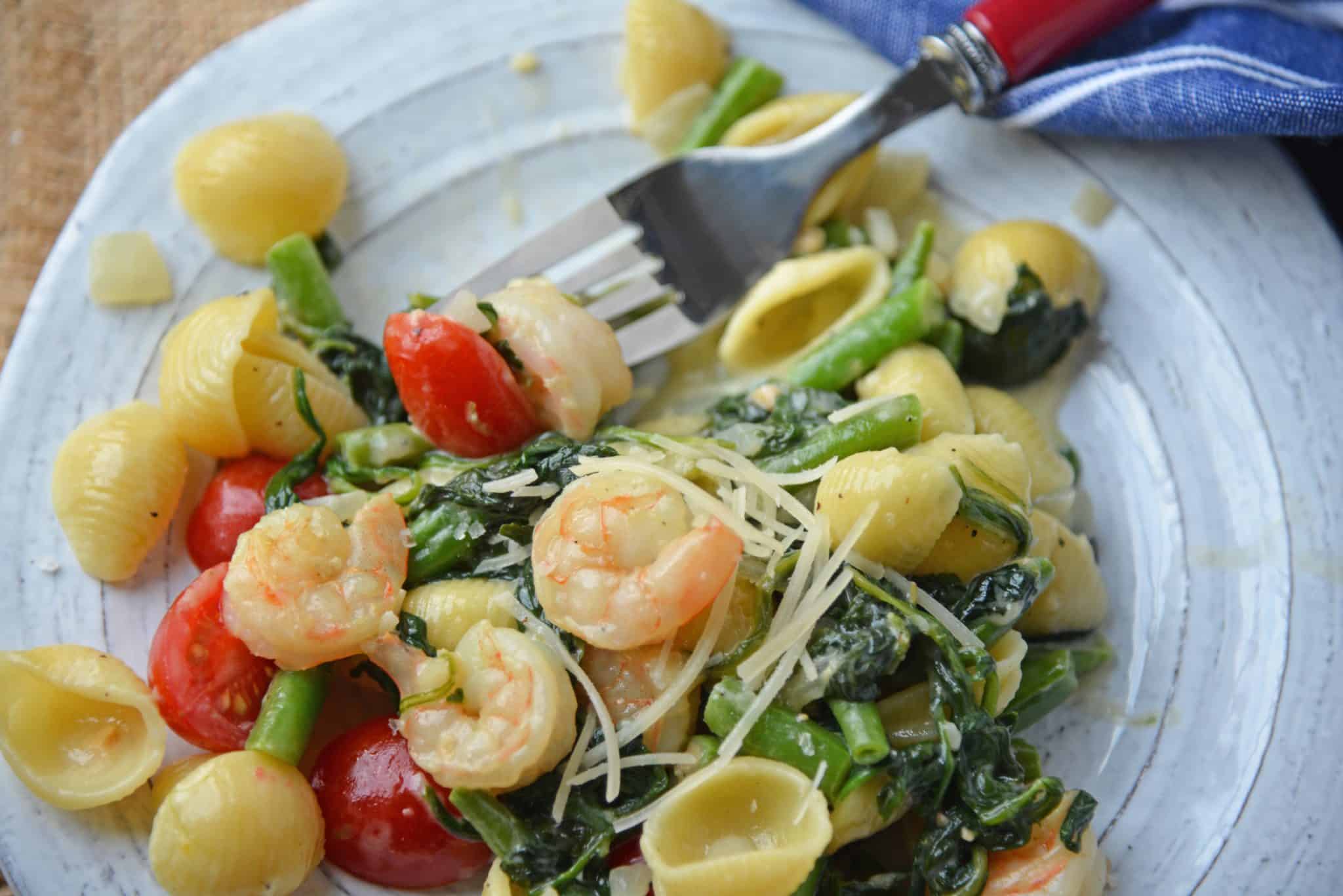 Check out some of these other easy pasta recipes: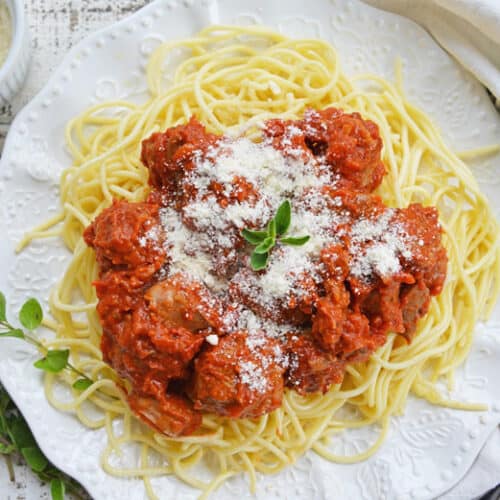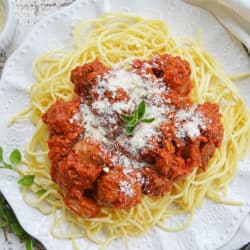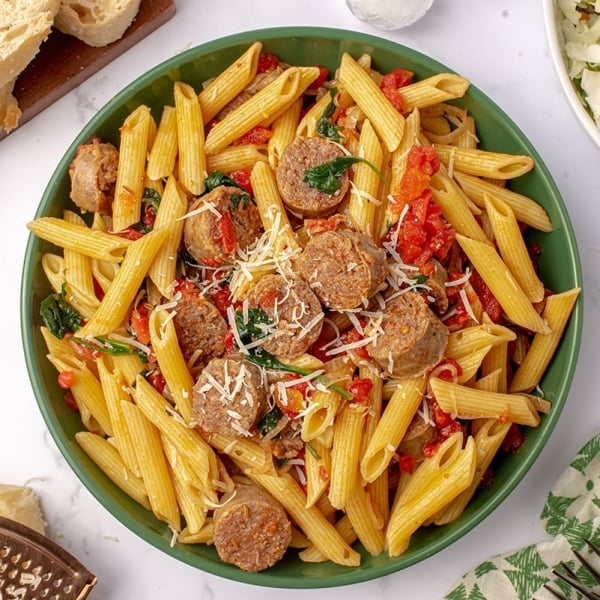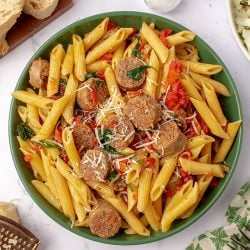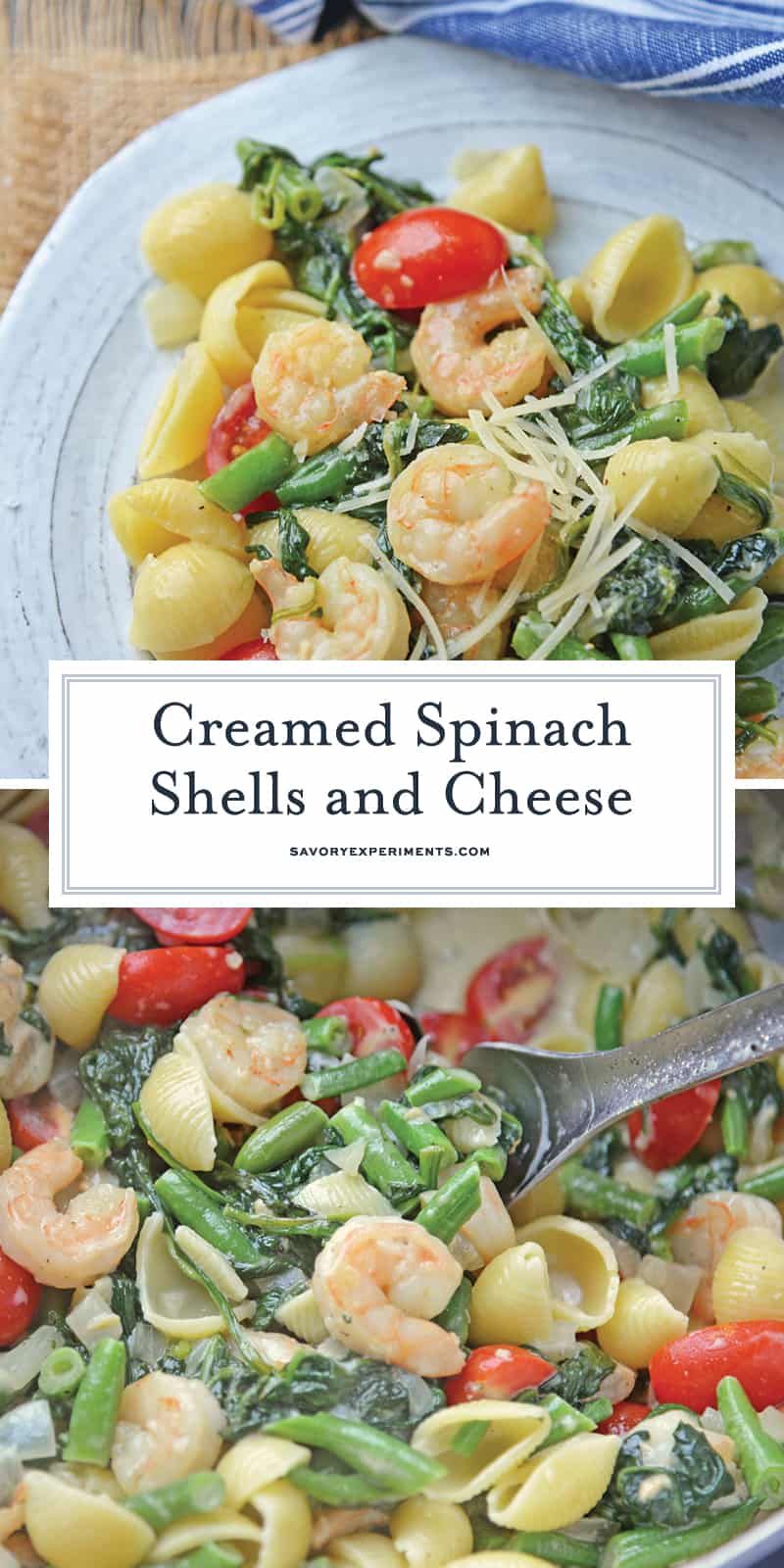 Tools for making Creamed Spinach Shells and Cheese:
Dutch Oven– every kitchen should have one! They are heavy. They are expensive. They are worth it!
Cheese Grater- if you don't have a rotary version for hard cheese like Parmesan, you need one! Don't buy pre shredded cheese, discover the difference when you shred your own.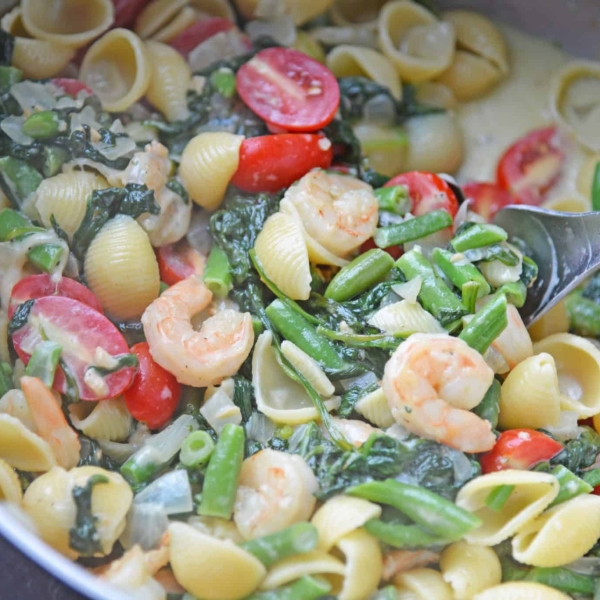 Creamed Spinach Shells and Cheese
Creamed Spinach Shells and Cheese uses creamed spinach as a sauce for an amazingly quick pasta dish, that you won't be able to get enough of!
Ingredients
1

pound

medium shells

, cooked

1

teaspoon

fine sea salt

, plus more for seasoning

1/2

cup

whole milk or half and half

3/4

cup

Parmesan Reggiano cheese

, finely grated, plus more for garnish

1/2

teaspoon

freshly ground pepper

1

cup

green beans

, cooked

1/2

cup

cherry tomatoes

, quartered

3/4

cup

creamed spinach

, cooked or defrosted

14

ounces

large shrimp

, raw, shells removed and de-veined

2

tablespoons

butter

1

large garlic cloves

, crushed or minced
Instructions
In a large pot or Dutch oven, heat milk over medium heat. When milk starts to simmer whisk in Parmesan Reggiano cheese.

Season with a few shakes of fine sea salt and 1/2 teaspoon freshly ground pepper. Stir in green beans, tomatoes and creamed spinach. Reduce heat to low.

In a large frying pan melt butter over high heat. Add garlic and shrimp. Toss shrimp in butter and garlic sauce until they are opaque pink and start curl. Remove from heat.

Toss cooked pasta shells into the milk and cheese mixture and coat well. Spoon a generous portion of shell mixture onto each serving dish. Top with a couple of shrimp and extra Parmesan Reggiano cheese. Enjoy your Creamed Spinach Shells and Cheese!

If you've tried this recipe, come back and let us know how it was!
Nutrition
Calories:
677
kcal
,
Carbohydrates:
90
g
,
Protein:
43
g
,
Fat:
14
g
,
Saturated Fat:
7
g
,
Cholesterol:
280
mg
,
Sodium:
1730
mg
,
Potassium:
519
mg
,
Fiber:
4
g
,
Sugar:
6
g
,
Vitamin A:
1180
IU
,
Vitamin C:
13.4
mg
,
Calcium:
440
mg
,
Iron:
4.3
mg