Rochester Hot Sauce is different from your typical hot sauce. In fact, the "hot factor" doesn't even reference the spice, but more the actual temperture, as in it is served hot.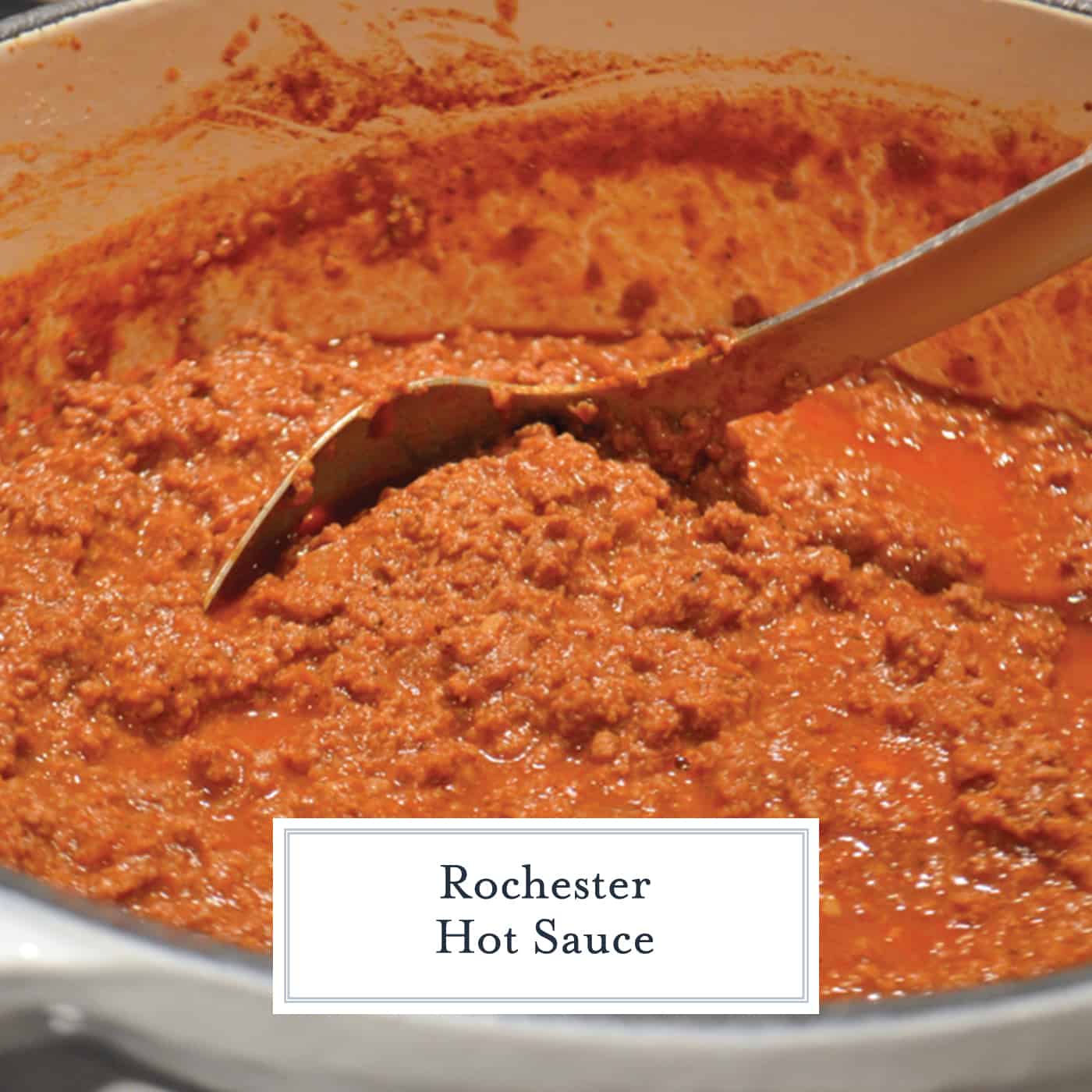 Rochester Hot Sauce is a ground beef and tomato based sauce used to top Garbage Plates. While it is served hot, it is not traditionally spicy.
Hot sauce is a beef base with a few finely minced or grated vegetables technically making it like a ragu sauce. It is served most frequently on Rochester Garbage Plates in Rochester, New York.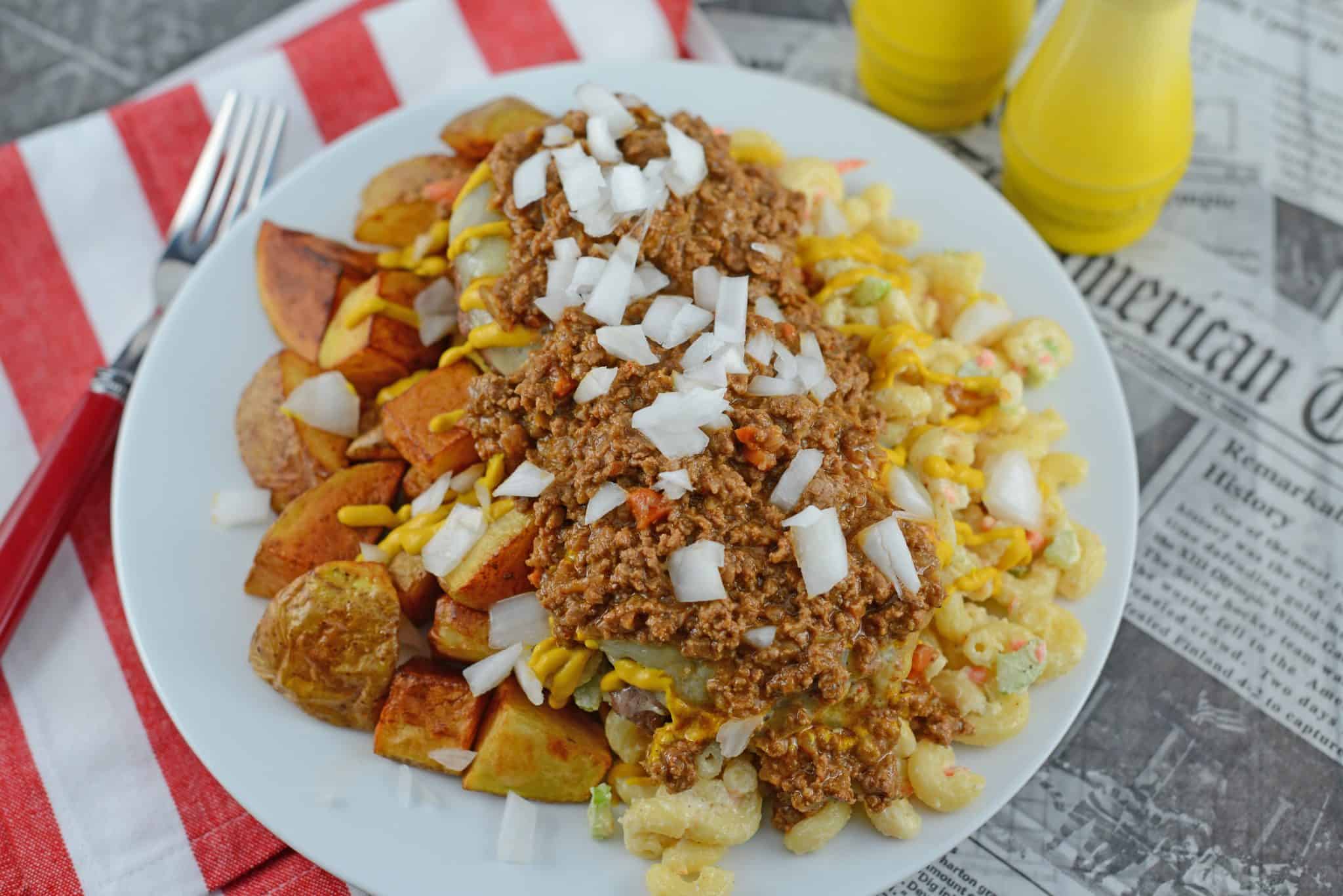 The hot sauce itself is more of a ground beef based sauce like you'd see on a chili cheese dog. Almost a sloppy Joe mix, but a little more tangy. Some even use it as a spaghetti sauce, like chili mac. You won't find this sauce anywhere outside of the Rochester area, that is for sure!
The "hot" doesn't refer to spice, it is a referral to the temperature. A meat sauce that is served piping hot.
Vegetable are hidden in this tomato based sauce, as they are either very finely minced or even grated. Carrots, celery and onion are the most common.
Like so many regional dishes, the spice and exact ingredients for hot sauce range from joint to joint. In Rochester, most places that specialize in hot sauce or garbage plates are called "hots" and typically reference the name of the town or street first.
If we are just talking in general terms, Rochester Hots would be a name. It might actually be for all I know…
Yes, I know, the WORST name ever for a dish. So what is a Rochester Garbage Plate?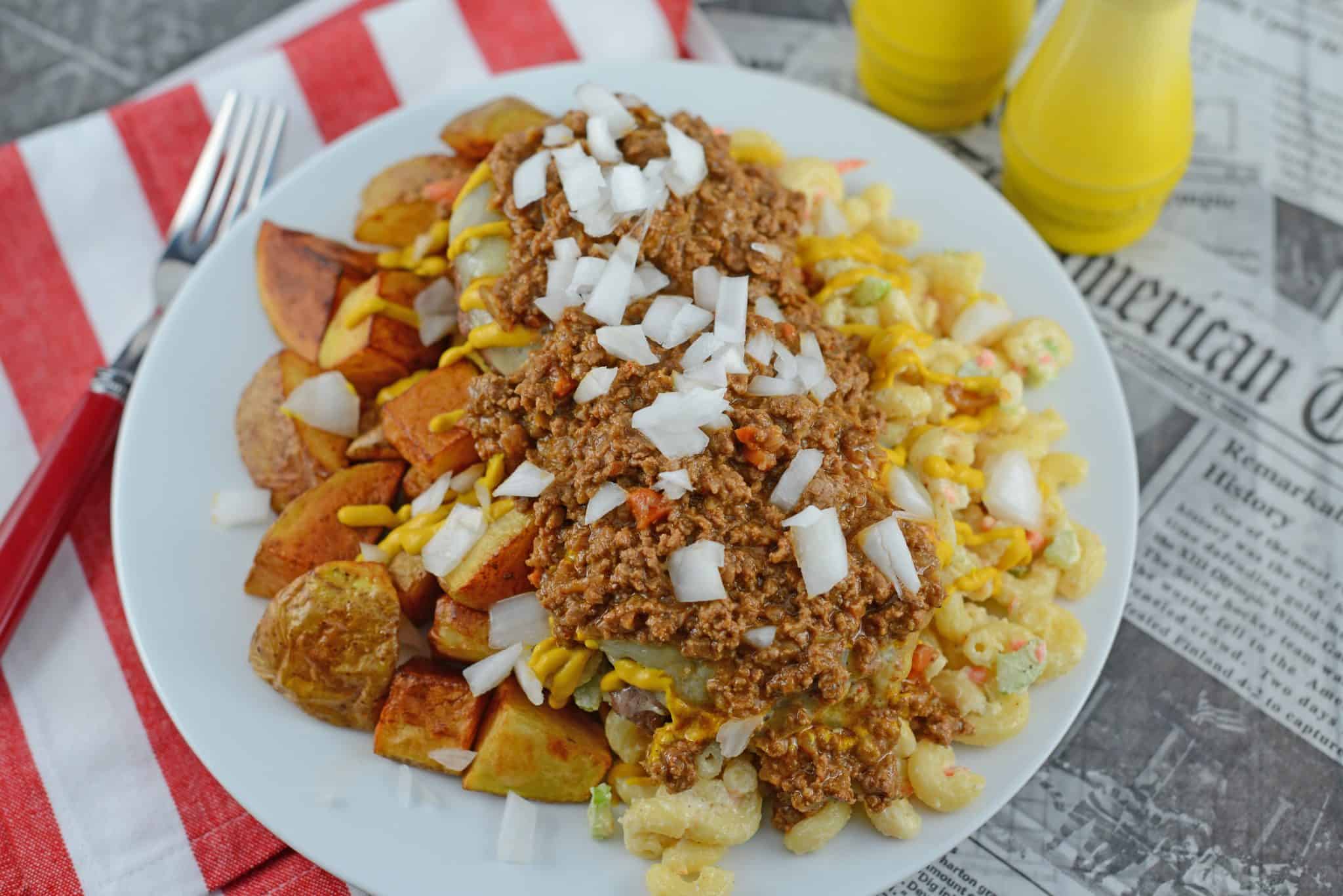 It starts with a plate of home fries or french fries, cold macaroni salad and sometimes baked beans. Top that with hamburgers, cheeseburgers, hot dogs, chicken fingers, fried fish, grilled cheese or even soy burgers.
And now that you have a mountain of food, smother with Rochester Hot Sauce, raw onions, ketchup and mustard. There are many more variations, condiments and other toppings. Everyone has their own preference.
I'm not going into a ton of details here on why or how to make a Garbage Plate, but you can hop on over to my Garbage Plate recipe to learn more, including how to make your own and how it got this stunning name. There is even a video to show you how to make it (see above!)
You'll also learn more about the history, like how a bunch of college students invented it and where (Nick Tahoes, yes).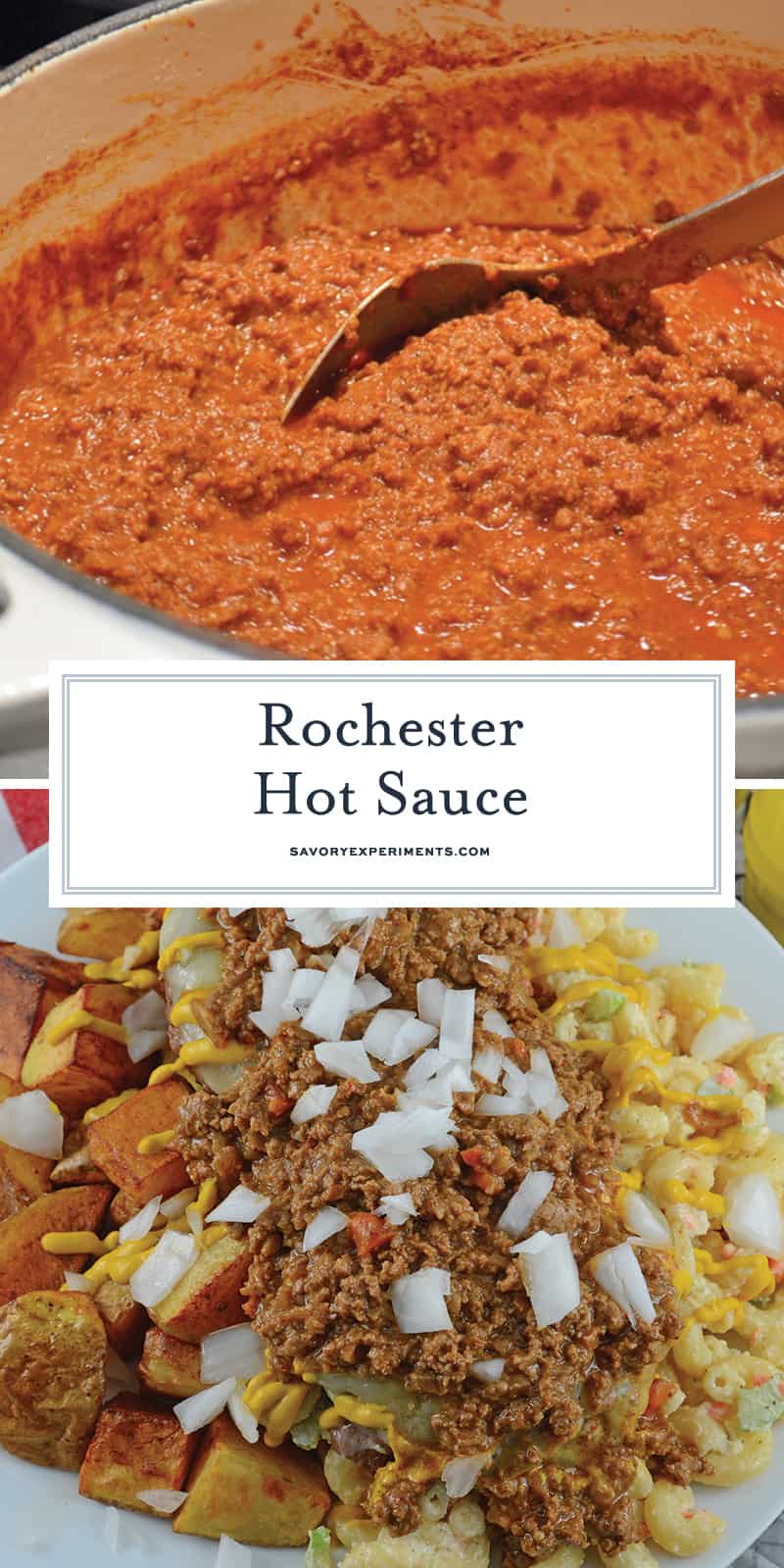 Tools for making this meat sauce recipe:
Wood cutting board – wood won't dull your knives like plastic and if treated properly, has natural antimicrobial properties.
Good knife – Global is my favorite! They are worth the price, I promise. I am kind of obsessed with them and store them tucked away so no one else can use them. Including hubby. Hands off my good stuff!
Dutch Oven– every kitchen should have one! They are heavy. They are expensive. They are worth it!
If you liked this recipe, check out these other regional dishes:
Canadian Butter Tarts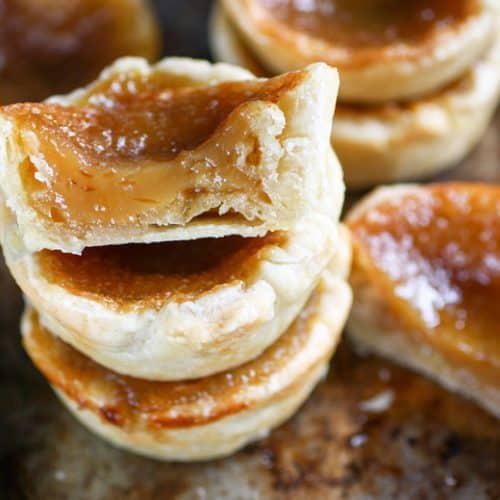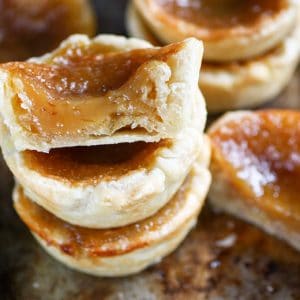 A Canadian treat that everyone should try, these EASY Canadian Butter Tarts consist of a flaky crust filled with a buttery, caramel-like, gooey center!
Maryland Style Crab Cakes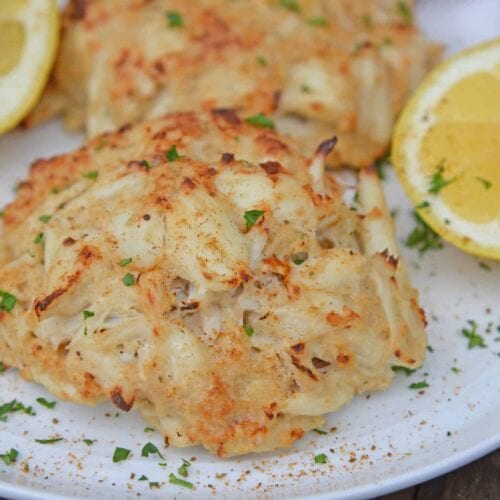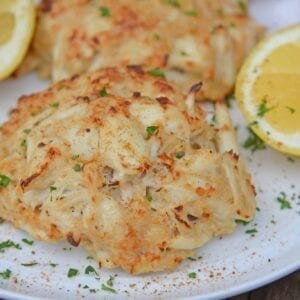 Maryland Crab Cakes are made with jumbo lump crab meat with little filler, Dijon mustard and Old Bay Seasoning plus secrets to making authentic Chesapeake crab cakes!

Questions you might have about how to make rochester hot sauce:
Can I freeze meat sauce? You sure can! In fact, if you like the recipe, I recommend making a double or even triple batch and freezing it. Check out my tips for freezing food.
Do I have to use ground beef? While the original recipes for meat hot sauce use ground beef, feel free to use any ground meat. Ground chicken, pork, veal or even turkey will all work. You can even use a blend of the ones you prefer.
Can I make this sauce ahead of time? My husband would tell you that it actually tastes best when you make it a day ahead of time.
How long does it last? Like most prepared foods, if kept at the correct temperatures and packaged in airtight containers, 5-7 days.
How long can it sit at room temperature? Some people ask this question because they are setting up a Rochester Garbage Plate bar for tailgating for parties.
The CDC recommends no longer than 2 hours, however if you are hosting a shindig, you can also put your sauce in a slow cooker or crockpot on the low or "keep warm" setting. 
Rochester Hot Sauce is a ground beef and tomato based sauce used to top Garbage Plates. While it is served hot, it is not traditionally spicy.
---
Get our FREE 8 Day E-Course on How to Be a Better Home Cook. Sign up HERE!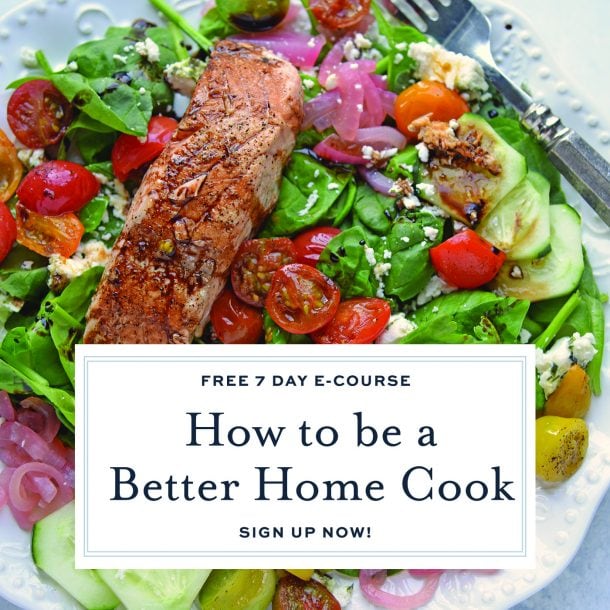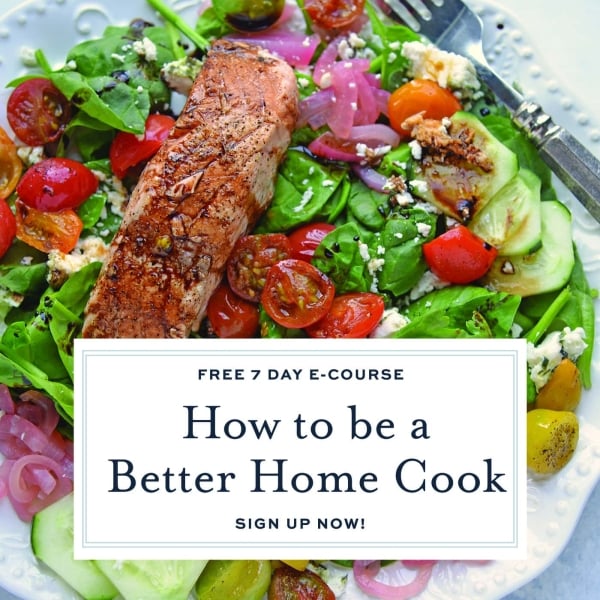 CONNECT WITH SAVORY EXPERIMENTS!

Be sure to follow me on social media, so you never miss a post!

Facebook | Twitter | Youtube 
 Pinterest | Instagram 
---
Rochester Hot Sauce
Rochester Hot Sauce is a ground beef and tomato based sauce used to top Garbage Plates. While it is served hot, it is not traditionally spicy.
Instructions
Heat olive oil over medium-high heat in a large Dutch oven. Add onion, sauteing until soft.

Add garlic, cooking for an additional 2 minutes.

Add lean ground beef, breaking apart as it cooks. Cook for 5-6 minutes or until browned.

Add all reminding ingredients, stirring well.

Reduce heat to low and simmer for 30 minutes, stirring frequently.

Allow to cool slightly before serving.
Nutrition
Calories:
364
kcal
|
Carbohydrates:
7
g
|
Protein:
21
g
|
Fat:
27
g
|
Saturated Fat:
9
g
|
Cholesterol:
80
mg
|
Sodium:
676
mg
|
Potassium:
530
mg
|
Fiber:
1
g
|
Sugar:
3
g
|
Vitamin A:
1410
IU
|
Vitamin C:
4.4
mg
|
Calcium:
42
mg
|
Iron:
3.3
mg