Sloppy Joes are nostalgic for so many people. Whether you remember your own mom making them or looking forward to sloppy Joe day at the school cafeteria, chances are you have some memory of them.

Homemade Sloppy Joes are so easy to make! Use my special sweet heat sloppy Joe sauce recipe with ground pork, beef, chicken or even turkey!
I was the kid who refused to eat school lunch and quite frankly, I also refused to eat sloppy Joes out of a can, so the only sloppy Joes I know are homemade.
Embarrassingly, the main thing I associate sloppy Joes with an Adam Sandler movie with the cafeteria lady slurring her words telling the kids she was going to make them "extra sloppy".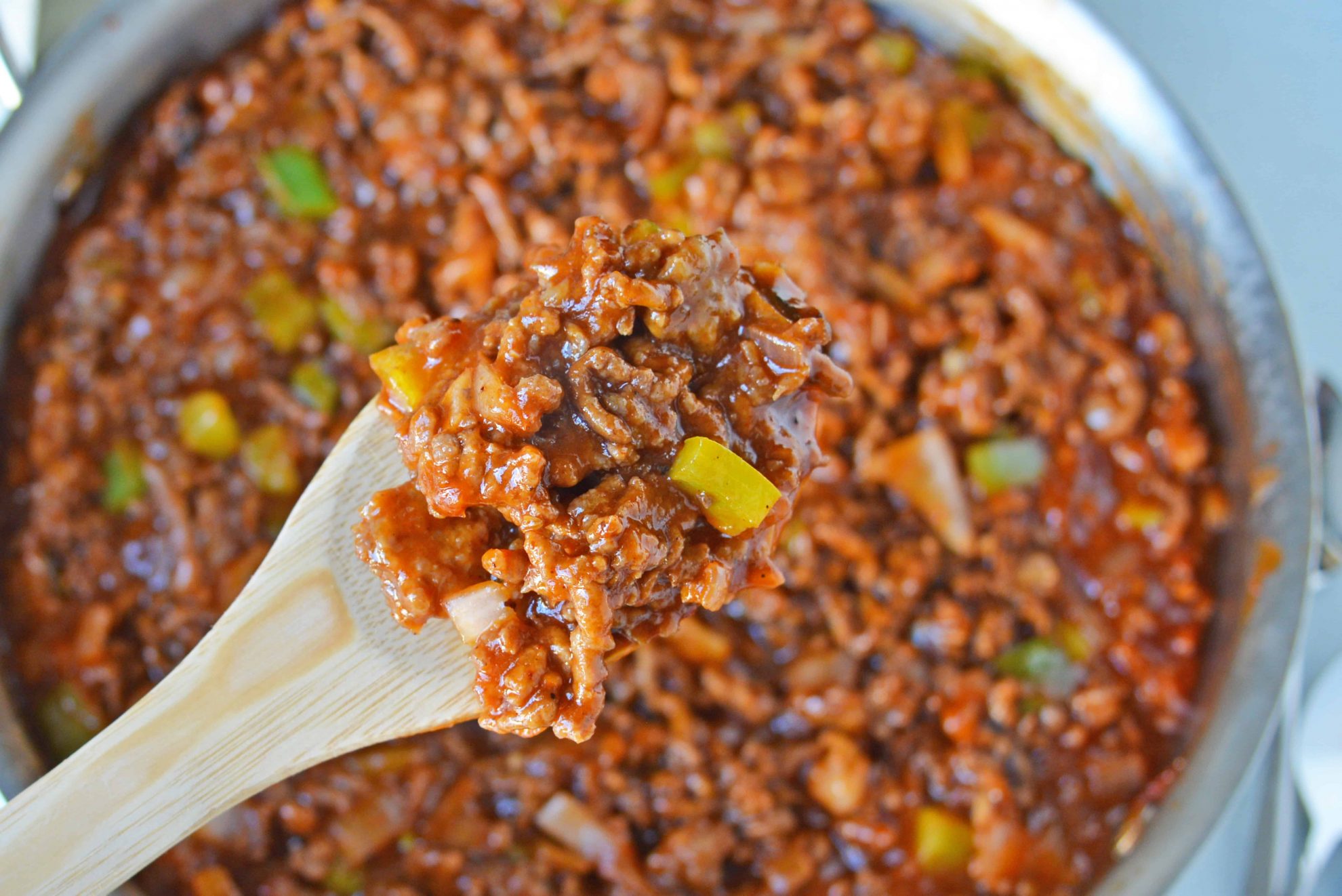 To be honest, it had been years since I ate a sloppy Joe, at home or otherwise, but I was on a nostalgic food kick after I made my Homemade Franks and Beans (Beanies and Weenies to some). Turns out it they have a lot in common with this sloppy Joe recipe too.
What is that? Well, they taste good because they have a good amount of sugar in them. I'm not going to lie or beat around the bush here. And since I am the only one of my friends not on a keto, paleo or Whole30 diet, I don't really care! (No offense to those that are…)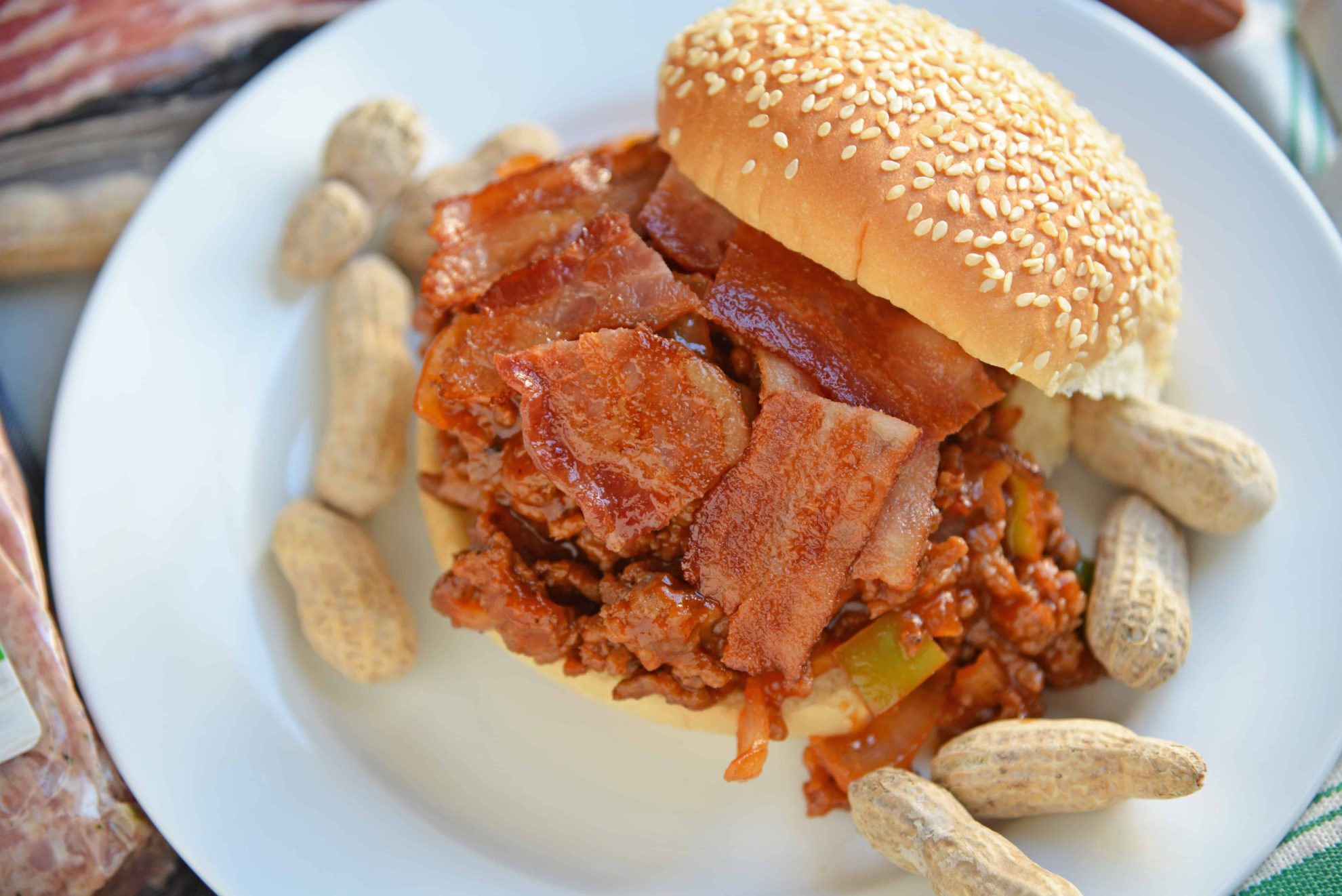 Sloppy Joe sauce uses just a handful of ingredients: ground beef, ketchup, green bell pepper, onion, mustard and brown sugar. My sloppy Joe recipes takes this up and notch with fresh garlic, robust Worcestershire sauce and one secret ingredient…
Are you ready for it? SAUSAGE!
Yep, I mix ground beef with Italian sausage. This not only adds flavor to the mix, but textural variety. You can, of course, choose to just use ground beef or even try using all sausage. *MIND BLOWN* Even use ground chicken or turkey.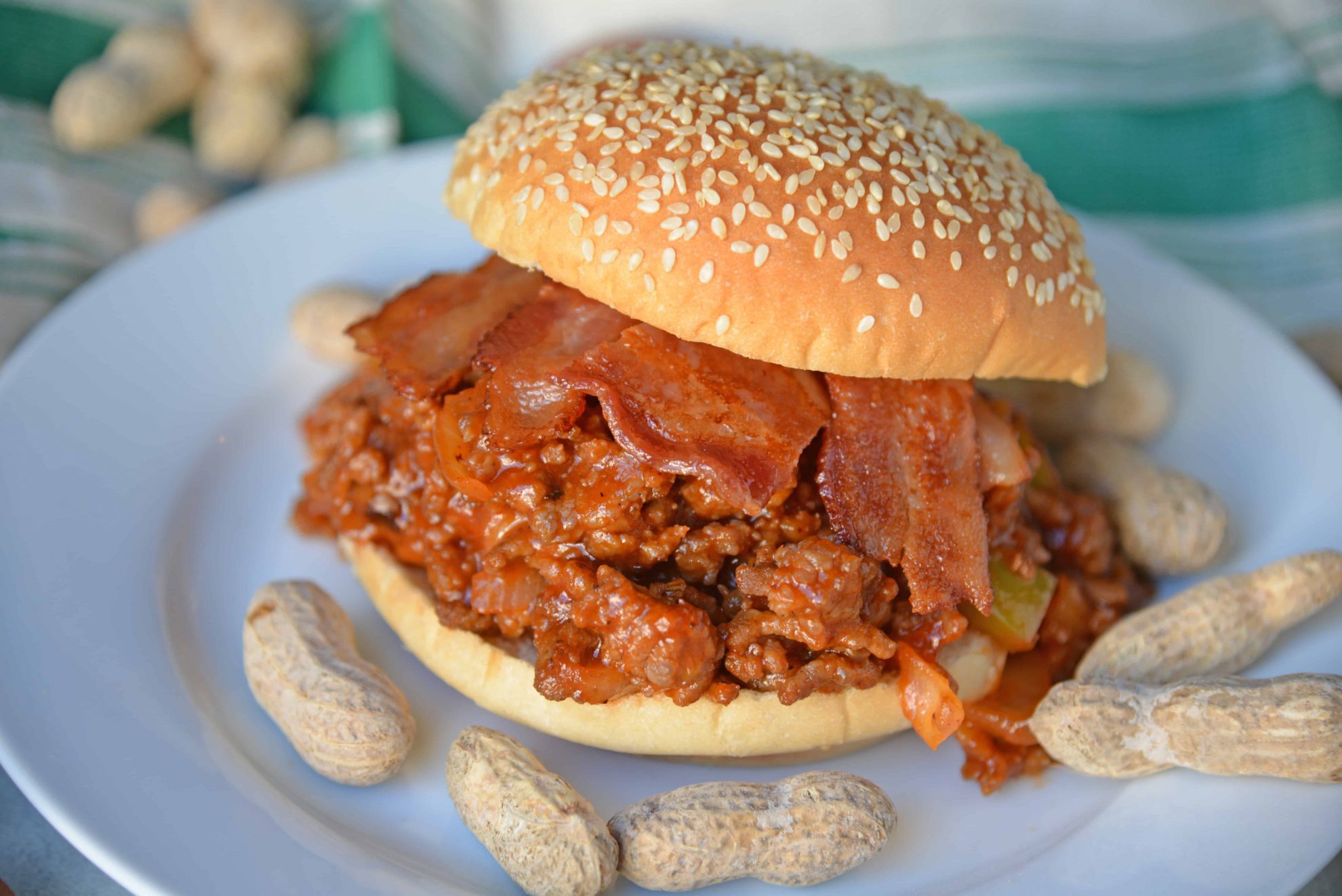 And BACON! Yep, crispy bacon dons the top of my homemade sloppy Joe.
I also like to keep my bell pepper and onion semi-firm, not completely sweating them down. It gives the sloppy Joe sandwich a little crunch.
You also also don't have to limit yourself to green bell pepper. Get crazy… use red, orange or yellow bell pepper. If you are in the business of trying to hide vegetables from your kids, you can eve add finely minced or grated carrots or celery.
After sloppy Joe sauce hits it, they won't be able to tell!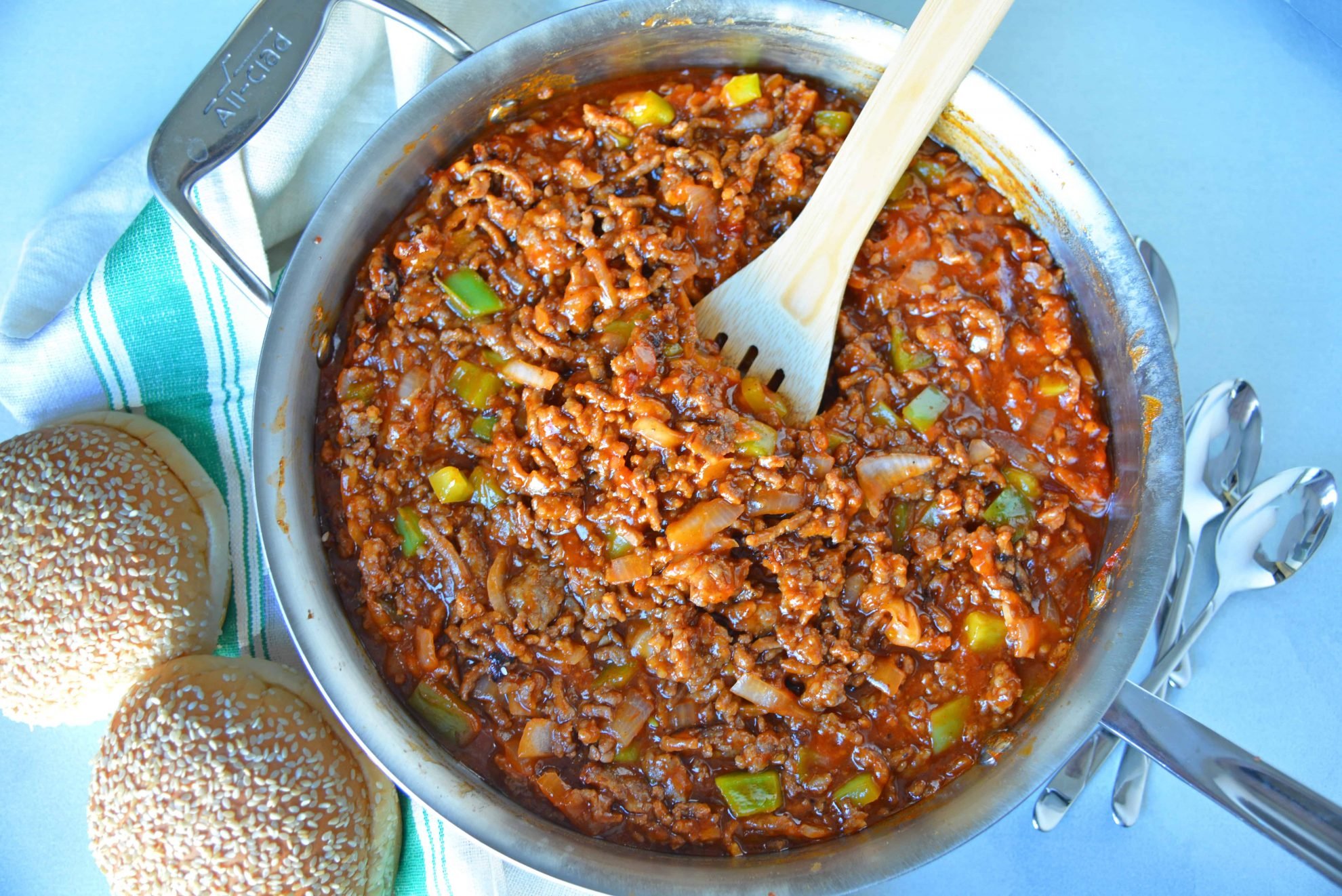 This homemade sloppy Joe recipe errs on the side of sweet, despite one of the ingredients being chili powder. If you want yours to have a little bite, feel free to add additional chili powder, hot sauce or even crushed red pepper flakes. Even though it does contain chile powder, it was still mild enough that my 1-year old ate it.
Sloppy Joes are perfect for an easy weeknight meal, but also to serve at a party. While they are best cooked on the stove, you can transfer the mixture to a slow cooker and keep it on warm, allowing guests to make their own full-size or slider-size sandwiches.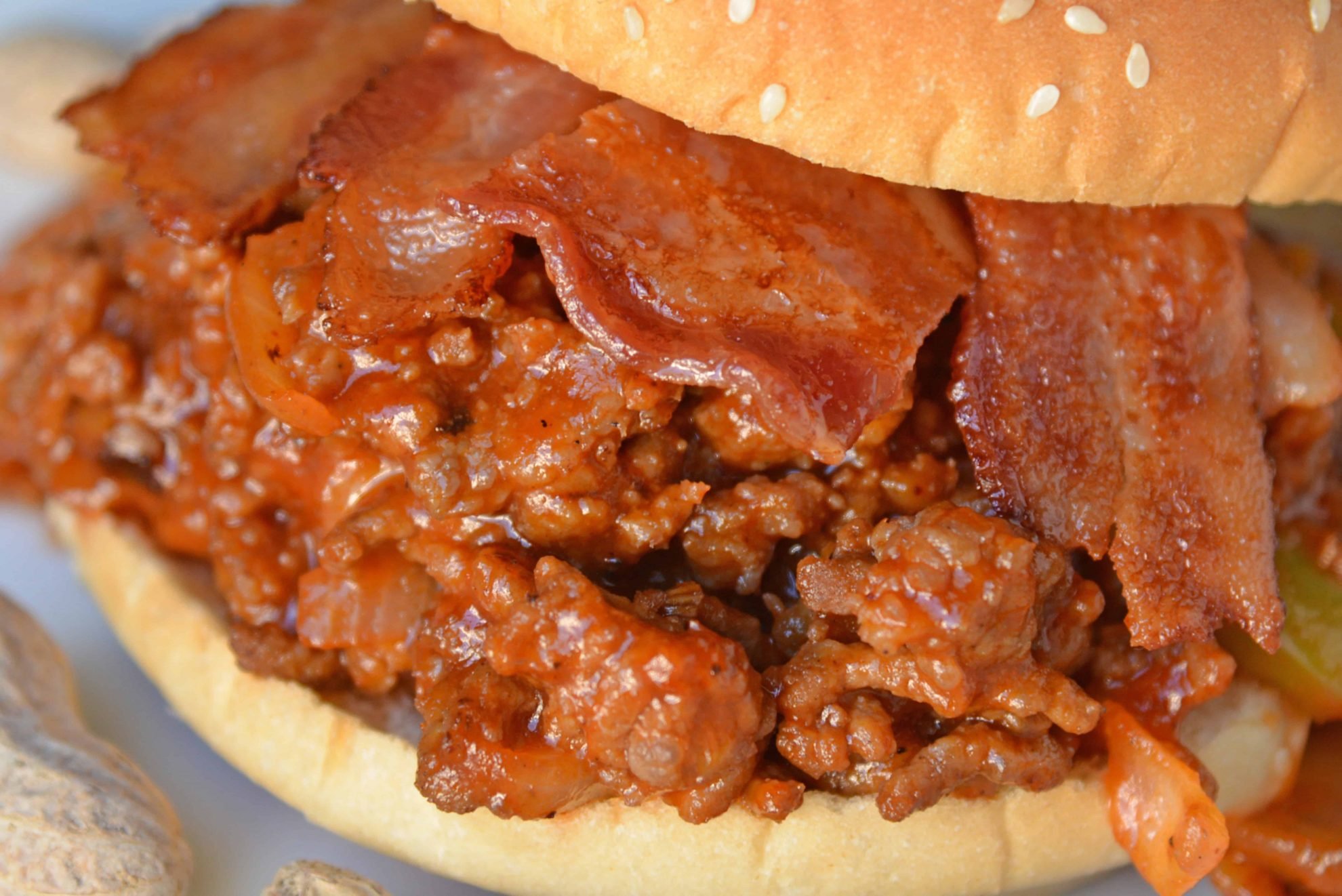 Why are they called sloppy Joes? Legend goes that the cook that invented them, a man by the name of Joe, added ketchup to his ground beef sandwiches.
That sandwich was sloppy… hence the sloppy Joe.
If you liked awesome sandwich recipe, you'll probably like these others, too!