Short on time for dinner? No worries! You can have these easy Instant Pot Mashed Potatoes ready in minutes! No more waiting for potatoes to boil.
Forget the boxed stuff, this easy Instant Pot Mashed Potatoes recipe will be your new go-to! These potatoes are ready in just minutes!
It is amazing to me to see the resurgence of electric pressure cookers. The Instant Pot (sometimes known as the Insta Pot) has helped fear subside. No more worries about an electric pressure cooker exploding in your kitchen and starting your house on fire.
Instant Pots are great for many things:
and of course these Instant Pot Mashed Potatoes!
While it might take you 30 to 40 minutes to boil potatoes on the stove top, it will only take you a few minutes in the pressure cooker. Such a time saver!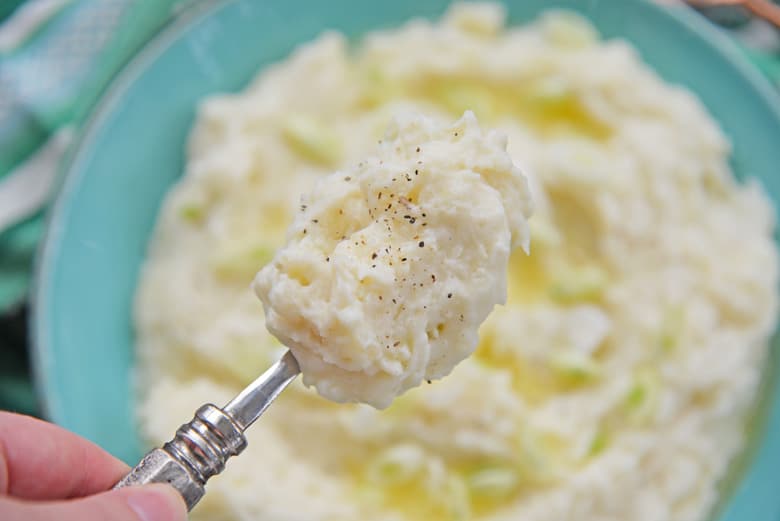 Times have changed and we've all gotten a little lazy making mashed potatoes from a box. And while this is a great option for quick weeknight meals, I am going to show you how to make mashed potatoes with real potatoes.
Homemade Mashed Potatoes
A basic mashed potato recipe only has a few ingredients:
Potatoes
Milk
Butter
Salt & Pepper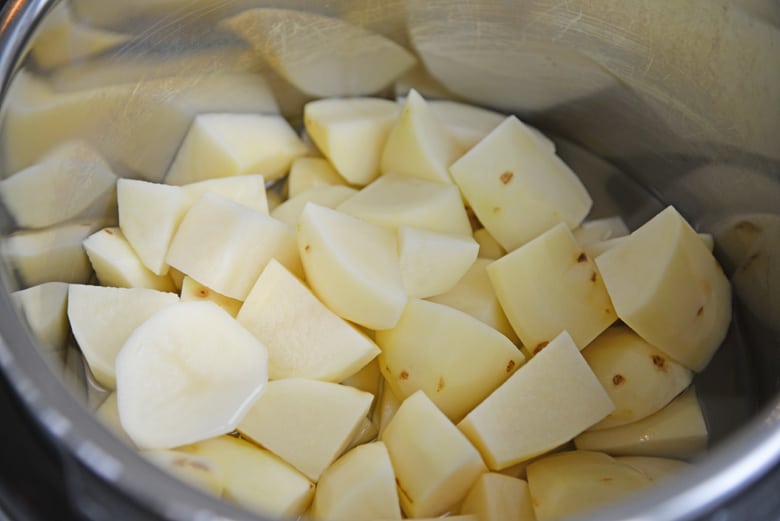 It's that easy. Now, of course you can get fancy with your spuds and liven them up a bit. I'll be including a list of ways to customize your Instant Pot mashed potatoes a little later in the post. Let's get to some other burning mashed potato questions.
What is the best potato for mashing?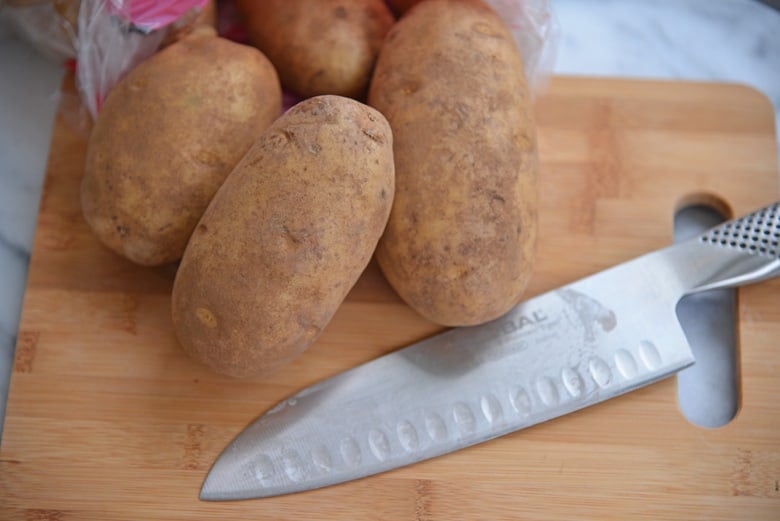 Russet – Russets are probably the potato that 90% of mash is made from due to a higher starch content.
Yukon Gold- Also high in starch, these come in second.
Red Potatoes– Lower starch content and therefore higher risk of pasty potatoes.
Plain White – Also low in starch.
Should I peel my potatoes?
For me, it depends on the type of potato I am using. One things remains the same for all though, there is an abundance of nutrients in the potato skin, including dietary fiber.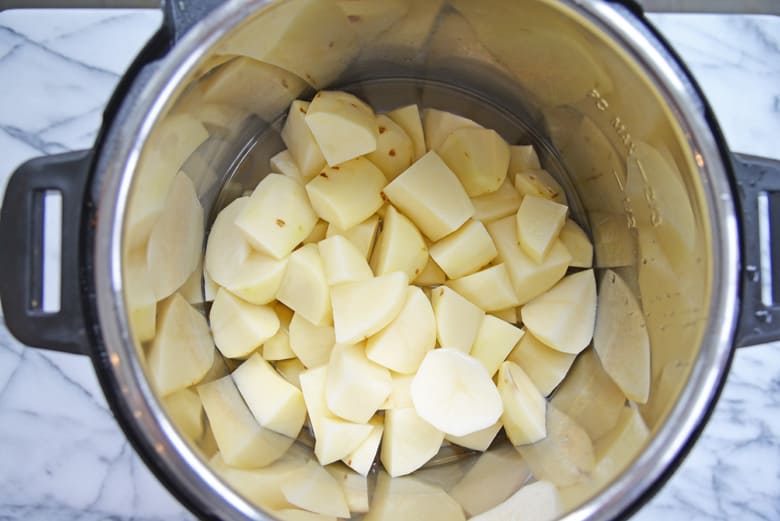 For Russets, I peel my potatoes. The skin is leathery and rough, making a weird texture that I don't care for. But for thinner, more buttery skin, like red or yukons, feel free to leave them on, if desired.
Best Homemade Mashed Potato Recipe
From here I think two things come into play. One- nostalgia from your own childhood taters and two- personal preference.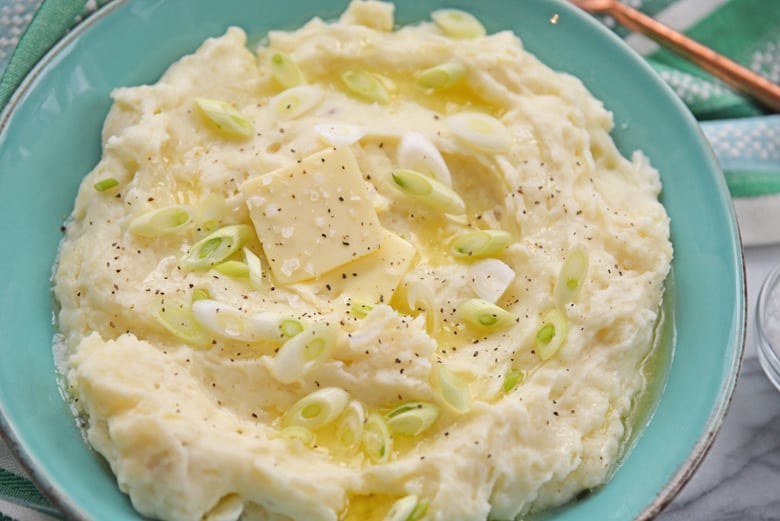 But knowing the most basic of recipes will help you build your own delicious version of this classic.
Best Way to Mash Potatoes
You have a few options:
Classic ricer– stimulates the least starch, medium texture, manually operated
Hand masher– requires the most work, stimulates minimally starch, slightly larger texture
Blender/Food Processor– Easiest and fastest, but can easily over mix and creates more dishes, least texture, most fluff
Handheld Electric Mixer– Can use right in the pot, easy and creates smooth potatoes
Two forks– go old school for chunkier mashed potatoes and just use two forks
Immersion blender– in theory this should work great, but doesn't for such a thick mixture.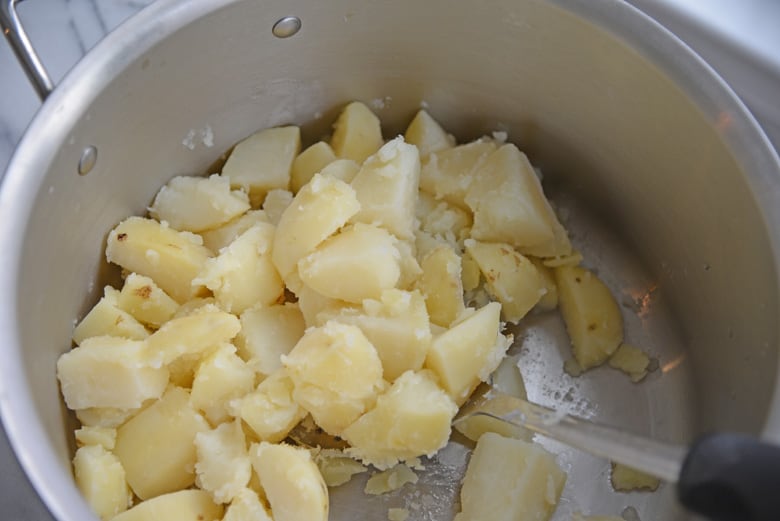 Mashed Potato Toppings
A LOT!!!! Fill those bad boys up:
Crumbled bacon
Scallions
Chives
Sour cream
Creme fraiche
Minced roasted red peppers
Blend in 3 ounces cream cheese
Any other type of freshly shredded cheese
Fresh herbs
Shredded BBQ Meat (chicken or pork)
PRO TIP: Use freshly grated cheese for mashed potatoes. Pre Shredded cheese is tossed in a light coating of starch to keep it from clumping, this might result in a grainy texture or thicker than desired potatoes. If you do use pre shredded cheese, you might need to add additional liquid to compensate for the starch.
Can I use purple potatoes to make Instant Pot Mashed Potatoes?
Yes! Purple potatoes make excellent mashed potatoes and are linked to life longevity. Plus, they are pretty.
What if I don't want to use milk or cream?
To lighten your potatoes, feel free to use chicken stock instead of cream or milk. Start with half and add in as needed. It isn't as thick, so you might not need as much.
Why are my Instant Pot mashed potatoes so sticky?
You probably overworked them. It is a common mistake since people think the more they whip them, the fluffier they will get.
When potatoes are agitated, starch is released. The more you agitate, the more starch. The result is gummy, gluey, sticky, plasticy potatoes.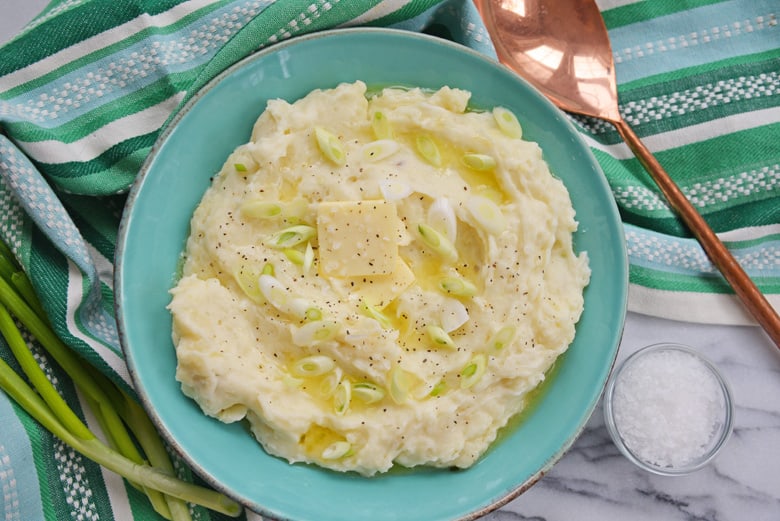 How do I fix sticky gluey potatoes?
I hate to tell you this, but no. After the starch is released, there is no way to bring it back.
What you can do is top them with as much stuff and butter as you possibly can to cover up the sticky texture.
How many potatoes do I need per person?
The general rule is 1/2 pound per person. You can also estimate by 1 medium potato per person.
Keep in mind that most recipes are by pound and you'll rarely ever hit that on the dot. It is easy to adjust the amount of liquid needed after they cook, just add it slow.
How do I thicken my Instant Pot mashed potatoes?
You can thicken mashed potatoes by adding adding 1 tablespoon of either flour, cornstarch, powdered milk, arrowroot or Pecorino Romano cheese.
Mix this with 1 tablespoon water and then fold in by hand to prevent overworking the mixture. Sometimes these can be a little grainy. Add sparingly.
I also keep a box of instant mashed potatoes around at all times. It might be considered cheating by some, but I'll add a tablespoon or two of dried potatoes, if needed.
I prefer to use white pepper instead of black so I get white fluffy potatoes instead ones with little black specks, although this isn't the end of the world, of course.
Overoid over mixing. While some think this might make them fluffier, it actually actives (release?- wording) starchy gluten and makes them sticky or gluey.
Also avoid adding too much cheese. While cheese is delicious and we all love some cheesy potatoes, too much cheese will make them plasticy.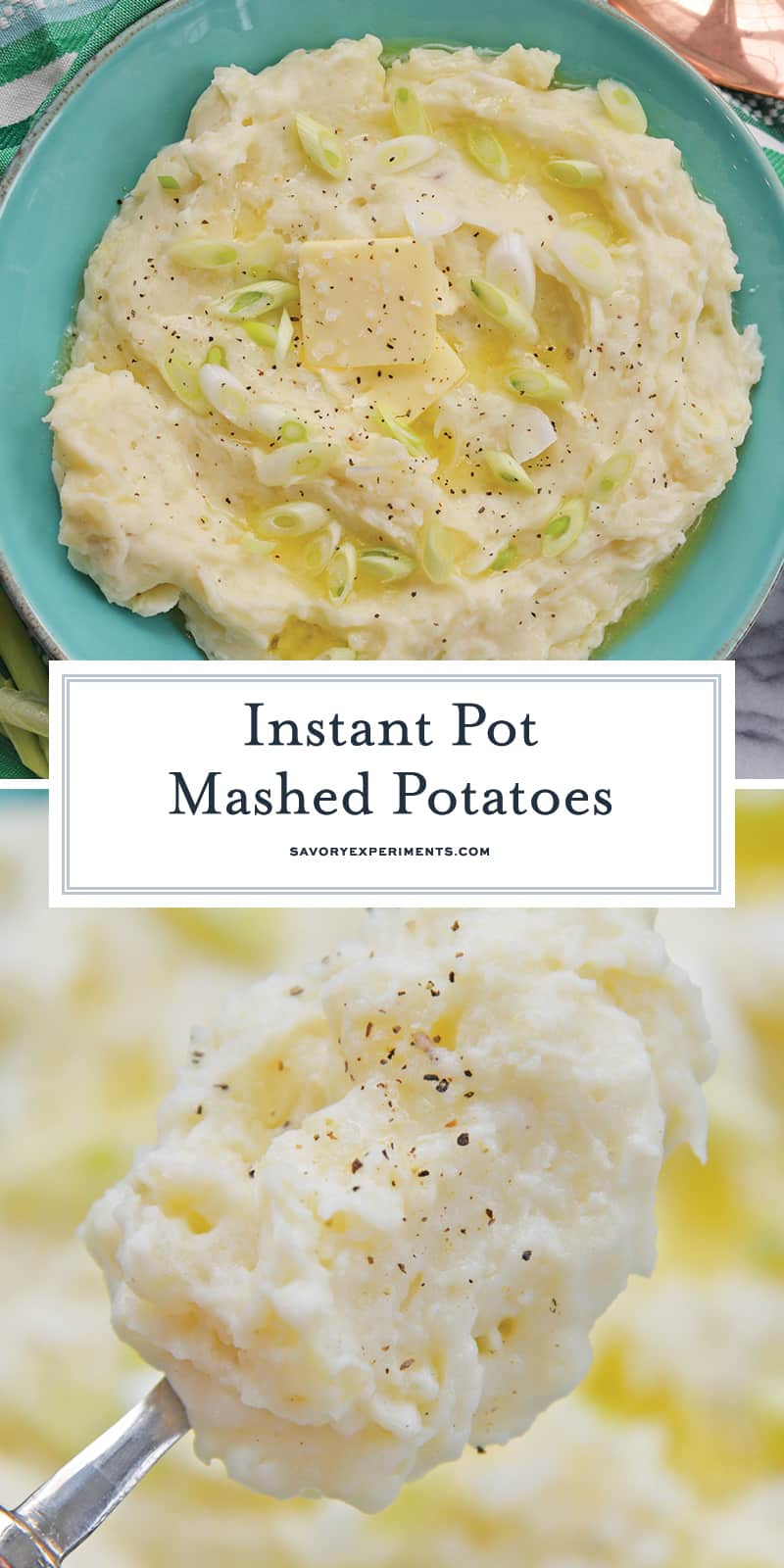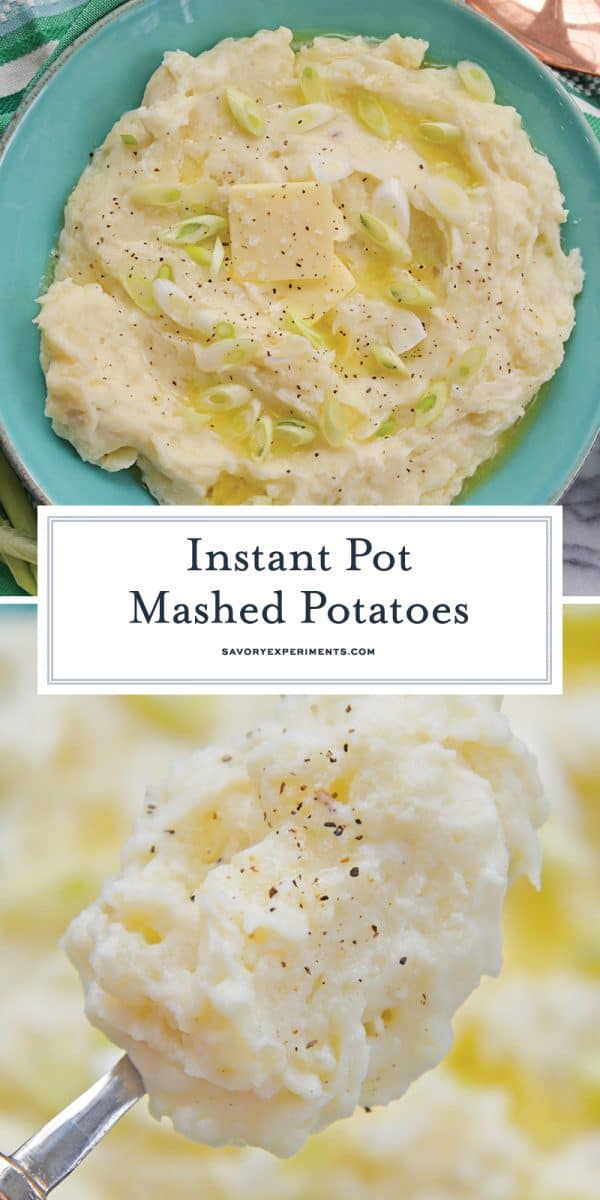 Here are more of my favorite mashed potato recipes: