This soufflé recipe will WOW your family and friends with how great it looks and tastes! Ham and Cheese Egg Soufflé brings a gourmet touch to your kitchen table!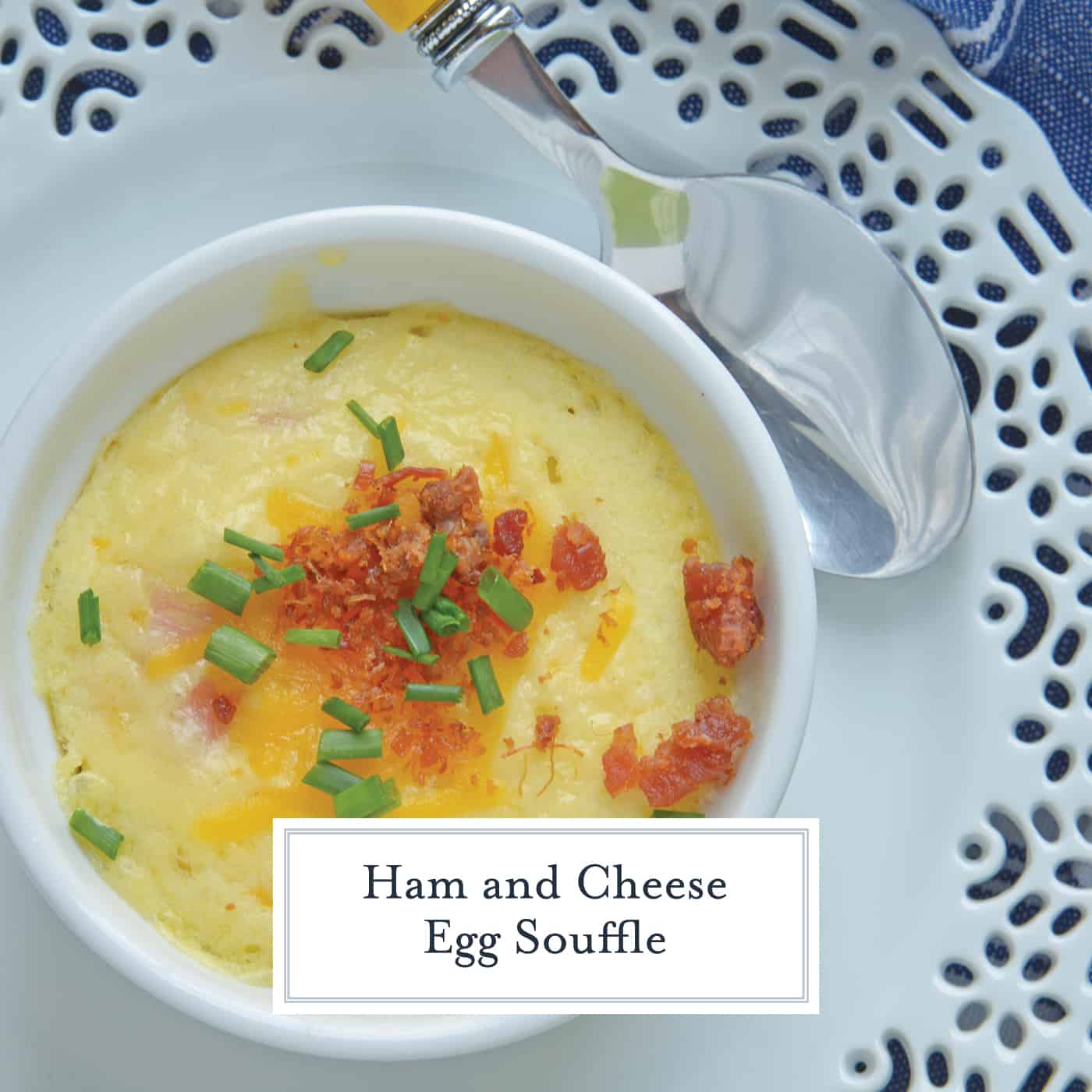 This fluffy Ham and Cheese Egg Soufflé is made with eggs, chopped ham, grated cheddar cheese, crumbled bacon, and minced chives. The best breakfast ever!
I've found that people shy away from preparing souffles purely because they believe the urban myths that revolve around them. Let's chat a minute about these.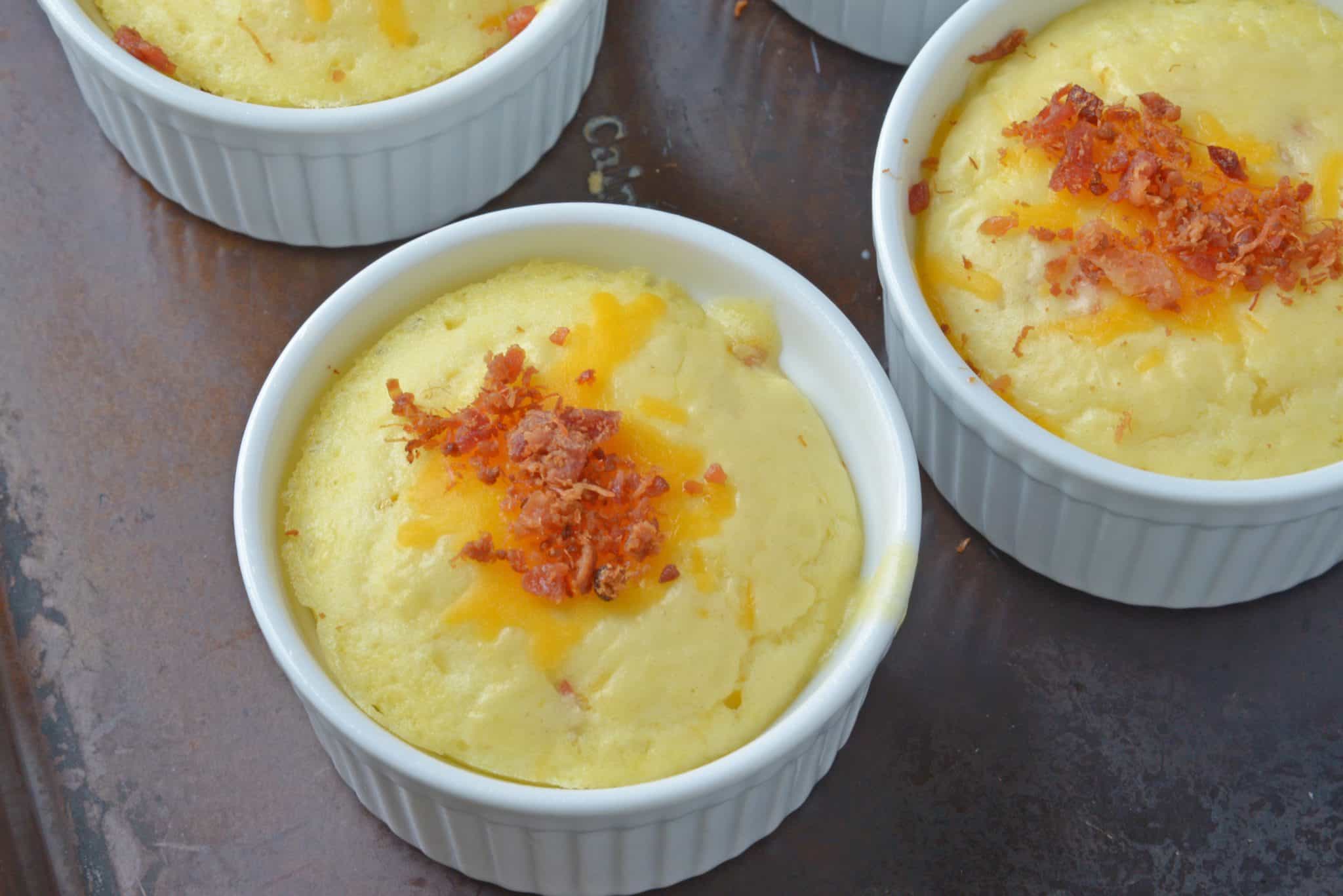 Myth #1
You have to be quiet or else it will collapse. FALSE. The theory behind this is that any vibration, walking or yelling will push the air out of the souffle, causing it to collapse.
Think about this… I highly doubt you could produce enough vibration from everyday activities. Although I have not tried to make souffles while throwing a raging party, I still doubt it would have much effect and this would be a rare occasion.
Myth #2
You can't open the door when baking souffles. KIND OF FALSE. Really, you should not open the oven door too much when making anything. Opening the door drastically cools the oven by allowing the hot air out and the cool air in.
The first third of any baking time is the most crucial. If you have to open the door, you might need to tack on a few extras minutes in the oven. This is also why they make oven windows and lights!
Myth #3
You are on a race against time. FALSE. In fact, the souffle base can be made ahead of time and placed in the refrigerator. You might lose a little fluff, but not enough to severely impact your souffle. On the flip side, souffles must be eaten immediately after being taken out of the oven.
Any food tastes better right out the oven, but I actually baked, then covered and refrigerated this souffle for one day and saw no drastic decrease in height.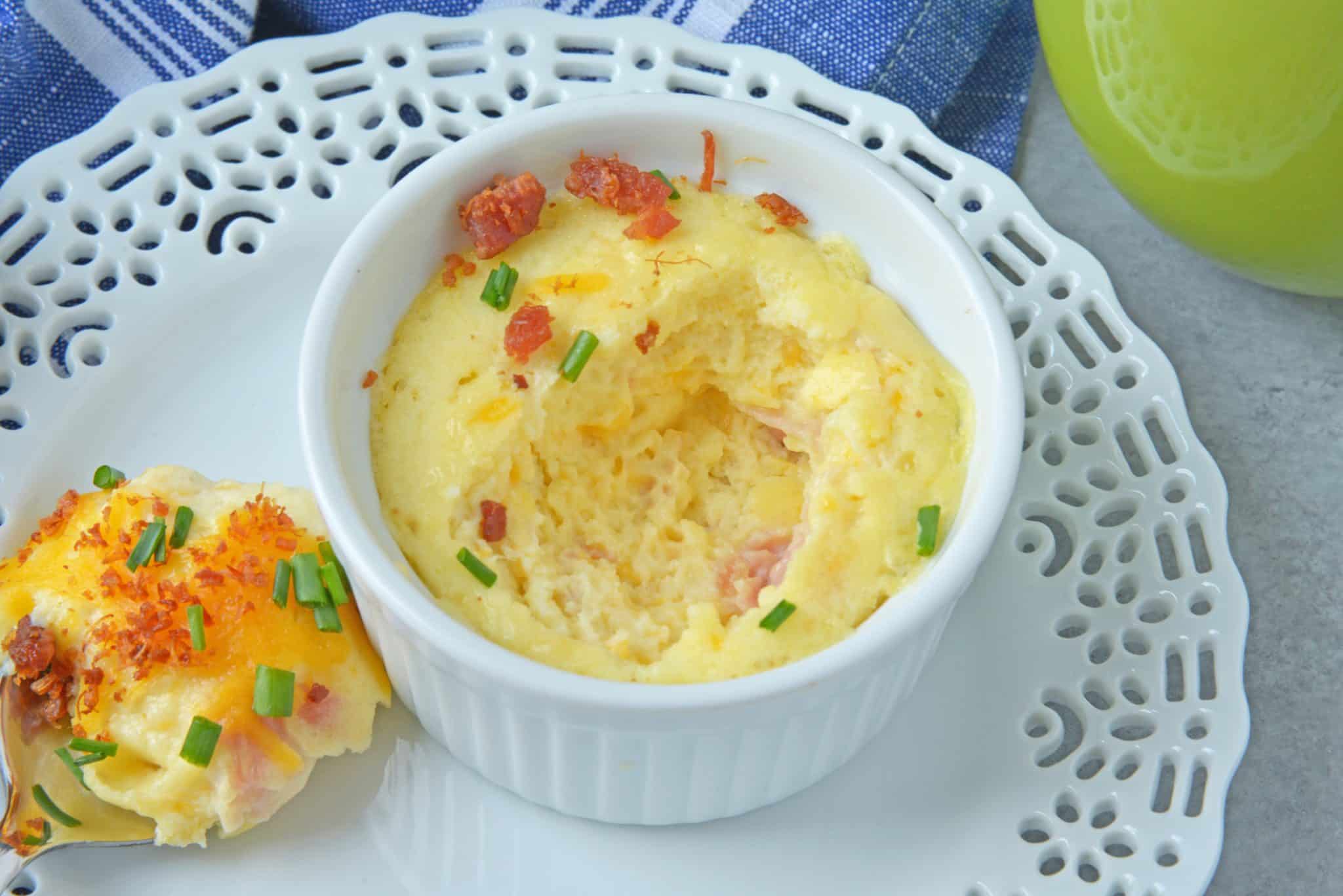 Myth #4
You must use a round ramekin. KIND OF FALSE. You can use any shape ramekin you want, but in order to get an equally baked souffle, your best bet is to stick with circular and focus your creativity on what you choose to put in your souffle.
So don't be scared, try whipping up a batch today!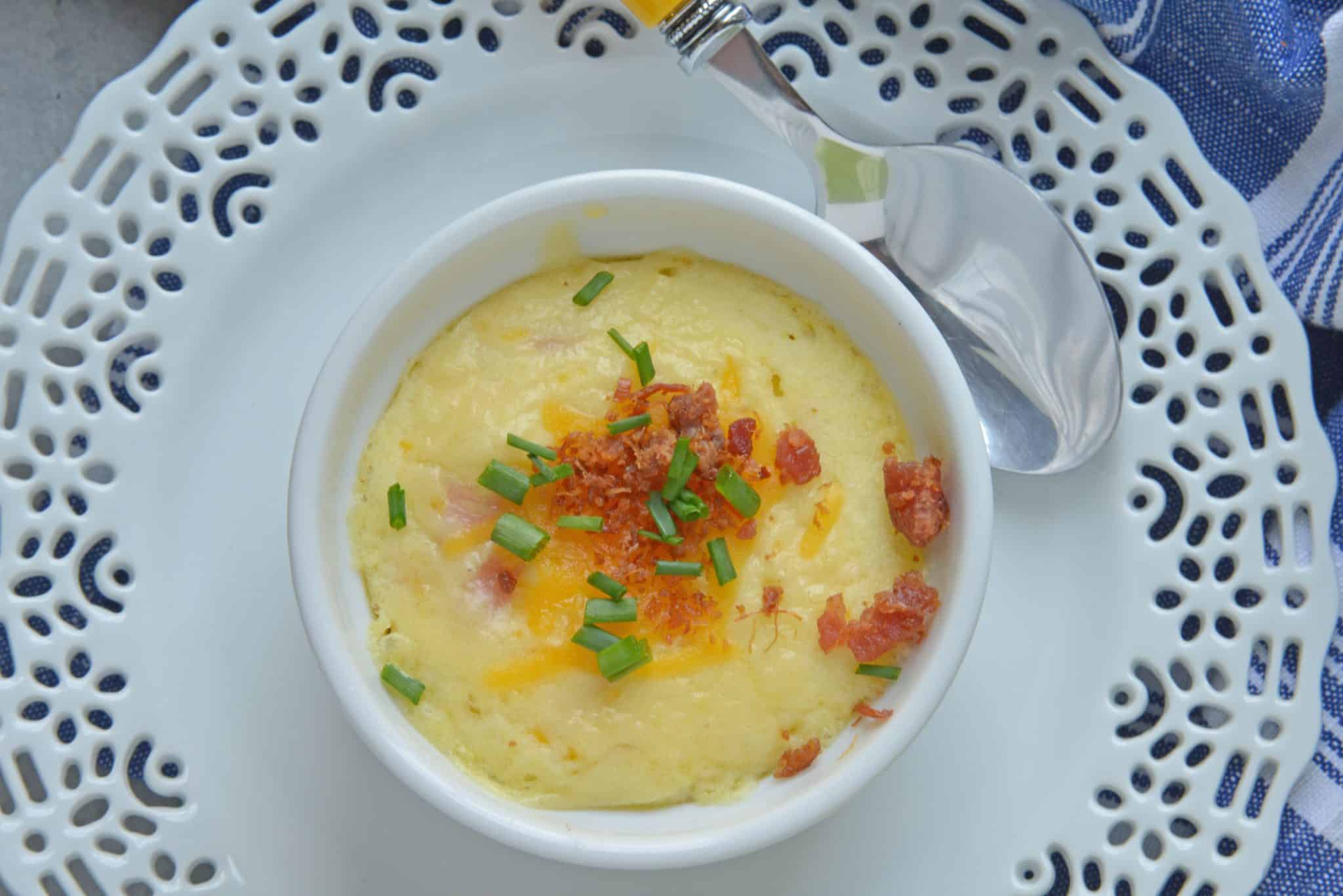 Also a tip on whisking eggs whites, prepare a metal bowl, preferably copper (however I used my Kitchen Aid) by making sure it is very dry and free of any residual fats or oils.
These two items are the nemesis to whipped egg whites, ensuring you will never get fluffy peaks no matter how long you whisk.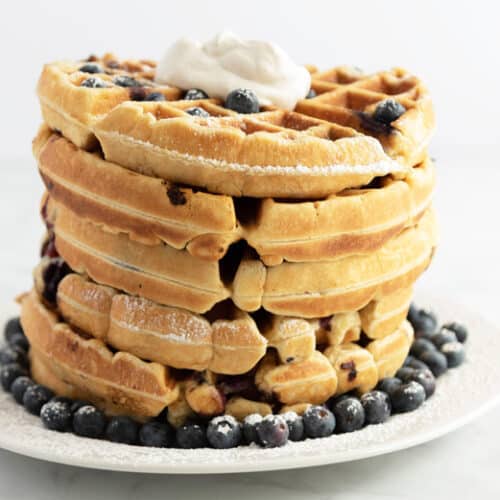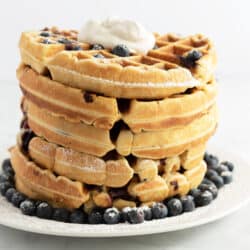 Blueberry Waffle Recipe
This light and fluffy Blueberry Waffles recipes are totally made from scratch! Made with simple ingredients and easy to whip up for a quick breakfast!
See The Recipe!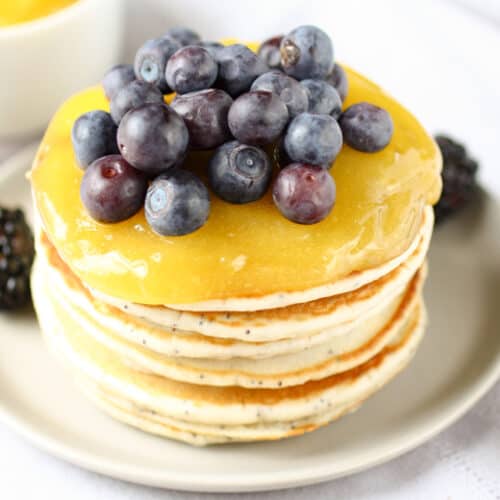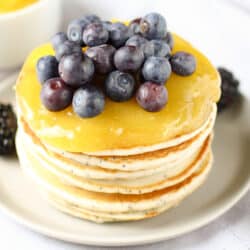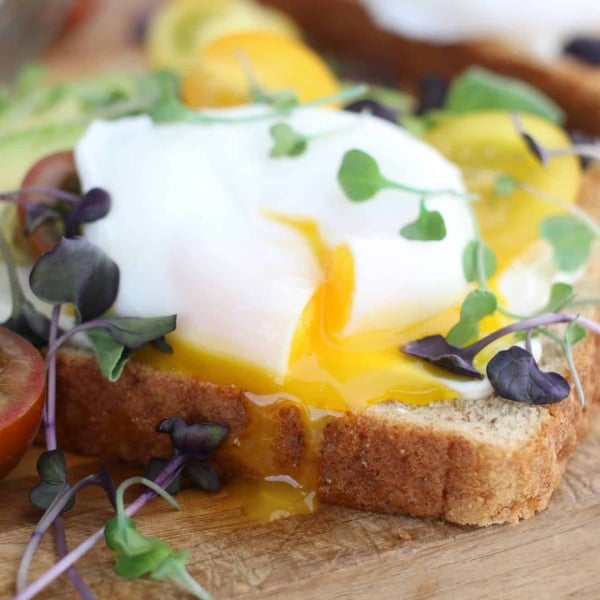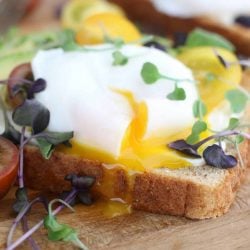 How to Poach an Egg
Poached eggs aren't difficult and can actually be done easily at home. It's time to break free and start making these eggs right in the comfort of your own kitchen.
See The Recipe!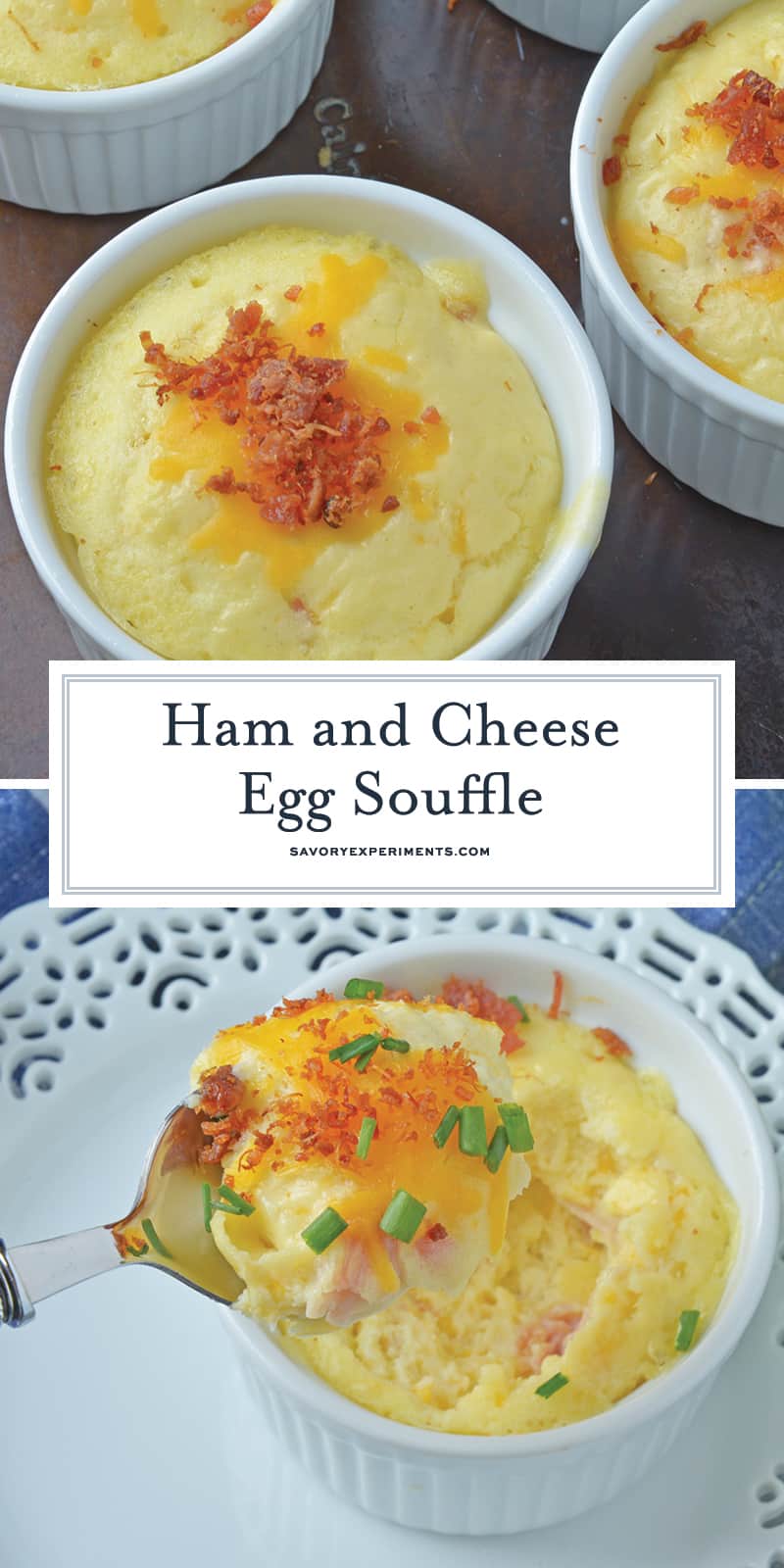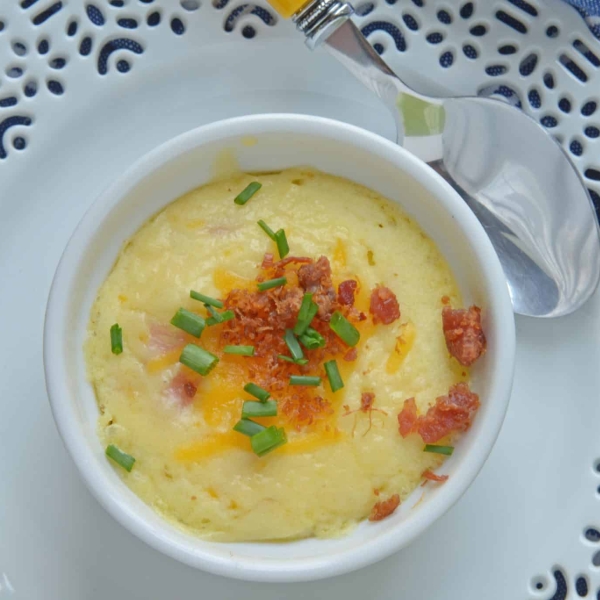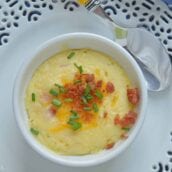 Ham and Cheese Egg Souffle Recipe
This fluffy Ham and Cheese Egg Soufflé is made with eggs, chopped ham, grated cheddar cheese, crumbled bacon, and minced chives. The best breakfast ever!
Instructions
Preheat oven to 200 degrees.

In a medium saucepan, melt butter over medium-low heat. Whisk in flour to form a roux. Continue to whisk until roux is a light brown (blond roux.)

Slowly pour milk into the roux, whisking until smooth. Batter will be thick. Whisk in salt, nutmeg and black pepper. Remove from heat.

In a separate bowl, whisk egg yolks until pale and fluffy. Fold into roux along with shredded cheddar cheese and ham. Set aside.

Whisk egg whites and cream of tarter until soft, fluffy peaks form. This process is incorporating air into the mixture, which is what increased the volume significantly.

After egg whites are foamy and fluffy, gently fold them into the ham and cheddar mixture. Do not over mix, as this will push out the air.

Prep 6 4-ounce ramekins with cooking spray and place onto a rimmed baking sheet. Spoon mixture evenly into each ramekin. Fill approximately 3/4 of the way.

Bake for 30 minutes. Remove and top each with a pinch of cheddar cheese, crumbled bacon and chives.

If you've tried this recipe, come back and let us know how it was!
Nutrition
Calories:
250
kcal
,
Carbohydrates:
4
g
,
Protein:
12
g
,
Fat:
20
g
,
Saturated Fat:
10
g
,
Cholesterol:
158
mg
,
Sodium:
367
mg
,
Potassium:
151
mg
,
Sugar:
2
g
,
Vitamin A:
645
IU
,
Vitamin C:
0.6
mg
,
Calcium:
166
mg
,
Iron:
0.8
mg