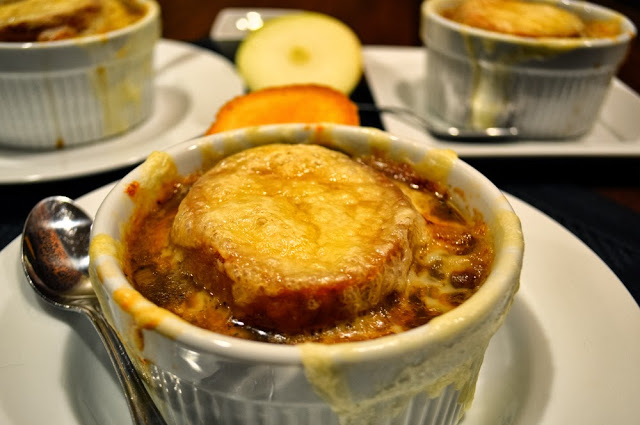 A week ago I had one amazing bowl of French Onion Soup at a local restaurant. I've been obsessing over it ever since. Last Sunday I had the time and motivation to make some amazing beef stock with the intention of making French Onion Soup during the week. What is the key to tantalizing French Onion Soup? The stock. Not all stocks are created equal. If you have the time, try making your own. If not, get a good, quality store bought alternative.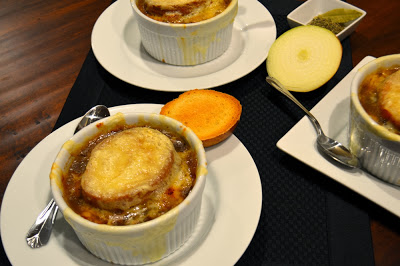 This recipe is adapted from the classic Julia Child's French Onion Soup recipe. Perfect in just about every way. But I can't make something and actually follow the directions, so I took it upon myself to make a slight variation… apples! Tart and juicy apples in rich, robust beef stock and sweet caramelized onions. If apples in your soup seems a little odd, don't worry, just follow the recipe and omit the apples for a still fabulous French Onion Soup!
I prefer to make my caramelized onions and beef broth ahead of time, but you can caramelize the onions in a large Dutch oven or pot and then pick right on up with the soup in the same pot.
Time: 90 minutes (not including preparation of caramelized onions and beef stock)
Serves: 8
Ingredients for French Onion and Apple Soup
3 tablespoons
butter
2 red apples, cored, peeled and diced into 1 inch cubes *
3 tablespoons flour
1 cup dry red wine
2 bay leaves
1/2 teaspoon ground sage
1/2 teaspoon fine sea salt
1/2 teaspoon black pepper
8 slices French bread ( about 1 inch thick)
Olive oil for drizzling
16 slices Swiss cheese
1 cup Parmesan cheese, grated
1/2 raw yellow onion
2 – 3 tablespoon cognac (optional)
* See How to Prevent an Apple from Browning
1. Heat a large Dutch oven or sauce pan over medium heat. Melt butter. Add caramelized onions and diced apples to the butter. Cook for an additional 5 minutes, stirring periodically to prevent burning. Apples should be slightly tender, but not mushy and not hard.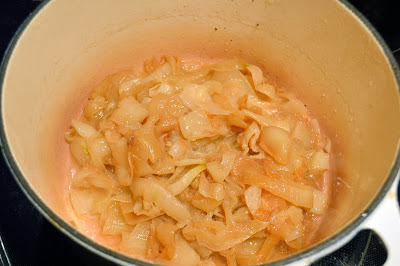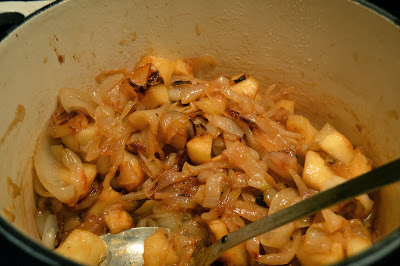 2. Add flour to mixture, allowing it to brown, forming a roux along with the caramelized onions and apples.
3. After flour browns slightly, add BEST beef stock through black pepper. Stir and bring to a simmer.
4. Simmer for a minimum of 30 minutes, but no longer than 1 hour (the apples will start to lose their texture).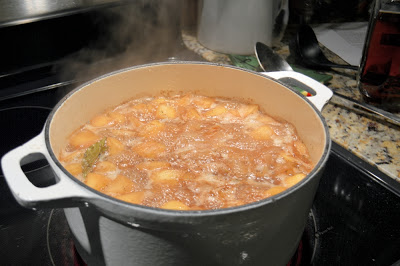 5. Meanwhile, prepare the croutes (bread) by preheating the oven to 325 degrees. Drizzle French bread with olive oil and then bake for 15 minutes on each side, a total of 30 minutes. Remove bread and raise heat to 350 degrees.
6. Add grated onion, cognac and Parmesan cheese to the soup. Remove the bay leaves.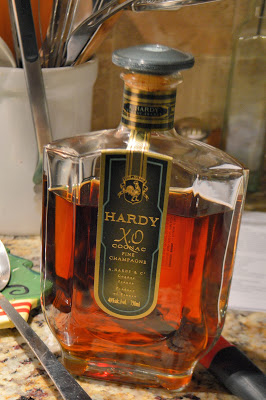 7. Serving dishes need to be heavy and oven proof. Place them onto a baking sheet and ladle soup into bowls, filling approximately 3/4 of the way. Top each with a croute (bread slice) and 2 slices of Swiss cheese. Make sure the edges of the bread are covered with cheese to prevent the bread from burning.
8. Bake for 20 minutes, or until cheese is melted and bubbly. Switch to high broil for 2 minutes to give the cheese a nice brown.
9. Remove and carefully transfer hot bowls to plates. Serve immediately. Enjoy your French Onion and Apple Soup!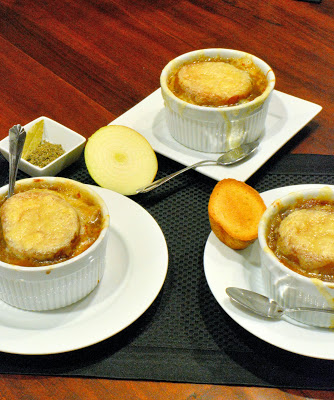 If you like this recipe, make sure to follow me on Pinterest for even more! 
Visit Savory Experiments's profile on Pinterest.