Ranch Pumpkin Seed Recipe
Pumpkins are everywhere this time of year and beyond being the easiest fall decoration, they're tasty too. I LOVE roasted pumpkin seeds and this ranch pumpkin seed recipe is my absolute favorite.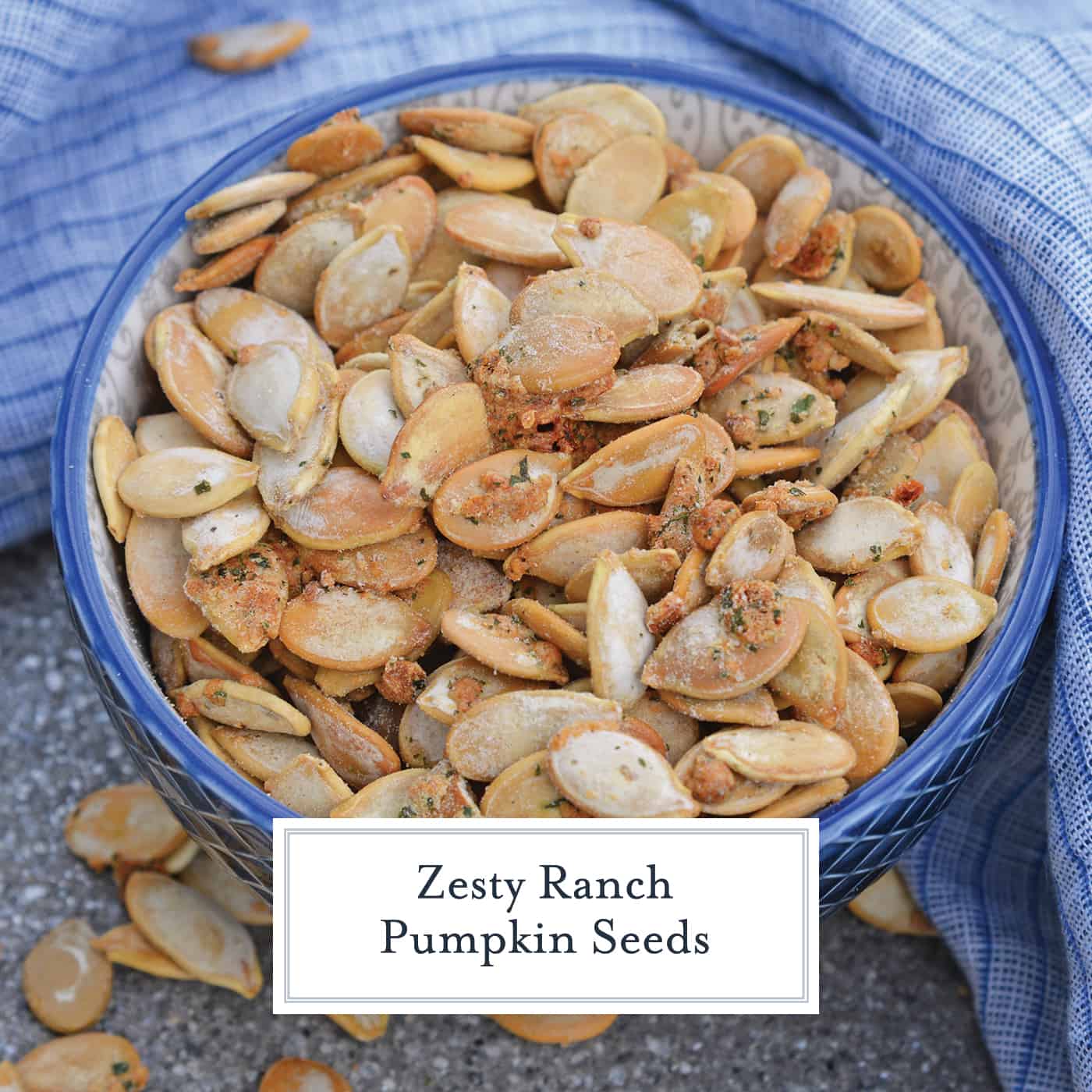 Ranch Pumpkin Seeds take roasted pumpkin seeds to a whole new level. With only 3 ingredients, they're an easy and delicious fall snack!
Roasted Pumpkin Seeds are a quick and easy fall snack and a great way to use up pumpkin seeds leftover from pumpkin carving.
These Ranch Pumpkin Seeds take roasted pumpkin seeds to a whole new level of delicious. You'll want to eat them by the handful!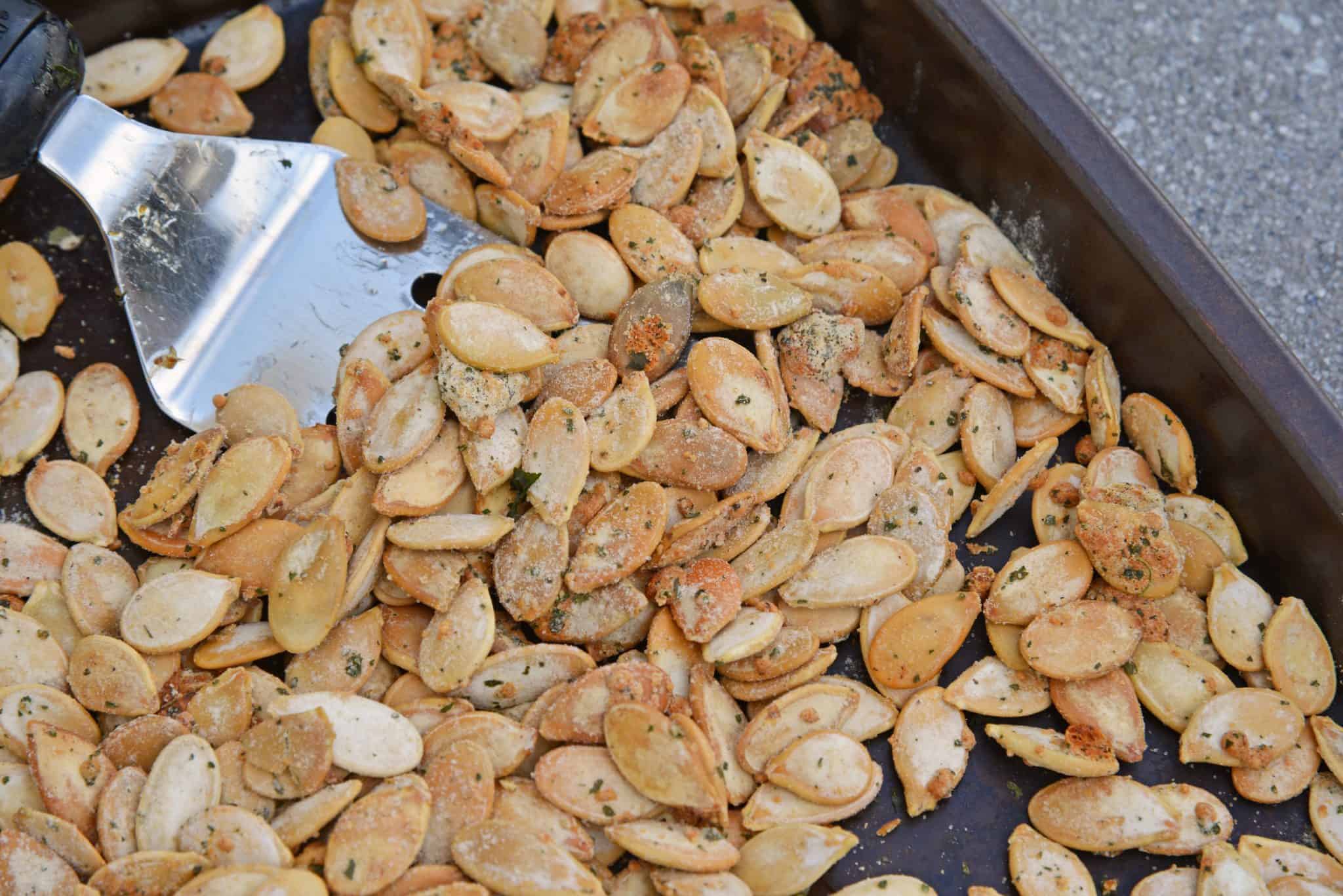 We're well into fall and Halloween is just around the corner. That means we're well into pumpkin season, and that doesn't just mean pumpkin spice lattes and pumpkin pie.
In my family, we've always decorated with pumpkins outside during this time of year and then you have everyone's second favorite Halloween activity….pumpkin carving!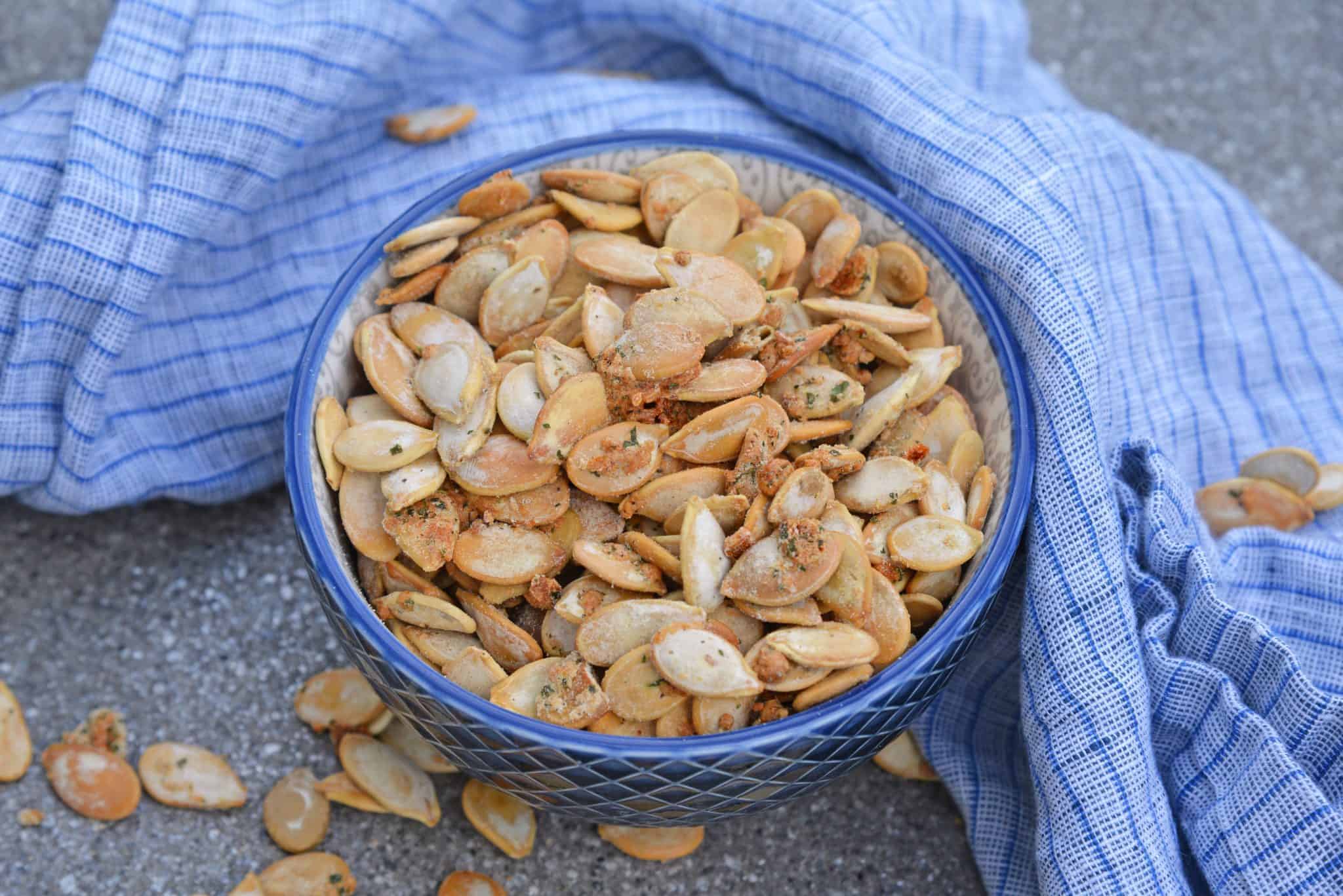 Carving pumpkins has always been one of my favorite fall activities and it's one I'm looking forward to sharing with my daughter (and now son!)
But after the pumpkins have been carved, what do you do with the pumpkin "guts"?
Make roasted pumpkin seeds, of course!
Roasting pumpkin seeds is actually super easy. To make roasted pumpkin seeds, just coat them with butter, spread them on a baking pan rimmed with foil and roast in the oven.
I turn them halfway so that both sides get evenly toasted.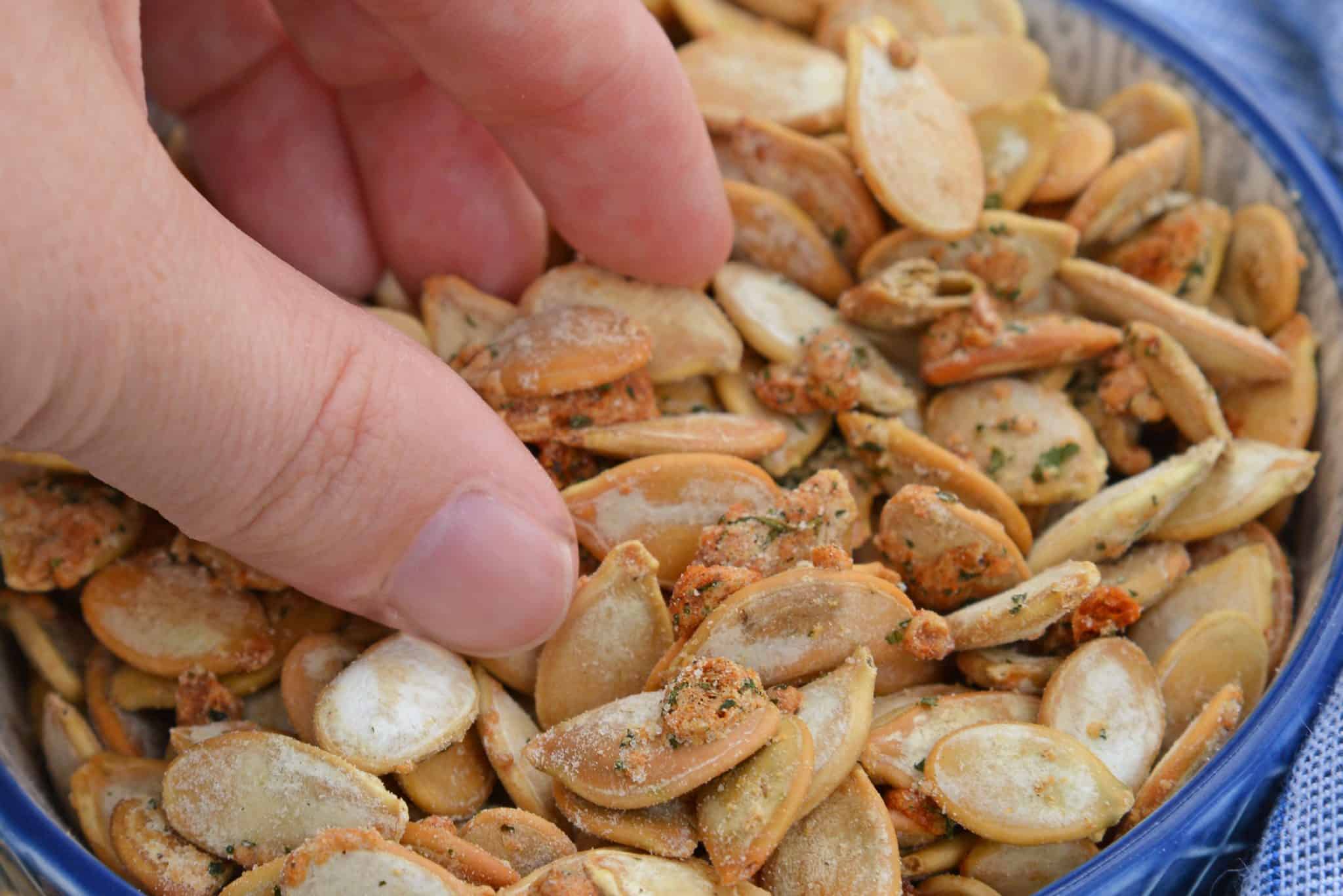 Plain roasted pumpkin seeds are delicious. However, once I figured out how to roast pumpkin seeds, I wanted to get a bit more creative and try out other flavors.
I love ranch-flavored anything and since pumpkin seeds don't have a strong flavor, I thought ranch pumpkin seeds might be delicious.
I was right.
There are only 3 ingredients in these Ranch Pumpkin Seeds – pumpkin seeds, butter, and Ranch dressing mix.
Just 40 minutes and a tiny bit of prep work to perfect roasted pumpkin seeds.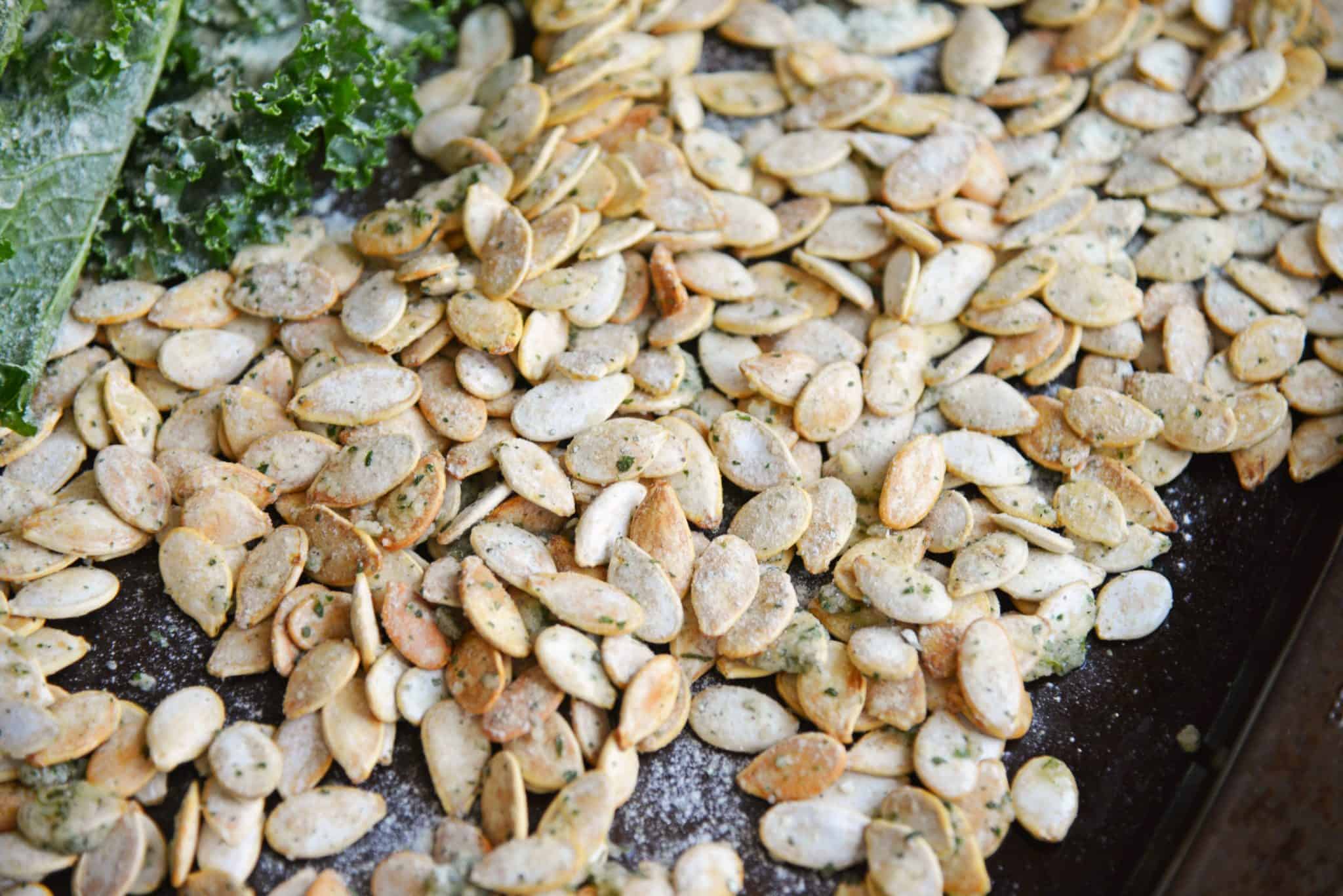 Roasted pumpkin seeds make a great fall snack. Even just a handful of them are full of nutrients and I find them to be quite filling. Ranch pumpkin seeds are full of flavor too!
I love snacking on these right out of the oven but they taste great when held at room temperature too.
Let's review how to roast pumpkins seeds:
Scoop out seeds.
Wash and rinse to get all the remaining pumpkin guts off.
Line a rimmed baking sheet with aluminum foil and preheat the oven.
Toss seeds with butter to coat.
Toss seeds with ranch seasoning.
Roast, flipping halfway through roasting.
ENJOY!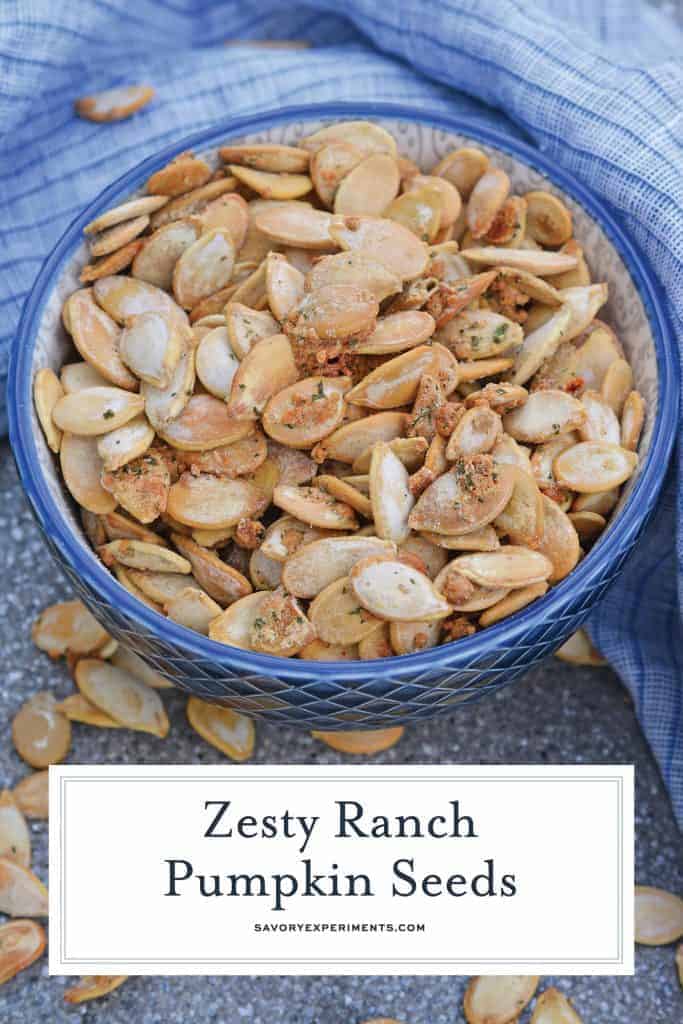 Since you like these Ranch Pumpkin Seeds, you may like these other easy pumpkin recipes: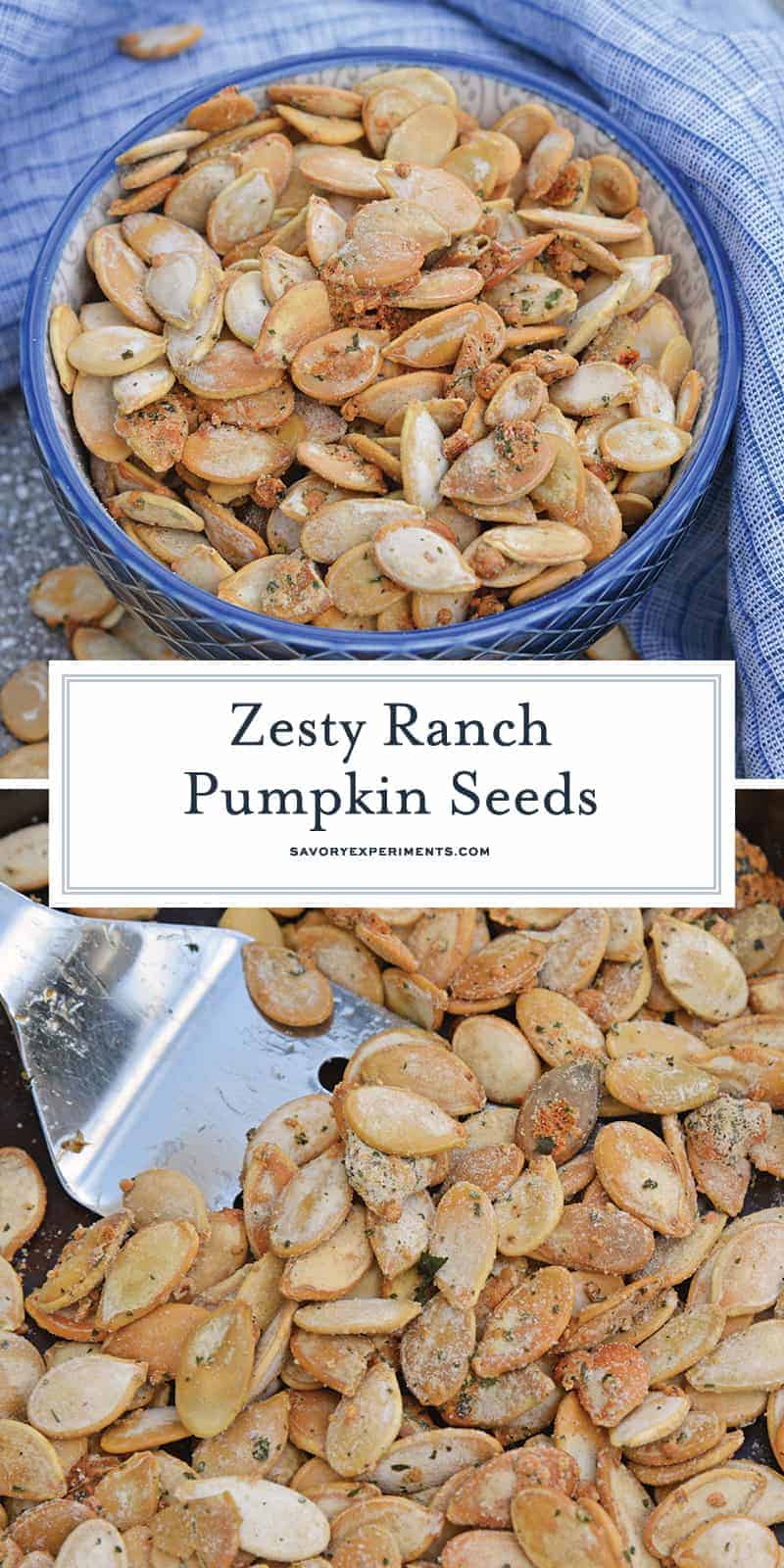 Questions about how to make pumpkins seeds:
Can I freeze pumpkin seeds? You sure can! Just make sure you put them in an airtight plastic bag. They tend to get freezer burnt a little faster than other foods, so use them within 3 months.
How do I store roasted pumpkins seeds? In an airtight container at room temperature.
Are pumpkin seeds healthy? I loathe this questions. The honest answer is that I am not a nutrition professional and the definition of "healthy" is different for everyone. Especially these days with so many specialty diets.
Scroll on down and check out the nutritional information to judge for yourself.
If you want to make them even healthier, omit the melted butter and use a whisked egg white instead to bond the seasoning to your seeds.
Are pumpkins seeds gluten free? This recipe is gluten free.
CONNECT WITH SAVORY EXPERIMENTS!

Be sure to follow me on social media, so you never miss a post!

Facebook | Twitter | Youtube
Pinterest | Instagram

Get our FREE 8 Day E-Course on How to Be a Better Home Cook. Sign up HERE!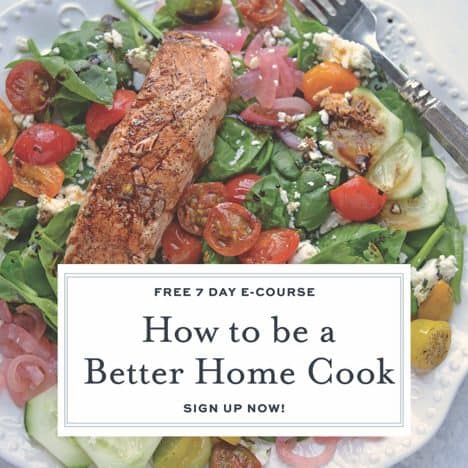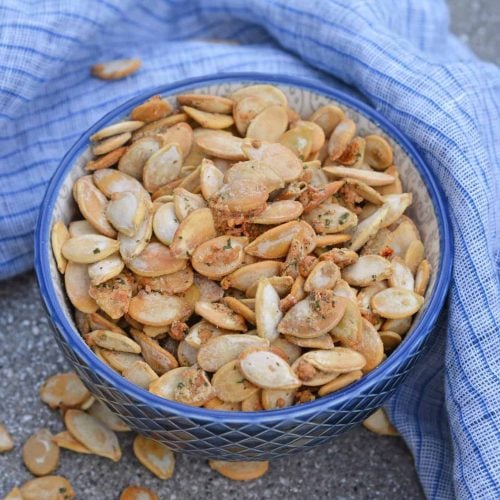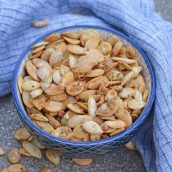 Print Recipe
Ranch Pumpkin Seeds
Ranch Pumpkin Seeds take roasted pumpkin seeds to a whole new level. With only 3 ingredients, they're an easy and delicious fall snack!
Instructions
Preheat oven to 300 degrees and cover a rimmed baking sheet with aluminum foil.

In a medium mixing bowl, toss pumpkin seeds with butter to coat evenly. Add ranch dressing mix, tossing to coat.

Lay in a single layer on baking sheet, roasting for 20 minutes. Turn and roast for an additional 20 minutes.

Eat warm or room temperature.

If you've tried this recipe, come back and let us know how it was!
Nutrition
Calories:
166
kcal
|
Carbohydrates:
5
g
|
Protein:
6
g
|
Fat:
14
g
|
Saturated Fat:
4
g
|
Cholesterol:
10
mg
|
Sodium:
409
mg
|
Potassium:
172
mg
|
Fiber:
1
g
|
Vitamin A:
115
IU
|
Vitamin C:
0.4
mg
|
Calcium:
10
mg
|
Iron:
1.9
mg