Pumpkins are everywhere this time of year and beyond being the easiest fall decoration, they're tasty too. I LOVE roasted pumpkin seeds and this ranch pumpkin seed recipe is my absolute favorite.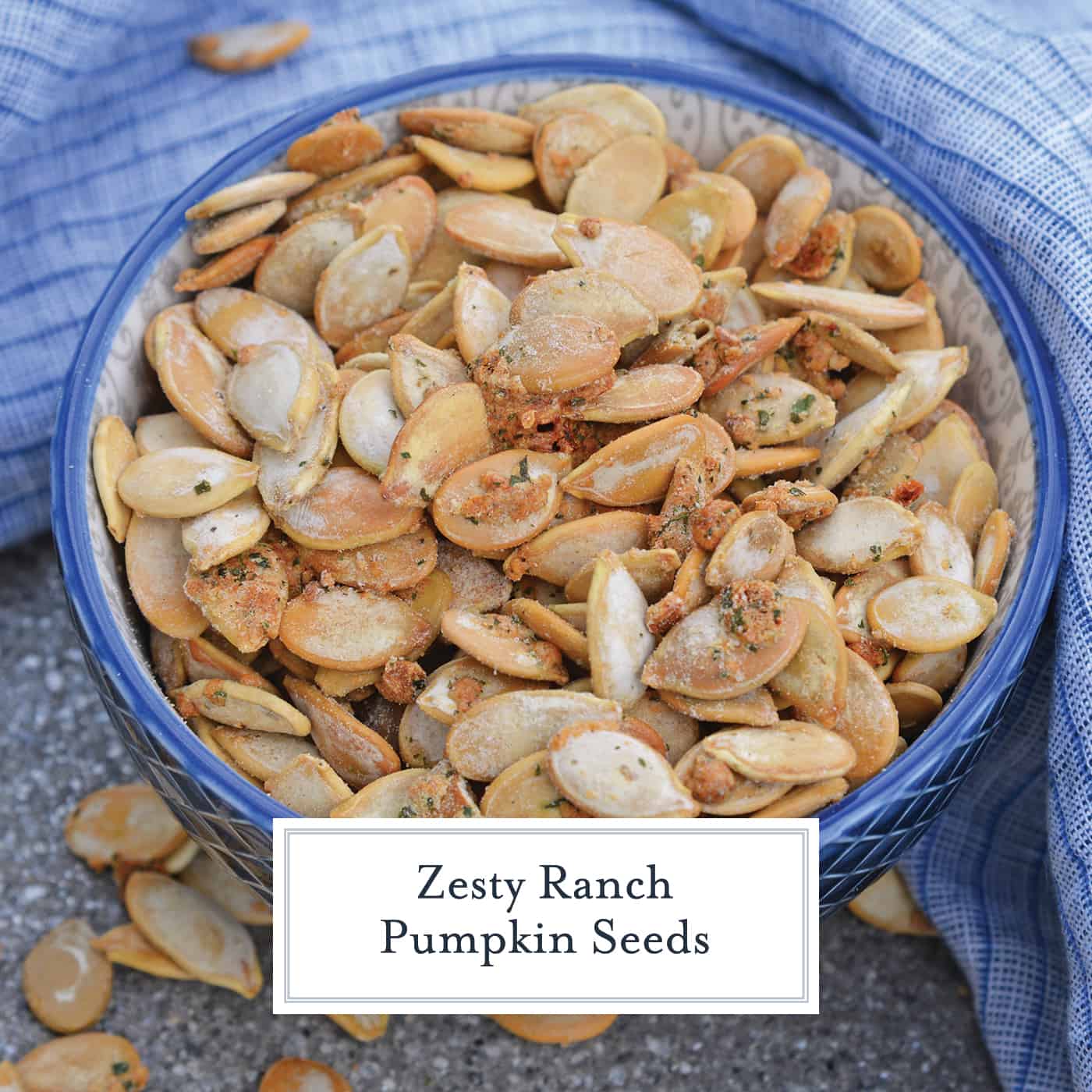 Roasted Pumpkin Seeds
This recipe takes roasted pumpkin seeds to a whole new level. With only 3 ingredients, they're an easy and delicious fall snack.
You can use seeds from pumpkin carving adventures or buy plain ones at the store. They are great for snacking at home, making into little gift bags or having out as a party munchie.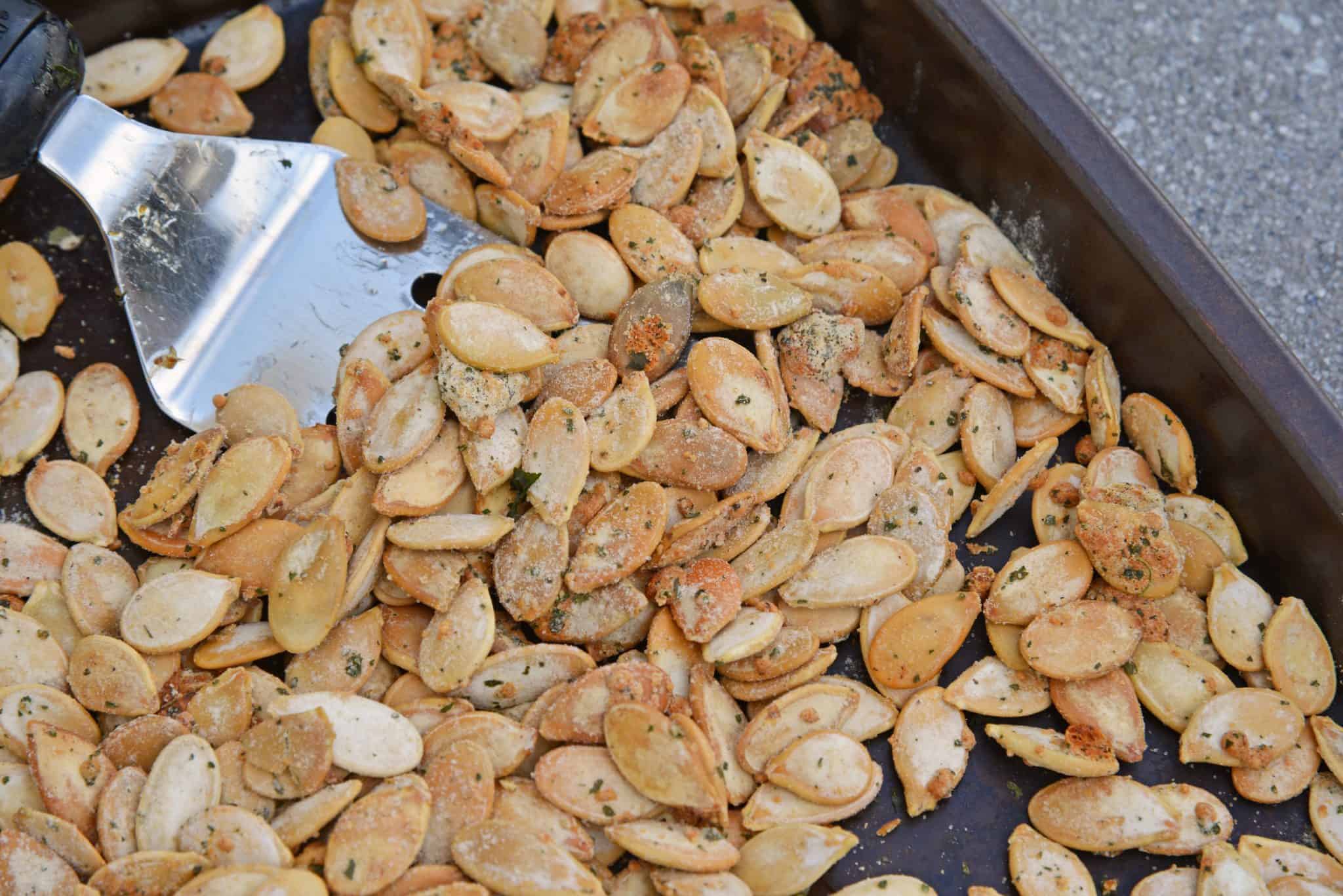 Added bonus, they are actually pretty good for you. These are a little salty, but otherwise, they are high in antioxidants and fiber.
Pumpkin Seeds from a Pumpkin
Carving pumpkins has always been one of my favorite fall activities and it's one I'm looking forward to sharing with my daughter (and now son!)
But after the pumpkins have been carved, what do you do with the pumpkin "guts"?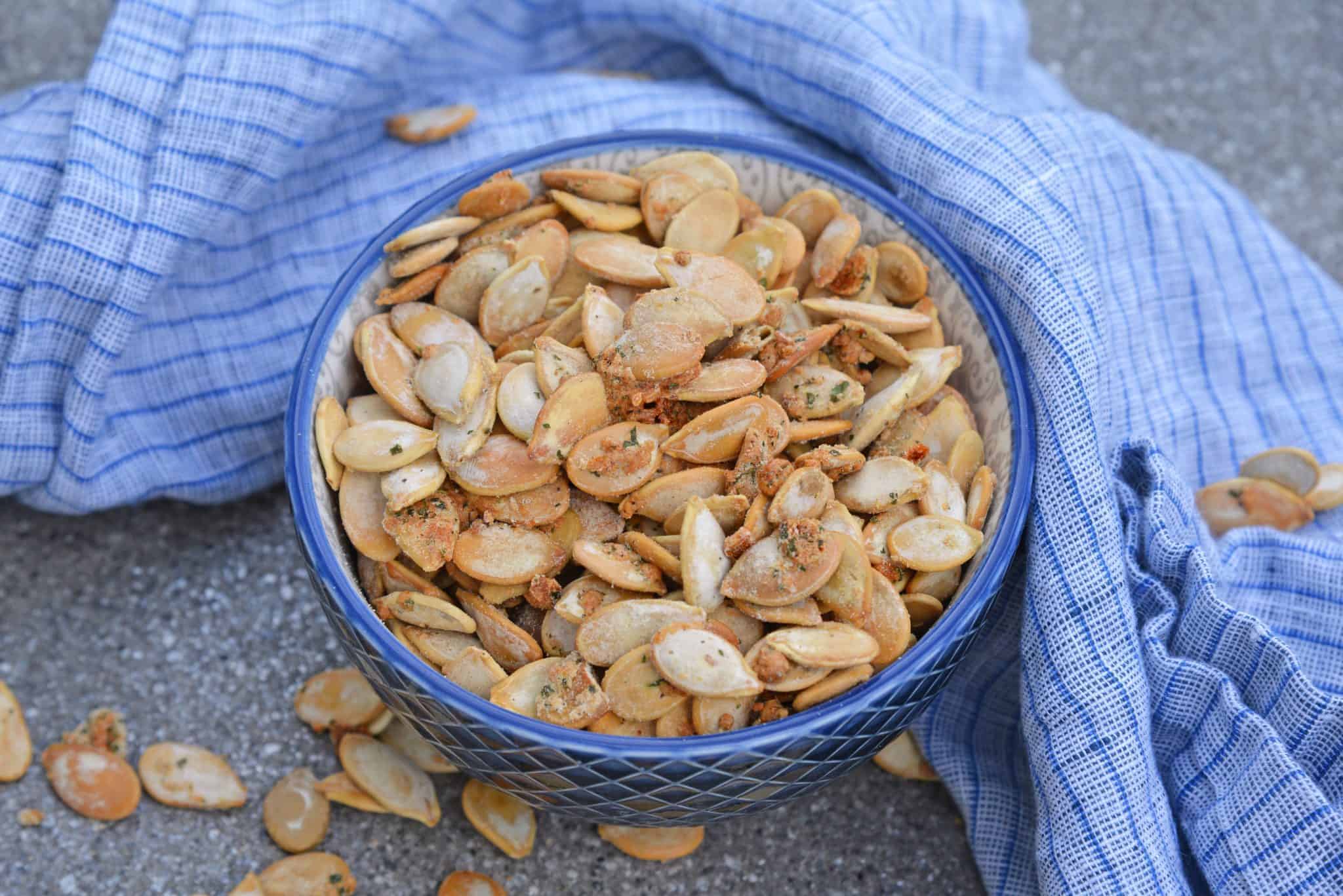 Make roasted pumpkin seeds, of course!
You'll want to scoop out all of the pumpkins seeds. At this juncture you can opt to rinse them to get all the slime off or you can keep the slime on.
I like a little bit of pumpkin baked to the seeds, but many prefer the clean look. The ones pictured have been rinsed well.
After rinsing, allow them to dry (or pat them dry with paper towels) before tossing in seasoning and baking. If they are wet, it can take long to roast and also might give you soggy seeds.
How to Roast Pumpkin Seeds
After prepping your seeds, you'll move onto the seasoning and roasting them.
First, coat them with melted butter in a mixing bowl. This gives flavor and is the glue to get the seasoning to stick. You can also use olive oil or other neutral flavored oil, but I like butter the best.
Toss with flavoring.
Next, spread the seeds on a baking pan rimmed with foil in a single layer. This allow each seed to get optimal heat and brown evenly.
Lasty, bake the pumpkin seeds! I turn them halfway so that both sides get evenly toasted.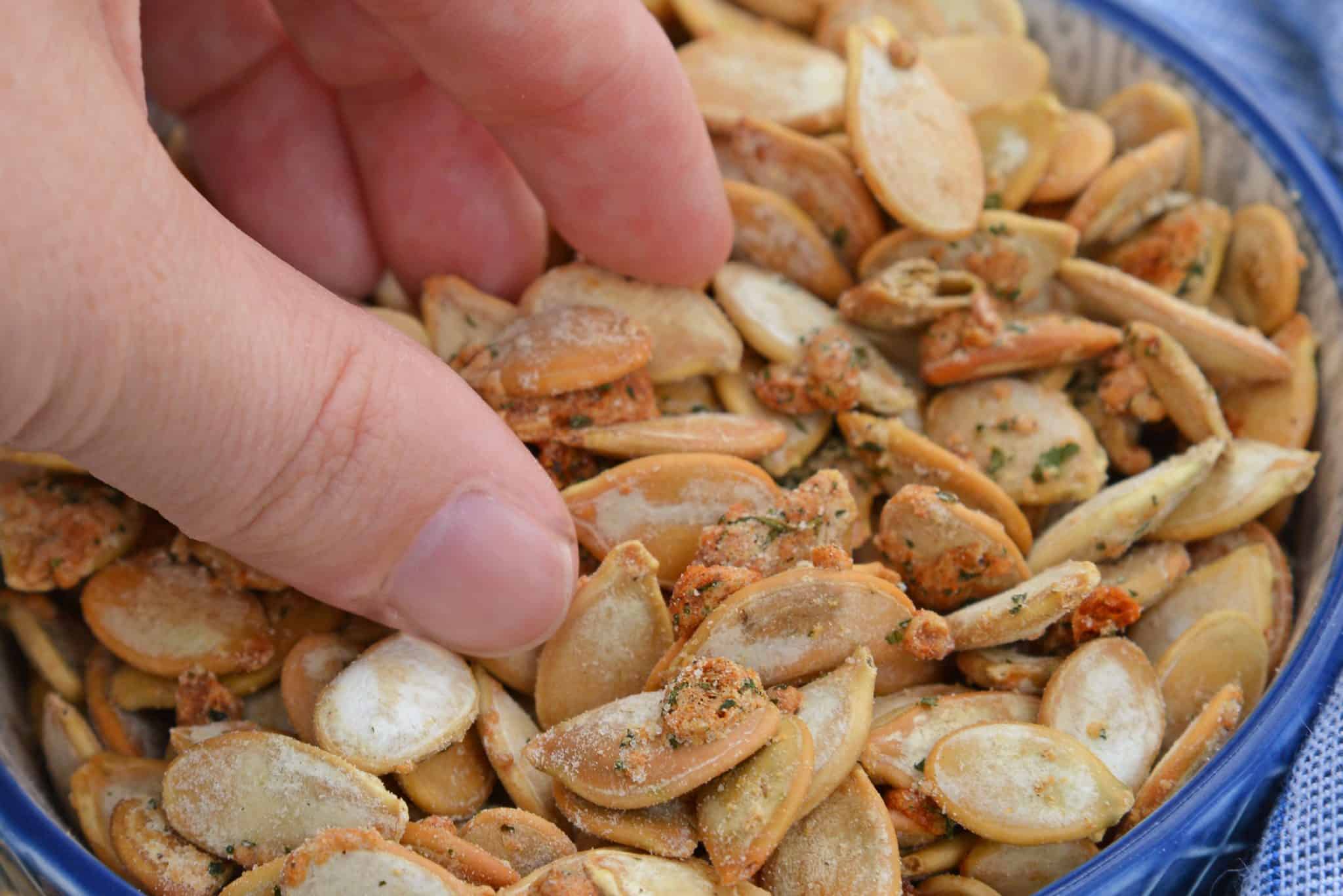 Flavored Pumpkin Seeds
Plain roasted pumpkin seeds are delicious. However, once I figured out how to roast pumpkin seeds, I wanted to get a bit more creative and try out other flavors.
I love ranch-flavored anything and since pumpkin seeds don't have a strong flavor, I thought ranch pumpkin seeds might be delicious.
There are only 3 ingredients in these Ranch Pumpkin Seeds – pumpkin seeds, butter, and Ranch dressing mix.
Any type of dry seasoning will work. Here are a few other variations:
Sweet or smoked paprika
Curry powder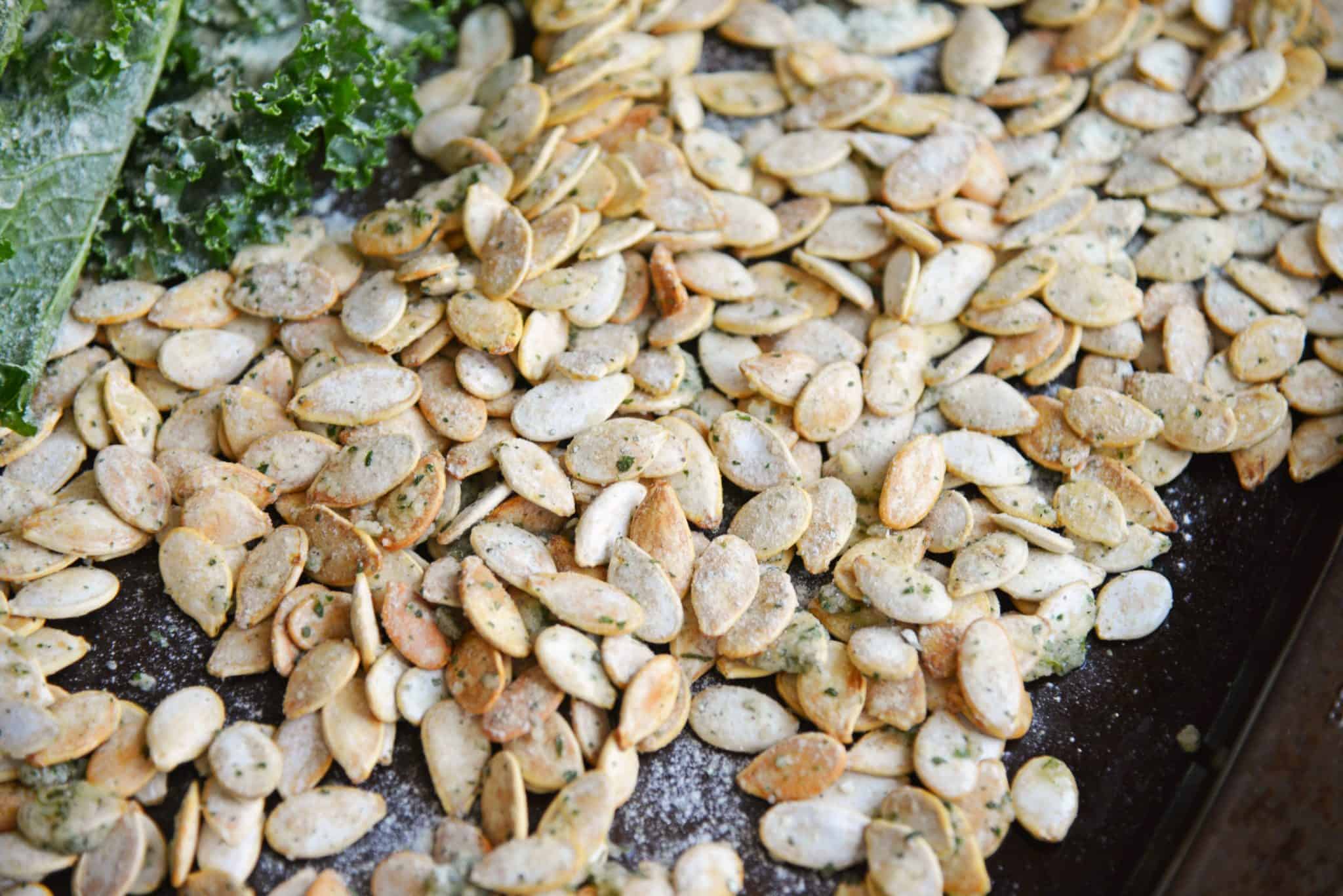 Roasted pumpkin seeds make a great fall snack. Even just a handful of them are full of nutrients and I find them to be quite filling. Ranch pumpkin seeds are full of flavor too! I made these alongside ranch kale chips.
I love snacking on these right out of the oven but they taste great when held at room temperature too.
In Summary:
Scoop out seeds.
Wash and rinse to get all the remaining pumpkin guts off.
Line a rimmed baking sheet with aluminum foil and preheat the oven.
Toss seeds with butter to coat.
Toss seeds with ranch seasoning.
Roast, flipping halfway through roasting. Wait until they are golden brown.
ENJOY!
Storage & Freezing
Can I freeze pumpkin seeds? You sure can! Just make sure you put them in an airtight plastic bag. They tend to get freezer burnt a little faster than other foods, so use them within 3 months.
How do I store roasted pumpkins seeds? In an airtight container at room temperature. They will stay fresh for up to a week… if they last that long.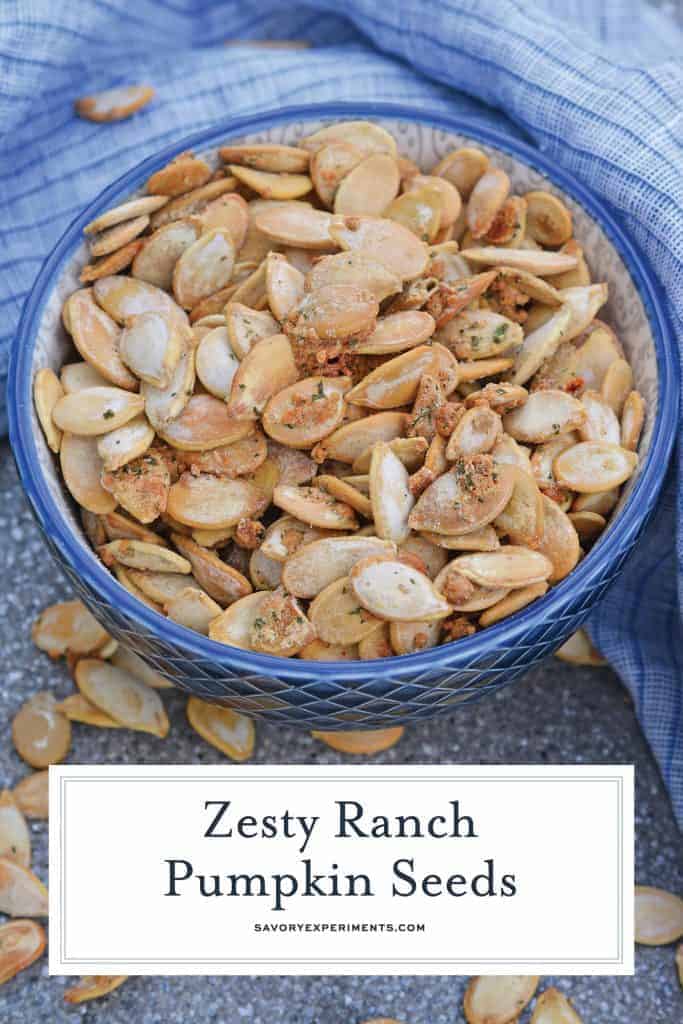 More easy pumpkin recipes: