Oh, it is fall and that means everything "pumpkin spice" is upon us! Our local bagelry offers a fabulous pumpkin cream cheese spread and this year I decided I wanted to make my own.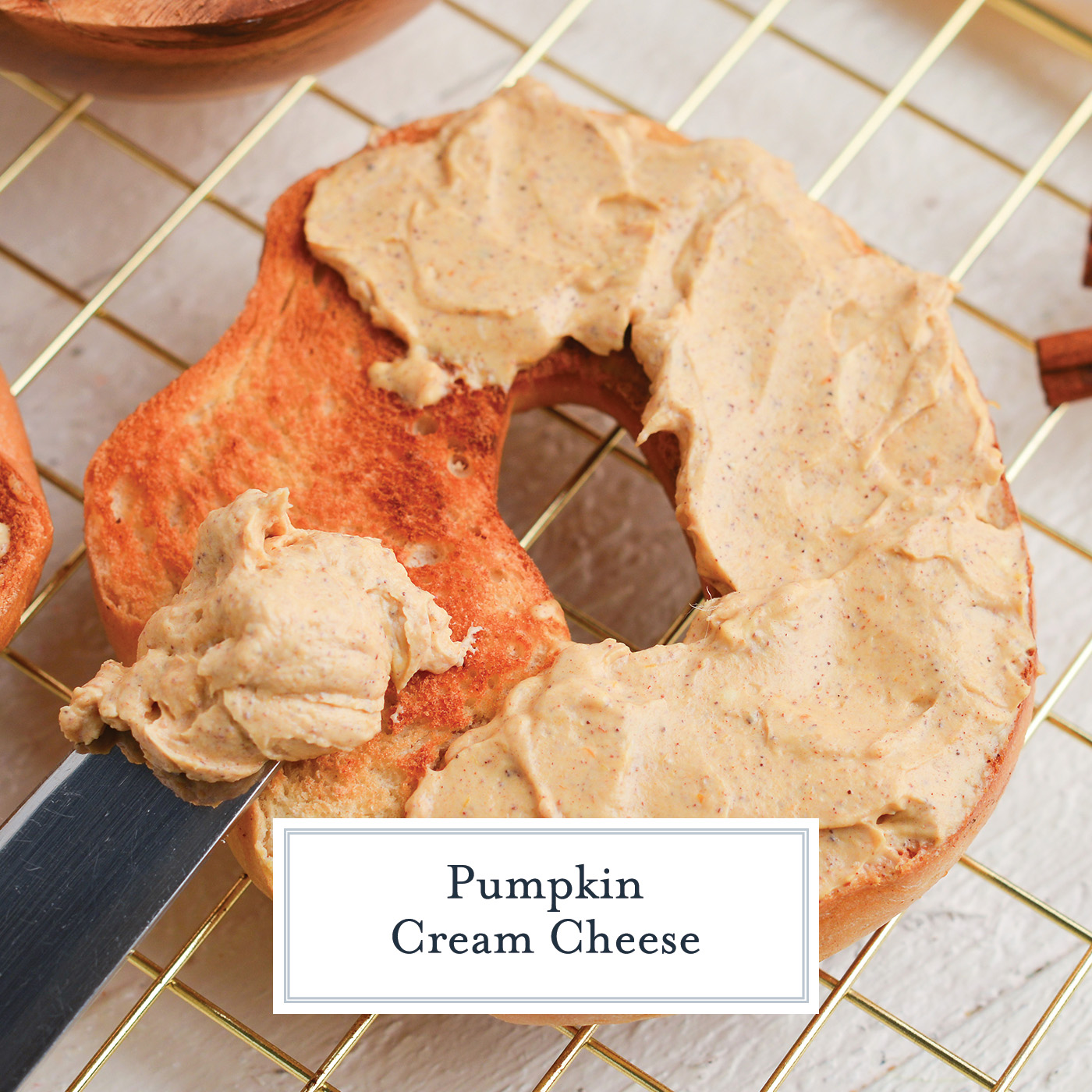 Savory Pumpkin Cream Cheese
The biggest difference between theirs and others I've seen is being savory versus sweet. I love sweet, don't get me wrong, but I don't want cream cheese frosting on my bagel. I want velvety and savory cream cheese.
Many also just use pumpkin spice, not actual pumpkin. Our homemade cream cheese spread uses real pumpkin puree and also pumpkin pie spice, giving it real falls flavors.
It also makes it a little less thick than traditional cream cheese. More like a whipped, spreadable cream cheese.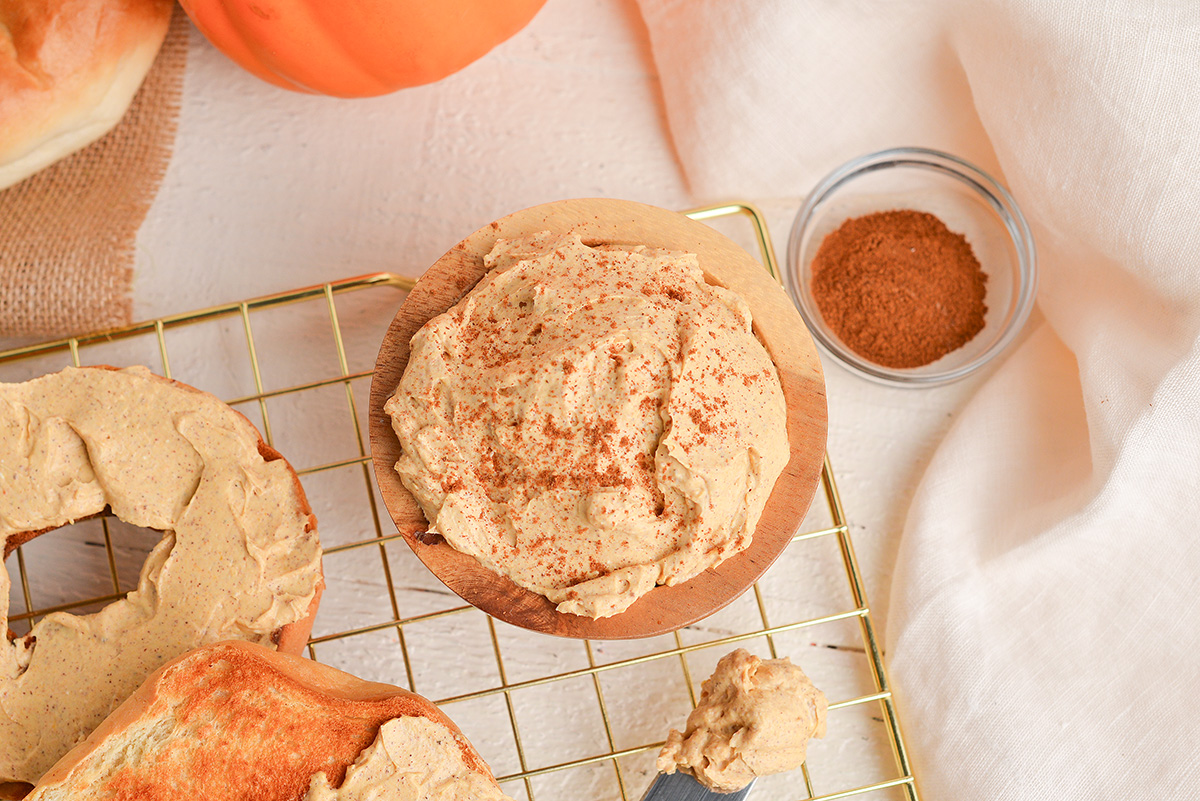 Why You'll Love This Pumpkin Cream Cheese Spread
A cream cheese mixture full of pumpkin spice flavor and perfect for adding to so many things- what's not to love!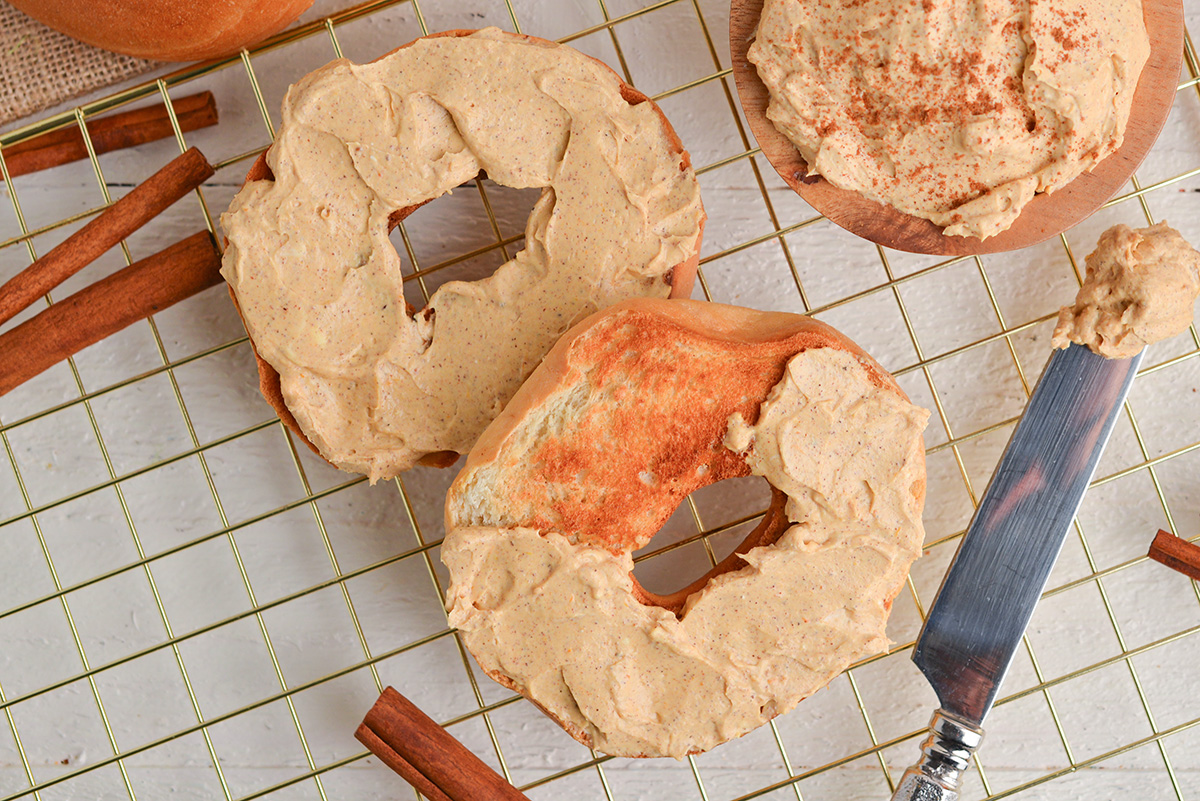 Ingredients
So while many recipes called for brown sugar or powdered sugar, I didn't use either. Instead I opted for a small amount of honey. The trade off is that there isn't another dry ingredient to help thicken the spread.
Which for me isn't an issue. I prefer a light and fluffy cream cheese anyhow. Easier to spread and not so filling…. which means I can eat more. Because it's not super thick, you could also use it as a dip. It would be lovely on a fall themed charcuterie board or something similar.
After 4 tries, these are the ingredients I landed on: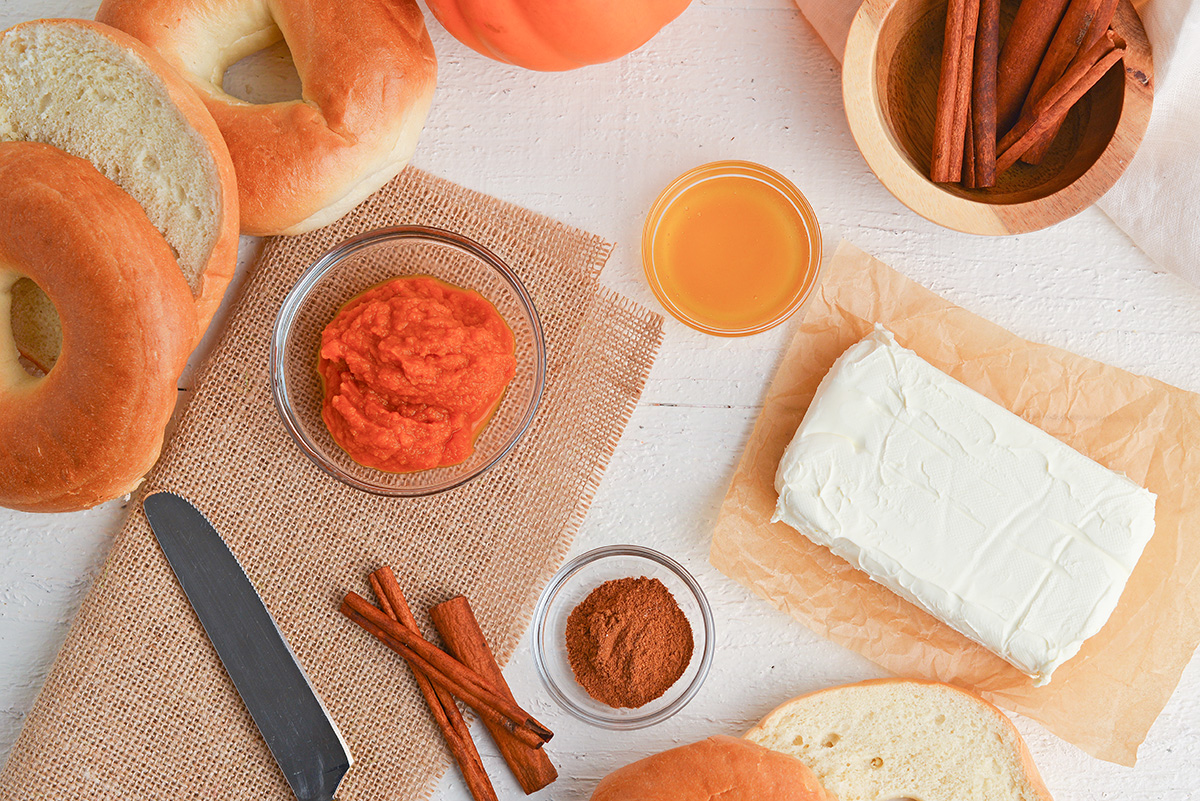 How to Make Pumpkin Cream Cheese Spread
Assembly is pretty simple, but don't skimp on whipping the cream cheese. If you add all the ingredients at once, you'll get a lumpy spread that is too loose.
Soften cream cheese. Make sure your cream cheese is well softened. Cutting it into smaller pieces or chucks can speed up the process.
Beat until fluffy. With a hand mixer, beat cream cheese well, until light, fluffy and smooth.
Beat in pumpkin. Add pumpkin, beating well again until fully incorporated, this might take 3-4 minutes.
Remaining ingredients. Add honey, spices and vanilla. Blend again.
Chill. Place back into the fridge until ready to use and harden a little.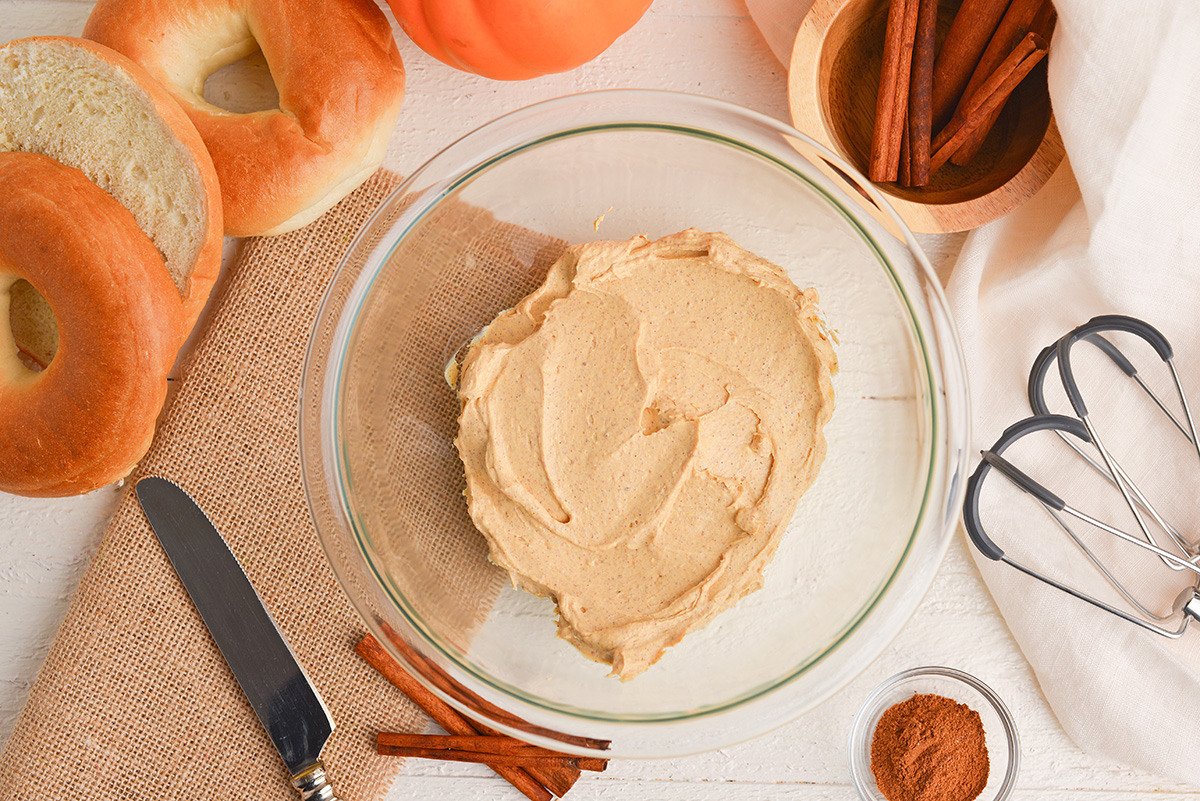 Uses
Anything you'd spread regular cream cheese on, or bake with, can be substituted for pumpkin cream cheese. This means anything from:
In some cases, it can also be substituted for pumpkin butter. Just keep in mind this is a savory spread, so if using it in frosting you will need to add the normal amount of sugar that you normally would.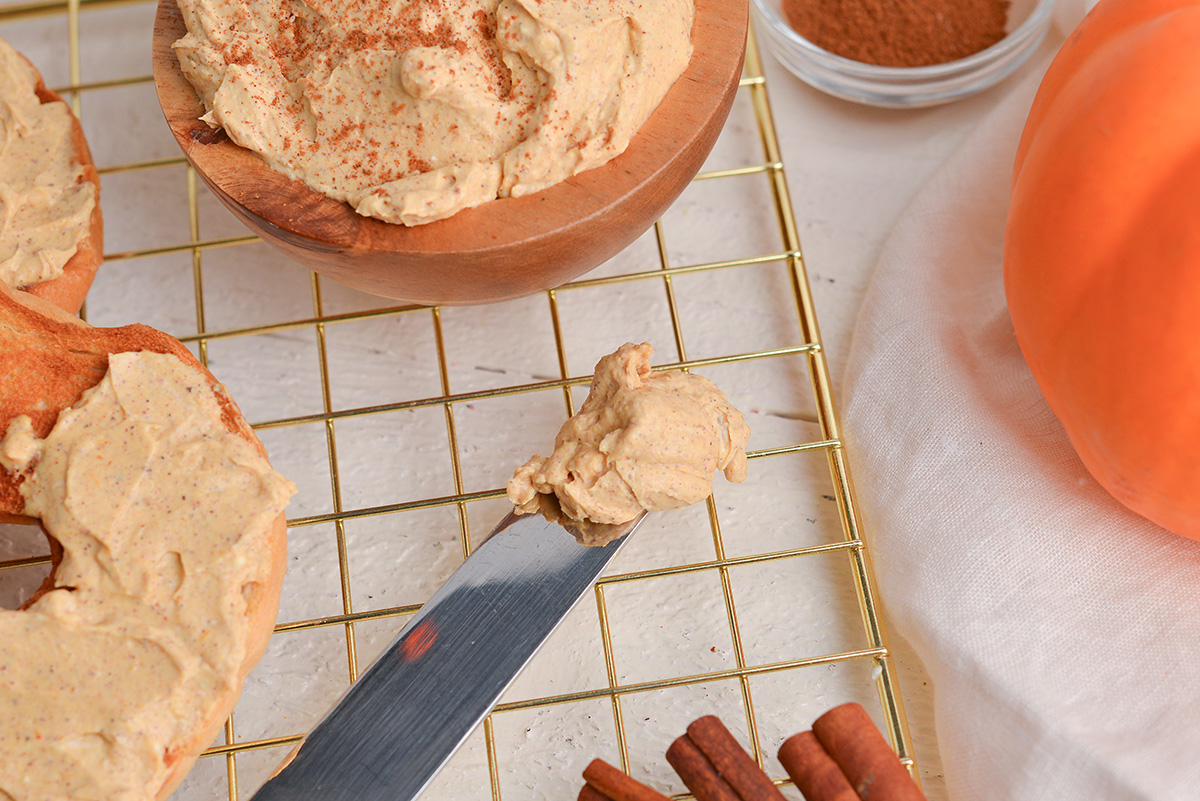 Storage & Freezing
Storage: Pumpkin cream cheese can be stored in an airtight container in the fridge for up to 1 week. It can certainly be made ahead and enjoyed for several mornings. Do not keep at room temperature.
Freezing: I do not recommend freezing this recipe. It does not thaw well, plus it's so good I'd be surprised if you had any leftover!