If you want the best of a crispy cookie with a soft cookie, both salty and sweet? Then these Potato Chip Chocolate Chip Cookies are for you!
Potato Chip Cookie Recipe
We love any kind of cookie at our house, but we especially love chocolate chip cookies! As long as it has chocolate chips, we are down for any variation. Here are some of our favorites:
So the other day, I was trying to decide between a chocolate chip cookie or a handful of potato chips for a snack. And then it hit me: why not have both??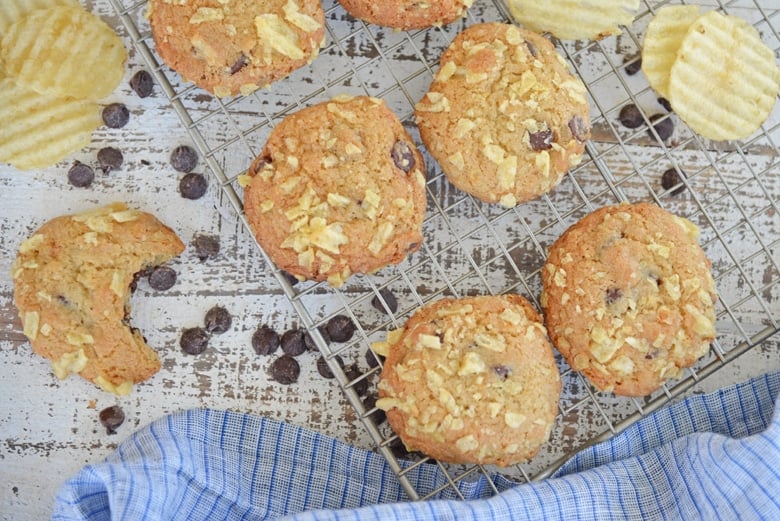 I instantly set to work whipping up a batch in the kitchen and let me tell you, these cookies are bomb! They have the perfect balance of salty and sweet, and they're soft and chewy with just the right amount of crunch!
Potato Chip Chocolate Chip Cookies Ingredients
This recipe takes a classic chocolate chip cookie recipe and adds a salty crunch with potato chip pieces! These are the ingredients I like to use:
Unsalted butter – It's important to use unsalted butter when baking. Different butter brands add different amounts of salt to their butter. So when you use unsalted butter, you are able to control the exact amount of salt that goes into your recipe.
Brown sugar – You can't make chocolate chip cookies without it! It tends to make cookies more chewy and moist than using only white sugar.
White sugar – Another classic cookie ingredient! I like to use both sugars when making cookies. The white sugar helps to crisp and brown the cookies.
Vanilla extract – Always a great ingredient for baking! It adds so much flavor.
Eggs – Eggs help to add moisture, stability and structure to your cookies.
Flour – Flour is what binds everything together and gives these cookies structure.
Baking soda – This is an important ingredient because it helps to create the light, soft and fluffy texture. Without it, your Potato Chip Chocolate Chip Cookies would be quite flat.
Wavy potato chips – I like the wavy chips the best because they seem to hold up better inside the cookie.
Chocolate chips – You can't have chocolate chip cookies without the star of the show!
Fleur de sel – If you'd like to go one step further in your "sweet and salty" conquest, sprinkle a little bit of fleur de sel on top of the cookies. Make sure to do this while the cookies are still hot and soft so that it sticks properly.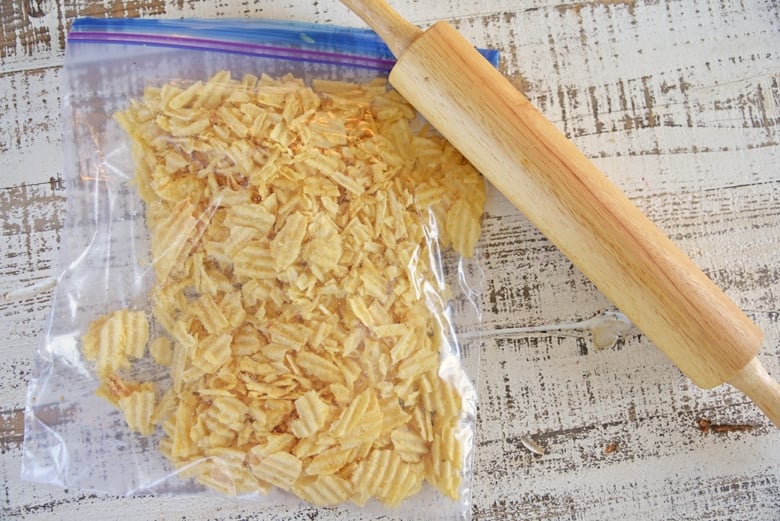 How to Make Potato Chip Chocolate Chip Cookies
If you've made any type of homemade cookie before, you will be a pro at making these cookies! They follow the same basic steps of any chocolate chip cookie recipe.
Start by creaming the butter in a mixing bowl until it is light and fluffy. Next add in both of the sugars, and beat until fully combined.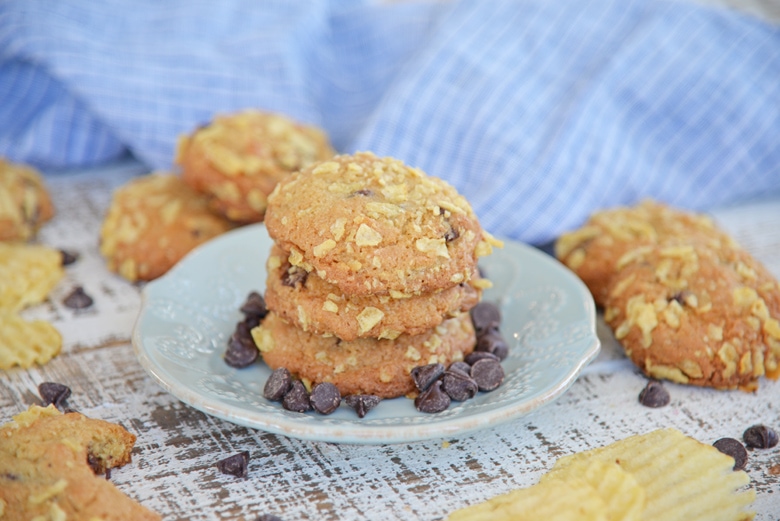 Next add in the eggs and vanilla, mixing again until all ingredients are combined. Be careful not to over mix or your cookies could be tough.
In a separate bowl, soft together the flour and baking soda to remove all lumps. Then add the dry mixture into the wet mixture.
Gently with a rubber spatula, stir in one cup of the crushed potato chips and chocolate chips. Save the rest of the potato chips in another bowl.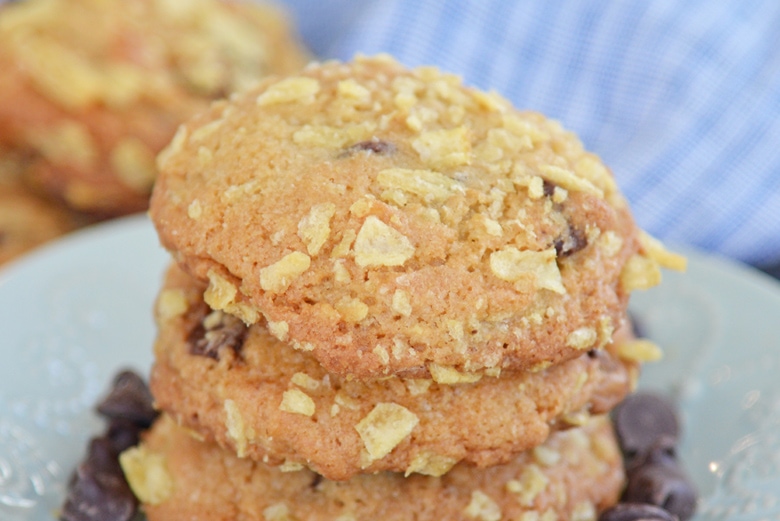 Roll the Potato Chip Chocolate Chip Cookies dough into 1 inch balls, and then roll each ball into the ball of crushed potato chips. You can push them into the dough to make sure they stick.
Next, place the dough onto a parchment lined baking sheet and bake for 15-17 minutes, or until the edges are golden brown. If you'd like some extra saltiness, sprinkle some fleur de sel on top as soon as they come out of the oven.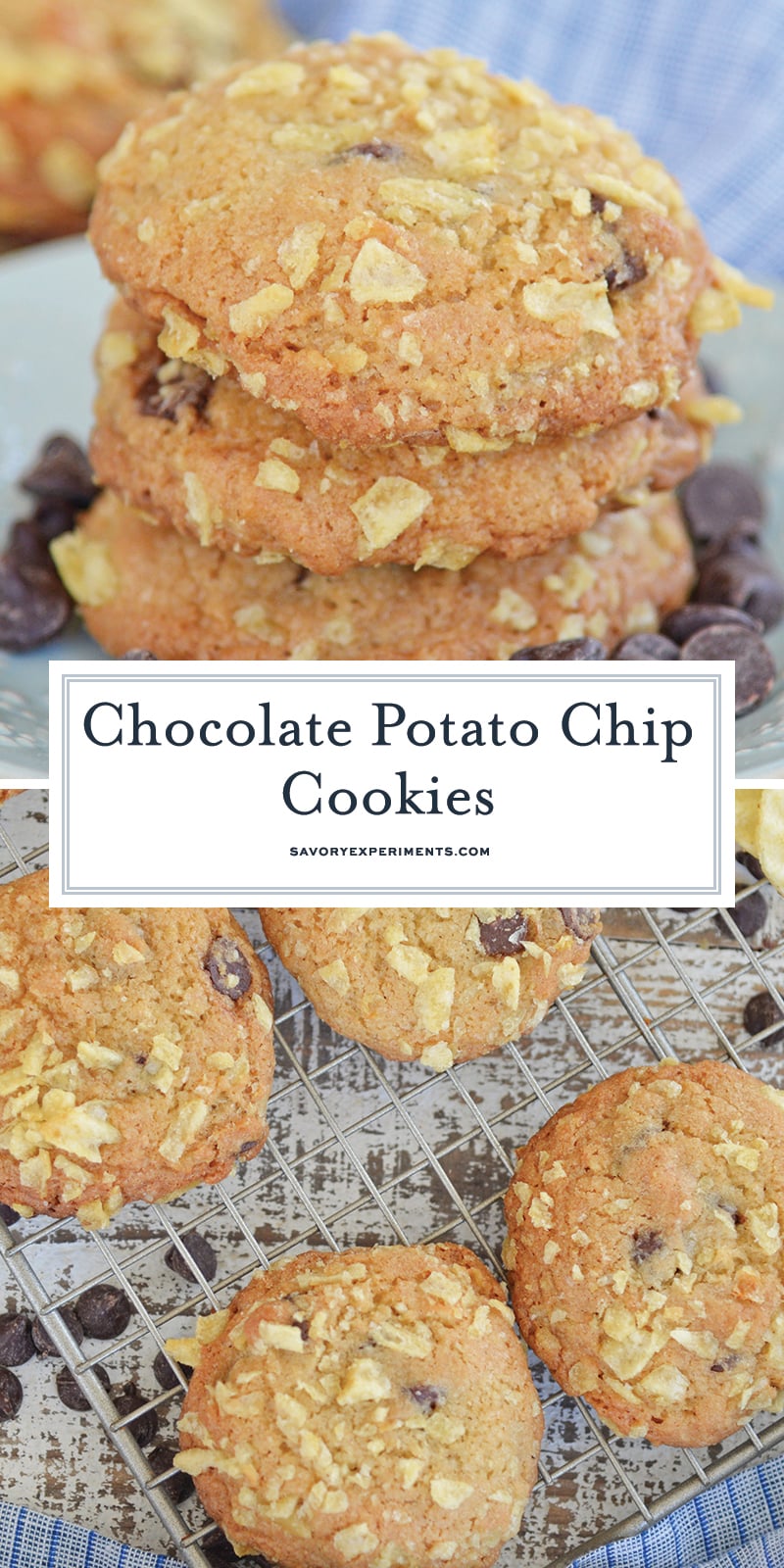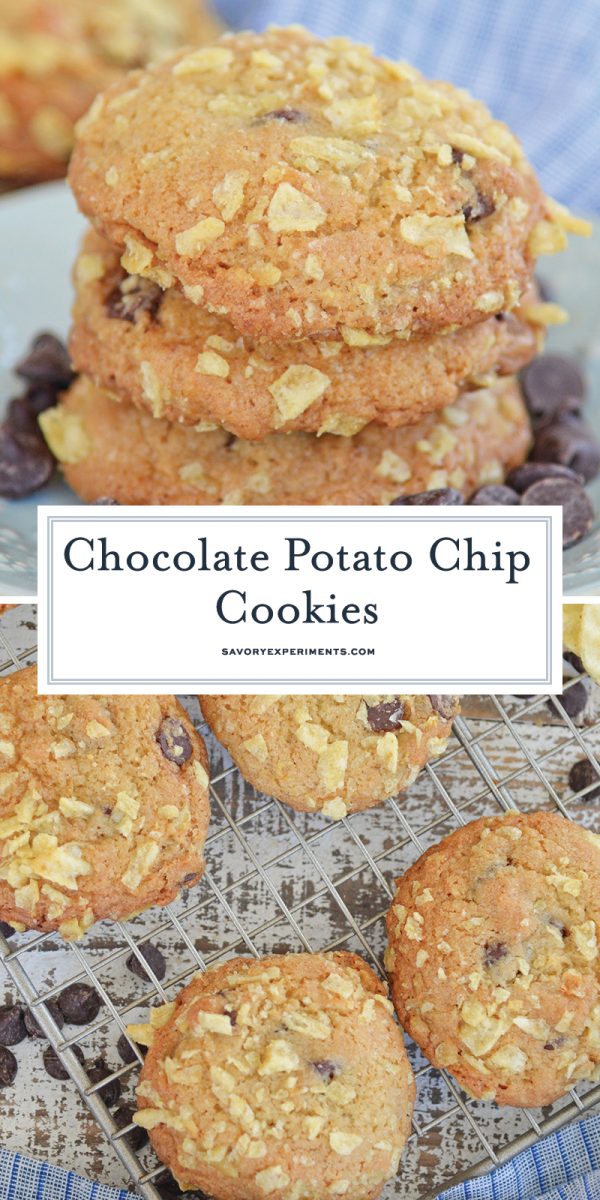 More cookie recipes that you will love: