Enjoy your favorite on the go snack in cookie form! These chewy Trail Mix Cookies are the best combination of salty and sweet!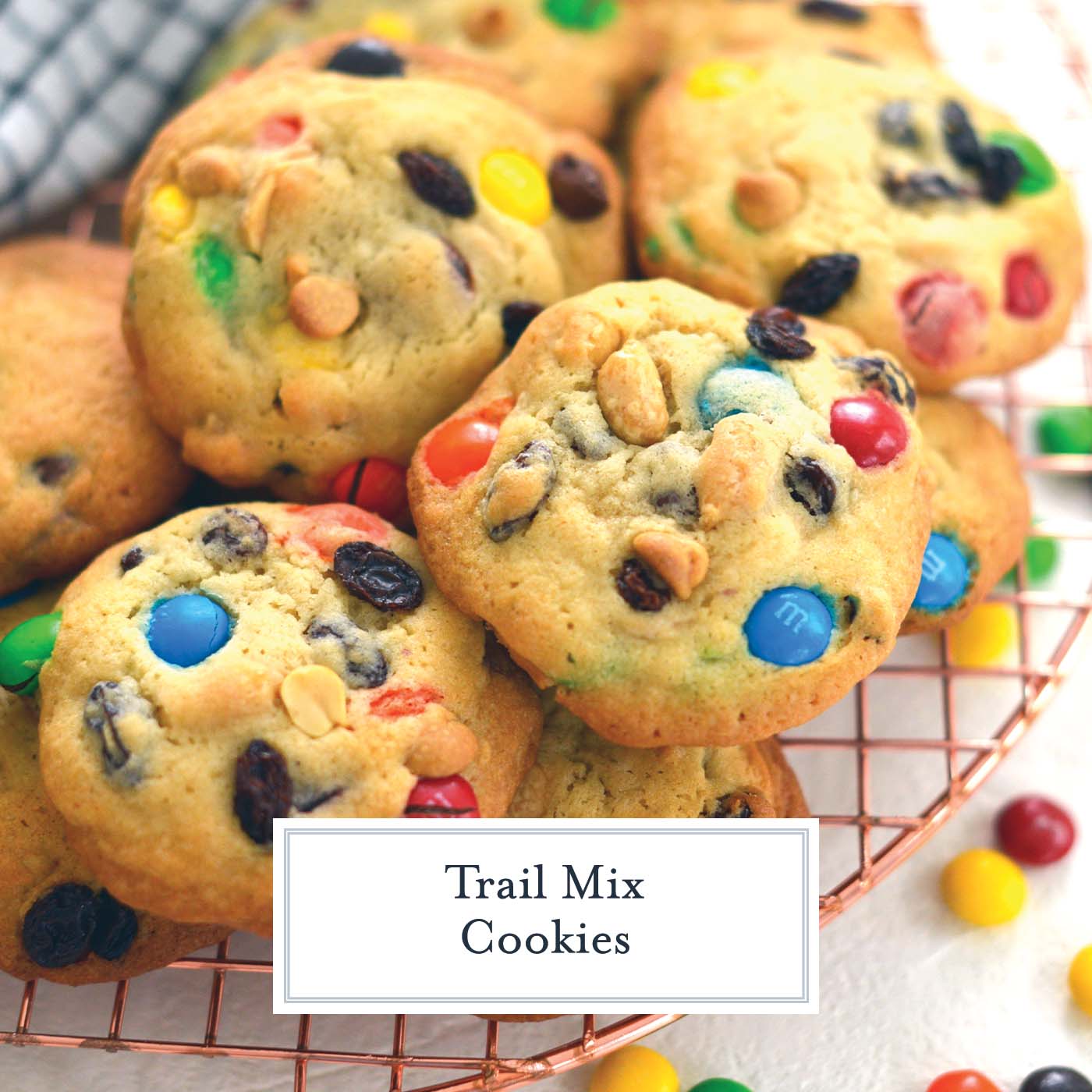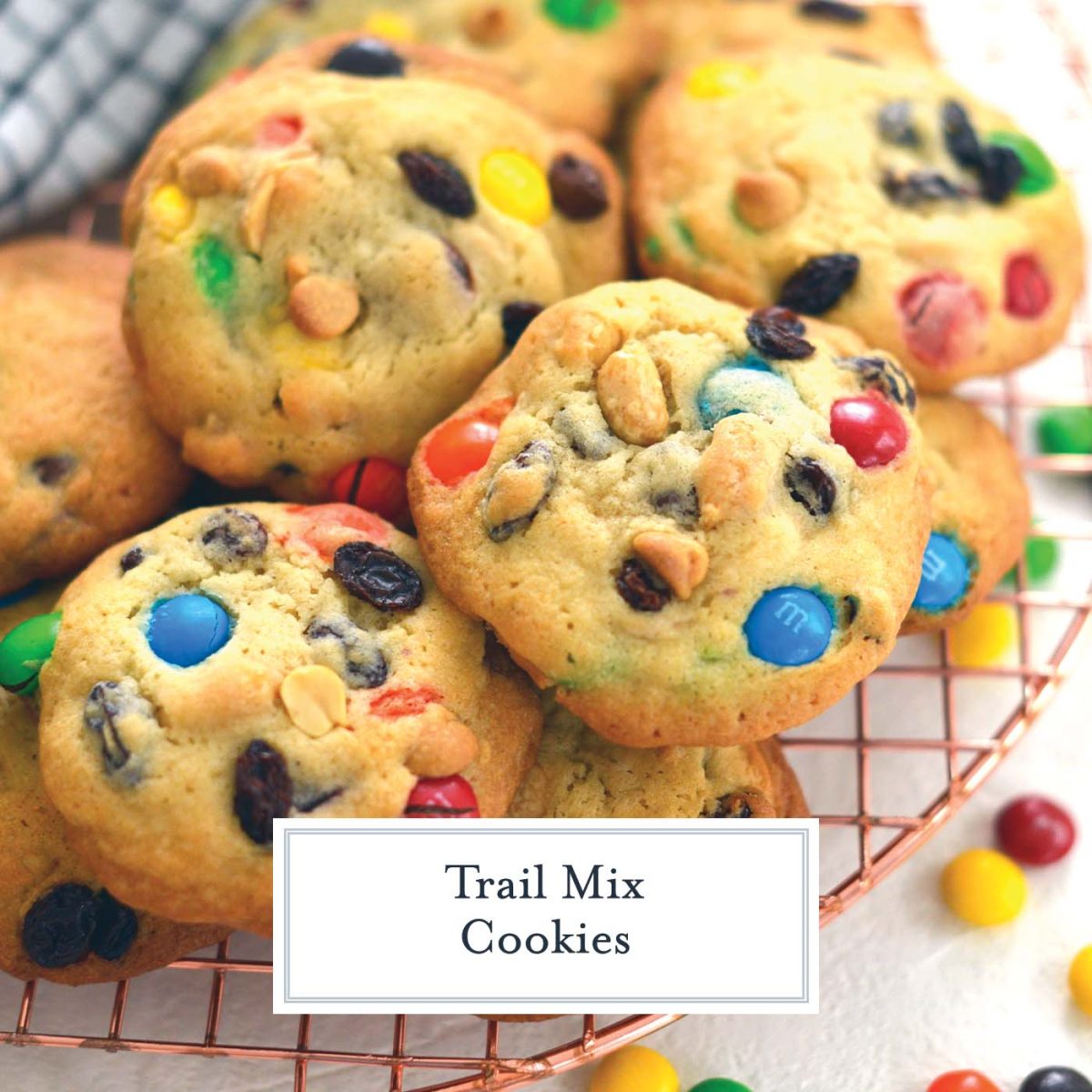 My kids love a big bowl of Monster Mix; and if we are being honest, so do I. Sweet, salty and savory all in the same bowl. So why not incorporate them into a soft cookie?
Trail mix cookies can be made using any trail mix you desire and are great for using up the last little bit. The amounts are versatile and can be increased or decreased slightly without any issues.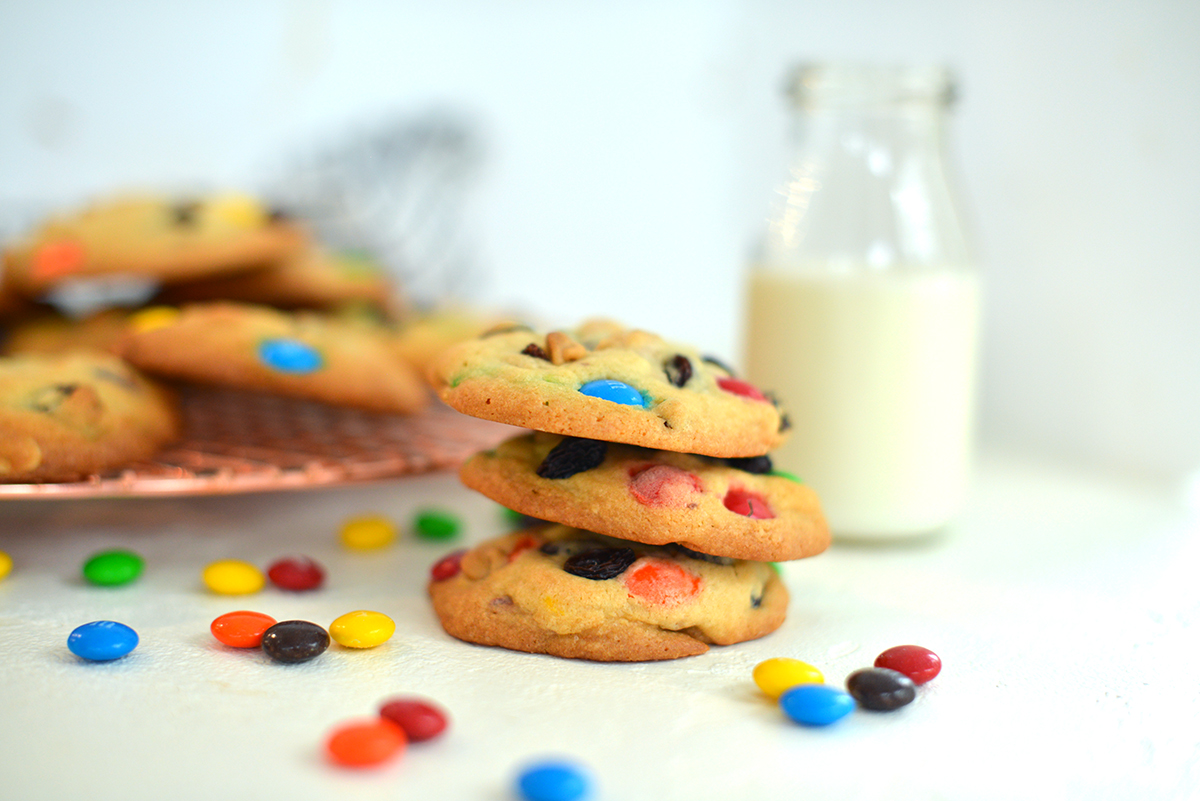 Ingredients
If you've ever made homemade cookies, chances are you already have a lot of these ingredients on hand. These trail mix cookies have a very classic dough base, just with the addition of your favorite on the go snack!
Flour – It's hard to make cookies like these without flour! Flour provides a nice base for the dough, while holding everything together.
Baking soda – Adding baking soda to a cookie helps to make it soft and fluffy. it releases a gas into the dough to help leaven it.
Fine sea salt – If you've ever wondered why a recipe specifically calls for unsalted butter, just to add salt in later, let me explain. Different butter companies add different amounts of salt to their butters. So using unsalted butter and adding in your own salt allows you to control exactly how much salt is going into your recipe. That's especially important when making cookies.
Butter – As mentioned above, it's important to use unsalted butter. If all you have is salted, you may not need to add in the additional salt.
Sugar – Granulated sugar gives these trail mix cookies their sweetness. Along with whatever sweet elements your trail mix has.
Brown sugar – Brown sugar not only adds an element of sweet, but it also adds a nice flavor too.
Vanilla extract – This is a popular ingredient in a lot of baking. Vanilla adds a deliciously warm and comforting flavor. The higher quality vanilla extract you use, the better your cookies will taste!
Eggs – Eggs are an important part of lots of baked goods! They provide structure, color and also flavor.
Trail mix – Feel free to use your favorite! I've added a section with more specifics below.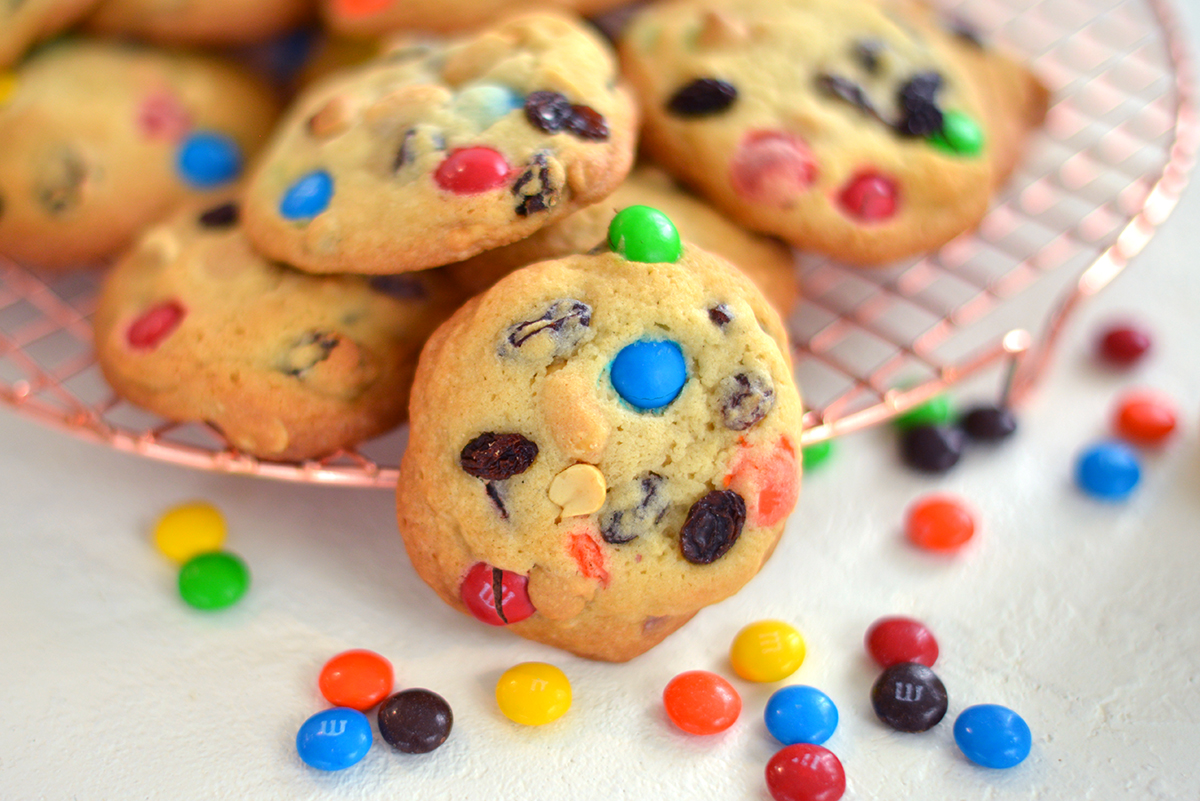 Trail Mix
You can use any kind of trail mix for these trail mix cookies. We used Archer Farms Monster Mix, which is made up of:
Raisins
Peanuts
M&Ms
Chocolate chips
Peanut butter chips
Other additions include other types of dried fruit, different nuts, other types of candy or no candy at all, granola and seeds.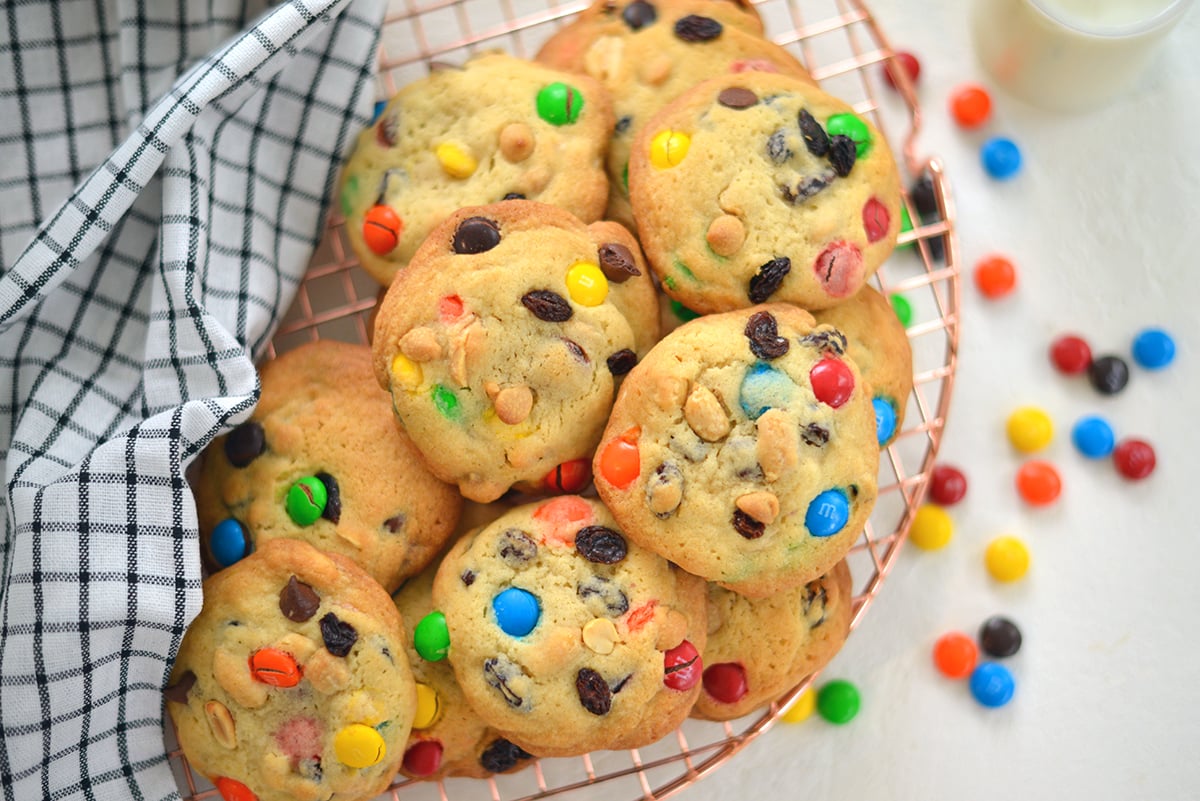 How to Make Trail Mix Cookies
These cookies are fairly easy to make as far as cookies go. They follow the same basic steps as any cookie recipe, but let's walk through them together.
Start by sifting the dry ingredients. Sifting helps to ensure that they are incorporated evenly throughout the cookie dough.
Next, beat together the butter, sugar and brown sugar. It's easiest to do this with either a stand mixer or in a bowl with an electric mixer. The process of creaming helps to dissolve the sugar, but also introduces air into the batter making baked goods light and fluffy. Many home bakers underestimate how long they should be creamed, which is 3-4 minutes.
Once the butter mixture is light and fluffy, add the vanilla and eggs.
One third at a time, add in the dry ingredients. Here, the trick is not over mixing. Over mixing activates gluten proteins resulting in rubbery or tough cookies.
Fold in the trail mix by hand so the larger pieces don't break apart.
Use a cookie scoop to drop dough onto a cookie sheet lined with parchment paper, which will prevent browning and sticking.
Bake until the edges are just slightly brown and crispy; the center might still look slightly doughy, that is okay.
Let cool on a cooling rack, or enjoy them straight out of the oven. No judgment here!

Storage & Freezing
Baked cookies should be stored at room temperature in an airtight container. Storing with a slice of white sandwich bread will help keep them moist.
Trail mix cookies can also be frozen in an airtight plastic bag with as much air as possible pushed out. Thaw at room temperature for 10-15 minutes.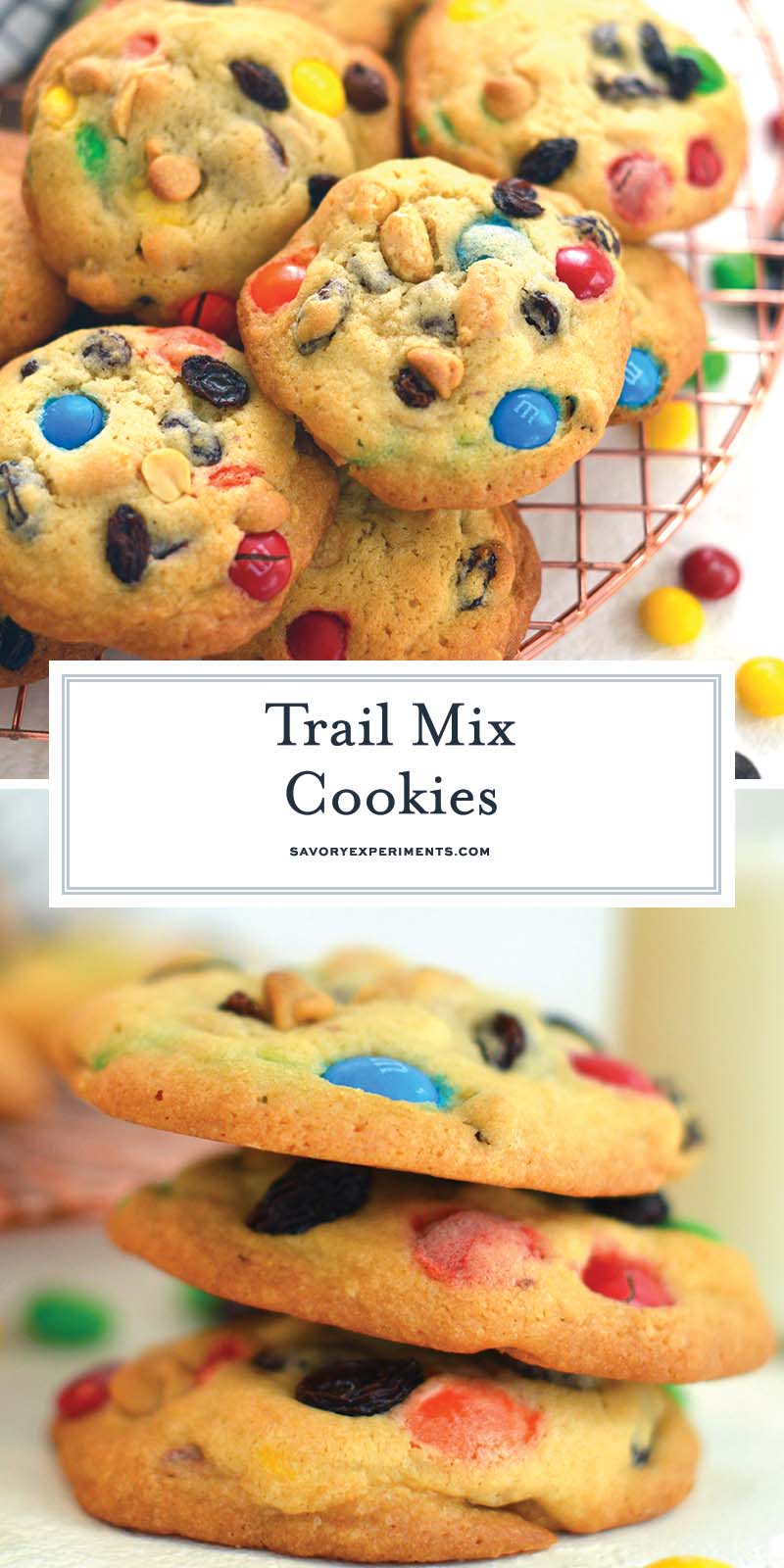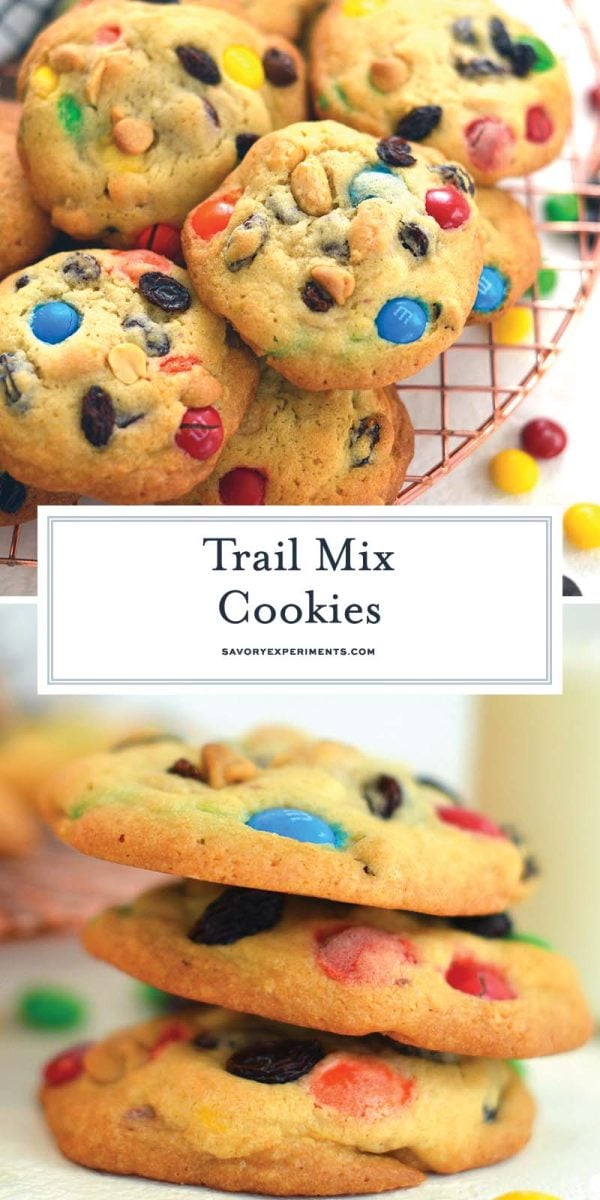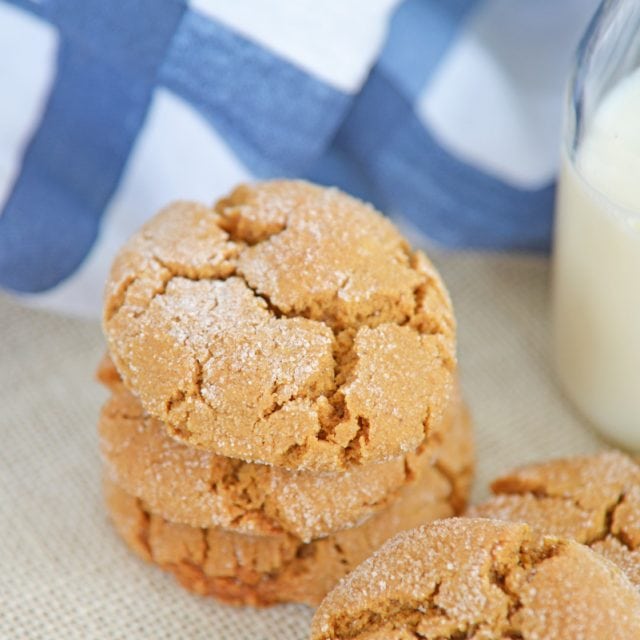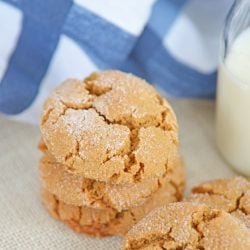 Skillet Cookie
This rich and gooey Skillet Cookie recipe takes it to the next level by baking in a cast iron skillet! Top with vanilla ice cream and your favorite toppings for the ultimate dessert.
See The Recipe!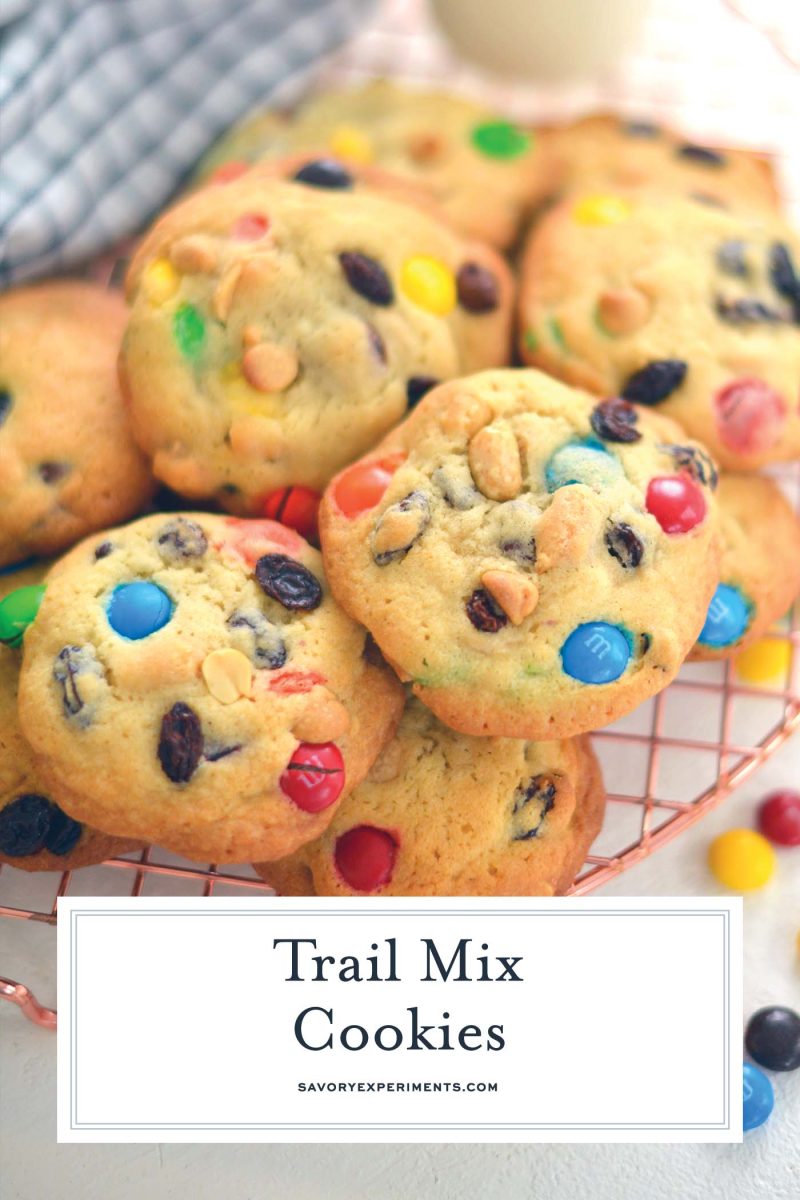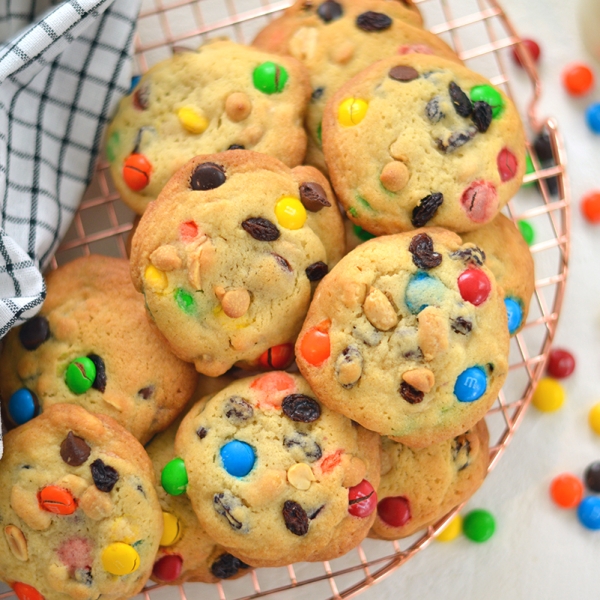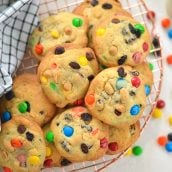 Trail Mix Cookies
Enjoy your favorite on-the-go snack in cookie form. These chewy Trail Mix Cookies are the best combination of salty and sweet.
Instructions
Preheat the oven to 375°F and line a baking sheet with parchment paper.

Sift together the flour, baking soda, baking powder and salt. Set aside.

In the bowl of a large stand mixer fitted with the paddle attachment, or a large bowl with an electric mixer, cream together the butter and both sugars until light and fluffy, approximately 3 minutes.

Add the vanilla extract and eggs, mixing until combined.

In three additions, add the flour, being careful to mix until just combined.

Fold in trail mix by hand.

Using a tablespoon cookie scoop, drop cookies on the prepared cookie sheet. Place remaining dough into the refrigerator until ready to use.

Bake for 9-11 minutes or until tops are lightly golden.

Remove and allow to cool slightly before transferring to a wire cooling rack. Continue with remaining cookie dough.

If you've tried this recipe, come back and let us know how it was in the comments or ratings.
Nutrition
Calories:
131
kcal
,
Carbohydrates:
14
g
,
Protein:
2
g
,
Fat:
8
g
,
Saturated Fat:
3
g
,
Polyunsaturated Fat:
1
g
,
Monounsaturated Fat:
3
g
,
Trans Fat:
1
g
,
Cholesterol:
20
mg
,
Sodium:
92
mg
,
Potassium:
58
mg
,
Fiber:
1
g
,
Sugar:
8
g
,
Vitamin A:
154
IU
,
Calcium:
13
mg
,
Iron:
1
mg