I can't resist a nice, soft, chewy peanut butter cookie. Put a chocolate kiss on top of it and I'd fight for you it.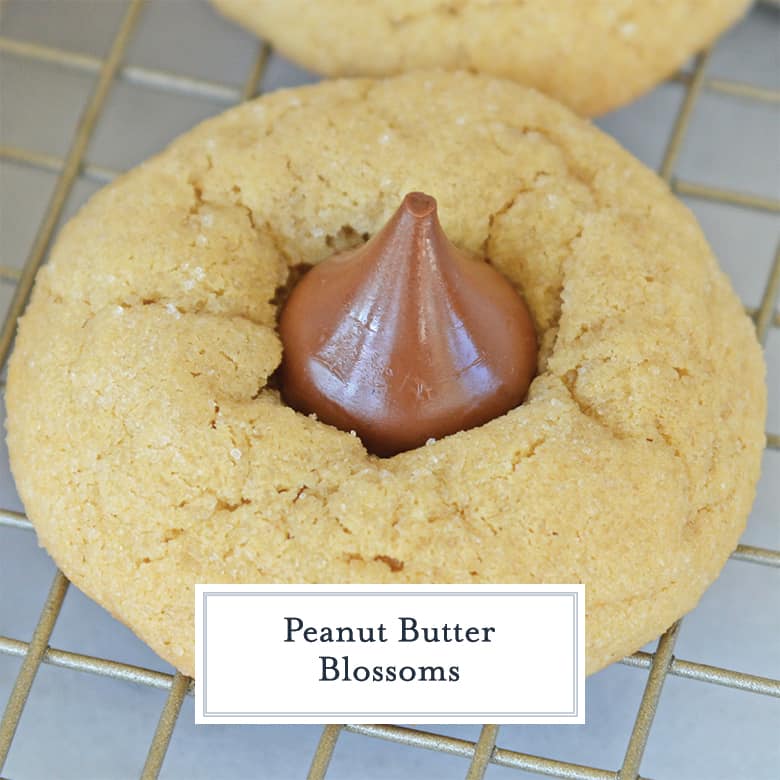 Soft Peanut Butter Cookies rolled in sugar and topped with a chocolate kiss.
Not really, I'm not that type, but secretly I'd WANT THAT COOKIE! Is there a flavor combination that goes together better than chocolate and peanut butter?
There is only only answer and it is NO.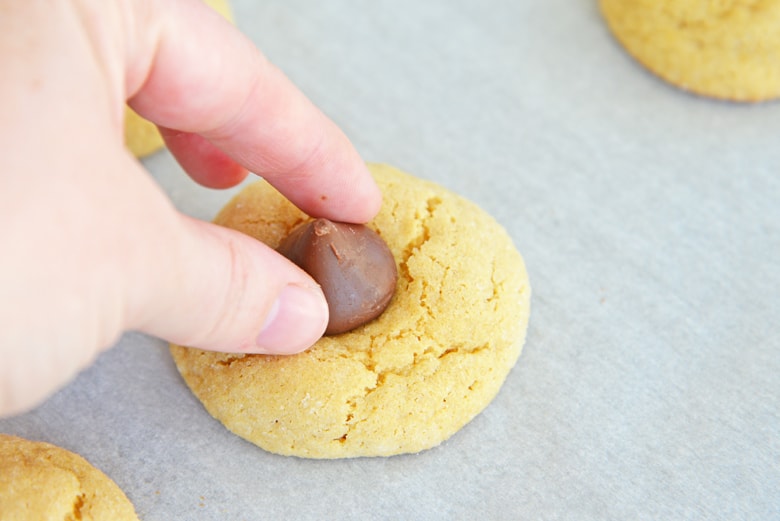 Who invented peanut butter blossom cookies?
While peanut butter cookies are a little older, the peanut blossoms, the cookie's younger cousin couldn't have come on the scene any earlier than when Hershey kisses were invented in 1907.
But they still had several years until stardom in 1957 when a Ohio native stumbled on the now classic cookie after forgetting to fold chocolate chips into the batter. Instead she topped them with chunked chocolate after baking to try and fix her error.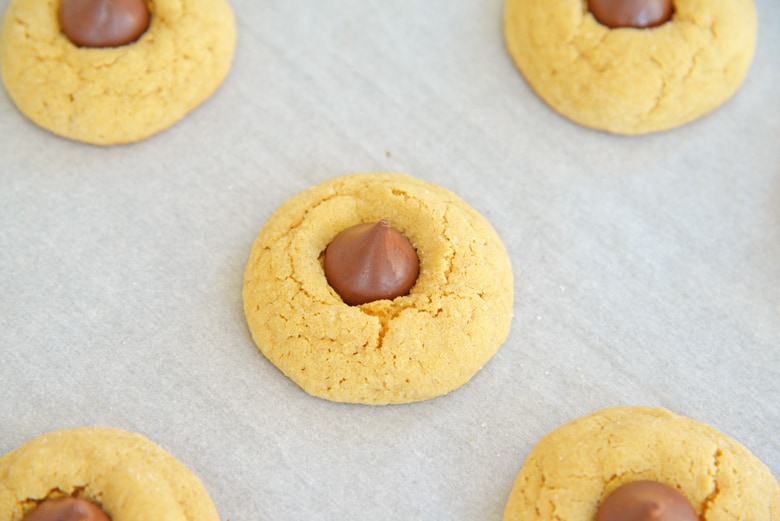 But they were delicious and she entered them into a baking competition and since then they have gradually gained fame. Even making their way into the Smithsonian Museum of American History.
How to Make Soft Peanut Butter Blossoms
I've never met a person who doesn't like soft peanut butter cookies, but I suspect they exist. Like a person who wants crispy chocolate chip cookies. Here are my tips for soft cookies every time.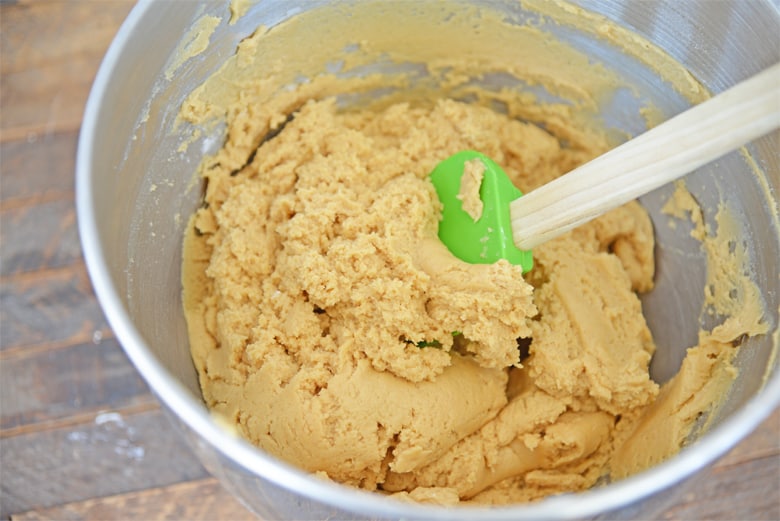 The first, do not overwork the cookie dough. Over mixing dough in most baked goods can result in drier baked goods because there is more air to dry out the moisture.
Properly measure flour so you aren't using too much. Don't scoop it directly from the canister or bag, gently scoop it into the measuring cup or sifter so it is a very loose pack, not a hard pack like for brown sugar.
Packing flour into the measuring cup can result in 1-2 tablespoons more flour than you really need and thus dry, crumbly baked goods.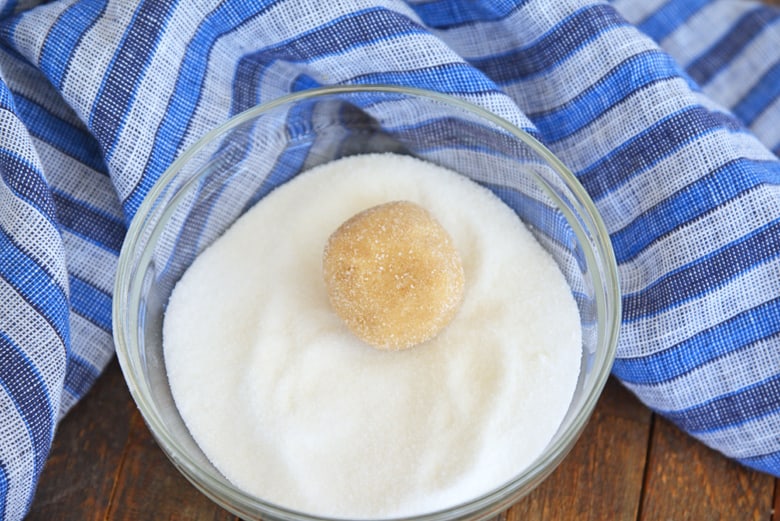 Make sure your brown sugar is soft and moist. This moisture plays a big part in keeping the cookies soft.
PRO TIP: Avoid using a natural peanut butter. The peanuts and oil tend to separate in the jar and it doesn't bind well in the cookie dough.
Use parchment paper on your cookie sheet. This is a simple solution that prevents sticking and burning. You can also use a silicone baking mat.
Remove your cookies from the oven right before they look fully cooked. Often people wait until they are browned in the oven and then they are overdone when they come out. Take them out when they look a little doughy.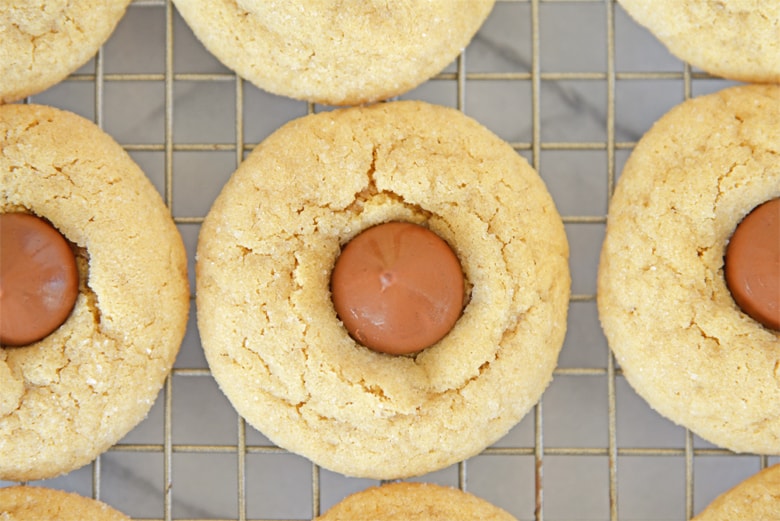 Lastly, allow them to cool for 2-3 minutes on the baking sheet, but then transfer them to a cooling rack. The residual heat from the hot baking sheet will continue to cook your cookies!
How long do these cookies last?
Peanut butter blossoms can last for a good amount of time … unless you eat them all. I had two of these for breakfast, so clearly I am not a good example of self control or moderation.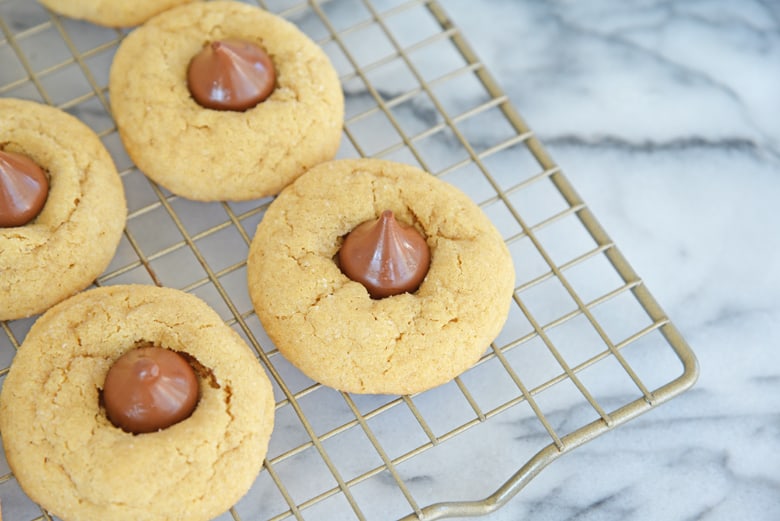 Store cookies in an airtight container at room temperature for up to 5 days.
You can also freeze the cookies if wrapped well and in an airtight container. They'll last for up to 6 months. Allow them to defrost at room temperature.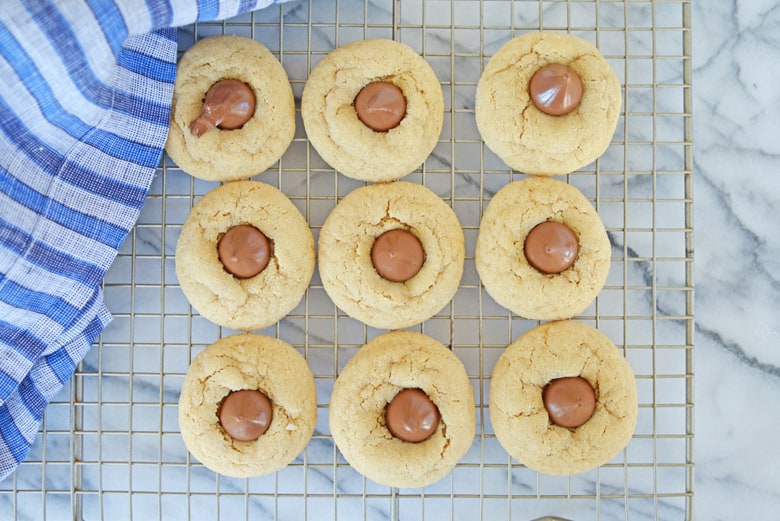 You can even freeze them and take them out individually. My husband loves to freeze chocolate chip cookies. He takes one out right after dinner and by the time the kids are in bed it is perfectly defrosted (about 45 minutes) on the counter waiting for him.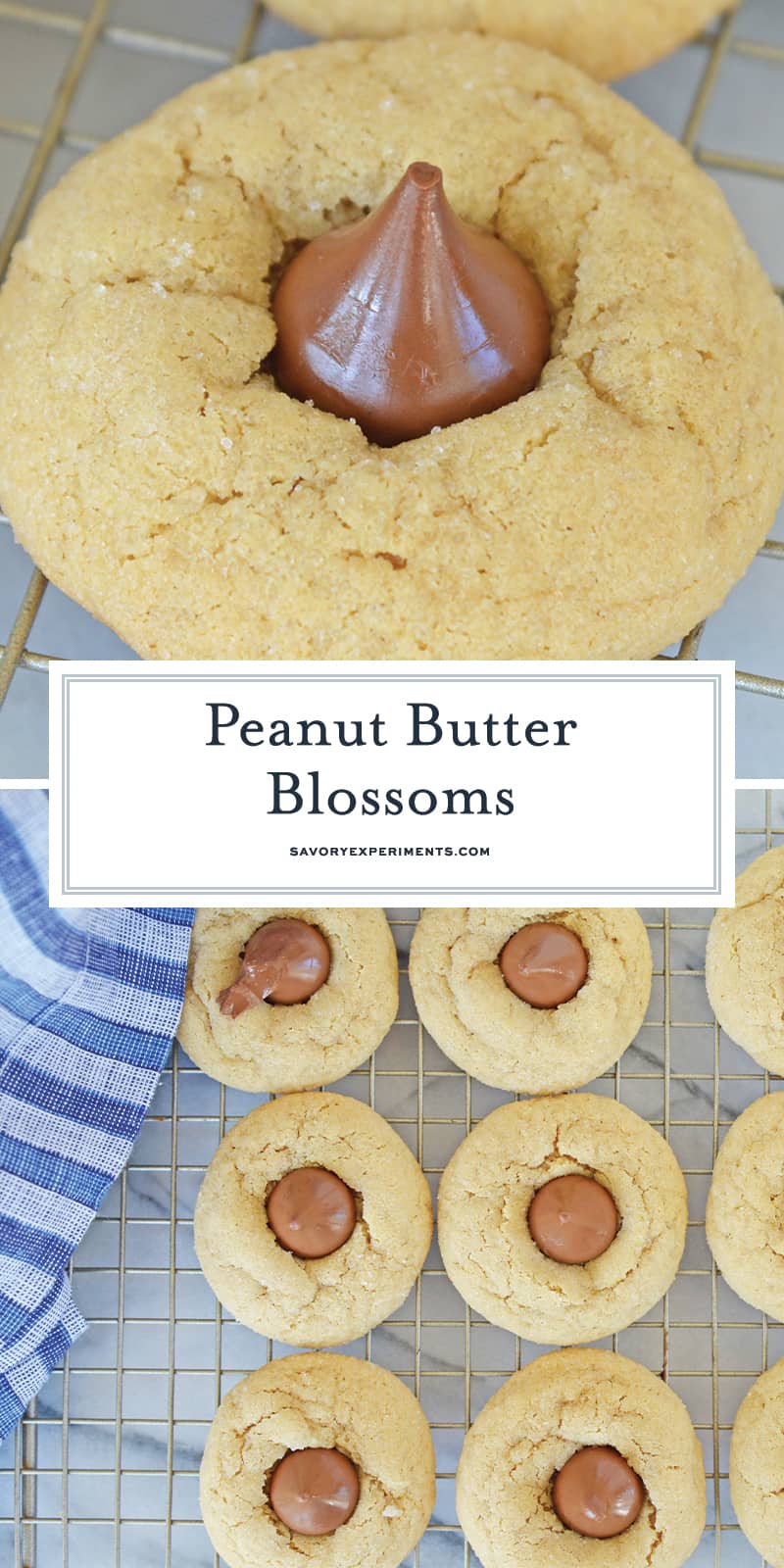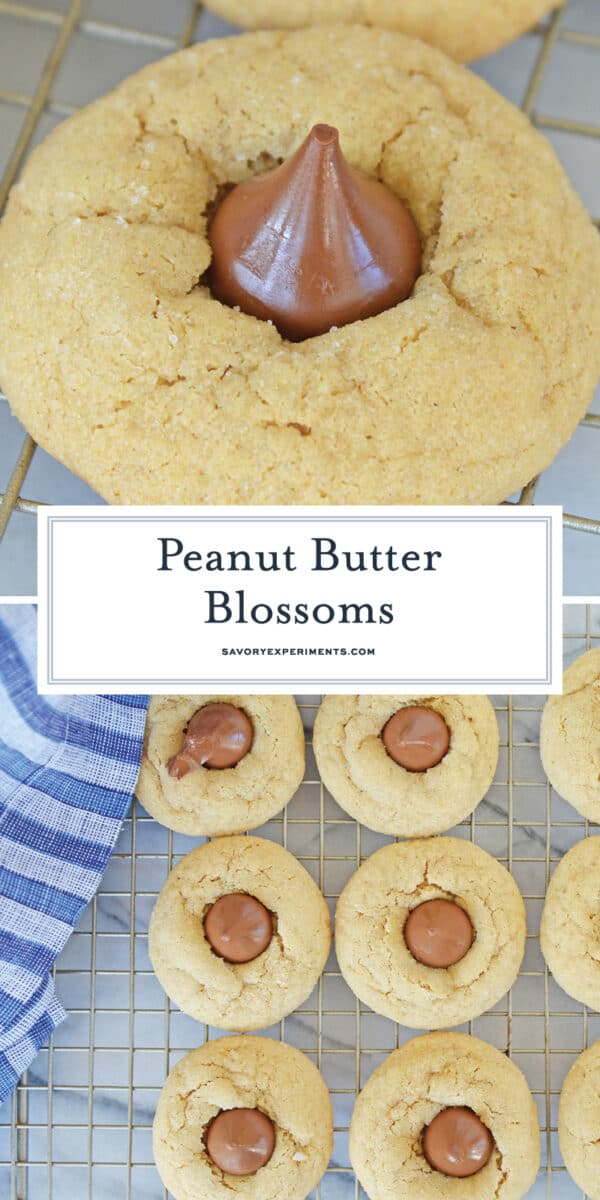 More desserts you might enjoy: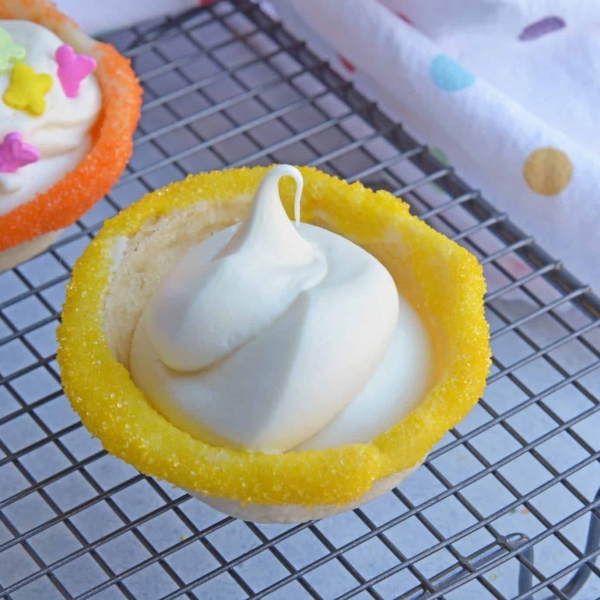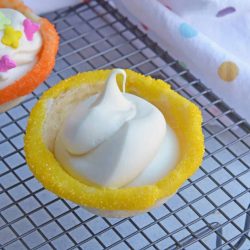 Sugar Cookie Cup Recipe
This Sugar Cookie Cups recipe puts a spin on your typical ice cream cone. Why choose between cookies or ice cream when you can have both!
View this recipe
Nutella Brownies
Homemade Nutella brownies are made in one bowl. With 7 simple ingredients and in less than 1 hour you can enjoy a piece of this delicious brownie recipe!
View this recipe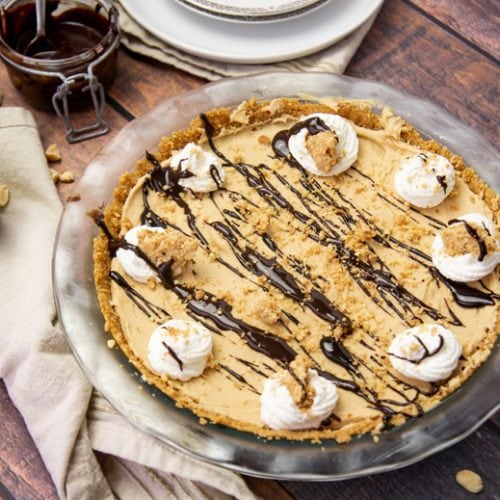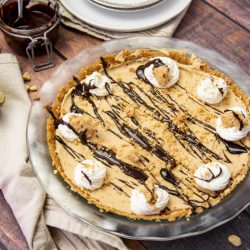 No Bake Peanut Butter Pie
Decadent and silky, this easy Peanut Butter Pie is a no bake dessert recipe that utilizes only 8 ingredients to make the crust, filling, and toppings!
View this recipe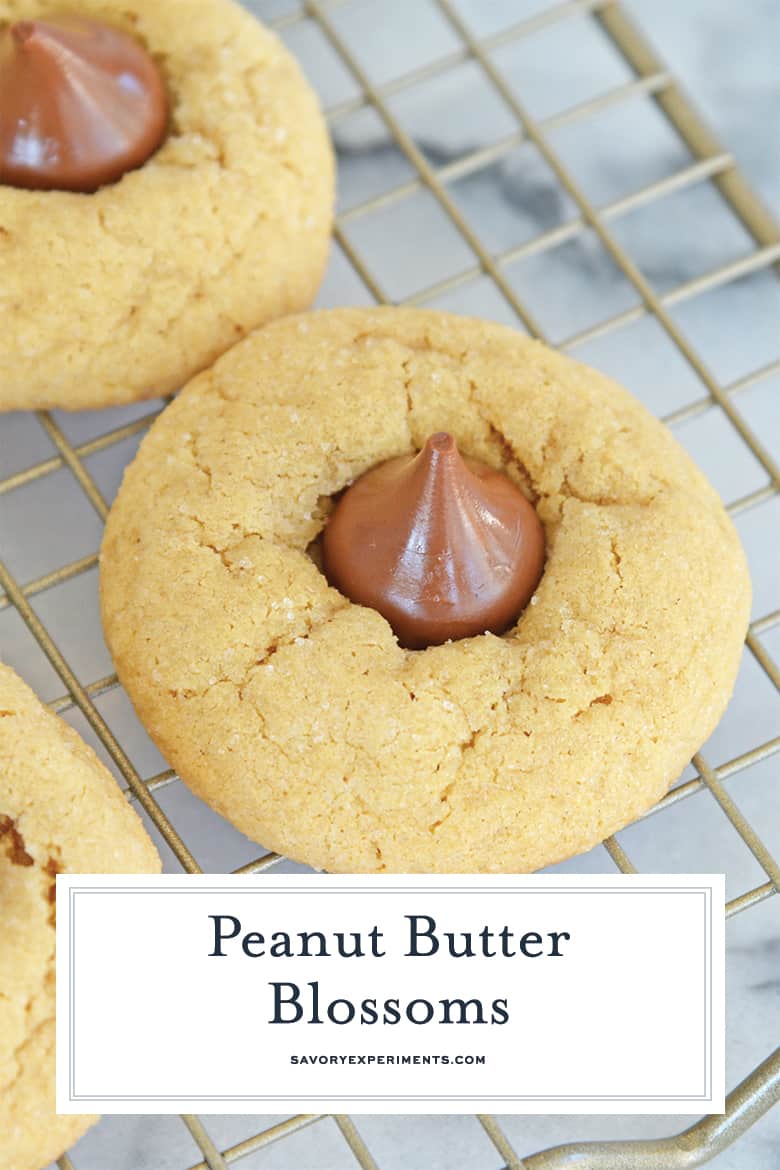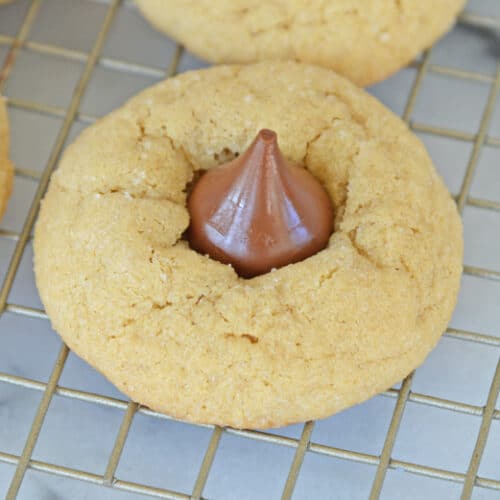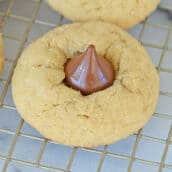 Peanut Butter Blossoms
Soft Peanut Butter Cookies rolled in sugar and topped with a chocolate kiss.
Instructions
Preheat oven to 350 degrees and line a baking sheet with parchment paper or a silicone baking mat.

In a large mixing bowl or the bowl of a stand mixer fitted with the paddle attachment, cream together softened butter with brown sugar and white sugar. Beat for 1 minutes.

Add peanut butter and blend until combined.

Add vanilla, blending again. And then one egg at a time, blending until combined.

In a medium mixing bowl, soft together baking powder, baking soda, salt and flour.

Add to wet mixture until just combined.

Shape dough into 1-inch balls and then roll in a bowl of white sugar.

Place cookies 2 inches apart on prepared baking sheet.

Bake cookies 11-12 minutes or until right before they start to brown.

Immediately after removing from the oven, place one chocolate kiss in the center of each cookie, pressing down lightly to secure.

Cool on baking sheet for 2-3 minutes, then carefully transfer to a cool rack.

Store in an airtight container.

If you've tried this recipe, come back and let us know how it was!
Notes
Recipe adapted from Jiffy Peanut Butter.
Nutrition
Calories:
168
kcal
,
Carbohydrates:
20
g
,
Protein:
3
g
,
Fat:
9
g
,
Saturated Fat:
4
g
,
Cholesterol:
20
mg
,
Sodium:
138
mg
,
Potassium:
78
mg
,
Fiber:
1
g
,
Sugar:
12
g
,
Vitamin A:
131
IU
,
Calcium:
25
mg
,
Iron:
1
mg