I can't resist a nice, soft, chewy peanut butter cookie. Put a chocolate kiss on top of it like Peanut Butter Blossoms and I'd fight for you it.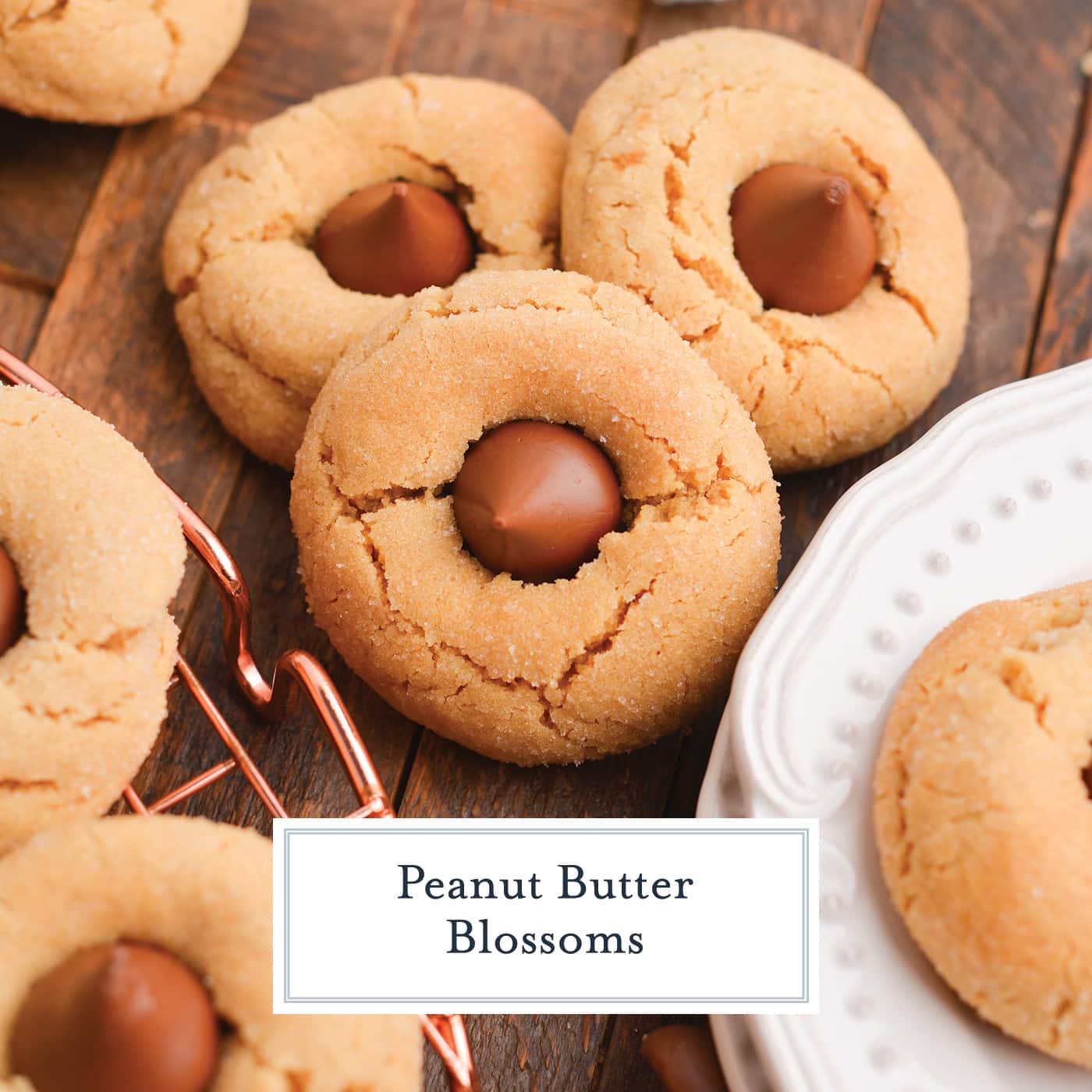 Not really, I'm not that type, but secretly I'd WANT THAT COOKIE! Is there a flavor combination that goes together better than chocolate and peanut butter?
There is only only answer and it is NO.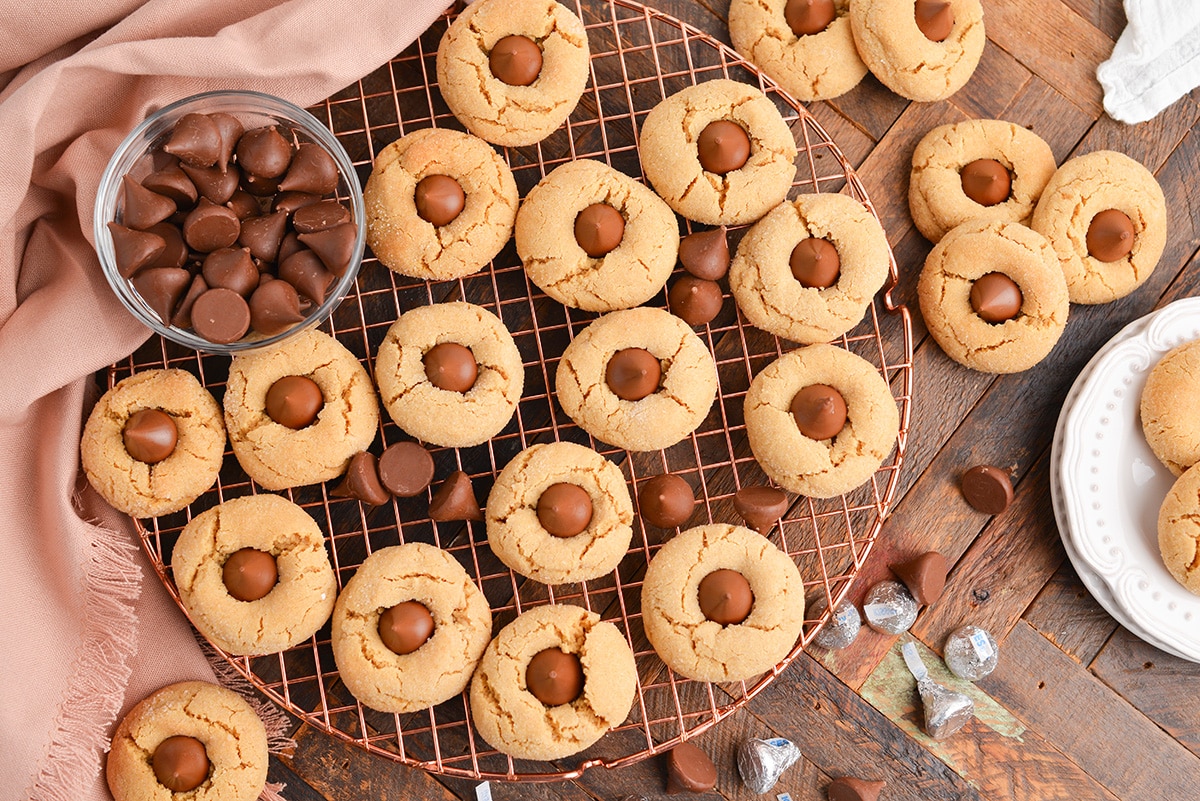 Why You'll Love this Recipe
Soft peanut butter cookies topped with melty chocolate- what's not to love!
​Quick – These cookies come together quickly and require very little baking time.
Customizable – You can trade out the kisses for any kind of chocolate candy you like. You can also change them up with different colored candies for birthdays or baby showers, or dress them up during the holiday season.
Convenient – Most of the ingredients are likely already in your kitchen and there are plenty of easy substitutes.
Flavorful – These cookies have the perfect sweet and salty combination of chocolate and peanut butter.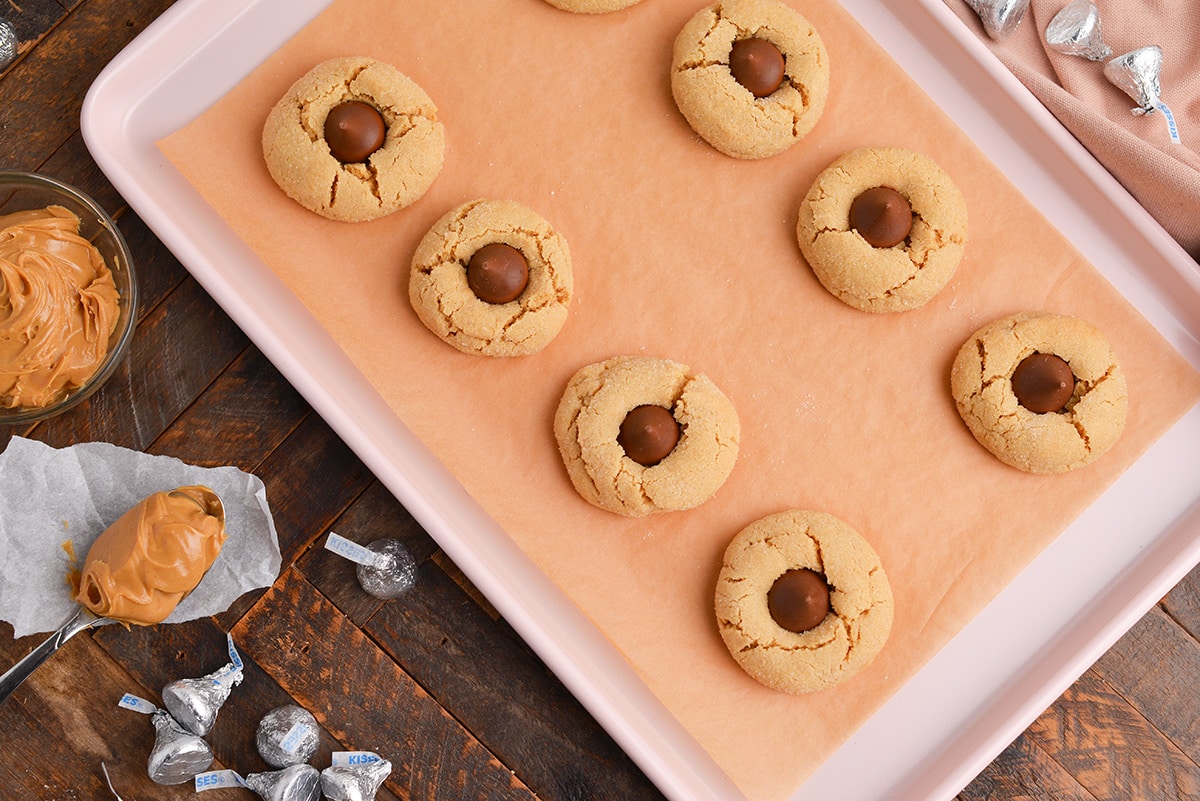 Origins of Peanut Butter Blossoms
While peanut butter cookies are a little older, the peanut blossoms, the cookie's younger cousin couldn't have come on the scene any earlier than when Hershey kisses were invented in 1907.
But they still had several years until stardom in 1957 when a Ohio native stumbled on the now classic cookie after forgetting to fold chocolate chips into the batter. Instead she topped them with chunked chocolate after baking to try and fix her error.
But they were delicious and she entered them into a baking competition and since then they have gradually gained fame. Even making their way into the Smithsonian Museum of American History.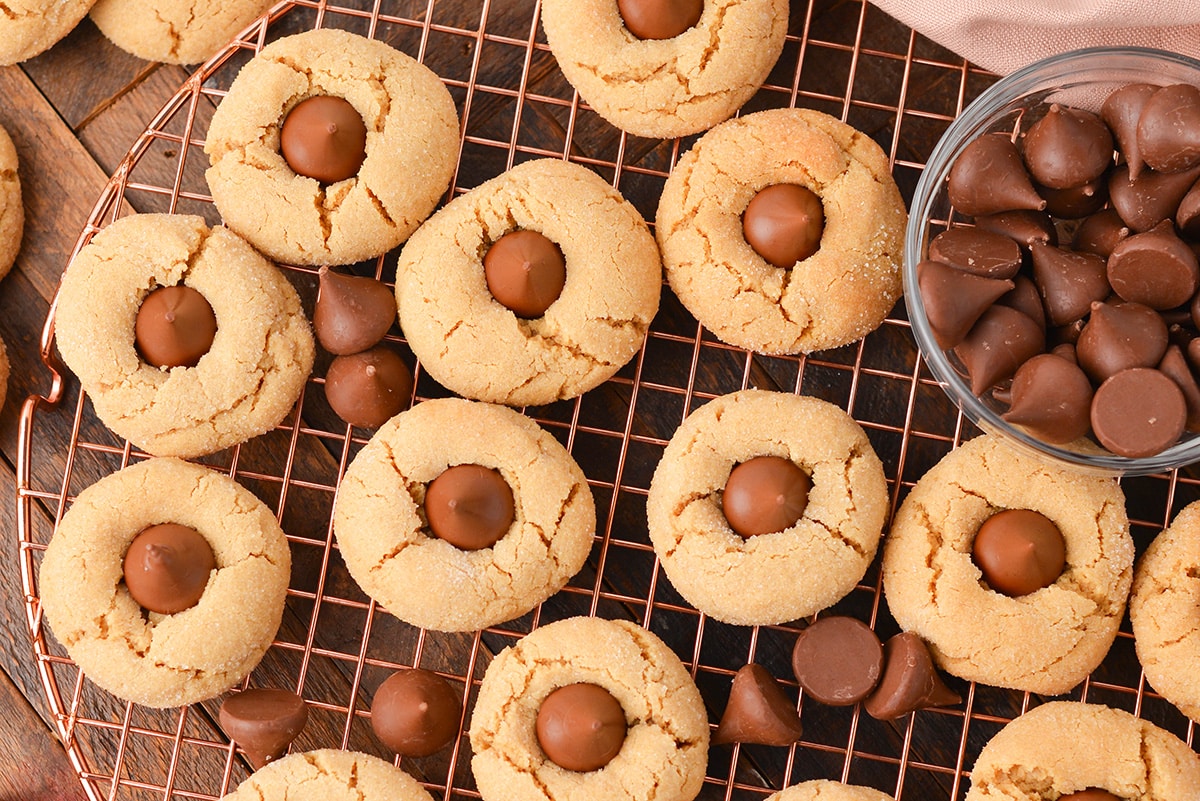 Peanut Butter Blossom Ingredients
These classic peanut butter blossoms are made with simple pantry ingredients that are easy to find at any local grocery store.
All-purpose flour – Make sure to use all purpose flour and not self-rising. You can also experiment with almond flour (though admittedly we have not tested it).
Baking powder – This ingredient will help your cookies to rise.
Baking soda – Using baking soda in conjunction with baking powder will make your cookies lighter and fluffy.
Fine sea salt – The fine granules of sea salt dissolve more quickly which equates to less of a chance of over-mixing.
Creamy peanut butter – I prefer to use natural peanut butter, but you can use any brand you choose. Creamy (instead of crunchy) works best.
Unsalted butter – You can leave your butter on the counter to soften, or microwave it at 30 second intervals.
Sugar – Just plain white sugar works perfect for this peanut butter cookie dough.
Light brown sugar – If you do not have light brown sugar, you can substitute dark brown sugar. Brown sugar imparts a richness in this recipe.
Egg – While eggs are the ideal emulsifier, if you don't have any on hand (or someone has an allergy) you can use applesauce or mashed banana as egg substitutes in some recipes.
Vanilla extract – I love using homemade vanilla extract but store-bought works too.
Hershey's Kiss chocolates – This is the classic chocolate to use for these cookies, but I suppose you could use any chocolate candy you'd like or one of the fun flavor variations.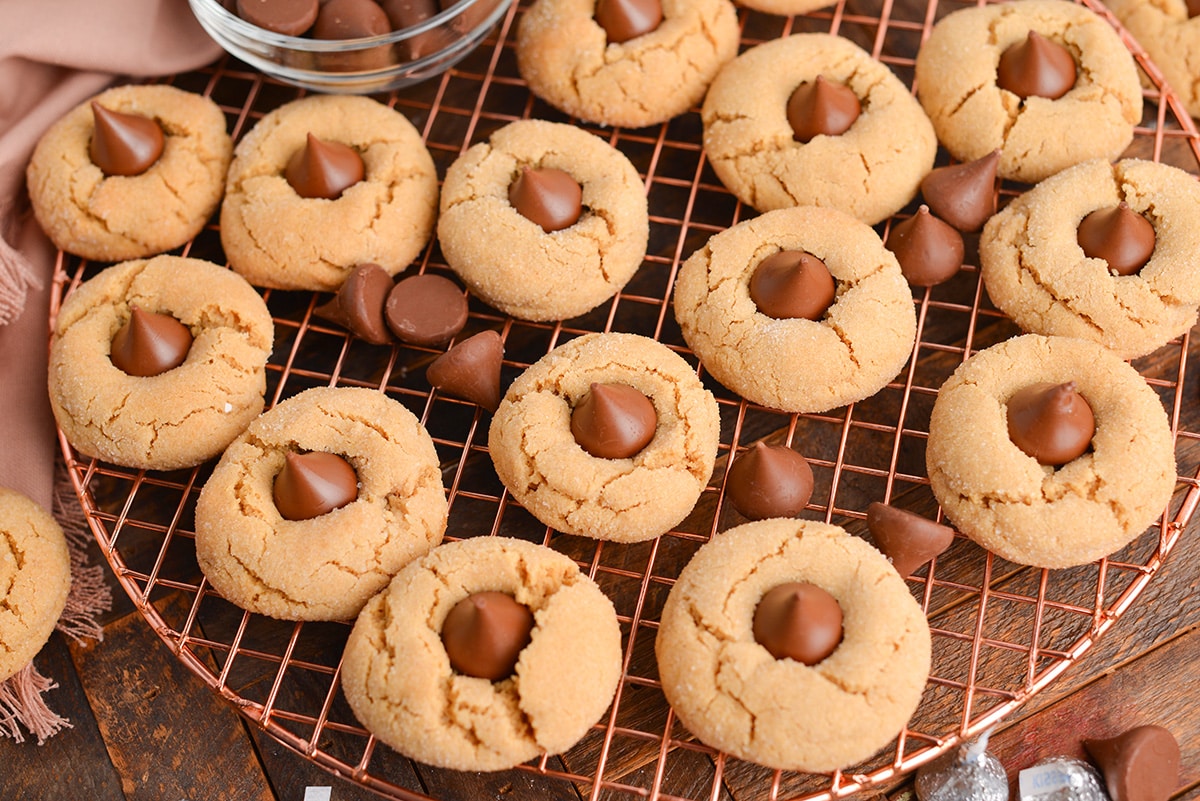 How to Make Soft Peanut Butter Blossoms
You are going to love how easy it is to make this peanut butter blossoms recipe.
Prepare oven and pan. Preheat oven and line a baking sheet with parchment paper or a silicone baking mat.
Combine butter, peanut butter, sugars and vanilla. In a large bowl, combine the butter, peanut butter, brown sugar, and vanilla extract. Blend on medium speed until creamy and smooth.
Add eggs. And then one egg at a time, blending until combined.
Combine dry ingredients. In a separate bowl, combine the flour, baking powder, baking soda, and salt. You can use a sifter or a whisk to ensure that all ingredients are completely incorporated.
Add the dry ingredients to the wet ingredients. Blend on low speed until all ingredients are just combined — be careful not to overmix.
Scoop dough. Use a melon-baller or small cookie scoop to spoon out the cookie dough. Roll it in your hands to make ¾-inch balls of dough (you can make 1 inch balls for a thicker cookie).
Add to baking sheet. Place the cookie dough balls on the prepared baking sheet lined with parchment paper.
Bake. Place the pan in the pre-heated oven and bake until the edges are a light golden brown. Be careful not to overbake – if the tops become brown, the cookies are overdone.
Add chocolate kiss candy. Immediately after removing from the oven, place one chocolate kiss in the center of each cookie, pressing down lightly to secure.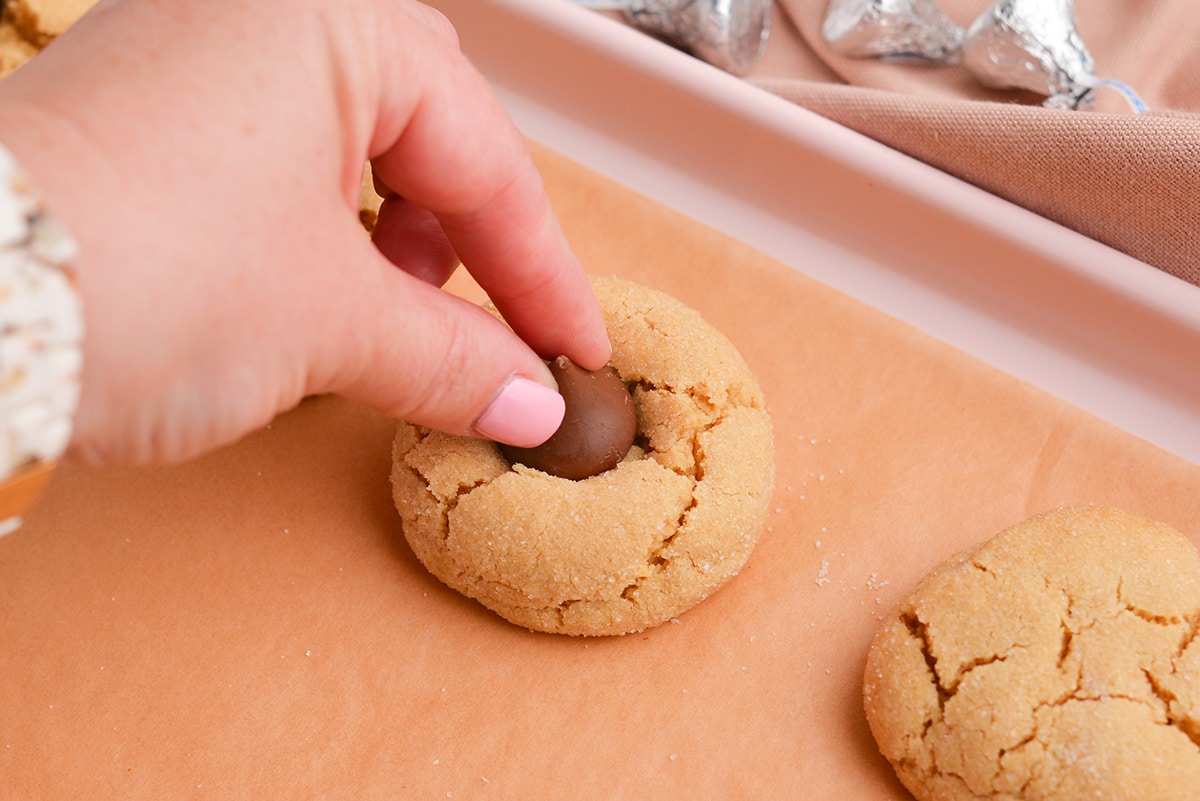 Variations
There are plenty of ways that you can make this soft peanut butter cookie recipe your own.
Other candies – Try M&Ms, Rolos, chocolate chips, or even chunks of dark chocolate instead of the M&M's. You can also try Reese's pieces or peanut butter cups for extra peanut butter flavor.
Nut butters – Instead of peanut butter use almond butter or pecan butter. For more chocolate flavor, you can try chocolate hazelnut butter.
Extract – Substitute almond for vanilla extract for a more nutty flavor.
Nuts – Choose any crushed nut of your choice and use it instead of candy.
Colored sugar – You can use colored granulated sugar or decorator's sugar to make the cookies festive for whatever occasion you are celebrating.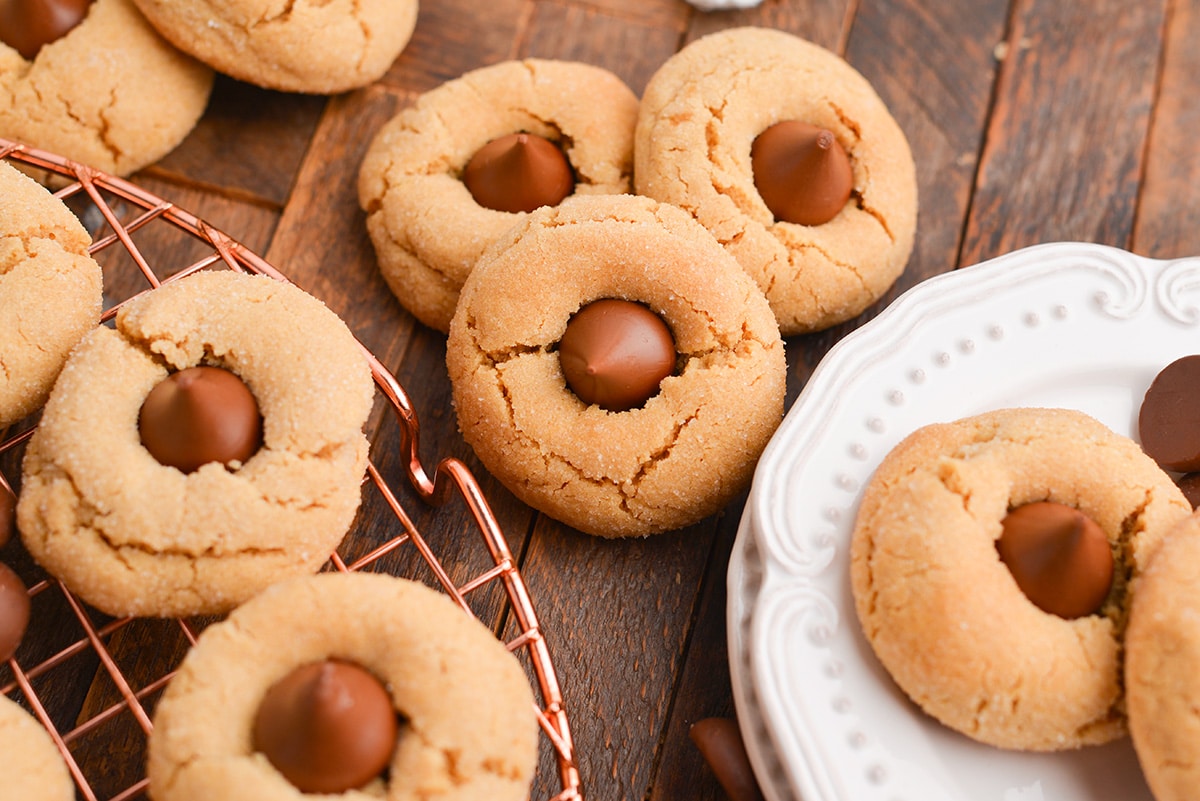 Storage and Freezing
Peanut butter blossoms can last for a good amount of time … unless you eat them all. I had two of these for breakfast, so clearly I am not a good example of self control or moderation.
Storage: Store cookies in an airtight container at room temperature for up to five days.
Freezing: You can also freeze the cookies if wrapped well and in an airtight container. They'll last for up to 6 months. Allow them to defrost at room temperature.
You can even freeze them and take them out individually. My husband loves to freeze chocolate chip cookies. He takes one out right after dinner and by the time the kids are in bed it is perfectly defrosted (about 45 minutes) on the counter waiting for him.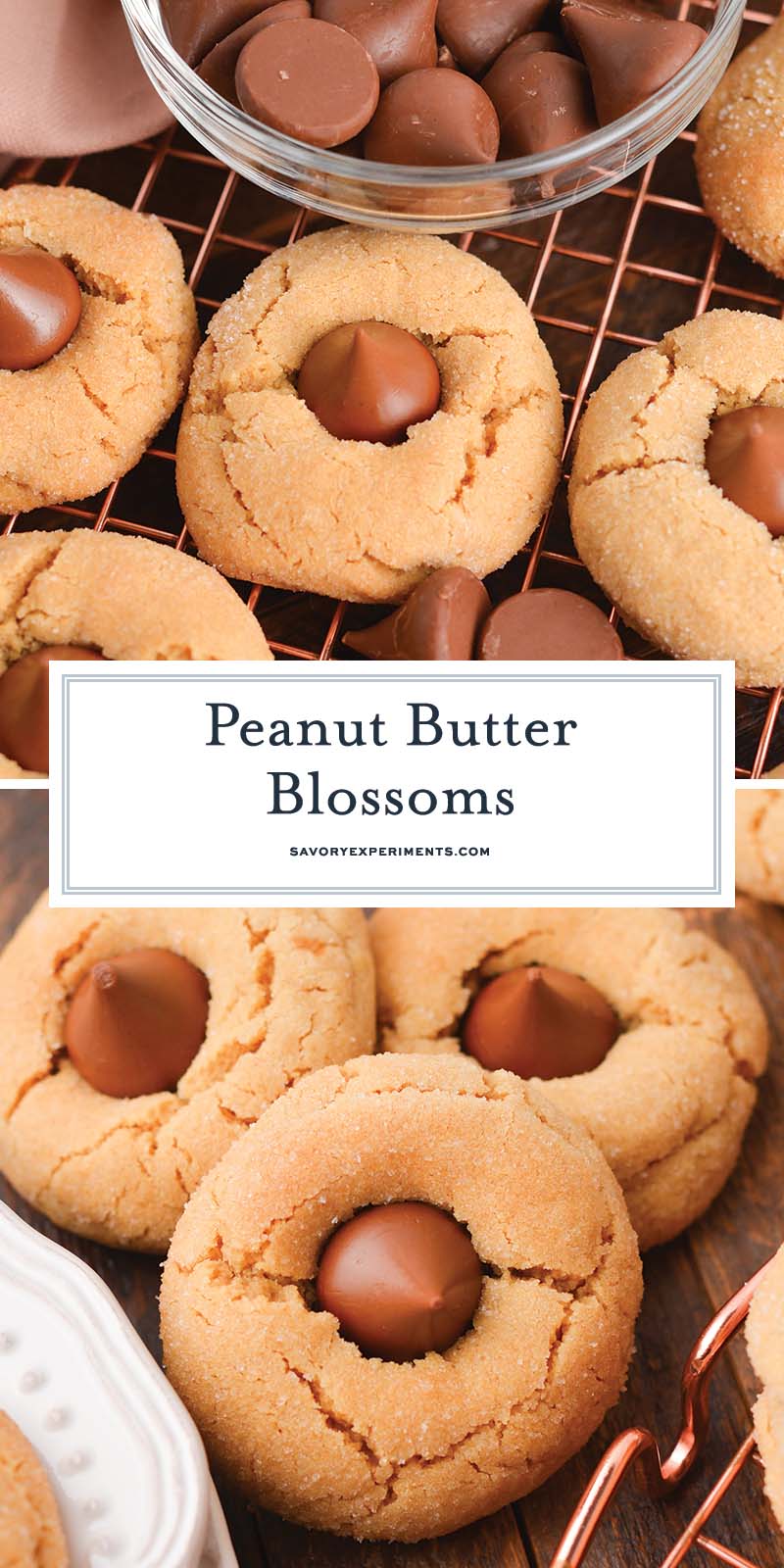 More Delicious Desserts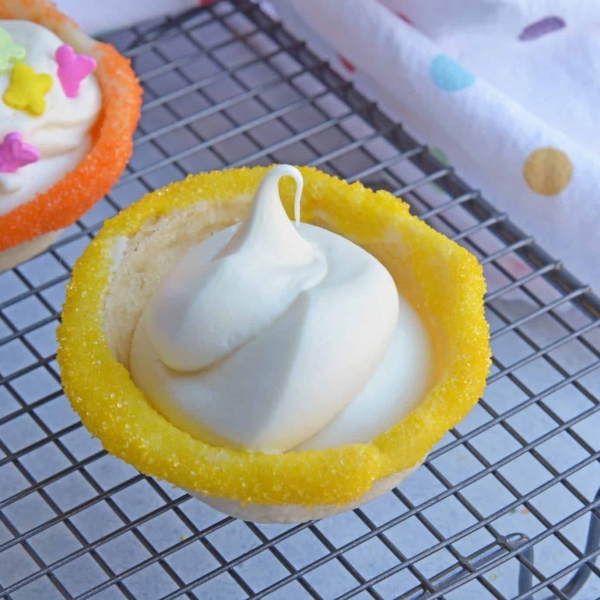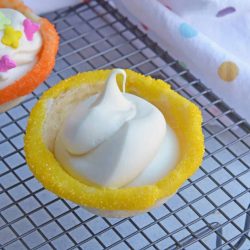 Nutella Brownies
Homemade Nutella brownies are made in one bowl. With 7 simple ingredients and in less than 1 hour you can enjoy a piece of this delicious brownie recipe!
See The Recipe!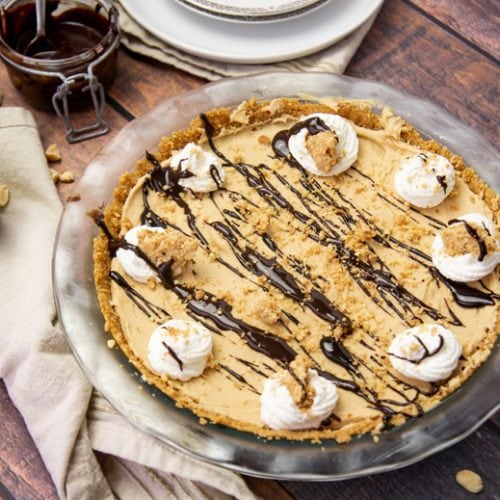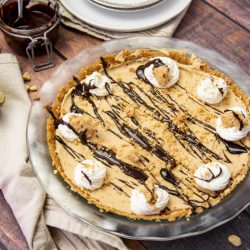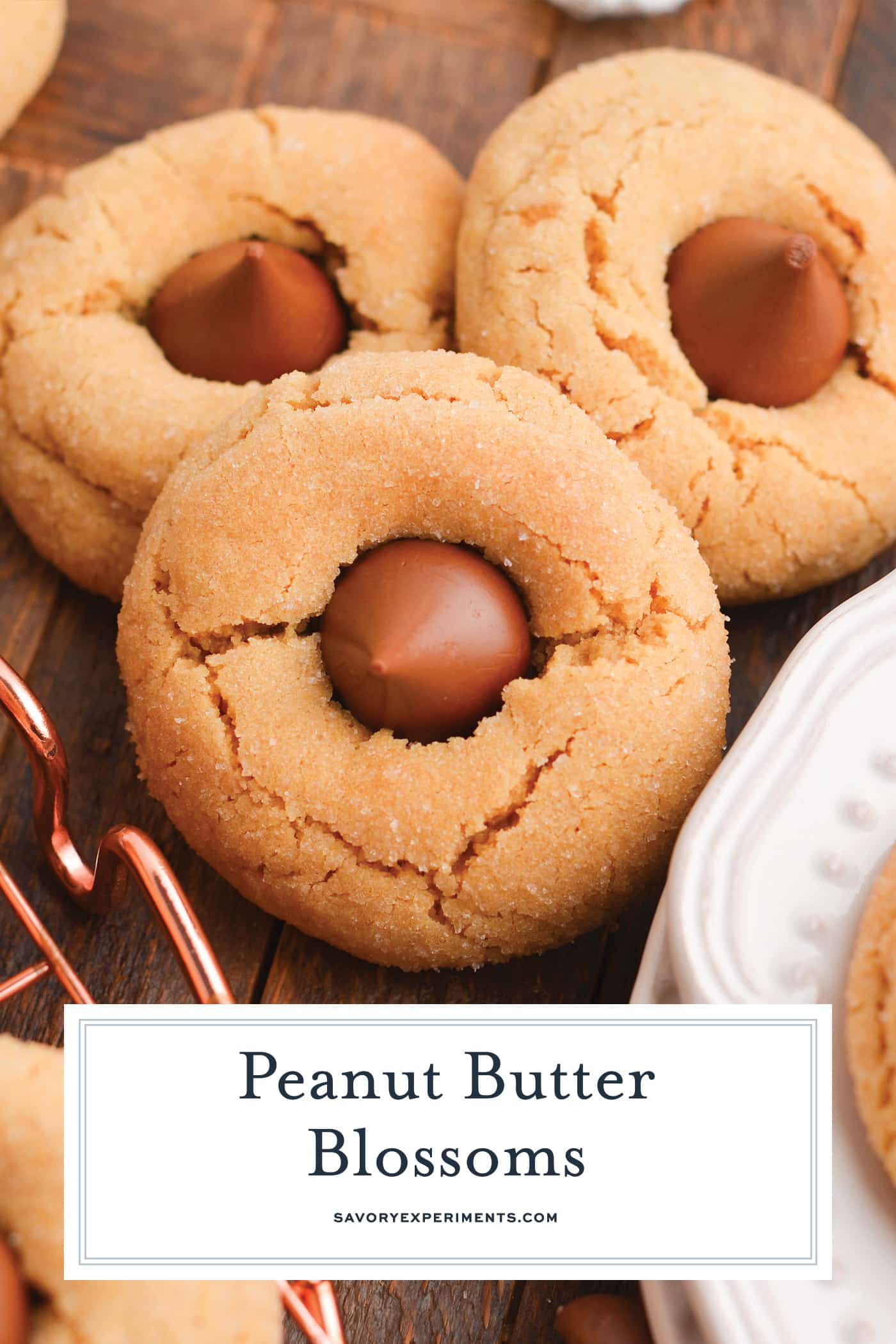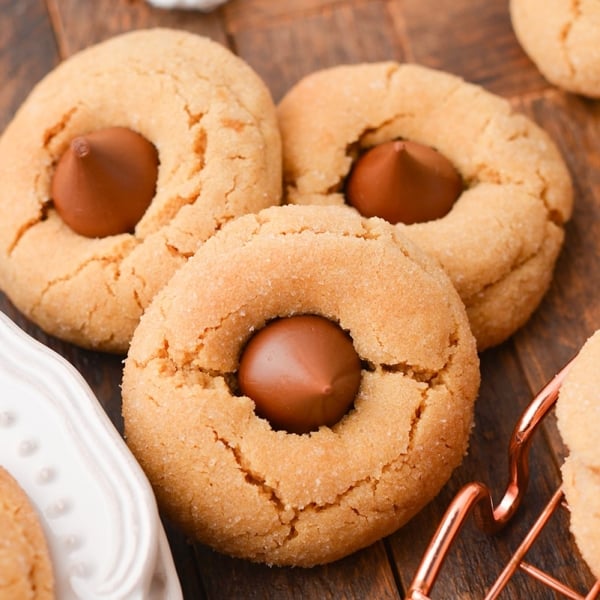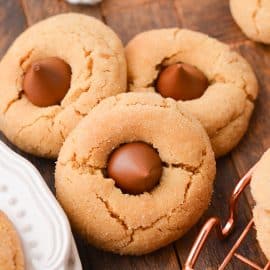 Peanut Butter Blossoms
Soft Peanut Butter Cookies rolled in sugar and topped with a chocolate kiss.
Instructions
Preheat oven to 350 degrees and line a baking sheet with parchment paper or a silicone baking mat.

In a large mixing bowl or the bowl of a stand mixer fitted with the paddle attachment, cream together softened butter with brown sugar and white sugar. Beat for 1 minutes.

Add peanut butter and blend until combined.

Add vanilla, blending again. And then one egg at a time, blending until combined.

In a medium mixing bowl, soft together baking powder, baking soda, salt and flour.

Add to wet mixture until just combined.

Shape dough into 1-inch balls and then roll in a bowl of white sugar.

Place cookies 2 inches apart on prepared baking sheet.

Bake cookies 11-12 minutes or until right before they start to brown.

Immediately after removing from the oven, place one chocolate kiss in the center of each cookie, pressing down lightly to secure.

Cool on baking sheet for 2-3 minutes, then carefully transfer to a cool rack.

Store in an airtight container.

If you've tried this recipe, come back and let us know how it was!
Notes
Recipe adapted from Jiffy Peanut Butter.
Nutrition
Calories:
168
kcal
,
Carbohydrates:
20
g
,
Protein:
3
g
,
Fat:
9
g
,
Saturated Fat:
4
g
,
Cholesterol:
20
mg
,
Sodium:
138
mg
,
Potassium:
78
mg
,
Fiber:
1
g
,
Sugar:
12
g
,
Vitamin A:
131
IU
,
Calcium:
25
mg
,
Iron:
1
mg