Listen, there are a lot of oatmeal raisin cookies out there and they all claim to be THE BEST. Truly, that award is going to be personal preference.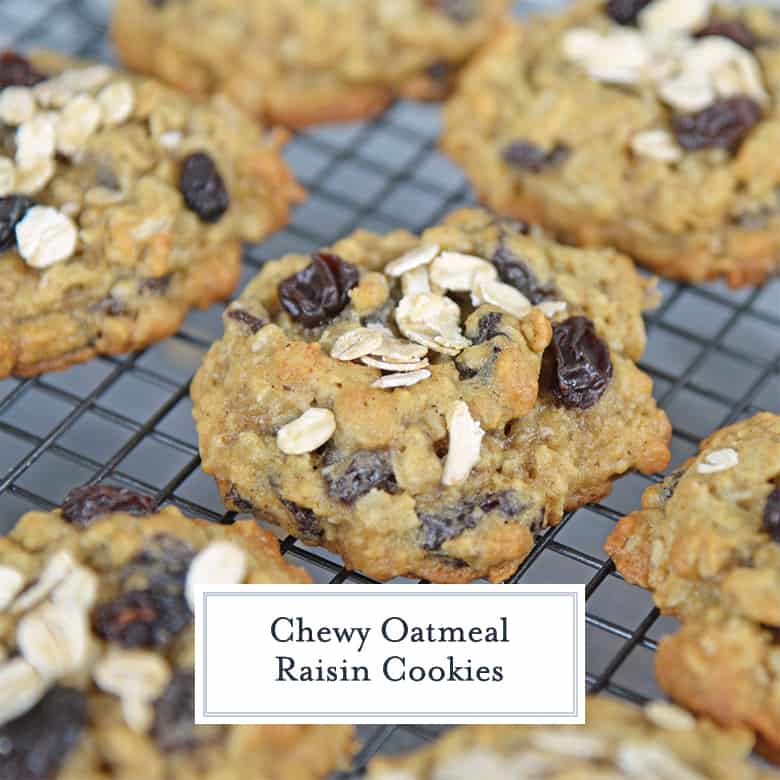 Chewy on the inside and crispy edges, these Oatmeal Raisin Cookies are going to blow your mind!
There are two types of people in the is world. Those that like their cookies chewy and those that like them crispy. Which are you?
Mine are a little lumpy, which I like. That means the center is nice and soft. There are a few tricks to making that happen.
How do I make soft oatmeal cookies?
The first is making sure the cookie dough is the right temperature. If it is too warm, the dough will spread to a thin cookie. If it is too cold, it won't spread enough.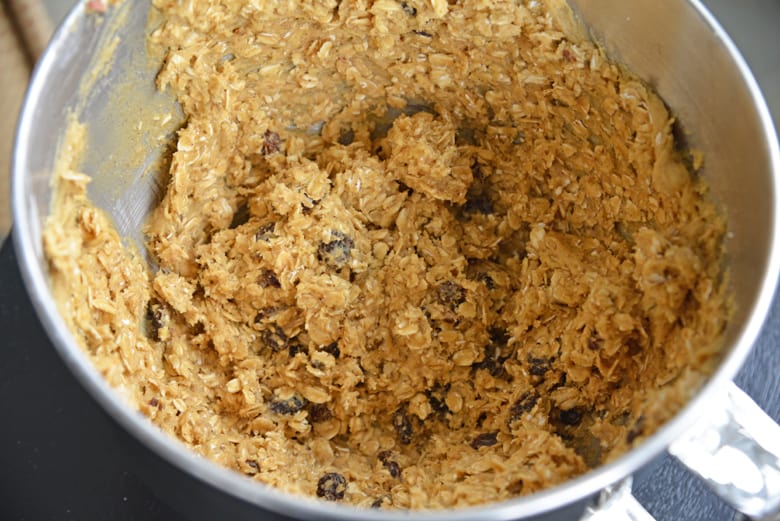 So while I make the dough and bake them right away, I also put the remaining dough in the fridge between batches so it doesn't get too warm.
If it is a particularly hot day or your butter sat out softening for more than 30 minutes, then I would recommend about 20-30 minutes in the fridge before baking.
Secondly, you want to make sure you use the the same, and measured, amount of cookie dough. The easiest way to do this is to use a 2 tablespoon cookie dough scoop.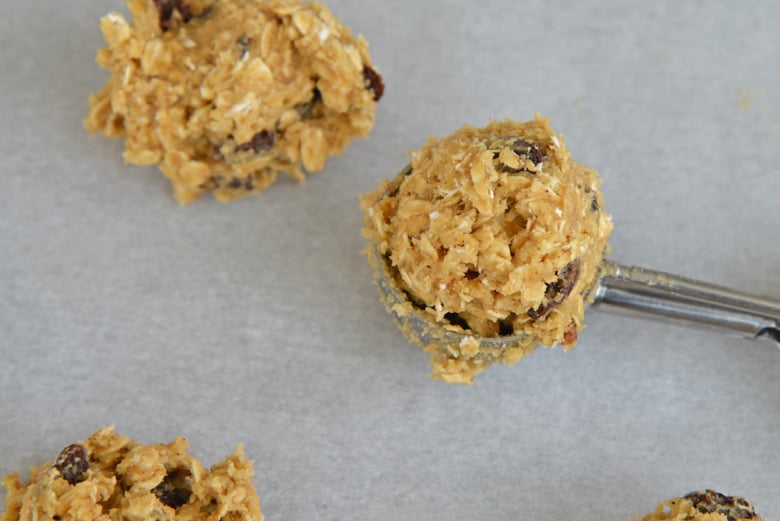 Lastly, and this is the mistake most people make… take them out of the oven when they look just a little undercooked. The centers might even look wet, TAKE THEM OUT!
Don't worry, you have reached the correct temperature for bacteria to be killed off, they will be fine. After they cool, they will look just like all the cookies you know and love.
If they stay in the oven until they "look cooked" they will be overcooked, dry and commonly too browned.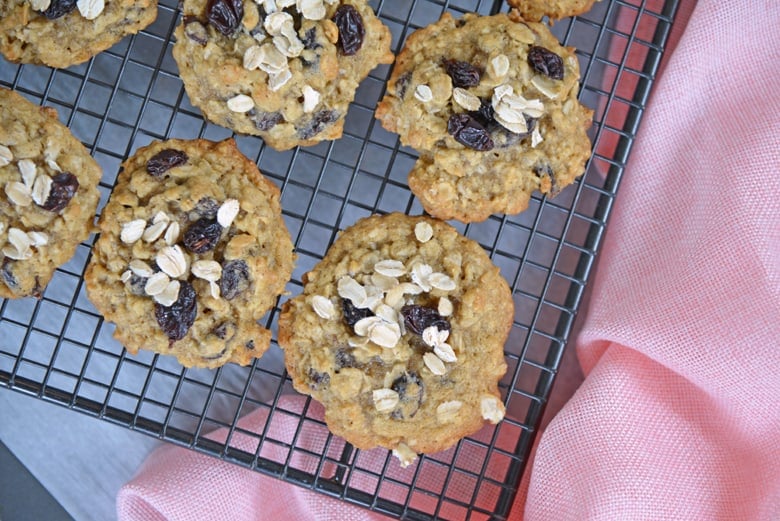 Raisins are SO Important in These Cookies
Raisins are another important topic of discussion for Oatmeal Raisin Cookies, I mean they are in the title.
If you are using fresh raisins, then you can probably skip this step, you be the judge. But if your raisins are older or dry, this step is mandatory.
You'll need to soak them in boiling water before adding them to the cookie dough. It doesn't take long. It can literally be from the time you start creaming together wet ingredients and sifting dry ingredients to the time you need to fold in your raisins.
If you want to get really fancy, you can soak your raisins in Grand Marnier or Chambord before baking. For these, you'll need to soak in room temperature liquor for about 3-4 hours. These will also not cook long enough to cook off the alcohol, so they are not for children.
There are also other ways to customize your Oatmeal Raisin Cookies:
Substitute currants or dried cranberries for raisins or use a combination as long as it equals 1 cup (or a little more).
Add 1/2 cup toasted chopped walnuts or pecans
Add 1/2 cup mini chocolate chips or mini peanut butter chips. You can use full size, but mini tends to distribute better with a chunky cookie dough.
Sprinkle tops with additional raisins, dry oats or fleur de sel (salt).
Drizzle with a powdered sugar and vanilla icing or even a maple glaze.
Drizzle with melted chocolate.
Substitute almond extract for vanilla extract.
Use golden raisins.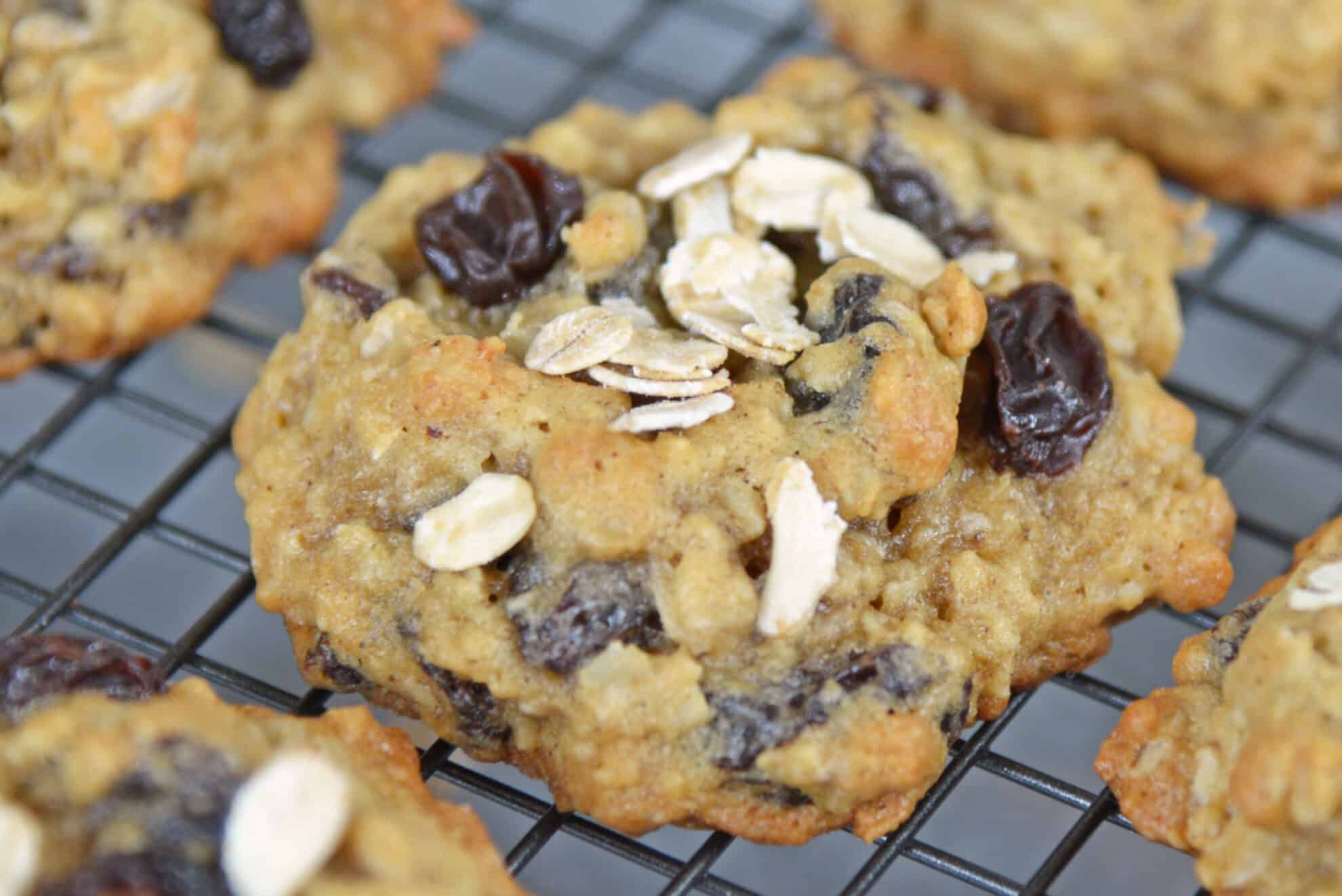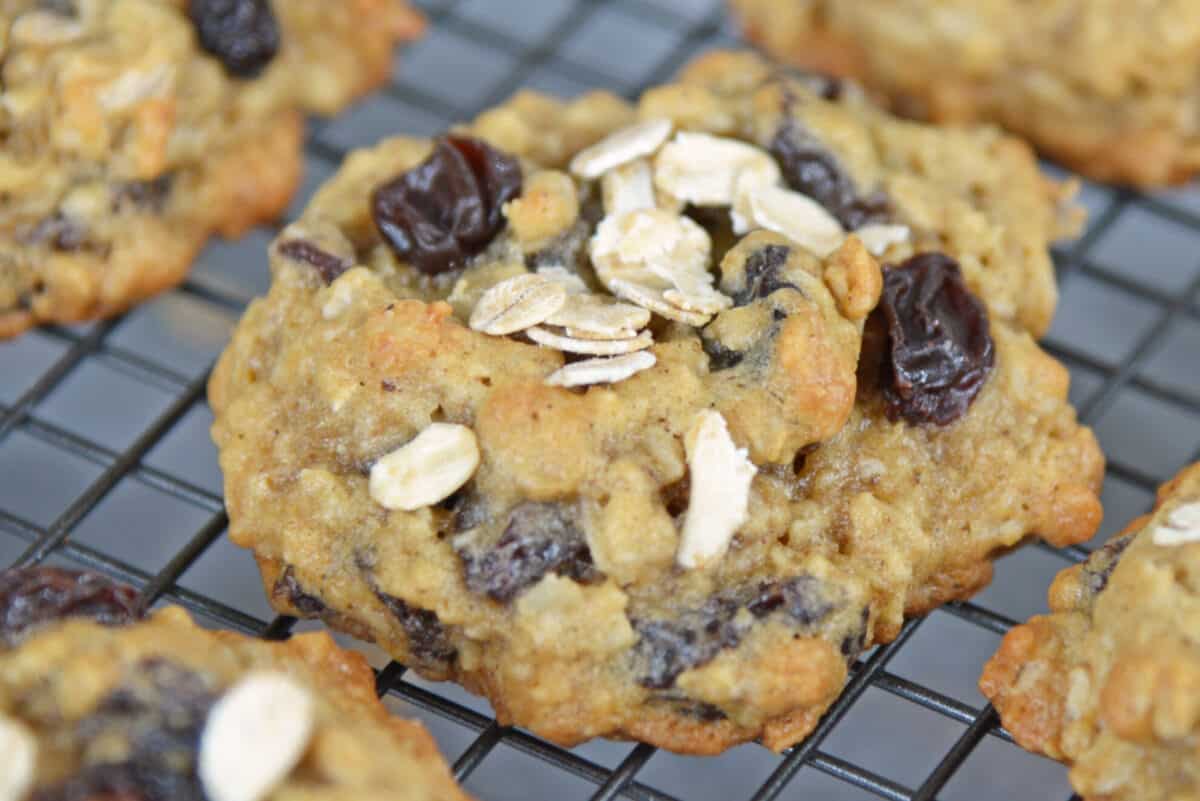 What is the difference between quick oats, rolled oats and old fashioned oats?
You may not notice it unless you looked at them next to each other, but quick oats, rolled oats (old fashioned) and steel cut oats are a little different.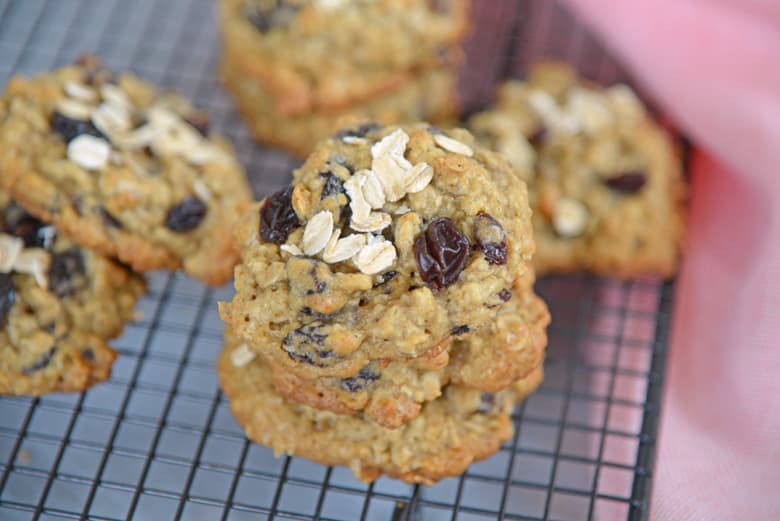 In a general recipe, like this one, where the oats are an ingreidnet not the star of the show, they can be used interchangeably, but if you are actually making an oatmeal, they are not.
Due to the processing treatment, the texture is very different from type to type and therefore people usually have a strong preference to one version.
Steel-cut oats are groats cut into 2 or 3 pieces with a sharp blade. They are the next step down from whole oat groats and only slightly processed. They have a nice, chewy texture, but take longer to cook and are ideal for things like overnight oats.
Rolled oats are also known as old-fashioned oats, and the oat groats are steamed and rolled into flakes. They are flatter and the process helps them to stay shelf stable for longer periods of time and also cook faster that unprocessed or steel cut oats.
Quick oats are meant to cook fast (but not as fast as instant oats) so they are cut into even more pieces that steel-cut and they are also rolled. This drastically changes the texture.
Can I Freeze Oatmeal Cookies:
You sure can! In fact, these are great for making ahead and freezing. Check out our guidelines for freezing food, but basically just put them in an airtight plastic bag and freeze for up to 6 months!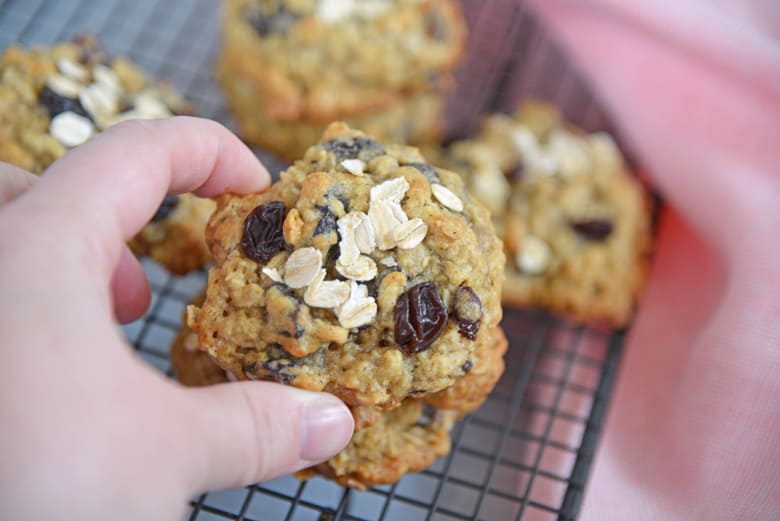 Store oatmeal raisin cookies in an airtight container at room temperature for up to 1 week. But I doubt they will last that long… I've eaten 3 just myself today.