Chewy Chocolate Chip Cookie Recipe
There are two types of people in this world. Those who like a chewy chocolate chip cookie and those who prefer a crispy chocolate chip cookie.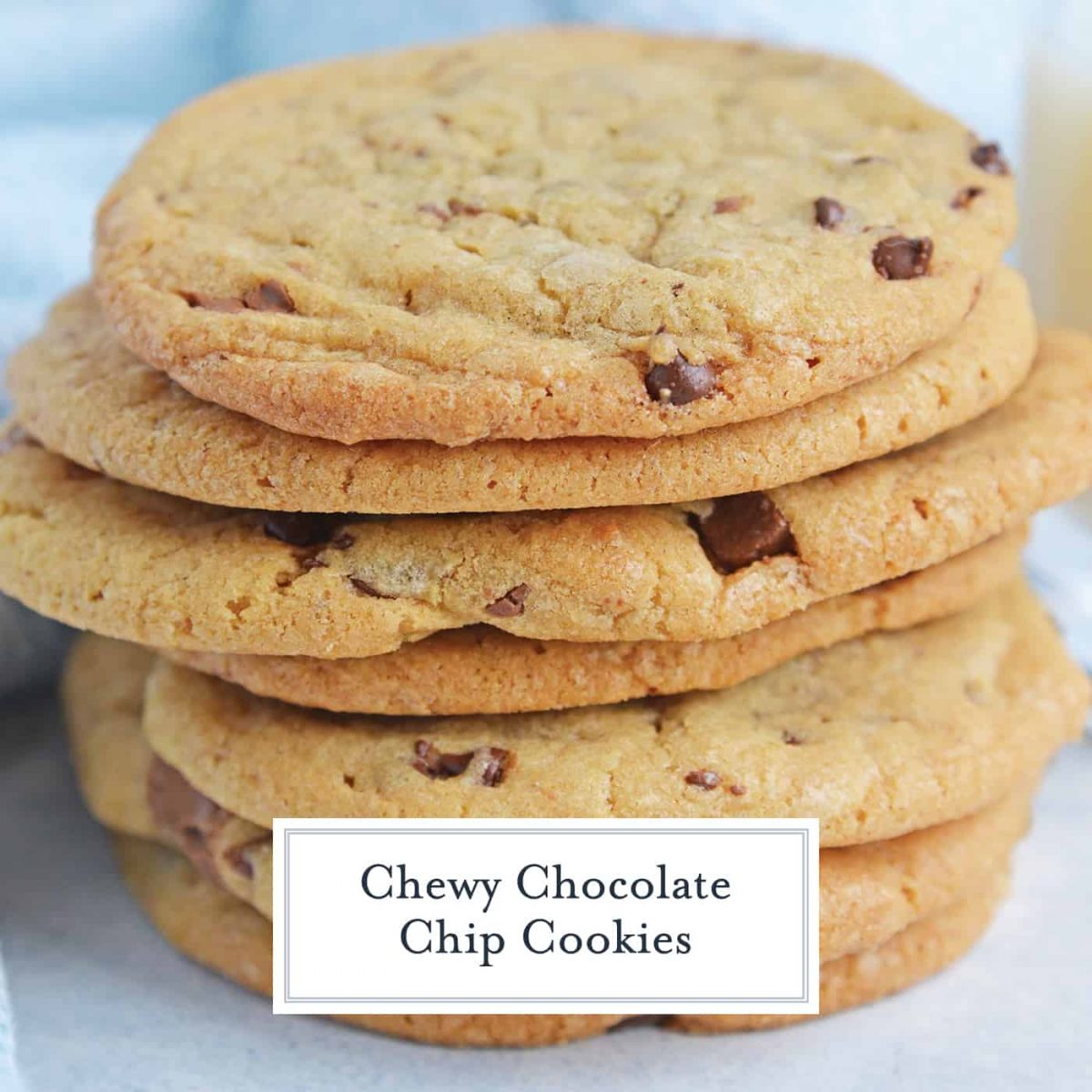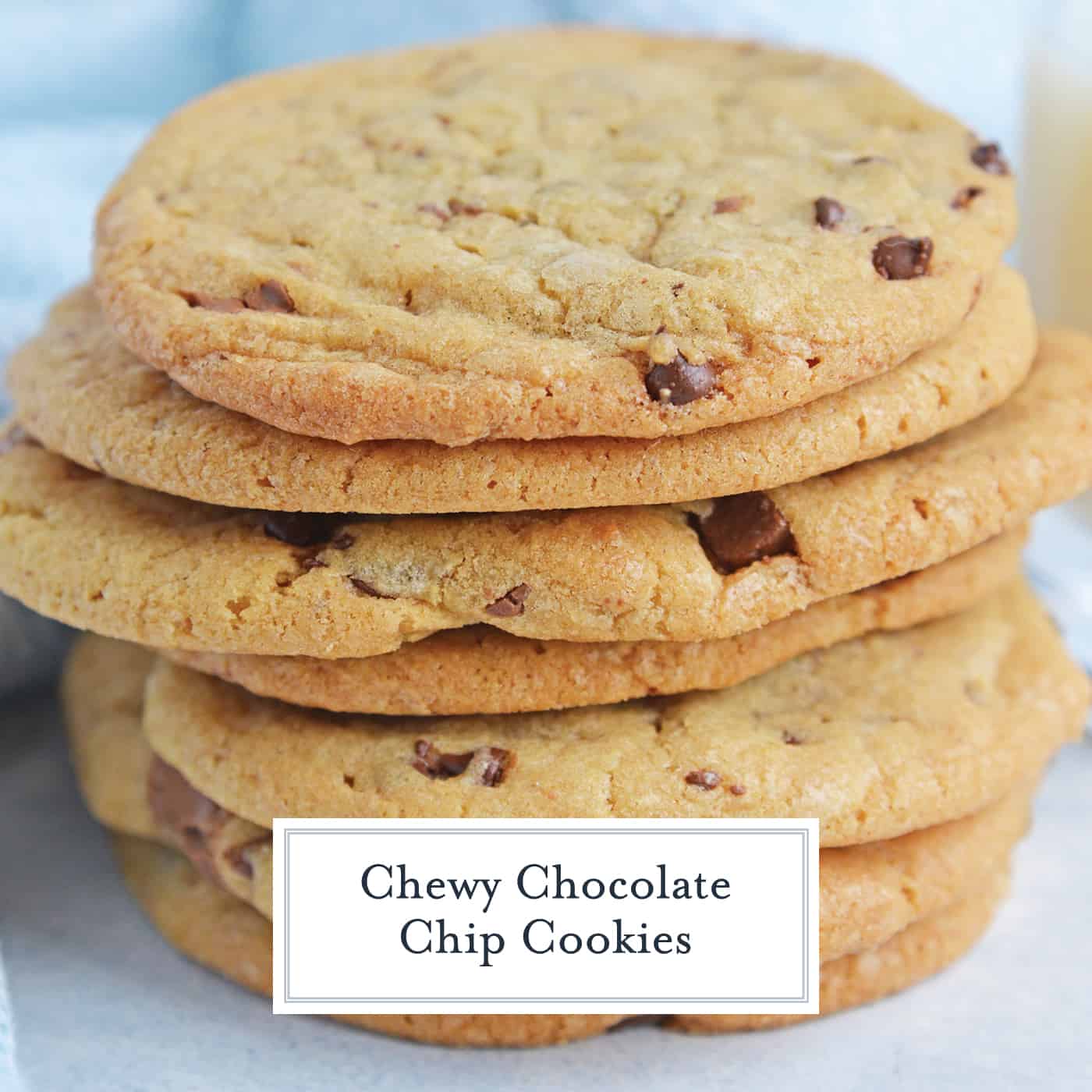 These Chewy Chocolate Chip Cookies are the ultimate homemade chocolate chip cookie recipe. With no chilling time, they are ready in a jiffy!
For decades I've made nothing but the original Toll House chocolate chip cookie recipe. You know, the one on the back of the bag?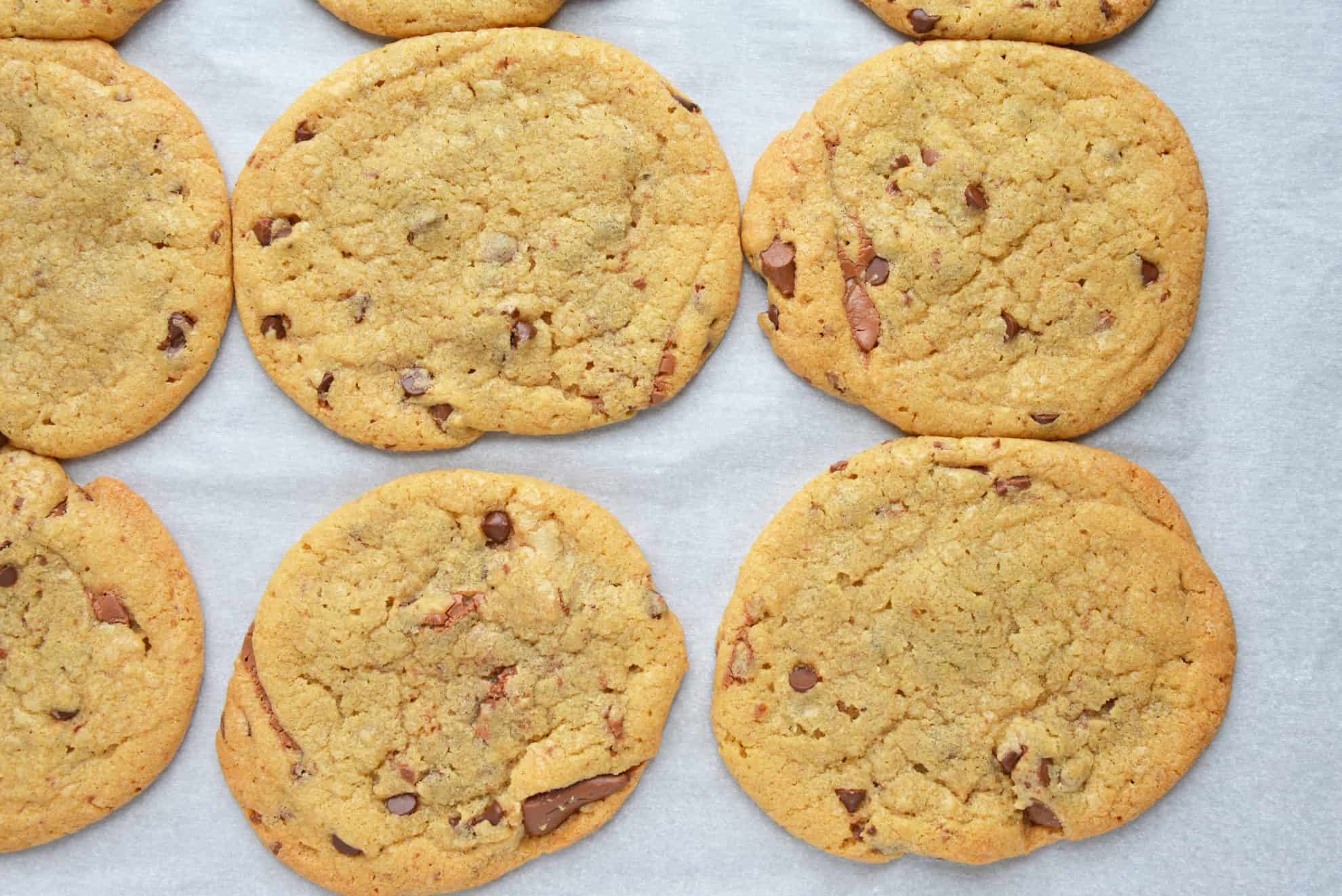 I still have nothing against this classic chocolate chip cookie recipe, I wanted to try something new and come up with my own soft and chewy chocolate chip cookie recipe. Doesn't every home cook need one?
Honestly, I never thought that much about chocolate chip cookies. They were just…. cookies. With chocolate. But when I started to develop my own cookie recipe I had to consider a lot of different elements.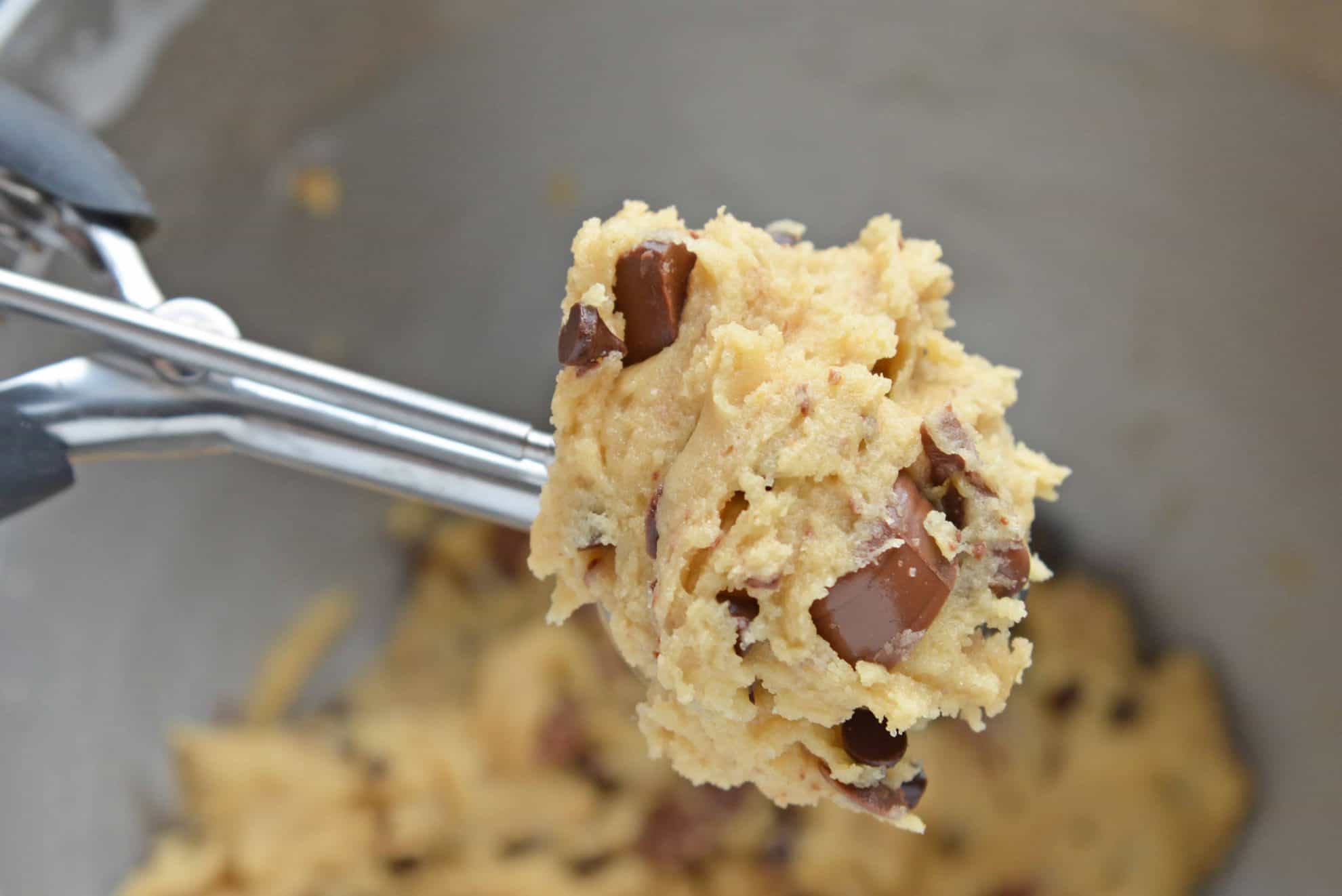 So there I was, on the elliptical at the gym, thinking through every element of a good chocolate chip cookie. Here are the bullet points of my ruminating thought tornado.
Butter versus shortening base.
Chilled cookie dough versus room temperture.
Size of cookie.
Fluffy cookie or thin cookie.
Soft cookie or crispy cookie.
Milk chocolate or semi-sweet chocolate.
Chocolate chips or chocolate chunks.
I know, I know, I am overthinking the gosh darn cookie!
Ultimately I decided that my version of the best chocolate chip cookie was a thinner cookie, but still super chewy and with variations on the chocolate flavor and size.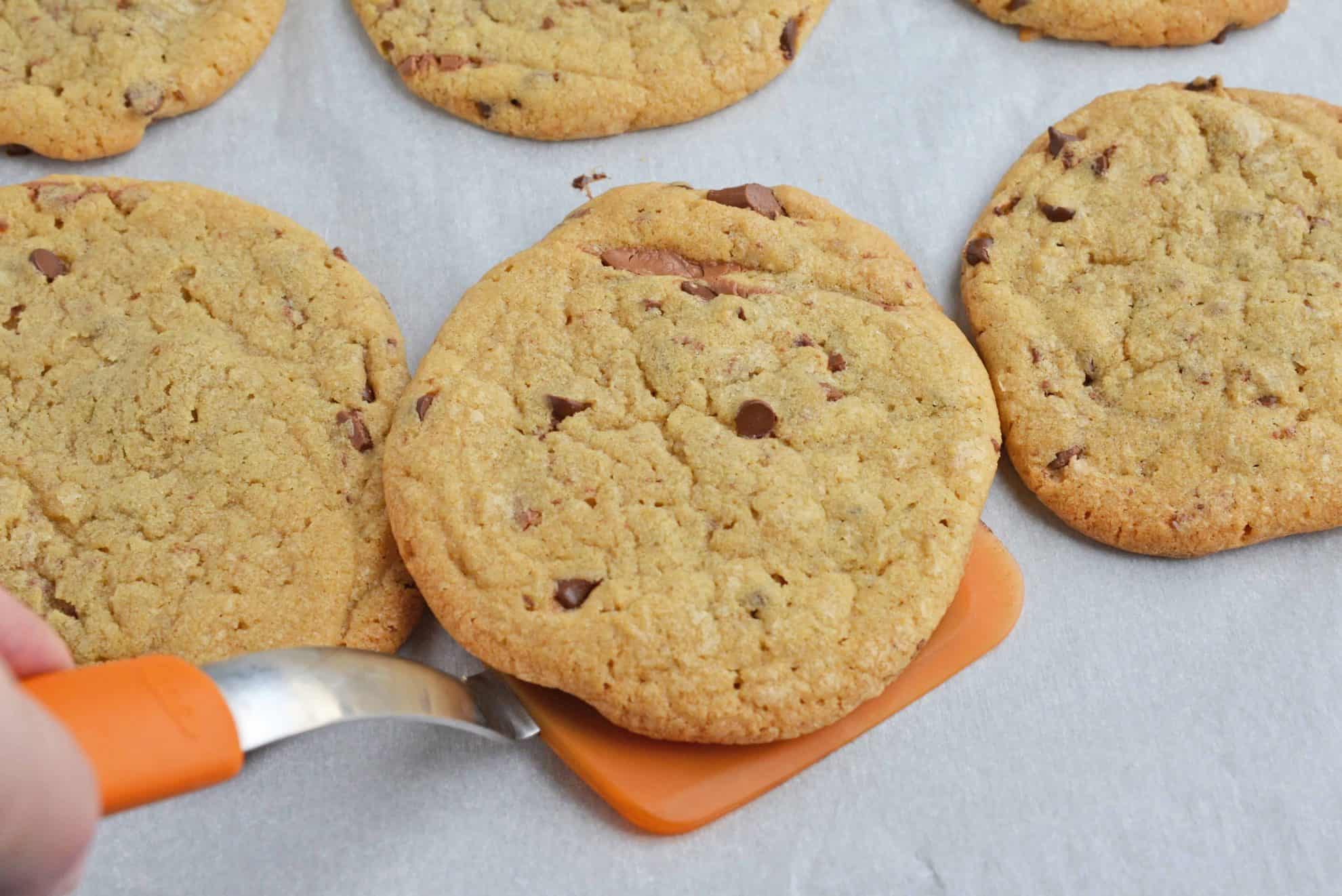 Use any type of chocolate you'd like, just make sure it equals two cups. For these chewy cookies I used chopped chocolate kisses, a few leftover hollow Christmas chocolates and some mini chocolate chips.
I like the variation in milk and semi-sweet chocolates, but also the texture and size. No one says that chocolate chip cookies have to use all chocolate chips.
PRO TIP: Using a variety of chocolate and sizes adds interest and flavors to your cookies.
These are soft soft and chewy cookies, but also thin. If you want a fatter cookie, simply change the temperture of the butter and use softened instead of melted. Or you can chill the cookie dough for 30-60 minutes.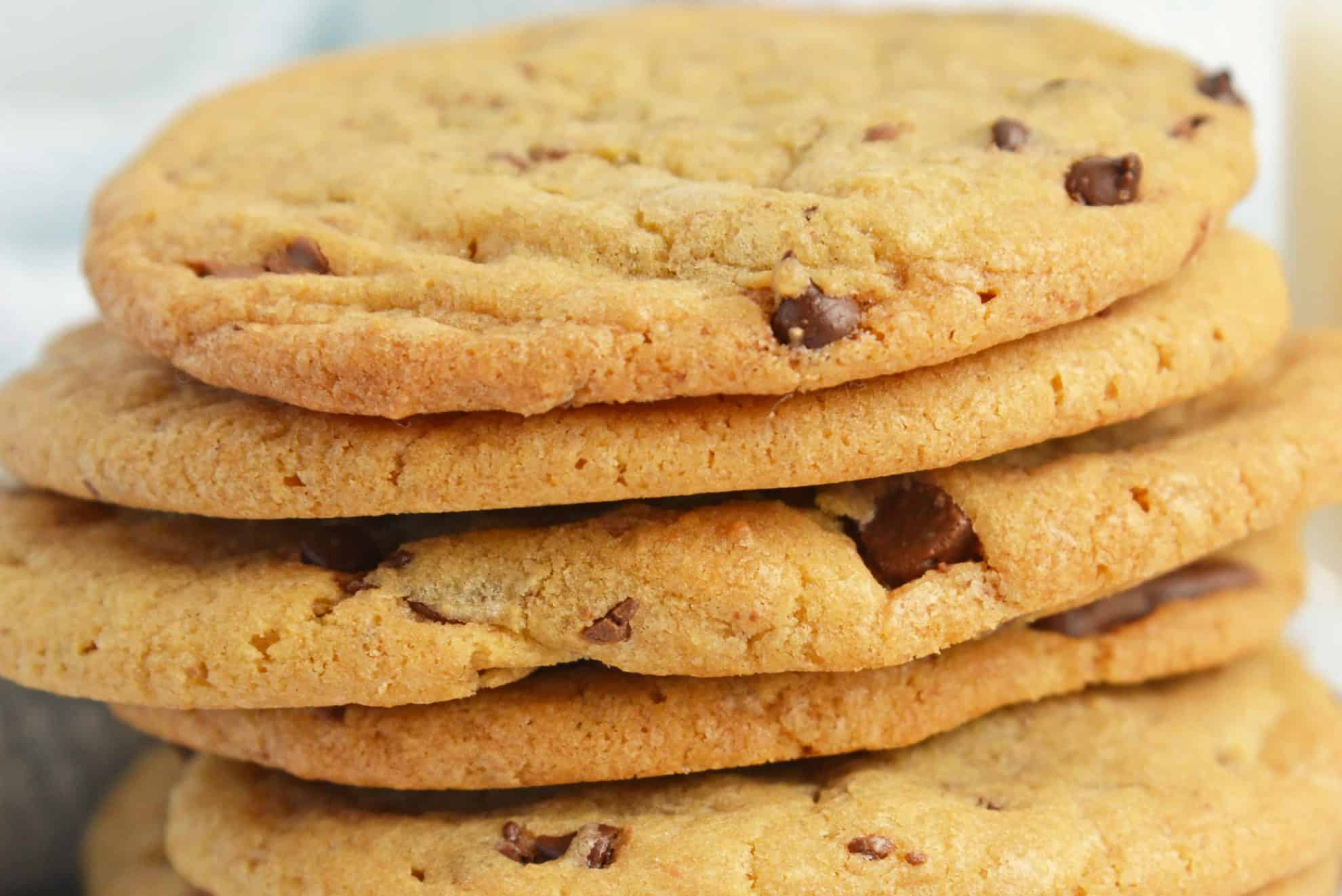 The last elements are elements that can be applied to any cookie recipes for soft cookies.
ONE. Measure your flour. Don't pack it down and make sure you square off the top with the flat edge of a knife. Too much flour can lead to a dry cookie.
TWO. Soft your flour with leaveners. Sifting reduces lumps but also distributes leveaners evenly throughout the dry mixture. You won't have to mix the batter too long if these are done before hand.
THREE. Don't over mix. Stand mixers are great, but it also makes it super easy to overmix while you are off doing other tasks.
Mix until just combined unless the recipe specifies otherwise. You want the cookie dough to be light and fluffy. 
FOUR. Always preheat the oven and don't add cookies until it has fully preheated for at least 5 minutes. Don't leave the door open or check on them often either, this messes with the oven temperature and thus, cooking times.
FIVE. Use an insulated baking sheet lined with parchment paper. Insulated sheets allow hot air to circulate around the cookies and parchment prevents sticking without having to grease the cookie sheet.
SIX. Don't overbake. While this seems super obvious, it is probably the most overlooked. Typically cookies can be removed from the oven before they look fully cooked.
The might still look a little wet with a glistening sheen. Don't wait until they are a golden brown. 
SEVEN. Allow cookies to cool completely transfering to a cooling rack. I like to eat mine a little warm and gooey, but let them cool fully before transfering to a storage container.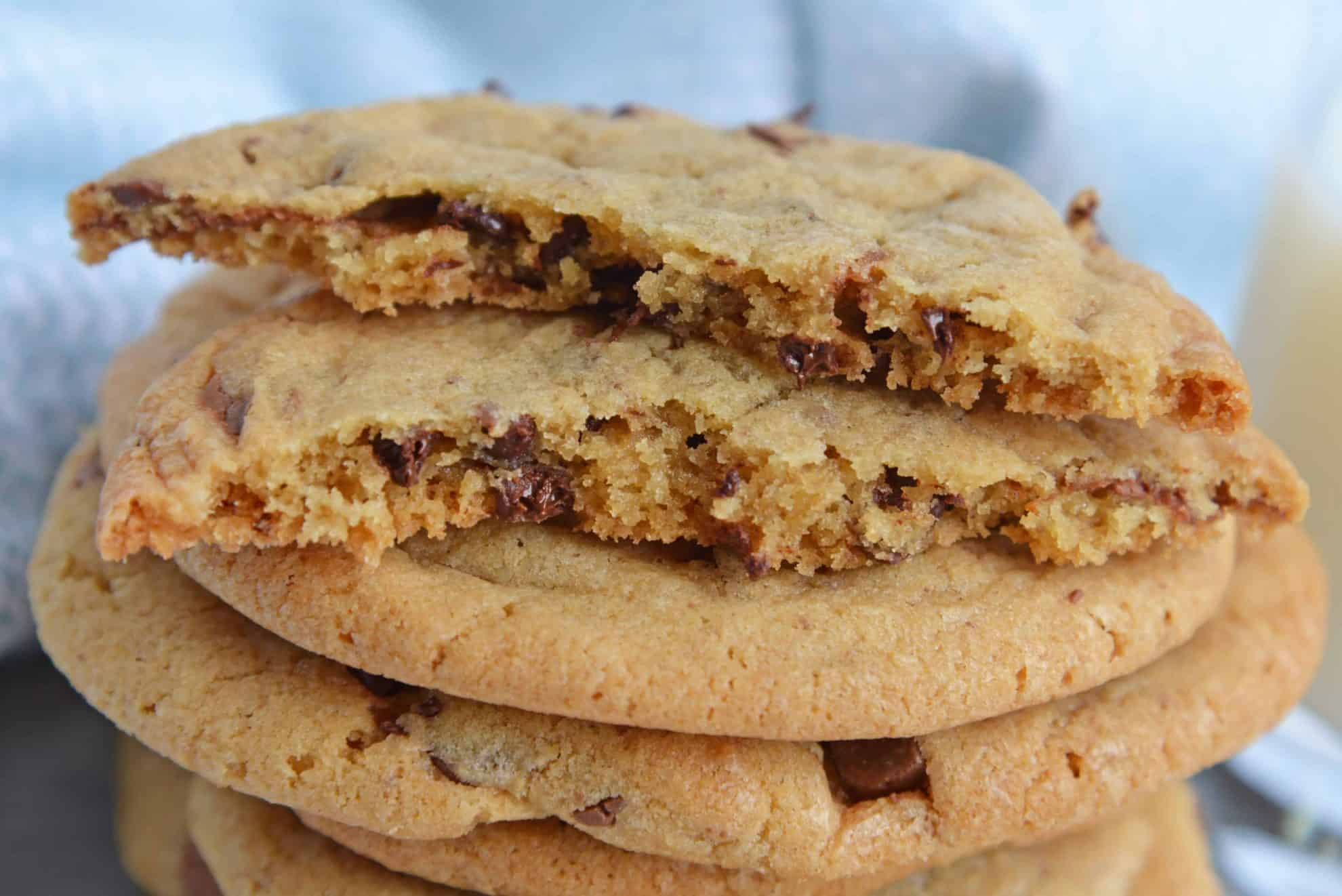 Follow these easy steps and you'll have the best chocolate chip cookies ever! All you'll need is a tall glass of icy milk.
If you liked this cookie recipe, here are a few more:
Tools for making this Chocolate Chip Cookie recipe:
Stand Mixer– I lived for a long time without one. My life was changed when I finally bit the bullet and bought one. Just do it and thank yourself later.
Insulated Cookie Sheet– Insulated cookie sheets allow hot air to circulate around the entire cookie, resulting in even baking.
Sifter– Sifting makes all of your baked goods smooth and fluffy. No more lumps! I prefer a hand crank so I can switch directions and get more sifted through faster.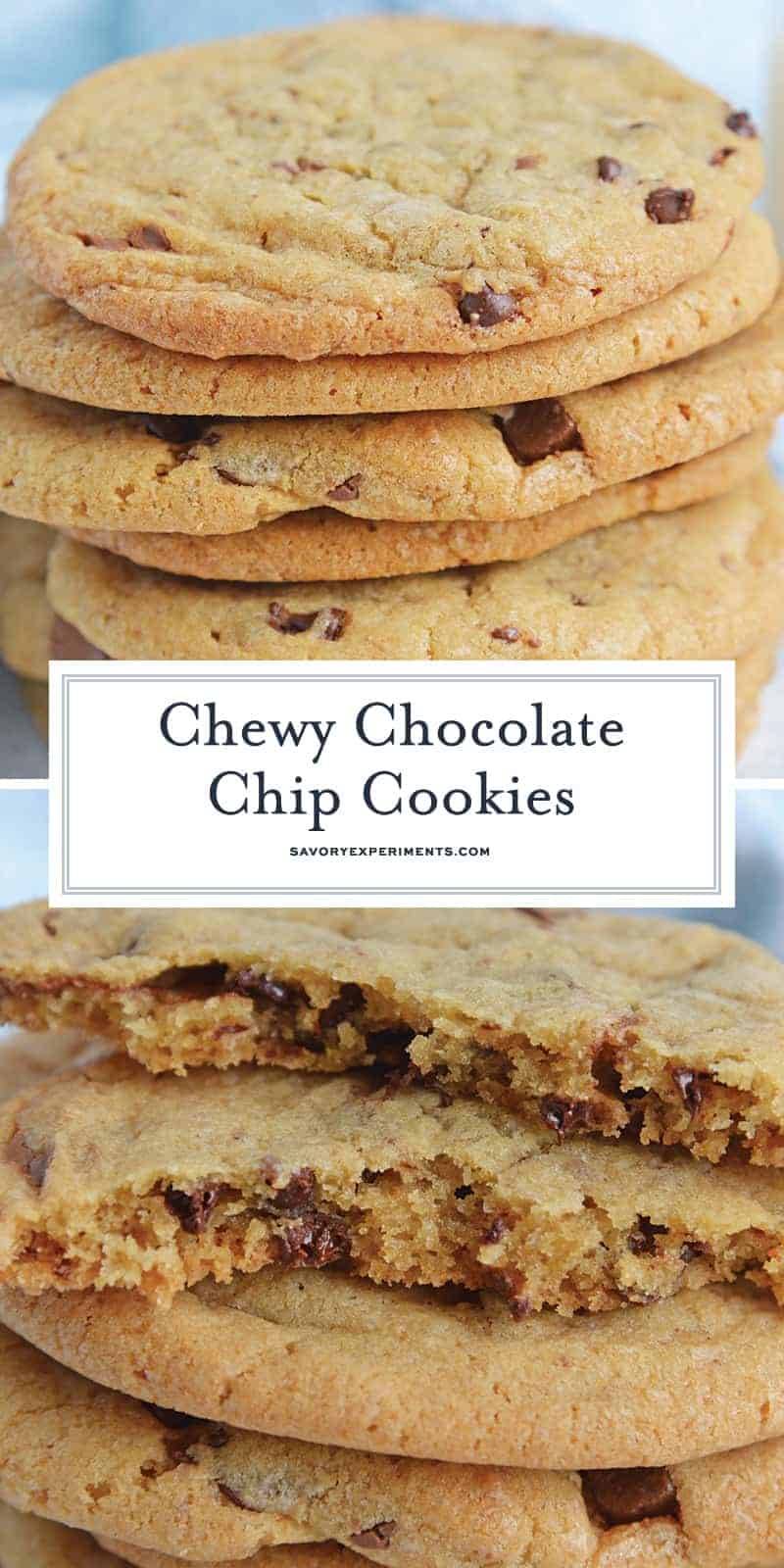 Questions you might have about how to make chocolate chip cookies:
Can I freeze chocolate chip cookies? You sure can freeze chocolate chip cookies! Place them in an airtight plastic bag and try to get as much air as possible. They should be good for 3-4 months.
Can I eat raw cookie dough? Technically you should not eat any raw cookie dough due to raw egg and flour. However, I've never met a cookie dough I didn't like and won't lie and say I didn't have a taste test.
I did make a safe-to-eat chocolate chip cookie dough that I would suggest much more than eating this cookie dough. If you want to make it slightly safer, you can use pasteurized eggs.
Can chocolate chip cookies go bad? They can, like any baked good. Homemade chocolate chip cookies, if left in a cool dark place will start to develop mold since they don't have the same preservatives and additives that processed cookies do.
I would say you have about a week when stored in an airtight container at room temperture. 
Can chocolate chip cookies be made without brown sugar? You can omit the brown sugar and substitute white sugar, but then you'll just have chocolate chip sugar cookies.
Brown sugar is what gives them the light brown hue and slight molasses flavor. 
Can you make chocolate chip cookies without vanilla? You can, but they will lack a little flavor. If you just ran out of vanilla, I would recommend substituting another extract. Almond, butter, hazelnut, maple and coffee extracts are all excellent choices.
Can chocolate chip cookies be cut into shapes? Chocolate chip cookies aren't like sugar cookie cutouts, however you can bake them, allow to cool slightly and then use a cookie cutter to achieve the desired shape.
This particular recipe is perfect for this because the cookies are large, relatively flat and big. 
Where were chocolate chip cookies invented? In American by chefs Ruth Graves Wakefield and Sue Brides in 1938. She invented the recipe during the period when she owned the Toll House Inn, in Whitman, Massachusetts. Toll House ended up being the name of the most trusted chocolate chips!
Can I omit the butter? You can use shortening in the same amount instead of butter, however it will change the composition of the cookie. If you do, use a butter flavored shortening.
Can I add other things into my chocolate chip cookies? You sure can! I would suggest making sure all of your add-ins cumulatively add up to 2 cups, the same amount as the recipe calls for chocolate chips.
You can use white chocolate chips, chopped nuts, mint chocolate, dried cranberries or anything else you can think of! 
These Chewy Chocolate Chip Cookies are the ultimate homemade chocolate chip cookie recipe. With no chilling time, they are ready in a jiffy!
If you are looking for even more dessert recipes, snag a copy of my Easy Dessert Recipes Mini-Cookbook. Available here for only $0.99, these easy dessert recipes are ready with less than 30 minutes hands-on time and are sure to please all your family friends. From no-bake to make-ahead, you are sure to find something you love!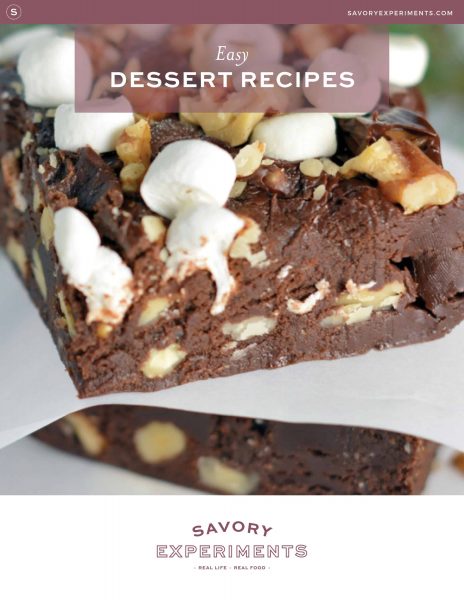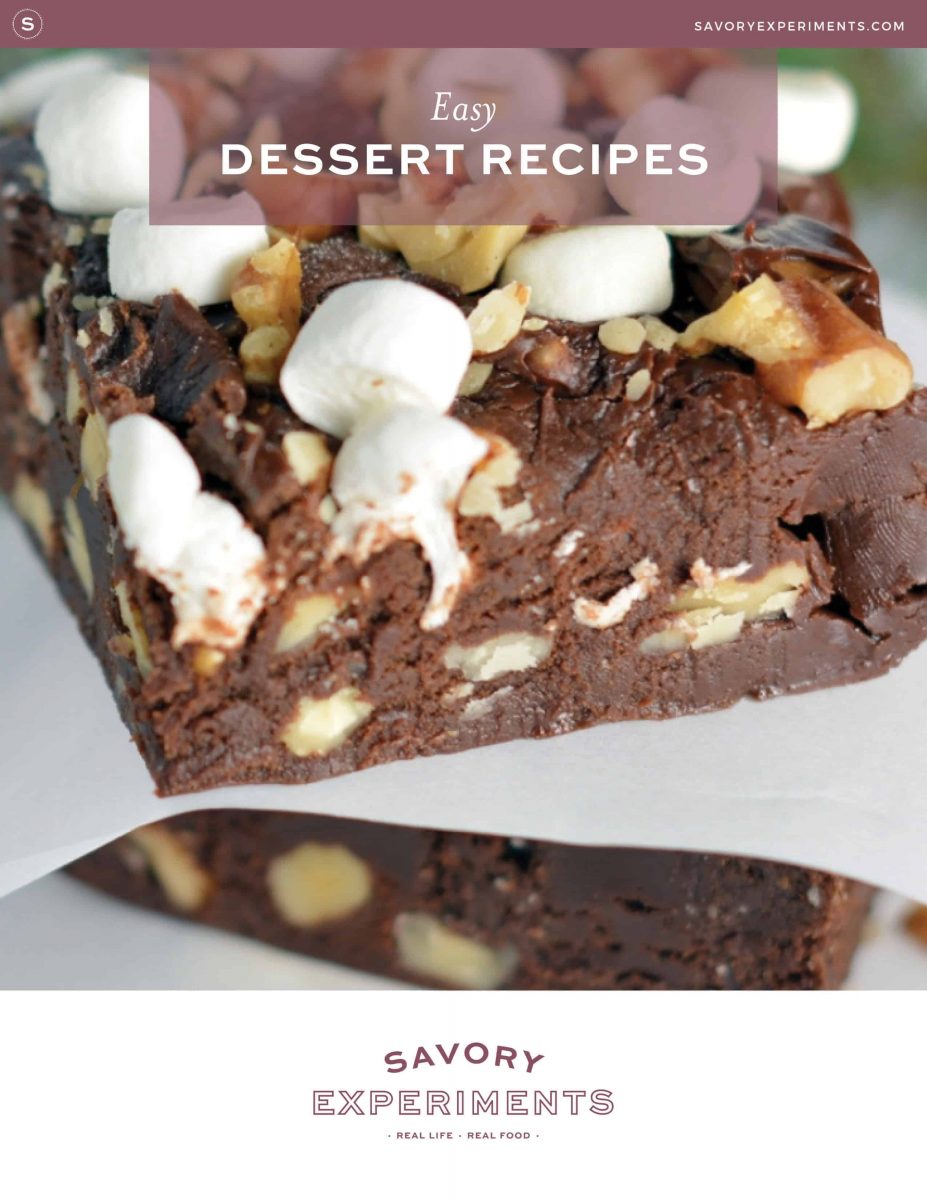 CONNECT WITH SAVORY EXPERIMENTS!

Be sure to follow me on social media, so you never miss a post!

Facebook | Twitter | Youtube
Pinterest | Instagram

Get our FREE 8 Day E-Course on How to Be a Better Home Cook. Sign up HERE!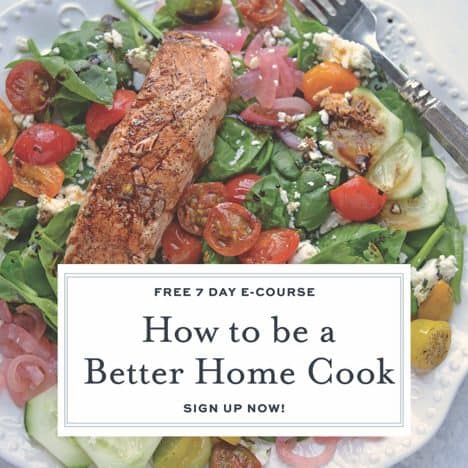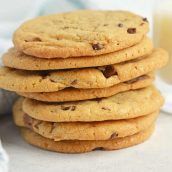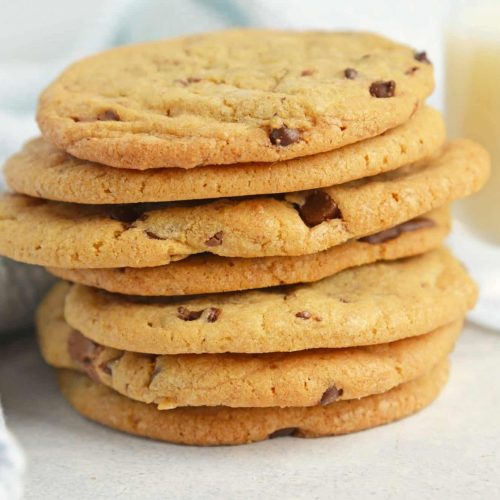 Print Recipe
Chewy Chocolate Chip Cookies
These Chewy Chocolate Chip Cookies are the ultimate homemade chocolate chip cookie recipe. With no chilling time, they are ready in a jiffy!
Ingredients
2

cups

all-purpose flour

1/2

teaspoon

baking soda

1/2

teaspoon

salt

3/4

cup

unsalted butter

, melted

1

cup

brown sugar

, packed

1/2

cup

white sugar

1

tablespoon

vanilla extract

1

egg

1

egg yolk

2

cups

semi-sweet or milk chocolate

, chopped
Instructions
Preheat the oven to 325 degrees. Line insulated cookies sheets with parchment paper.

Sift together flour, baking soda and salt. Set aside.

In the bowl of a stand mixer fitted with the paddle attachment or a large mixing bowl and using an electric hand mixer, cream together melted butter, brown sugar and white sugar.

Beat in vanilla, egg, and egg yolk until light and creamy. Do not over mix.

Mix in the sifted ingredients until just blended.

Stir in chopped chocolate by hand.

Using a 2 tablespoons cookie dough scoop, place 3 inches apart on prepared cookie sheet.

Bake for 15 – 17 minutes or until the edges are lightly toasted. Cookies might still look slightly undercooked cooked, that is ok. You don't want to overcook them.

Allow to cool for 5 minutes before carefully transfering to cooling racks.

If you've tried this recipe, come back and let us know how it was!
Nutrition
Calories:
230
kcal
|
Carbohydrates:
28
g
|
Protein:
2
g
|
Fat:
11
g
|
Saturated Fat:
7
g
|
Cholesterol:
31
mg
|
Sodium:
79
mg
|
Potassium:
110
mg
|
Fiber:
1
g
|
Sugar:
18
g
|
Vitamin A:
205
IU
|
Calcium:
22
mg
|
Iron:
1.5
mg