With only five ingredients, this Pesto Tortellini with Asiago is the perfect dinner to make on busy nights. Even though it's ready in only 15 minutes, it still packs a huge flavor punch!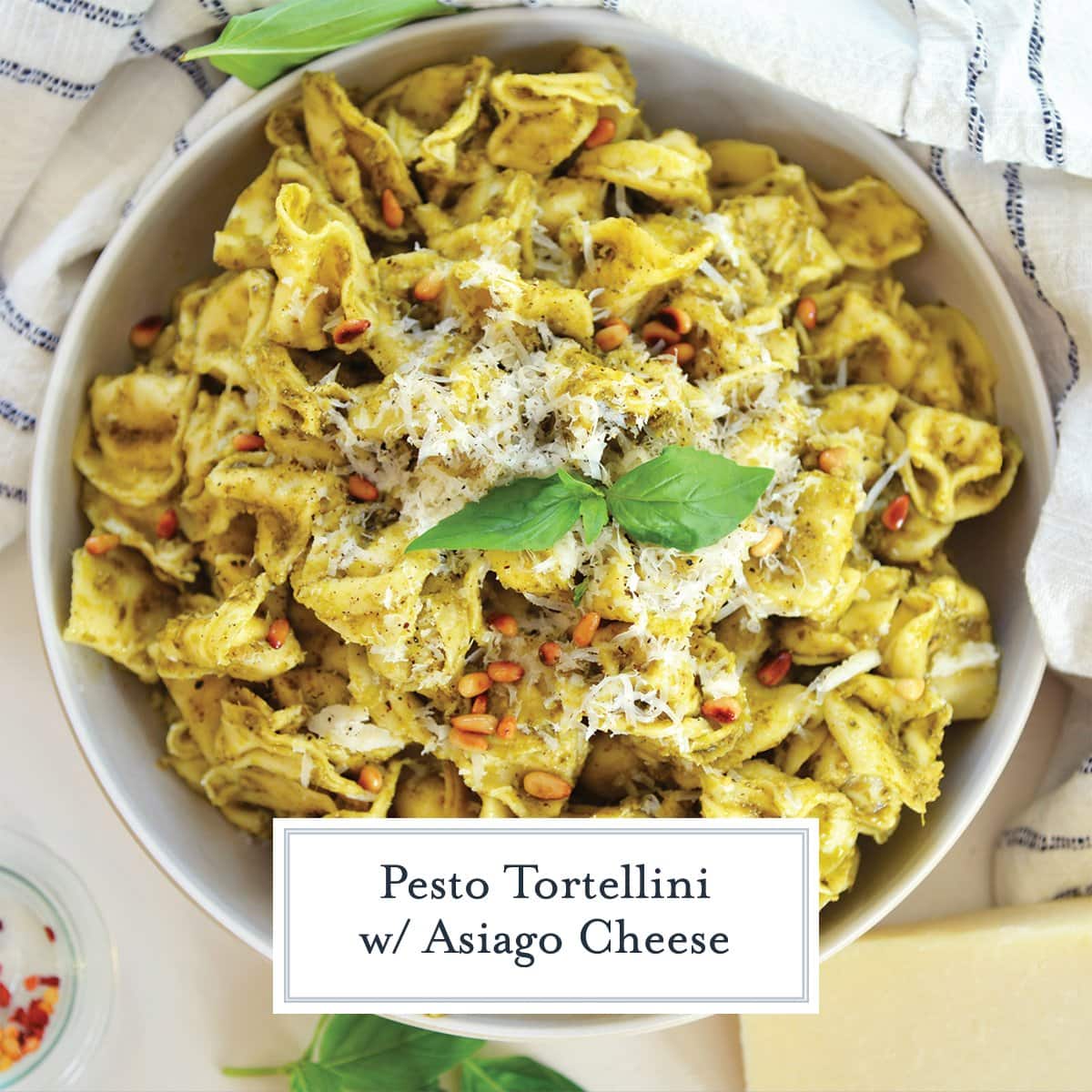 I'm the queen of wanting delicious food, but in record time. I'm busy! And I know you are too, but that doesn't mean I want frozen pizza. I still want tasty comfort food and that doesn't always mean a creamy sauce. Sometimes it means fresh herbs blitzed with a good quality olive oil and fresh garlic.
And what is more comfort than pasta? Well, nothing. Unless it is stuffed pasta, like tortellini that is drenched in a homemade pesto sauce and topped with cheese.
What is Tortellini Pasta?
Tortellini is a stuffed, ring shaped pasta that comes from the Italian region of Emilia, which is near Florence and encompasses Bologna, Parma and Modena, other notable Italian food towns.
Cheese, meat and spinach are the most common items in stuffed tortellini. While these are the easiest to source, there are many other varieties and blends to make your creation unique.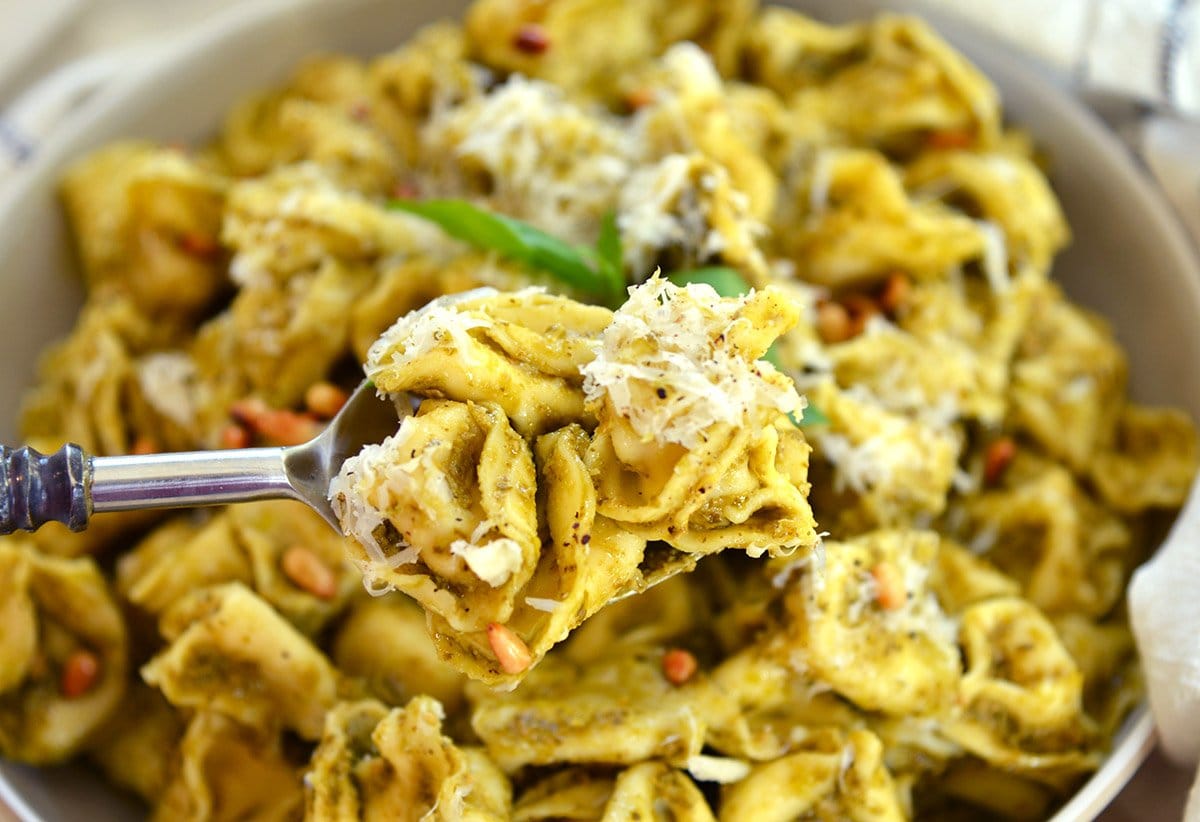 How to Cook Tortellini
How to cook tortellini really depends on if it is fresh, frozen or dried. Fresh tortellini will takes only a few minutes and is basically heated through, plumped up and ready to go. It is easy to overcook, so watch it closely. It is done when it floats.
Frozen is in the middle and also fairly quick cooking, but will need a few more minutes to defrost before heating through. Dried will take the longest because it needs to fully absorb the water before softening. Even dried will only take 6-8 minutes because stuffed pastas cook quickly.
The moral of the story is to check the package instructions for al dente cooking instructions. I always save a cup of the pasta water in case I need it to thin out the sauce I am using regardless of the recipe. Starchy pasta water works best to thin sauces without making them too watery and adding a smidge of flavor.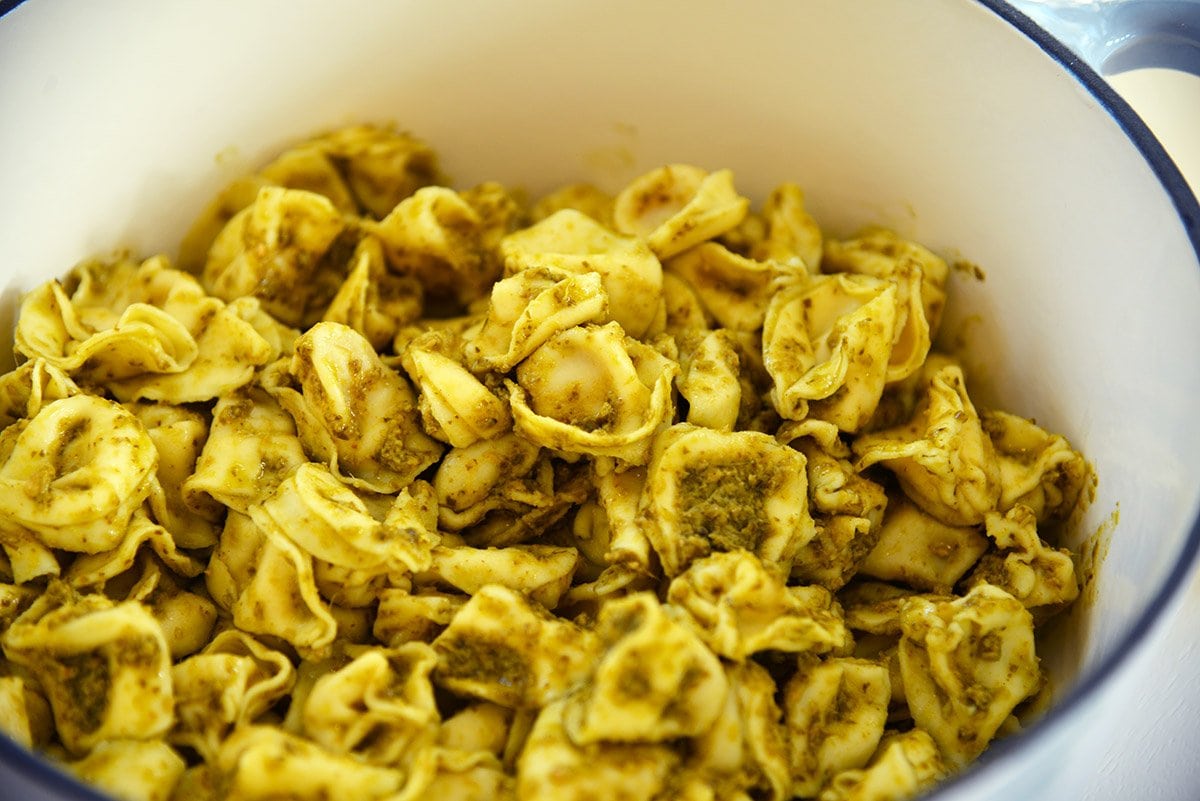 Pesto Tortellini Ingredients
Basic ingredients, but a few fresh items.
Tortellini – I used a basic cheese tortellini. Fresh is located in the refrigerated section, sometimes near cheese and other times near hummus. Dried will be near other pasta in the international aisle.
Pesto Sauce – This time of year, basil plants are out of control and overproducing. I've tried to freeze whole leaves, but it works best in pesto. If you don't want to make your own pesto quickly in a the food processor, grab a bottle at the store, it just might need a little customization to make it taste AH-mazing!
Pine nuts – Most pesto sauces will have pine nuts in them, but adding a few toasted nuts to the top amps up the texture too. It you are allergic to tree nuts, omit these and also check the pesto (if you have store bought) to make sure it doesn't contain nuts either.
Asiago Cheese – Any hard cheese will add flavor and texture to this recipe. Use freshly shredded for the best results. Parmesan cheese or Pecorino romano cheese are other good choices.
Crushed Red Pepper – I like a pinch of spice, but it is totally optional.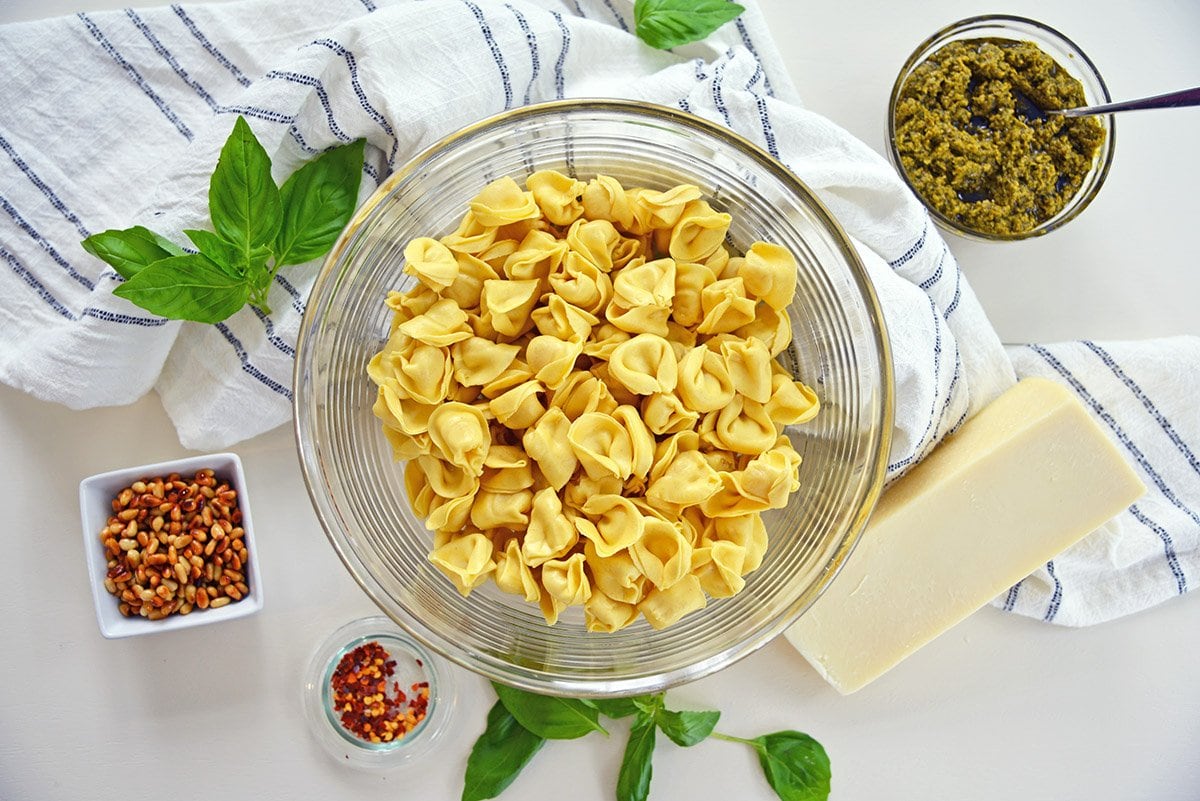 How to Make
The steps for this pasta are so simple! There are really only three easy steps, but let's walk through each of them
First things first, you need to cook the pasta. Reference the section above for my notes on different ways to cook each type of tortellini. But all you really need to do is read the instructions on the package and make sure to use a large pot as tortellini have the tendency to bloat larger than expected. Right before draining, reserve about 1 cup of pasta water in case you need it. This will help you thin it and get even coverage without adding additional oil.
Return the pasta to the pan after draining and toss it with both the pesto and the pine nuts. Add half of the asiago cheese in at this point too. If the sauce needs to be thinned slightly, add a small amount of the reserved pasta water. If you are opting to make a cold pasta salad, just put it all in a large bowl to toss.
After everything has been heated to your liking, it's time to serve! Dish out the pasta onto plates or bowls and top with the rest of the asiago cheese. If you like a kick, sprinkle some red pepper flakes on top too. Black pepper and Maldon sea salt are also fabulous in this simple dish.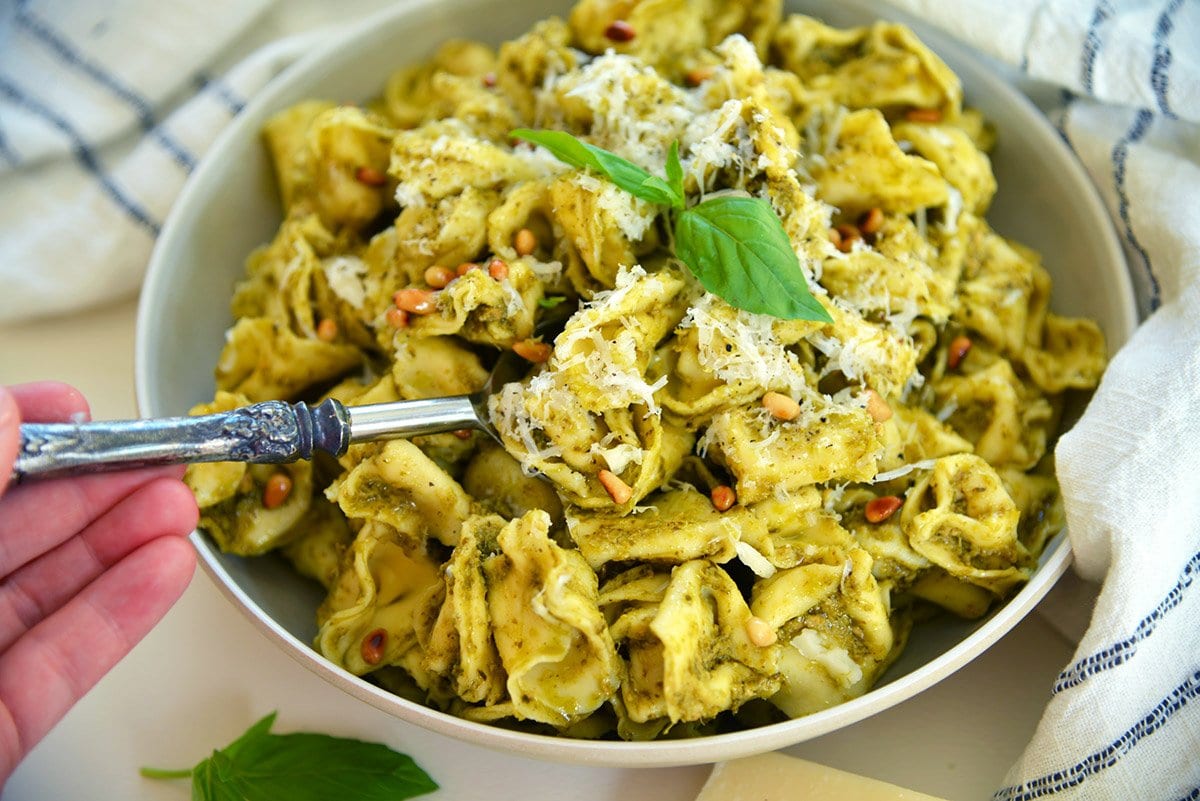 What to Serve It With
I generally serve mine with just a green salad or ceasar salad. You can also do a side of green vegetables like broccolini or kale gratin.
And of course, who doesn't like a great addition of cheesy garlic bread or truffle garlic bread.
Variations
Feel free to make this pesto tortellini recipe your own. Here are a few suggestions:
Fresh ingredients – Try adding sun-dried tomatoes, sweet peas, mushrooms, grape tomatoes, fresh cherry tomatoes, artichoke hearts, black olives, fresh mozzarella balls, red onion, fresh spinach, red bell pepper, lemon juice, fresh garlic, fresh basil and asparagus.
Protein – If you'd like to add a little more protein to this dish, feel free to do so! Both chicken and shrimp would pair really well with the fresh flavor of pesto pasta.
Make it creamy -You can also add a splash of heavy cream or even cream cheese to make this a pesto cream sauce.
Serve it cold – This recipe also tastes great as a cold pesto tortellini salad. Serve it at summer parties, for potlucks or BBQs.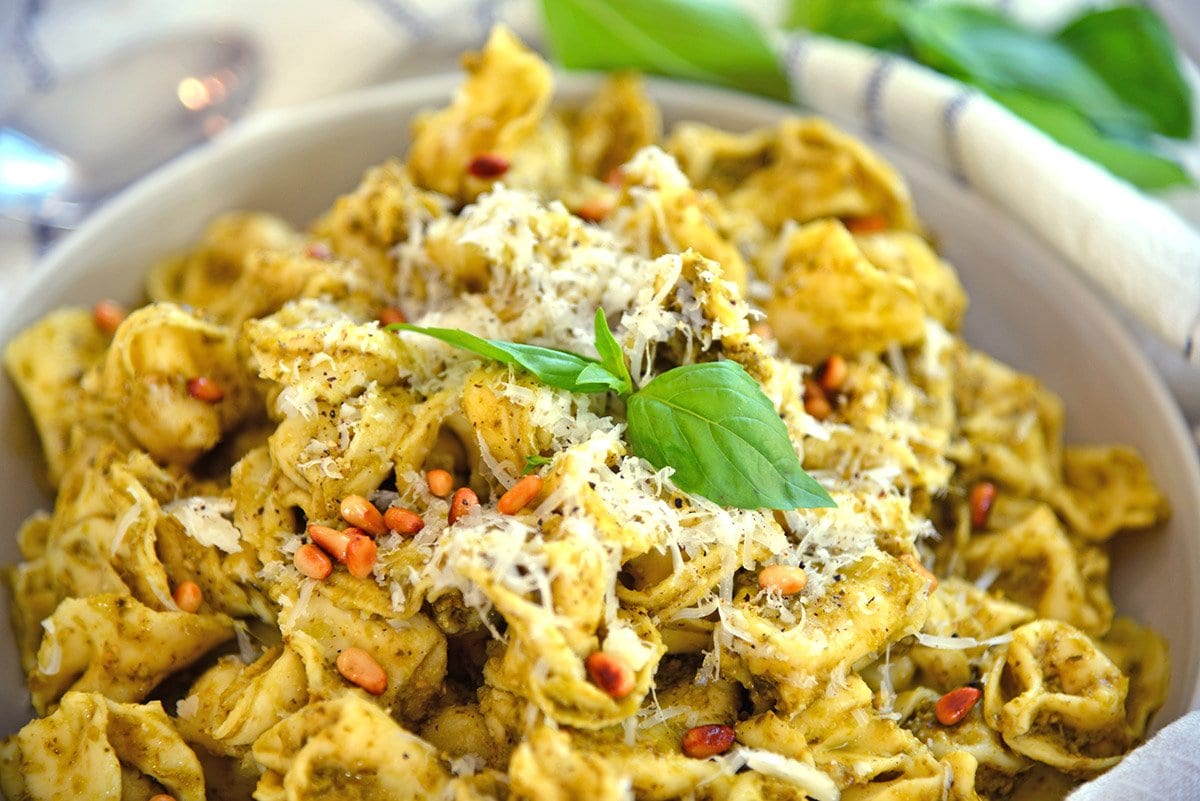 Storage and Freezing
Storage: Store your leftovers in the fridge in an airtight container for up to 5 days. Reheat on the stovetop or in the microwave. Adding a small amount olive oil will help to revive the pesto sauce. It has the tendency to soak into the noodles while chilling and get a little pasty.
Freezing: I do not suggest freezing this recipe, the noodles thaw soggy.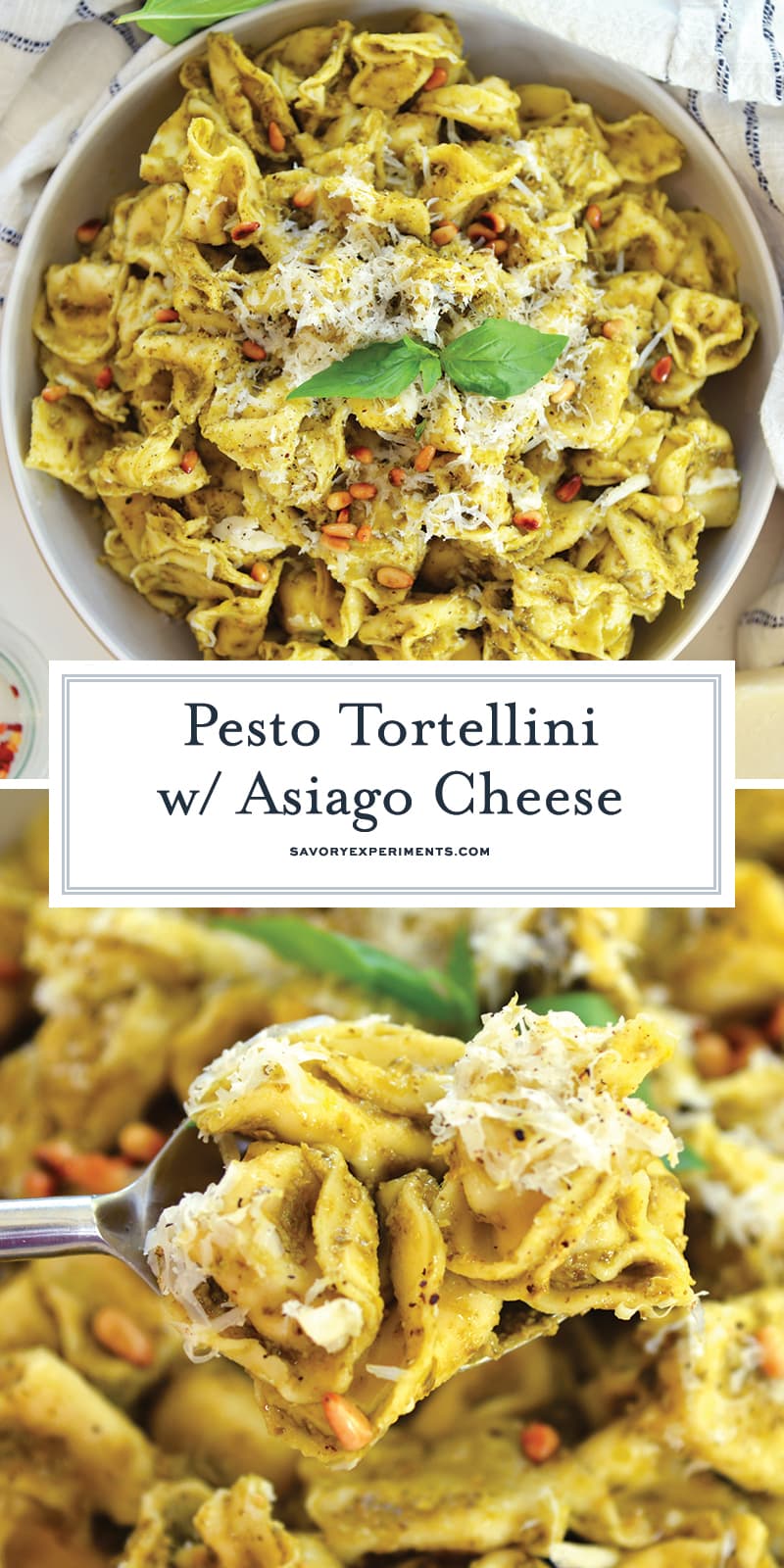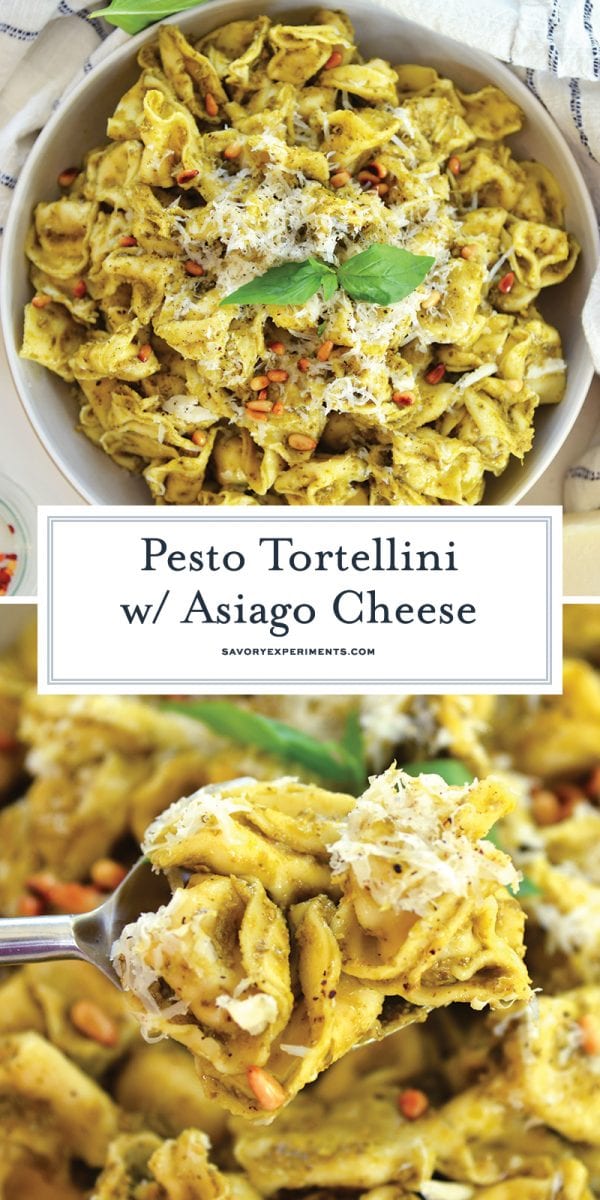 More easy pasta dishes: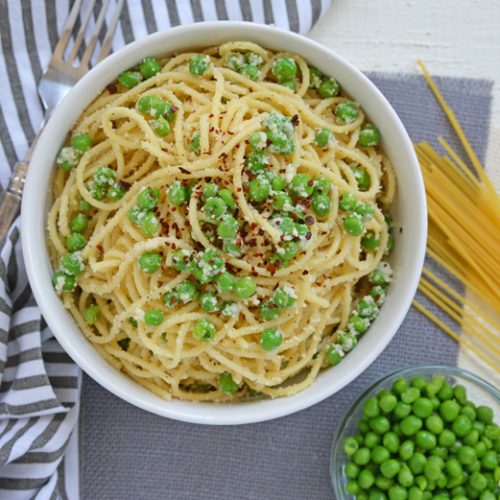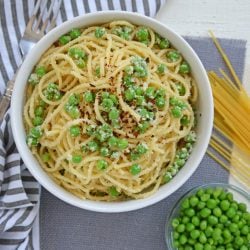 Pasta and Peas
Pasta and Peas is an easy pasta recipe that the whole family will love. Only one pot and 10 ingredients to a family friendly meal!
See The Recipe!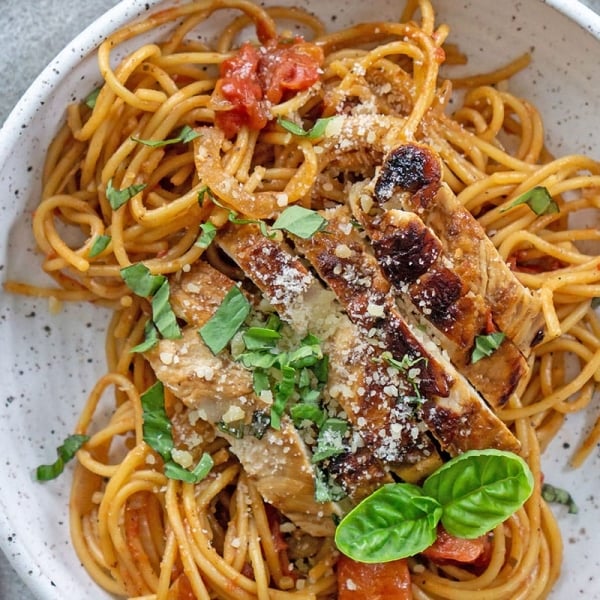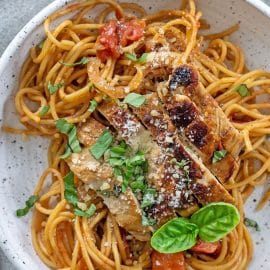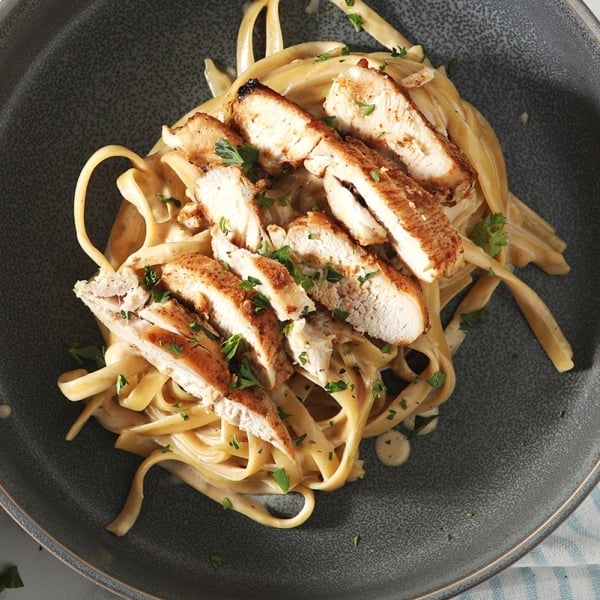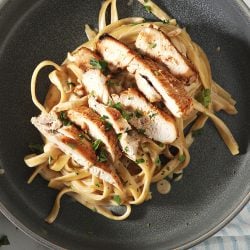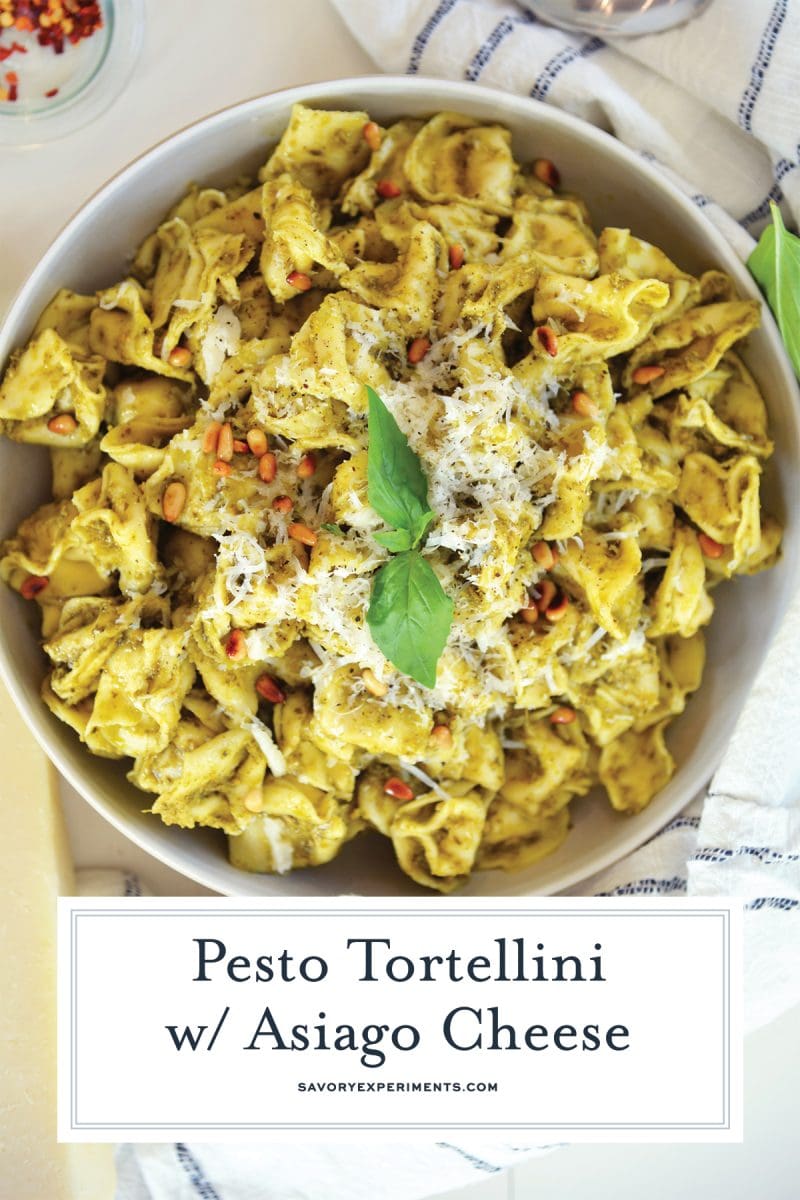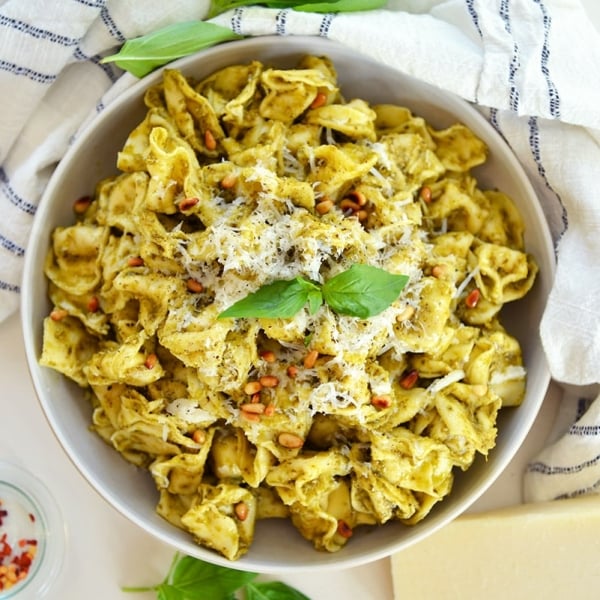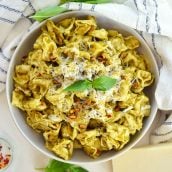 Pesto Tortellini with Asiago
With only 5 ingredients, Pesto Tortellini with Asiago is perfect for busy nights. Ready in only 15 minutes, it still packs huge flavor!
Instructions
Cook the tortellini according to packages directions for al dente. Reserve 1 cup of pasta water in case you need to thin the sauce. Drain well and return to the pot.

Over low heat, toss together the pesto sauce with pine nuts and half of the asiago cheese. If needed, add a small amount of pasta water to thin the pesto.

When warmed through, transfer to serving dishes and top with additional asiago cheese and crushed red pepper flakes, if desired.

If you've tried this recipe, come back and let us know how it was in the comments or ratings section.
Nutrition
Calories:
542
kcal
,
Carbohydrates:
45
g
,
Protein:
23
g
,
Fat:
30
g
,
Saturated Fat:
8
g
,
Polyunsaturated Fat:
1
g
,
Monounsaturated Fat:
2
g
,
Cholesterol:
51
mg
,
Sodium:
1064
mg
,
Potassium:
35
mg
,
Fiber:
4
g
,
Sugar:
4
g
,
Vitamin A:
964
IU
,
Vitamin C:
1
mg
,
Calcium:
398
mg
,
Iron:
3
mg