Sausage Stromboli is a classic meal in many Italian households. This recipe is totally delicious, and it's made easy with a hack using refrigerated pizza dough!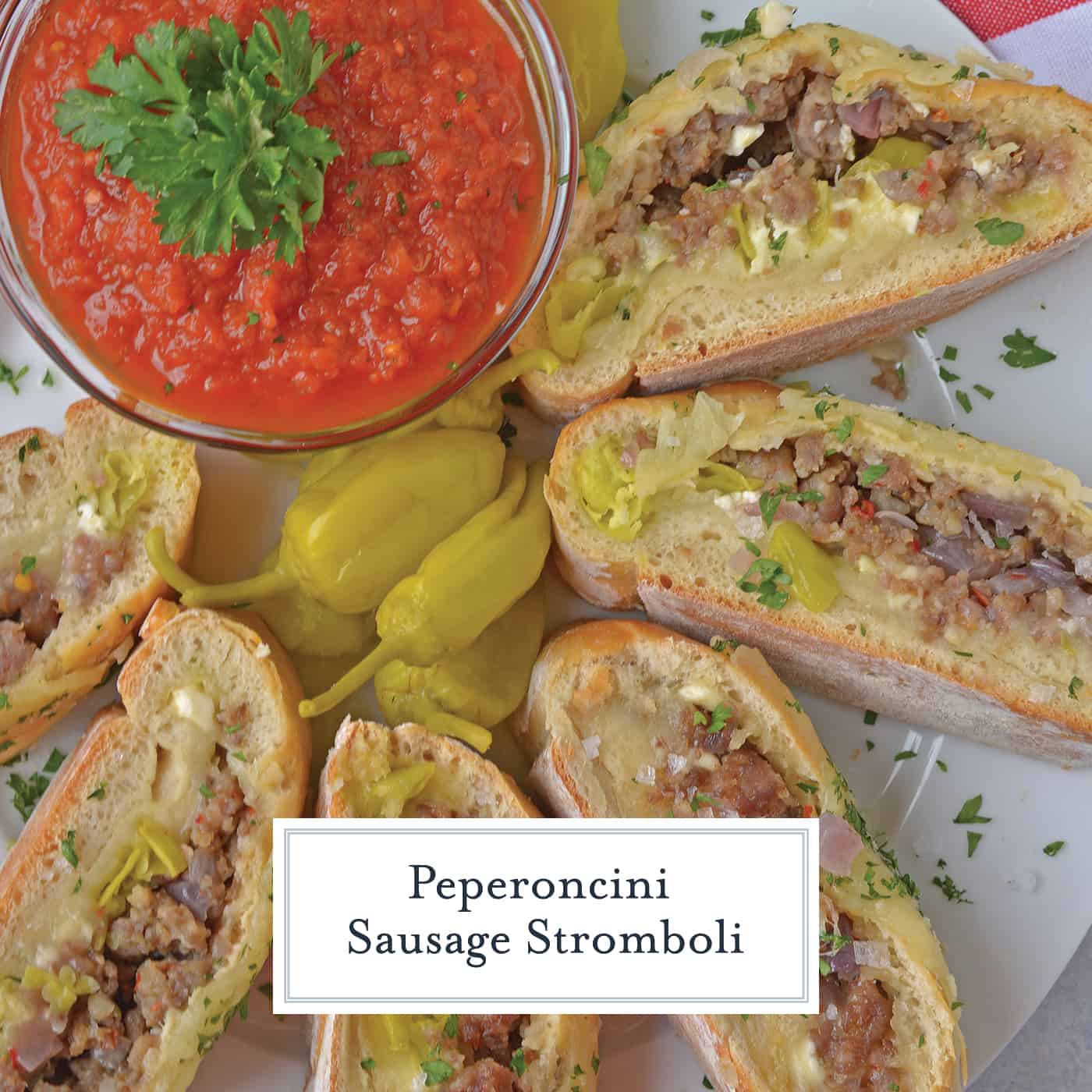 Peperoncini Sausage Stromboli is a crave-worthy, easy dinner recipe that your whole family will enjoy. Check out all the ways to make this dish your new family favorite.
Easy and versatile, there are a host of ingredients that you can throw in the dough to use up bits and pieces leftover in your vegetable crisper. But every once and while you hit on a "jack pot" recipe.
When your family takes a bite and stares at your wide-eyed like you've just levitated upon the dinner table. There are no leftovers. Only gentle hints that "they wouldn't be upset if you made the same thing every night this week."
That, my foodie friends, is what happened when I made my classic Sausage Stromboli recipe into a Peperoncini Sausage Stromboli.
Mezzetta Peperoncini are a staple at our home. While most may only see them grace the side of a delivery pizza box, I use them in:
salads
omelettes
antipasto platters
for snacking
and even in sauces and salsas
We always get to the bottom of the jar and often have another on the pantry shelf ready to replace it!
Golden Peperoncini are typically seen in Italian dining, but are in fact Greek in origin. Now they are grown throughout the Mediterranean region, including Tuscany.
One thing is for sure, these golden beauties need plenty of sun to achieve their piquant, fruity nature with a hint of heat. I also love anything that adds texture and salt, of which Mezzetta Peperoncini does both.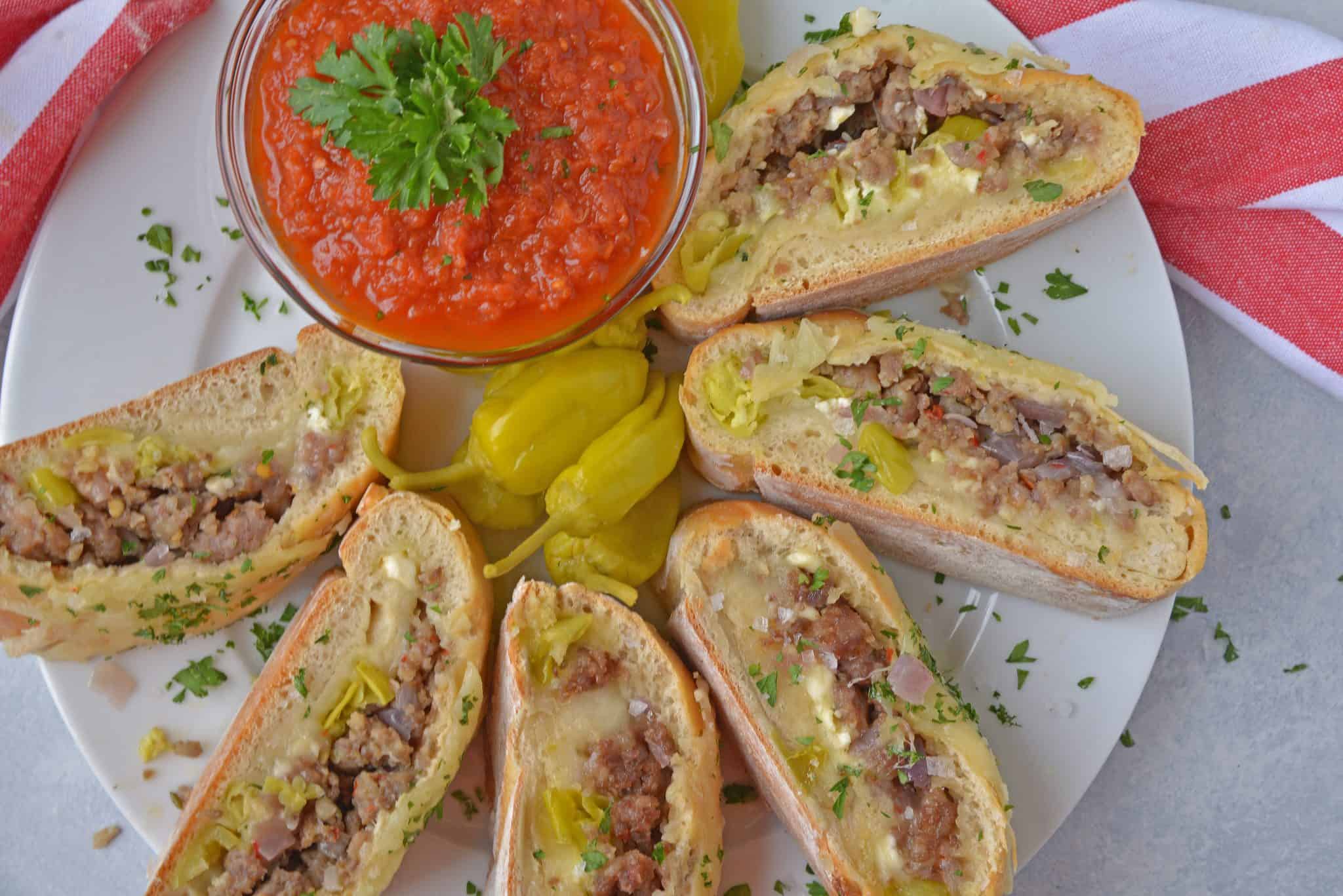 Sausage and Pepper Stromboli is a always a favorite night in our house. Although we also use chicken, ground beef or even just veggie, sausage is always a winner.
I keep ground sausage in the freezer and pizza dough in the fridge. Everything else that comes into play is an added bonus. Usually bits and pieces of vegetables and cheese leftover in the fridge after a week of home-cooked meals.
Dipping sauces range greatly in what is available as well, but the goal is always to use up what we already have instead of making something new.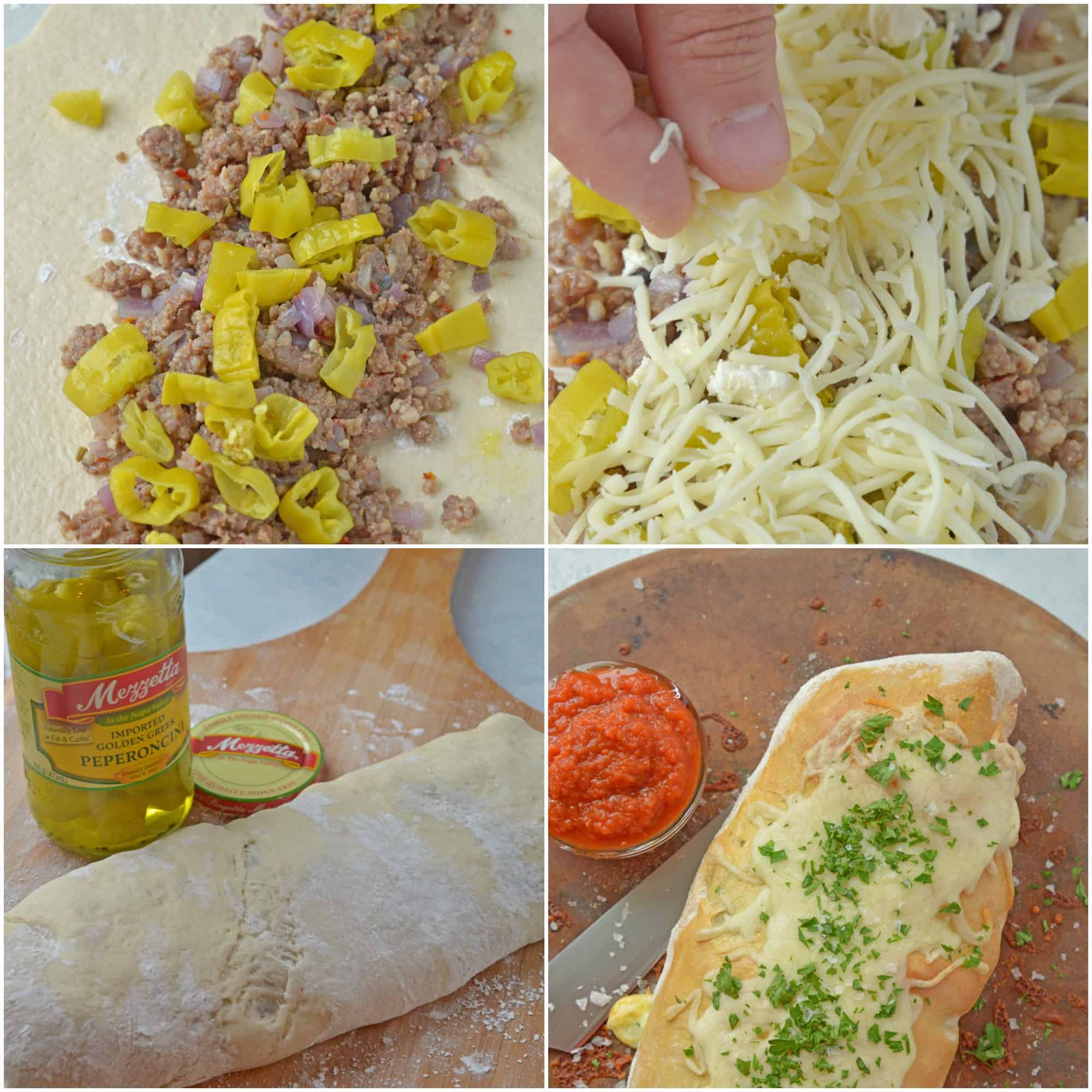 Just because an Italian sausage stromboli recipe is Italian in nature, doesn't mean that the sauces and flavors have to be. Think outside of the box!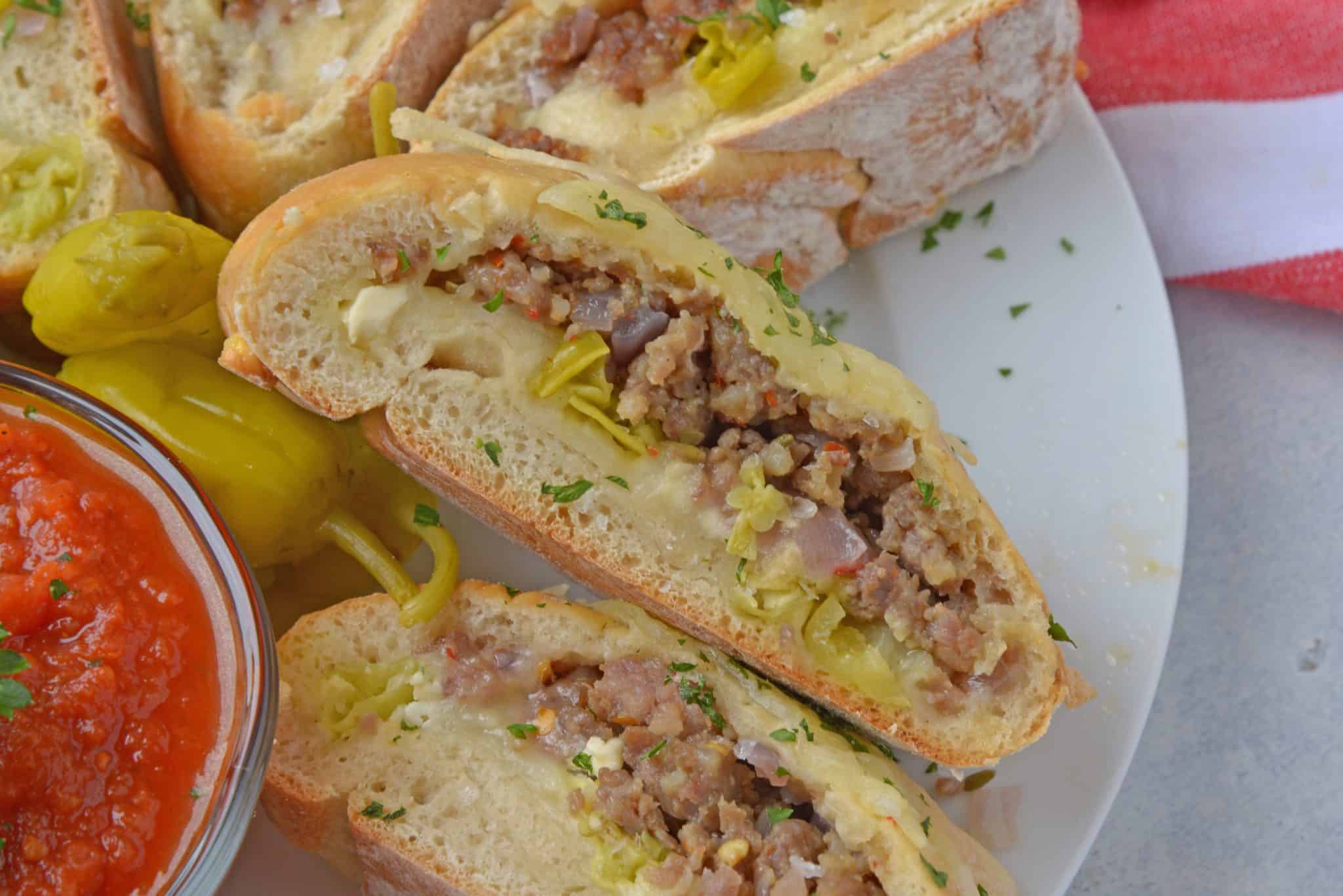 Peperoncini Sausage Stromboli is a fairly traditional preparation of stromboli. You can use sweet or spicy Italian sausage, coupled with sauted onions, sliced golden peperoncini and feta and mozzarella cheese.
I like to sweat my onions before adding to the dough just to reduce the amount of liquid releasing, resulting a crisper dough. However, in a pinch, you can skip this step. Sausage, however, needs to be precooked.
Sometimes I even do this the night before. from there, Sausage Stromboli recipe easy only takes 30 minutes from start to finish and most of that time is hands-off in the oven!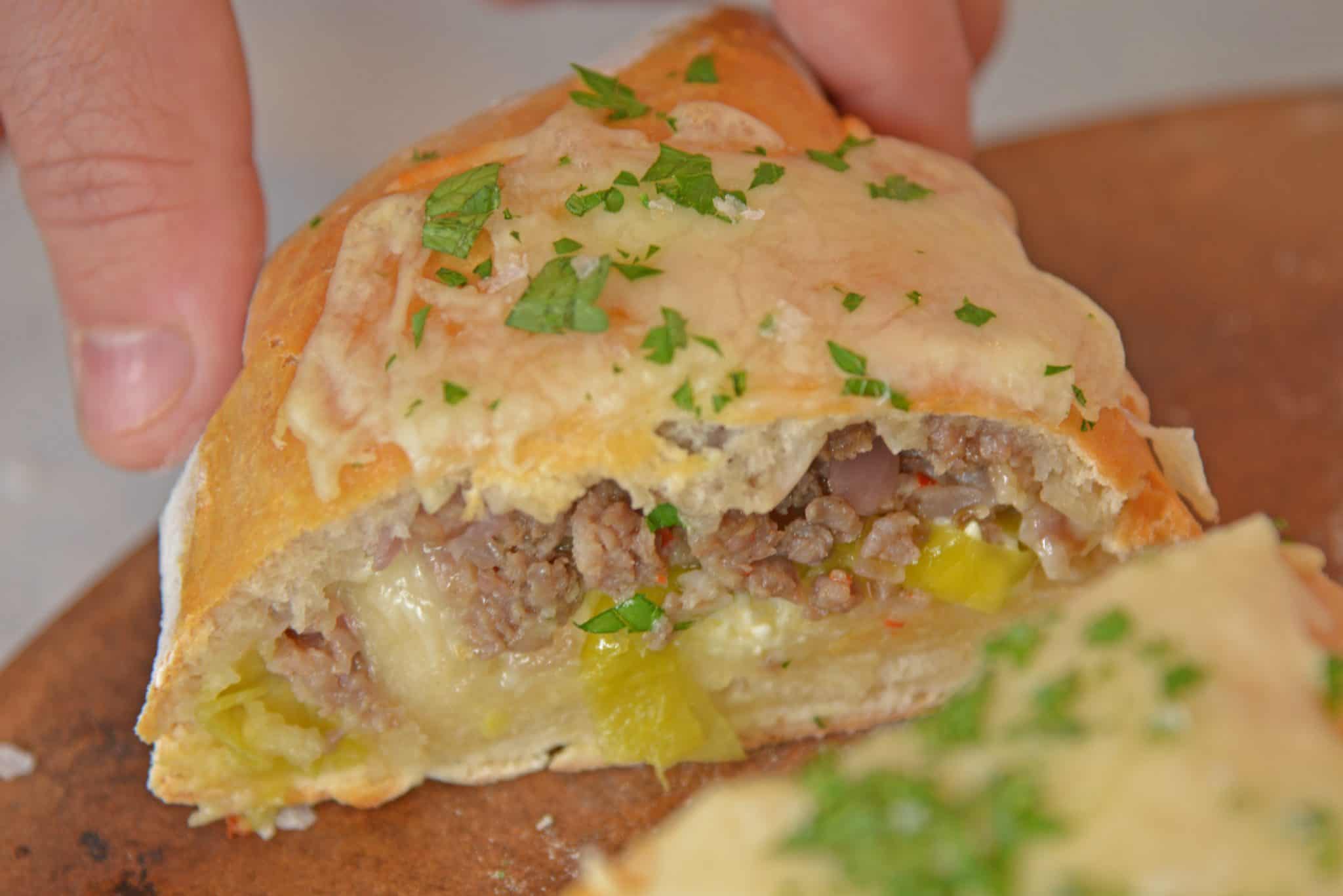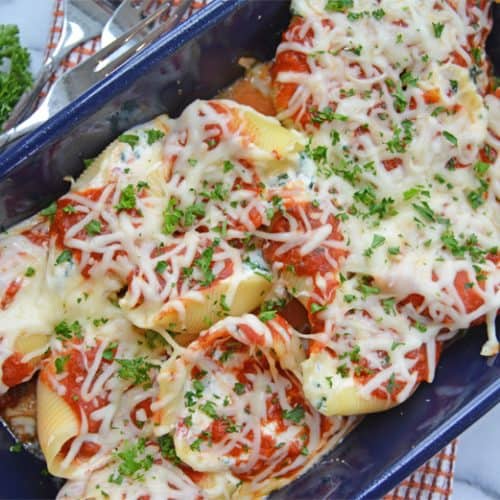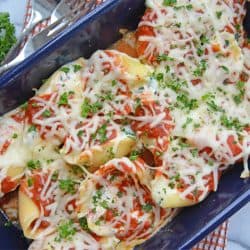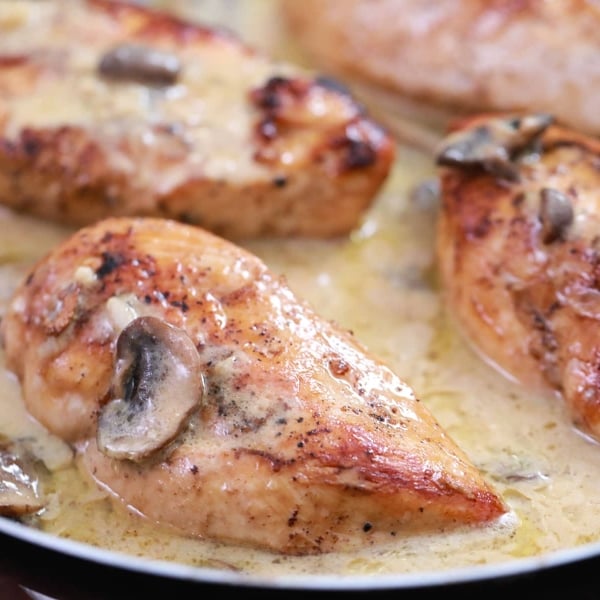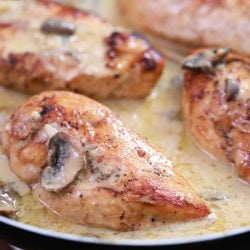 Chicken Marsala Recipe
This Chicken Marsala recipe is made in 1 pan in less than 30 minutes! Whip up this EASY dish with a rich creamy mushroom sauce on top of juicy chicken.
See The Recipe!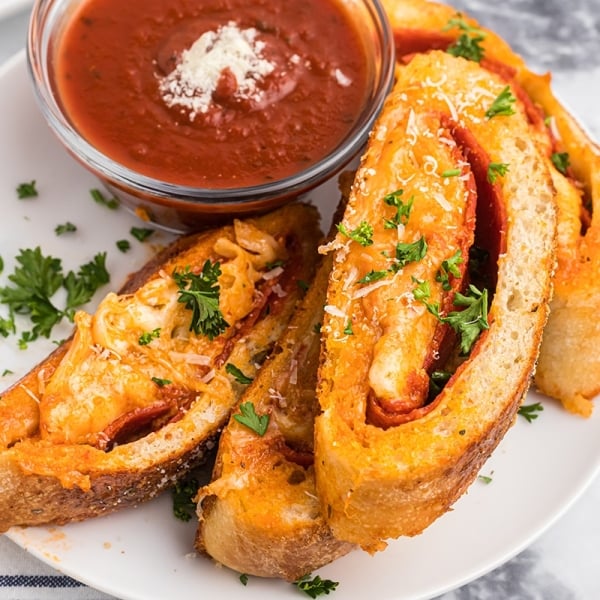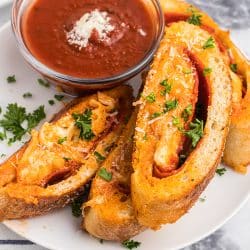 Pepperoni Stromboli
This crunchy, cheesy and meaty Pepperoni Stromboli could not be easier to make at home! All you need are 7 ingredients to make this delicious homemade Stromboli recipe. Perfect for weeknights, pizza parties and any time!
See The Recipe!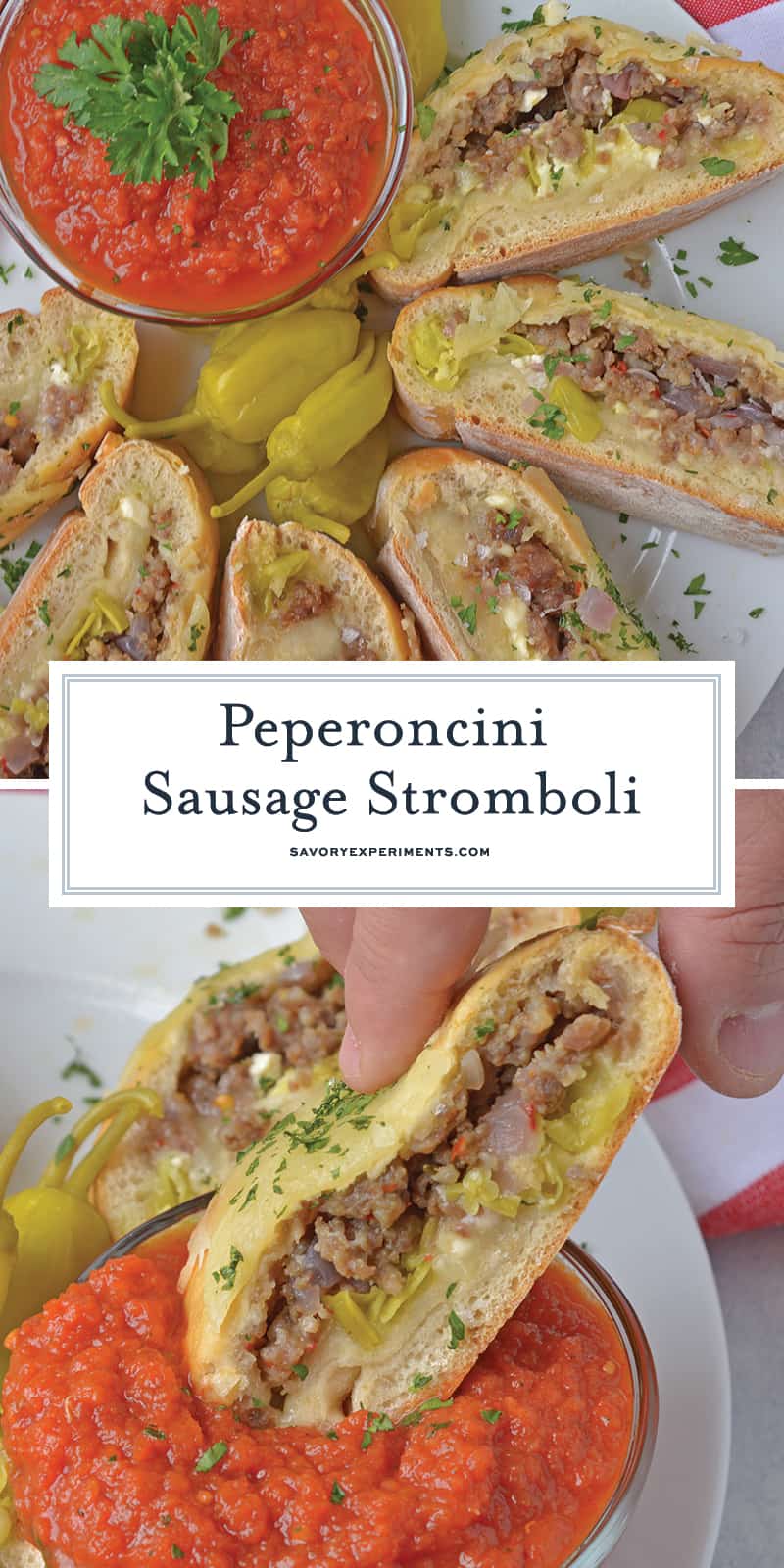 A delicious weeknight meal, sausage stromboli is also great for freezing and serving at parties!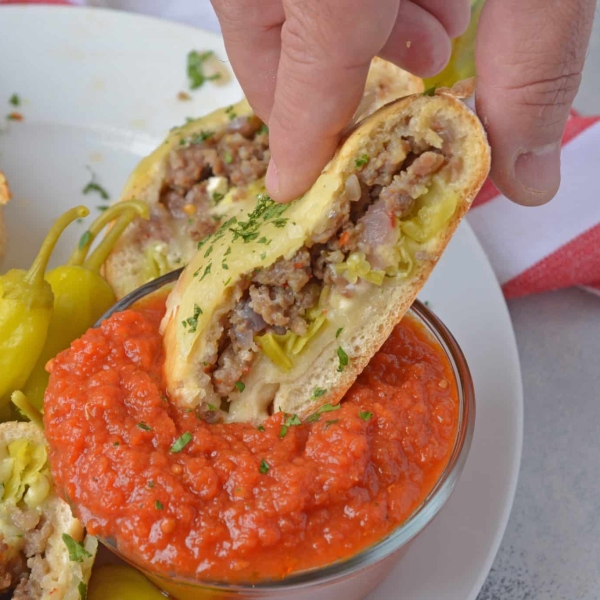 Peperoncini Sausage Stromboli
Peperoncini Sausage Stromboli is a crave-worthy, easy dinner recipe that your whole family will enjoy. Check out all the ways to make this dish your new family favorite.
Ingredients
Stromboli Topping (Optional)
Instructions
Preheat oven to 400 degrees with the baking sheet or pizza stone in the oven.

Roll out pizza dough on a floured surface to approximately 16×8 inches. Place stuffing ingredients including ground sausage, sauteed onion, pepperoncini, feta and mozzarella cheese down the center.

Fold over both long sides of the pizza dough and the ends. Carefully flip over, cutting 5-6 slits in the top of your stromboli to allow steam to release. This helps make the dough crispier.

If using topping, which is optional, whisk together egg and heavy cream. Baste on top.

Carefully transfer stromboli to preheated oven. Bake for 14-18 minutes, or until the top is lightly browned and sounds hollow if tapped with a wooden spoon.

If desired, top with additional shredded mozzarella cheese and bake for 1-2 additional minutes or until melted. Top with minced parsley and Maldon Salt.

Allow your Peperoncini Sausage Stromboli to cool for 5 minutes before cutting into slices and serving with marinara sauce.

If you've tried this recipe, come back and let us know!
Nutrition
Calories:
499
kcal
,
Carbohydrates:
6
g
,
Protein:
25
g
,
Fat:
41
g
,
Saturated Fat:
18
g
,
Cholesterol:
155
mg
,
Sodium:
1393
mg
,
Potassium:
505
mg
,
Fiber:
1
g
,
Sugar:
4
g
,
Vitamin A:
835
IU
,
Vitamin C:
20.5
mg
,
Calcium:
301
mg
,
Iron:
2.2
mg